How do you set business goals?
What is a business goal and why does it matter?

Most of us have set a goal at some point in our lives. Goals are milestones that we work toward and ultimately help us to measure progress. The interesting thing about goals is that we can set them for all aspects of our lives – business, relationships, health, etc.
There are so many types of goals that can be set and measured. With that being said, in this article, we will be discussing how to set business goals that are effective and result in a positive outcome. This will include business goals examples so that you will have not only a framework for creating your goals, but also have examples to help you out along the way.

What is an effective business goal?
And how do you achieve professional goals?
An effective business goal sounds pretty simple but you'd be surprised! Many people set goals that don't actually help them to meet their larger vision.
As touched on previously, goals help us to measure progress. They need to be ambitious and actionable! With that being said, if you are in the process of growing your business, goals are incredibly important.
Make Your Business Goals SMART
Based on my research and experience with setting and achieving goals, one of the most important frameworks for creating an effective business goal is the SMART goal framework. SMART goals can be classified as the following: Specific, Measurable, Achievable, Relevant, and Time-bound.
The reason why this framework is so helpful is that not only does it ensure that you have a very specific, tactical goal in mind, but it also ensures that it is relevant to your larger vision and there is actually a time limit on this goal.
Many entrepreneurs are great at coming up with ideas and goals but overwhelm often kicks in and makes it more difficult to set a time limit to achieve this goal. Utilizing the SMART goal framework can help you to come up with more specific, effective, and time-bound goals.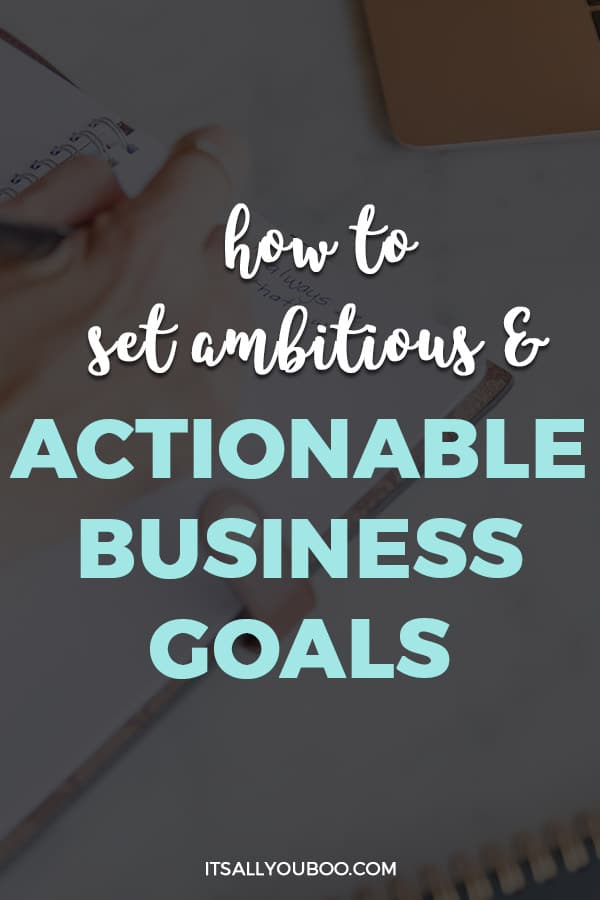 The Importance of Working Backwards with Your Goals
Have you ever heard people say that success leaves clues? This phrase refers to the process of reverse-engineering how people were able to achieve success. As an example, as someone who is trying to grow their YouTube channel, I've gotten into the habit of identifying some of the top YouTubers within my niche. I pay attention to how these individuals distribute, market, and even tag their videos.
By paying attention to the actions that an individual makes to meet their goals, you can use this information to work backward and set more effective goals.
This is a really important piece to mention, especially when it comes to business. It can be difficult to crack the code around how to grow a business and meet your goal. While this is a challenging process, the answer to our questions is oftentimes easier to find than we think – we just need to do some strategic digging.
👉🏽  RELATED POST: 6 Secrets to Setting Achievable Goals
If you cannot work backward, try speaking with business owners that are already successful at what they do. If you run a local business, consider contacting business owners in other regions or states. You would be surprised as to how many people would be willing to speak with you and help out. If you are learning how to set business goals that truly work for your business, then working backward can definitely help.
How do you create business goals and objectives?
The Process
When it comes to setting business objectives, the SMART goal framework that we mentioned earlier is incredibly helpful. This section will review other aspects around how to set business objectives, primarily diving into the process that you would go through to identify the goal that you want to meet in the first place.
For reference, once you have identified that goal, use the SMART goal framework to make sure the goal is as effective as possible.
Step #1:
Start with Vision
The first step in learning how to set business goals is to start with vision. Vision is really that big-picture idea that you have for your business. For example, where do you see your business in ten years? This is really the time to think big.
Another concept that relates to vision is BHAG, which stands for Big Hairy Audacious Goals. This is a business concept that challenges you to develop stretch goals for your business that consider the future while also requiring you to act right away. This concept is important because without thinking of these big goals, it is difficult to move forward in meaningful ways toward your goals while also being competitive in the market.
👉🏽  RELATED POST: How to Start an Online Business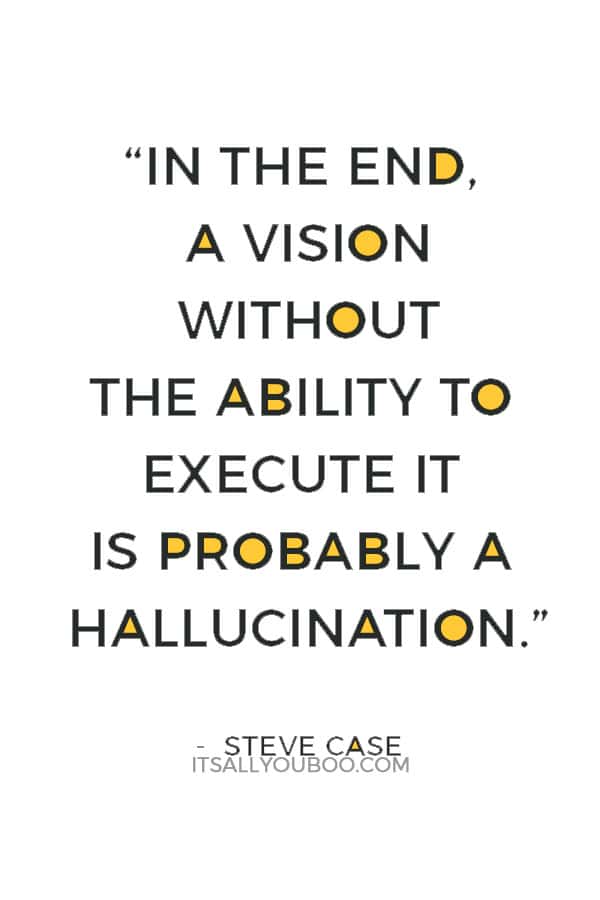 Try incorporating the BHAG concept into your business and I'll bet that you come up with some pretty impressive goals that help you to think bigger and better.
Step #2:
Write Down the Steps
With your vision in mind, write down all the steps that will help you to accomplish that vision.
The next part of the process is to help you get organized and realistically think about what you would need to do in order to accomplish this larger vision that we mapped out in the previous step. Think about five or so steps that you would need to take in order to accomplish this vision. You do not need to get super detailed in this step – we will cover that in a bit.
Step #3:
Plan Out the Next 6 Months
Now think about what you can do in the next six months and then work backward.
Since you are now organized and thought realistically about what you need to do in order to accomplish your vision, let's put a time frame on this. Consider the next six months, for example (you can also change this to any time frame, but I'd recommend not going past six months). Take each month into consideration for the next six months.
When learning how to set business goals, figuring out EXACTLY what you need to accomplish each month for the next six months is critical. For example, if you design websites, consider how many businesses you must reach out to each month and how many new clients that you would like to get per month.
👉🏽  RELATED POST: How to Plan Your Year in Advance

Now that you've reviewed your monthly tasks, let's take this a step further and break it out week by week. What must you do every single week to ensure that you meet your monthly goal? For example, if you want to get five new clients each month, how many people do you need to contact each week and how many jobs do you need to book each week?
Step #4:
Choose One Goal
Now that you've narrowed it down, what is ONE goal that you could meet to help you achieve your bigger vision?
Think about everything that you have outlined for yourself over the next six months. What is ONE goal, based on what you've mapped out, that you would like to meet? One way to decide is to consider which goal will make the largest impact on your business from a profit standpoint.
As soon as you've identified that goal, be sure that it matches up to the SMART goal framework that was mentioned earlier. This is extremely important to consider when learning how to set business goals because this framework ensures that your goal is time-bound and actionable. Keep reading for a few examples to help you get started.
What are some good business goals?
If I were to map out new goals for my business right now, I would try to narrow down the goals that would make the most impact on my business. As an example, the areas that have the most impact on my business right now involve increasing lead generation, revenue, and traffic. Think about what your focus areas should be.
👉🏽  RELATED POST: How to Start A Profitable Business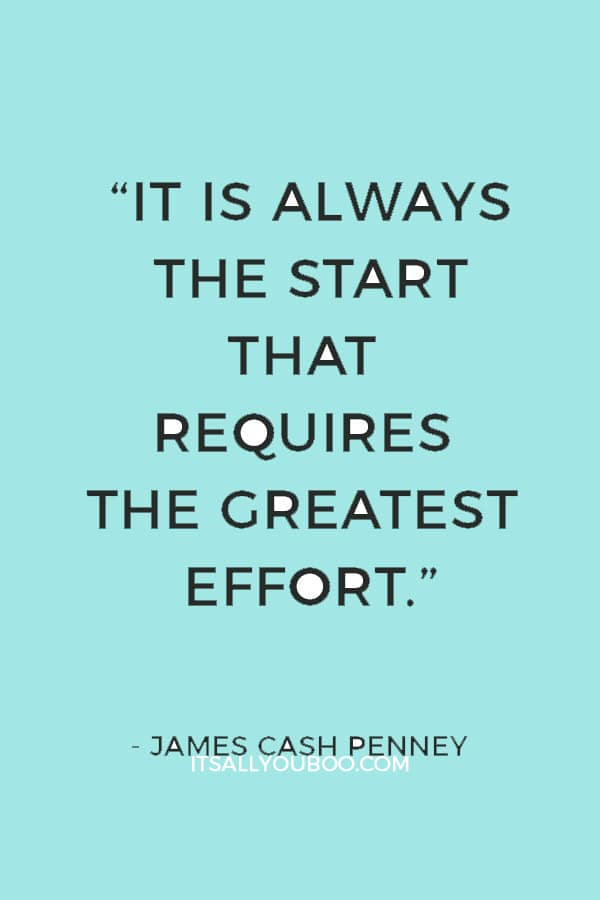 I cannot stress this enough – when learning how to set business goals, be sure to select goals that will have a direct impact on the bottom line. Many new business owners put off sales and lead generation for the more 'fun' activities, like creating a website, getting headshots, or making business cards.
Don't get me wrong, these areas of focus definitely have their place, but if you lack profit or have inconsistent profit, is it much more important to focus on revenue-driving activities. After all, if you aren't making money in your business, how will you sustain these other "fun" activities?
What are business goals examples?
Now let's get into some business goal examples. These examples can serve as a guide for you as you plan and learn how to set business goals. Assuming you have already completed the steps under how do you create business goals and objectives section, you should have a few business goals in mind.
I cannot mention this enough, but it is also a good idea to double-check your goals with the SMART goal framework.
With that being said, a few business goals examples could include:
Increase website traffic by 20% within the next two months
Gain one new client by the end of this month
Meet ten new people per month to increase networking
As you can see with each of these goals, they are very specific. Each goal is quantified so that you can measure it. There is also a time limit on each goal so that there is a cut off time for you to meet it.
Long-Term Business Goal Examples:
If you want to create goals that are more long term, you can still use the SMART framework.
Here are some 5-year business goals examples:
Work with 1,000 new customers within the next five years
Make a total of $1 million within the next five years
Speak at 50 conferences within the next five years
Partner with 50 other businesses within the next five years
👉🏽  RELATED POST: How to Plan a Goal Setting Retreat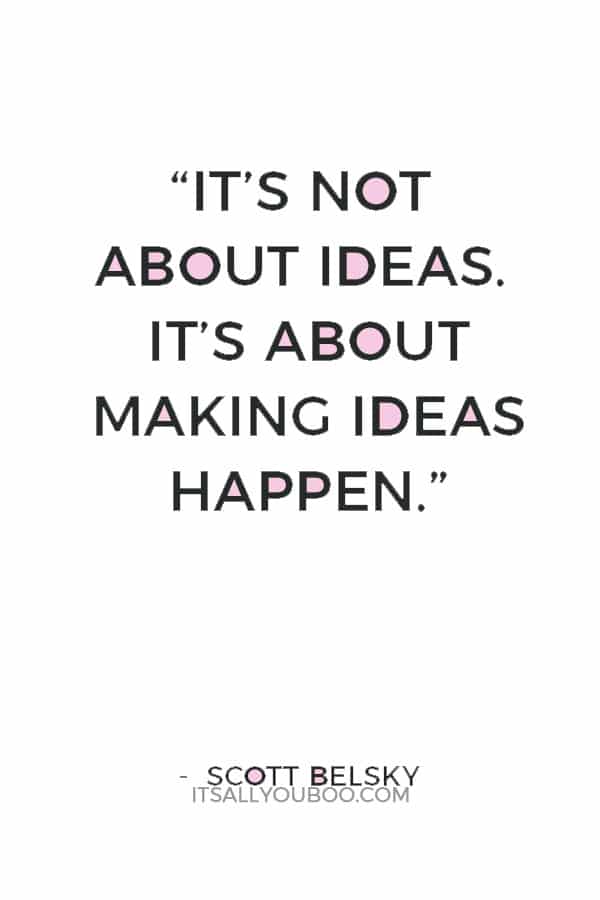 If you need some additional ideas, here is a list of business goals that you can pull from:
Increase YouTube video views by 20% within the next month
Increase blog traffic by 50% over the next 6 months
Increase business profit by 20% over the next three months
Make 5 new business contacts over the next month
Email 20 new businesses per week
Write one new blog post per week
Network with one new business owner via Instagram every day
Post one time per day on two social media networks
Distribute 100 business cards each month
Make 5 new business partnerships each month
The list above touches multiple aspects of business, ranging from social media to business outreach to networking. Hopefully, this list will provide you with some ideas when creating meaningful business goals.
How do you set goals for a small business?
When it comes to learning how to set business goals for small businesses, the framework outlined above still applies. Small business owners typically have more ground to cover in a shorter period of time because there are fewer people working at the business.
Because of this, it is incredibly important to be as efficient as possible when learning how to set business goals.
👉🏽  RELATED POST: Professional Goals for Beauty Businesses
Get your Strategic Planning Workbook
Ready to set business goals and plan your way backward to success? The Printable Strategic Planning Workbook, and start planning actionable goals and objectives for your business.
It is all about the bottom line. In other words, target goals that will make the MOST difference for your business in the shortest period of time.
To help you learn how to set business goals, I've created a setting business goals worksheet! This worksheet will help to guide you as you are creating goals for your business so that you can be as effective as possible.
Need help setting actionable goals for your business? Click here for your guide to setting business goals + get your list of business goals examples. #GoalSetting #Entrepeneur #Business #AchieveYourGoals

How do you set goals for your business?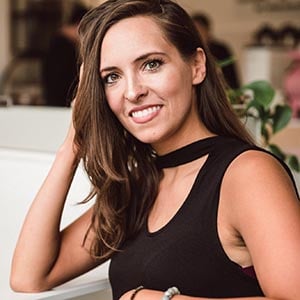 More About Guest Contributor
Morgan is a video production business owner and content creator within the digital marketing niche! When she is not producing videos for clients, she focuses on her blog, morgankg.com, and social media outlets to teach the most effective methods in digital marketing.
Last Updated on December 11, 2021
✕
Start Strategic Planning!
+ get weekly tips to help you slay your goals.