Looking for thank you quotes for nurses and health care workers?
Creating thank you cards for nurses and front line workers?
Any trip to the doctor's office or hospital would not be the same without the army of nurses caring for you.
From every kind gesture, questions answered by worried loved ones to countless hours dedicated to giving support and care, where would we be without nurses?
Right now is the best time to say thank you to nurses. Not only because of the current crisis but because May 12th is International Nurses Day a celebration of nurses all around the world. Actually, the entire week of May 11th to 18th is National Nursing Week in the United States and Canada. Both celebrations are on Florence Nightingale's birthday, the architect of modern nursing.
This collection of thank you quotes is dedicated to all the nurses and health care workers fighting to keep us all safe. We so appreciate all that you do for us.
Here are 60 inspirational thank you quotes for nurses. Use them in a handwritten thank you card, tweet, or any way of expressing gratitude for nurses and health care workers. Plus, get your FREE Printable Thank You Cards Quotes here.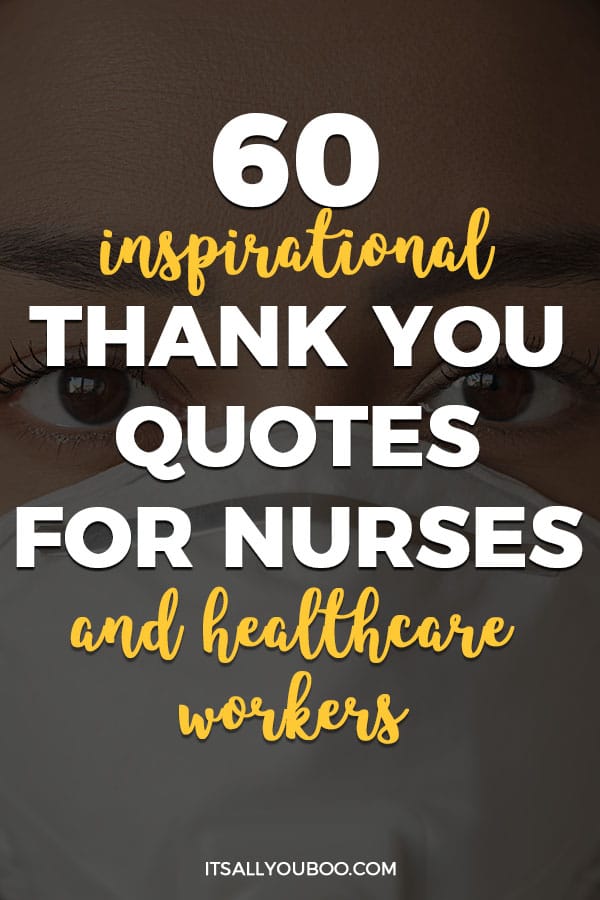 Inspirational Proud to Be a Nurse Quotes
How thankful are you to the nurses in your community and country? Have you ever thought about how important they are? Let's start showing our appreciation for nurses with this collection of thank you quotes for nurses. To summarize: nurses are heroes deserving of so much thanks and appreciation.
"It would not be possible to praise nurses too highly." ― Stephen Ambrose
"Speaking to numerous teachers and nurses, I am consistently struck by the sense of mission they have about their work." ― Charles Kennedy
👉🏽 RELATED POST: Thank You Quotes for Teachers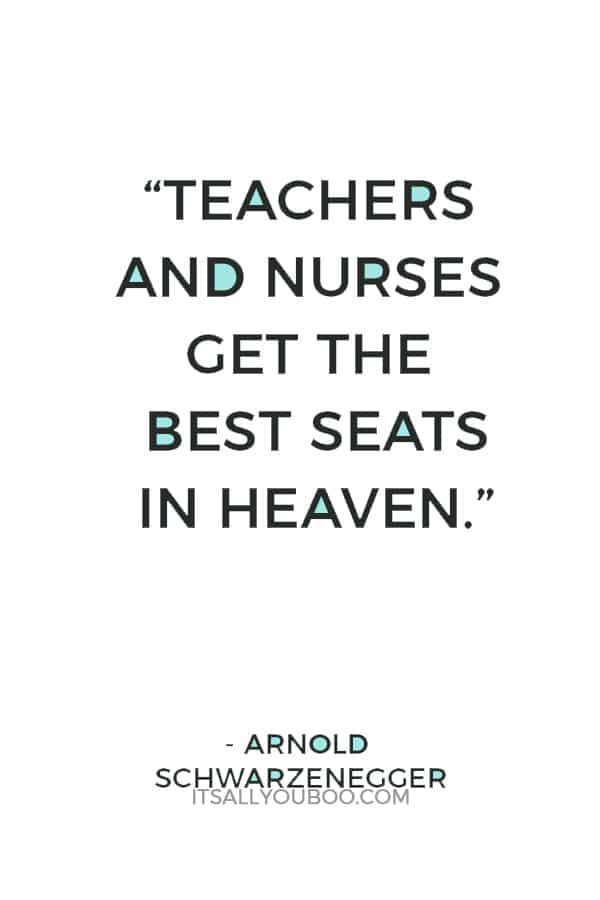 3, "Teachers and nurses get the best seats in Heaven." ― Arnold Schwarzenegger
"Nurses quietly go about their work in a noble profession, uncelebrated soldiers toiling through the days and nights in service to the sick, the injured and the dying." ― Steve Lopez
5. "There are few professions whose primary objective is to advance the cause of humanity rather than simply to make money or accrue power. Among this limited group of humanitarians I would number teachers, nurses, bookstore owners, and bartenders." ― Jack McDevitt
"Nurses encompasses an art, a humanistic orientation, a feeling for the value of the individual, and an intuitive sense of ethics, and of the appropriateness of action taken." ― Myrtle Aydelotte
👉🏽 RELATED POST: Motivational Quotes About Working Hard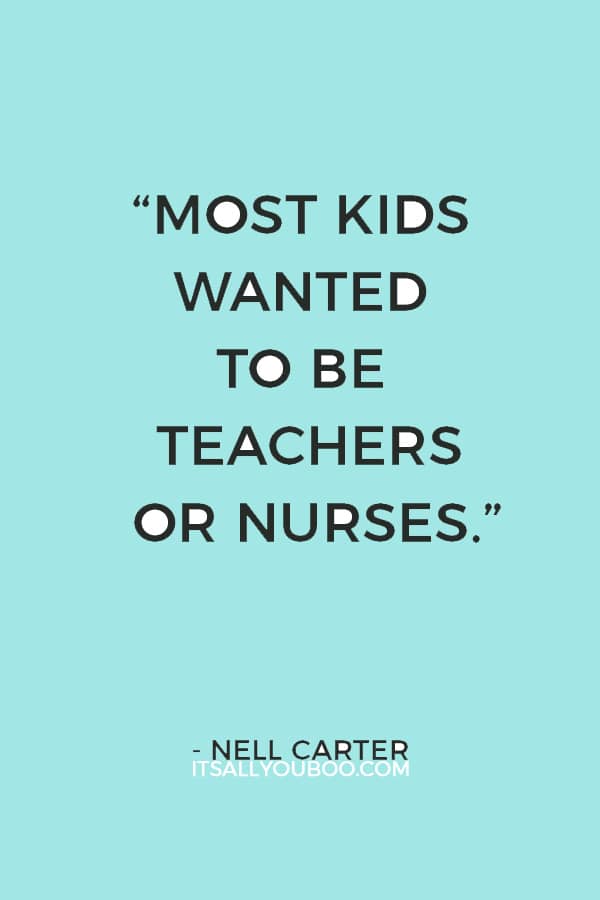 7. "I was a weirdo to want to be in show business. Most kids wanted to be teachers or nurses." ― Nell Carter
"Wouldn't it be great if we all grew up to be what we wanted to be? The world would be full of nurses, firemen, and ballerinas." ― Lily Tomlin
The Best Quotes for Nurses Appreciation
How important are nurses? What do they do for the healthcare system? The following inspirational thank you quotes for Nurses Day illustrate just how important nurses are. Being a nurse is so much more than just caring for patients. There are over 20 million nurses worldwide and their work is significant.
👉🏽 RELATED POST: Being Thankful Quotes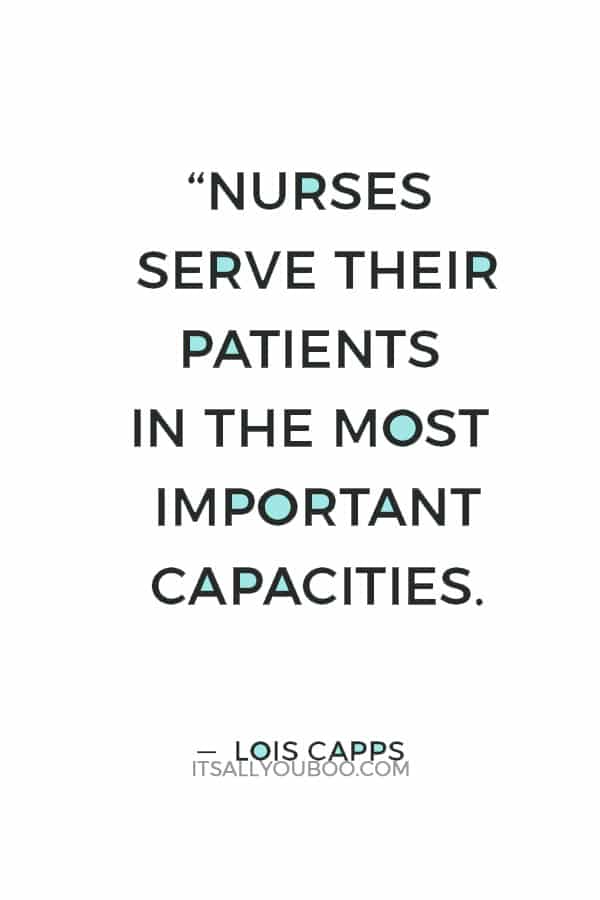 9. "Nurses serve their patients in the most important capacities. We know that they serve as our first lines of communication when something goes wrong or when we are concerned about health." ― Lois Capps
"Nurses are an integral component of the health care system, and it is important that we recognize the over 2.7 million registered nurses for the significant work that they do." ― Nathan Deal
11. "I know that nurses are not only the largest healthcare profession but are responsible for the delivery of most healthcare, and are often in the best place to be able to see the whole pathway of care." ― Andrew Lansley
12. "The people who are on the front lines every day in hospitals, nurses, the people who are running clinics, the people who are taking care of your children, those are the people who are the lovers of the world, are the good of the world." ― Eve Ensler
13. "The more love and support your child receives, the richer his or her life becomes, and nurses can certainly add to the circle of love surrounding your child." ― Charisse Montgomery
Thank You Quotes about Doctors and Nurses
What about doctors and physicians? This collection of thank you quotes share how doctors and nurses work together to deliver care and treatment. A good working relationship between nurses and doctors is critical to care. It's about communication and collaboration.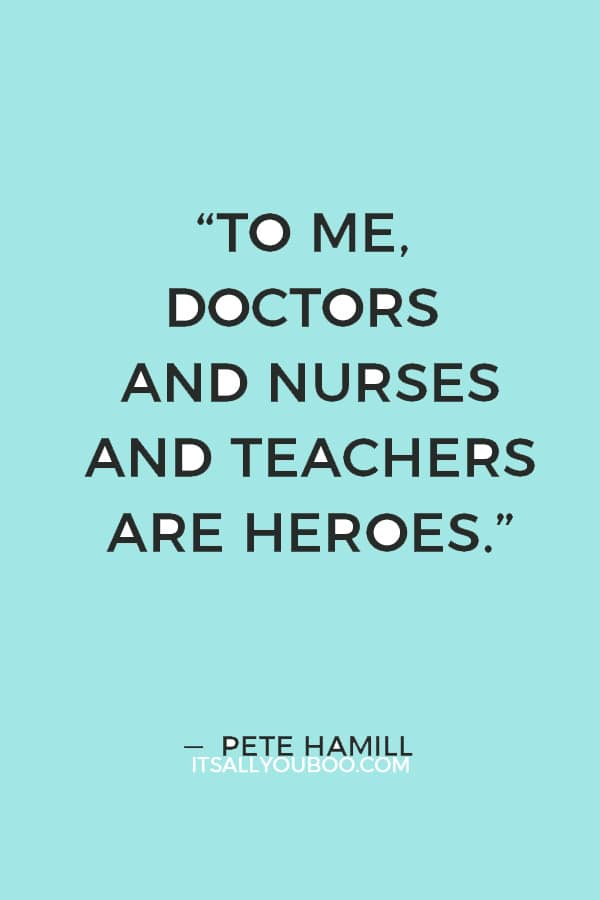 14. "To me, doctors and nurses and teachers are heroes, doing often infinitely more difficult work than the more flamboyant kind of a hero." ― Pete Hamill
"Anybody who fights for human rights or to make this world a better place. Nurses, doctors, teachers: these are the people who deserve the credit these days." ― George Michael
16. "Doctors and nurses seemed to have been born and raised in the hospital, with only short punctuations of absenteeism for such things as schooling and marriage." ― Marjorie Kellogg
👉🏽 RELATED POST: Inspirational Appreciation Quotes for Doctors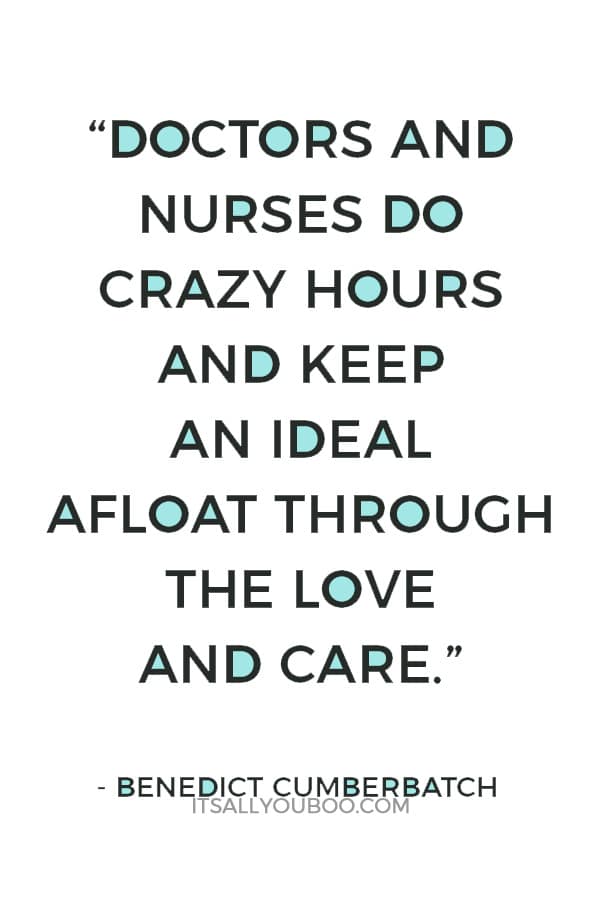 17. "Doctors and nurses do crazy hours and keep an ideal afloat through the love and care that they have for their craft and their patients and the institution of the NHS. We should be very proud of it." ― Benedict Cumberbatch
"When you see those in healthcare who don't get this burn-out, they are very motherly, fatherly, or loving and attentive with the patients. [These] wonderful caretakers, doctors, and nurses don't get as much burn-out as people who are more defensive of the feelings and suffering of others…" ― Matthieu Ricard
19. "Women occupy, in great masses, the 'household tasks' of industry. They are nurses but not doctors, secretaries but not executives, researchers but not writers, workers but not managers, bookkeepers but not promoters." ― Vivian Gornick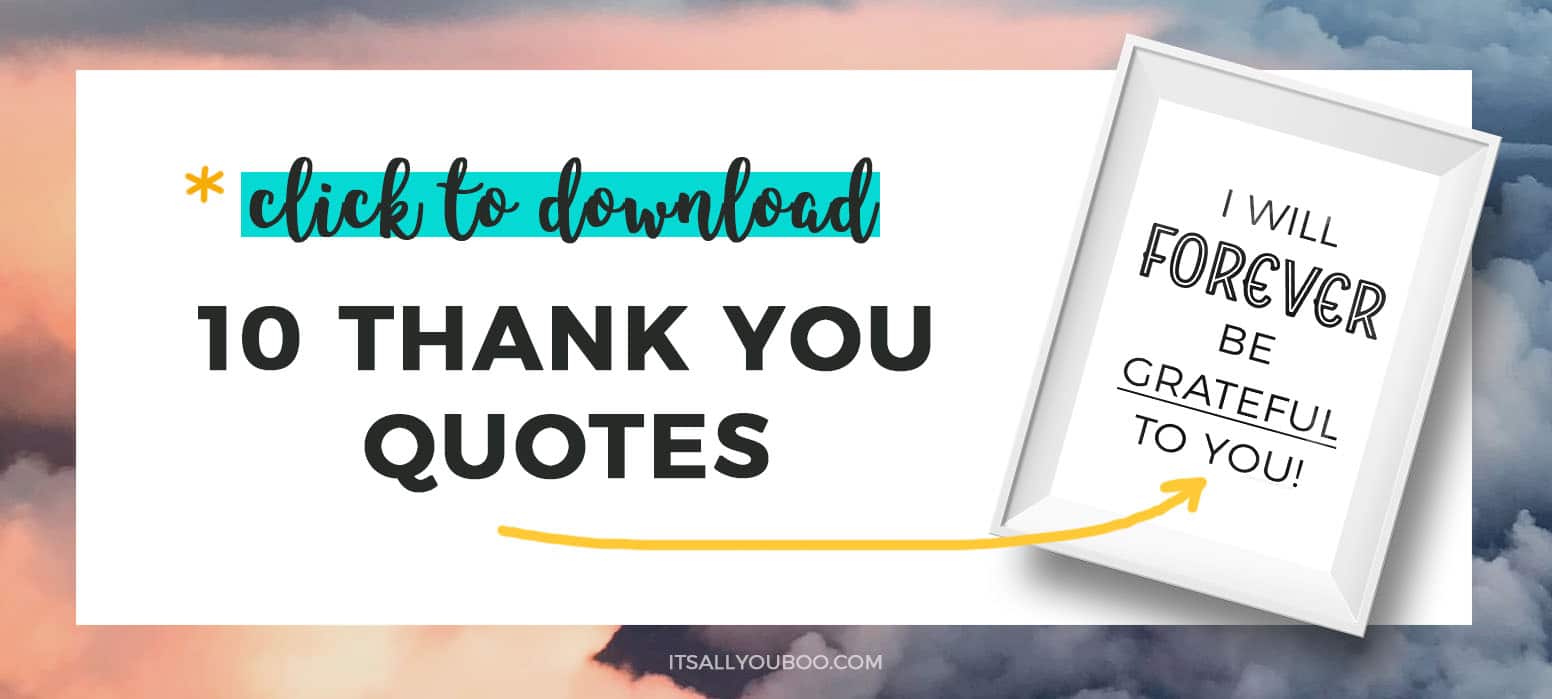 Nurses Are Just as Important as Doctors Quotes
How are nurses different from doctors? Do nurses and doctors get along? The following thank you quotes for nurses day explores the relationship between doctors and nurses. We've all watched medical dramas that accentuate the friction between doctors and nurses. But is it true?
20. "The doctors may be mapping out the war games, but it is the nurses who make the conflict bearable." ― Jodi Picoult
"Doctors put a wall up between themselves and their patients; nurses broke it down."― Jodi Picoult
22. "It's just like nurses in a hospital tend to know more than the doctors most of the time; if you really want to get the answers to a question about court, you should spend more time buttering up the clerks than the judges." ― Jodi Picoult
👉🏽 RELATED POST: How to Reach Your Health Goals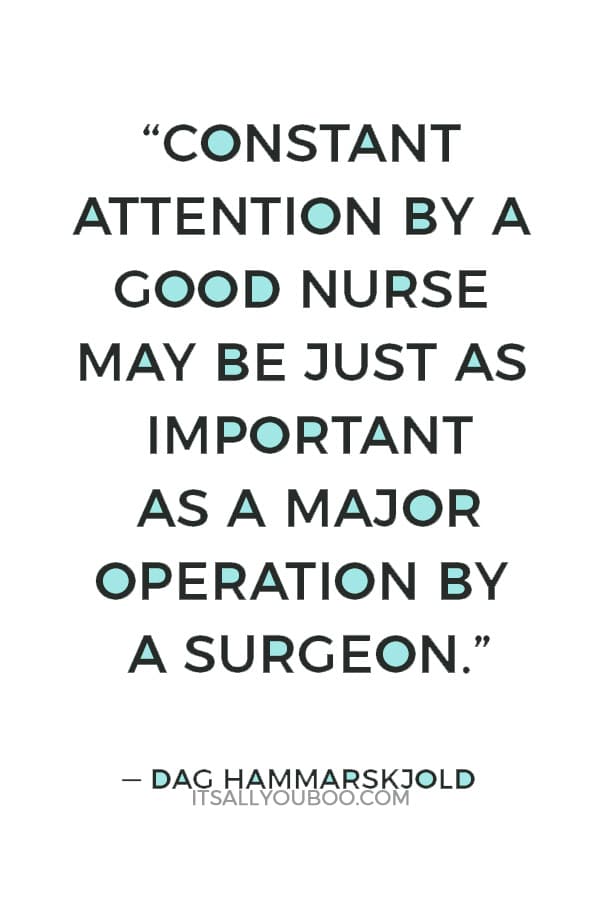 23. "Constant attention by a good nurse may be just as important as a major operation by a surgeon." ― Dag Hammarskjold
24. "Some people think that doctors and nurses can put scrambled eggs back into the shell." ― Dorothy Canfield Fisher
"I truly feel the best doctors are ones who are criticized by nurses, patients and family. They do not make excuses and learn from their mistakes." ― Bernie Siegel
26. "The system is broken. The doctors and the nurses can't do everything. The patients need human attention; the patients themselves need to be addressed, rather than just their disease." ― Colleen Saidman
What It Means to Be a Nurse Quotes
What do nurses actually do? What is nursing and what does it mean to be a nurse? This selection of inspirational thank you quotes for nurses and health care workers explores the nursing field. It's so much more than just a job, it's a passion, a commitment, and a calling.
"To do what nobody else will do, a way that nobody else can do, in spite of all we go through; that is to be a nurse." ― Rawsi Williams
👉🏽 RELATED POST: 10 Benefits of Gratitude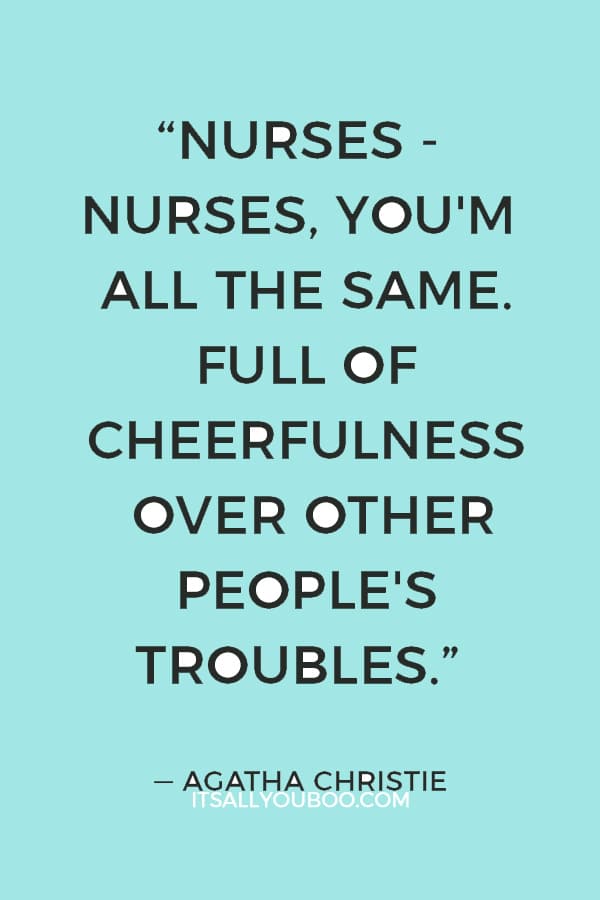 28. "Nurses – nurses, you'm all the same. Full of cheerfulness over other people's troubles." ― Agatha Christie
29. "Nurses never tell you what they know. They're hired for their cheeriness and the thickness of their hair. They need to look alive and healthy, to give the patients something to aim for." ― Jenny Downham
"Bound by paperwork, short on hands, sleep, and energy… nurses are rarely short on caring." ― Sharon Hudacek
31. "Nurses: one of the few blessings of being ill." ― Sara Moss-Wolfe
32. "God appoints our graces to be nurses to other men's weaknesses." ― Henry Ward Beecher
"Nurses are a unique kind. They have this insatiable need to care for others, which is both their greatest strength and fatal flaw." ― Dr. Jean Watson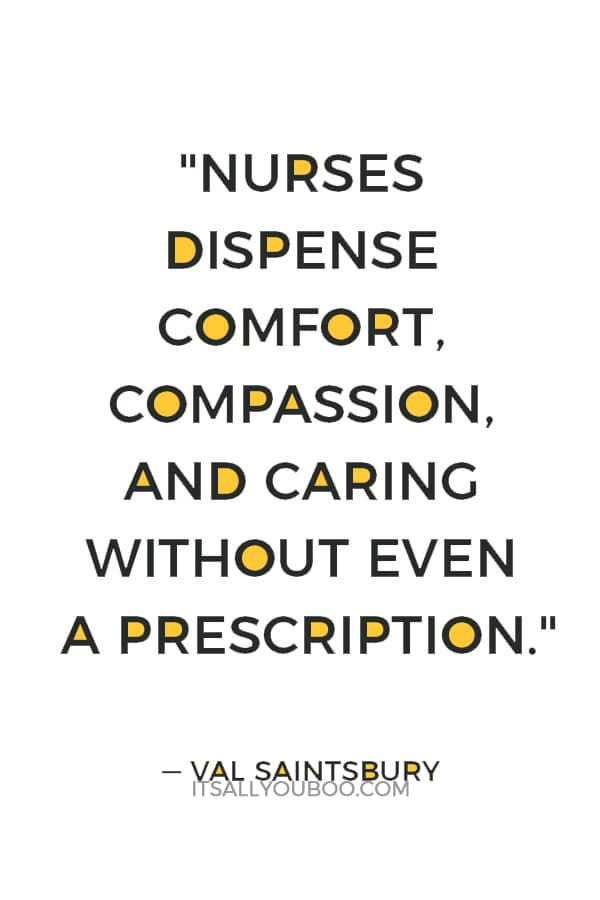 34. "Nurses dispense comfort, compassion, and caring without even a prescription." — Val Saintsbury
"A hero is someone who has given his or her life to something bigger than oneself." – Joseph Campbell
Quotes About Nurses Caring for Others
How do nurses care for their patients? What does caring for another person even mean? The following collection of thank you quotes for nurses and healthcare workers explores what it means to care for others. A life dedicated to care is a beautiful life well-lived. How can you care for someone in your life?
36. "Only a life lived for others is a life worthwhile." — Albert Einstein
"Caring for others is an expression of what it means to be fully human." — Hillary Clinton
👉🏽 RELATED POST: Gratitude Quotes for Thanksgiving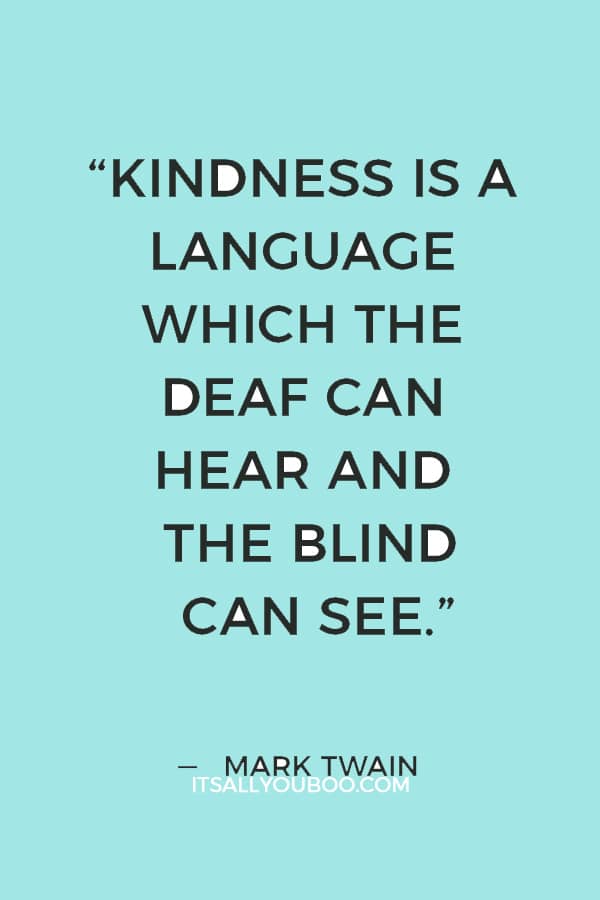 38. "Kindness is a language which the deaf can hear and the blind can see." — Mark Twain
39. "To be successful is to be helpful, caring and constructive, to make everything and everyone you touch a little bit better." — Norman Vincent Peale
"Caring about others, running the risk of feeling, and leaving an impact on people, brings happiness." — Harold Kushner
41. "I feel the capacity to care is the thing which gives life its deepest significance." — Pablo Casals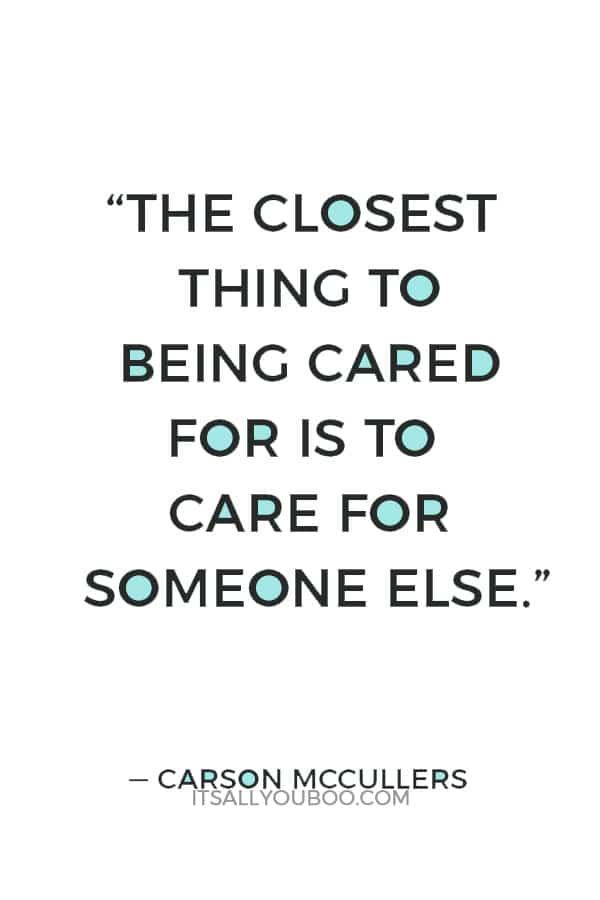 42. "The closest thing to being cared for is to care for someone else." — Carson McCullers
"One person caring about another represents life's greatest value." — Jim Rohn
A Day in the Life of a Nurse Quotes
On an average day, what doe nurses do for their patients? How do they care and help those around them? This selection of thank you quotes for nurses explores the countless ways healthcare workers make a difference in the lives of their patients. Never underestimate the power of a kind gesture.
44. "Put your heart, mind and soul into even your smallest acts. This is the secret of success." – Swami Sivananda
"Attention is the rarest and purest form of generosity." — Simone Weil
46. "The only equipment lack in the modern hospital? Somebody to meet you at the entrance with a handshake!" ― Martin H. Fischer
47. "Too often we underestimate the power of a touch, a smile, a kind word, a listening ear, an honest accomplishment or the smallest act of caring, all of which have the potential to turn a life around." — Leo Buscaglia
👉🏽 RELATED POST: How to Manifest Gratitude from the Universe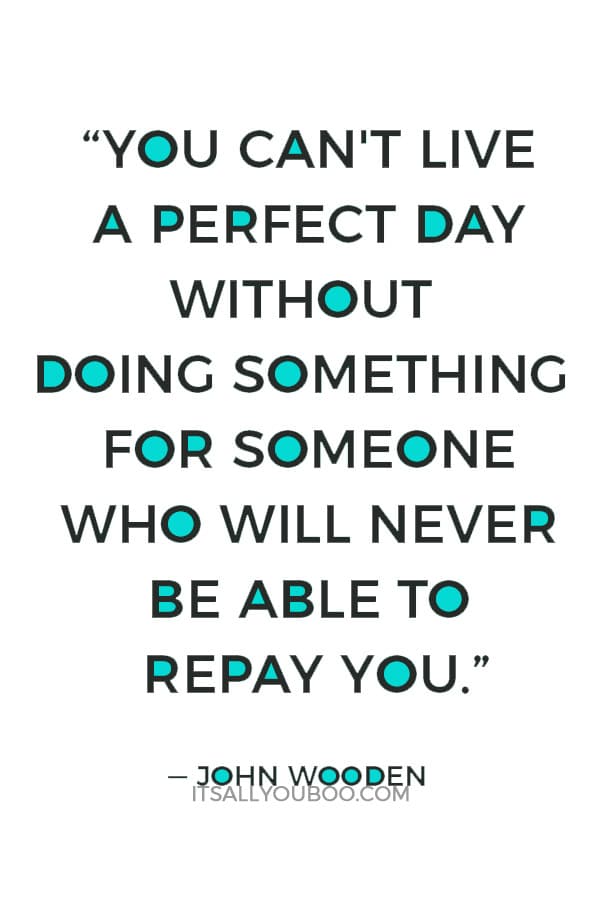 48. "You can't live a perfect day without doing something for someone who will never be able to repay you." — John Wooden
"Nurturing is not complex. It's simply being tuned in to the thing or person before you and offering small gestures toward what it needs at that time." — Mary Anne Radmacher
Thank You Quotes for Nurses Working Hard
Want to know the best way to show your appreciation to nurses? Be more like them. When times get tough, keep going. Be the best version of yourself, give back, care for those around you. This final collection of thank you quotes for nurses and healthcare workers honors the hard times they're bringing us all through right now. Be like the front line heroes, do you part!
50. "You start with a darkness to move through but sometimes the darkness moves through you." — Dean Young
"Tough times never last, but tough people do." — Robert H. Schuller
👉🏽 RELATED POST: 15 Ways to Be More Grateful
52. "Never believe that a few caring people can't change the world. For, indeed, that's all who ever have." — Margaret Mead
"Have a heart that never hardens, a temper that never tires, a touch that never hurts." — Charles Dickens
54. "Don't wish it were easier, wish you were better. Don't wish for fewer problems, wish for more skills. Don't wish for less challenges, wish for more wisdom." — Earl Shoaf
"We must meet the challenge rather than wish it were not before us." —William J. Brennan, Jr.,
56. "Let perseverance be your engine and hope your fuel." — H. Jackson Brown, Jr.
57. "When the going gets tough, the tough get going." — Joseph Kennedy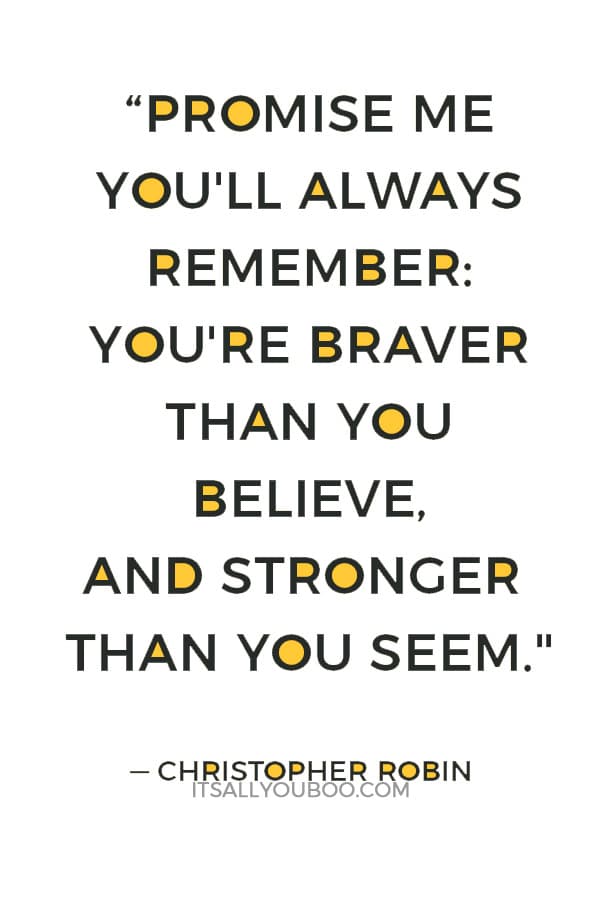 58. "Promise me you'll always remember: You're braver than you believe, and stronger than you seem, and smarter than you think." — Christopher Robin
"Most of the important things in the world have been accomplished by people who have kept on trying when there seemed to be no hope at all." — Dale Carnegie
60. "We must accept finite disappointment, but we must never lose infinite hope " — Martin Luther King
Printable Thank You Card Quotes
Looking for printable thank you card quotes for nurses or doctors? A printable thank you quote is a perfect gift for expressing your gratitude! Use them to create a handmade card or frame for a gift they'll remember.
This download comes with 10 high-resolution black & white quotes ready to be printed.
Where would we be without nurses and healthcare workers?
They are the unsung heroes of health care, oftentimes individual working in the background keeping everything running smoothly.
With the current crisis, it's even more important to acknowledge all that nurses do, for each of us, for society as a whole. It's heartbreaking to hear that doctors, healthcare workers, and nurses are overworked trying to keep us all safe (and themselves).
A big THANK YOU to each and every one!
Creating thank you cards for nurses and frontline health care workers? Click here for 60 inspirational thank you quotes for nurses. #HealthcareHeroes #NursesDay #IDN2020 #Nurses2020 #SupportNursesAndMidwives

What's your favorite thank you quotes for nurses?
Last Updated on November 30, 2021