What are the best inspirational appreciation quotes for doctors?
Looking for Doctors Day quotes to say thank you?
They're always there for you when you need them the most. When you and your loved ones are sick, unwell, and desperate for a way to get better.
Perhaps until recently, you haven't spent much time thinking about doctors and all they do each and every day. Maybe you've even been fortunate enough to have limited interactions with doctors, thanks to your health.
In this chaotic time, doctors are on the front lines of medicine, working tirelessly to help, heal, and offer hope to us all. Even those who haven't graduated as yet or previously retired are doing their best to carry us through this time.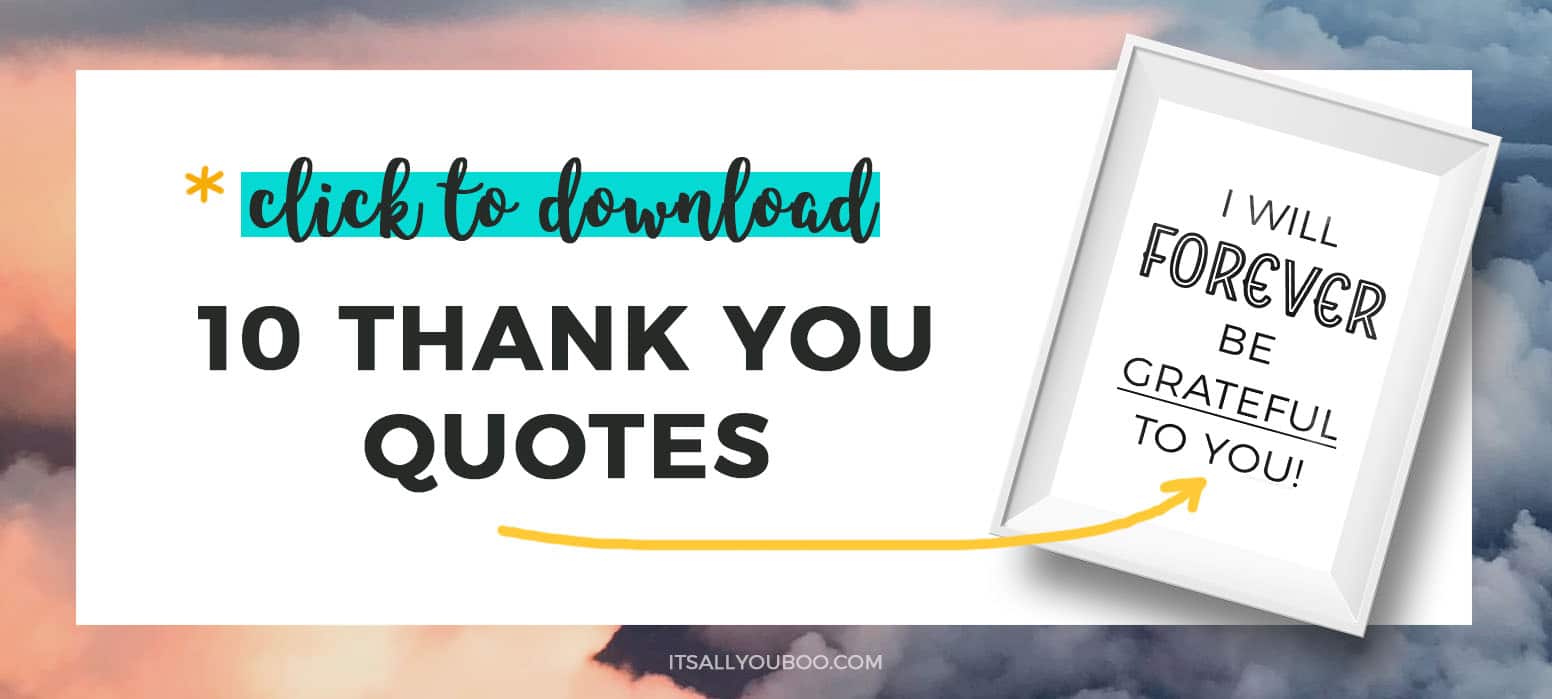 They're treating those who need it most, working endless shifts, making heartbreaking choices, pioneering life-saving medicine, putting themselves at risk, and doing so much more than we could ever understand.
In times like these, it's important to remember to share your appreciation for the doctors and health care providers. Not just in 2020, but every March 30th is National Doctor's Day in the United States and May 1st is National Physicians Day in Canada.
This post is dedicated to all the doctors around the world who are literally fighting to save us all. Thank you so much for all you do. Please stay safe, stay healthy.
Here are 150 inspirational appreciation quotes for Doctors that say thank you, explore what it means to be a doctor, as well as shed some light on the present need for a global healthcare system. Happy National Doctor's Day! Plus, get your FREE 10 Printable Thank You Quote Cards here.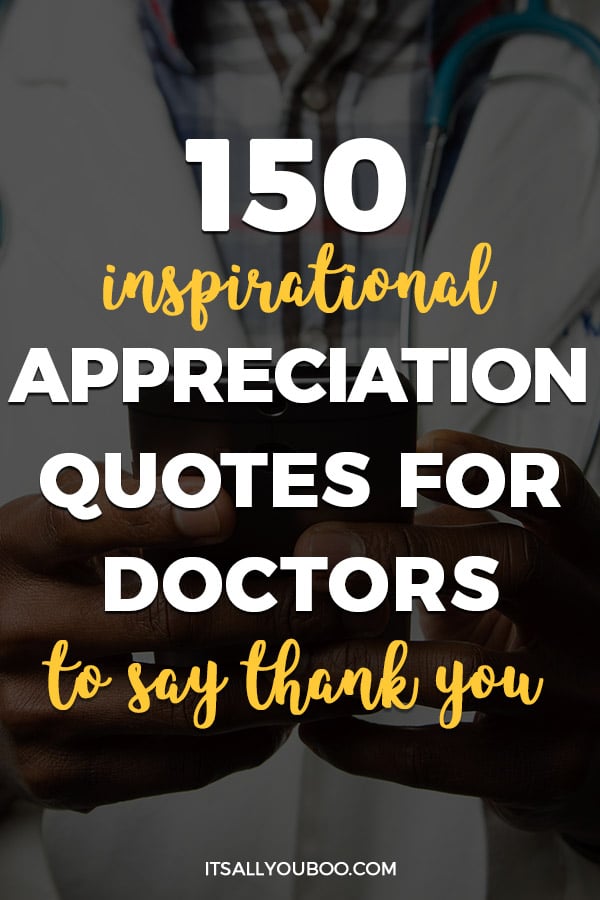 Quotes About Becoming a Doctor
Have you ever thought about what it truly takes to become a doctor? What sacrifices do doctors make to learn their profession? Let's begin our appreciation for doctors by exploring inspirational quotes on doctors about becoming a doctor. Here's the truth about pursuing a career in medicine.
"Doctors, dressed up in one professional costume or another, have been in busy practice since the earliest records of every culture on earth. It is hard to think of a more dependable or enduring occupation, harder still to imagine any future events leading to its extinction." ― Lewis Thomas
2. "Let me congratulate you on the choice of calling which offers a combination of intellectual and moral interests found in no other profession." ― Sir William Osler
3. "The life so short, the craft so long to learn." ― Hippocrates
4. "A doctor must work eighteen hours a day and seven days a week. If you cannot console yourself to this, get out of the profession." ― Martin H. Fischer
👉🏽 RELATED POST: Quotes About Working Hard to Achieve Success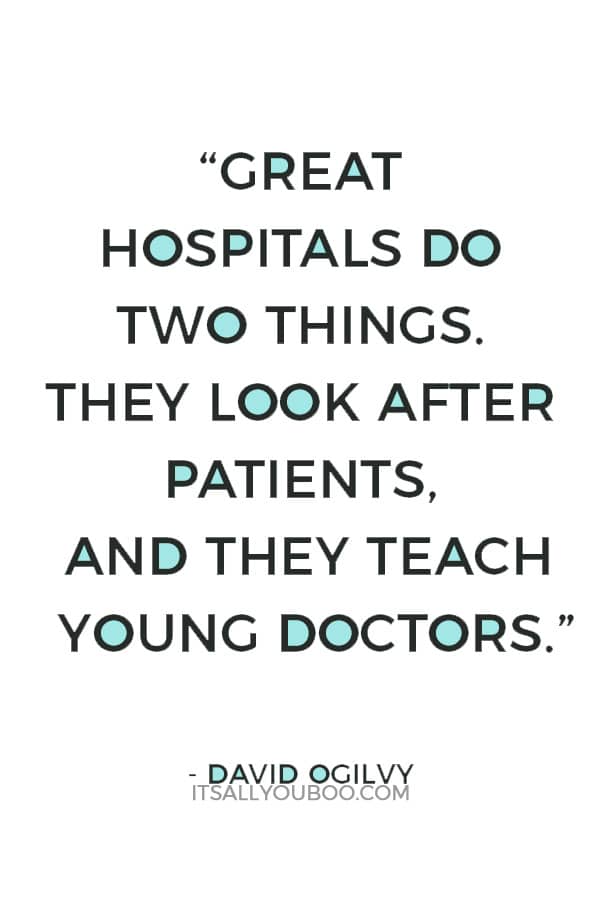 5. "Great hospitals do two things. They look after patients, and they teach young doctors." ― David Ogilvy
"When a man goes through six years training to be a doctor he will never be the same. He knows too much." ― Enid Bagnold
7. "Doctors and lawyers must go to school for years and years, often with little sleep and with great sacrifice to their first wives." ― Roy Blount, Jr.
8. "Most doctors are prisoners of their education and shackled by their profession." ― Richard Diaz
9. "For many doctors the achievement of a published article is a tedious duty to be surmounted as a necessary hurdle in a medical career." ― Richard Asher
"I would not be able to retain all the information, all the medical jargon these doctors do. I'm not really intelligent enough is what I'm saying." ― Justin Chambers
11. "Our profession is the only one which works unceasingly to annihilate itself." ― Martin H. Fischer
The Meaning of Being a Doctor Quotes
What does it mean to be a doctor? What are the values of the medical profession? The following inspirational appreciation quotes for Doctors Day illustrate what it means to be a doctor. It's so much more than just healing and helping sick people, being a doctor is also an art, a calling, and a commitment to telling the truth.
"Observation, Reason, Human Understanding, Courage; these make the physician." ― Martin H. Fischer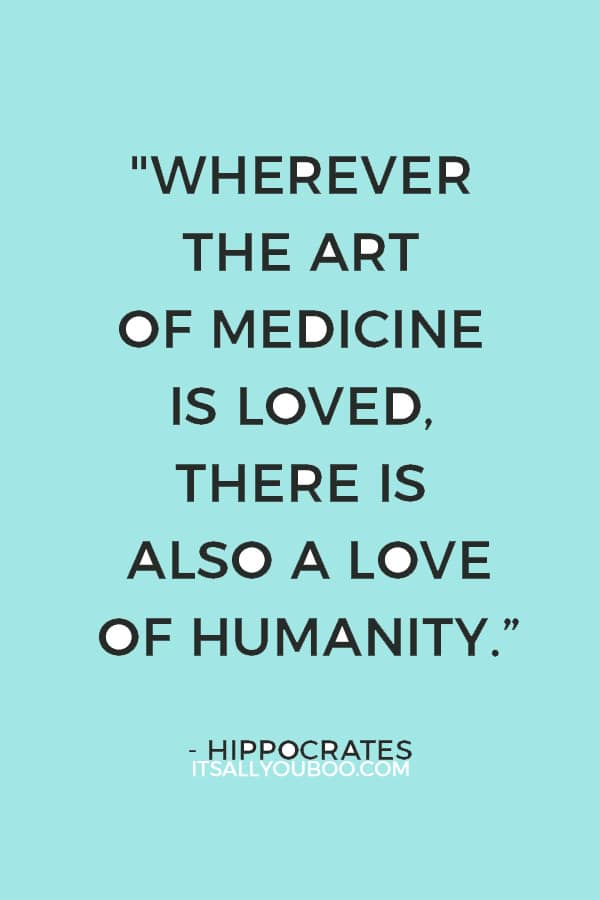 13. "Wherever the art of Medicine is loved, there is also a love of Humanity." ― Hippocrates
14. "Culture matters. Of course, if physicians are rewarded or penalized for their service and results, the culture will change. But the key values we doctors are being pressed to embrace are humility, teamwork, and discipline." ― Atul Gawande
"In nothing do men more nearly approach the gods than in giving health to men." ― Cicero
16. "There are only two sorts of doctors: those who practice with their brains, and those who practice with their tongues." — William Osler
"I think we have to do everything that's useful. We're doctors. Our job is to tell the truth. And it doesn't have to be embellished in any way." — Neal Barnard
18. "Only the healing art enables one to make a name for himself and at the same time give benefit to others." — Chinese Proverb
Quotes About the Best Physicians
Who are the best doctors? What are the traits of a great physician? The following inspirational appreciation quotes for doctors describe the best doctors and how they treat patients. Learn more about the great physicians in history who are quoted here.
👉🏽 RELATED POST: Being Thankful Quotes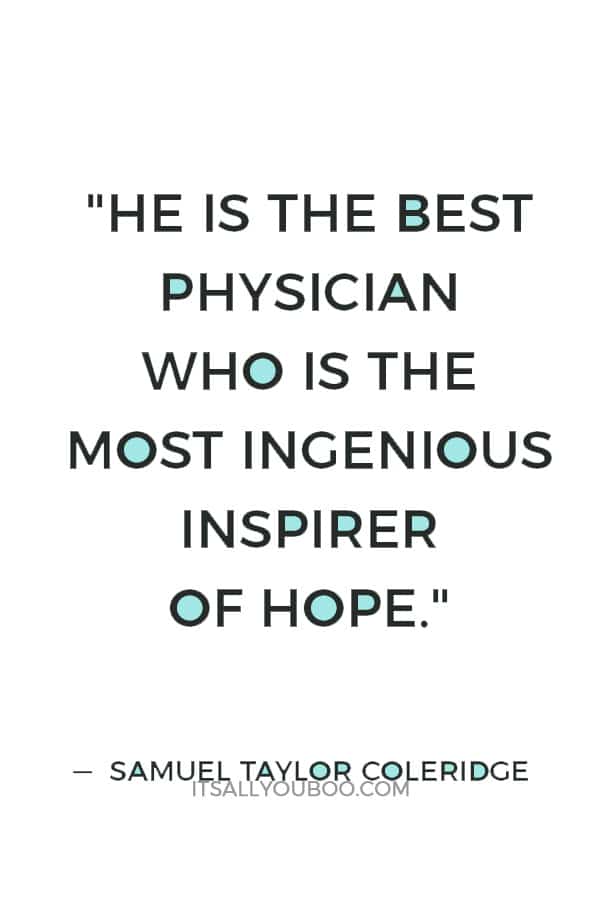 19. "He is the best physician who is the most ingenious inspirer of hope." — Samuel Taylor Coleridge
20. "The best doctor gives the least medicines." ― Benjamin Franklin
"Why are infectious disease doctors the best ones to date? They are the most cultured and sensitive." — Peter Rogers
22. "Good doctors exercise judgment. They make the call and – right or wrong – live with the consequences and learn from them. The redefined M.D. is flawed, but comfortable inside their own skin." — Brian Goldman
23. "There is no such thing as an infallible doctor." ― Edward E. Rosenbaum
24. "The best doctor is the one you run to and can't find." — Denis Diderot
25. "Time is generally the best doctor." — Ovid
"The best doctors and medicine in the world can't save you if you don't do what you're supposed to do." — Magic Johnson
27. "Medicine is intention. Those who are proficient at using intention are good doctors." — Sun Simiao
"The good physician treats the disease; the great physician treats the patient who has the disease." ― William Osler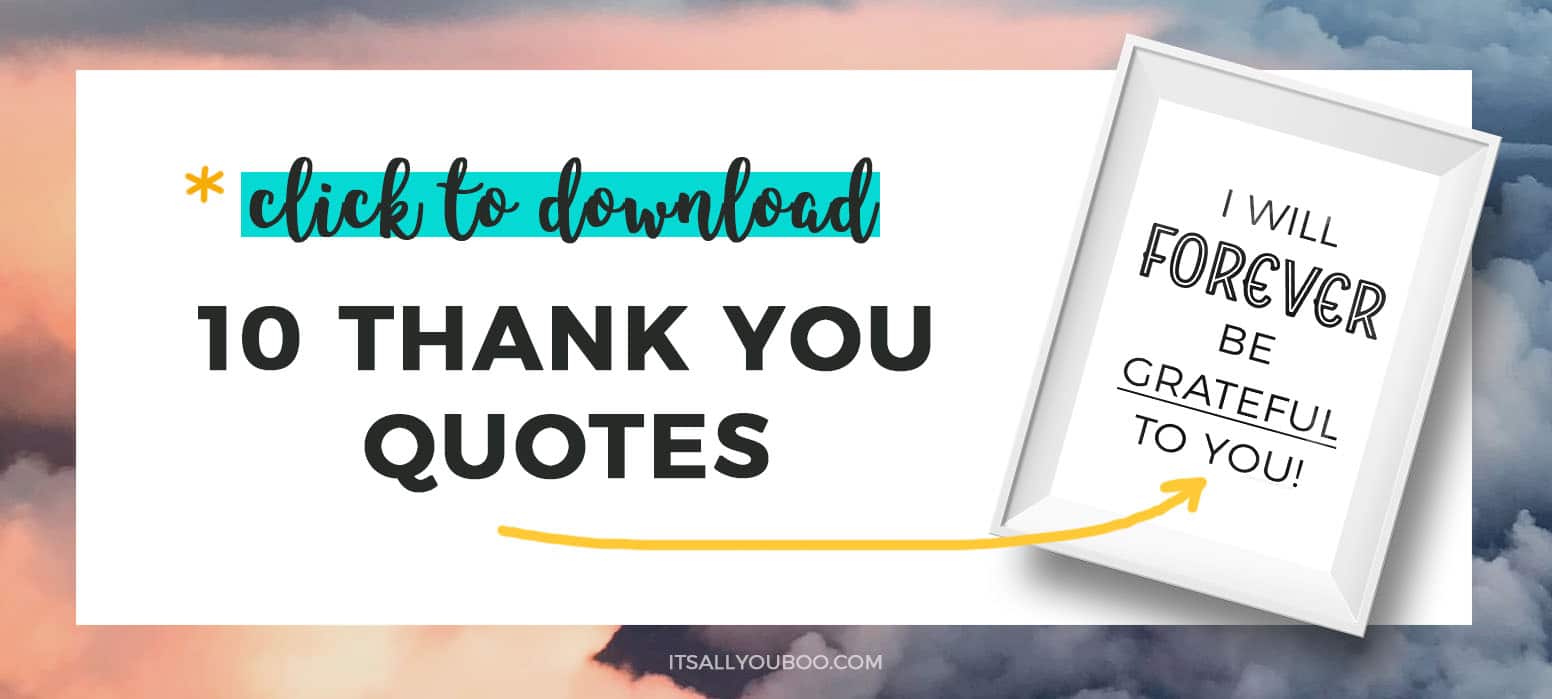 Inspirational Quotes About Good Medicine
What role does medicine play? The following appreciation quotes for Doctors Day seek to define good medicine. Doctors have been at the forefront of medical discoveries, from germs and prevention to vaccines and treatments. Don't forget, prevention is often better than the cure, so wash your hands.
"Medicines cure diseases, but only doctors can cure patients." ― Carl Jung
30. "Drugs don't work in patients who don't take them." — C. Everett Koop
31. "The art of medicine consists in amusing the patient while nature cures the disease." — Voltaire
32. "One of the first duties of the physician is to educate the masses not to take medicine… Soap and water and common sense are the best disinfectants." ― William Osler
👉🏽 RELATED POST: Top 10 Healthy Habits List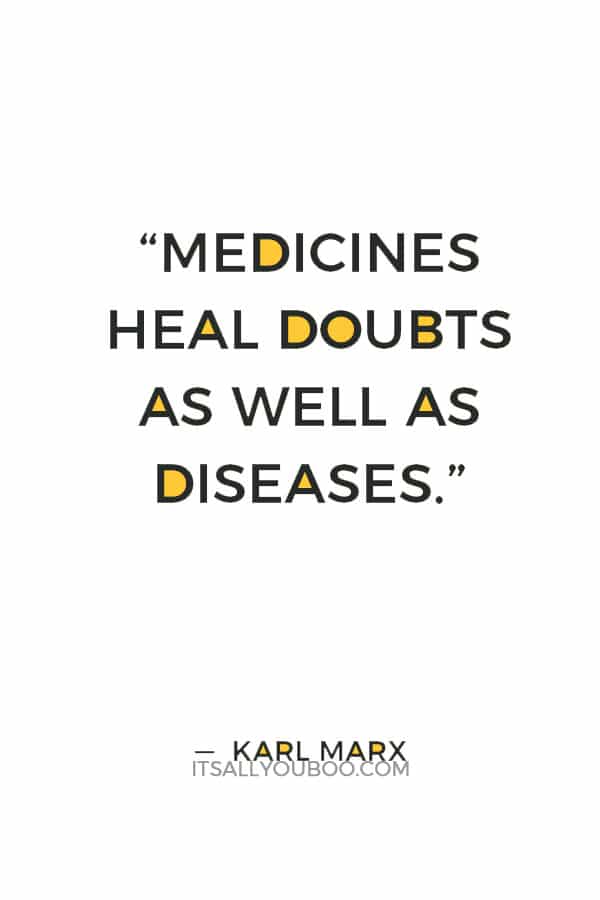 33. "Medicines heal doubts as well as diseases." ― Karl Marx
34. "It's the doctors duty to activate and reactivate the body's own healing mechanism." — Charlotte Gerson
35. "Disease is cured by the body itself, not by doctors or remedies." — John Harvey Kellogg
"It is much more important to know what sort of a patient has a disease than what sort of a disease a patient has." ― William Osler
37. "Medicine is aptly described as an art, not a science. To this end, four different doctors may have up to four different diagnoses or prescriptions." ― Andrew Saul
38. "The aim of medicine is to prevent disease and prolong life; the ideal of medicine is to eliminate the need of a physician." — William J. Mayo
39. "No families take so little medicine as those of doctors, except those of apothecaries." ― Oliver Wendell Holmes
"Medicine, the only profession that labors incessantly to destroy the reason for its own existence." ― James Bryce
41. "The doctor of the future will give no medicine but will interest his patients in the care of the human frame, in diet and in the cause and prevention of disease." ― Thomas Edison
It Takes More Than Medicine Quotes
What does it take to heal the body? Is the treatment of patients just about medicine? This selection of inspirational appreciation quotes for doctors explores what it takes the heal patients. Healing takes kind words, happiness, joy, kindness, music and so much more. Most of all, if you're sick, stay positive!
42. "The art of healing comes from nature, not from the physician. Therefore, the physician must start from nature, with an open mind." ― Paracelsus
"Doctors can heal the body, but it is music that uplifts the spirit." — Mother Teresa
44. "In spite of all that doctors know, and their studies never end, the best cure of all when spirits fall is a kind note from a friend." ― John Wooden
👉🏽 RELATED POST: How to Stay Positive No Matter What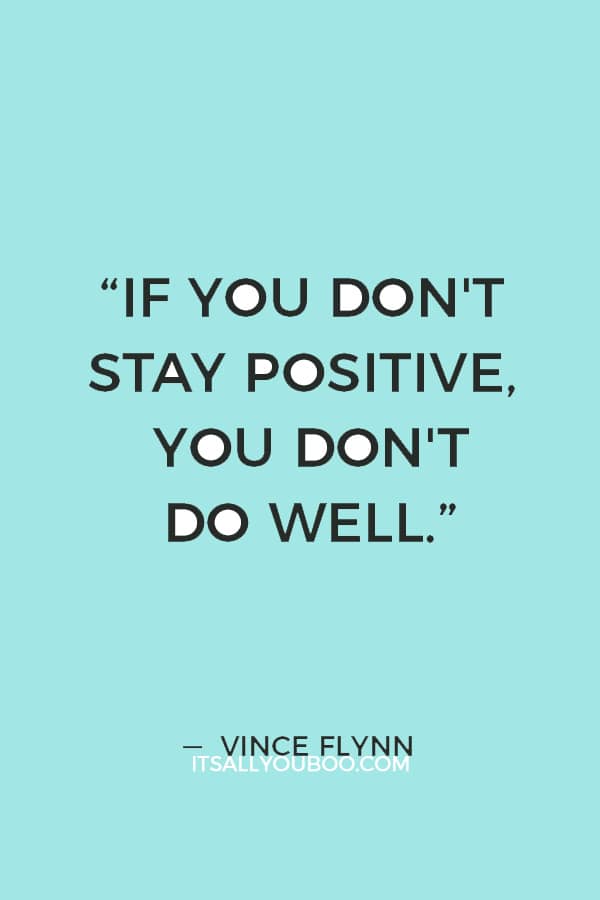 45. "My doctors warned me repeatedly that if you don't stay positive, you don't do well." ― Vince Flynn
"A merry heart is a good medicine; but a broken spirit drieth the bones." — Proverbs
47. "It is all about rehab. Most doctors can make you 100 percent well physically. I would tell you that it is 25 percent about the surgery and 75 percent about the rehab." ― Curt Schilling
48. "The greatest mistake in the treatment of diseases is that there are physicians for the body and physicians for the soul, although the two cannot be separated." ― Plato
49. "Body and soul cannot be separated for purposes of treatment, for they are one and indivisible. Sick minds must be healed as well as sick bodies." ― C. Jeff Miller
50. "As doctors, we are not trained to communicate and understand the power of our words as they relate to a patient's ability and desire to survive." ― Bernie Siegel
"The physician treats with words; within the physician-patient social system, the patient is moved by fears and other sentiments, and these are modified by the physician's words and phrases. Physicians dispense not only medicines but words that influence medicines or, all by themselves, that affect the patient more than the medicine." ― Dr. Morgan Martin
52. "Patients who trust their doctors and have a psychological expectation of getting better could trigger a reaction in their body." — Irving Kirsch
Quotes About Doctors and Patients
What's the doctor-patient relationship like? How can doctors build strong relationships with patients? This collection of inspirational appreciation quotes for doctors explores the patient-doctor relationship. The best care possible includes the best understanding possible.
53. "Do as much as possible for the patient, and as little as possible to the patient." ― Dr. Bernard Lown
"The doctor should be opaque to his patients and, like a mirror, should show them nothing but what is shown to him." ― Sigmund Freud
55. "Each patient carries his own doctor inside him." ― Norman Cousins
56. "Let the young know they will never find a more interesting, more instructive book than the patient himself." — Giorgio Baglivi
57. "Sometimes, the best thing we can do for our patients is to tell them what the best behavior is and then negotiate something they can live with." — Nancy Dickey
👉🏽 RELATED POST: How to Reach Your Health and Fitness Goals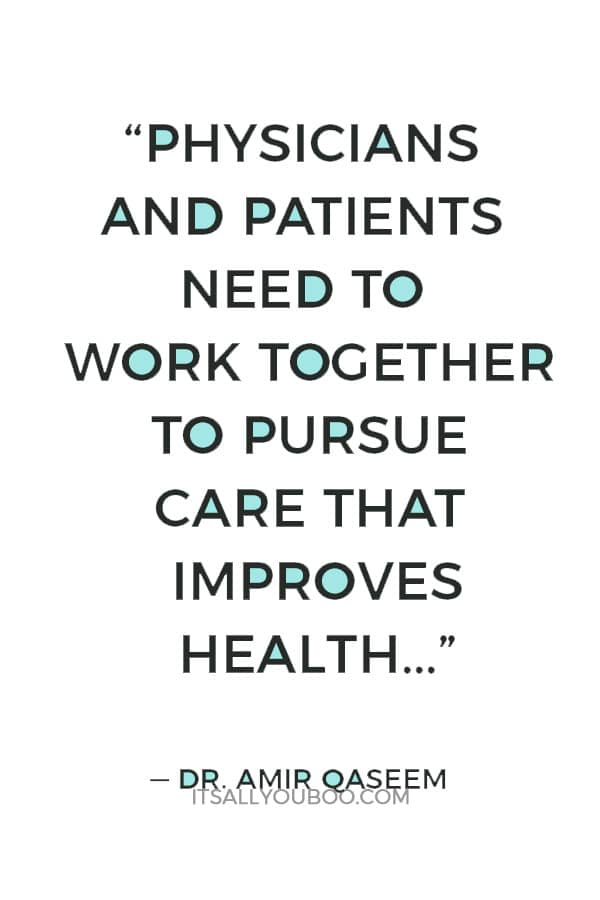 58. "Physicians and patients need to work together to pursue care that improves health, avoids harms and eliminates wasteful practices." — Dr. Amir Qaseem
59. "There are two things panic patients hate to do. They hate to take medication – and they hate to go to doctors. They hate to come to grips." ― Earl Campbell
60. "You need a good bedside manner with doctors or you will get nowhere." ― William S. Burroughs
"Doctors are not servants of their patients, they are traders like everyone else in a free society and they should bear that title proudly considering the crucial importance of the services they offer." ― Ayn Rand
62. "People pay the doctor for his trouble; for his kindness they still remain in his debt." ― Seneca
Liking and Trusting Your Physician Quotes
What do people really think about doctors? Do patients like and trust their doctors? These inspirational appreciation quotes for doctors explore the reality of how most of us feel about physicians. In this chaotic time, you have to put your trust in someone, I choose them. Who else are you going to trust, the internet?
"My doctor is nice; every time I see him, I'm ashamed of what I think of doctors in general." — Mignon McLaughlin
64. "I really like my doctors. Some of them I love. I trust them." — Nancy Grace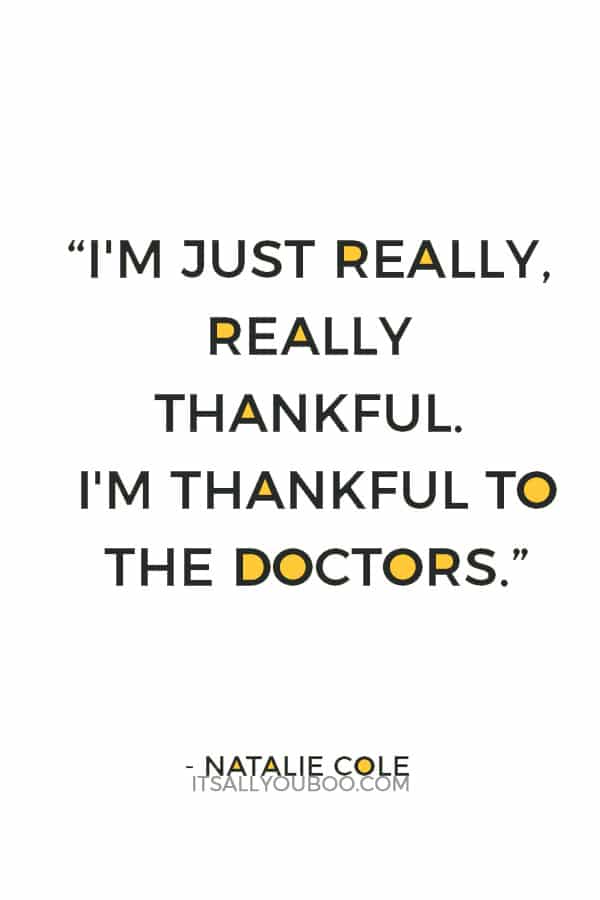 65. "I'm just really, really thankful. I'm thankful to the doctors; I'm thankful to the family that donated the kidney." ― Natalie Cole
"I love doctors and hate their medicine." — Walt Whitman
67. "I'm grateful for the doctors that'll be scooping out these lungs and giving me some more life to work with. I'm grateful for the chance to keep being a person." ― Claire Wineland
68. "I am lucky: I have fantastic doctors and a fantastic dentist." ― Anna Deavere Smith
"I actually like how doctors talk. I like the sound of science. I like how words you don't understand explain things you can't understand." — R. J. Palacio
70. "A lot of times I talk to people, they say they don't trust the doctors, they don't trust the hospitals and that kind of stuff. Well, if you go to the hospital, you've got to trust somebody." — Larry Hagman
71. "People are so afraid of authority figures and doctors are authority figures." — Martha Beck
72. "Many people are intimidated by doctors. … People also feel stupid when they don't understand what a doctor's talking about the first time around, so they don't ask again. And let's be honest here, people. English is not a doctor's first language." — Erma Bombeck
Appreciation Quotes for Doctors in a Crisis
How do doctors react in a crisis? What about during a tragedy? The following appreciation quotes explore the role of physicians and health care workers in a crisis. Thank goodness for them, for their dedication and hard work during tough times. Doctors are the true heroes among us!
"In this case they're doctors. But having passion for your work and to take risks in order to better human kind. That's a pretty big theme. It's pretty inspiring." ― Mary Stuart Masterson
74. "One cannot be deeply responsive to the world without being saddened very often." ― Erich Fromm
75. "Doctors will have more lives to answer for in the next world than even we generals." ― Napoleon Bonaparte
76. "The physician should look upon the patient as a besieged city and try to rescue him with every means that art and science place at his command." ― Alexander of Tralles
77. "Affliction is a good man's shining time." ― Edward Young
👉🏽 RELATED POST: How to Stay Healthy While Chasing Your Dream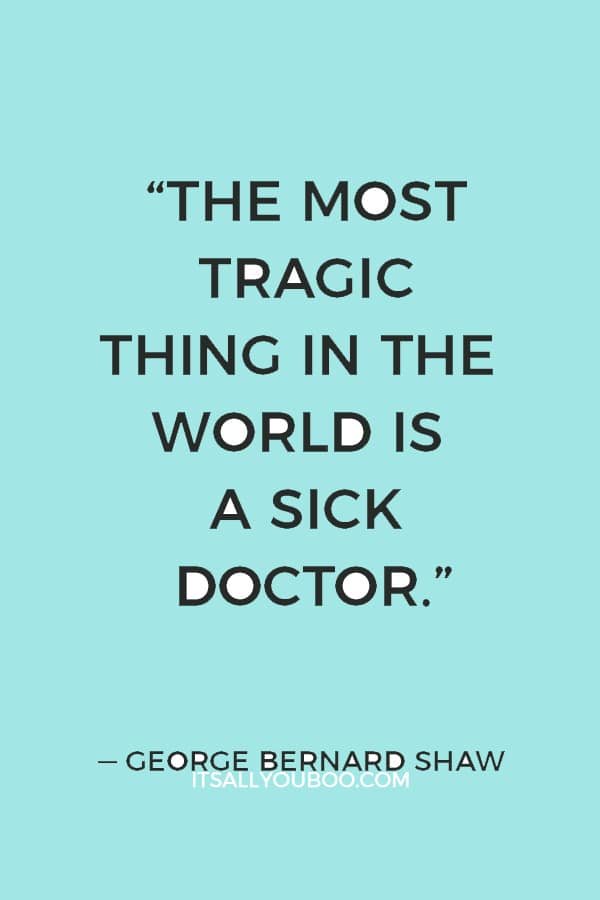 78. "The most tragic thing in the world is a sick doctor." ― George Bernard Shaw
79. "There's never been a doctor who served many patients who, despite their best efforts, did not lose some of them to death. But they understood that was part of life itself." ― Zig Ziglar
"Disease, sickness, and old age touch every family. Tragedy doesn't ask who you voted for. Health care is a basic human right." ― Elizabeth Warren
81. "I've heard doctors say that before the crisis hits, people don't want prolonged measures, but then in the middle of the crisis they want everything." ― Katy Butler
82. "No matter what measures are taken, doctors will sometimes falter, and it isn't reasonable to ask that we achieve perfection. What is reasonable is to ask that we never cease to aim for it." ― Atul Gawande
83. "GPs are almost the only doctors these days who understand all problems, can see the whole person… spend time with the dying… see things through to the end." ― Jane Wilson-Howarth
84. "When you lose someone, a whole lot of perfectly normal circumstances suddenly take on different meaning. You see it in a different light. You wonder if they knew. I wondered. Doctors have told me that people do have a sense of their own approaching death." — Joan Didion
"Compassionate doctors sometimes lie to patients about the severity of their condition, and it is not always wrong to do so." ― Richard Dawkins
86. "You really can change the world if you care enough." ― Marian Wright Edelman
87. "The simple act of caring is heroic." ― Edward Albert
88. "From caring comes courage." ― Lao Tzu
Wanting to Become a Doctor Quotes
What did you want to be when you grow up? Did your parents want you to be a doctor? The next selection of inspirational appreciation quotes for doctors to say thank you is all about wanting to be a doctor. So many kids dream of being doctors. They dream about being heroes!
89. "I wish medical schools helped us to analyze our healthy and unhealthy reasons for becoming doctors." ― Bernie Siegel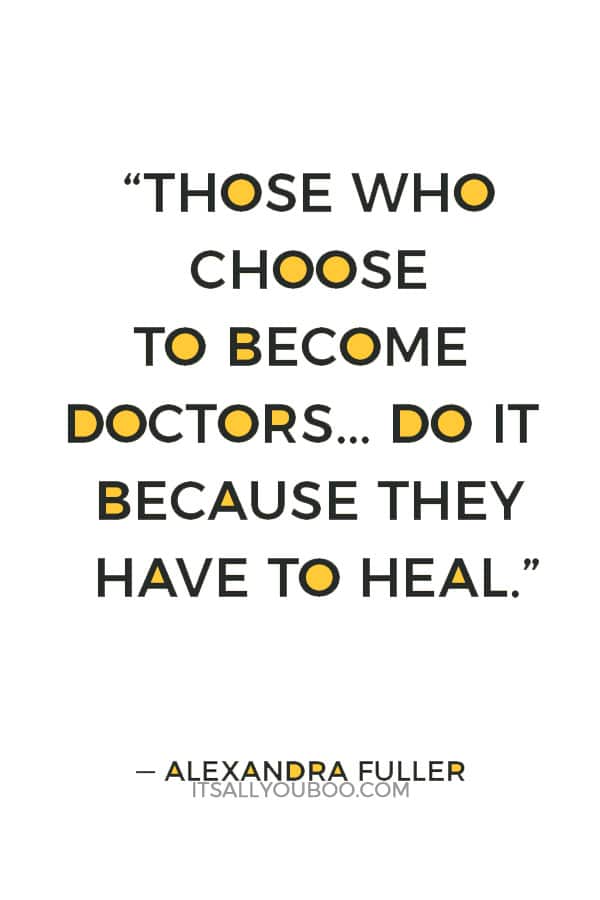 90. "There aren't enough doctors in Africa. Those who choose to become doctors here don't do it for the money or because they want to do good. They do it because they have to heal, the way most people need to breathe or eat or love." — Alexandra Fuller
"For many children, it's seeing a beloved relative ill and in pain that leads them to want to become doctors. But, for me, it was watching my grandma get better." ― Michael Greger
92. "Two of the most frustrated trades are dentists and photographers – dentists because they want to be doctors, and photographers because they want to be painters." ― Pablo Picasso
93. "I'm from a family of doctors, and I think they really wanted me to be a doctor. I even sort of assumed I would be a doctor." ― Kumail Nanjiani
94. "I envy children who know that they're going to become doctors, know they're going to go into the forces or whatever. I think choice is one of the hardest things, but that's what I try to give my children, to say you can do anything." ― Jeremy Irons
"Growing up, my dolls were doctors and on secret missions. I had Barbie Goes Rambo." ― Zoe Saldana
96. "I try and tell all the kids that I meet that hope to be amazing one day and be a professional athlete or a doctor or a lawyer or whatever they want to be. I tell them they can do all that because Tourette's won't stop them." ― Tim Howard
97. "When other boys dreamt of going to the moon or becoming doctors, I wanted to be a designer." ― Olivier Theyskens
98. "I am one of four girls and was inspired by my father to dream big. Some girls want to be doctors, but I wanted to run a company." — Denise Morrison
99. "My father said writing was a nice hobby. He strongly encouraged my brother and me to become doctors." ― Tess Gerritsen
👉🏽 RELATED POST: Empowering Feminist Quotes for Women
"There aren't more lady songwriters for the same reason that there aren't more lady doctors or lady accountants or lady lawyers; not enough women have the time for careers." ― Dorothy Fields
101. "I find that it is much easier now for women to be in any position because, as you see, they are presidents of banks, they are prime ministers, they are doctors. Everything is about women." — Carolina Herrera
102. "Nobody defines it as something women shouldn't be doing. In a way, there are more mathematicians, more doctors, more scientists in India than there are in this country. We even had a woman head of state, and that's something the United States has yet to catch up with." — Vandana Shiva
Quotes that Doctors Compared to Other Professions
Who do men perceive women to be? What are the best feminist quotes for men? This collection of empowering feminist quotes illustrates the very real challenges women face from men. These quotes don't hold back about the honest fears women face.
103. "The doctor sees all the weakness of mankind; the lawyer all the wickedness, the theologian all the stupidity." ― Arthur Schopenhaue
👉🏽 RELATED POST: Heart Touching Teacher Appreciation Quotes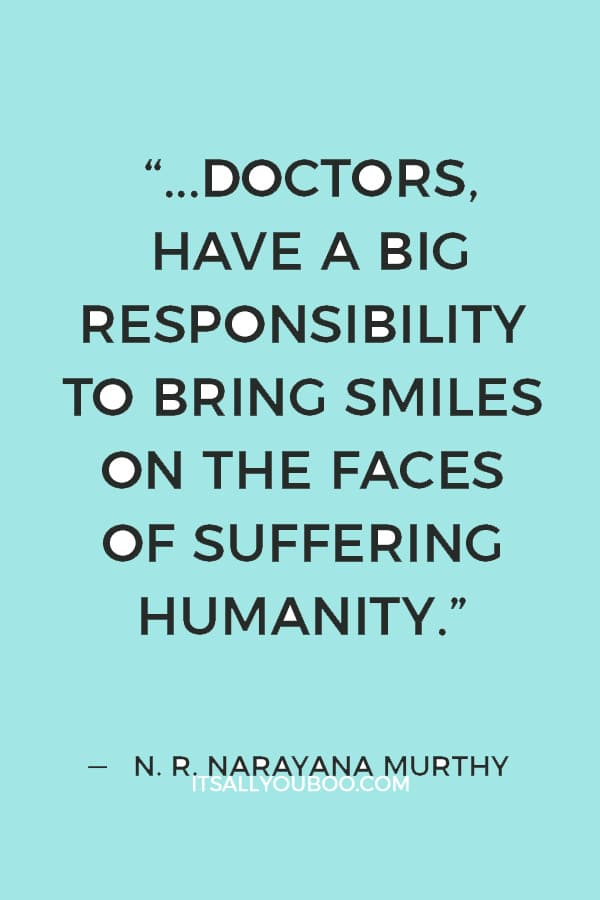 104. "We all, as engineers, doctors, have a big responsibility to bring smiles on the faces of suffering humanity." ― N. R. Narayana Murthy
"Art stands in opposition to all the bad things that happen in life, which is where physicians stand. That's what doctors do-affirm life. And that's what artists do." ― Eric Avery
106. "Most economists, like doctors, are reluctant to make predictions, and those who make them are seldom accurate. The economy, like the human body, is a highly complex system whose workings are not thoroughly understood." ― Alice Rivlin
107. "Doctors are always working to preserve our health and cooks to destroy it, but the latter are the more often successful." — Denis Diderot
108. "If you believe the doctors, nothing is wholesome; if you believe the theologians, nothing is innocent; if you believe the military, nothing is safe." ― Lord Salisbury
109. "There is an effective strategy open to architects. Whereas doctors deal with the interior organisms of man, architects deal with the exterior organisms of man. Architects might join with one another to carry on their work in laboratories as do doctors in anticipatory medicine." — R. Buckminster Fuller
Funny Quotes About Doctors Advice
It can't all be serious. What are the funniest quotes about doctors? Need to have a good laugh? The following quotes about doctors are funny and lighthearted in nature. This can be a stressful time, read them to relieve the tension and deal with stress or anxiety.
110. "My doctor is wonderful. Once when I couldn't afford an operation, he touched up the X-rays." — Joey Bishop
"The doctors x-rayed my head and found nothing." — Dizzy Dean
👉🏽 RELATED POST: Benefits of Gratitude in Life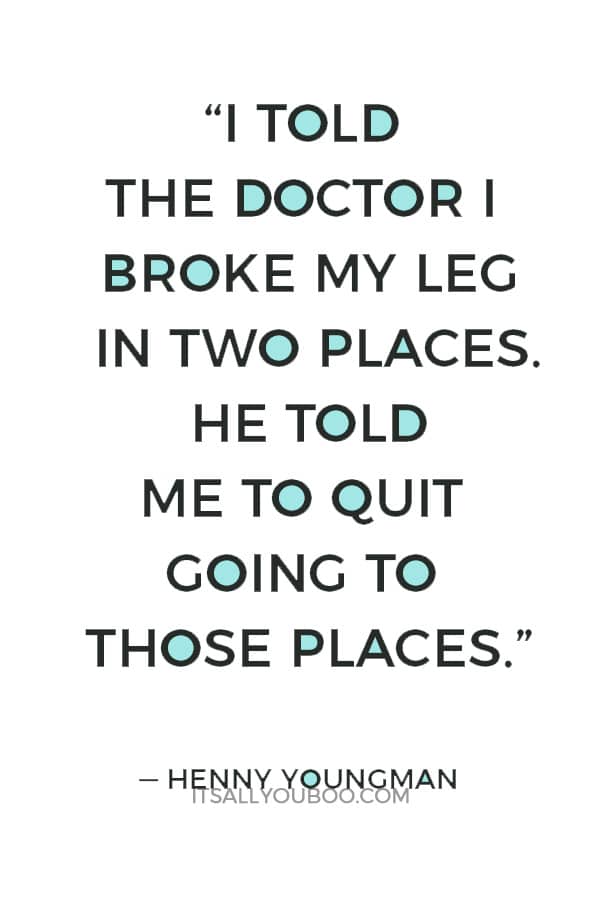 112. "I told the doctor I broke my leg in two places. He told me to quit going to those places." — Henny Youngman
113. "My doctor tells me I should start slowing it down – but there are more old drunks than there are old doctors so let's all have another round." — Willie Nelson
"A woman tells her doctor, 'I've got a bad back.' The doctor says, 'It's old age.' The woman says, 'I want a second opinion.' The doctor says: 'Okay – you're ugly as well'." — Tommy Cooper
115. "A doctor gave a man six months to live. The man couldn't pay his bill, so he gave him another six months." — Henny Youngman
116. "I went to the doctors the other day and I said, 'have you got anything for wind?' So he gave me a kite." — Tommy Cooper
117. "The doctors who have examined me say I am healthy enough for a long life, so don't have any illusions that I'll soon leave this world." — Tomas Borge
👉🏽 RELATED POST: How to Improve Your emotional Wellness
118. "The most popular Valentine's Day gift is chocolate. In the 1800's, doctors told their patients to eat chocolate to get over a broken heart. They also thought if you're going to be alone, who cares if you get fat." — Craig Ferguson
"The doctor looked at my cardiogram and made that 'hmmmm' noise that doctors are taught in medical school so they won't come right out and say 'UH-oh!'" — Dave Barry
120. "The doctors couldn't find anything wrong with me except that I have a slight stomach pain. Wait till I get my hospital bill! Then I'll really have a pain the stomach!" — Jack Benny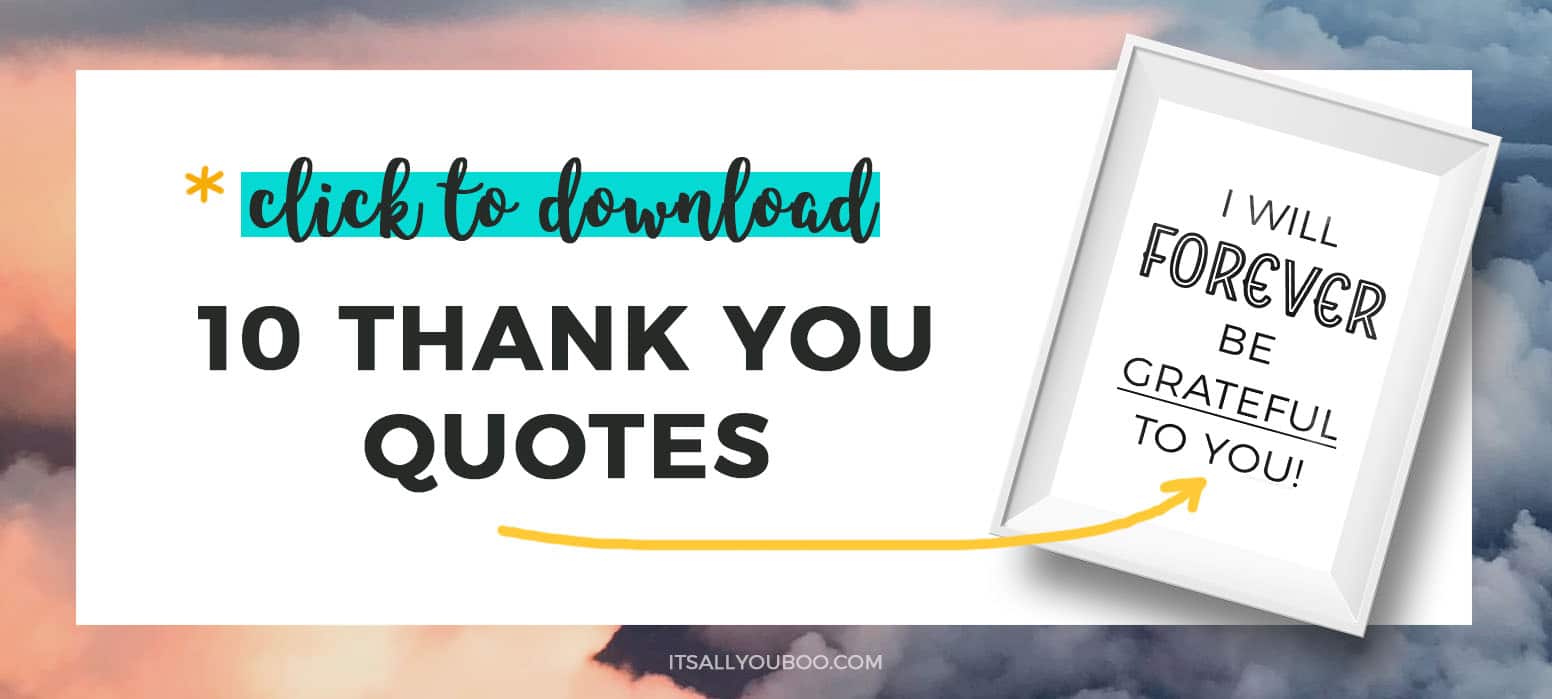 Light-hearted Quotes About Doctors
What's the funniest joke or saying about doctors? This selection of appreciation quotes for Doctor's Day shows the amusing side of the doctor-patient relationship. What's the funniest thing your doctor has ever said to you?
121. "I got the bill for my surgery. Now I know what those doctors were wearing masks for." — James H. Boren
"You may not be able to read a doctor's handwriting and prescription, but you'll notice his bills are neatly typewritten." — Earl Wilson
123. "The man who doctors himself with the aid of medical books, runs the risk of dying of a typographical error." — Evan Esar
124. "In the name of Hypocrites, doctors have invented the most exquisite form of torture ever known to man: survival." — Edward Everett Hale
125. "Doctors don't seem to realize that most of us are perfectly content not having to visualize ourselves as animated bags of skin filled with obscene glop." — Joe Haldeman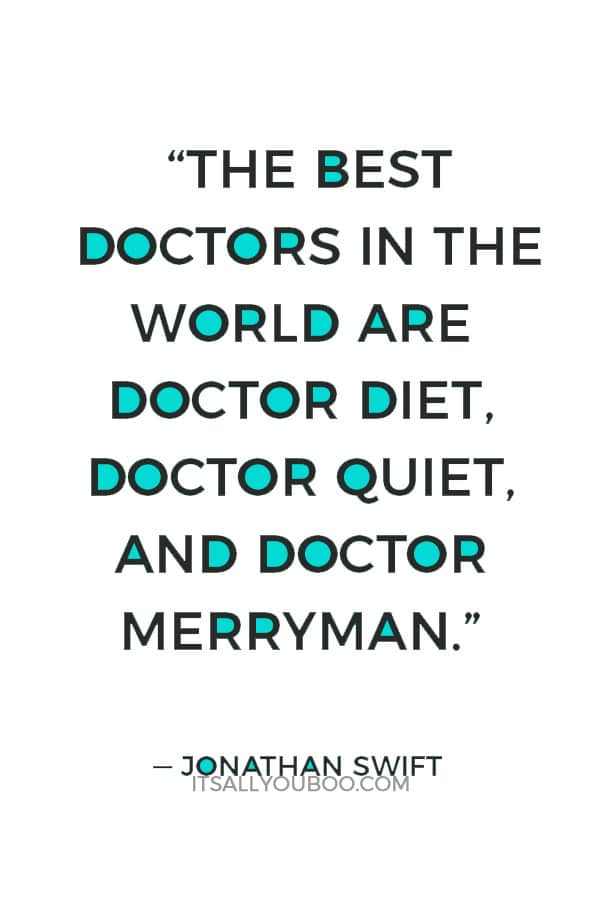 126. "The best doctors in the world are Doctor Diet, Doctor Quiet, and Doctor Merryman." — Jonathan Swift
127. "Remember, half the doctors in this country graduated in the bottom half of their class." — Al McGuire
128. "The New England Journal of Medicine reports that 9 out of 10 doctors agree that 1 out of 10 doctors is an idiot." — Jay Leno


"Women go after doctors like men go after models. They want someone with knowledge of the body. We just want the body." — Jerry Seinfeld
130. "Isn't it a bit unnerving that doctors call what they do 'practice'? — George Carlin
Quotes About the Need for Doctors
What are the best quotes about the future of medicine? The following appreciation quotes for doctors share the truth about the health care debate in America. There is a crisis, there is a shortage of access to service, and each of these quotes speaks to that. As a Canadian, I firmly believe that health care is a right. But I also recognize that the solutions are not as simple as patients need them to be.
👉🏽 RELATED POST:  60 Inspirational Thank You Quotes for Nurses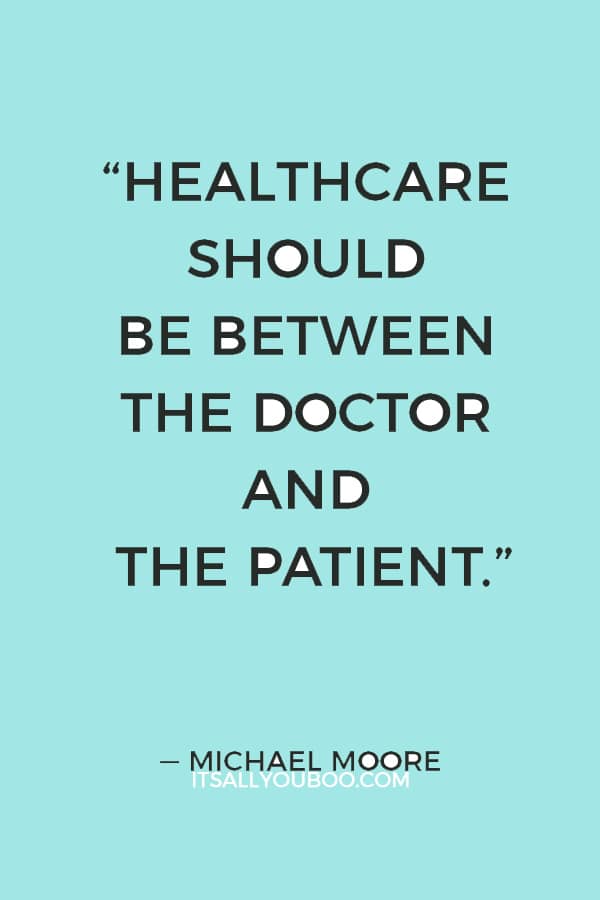 131. "Healthcare should be between the doctor and the patient. And if the doctor says something needs to be done, the government should guarantee it gets paid for." ― Michael Moore
"I've been asked a lot for my view on American health care. Well, 'it would be a good idea,' to quote Gandhi." ― Paul Farmer
133. "When we are trying to come up with new health laws, you bring doctors, you bring experts in medicine. In urban planning, you bring the best architects. How it is possible that when we are talking about the way we are going to feed America, no chef shows up in the room?" — Jose Andres
"Americans have the right to have their medical decisions made by them and their doctors, and not by those bureaucrats sitting behind a computer screen hundreds of miles away." — Al Gore
135. "America's doctors, nurses and medical researchers are the best in the world, but our health care system is broken." — Mike Ferguson
136. "The best doctors and the best hospitals in America, if they cannot get the patient information they need when they need it, it can lead to morbid consequences: Higher mortality." — Timothy Murphy
"We have the greatest hospitals, doctors, and medical technology in the world – we need to make them accessible to every American." — Barbara Boxer
138. "Now this is a way to approach our healthcare problems: increase the number of tax collectors and decrease the number of doctors – brilliant!" — Charles Krauthammer
139. "By 2020 the U.S. will be short 91,000 doctors. There's no way we can educate enough doctors to make up that shortfall, and other countries are far worse off." — Peter Diamandis
140. "True health care reform cannot happen in Washington. It has to happen in our kitchens, in our homes, in our communities. All health care is personal." ― Mehmet Oz
Inspirational Healthcare for All Quotes
What about the global healthcare system? What's the situation with doctors around the world? This final collection of inspirational appreciation quotes for doctors that say thank you raise awareness for the global need for healthcare. More doctors, more capacity, more infrastructure is needed everywhere around the world.
141. "The goal of real healthcare reform must be high-quality, universal coverage in a cost-effective way." ― Bernie Sanders
142. "Everyone should have health insurance? I say everyone should have health care. I'm not selling insurance." ― Dennis Kucinich
"I've realised that doctors can only help change a certain number of patients, but a Minister of Health can really change things." — Leo Varadkar
144. "It is amazing that people who think we cannot afford to pay for doctors, hospitals, and medication somehow think that we can afford to pay for doctors, hospitals, medication and a government bureaucracy to administer it." — Thomas Sowell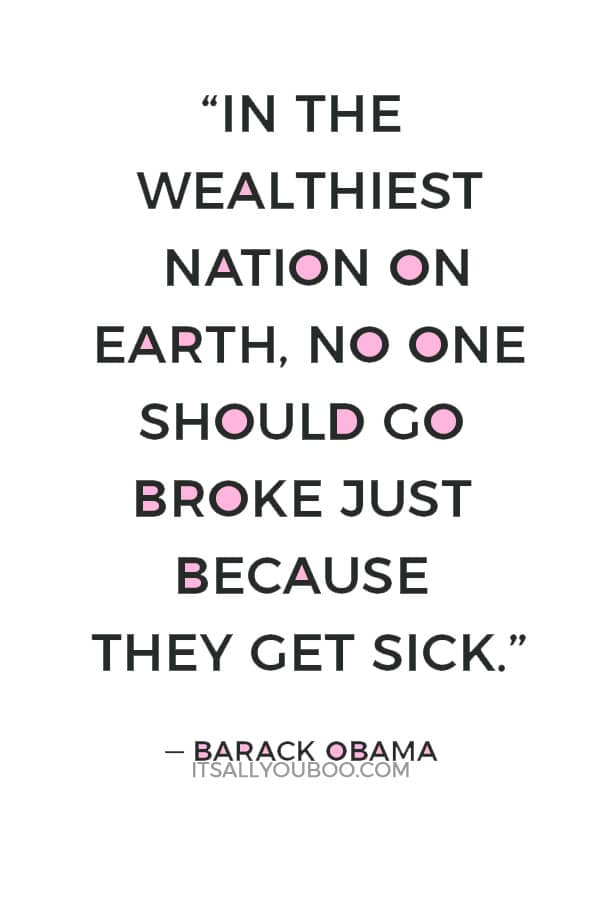 145. "In the wealthiest nation on Earth, no one should go broke just because they get sick." — Barack Obama
146. "The World Health Organization did a world health report in 2006. In the whole world about 60 countries are in dire situation in terms of having enough doctors. And many of these countries are in Sub-Saharan Africa. You know, that part of the world alone needs one million doctors." — Margaret Chan
147. "AI systems will enable doctors to diagnose diseases and treat people better, so blocking that progress is probably one of the worst things you can do for making the world better." — Mark Zuckerbeg
148. "Technology must be implemented as part of a thoughtful, holistic approach to education transformation that includes teacher training, relevant curricula, parental involvement, and programs for children that fill unmet needs for basics like nutrition and health care." — Bill Gates
"The idea that some lives matter less is the root of all that is wrong in the world." — Paul Farmer
150. "Our lives begin to end the day we become silent about things that matter." — Martin Luther King, Jr.
Printable Thank You Card Quotes
Ready to share your gratitude with your doctor? A printable quote is a perfect way to say thank you! Use them to create a handmade card or frame for a heart-touching gift they'll remember.
This download comes with 10 high-resolution black & white quotes ready to be printed.
Isn't this such an incredibly eye-opening collection of quotes about doctors and healthcare?
I hope they spark deep thought and understanding about just how much doctors do for us.
Whether you're sick or healthy, take a moment to say thank you to your doctor or any local doctors in your area. All it takes is a thank you card in the post to a hospital, or a kind message on social media.
Let's share our appreciation for doctors today and every day, not just on National Doctor's Day.
Thank you so much to every doctor doing their best to get us through.
Looking for the perfect thank you message for doctors? Click here to say thank you with these 150 inspirational appreciation quotes for doctors. #HealthcareHeroes #DoctorsDay #ThankADoctor #WeStandWithDocs

What's your favorite appreciation quotes for doctors?
Last Updated on November 30, 2021