How do you manifest gratitude in your life? What are the daily gratitude activities that activate the Law of Attraction?
It seems like the more we try to focus on the positives, the harder it is.
Between trying to juggle our day-to-day, striving for the next big thing in our career or personal life, or just struggling to stay afloat on the finances, it may be a struggle to focus on thankfulness.
This can be especially hard when you feel stuck or trapped in a life you less than love. Perhaps working a job you want to quit, maybe even living somewhere you'd rather not (like with your parents).
But it's in these times, the tough and challenging days, where gratitude is so important! It's easy to be thankful and grateful when things are good and when we're happy and loving life. When things are going your way, but what about when they're not?
If you're struggling to feel thankful, you need to ask the universe for help and manifest gratitude.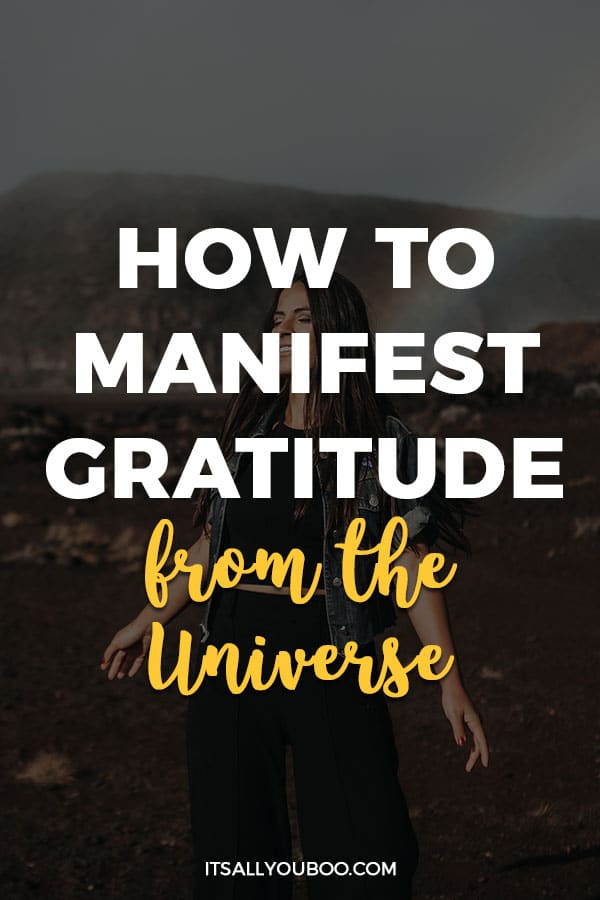 What is the Benefit of Gratitude?
The importance of manifesting gratitude is integral in your mental, emotional, and spiritual health.
Along with that, it has been theorized that gratitude affirmations can help manifest positivity in other aspects of our lives.
Whether you are waiting for the tide to turn in your favor, trying to focus on the good in your life, or feel like you are constantly feeling a sense that you are missing out on all the world has to offer.
Getting into a habit of manifesting daily affirmations can allow you to be more open to positivity and new opportunities. If you're ready to begin gratitude activities and bring about positive change in your day-to-day lives, start with some of these very simple tips.
That's how you can start enjoying the benefits of gratitude in your life.
👉🏽 RELATED POST: What is the Law of Attraction?
6 Ways to Manifest Gratitude Today
#1.
Stay Away From the "It Could Be Worse" Mentality
Many tend to manifest gratitude with a comparison. In the same way that comparing yourself to others in a negative outlook, by wanting what others have, trying to compare yourself to others that may not have as much as you can be just as destructive.
Keep in mind that even though you're trying to "manifest gratitude" by saying you are grateful that you aren't in the same situation as another can manifest all sorts of negative energy.
For example, comparing yourself in any form to others is unhealthy, even if you think you are being good to yourself, you will find yourself gravitating towards comparisons elsewhere. Assuming someone's lifestyle, finances, or overall sense of self-worth is not as high as your own can be considered a cruel way to put others down in order to bring yourself up.
👉🏽 RELATED POST: Ways to Practice Gratitude and Be More Thankful
You'll Always Lose at the Comparison Game
Not only that but if you constantly think you are better off than someone else, you may find yourself eventually running out of people to compare yourself to.
"At least I'm not as bad off as Janet…at least I'm not that person walking to work…at least I'm not that homeless man outside the store…at least I'm not a turtle."
Instead, if you feel someone is struggling, try and feel empathy for them, wish them the best, or even offer to help. There is nothing more rewarding than donating your time, money, or skills to others in need. The universe will thank you.

#2.
Start the Moment You Wake Up
Think about what you do the moment you wake up. What's the first thing you do in the morning?
More often than not, you probably hit the snooze on your phone alarm and immediately hop onto social media.
Why is that toxic and not conducive to someone who wishes to manifest gratitude? You start your day by comparing yourself to others and may even get a sense of "fear of missing out".
Instead, try and start your day with a short meditation on gratuity. According to House Method, you can manifest gratitude as soon as you wake up by observing what you have around you; a bed to sleep in, the decorations you were able to choose for your bedroom, or the roof that is over your head.
Keep a Gratitude Journal for Everything You're Thankful for
Something that I recommend doing is getting a notepad for your nightstand. This notepad is your outlet to manifest gratitude as soon as you wake up. Each morning, write down three to five things that you're thankful for and read them aloud.
👉🏽 RELATED POST: How to Practice Mindfulness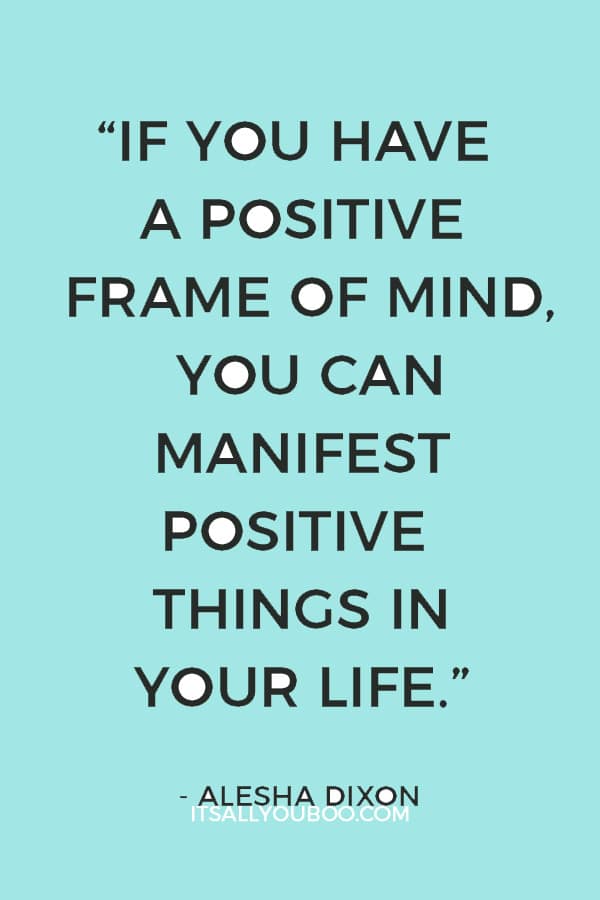 It's an excellent way to start your day, and a great way to remind yourself of the things that you're thankful for. Doing this may even motivate you to call someone you love and tell them that you're thankful for them!
Manifesting gratitude starts the moment you wake up.
#3.
Notice Everything You Do Have
Think about how often you take for granted everything you already have.
Your health, your beautiful family, a home to live in, food on the table, appliances to cook and preserve your food evenly, and then at the end of the day you have access to clean water to drink and bathe in and a warm bed to sleep in…and those are just a select few things to be thankful for.
👉🏽 RELATED POST: How to Always be Happy
We find ourselves complaining about everything we still do not have, all the while sitting among the luxuries that first-world countries can afford us. Consider what would happen if you had to go one day without everything mentioned above. Then consider how insignificant your complaints truly are.
You can't receive if you're complaining
When we fail to notice everything we do have, we do not align ourselves with being able to mentally appreciate how trivial our "complaints" really are and how to focus on our daily affirmations. Along with that, being closed off to thankfulness and not focusing on all that we already have keeps us from being able to receive more good from the universe.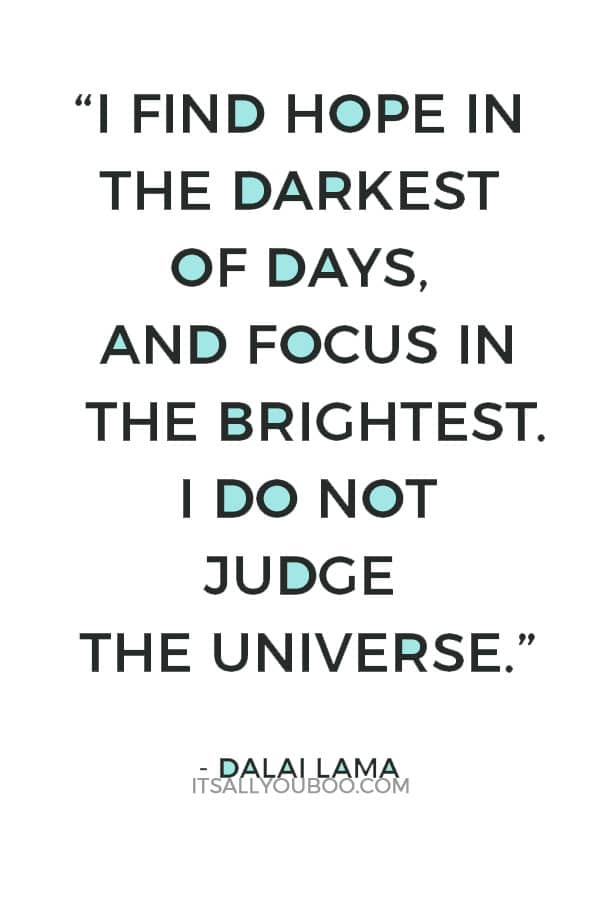 The secret is to open yourself up to appreciating every little item and feature in your life. Your home and its amenities, your beautiful family, the green grass, the fresh air – everything.
When you open your eyes, you will not only see what you are thankful for, but you will open yourself up to receiving more from the universe. That's how you manifest gratitude daily.
#4.
Create a Shift in Your Vibrational Energy
There is positive and negative energy all around us. We also emit this energy.
Positive things like experiences, situations, and feelings like love, joy, and freedom all emit positive energy. That positive energy vibrates at a higher level – think of it as having more energy – than negative energy.
The question is what type of vibrational energy do you emit?
Consider what you do on a daily basis. When we are feeling thankful, being happy, hopeful, or simply at peace – we vibrate at that higher energy level. That means we are also more aligned to other positive energies that vibrate at that same level.
If we find ourselves complaining, gossiping, arguing often, or even playing the role of a victim, then we are vibrating at those lower energy levels and will thus attract similar energy. Combat this. Manifest gratitude and focus on positive activities like spreading joy.

#5.
Be Open to Receiving More From The Universe
Believe it or not, when you manifest gratitude, it allows you to be more open to receiving even more than what you already have.
Consider this – if you are constantly worrying about what you don't have and all that you may be struggling with, instead of being open and grateful for everything you do have, you may find yourself so bogged down and stressed that you can't even open your eyes to all the opportunities the universe around you has to offer.
Once you manifest gratitude and have manifested that positive vibrational energy, you will actually become a magnet for all things "good". Do you remember the saying "when it rains it pours"? The same concept can be said for when you open yourself up to positivity and thankfulness.
Gratitude Is a Mindset
You may think, "I thought I was already open to receive. I could definitely use more now." But think about your mindset.
Do you find yourself seeing someone else get the promotion you wanted and instead of being happy for them, you think, "Why not me?" When you go on social media and see another family on vacation while you are stuck at home, do you get jealous? How about when you go shopping and can't afford that expensive bag?
👉🏽 RELATED POST: 37 Inspirational Gratitude Quotes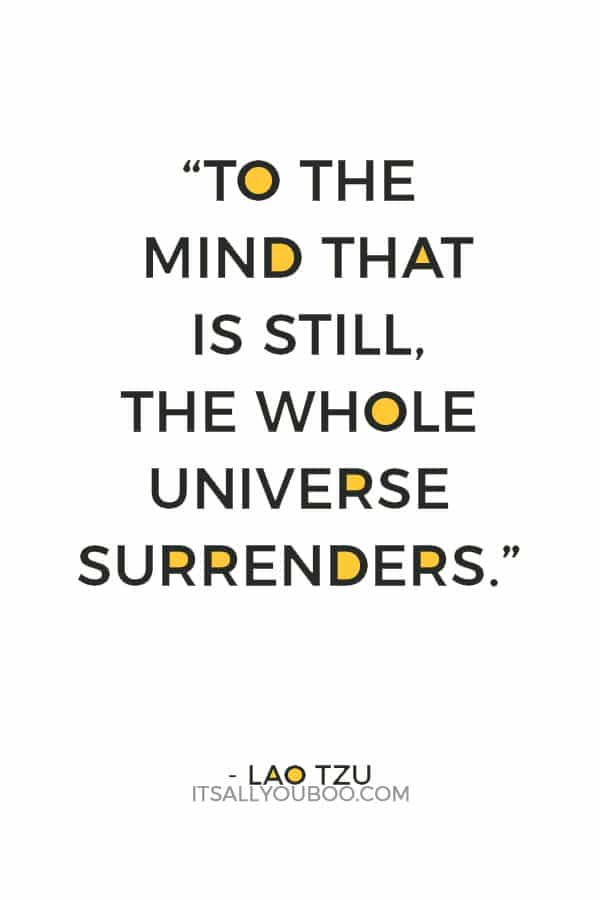 Being open to receiving more while also being thankful for what you currently have is the key. Do not expect to receive, but be open to receive. Be happy and grateful for what is already around you.
Picture yourself with your arms spread open, ready to give and receive a big hug. When you open yourself up to receive, you will receive!
#6.
Manifest Gratitude in Advance
This may seem counterintuitive – how are you grateful for something you don't yet have?
Think about meeting someone new, maybe when you met your future partner in life. Before you loved them, before you married them, before you even grew a family with them, you appreciated their charm, their wit, and of course their looks. The same concept can be manifested on what you do not yet have.
👉🏽 RELATED POST: How to Manifest Love in Your Life
For instance, waiting for the tide to turn on your finances, or waiting for a new job. This may be the most difficult aspect when you manifest gratitude – being thankful in times of hardship – but it is the most important and the most rewarding.
Be thankful for the wait time you are given when searching for a job. This allows you to spend time with your family, take care of household chores, or catch up with friends.

Be grateful for the financial struggle. This allows you to open your eyes to what you currently have, and to create new ways to use what you already have.
The tide will turn and you will be thankful, so manifest gratitude in your daily affirmations for the journey and the learning experience that it offers. There are no negative occurrences, only opportunities to learn and grow.
You Can Manifest Gratitude In Your Life
Manifestations may feel a little awkward at first.
You may think to yourself, "This is silly" or something along those lines.
What will feel more awkward is when your manifestations actually begin reshaping your emotions toward certain situations.
You'll find yourself handling circumstances with an infectiously positive attitude; aware of the things that you are thankful for.
👉🏽 RELATED POST: Quotes About Being Thankful

Free 30-Day Gratitude Journal
Ready to manifest gratitude from the universe? Get your FREE Printable Gratitude Journal, with 30 days of self-reflection prompts.
In fact, your positivity and thankfulness may become contagious.
You may create a positive impact on those around you, inherently creating a network of people that are thankful for what they have.
Are you feeling ungrateful and unhappy with your life right now? Always thinking about what's next? Click here to manifest gratitude from the universe with simple gratitude activities. #LOA #Gratitude #Thanksgiving #Mindset #Thankful #Grateful

Ready to manifest gratitude in your life today?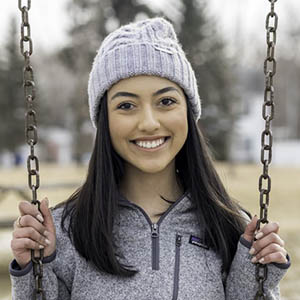 More About Guest Contributor
Delilah Farrell is a freelance writer that enjoys writing about mindfulness. She believes that we can all attain a stage of self-actualization by being mindful, present, and grateful.
Last Updated on November 19, 2022
✕
Get your FREE Gratitude Journal
+ get weekly tips to help you slay your goals.