How do you improve emotional wellness?
What are the benefits of emotional health and wellness?
We've all been there at one time or another.
Life becomes "too much" and life balance goes out the window, with your sanity.
You're stressed out, worried beyond measure, overwhelmed with life or work and maybe you're even feeling depressed.
To say you're just not feeling like it is an understatement. You feel like you're falling apart.
This is NOT a good place to be, because you have things to do! You're working towards achieving your goals and dreams, but right now just getting out of bed or falling asleep at night is a challenge.
So, what do you do? How do you pull yourself back from the edge and achieve emotional wellness?
First things first, if you are consistently struggling with your emotional health, please seek out professional help. A therapist or counselor is just a Google search away. Type in "therapist near me."
I turned to 35 emotional health and wellness experts, from therapists, psychologists, and counselors to doctors, intuitive emotional healers, and life coaches, asking just that. What is the #1 strategy for improving emotional health and wellness?
No matter where you are on the spectrum of emotional wellness, from feeling just a bit overwhelmed to feeling like a hot mess, there's an emotional wellness tip here for you. Find what works for you! And don't be afraid to get started and reach out for help.
Let's get started on our journey to emotional wellness. Plus, be sure to get your FREE Emotional Wellness eBook with all 35 ways to focus on yourself.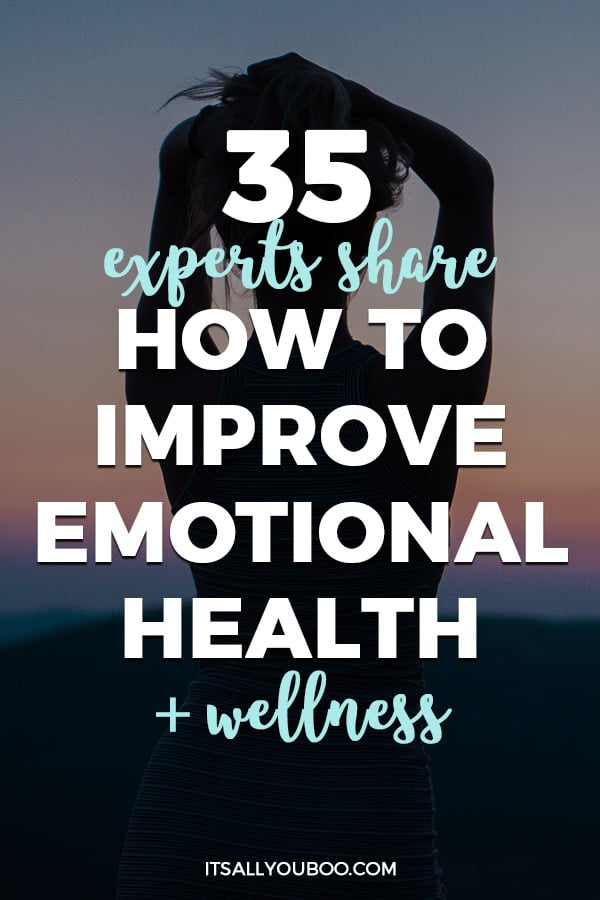 Self-Acceptance and Awareness
Where do you begin when it comes to improving your emotional wellness? What's the very first step to emotional health? It all begins with you getting to know yourself. Why are you stressed out and anxious? What do you feel like giving up? Why don't you feel like it? Then you can take steps to do what works for your emotional journey.
#1.

Do What Works for You
#2.
Awareness, Acceptance, and Compassion
#3.
Get to Know Your Personality
#4.
Stick to Your Personal Core Values
#5.
Accept Emotions as Normal, Not Wrong
#6.

Put Things in Perspective
#7.

Develop Your Self-Awareness Skills
Daily Journaling and Meditation
Now that you've started to explore your inner person, it's time for some strategies for improving emotional wellness. At the heart of these practices in mindfulness – being present and aware of your thoughts. It's no surprise that to get in tune with your thoughts, many emotional health experts recommend starting with a daily journaling and meditation practice.
#8.
Develop a Daily Mindfulness Practice
#9.
Increase Awareness of Your Thoughts
#10. Do Simple Brain-Training Exercises
#11.
Start a Meditation Practice
#12.
Meditate for 20 Minutes Every Day
#13.
Journal Therapy for Your Thoughts
#14.
Just Journal for 10 Minutes a Day
Surround Yourself with Positivity
Tired of feeling negative all the time? Like your thoughts are always focused on the dark side? It's time to wrap yourself in positivity. We'd love to be happy and positive in the face of challenges and daily life, but how do we get started? To improve your emotional health and wellness, here are some simple strategies to help us stay positive no matter what.
#15. Speak Positive Statements
#16.
Read Positive Insight Cards
#17.
Think Like a Winner
#18. Become An Optimist
#19.
Perform a Random Act of Kindness
#20.
Become a Love Generator
Take Better Care of Yourself
Are you burnt out and so overwhelmed? Do you feel like you're falling apart? When we're feeling buried under too much responsibility (both personal and professional) we understandably get super stressed. But, what if we could take better care of ourselves? Here are ways to improve your emotional health and wellness, that go well belong your typical self-care ideas and advice.
#21.
Take "Me Time" Every Single Day
#22. Slow Down and Be More Present
#23.
Know What Makes You Feel Recharged
#24.
Enjoy Short Frequent Staycations
#25.
Create a "Do Not Do" List
#26.
Set Boundaries by Saying No!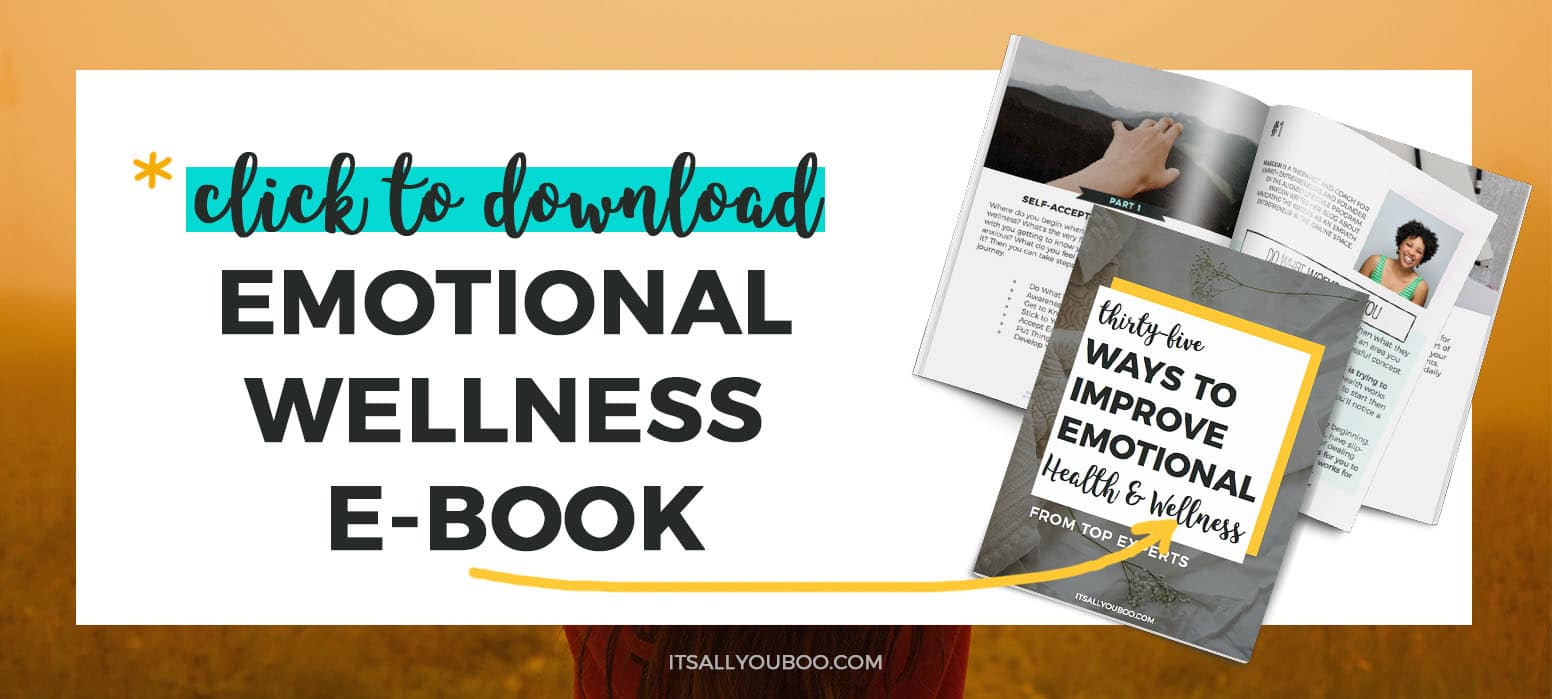 Deep Breathing and Exercise
Inhale, hold it and slowly exhale. That's how we calm ourselves down and stay centered to face the challenges of the day. Our emotional health and wellness are closely tied to our health and fitness, movement and deep breathing provide some of the best coping strategies. Here are a few more ways you can improve your emotional wellness:
#27.
Just Stop and Do Squats
#28.
Do Daily Breathing Exercises
#29.
Start Exercising Regularly
#30.
Breathe Deeply for 20 Minutes Daily
#31.
Spend Time in Green Spaces
#32.
Use Proper Tongue Placement
Take Something to Calm You
You don't have to improve your emotional wellbeing on your own. After seeing professional medical advice, there are medicinal and natural alternatives to help you cope. The following ways to deal with stress, anxiety, and more severe emotions. Of course, always consult your physician or emotional health care provider before taking anything.
#33.
Boost Magnesium Intake
#34.
Try Cannabidiol (CBD)
#35.
Use Essential Oils
Improve Your Emotional Health and Wellness
Are you ready to start your journey to emotional wellness? To finally deal with the stress or overwhelm in your life?
Things can get better for you, but you have to take the first step.
Your emotional health starts with understanding who you are, why you feel the way you do and discovering what works for you.
Save a Copy, Get your FREE eBook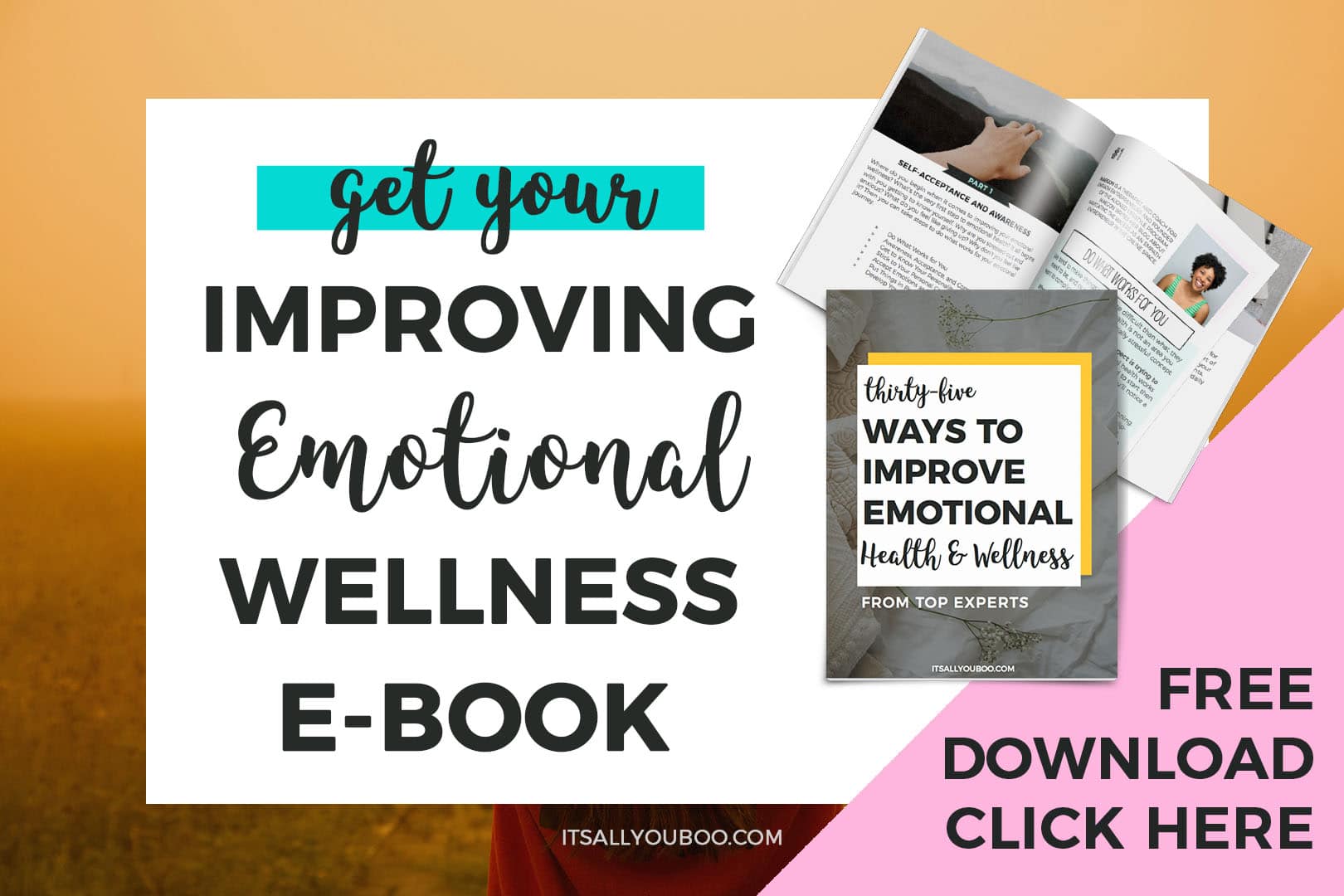 Please remember to be sure to seek professional help if you need it.
Change doesn't happen overnight but through small changes that make a big difference over time. Creating truly emotionally healthy habits, like practicing mindfulness or daily journaling, that keep you grounded through the chaos of life.
Don't stay in an emotionally compromised place, but instead look at your life for opportunities to stay healthy.
There is no one size fits all solution, but each of these emotional wellness tips can help you find the right one for you.
Inhale and exhale. Now get started!
Are you feeling emotionally unstable right now? Are you stressed, anxious or even depressed? Click here for 35 ways to improve emotional health. #EmotionalIntelligence #MentalHealth #EmotionalWellness

How will you improve your emotional wellness?
Last Updated on December 11, 2021