Looking for quotes about change in life and moving on?
Need quotes about moving on and being happy? Maybe after being hurt?
We've all be there. Things in life go terribly wrong, and you end up way off-script.
This is so not how you imagined your life would end up. This was are unraveling, and one thing is certain, your life is about to change in a major way.
Maybe you've just lost your job, or a loved one has passed away suddenly, and it hurts so badly.
Perhaps a relationship or situation has ended and not in a good way, and you're having trouble letting go.
Our lives are filled with expectations. We've got ideas and dreams about who we are supposed to be, where we're supposed to end up and how things are supposed to go.
But, no matter what change you're experiencing in your life, even if it's just graduating from college or becoming a work-at-home mom, it can be an adjustment.
There's one thing we have to remember, even it's hard to come to terms with: life is about change. Unless we're changing, we're not growing, we're not moving forward.
And if we're not moving forward, we are stuck and stagnant. From the moment of our existence, we're growing and changing, that never stops, until it does for good.
Your life will feel like it has ups and downs, but it's really just change. What's hard is that change often pushes towards often bigger challenges and greater struggles. Yes, sometimes your plans and goals change, but you have to keep going.
Don't hide, don't run, don't stay where you no longer belong. Let go and move forward in life after changes, let downs, disappointments and hurts.
If you need some engagement to help you move on in life, here are 80 quotes about change in life and moving on. Let's get going!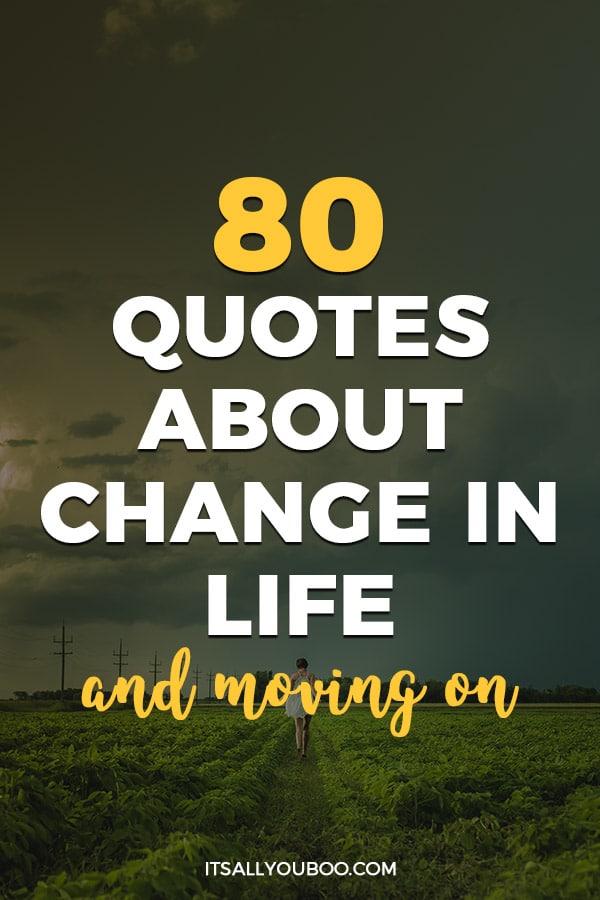 Quotes About Change in Life Being Constant
Have you just gone through a major life change? Do things feel like they're changing too quickly? Change is hard, but if there's one thing about it, is that it's always coming. Absolutely nothing in life stays the same, no matter how much we'd like it to. This collection of quotes about change in life and moving on remind us of the simple, perspective-changing truth, that the only constant is change itself.
1. "There is nothing permanent except change." ― Heraclitus
"The one thing that always stays the same is that nothing ever stays the same." ― Julieanne O'Connor
3. "You must welcome change as the rule but not as your ruler." — Denis Waitley
👉🏽 RELATED POST: How to Deal with Stress in Life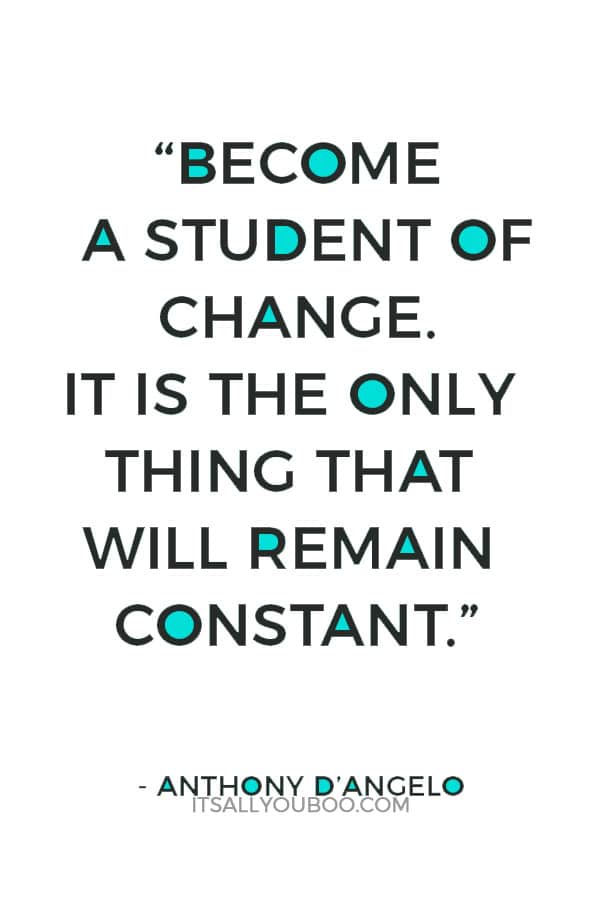 4. "Become a student of change. It is the only thing that will remain constant." — Anthony D'Angelo
"If change is constant, then learning must also be continual." ― Meir Liraz
6. "Change is the constant, the signal for rebirth, the egg of the phoenix." ― Christina Baldwin
7. "Change is inevitable, change will always happen, but you have to apply direction to change, and that's when it's progress." ― Doug Baldwin
Dealing with Change in Your Life Quotes
How do you react to your changing circumstances? How well do you deal failing to reach your life expectations? We've discussed how change is evitable. We need to not only accept change but learn to adapt to it. The following quotes about change in life and moving on encourage us to always just keep moving farther, and higher. Don't give up, get up and keep going!
8. "Adaptability is about the powerful difference between adapting to cope and adapting to win." — Max McKeown
9. "Strong character is brought out by change, weak ones by permanence." ― Jean Paul
"A wise man adapts himself to circumstances, as water shapes itself to the vessel that contains it." ― Chinese Proverb
11. "Adaptability is not imitation. It means power of resistance and assimilation." ― Mahatma Gandhi
👉🏽 RELATED POST: Small Changes that Make a Big Difference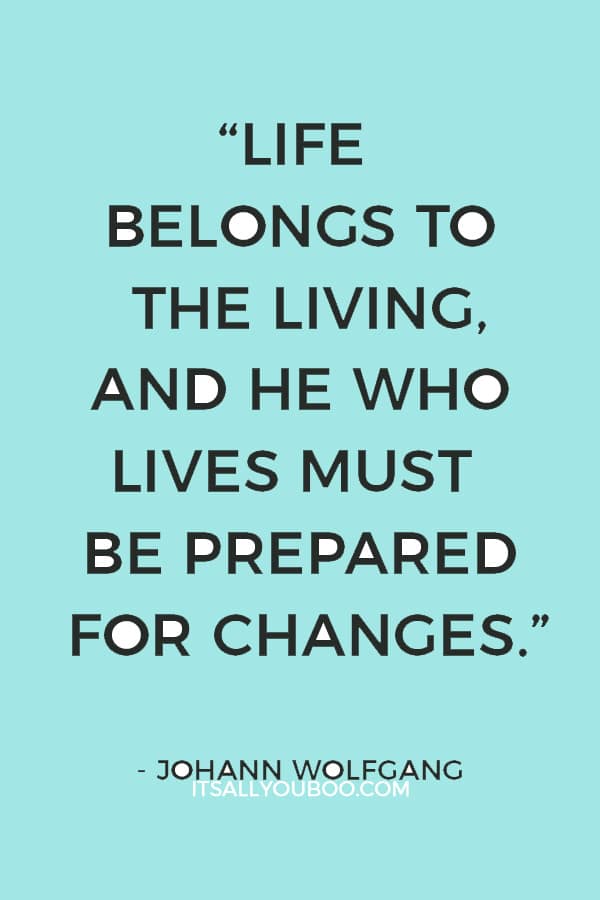 12. "Life belongs to the living, and he who lives must be prepared for changes." ― Johann Wolfgang
13. "It is not the strongest or the most intelligent who will survive but those who can best manage change." ― Charles Darwin
"A mandatory requirement for dealing with any challenge is your ability to deal with change. If you can't handle changes, then you won't be able to handle challenges either." ― Sumeet Jain
15. "I can't change the direction of the wind, but I can adjust my sails to always reach my destination." ― Jimmy Dean
16. "The pessimist complains about the wind; the optimist expects it to change; the realist adjusts the sails." ― William Arthur Ward
17. "The only way to make sense out of change is to plunge into it, move with it, and join the dance." ― Alan W. Watts


Life Changes Can Be Painful Quotes
Are you having trouble moving on and being happy? Are you hurting from a change in life or circumstances? Let's not pretend, life changes can hurt like hell. It's taxing to your emotional health and wellness, your mental health and all areas of your life. This collection of quotes about change in life and moving on hold nothing back and are completely 100% about what it's like.
"Life is about change. Sometimes it's painful. Sometimes it's beautiful. But most of the time, it's both." — Lana Lang
19. "All great changes are preceded by chaos." ― Deepak Chopra
20. "Growth is painful. Change is painful. But, nothing is as painful as staying stuck where you do not belong." ― Mandy Hale
"All things are difficult before they are easy." ― Thomas Fuller
👉🏽 RELATED POST: How to Accept When Your Goals Change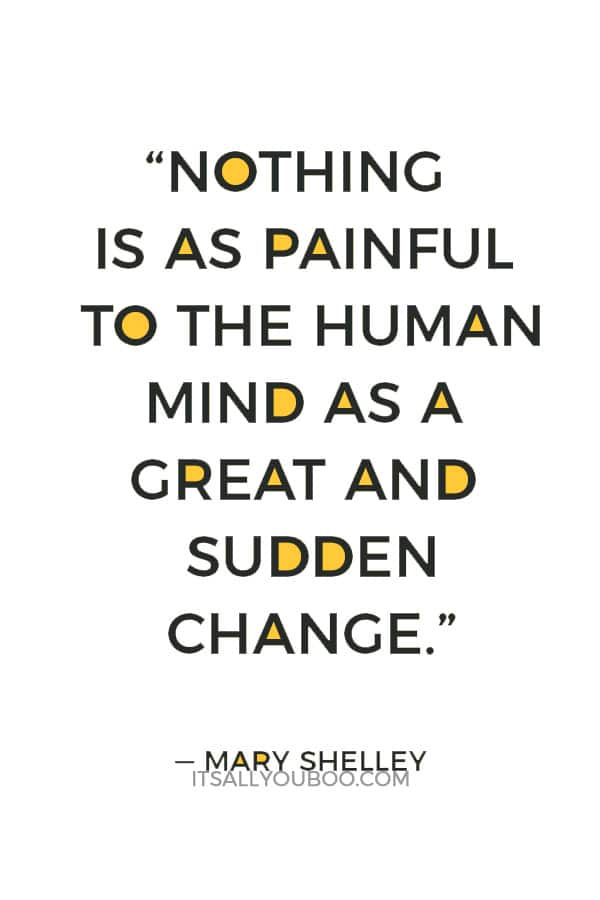 22. "Nothing is as painful to the human mind as a great and sudden change." ― Mary Shelley
23. "Life is about change, sometimes it's painful, sometimes it's beautiful, but most of the time it's both." — Kristin Kreuk
24. "Change can be frightening, and the temptation is often to resist it. But change almost always provides opportunities – to learn new things, to rethink tired processes, and to improve the way we work." ― Klaus Schwab
"Some changes look negative on the surface but you will soon realize that space is being created in your life for something new to emerge." ― Eckhart Tolle
26. "In every change, in every falling leaf there is some pain, some beauty. And that's the way new leaves grow." ― Amit Ray
Quotes Explaining that Life is About Change
Do you ever feel like change ruins your life? Like when something unexpected happens everything starts falling apart? Well, that's not quite true. Life is about change – the changes are your life. These quotes about change in life and moving on illustrate how life is change. And to be successful we have to embrace it, and just move on.
"Change is the law of life. And those who look only to the past or present are certain to miss the future." ― John F. Kennedy
28. "Incredible change happens in your life when you decide to take control of what you do have power over instead of craving control over what you don't." ― Steve Maraboli
29. "Change has to come for life to struggle forward." ― Helen Hollick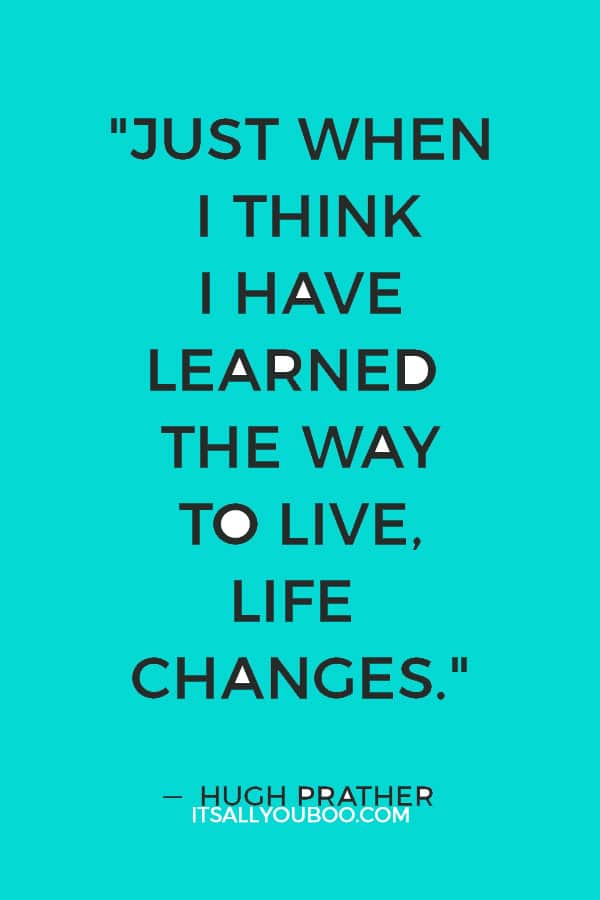 30. "Just when I think I have learned the way to live, life changes." ― Hugh Prather
"Life is about not knowing, having to change, taking the moment and making the best of it, without knowing what's going to happen next." ― Gilda Radner
32. "Of course there is no formula for success except, perhaps, an unconditional acceptance of life and what it brings." — Arthur Rubinstein
33. "Your success in life isn't based on your ability to simply change. It is based on your ability to change faster than your competition, customers, and business." ― Mark Sanborn
34. "True life is lived when tiny changes occur." ― Leo Tolstoy
"Life moves on and so should we." ― Spencer Johnson
36. "Even a rock moves on." ― Anthony Liccione
Life is All About Moving On Quotes
Is it hard for you to let go of the past? Having trouble living in the moment and being more present? Listen, I know it's hard to move forward, but you have to, your life is ahead of you, not behind you. This selection of quotes about change in life and moving on that only with forward motion are we truely living.
37. "Life is a series of natural and spontaneous changes. Don't resist them; that only creates sorrow. Let reality be reality. Let things flow naturally forward in whatever way they like." – Lao Tzu
"I can enjoy anywhere, and I can leave it. Life is about moving on." ― Waris Dirie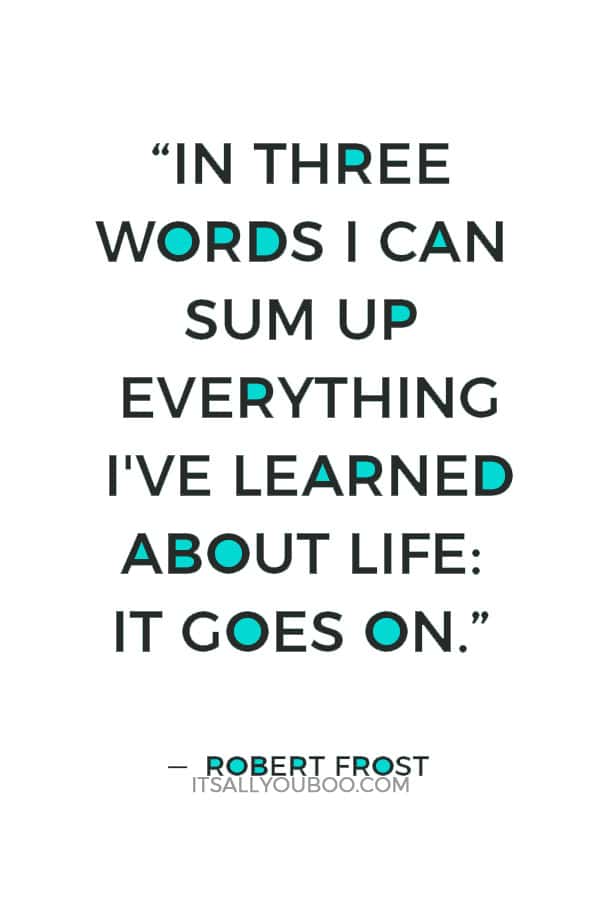 39. "In three words I can sum up everything I've learned about life: it goes on." ― Robert Frost
40. "Because my life isn't going to wait around while I figure out how to make it work." ― Susane Colasanti
"Life is a balance of holding on and letting go." ― Rumi
42. "What surrounds us we endure better for giving it a name – and moving on." ― Emil Cioran
"We all have big changes in our lives that are more or less a second chance." ― Harrison Ford
44. "Life has a cruel way of reminding one and all it stops for no one and simply marches on, dragging everyone with it." ― E.A. Bucchianeri
45. "Life is like riding a bicycle, to keep your balance, you must keep moving." ― Albert Einstein


Relationship Quotes about Change in Life and Love
Did you just get out of a relationship? Need help moving on from a guy? Heartache hurts and change is hard, but letting go of someone you loved (and maybe still love) is even harder. You might be single on Valentine's Day but for now, here are quotes about change in life and love to help you move on.
46. "I think that you never fall out of love with somebody, you just let go and move on." ― Ashley Rickards
"The heart will break, but broken live on." ― Lord Byron
48. "Blessed are the hearts that can bend; they shall never be broken." ― Albert Camus
49. "One makes mistakes; that is life. But it is never a mistake to have loved." ― Romain Rolland
👉🏽 RELATED POST: How to Manifest Love Into Your Life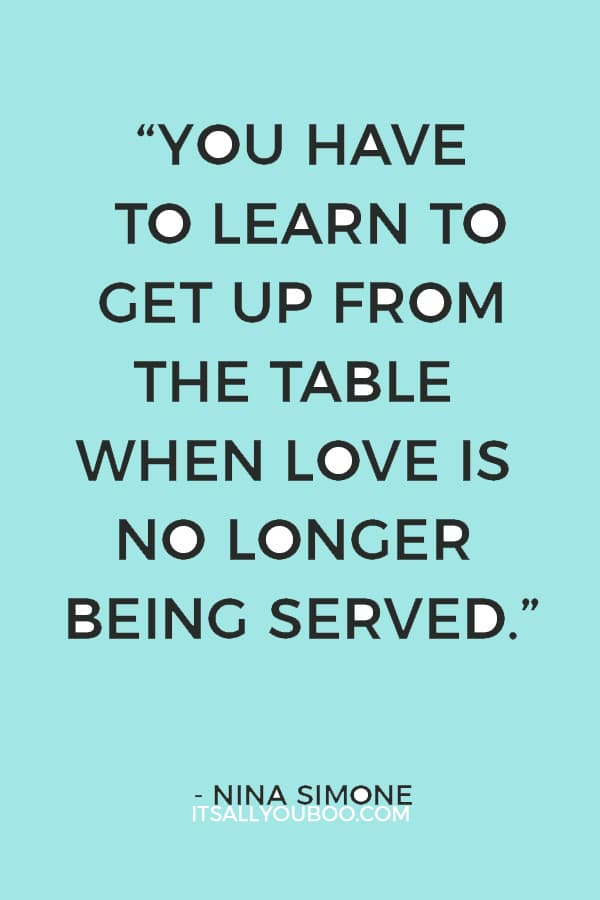 50. "You have to learn to get up from the table when love is no longer being served." ―Nina Simone
"I think that you never fall out of love with somebody, you just let go and move on." — Ashley Rickards
52. "Every woman that finally figured out her worth, has picked up her suitcases of pride and boarded a flight to freedom, which landed in the valley of change." ― Shannon L. Alder
53. "Stepping onto a brand-new path is difficult, but not more difficult than remaining in a situation, which is not nurturing to the whole woman." ― Maya Angelou
"Don't waste time thinking about them. If they walked away from your love, they don't deserve your pain." ― C.L. Brown
55. "It takes bravery to end a relationship." ― Leona Lewis
56. "Don't cry because it's over. Smile because it happened." ― Dr. Seuss
Quotes About Moving Forward After Being Hurt
Are you hurting from a life change? Does moving forward and letting go feel impossible right now? Holding on is hurting no one other than yourself. This selection of quotes about change in life and moving on encourages us to not take it to heart and just let go. All you have is now, don't spend it being unhappy and upset.
57. "Don't brood. Get on with living and loving. You don't have forever." ― Leo Buscaglia
"Breathe. Let go. And remind yourself that this very moment is the only one you know you have for sure." — Oprah Winfrey
59. "Stop acting as if life is a rehearsal. Live this day as if it were your last. The past is over and gone. The future is not guaranteed." ― Wayne Dyer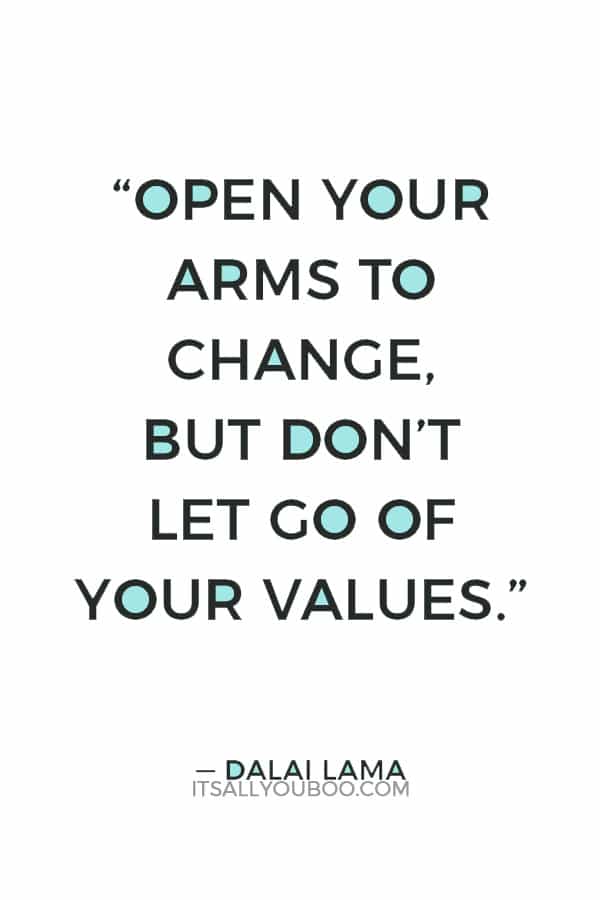 60. "Open your arms to change, but don't let go of your values." ― Dalai Lama
61. "Part of growing up is just taking what you learn from that and moving on and not taking it to heart." ― Beverley Mitchell
"When you forgive, you in no way change the past – but you sure do change the future." ― Bernard Meltzer
63. "Sometimes good things fall apart so better things can fall together." ― Marilyn Monroe
64. "The good and bad things are what form us as people… change makes us grow." ― Kate Winslet
Quotes About Moving On and Being Happy
Do you feel like you'll never be happy again? Worried that all your best days are behind you? So not true, you can be happy again if you choose happiness. The following quotes about moving on in life after setback encourage us to find joy and happiness today.
"Laughter gives us distance. It allows us to step back from an event, deal with it and then move on." ― Bob Newhart
66. "Begin today. Declare out loud to the universe that you are willing to let go of struggle and eager to learn through joy." ― Sarah Ban Breathnach
👉🏽 RELATED POST: How to Be Happy All The Time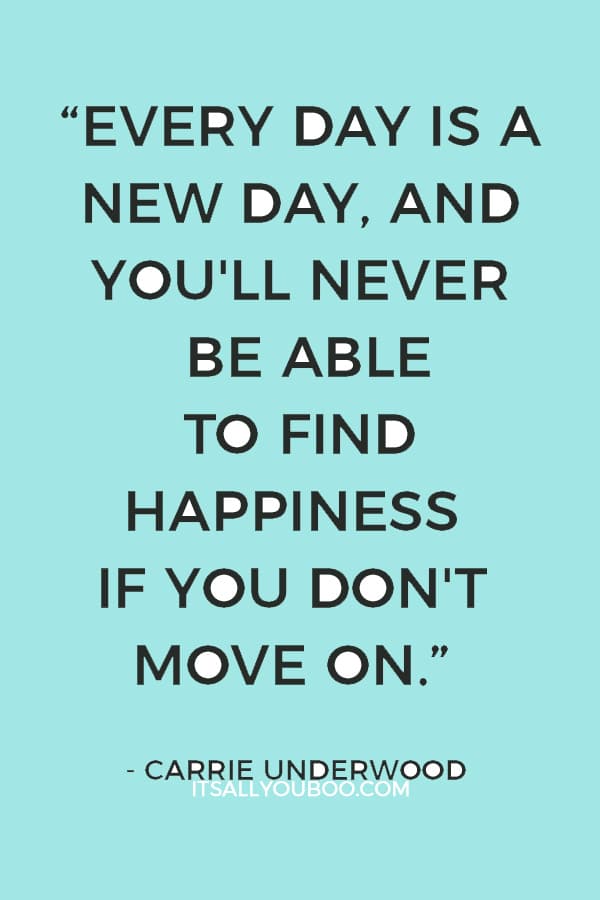 67. "Every day is a new day, and you'll never be able to find happiness if you don't move on." ― Carrie Underwood
68. "Feeling sorry for ourselves is the most useless waste of energy on the planet. It does absolutely no good. We can't let our circumstances or what others do or don't do control us. We can decide to be happy regardless." ― Joyce Meyer
"Find joy in everything you choose to do. Every job, relationship, home… it's your responsibility to love it, or change it." ― Chuck Palahniuk


70. "Sometimes life knocks you on your ass… get up, get up, get up!!! Happiness is not the absence of problems, it's the ability to deal with them." ― Steve Maraboli
71. "Those who move forward with a happy spirit will find that things always work out." ― Gordon B. Hinkley
Moving On To The Next Chapter in Life Quotes
Does it feel like the end of an era? As if a major part of your life is over? It feels that way because it is, one part ends, so another can begin. This final selection of quotes about change in life and moving on encourages us to just turn the page! To embrace what comes next in our lives. To move forward onto the next thing!
"Moving on is not closure. It's not neat, and it's not about turning the page. It is about moving on, but it doesn't mean that you've left something behind." ― Thomas Gibson
73. "You've gotta know when it's time to turn the page." ― Tori Amos
74. "Who can't relate to the idea of leaving one chapter behind and moving on to the next?" ― Mike Shinoda
👉🏽 RELATED POST: Inspirational End of Year Quotes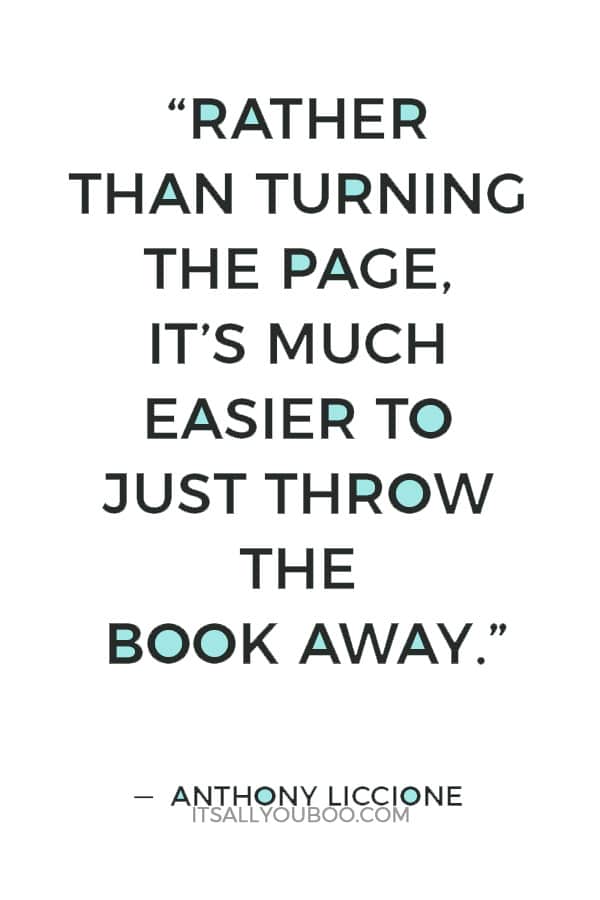 75. "Rather than turning the page, it's much easier to just throw the book away." ― Anthony Liccione
76. "There comes a time in your life when you have to choose to turn the page, write another book or simply close it." ― Shannon L. Alder
"I've always been taught that life is a series of chapters, and it's all about moving forward and not carrying around baggage." ― Alesha Dixon
78. "Embrace uncertainty. Some of the most beautiful chapters in our lives won't have a title until much later." — Bob Goff
"You can't look back – you just have to put the past behind you, and find something better in your future." ― Jodi Picoult
80. "I hope you realize that every day is a fresh start for you. That every sunrise is a new chapter in your life waiting to be written." ― Juansen Dizon
Listen, It's Time to Move On
I know you're hurting and not ready for change, but change is here. It's time to move onto the next, and the best way to do that is to figure out what you want in life and how to get it.
To help you move forward, get your FREE printable 10-Step Slay Your Goals Guide that starts with setting intentions for your future.
Your life is worth living and so worth embracing! No matter the changes you've got this, you can rise to face any new challenge or opportunity that comes your way.
Take a deep breath and exhale the past and move on to your future!
Is it hard for you to move on after being hurt or let down? Click here for 80 quotes about change in life and moving on to help you move forward in life. #QuotesToLiveBy #MoveOn #LetGo

What quote about change in life and moving do you love?
Last Updated on May 19, 2023