Are you thinking about becoming a freelance writer?
Curious what it's like to run your own freelancing business?
Does working at home during the crisis have you dreaming about working from home all the time? Tired of going to the office daily or perhaps need a lifestyle change due to your health?
Sometimes life's circumstances force us to make a change for the better. Thankfully with the internet and the relative ease of working for yourself, becoming your own boss is a viable option for many. Of course, you have to ask and answer the hard questions of whether you can afford to leave your job.
Let me be the first to tell you that you have options! And you don't have to take your journey alone. There are countless courses and coaching programs available to you to make your dreams come true. And even, make the most of your circumstances and finding the right revenue stream for you.
If the answer for you is yes, and you're ready to start your own at home business, perhaps blogging or writing, then this is the interview for you. Heather Richie is a professional freelance writer, who's working from home running her own successful business and blog. What's unique about her story is that this wasn't her first dream job.
This is her story, and it's filled with inspirational advice to give you the courage to start your second act, to try and do something new. Learn from her, be inspired, and make your dreams a reality.
Let's get started.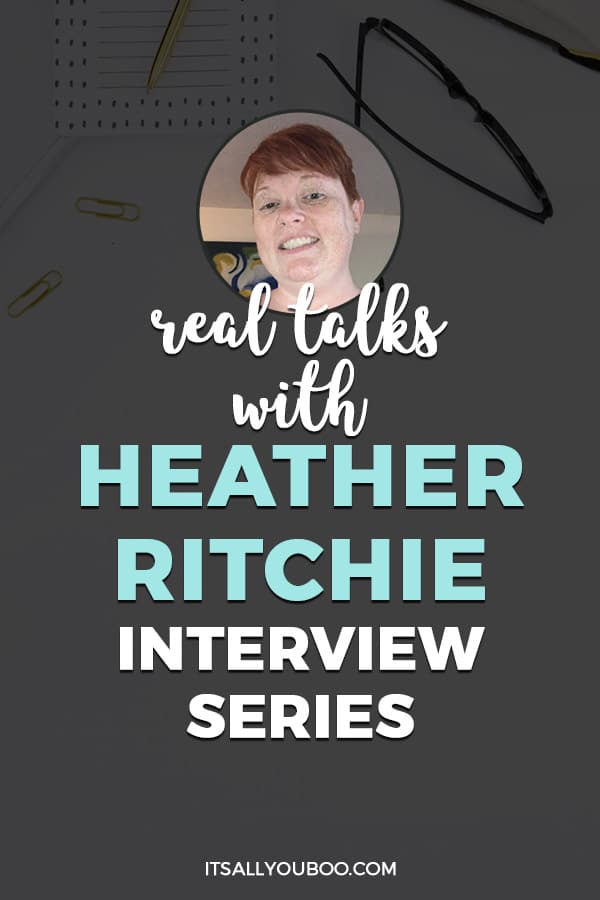 #1.
Who are you and what's your story?
So, my beginning story is a little on the long side with some backstory! I had a couple of dreams growing up. One was to be a writer, and I won a small scholarship for singing. But after I started college at Christopher Newport University in the fall of 1996, I attended a career fair where the Virginia State Police had a booth. Now, as much as I wanted to be a writer or perform on Broadway, I made a logical career choice and was leaning towards being a lawyer or police officer.
After relocating to Harrisonburg, Virginia, in 1998 to go to James Madison University, I started working at the Rockingham County Sheriff's Office, and that's when I fell in love with law enforcement.
Well, as we all learn in life, though we make plans, things typically don't turn out the way you always want them to. I got a Bachelor's Degree at James Madison University, and I was getting my Master's Degree from the American Military University in Intelligence studies because my goal was to become a federal agent.
👉🏽 RELATED POST: Quotes About Change in Life and Moving On
I started having a lot of health issues, and the next thing you know, the health problems intensified, and I could no longer be a police officer. Then, I had to file for disability, and it's a long process. I lost the house that I bought when I was only 22 years old, my career, and even friendships. The kicker was when I was at my lowest and essentially homeless, my boyfriend of six years broke up with me! To say I was broken is an understatement. So, over time I got back on my feet and started working part-time as an administrative assistant to a police chief that I'd worked with for decades.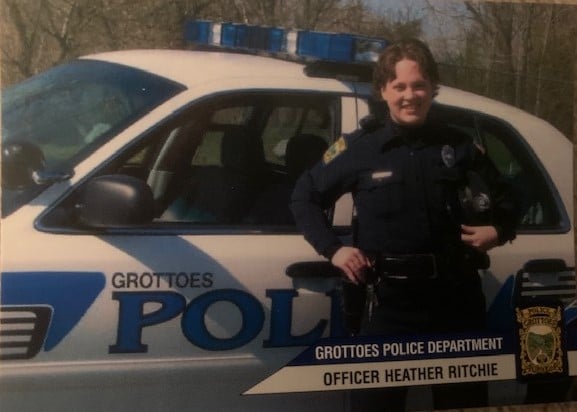 It was killing me, though, because of the health issues, so I started trying to figure out a way that I could work from home. I started working as an Internet Rater/Evaluator, one of the people that do the manual reviews for Google. It just wasn't for me.
And then it hit me. Maybe I should try being a writer! I found my first writing job on Upwork-which I would advise new writers to stay away from. It was horrible. I think I made like $10 for 800 words or something ridiculous.
It turns out that I was probably meant to be a writer. Eventually, my business continued to grow, and now I make more than I ever did as a police officer—that's sad to say.
👉🏽 RELATED POST: How to Start a Business You Love
#2.
What's your average day like?
I'm a night owl. (I'm writing this at 2 am) I go to bed around 2, or 3 am and wake up around 9:30 or 10 am. I always try to set a goal of client work first. Once I get the client's work done, I work on various aspects of my business.
I typically work seven days a week just because I'm really in the growing stage with my blog, and I have to say I love most aspects, so it doesn't always feel like work.
I mean, none of my friends can say that they make Pinterest pins and write blog articles all day. It's fun stuff! I did recently kind of hit a wall as far as I was working too hard, so I refrain from doing any client work at least one day on the weekend.
👉🏽 RELATED POST: How to Be Your Own Boss
#3.
How do you stay motivated? What or who inspires you?
I know that people always say to find your ultimate why, and that's incredibly important. That way, when you hit rough patches, you always keep that goal in front of you, so you don't give up. My mom is my why. She's has had such a hard life but still helped so many people along the way that I want to make sure that the rest of her life is amazing! She's my why, oh, and of course, I want a house on the beach in New England too.
#4.
Let's talk about goals. How do you slay yours?
I am a master goal slayer! I am so goal-driven that it rules my life.
Plus, I have a fantastic paper planner and lets me set goals for the year and then break it down into monthly goals. It also comes with daily and weekly stickies so that I can set goals each day as well as weekly goals. It's a really great system, and I back it up with reminders on my phone.
One of my secrets to success is that I know I'll have bad days because of my health problems, so I work extra hard on the good days. I always stay ahead of my deadlines and rarely miss them.
👉🏽 RELATED POST: The Best Printable Goals Planner
My number one tip would be to find a planner that works for you and helps you set goals and meet your deadlines. When you're organized, you save time and are way more productive. If you work with a lot of clients, you need some type of system, whether it's digital or a paper planner.
#5.
What's one app or tool that you can't do without?
GRAMMARLY- I would die without the paid version of Grammarly. As a writer, it is one of the best tools in my arsenal. Whether you're a grammar genius or not, I promise that Grammarly will find mistakes you would overlook.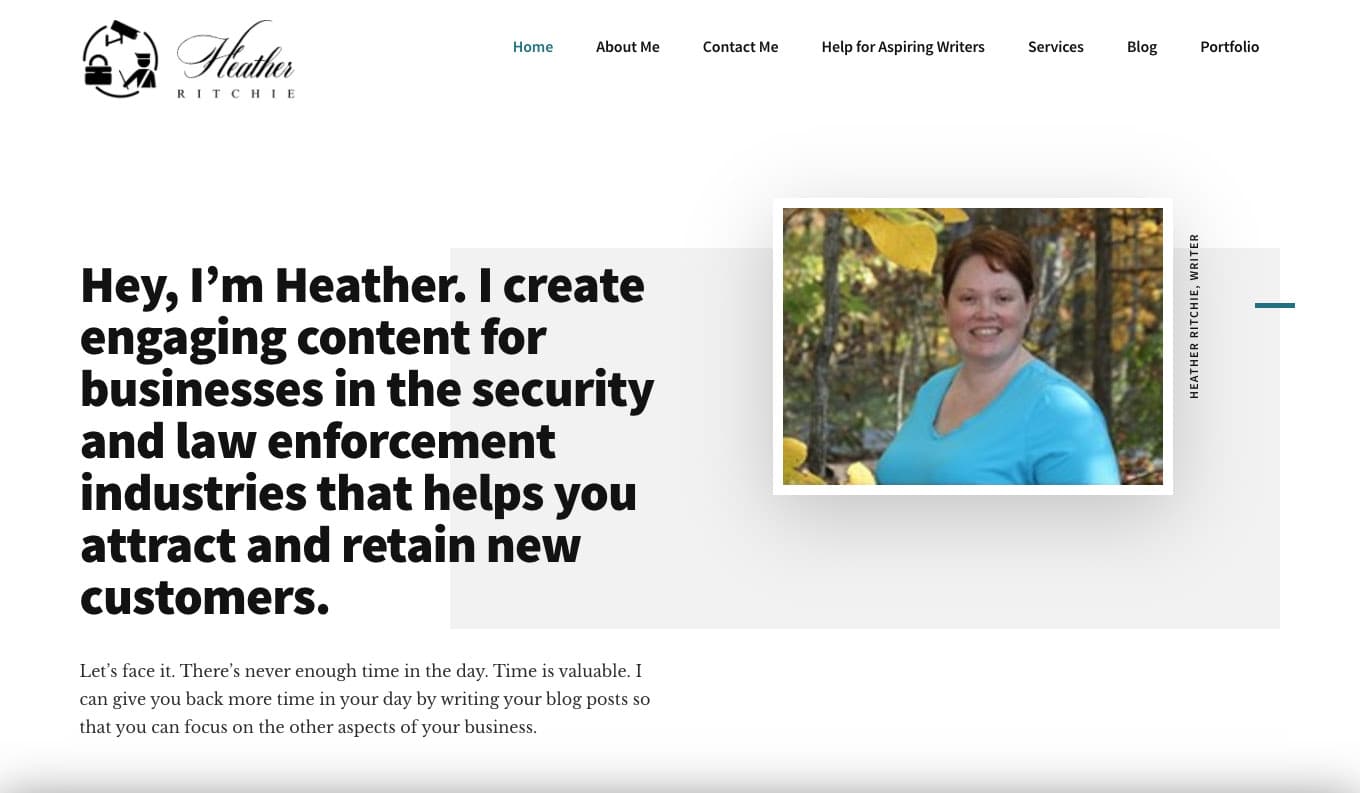 #6.
What's your favorite and least favorite part of being an entrepreneur?
I love that I'm working to further my goals and not someone else's, and I love that I can work from just about anywhere. It provides true freedom. I hate the finance part of running I business. Not, my favorite thing to deal with at all.
#7.
What advice would you give to someone just starting out?
Treat your writing career as a business from the beginning. I don't think I even realized I was running a business until one day it hit me that I needed to get more organized and actually start thinking more strategically.
You need to set achievable goals and break those down into steps so you can grow and scale your business the right way. Get ahead of your finances too. So many freelancers find out the hard way just how critical the financial aspect of their business is.
#8.
What's the best business advice you've ever received?
I have to go back to treat your business like a business. It can be so tempting when you first start working from home to sleep in and quit work at 4 pm no matter how much you've accomplished. Or blow off work all day watching movies or going to lunch.
Obviously, you can do those things, but you need a structured day just like a traditional job. At whatever job you worked previously, there were rules and certain things that you had to do.
But giving yourself breaks is a must. There's just a balance. You wouldn't spend three hours at lunch at your traditional job, so don't blow off your business.
👉🏽 RELATED POST: How to Stop Working on Time
#9.
What books do you think every entrepreneur should read?
Well, Elite Blog Academy. For email marketing, I recommend Kate Doster's Love Your List. For Pinterest, I highly recommend Nadalie's Pinterest Popular course.
I also recommend two of Jen Sincero's books, You Are a Badass, and You Are a Bad Ass at Making Money.
#10.
Do you have a favorite quote or saying?
Failures pave the road to success and Ruth Soukup's, "Do it Scared." If you don't feel a little fear when you set goals, then you're not pushing yourself hard enough. It's all about pushing past that fear to the great things on the other side.
#11.
Can we talk about money?
I'd say I was out of the red within four or five months. My freelance writing business pays the bills, and it actually allows me to take classes as I grow my blog. There's a lot to learn when you first start a business and a blog, so I'm a firm believer in taking courses on how to get better in my weaker areas.
I need to do better at saving money and the older the more I realize that. So, it's something I'm working on.

#12.
What's your strategy for finding clients or readers?
Social media plays a huge role for me. It's where all of my clients and readers come from now until I up my SEO game. Pinterest is, by far, my favorite. I never thought that I would enjoy creating pins as much as I do, and networking with other bloggers and creatives has been amazing!
👉🏽 RELATED POST: How to Create a Social Media Strategy
#13.
What role does social media play for you?
When it comes to my blog, I think Pinterest is my favorite because so many people can see it and I think it's easier to grow on.
#14.
Do you have a special offer you'd like us to know about?
You can sign up for my free freelancing email course Freelance Writing Path to Profits. Learn my proven method for landing your first paying client as a writer.
Bonus Questions!
Quickly tell us about yourself and what you're currently:
Reading? George R.R. Martin Fire and Blood-The Game of Throne Series.
Watching? The Walking Dead—the shelter in place order has us waiting for the season finale.
Listening to? I hit shuffle on iTunes, and the first thing that started play was I'm That Type of Guy by LL Cool J. I'm going old school.
Eating? A Mediterranean Pasta that I'm also obsessed with!
Obsessed with? Diet Ginger Ale
Need to change careers? Thinking about working from home? Meet Heather Richie, she's a former police officer who now runs a successful business from home as a freelance writer. #BossBabe #Interview #RealTalks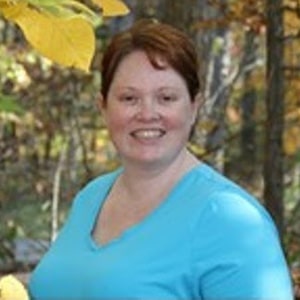 More About Guest Contributor
Heather Richie is the Founder of Writer's Life for You, a blog that helps women who want to leave their 9-5 to work from home as freelance writers as well as Ritchie Writing, where she ghostwrites for business in the security and law enforcement industries. When she's not writing blog articles for clients, she's helping women achieve a better work-life balance and makes the process of becoming a writer easier. Heather has a course and several eBooks in the works and can't wait to help you write your way to the life you've always dreamed of.
Last Updated on July 11, 2021