What are the best productivity tips at work?
How do you stay focused and productive at work?

Getting back to work after the weekend or the holidays is always a struggle.
It's like you have just enough days off to lose momentum, but not enough to actually get some rest. I often find it difficult to get back to the pace I had worked so hard to establish – and I'm pretty sure I'm not the only one.
But this feeling of being in a slight daze doesn't have to be a bad thing. What I have found is that just a little bit of distance can help increase productivity in the workplace. Each new start is an excellent opportunity to create positive habits.
So, my biggest resolution for 2020 was to boost my efficiency at work. In order to achieve this, I decided that this year, instead of doing more, I'd start working smarter. I'd start by implementing a number of strategies to increase productivity in the workplace.
And the best part? I actually found some pretty amazing work efficiency tips I want to share with you. The following 15 productivity tips at work are easy to master and turn into habits.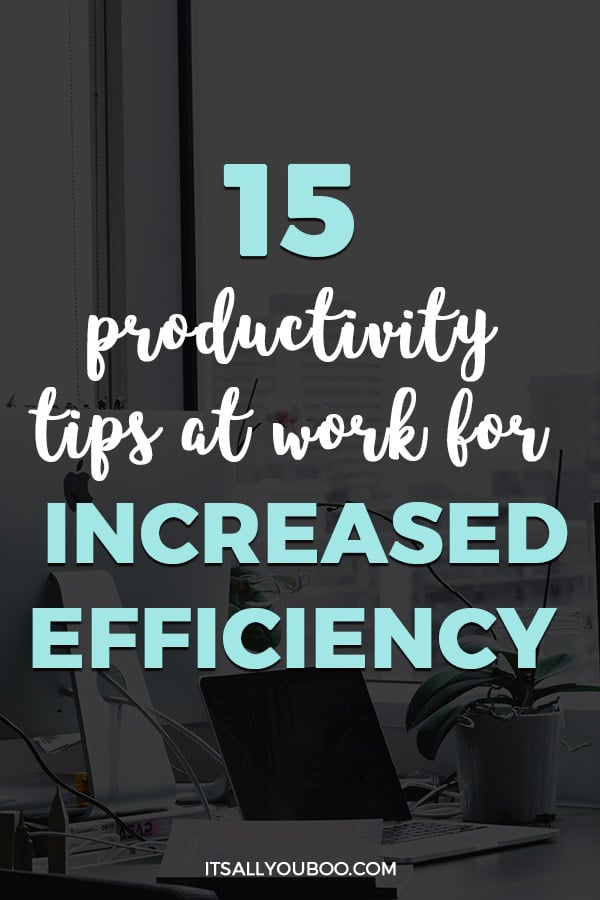 What is Work Productivity?
Most of us aim to achieve this elusive idea of being efficient at what we do. But the truth is, we rarely have a clear idea of what it is we're after.
According to most sources, productivity indicates the amount of work that can be completed within a certain number of hours. The key here, however, is not to do as much as humanly possible at whatever cost. It is to do things well.
With a productive workforce, companies can achieve greater output and ensure higher profits. Furthermore, being efficient in the workplace also ensures job satisfaction for employees, which, in turn, leads to even better results.

So, if you're looking for the best productivity tips at work, the following methods are a great way to learn how to work effectively and efficiently. In turn, you'll be saving yourself time, lowering costs, and ultimately, you'll be more satisfied with your results.
Top 15 Productivity Tips at Work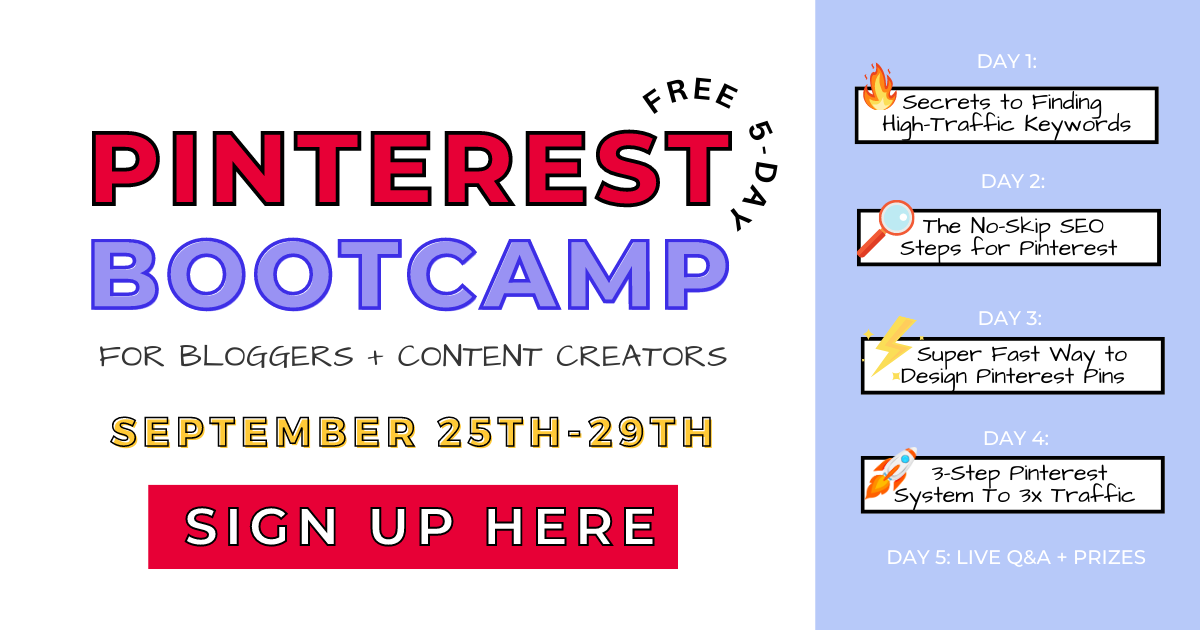 #1.
Become Familiar With Your Habits
While it would be great if you could just start doing all the things that would increase productivity in the workplace, it's important to remember that the process does require some research and preparation.
👉🏽 RELATED POST: 10 Habits that Teach You How to Be Successful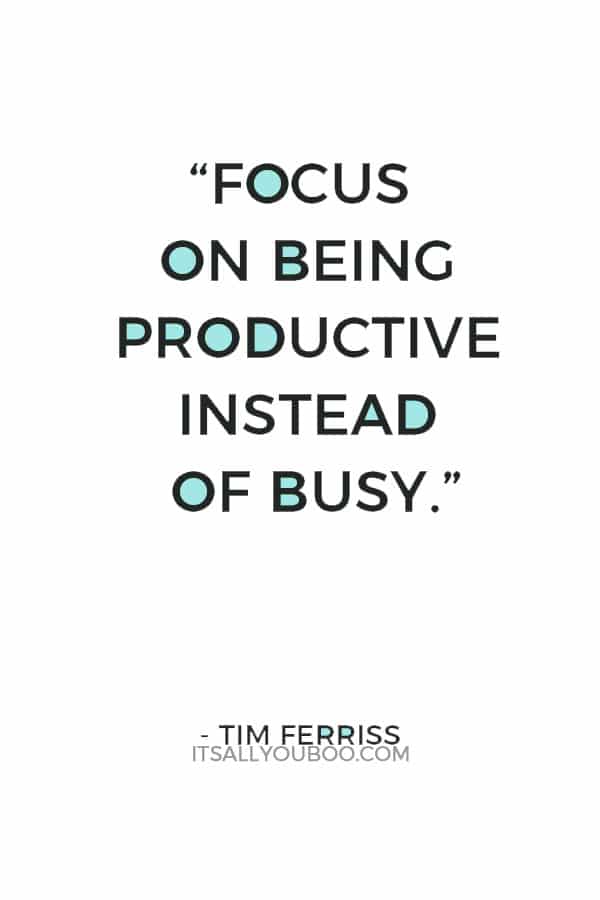 This means that your first step will be to become familiar with the work habits that are standing in the way between you and your goals. Take the next two weeks and track everything that you do while at your job. You'll quickly realize that there are certain patterns that tend to repeat themselves on a regular basis.
You can track your time using pen and paper, you can use your Google calendar (which you can easily transform into a report), or download a phone app such as Tracking Time, which offers a browser plugin and can be automated to record tasks on its own.
#2.
Identify Your Weak Points
Once you've had a couple of weeks to get to know your habits, it's time to take a look at the reports and identify the things you're not doing well.
This can be anything – for example, maybe you're sending too many emails or wasting time on social media. Maybe you'll find that you're spending too much time on simple tasks, or you're not utilizing the tools you have to their max.
The goal here is not to berate yourself for what you're doing wrong, but to identify the areas of your professional life where you need to make changes. This way, you will be able to better use the most efficient productivity tips at work and maximize your effectiveness.
#3.
Set Deadlines and Goals
For most professionals, deadlines represent a source of stress and anxiety. But for the main part, this is usually due to us focusing on their negative connotations. In truth, they can be a great asset in helping you become the absolute best worker you can become.
👉🏽 RELATED POST: How to Deal With Overwhelm At Work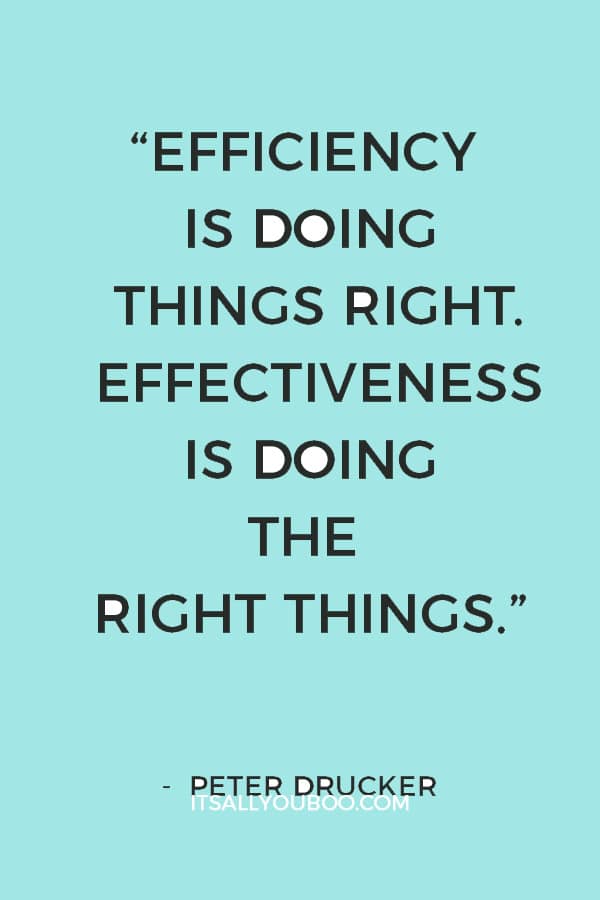 The key, however, is to break them up into small, achievable actions. Separate any job into phases and set realistic goals to which you will be able to stick, without becoming overwhelmed.
Once you've done this, you'll find that getting smaller assignments done helps create a sense of continuity, and boosts your resolve to get everything else done just as efficiently.
#4.
Take Regular Breaks
You may be tempted to power through your workday and try to get everything done as quickly as possible, but that's actually a counterproductive practice. Without regular breaks, you'll find that you become fatigued, which inevitably leads to lower levels of productivity.
Instead, aim to do your work in blocks of 25, 45, 60, or 90-minute intervals. After each interval, take a few minutes to relax – go for a short walk, do a bit of stretching, or go for a chat by the water cooler.
#5.
Block Off Time for Yourself and Your Family
Are you a person who takes their work home? Do you find yourself stopping by the office on weekends (those of us who work from home tend to be particularly guilty of this one)? Do you find yourself scheduling emails at 2 AM because you had a brilliant idea you just had to share with your coworkers?
👉🏽 RELATED POST: How to Prioritize Your Time at Work and Home
The next is one of the most efficient productivity tips at work: Just stop.
These practices are one of the biggest obstacles standing between you and work efficiency. Weekends and time off are precious time resources you need to block off for yourself and your family. Without honoring them, you risk messing up your work-life balance, which, in turn, negatively impacts work productivity and can lead to burnout.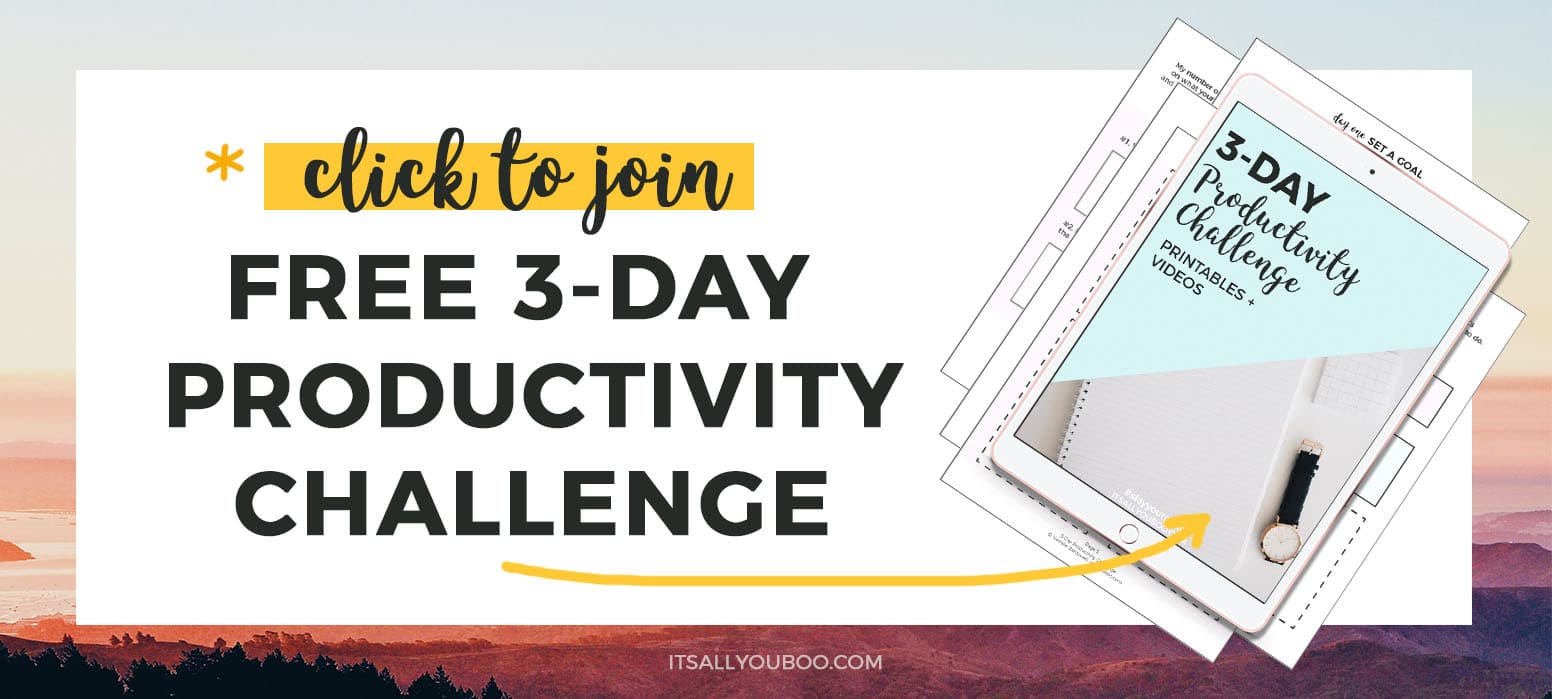 #6.
Limit Time-Wasters
In most traditional office settings, there's a number of actions you need to go through on a daily basis. In truth, most of these are absolute time-wasters.
Meetings that take a full hour (or more). Gossip. Texting. Checking your social media.
All of these negatively affect your productivity. So, the best thing you can do is just to cut them out of your day.
Sure, you won't be able to eliminate them completely – yes, you probably have to answer the majority of your emails. However, you might just find that withholding from these habits gives you the extra time you needed in your day.
#7.
Plan Your Day
Though not everyone is into scheduling their entire day, it's not a bad practice to try. Going into detail can have a similar effect as breaking up big tasks into smaller to-dos.
So, for example, you can set aside a time of day when you'll be answering emails. Or, you could decide to prepare all your reports on Thursdays, instead of doing them continuously during the week.
👉🏽 RELATED POST: Time-Blocking: The Best Way to Plan Your Day
You'll probably find that you can't schedule everything, but even a little bit of planning can go a long way.
#8.
Start On Time
For me, this is particularly difficult, yet it's one of the best productivity tips at work I've ever tried.
Seeing that I write from home, it can become particularly easy to lose track of time. I'll start by doing a bit of journaling; then I move on to read a few pages out of a book. This always turns into several chapters, and then I prepare a healthy Instagram-worthy breakfast that wastes another hour of my day. By the time I'm finished with getting ready, it's often 11 AM, and I'm only just getting started!
The days that I skip the nonsense and wake up, go for a short run, shower, have breakfast, and start working by 9:30 AM, on the other hand, always turn out to be much more enjoyable (and productive).
👉🏽 RELATED POST: Time Saving Tips For Working Moms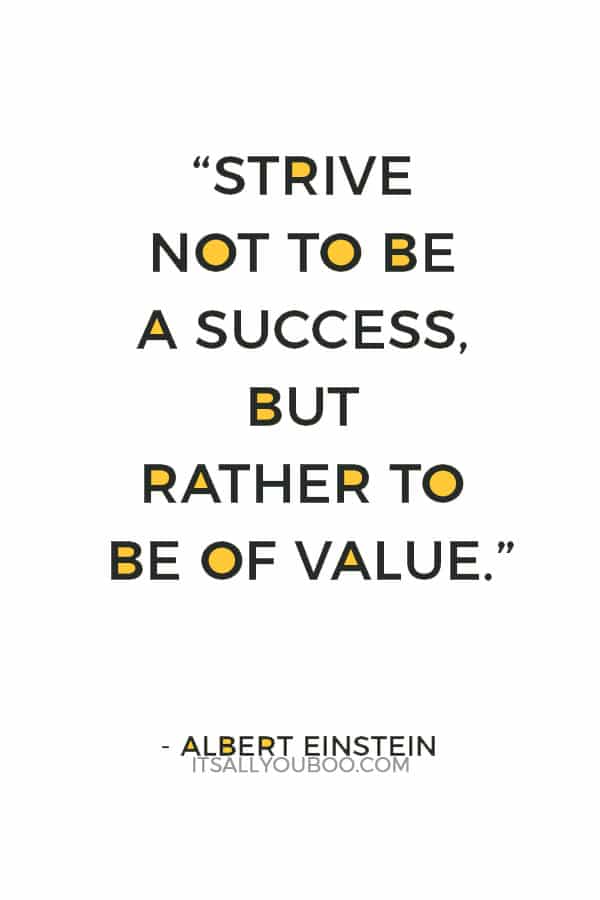 There are several routines you can try until you find what works for you. The key, however, seems to be staying away from your phone until you've actually gotten some work done.
#9.
Use Your Commute
Ok, so this method may not work for everyone, but if you can, definitely give it a try. Using your commute to get a jump start can be an awesome way to save time at the office. You can prepare to-do lists, answer important emails, schedule tasks, or do research.
Even deciding to listen to a podcast or audiobook that will teach you new skills you can implement at work is a great way to spend this time.
#10.
Take Care of Yourself
Out of all the productivity tips at work, this is the one that probably gets ignored the most. But, if you want to be the absolute best you can, it's actually quite an important one.
To ensure that your brain and body have the resources required to perform at a high level, you will need to take good care of them. This means getting enough sleep, eating a healthy balanced diet, exercising at least 150 minutes per week, and keeping your emotional wellbeing in check.
It's easy to let these slip, but if your goal is to become better at your job, this point should very much be a priority.
👉🏽 RELATED POST: How to Stay Healthy At Your Desk Job
What Are the Top 5 Ways to Improve Performance at Work?
When it comes to productivity tips at work, there is no universal formula that will work the same for everyone. But, there are five incredibly effective methods that are certain to yield results for the largest number of people. The following are the five most efficient ways you can increase work performance.
#1.
Mute Notifications
Even if you're unable to leave your phone on silent all the time, you should mute notifications while you're working on important tasks. Giving yourself two 90-minute blocks of uninterrupted time works much better than dedicating five hours to getting something finished while juggling incoming texts, emails, and calls.
👉🏽 RELATED POST: Top Ten Productivity Tips and Tricks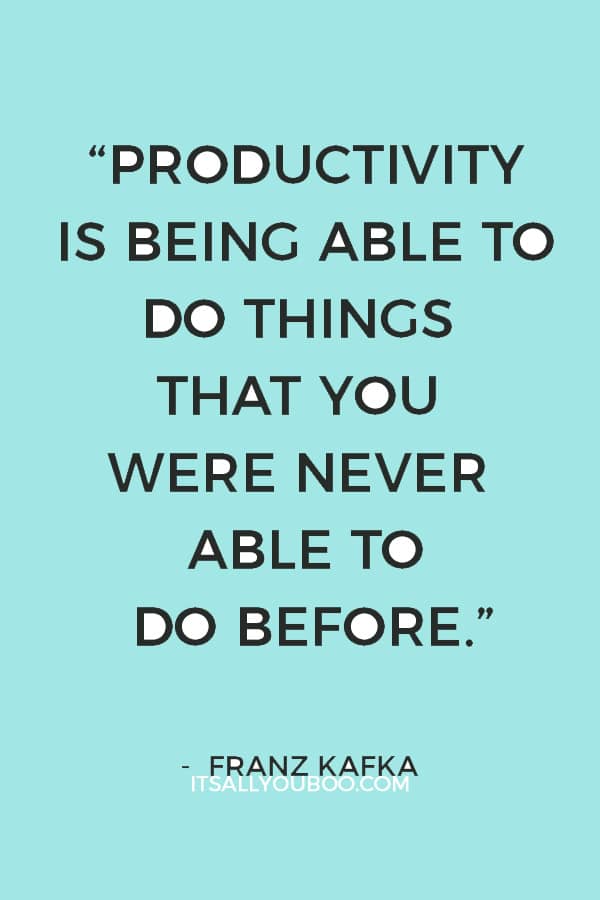 #2.
Delegate
If there's something that doesn't require your specific set of skills to get done – delegate. Having an assistant do your low-priority tasks, such as ordering office supplies, scheduling client meetings, or ordering your lunch, will allow you to focus your energy on more important things.
Even if you don't have employees or an assistant, you can give outsourcing a try, or just use Siri to her full potential.
#3.
Create To-Do Lists
If you haven't already gotten used to doing this, now is a good time to start. One of the best productivity tips at work is to use the last 15 minutes of your workday to write down your to-dos for the following day.
This way, you won't have to waste precious minutes of your morning figuring out where to start. You can take this as far as planning out your week, month, or even year. With such long-term goals, you'll be much more likely to tackle everyday jobs much more efficiently.
#4.
Quit Multitasking
If you're one of those people who are always doing several things at once, you need to start learning how to focus. Don't let yourself work on multiple assignments at once. Keep your browser tabs to a minimum and your desk free of clutter.
Actively remind yourself that the best way to do something right is to give it your full attention. You're likely to save a ton of time, just by implementing this simple productivity tip.
👉🏽 RELATED POST: Eisenhower Matrix: How To Decide What's Urgent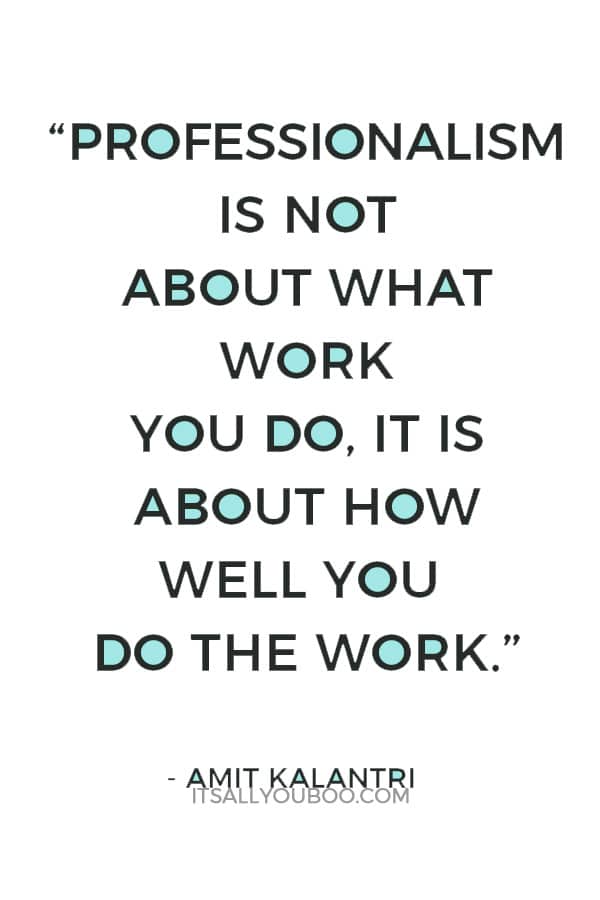 #5.
Give Yourself Recognition
Last but not least, it's important that you give yourself the recognition you deserve. Say goodbye to perfectionism, and instead strive to grow and evolve your working habits day by day.
We all make mistakes, but what truly inspires us to move forward are the moments we know we did something well. Acknowledging those moments will serve as one of the most effective guiding forces in helping you become a productivity master you have the potential to be.
Take the FREE Productivity Challenge
Ready to implement these productivity tips at work? Ready to stay focused? Sign up for the FREE 3-Day Productivity Challenge, with daily video lessons and printable workbook.
Which of these productivity tips at work have you tried?
Did you find that some yield results better than others?
Share your experiences in the comments section below, I'd love to hear from fellow professionals!

What are your favorite productivity tips at work?
Struggling to stay focused and productive at work? You're not the only one! Click here for the 15 best productivity tips at work for increased efficiency by @SarahKaminski10. #Productivity #Efficiency #Work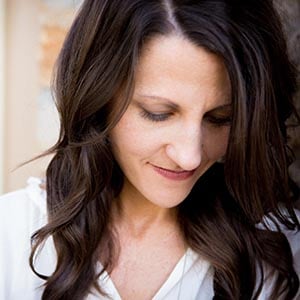 More About Guest Contributor
Sarah Kaminski is a life enjoyer, positivity seeker, and a curiosity enthusiast. She's been a freelance writer for over a decade and loves researching health and wellness topics.
Last Updated on July 12, 2021
✕
Join the FREE Productivity Challenge
+ get weekly tips to help you slay your goals.