How do you stay focused on your goals?
What's the best way to avoid distractions and train your brain to focus?
Are you struggling to stay focused? Do you wish you could actually focus on your goals? Click here for 32 ways to stay focused on your goals.
Click To Tweet
We've all been there more often than we would like – struggling to focus and follow through on our goals.
Perhaps for you, it's a major challenge to stay focused at work, while studying, or maybe even while working from home.
Excitement and energy about our goals are high when we first set goals, but somehow both seem to evaporate quickly when it comes to staying consistent and committed. Do you know the feeling?
If this sounds like you, you're in the right place! You are definitely not the only who wants to stay focused in life, but just can't.
Between goal setting and achieving your goals, there are many obstacles to overcome, including beating procrastinating and becoming more productive, but none is as common as needing to stay focused and stay motivated.
When we're not focused the slightest thing can divert the day, take us down a new path, have us chasing shiny objects, as well as make us indecisive and overthinking everything.
So how do you train your brain to stay focused on your goals?
I reached out to 32 experts asking them this exact question and they've generously shared their #1 tip for staying focused on their goals.
As you'll discover, there is no one answer to this question, but a great place to start is to have a plan and commit to sticking with it and seeing it through. From there you can focus on the practicalities of focusing your mind on whatever it is you need to do that day to achieve your goal.
Test and try the following strategies for staying focused, they've worked for our experts and they will likely work for you too.
Let's learn how to stay focused and achieve our goals!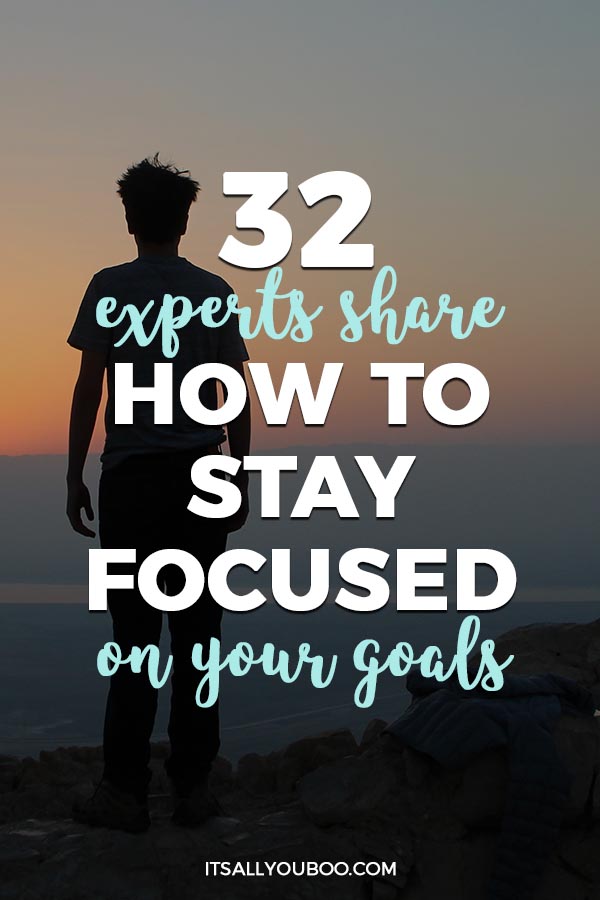 32 Ways to Stay Focused on Your Goals
#1. Wake Up with a Plan
#2. Set Goals for Each Month
#3. Break Your Goals Down
#4. Be Intentional With Your Time
#5. Keep a Journal
#6. Write Your Goals in Multiple Places
#7. Have a Mantra
#8. Create a Vision Board
#9. Think About Your Goal Daily
#10. Picture Yourself Achieving Your Goal
#11. Imagine the Finish Line
#12. Know Your Why
#13. Eat, Breathe and Live Your Goal
#14. Build a Little Each Day
#15. Divide Your Goal into Smaller Milestones
#16. Celebrate Small Victories
#17. Pick a Path and Stick to It
#18. Have Tunnel Vision for Your Goals
#19. Consistently Better Yourself
#20. Create a Follow Up Process
#21. Test Your Daily Endurance
#22. Do Regular Check-Ins
#23. Hold Yourself Accountable
#24. Make a Public Commitment
#25. Say It Outloud Often
#26. Find People Who Share the Same Goals
#27. Surround Yourself with Like-minded People
#28. Watch Inspiring YouTube Videos
#29. Take Mindful Breaks Every Day
#30. Make Peace with the Ebb and Flow of Life
#31. Manage Stress and Anxiety
#32. Balance MASS (Mindfulness, Alignment, Spirituality & Self-Care)
Slay Focused and Slay Your Goals
Ready to stay focused on your goals? To beat distractions and finally follow through on your plans?
Anyone can set a goal, even fewer people get started on that goal and even less stay focused long enough to achieve it.
Be the person who stays committed, stays consistent long enough to see results.
And please, don't feel bad or guilty for losing your motivation or feeling unfocused at times. This is completely normal!
Just start again, by creating a clear and focused plan for your goals, then build on it using the above strategies to stay focused.
Once you start seeing actual evidence that you are making progress, you'll be more inspired to keep going.
That's not only how you focus, but also follow through on your goals.

How do you stay focused on your goals?