Want the best hobby ideas for adults? Looking for a list of creative hobby ideas?

Let's be honest, you're a bit bored right now, life is lacking that bit of excitement and enjoyment.
Perhaps you're ready for a new hobby, but you're not sure where to start.
Maybe you even thinking about this hobby, but you're questioning whether you have the right skills or the time to put in.
You've come to the right place, my friend. I've got loads of cool hobby ideas for adults to share with you, but first I want to address any doubts you may be having about starting a new hobby.
Table of Contents:
Why Should I Start a New Hobby?
I remember the days when people would ask me, "So what do you like to do for fun?" and I would draw a complete blank. Yeah… that's a warning sign.
And no, watching Netflix does not count.
You see, I was a busy working mom–I thought I had an excuse not to have a hobby or any real interests of my own. I had a full life already. But the problem was, I was filling all my time by caring for others, getting work and chores done, and doing nothing for myself.
Looking back, it's so easy to see how I was on the road to burnout. Yet, scarily, it felt normal at the time. I was just living my life, and I thought I could be happy with the love of my family and a fulfilling career.
I was wrong. I started to feel stuck, and it kept getting worse until eventually, I ended up battling some major depression.
Don't let yourself get there! You landed on this list of hobby ideas for adults for a reason.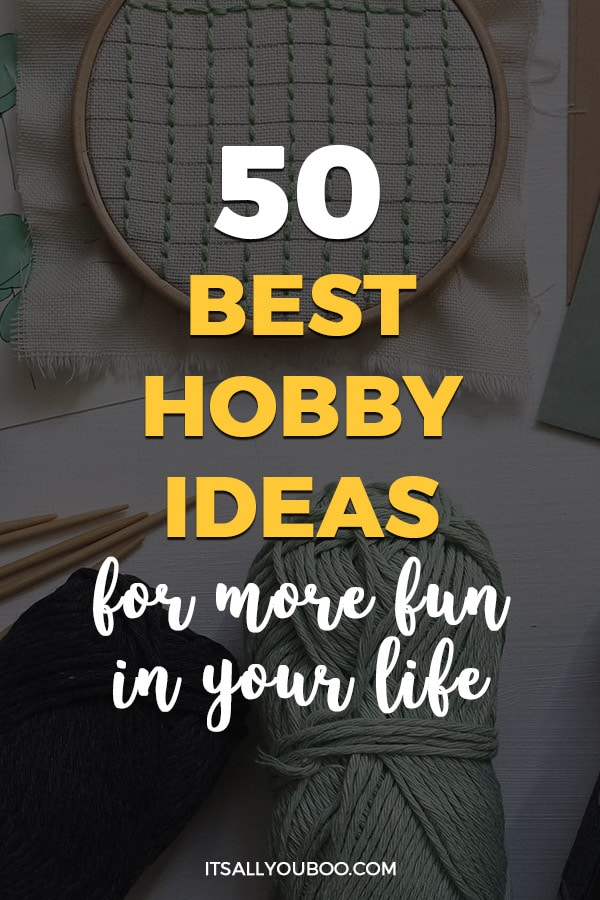 Having a Hobby Changed My Life
When I had my first battle with major depression, aside from some professional help and treatment, there was one thing that I felt made a huge difference in my recovery: I took up ice hockey.
That's right, this 30-something-year-old mom decided to learn to play ice hockey and actually did it. It was something I had always wanted to do, and one day I realized there was no better time.
When I had really dark days and barely felt like I could move from one task to the next, I would drag myself to my ice hockey for women's class. I always left the class feeling exhausted but exhilarated.
👉🏽 RELATED POST: 30 Ways to Date Yourself
I was inspired by our instructor, a woman decades older than me, and I met some other super nice women who were very encouraging. Plus, I was actually doing it–learning the moves and getting better, stumbles and all. It was fun.
I credit that new hobby with helping me realize the importance of dedicating time to myself. It showed me the power of doing something just for me.
This is not an advertisement for ice hockey (though it really is awesome). The point is, we're all busy, but you can gain so much by putting yourself on the priority list and learning something new.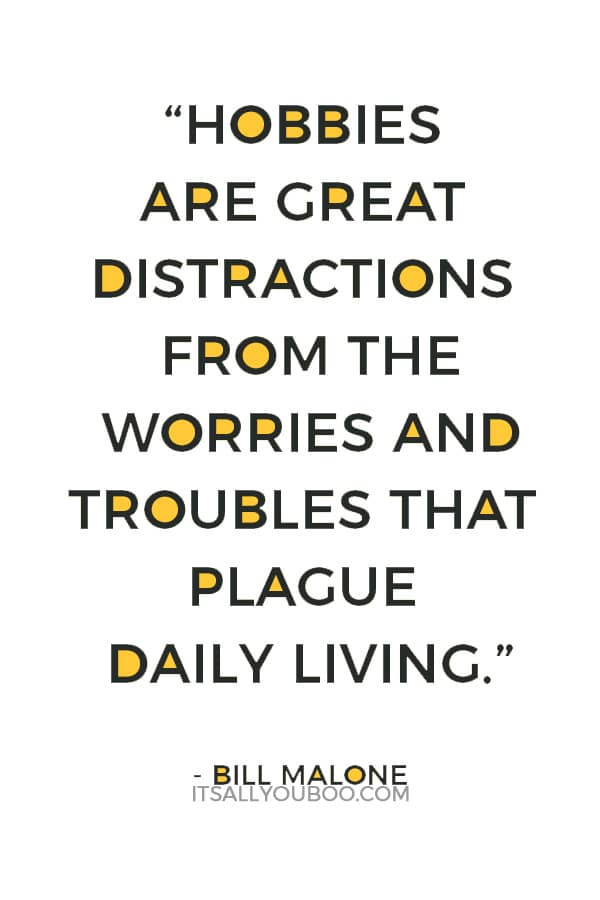 Hobbies Are Good For You
I wasn't just imagining the positive effects of my new hobby. The science is clear: hobbies are beneficial for stress reduction and can have positive effects on mental and physical health.
If you're a career-driven person, having hobbies outside the workplace can improve workplace performance and prevent burnout. An interesting hobby might even help you stand out in an interview.
Now let's turn back to those hobby ideas for adults and get you on a path to figuring out which types of hobbies you want to try.
How Do I Find a Hobby That I Love?
There are so many types of hobbies out there–how do you know what to choose?
There are a few main factors that come into play when considering your choice of hobby:
Interest: What sounds fun to you? Is there a type of activity you have always wanted to try? What have you tried in the past that you didn't like?
Active or creative: Do you want to try something active or more relaxing? Are you looking for a creative outlet or just want to blow off steam? Is fitness an appeal of the hobby or not as important?
Group or individual: Are you looking for a hobby you can do alone or one that allows you to interact with others?
Cost: Do you have some room in your budget for special equipment or lessons if needed?
Setting: Do you prefer to be indoors or outdoors? Is the hobby one you can do in your home or nearby? Are you willing to commute to a location if needed?
Convenience: Does the hobby have a schedule that you can fit into your life? Do you need something flexible that you can pick up anytime or can you attend classes or events?
Thinking about these questions should help you hone in on the types of hobbies that may work best for you. At the same time, try not to overthink it.
The great thing about a hobby is that it's OK to try something and move on if it doesn't float your boat. There are so many hobby ideas for adults that you can easily choose something new if your first one doesn't work out.
It's also perfectly fine to have more than one hobby, because different types of hobbies may fill different needs in your life.



Best Hobby Ideas for Adults
I'm going to skip over some obvious hobby ideas in favor of sharing some less common hobbies that may pique your interest. For this reason, you won't see common childhood sports like basketball, softball, etc., on this list of hobby ideas for adults, though they are certainly fine options.
Active Hobbies
1. Kickball
A classic team sport, and it's so easy, anyone can do it. You don't have to be superfit to have fun. Look for a league in your area.
2. Flag football or ultimate frisbee
All the fun of football without the concussions. These are great co-ed activities to get out, get active, and meet new people. No special equipment is needed.
3. Disc golf
A solo or group activity, disc golf is easier on the wallet than the traditional sport.
4. Paddlesports
Try your hand at table tennis, racquetball, or the trending pickleball, a fast-paced mashup of badminton, table tennis, and tennis. Look for options at a club or community center near you.
5. Martial arts
Martial arts can be a great workout while also learning self-defense. Research different styles to see what suits you best: some involve more redirection of the opponent's energy while others incorporate more hand strikes, kicks, or weapons.
6. Yoga
Great for strengthening, stretching, and relaxation. It's well-known, but I had to include it on this list of hobby ideas for adults as it's a personal favorite. You don't have to belong to an expensive studio to get into yoga. There are plenty of free or low-cost yoga channels online to help you practice at home.
👉🏽 RELATED POST: Yoga for Beginners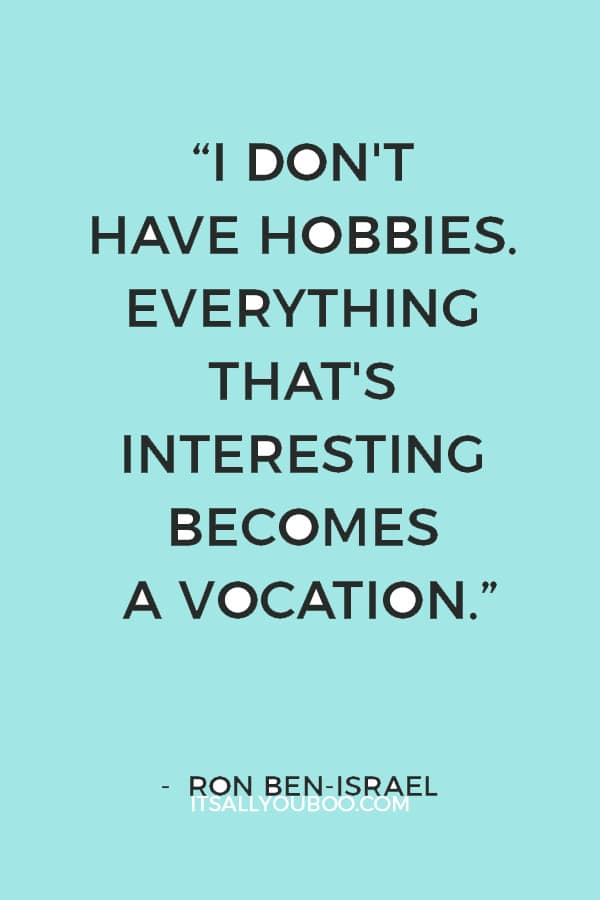 7. Dance
Break a sweat while having fun. There are so many options, from ballroom to belly dancing, break dancing, line dancing, swing, hip hop, and more.
8. Rock climbing
A safe but adrenaline-pumping sport, rock climbing is the ultimate in strength building. Conquer your fears and feel determined as you reach new heights. Indoor and outdoor options are available, and rock climbers can be some of the coolest people you'll meet.
9. Water sports
If you're anywhere close to a body of water, there will be tons of water-based hobbies available to you, including such favorites as paddleboarding, kayaking, kiteboarding, sailing, and windsurfing.

10. Cycling
You know how the saying goes. Street cycling and mountain biking can be taken up at any age, and many adults find a late entry into the hobbies. You can go it alone or find a cycling group.
Indoor Hobbies
11. Creative writing
There can be something therapeutic about putting pen to paper. Don't worry about the end result–just have fun. You might join a creative writing group for camaraderie.
12. Cooking
Have you always wanted to learn to bake? Or to cook the perfect Indian food? Want to cook healthier meals? Pick a specialty or rotate through types of cuisine. You can even use your favorite chefs as role models.
13. Sewing
If you have an interest in fashion or just enjoy getting crafty, creating your own garments or accessories can be quite enjoyable. It's easy to get started with plenty of patterns and instructions readily available.
14. Painting
Have your own art therapy by channeling your inner Bob Ross. Join a painting class or set up your own studio space at home. Watercolor, oil, and acrylic are the most popular types.
15. Needlecrafts
This isn't your grandma's hobby! The young and hip have taken up needlecraft at an astounding rate in recent years. Try your hand at knitting, crochet, cross-stitch, or needlepoint.
👉🏽 RELATED POST: How to Start A Daily Journal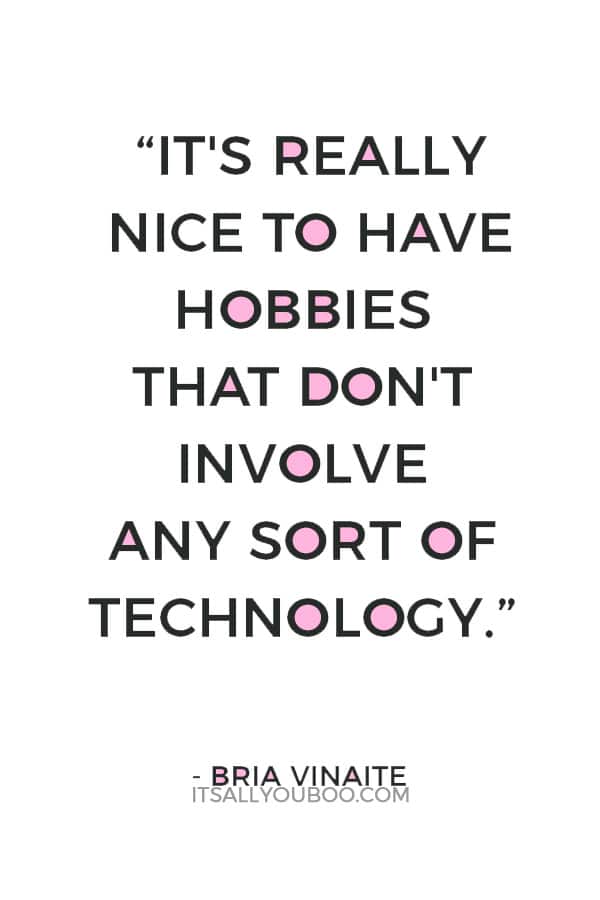 16. Hand lettering
Hand lettering is like calligraphy on steroids. You'll artfully craft each letter to create fun designs like the ones filling your Etsy feed. Try it digitally or with a good old-fashioned pen and paper.
17. Board or card games
There are clubs and tournaments out there for just about every type of game. Have you always wanted to learn poker? Have a soft spot for Scrabble? Or does the strategy of chess or mahjong draw you in?
18. Pottery
Clay throwing and working with your hands can be so relaxing. Plus you might end up with some nice pieces you can gift or use in your home.
19. Animation
If you find drawing enjoyable, animation can be a natural extension. There are software programs available to create your own 2D or stop-motion animation.
20. Soap or candle making
Make something you can use with the natural ingredients that you choose. Try new mixes and recipes; these make great gifts as well.
Best DIY Hobbies
21. Refinishing furniture
Turn your flea market finds into pieces with pizzazz. Learn to restore and reupholster, then put your creativity to work.
22. Woodworking or woodcarving
For the person who likes working with their hands and enjoys the smell of sawdust. You can create your own furniture or smaller pieces, carve ducks or toys, or turn bowls and pens.
23. Glassmaking
Blown glass creates some of the most amazing artistic creations. You can also learn the art of stained glass making. Find a studio near you for offerings.
24. Photography
Photography is so versatile because you can practice it wherever you are. You'll enjoy the images you capture for years to come.
👉🏽 RELATED POST: 15 Legit Ways to Make Money At Home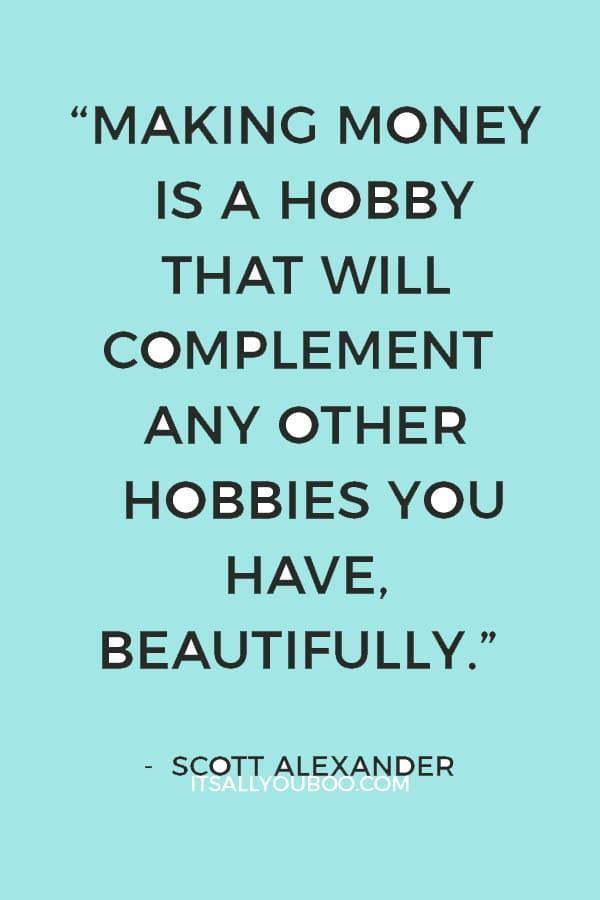 25. Rug making
There are many different techniques you can try for this ancient craft. You'll brighten your home with your own creations.
26. Robotics
The ultimate in techno-DIY. You can create a combat-worthy robot or just something to entertain your cat. Keep on tinkering to see what you can come up with.
27. Jewelry making
Bring out your inner artist to make some dazzling pieces that accentuate your style. There's a surprising amount of metalwork involved, but it's nothing you can't handle.
28. Beer brewing
It takes practice, chemistry, and patience to create the perfect brew. You're sure to enjoy trying different recipes. Do brewery tours or tastings for inspiration.
29. Cheesemaking
Mmm… cheese. Take a class or find instructions online. Share the results with your friends. 'Nuff said.

30. Upcycling
It's the perfect DIY experience–turning found junk into something cool. You won't find instructions for this one; you've got to use your own ingenuity.
Cheap Hobbies for Men and Women
31. Drawing
Have you heard about the man who wanted to sketch every person in New York? Come up with your own drawing challenge and get started.
32. Learning to play the ukulele
You can get a decent ukulele for less than 100 bucks, and it's easy enough to learn with videos on YouTube. Even the sounds of beginner strumming can be quite pleasing. It will feel like you're on an island.
33. Learning a new language
There are apps, books on tape, and free conversational groups that can help you along. Pick up a language you've always wanted to learn.
34. Geocaching
Geocaching is like a high-tech treasure hunt. You can use your smartphone rather than purchase a dedicated handheld GPS unit.
35. Standup comedy
This one will only cost you some nerves and maybe a little pride. Get out there and have a blast. It's OK to bomb–it's all part of the experience.
👉🏽 RELATED POST: How to Spend a Mental Health Day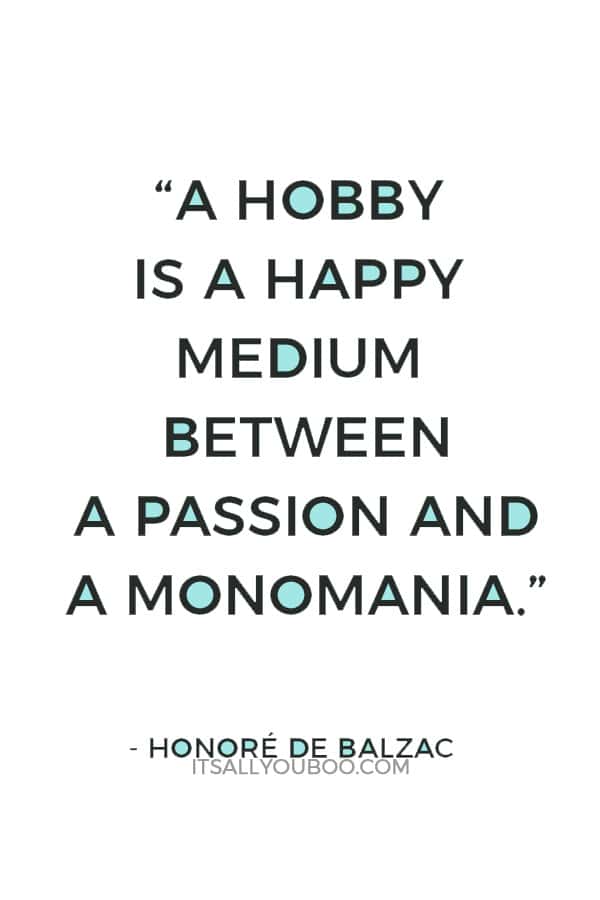 36. Hiking
A good pair of shoes, a water bottle, and you're set. You can join a hiking group or find a buddy. Try add-on hobbies such as foraging for mushrooms.
37. Astronomy
It's completely free to go stargazing. You can join an amateur astronomy club to dive deeper into the hobby, and I'm sure plenty of the hobbyists will be willing to share a view through their telescope if you don't own one of your own.
38. Bird watching
Get a pair of binoculars and find some nature. You can learn so much with this hobby, and it's as peaceful as they come.
39. Rock and mineral hounding
Search for your own rocks, gems, and minerals. You can purchase a rock tumbler for a reasonable price.

40. Juggling
Learn the ultimate in party tricks. You can practice alone or join a juggling club for extra fun.
Cool Hobbies for Adults
41. Axe throwing
Axe throwing is all the rage, and it's no wonder–it's such a satisfying experience. Axe-throwing clubs are popping up everywhere.
42. Learning to play guitar or drums
Quintessential cool. Get a start on your own garage band.
43. Roller derby
Join a tribe of tough chicks, and wear your bruises as a badge of honor. If you're a dude, you can try roller hockey instead.
44. Bullet journaling
Bullet journals combine personal development and artwork in a beautiful book that you create yourself. They have a system and language all their own. Check out Instagram for plenty of #bujo inspiration.
👉🏽 RELATED POST: How to Start a Bullet Journal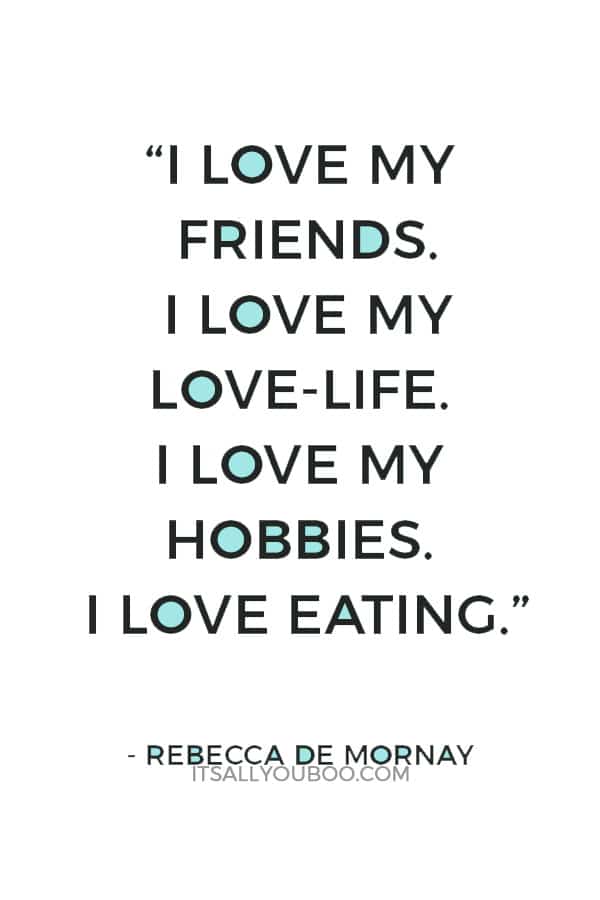 45. Drone racing
The high-speed action will have your heart pumping.
46. Survival training
Channel your inner caveman and learn the essentials of making fire, sourcing your own food, and creating a shelter. You'll feel more confident knowing you're ready to live off the land at a moment's notice.
47. Screenprinting
Never buy another graphic tee again; make your own killer designs at home instead. Plus, you could turn this into a money-making side-hustle.
48. Skydiving
The epitome of adrenaline rush. Some say it can be quite addicting, and you'll have fun telling people, "I like to jump out of planes."
49. DJing
Enjoy creating your own sick beats, and practice until you're ready to show off your skills to a crowd (or a few friends in your living room).
50. Macrame
Macrame is back in a big way. Learn to create your own bohemian designs, bell bottoms are optional.
Get Started in Your Fun New Hobby
These hobby ideas for adults should have left you inspired to make a choice and start your cool new hobby right away. There are plenty of fun hobbies to suit any lifestyle and budget.
The great part is, you don't have to choose just one! You can rotate or pick an indoor and an outdoor hobby.
If you're not sure whether you will like a hobby, try renting equipment or a trial membership to ensure you are committed before making a full investment. Purchasing used equipment is another way to save money.
While instructional classes can be very helpful for many hobbies, there are also free or low-cost instructions available online for many hobbies.
Ask around to see what types of hobbies your friends enjoy. You're also sure to meet some new friends as you get immersed in your new hobby.
Get Your Superpower Discover Guide
Hobbies are just one of the ways to get to know yourself and discover your talents. Sign up below to get the printable guide with a list of 20 ways to find your Superpower.

Above all, remember to enjoy yourself. Be careful not to turn your new hobby into a chore that sucks away all the fun.
I hope you'll remember how important it is to make time for yourself.
Share this list of hobby ideas for adults to save some others from their daily monotony!
Bored with life and looking for a new hobby? Here's an epic list of the 50 best hobby ideas for adults by @stepstoself. There's something for everyone. #Hobby #Hobbies #ThingsToDo #Fun

What do you think is the best hobby idea for adults?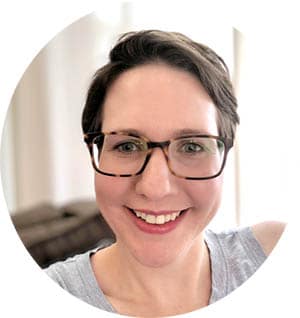 More About Guest Contributor
Gina Morris is a mom of four and owner of the Steps to Self blog. Her passion is helping moms attend to themselves and live their best life.
Last Updated on July 16, 2023
✕
Find Your Superpower!
+ get weekly tips to help you slay your goals.