How do you date yourself?
Looking for a date yourself ideas for Valentine's Day?
February is the month of love. Tons of rom-coms are hitting the theaters, Hallmark cards are flying off the shelves, and stores are decked with pink frills and heart-shaped chocolates.
But a holiday dedicated to romantic love can leave many feeling lonely.
Do you see Valentine's Day as Single's Awareness Day? Does this time of year make you feel alone?
It's understandable. After all, our culture likes to promote romantic love above all other kinds of love.
Every movie you watch, regardless of genre, has a love interest in it. How many movies feature a strong independent person who isn't interested in a romantic partner? Maybe, like, two?
Let's make one thing clear, you don't need to have a boyfriend or a girlfriend in order to enjoy Valentine's Day. Or any day for that matter!
Instead of looking for a romantic partner to love, let's work on loving ourselves.
This Valentine's Day, learn how to date yourself. Whether you're in a relationship or not, it's time to give yourself a little t-l-c.
Keep reading to uncover what it means to date yourself, learn how to fall in love with yourself, understand why time alone is good for you, and get inspired by thirty fun solo date ideas.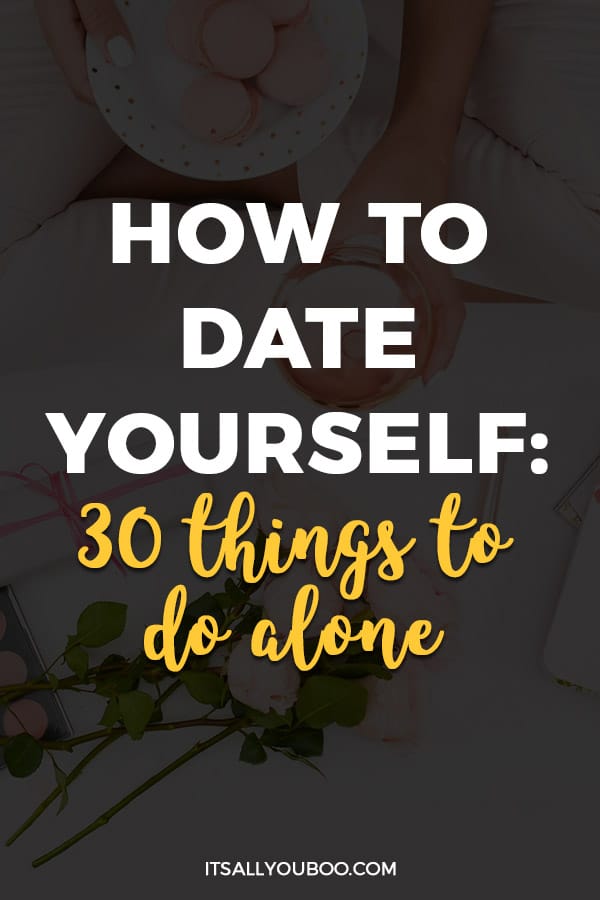 What Does Dating Yourself Mean?
Dating yourself means treating yourself like you would a romantic partner. It involves love, care, and a little bit of spoiling from time to time. To date yourself, you've got to be considerate of your own needs and desires. It's about prioritizing yourself and your wellbeing.
Actress Emma Watson recently popularized the term "self-partnered" when defending her single-status in an interview with British Vogue.
"It took me a long time, but I'm very happy [being single]. I call it being self-partnered," Watson said.
According to experts, self-partnered people focus on being happy independently. Although many continue to date, they prioritize time spent on self-care and personal development.
Common Concerns about Dating Yourself
"Do I have to be single in order to date myself?"
No way! Your partner must understand that you want moments to yourself from time to time. Dating yourself, regardless of your relationship status, gives you the opportunity to focus on yourself.
👉🏽 RELATED POST: How to Be Comfortable with Yourself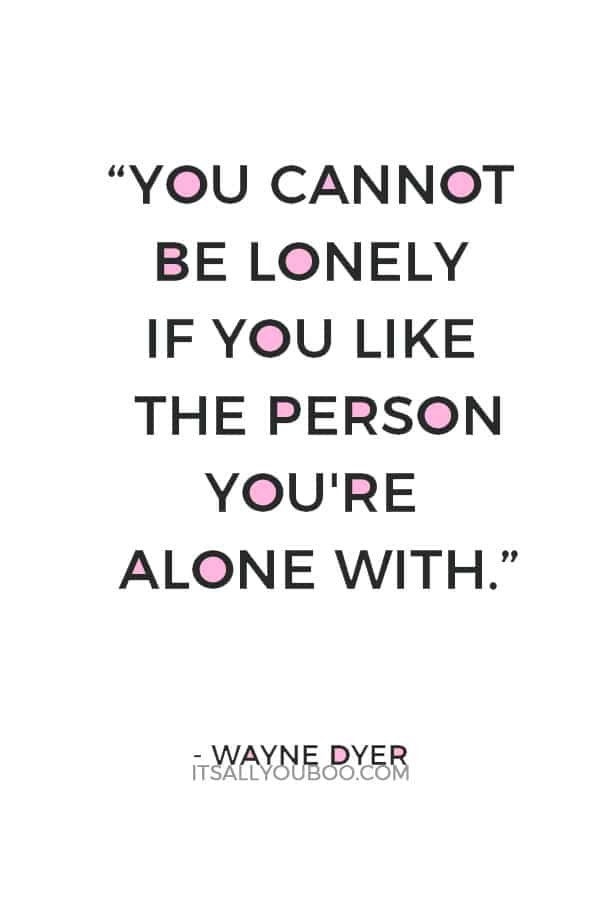 "I'm broke, I don't have money to spend on myself."
That's completely fine! Don't let consumerism fool you, dating yourself doesn't have to cost a dime. Self-care can be cheap or free. Just make sure to choose solo activities you enjoy that don't break the bank. Meditation, journaling, and going on walks are just a few easy ways to date yourself any day (keep reading to find thirty awesome, inexpensive solo date ideas).
"I don't like being alone."
Whether you're an introvert or an extrovert, spending time by yourself is important for self-reflection and personal growth.
It's okay if solo dates are a little uncomfortable for you at first. Over time, you'll learn to enjoy dating yourself and you'll find how to date yourself in a way that's best for you.
👉🏽 RELATED POST: Happy Being Single Quotes
How to Date Yourself When You Don't Love Yourself
The idea of dating yourself can be daunting when you don't feel like you completely love yourself.
Self-love and self-acceptance is an ongoing journey. It's not as easy as saying "okay go love yourself."
But in order to love yourself, you've got to take time getting to know the real you and doing the things that will make you happy.
If you don't feel like the relationship you have with yourself is a loving one, here are a few steps to help you fall in love yourself and learn to embrace your solo status.

Step #1:
Consider What's Keeping You From Loving Yourself
First, we have to be aware of the influences that hinder our ability to love ourselves for who we are, such as:
Seeking validation from romantic partners and friends
Focusing on negative self-talk and self-doubt
Handing the megaphone to our inner-critic
Believing we need to be in a relationship all the time
When do you feel like you don't completely love yourself?
When have you treated yourself as a toxic ex instead of as a loving partner?
Take some time to consider these questions and offer yourself alternative ways to cope.
For example: Instead of believing that I'm a failure, I'm going to remind myself of all that I've accomplished and everything I've overcome.
It may take some time to learn to un-hate yourself, but after a while, you'll get more comfortable with the person you are and you'll learn to be your own best friend.
Step #2.
Make a List of What You Want to Add to Your Life
Next, you need to consider what you want to add to your relationship with yourself.
Do you want more time to reflect on your personal goals?
Do you want to experience new things or go to places you haven't been to before?
Do you want to feel pampered?
👉🏽 RELATED POST: How to Pamper Yourself At Home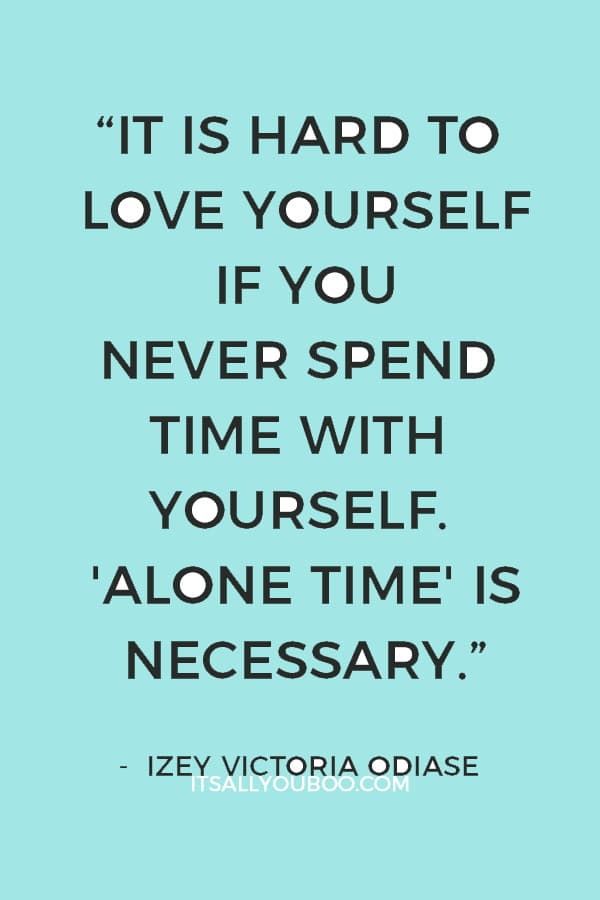 Taking time to reflect on what would bring you more joy is an important part of building a loving relationship with yourself.
Understanding what you want is the best way to learn how to date yourself right.
Step #3.
Schedule the Time to Date Yourself Regularly
Finally, make time in your schedule.
You wouldn't want to date someone who doesn't make an effort to spend time with you, right?
If you want to date yourself and fully love yourself independently, you've got to prioritize the time you spend on your own.
Of course, we aren't suggesting that you abandon your responsibilities in exchange for self-care.
👉🏽 RELATED POST: How to Schedule Mommy Alone Time
But if you consciously consider the available time you have in your schedule and you make sure that some of those moments are spent doing your own thing, you're going to improve the relationship you're building with yourself.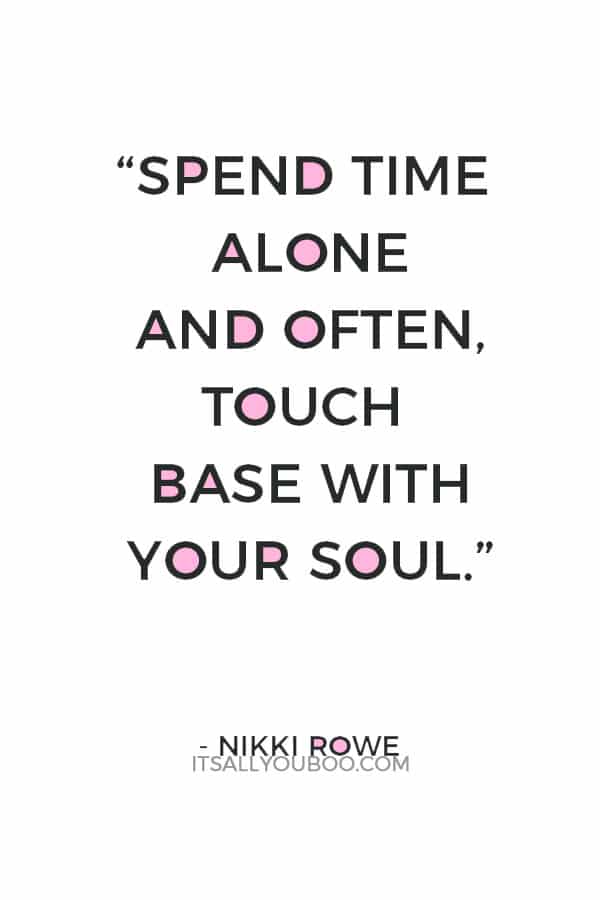 There are many ways you can practice self-care for just a few minutes every day. A ten-minute meditation, a short walk in the park, or a daily journal session can be the perfect little date you need with yourself from time to time.

You could also plan a particular day (such as Valentine's Day) to have a whole afternoon or evening to yourself. This will give you something to look forward to during the week and will allow you to plan something you're really going to love.
Solo Date Yourself Ideas For Valentine's Day (or Any Day)
Want to date yourself but don't know what to do? Here are some easy, often-inexpensive ideas on how to date yourself this Valentine's Day (or any other day of the year).
Go to the movies on your own
Visit an art museum
Attend a yoga class
Read in the park
Get lunch at a restaurant you haven't been to before
Write a love letter to yourself
Buy yourself some flowers
Play tourist in your own town
Make a blanket fort
Face mask and bubble bath
Try a new recipe
Go to a bookstore, choose a book at random and read the first chapter
Read your favorite book or watch your favorite movie from when you were a kid
Journal about your dream life
👉🏽 RELATED POST: How to Embrace Being Single on Valentine's Day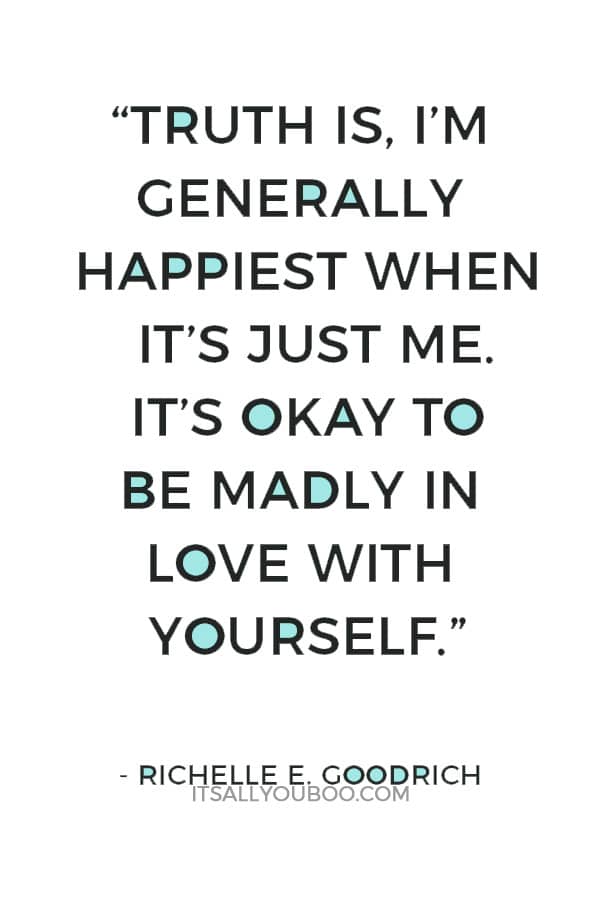 Sit by the lake/pond
Pretend to be a photographer, exploring new cities and parks to take photos
Go window shopping, try on clothes you wouldn't normally wear
Dance around to a fun, upbeat playlist (90's hits, anyone?)
Visit an animal shelter
Take an art class
Reorganize your room
Play on a swingset
Bake cookies for your neighbor
Buy yourself a gift and wrap it- open it at a later date
Create a "bad-day" emergency kit for yourself filled with snacks and things you like
Wear your comfiest clothes and watch your favorite movie in bed.

How to Date Yourself Without Getting Lonely
People who are naturally extroverted may not be used to spending long periods of time on their own. For many, the idea of spending a whole evening on a date by yourself is a little daunting.
Here are a few things to remember if you feel uncomfortable with the idea of dating yourself or going on solo dates.
#1.
This is an opportunity to do anything you like
When you're in a relationship with another person, you sometimes have to compromise on date nights and choose activities the other person would rather do.
When you date yourself, date night is entirely up to you.
Whether there's a cheesy chick-flick you've been wanting to see or a pop song you're guilty of grooving to, your date with yourself is your chance to do exactly what you want to do.
👉🏽 RELATED POST: 29 Single on Valentine's Day Quotes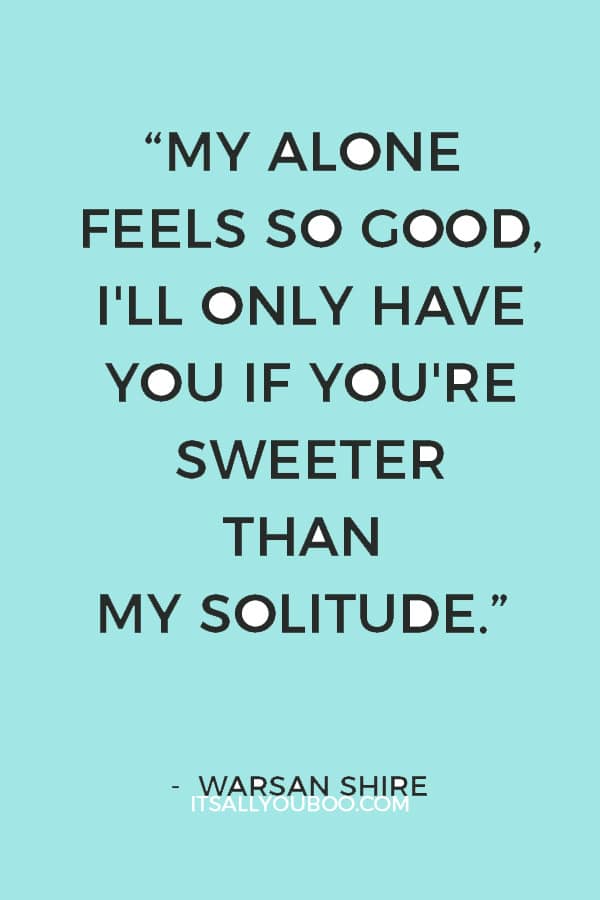 #2.
You can learn more about yourself
When you spend more time on your own, you have the opportunity to reflect on your personal needs and your growth.
If you're feeling uncomfortable about being alone, this is your chance to lean into that and reflect on why you're craving companionship.
Alone time can help you become more in tune with how you feel.
Plus it can show you what you are in need of in your life.
Dating yourself gives you the chance to get to know yourself on a deeper level. A chance to connect without being influenced by outside parties.
#3.
Get outside your comfort zone and build confidence
Dating yourself allows you the chance to do things outside your comfort zone and experience things you've never done before. Take our solo date ideas list, for example, many of those options involved trying something new and different.
The more you do things that feel uncomfortable to you, the more courage you build.
Why Should You Date Yourself?
Still not convinced that you should date yourself this Valentine's Day?
Consider what your life would be like if you…
Truly loved yourself
Embraced your relationship status, whether it's self-partnered or in a relationship
Learned more about who you are and what you want in your life
Regularly did things that were new, fun, different, exciting
👉🏽 RELATED POST: How to Have a Staycation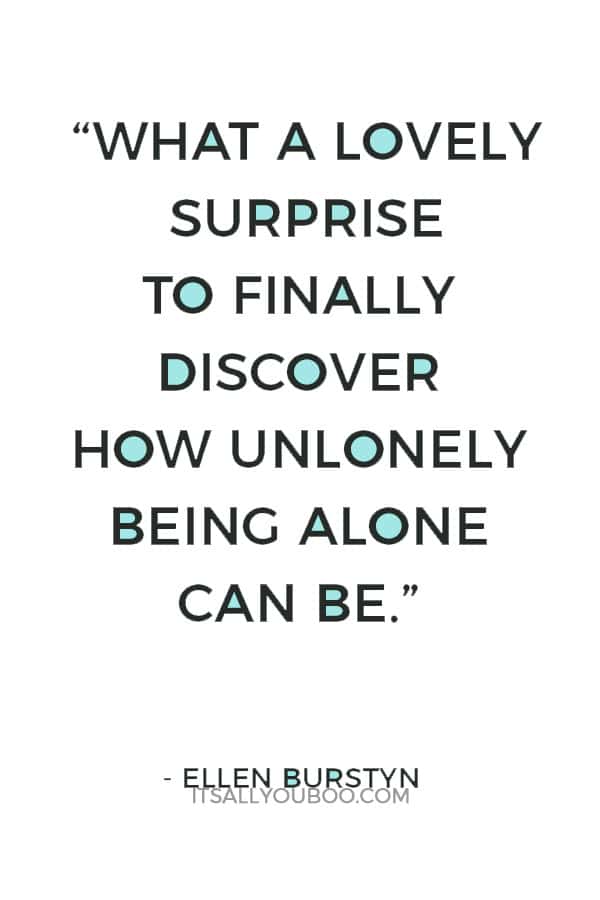 Think about how much happier you could be and how much you'll grow as your own person.
Now is the time to put yourself first.
Printable Self-Love Quotes
Looking for a bit of encouragement to love and date yourself? Get your 10 FREE printable self-love quotes, that are the perfect reminder that you deserve date night with yourself.
This download comes with high-resolution, graphic quotes that are ready to print and post in your home or office.
Whether you are single as a Pringle or dating someone great, it's important to learn how to date yourself.
Even if you aren't in love with yourself yet, take the time to treat yourself better.
You'll see why solo time is valuable and why the best dates you ever go on may be the dates you go on with yourself.
As the iconic designer, Diane von Furstenberg said, "the most important relationship in your life is with yourself. Because no matter what happens you will always be yourself."
Are you single and feeling lonely? Click here for how to date yourself, including 30 date yourself ideas for self-love. This is how you fall in love with yourself. #MeTime #DateNight #LoveYourself #SelfCare

How will you date yourself this Valentine's?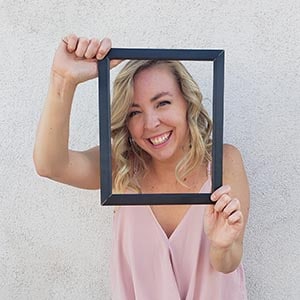 More About Guest Contributor
Laura Maloney is the Founder of The Self Set, a blog focused on sharing inspiring advice on self-care, self-love, and self-improvement. Laura's passionate about promoting authenticity online and encouraging others to share their struggles along with their successes. With guided journals and a podcast in the works, Laura is excited to continue to help people like you create the life you want by focusing within your "self."
Last Updated on August 11, 2021
✕
Get Your Self Love & Care Quotes
+ get weekly tips to help you slay your goals.