Do you wonder, why am I always feeling insecure? Are you dealing with insecurity in your relationships, at school, or at work?
As you head to your boss's office, you silently rehearse what you plan to say. "I deserve a raise because…" You notice your shoulders are clenched and try to relax them. The butterflies in your stomach grow as you approach the door and your hands start shaking. You take a deep breath and wish fervently that you had more confidence.
Dealing with insecurity can be exhausting and affect many areas of your everyday life. In addition to negatively impacting your career, insecurity can damage your relationship with yourself and other people.
Low self-confidence damages your belief in yourself, makes it hard to accept yourself and stops you from pursuing the things you care about. Keep reading this article to learn nine secrets for dealing with insecurity and gaining more confidence.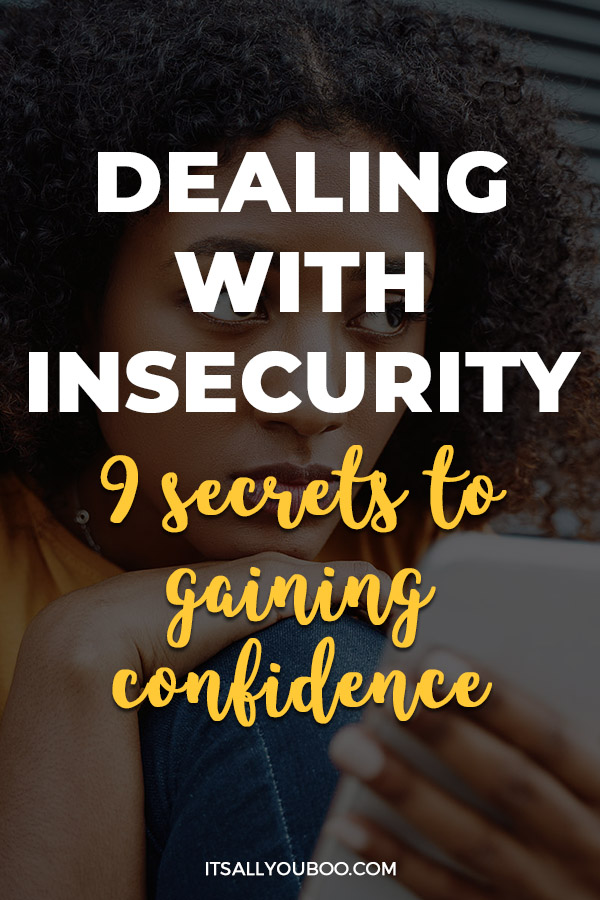 What Are the Signs of an Insecure Person?
The feeling of insecurity is a sign that tells you something is wrong. Sometimes, feelings of insecurity are true. For example, you might feel insecure because you can sense that your boyfriend is cheating on you. However, feelings of insecurity can also be based on false information – like thinking your boyfriend will leave you because no one would want to stay with you.
Relationship insecurities are common, not just in romantic relationships or marriages, and can affect the stability of your connection with your partner. Trust cannot live where insecurities reign.
Insecurities are hard to overcome because they require you to change your perspective. If you've spent your whole life believing something negative about yourself, it can take time to recognize your mistake and change that perspective.
Here are five signs you might be dealing with insecurity:
You feel your work is never good enough.
You worry that your significant other will leave you for someone better.
You have trouble believing anyone would want to be friends with you.
You experience strong feelings of anxiety on a regular basis.
You don't trust in your ability to achieve goals.
👉🏽  RELATED POST:  5 Ways to Stop Self Sabotaging Yourself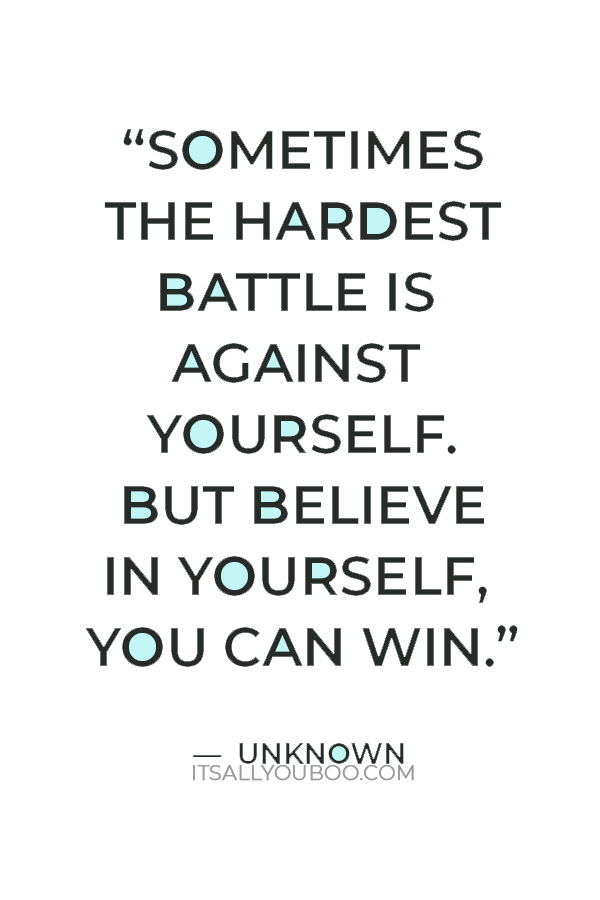 Sometimes, insecurity is easy to spot. For instance, a person who blushes whenever people talk to them is displaying insecurity about engaging in social situations. However, other people overcompensate as a way to make up for insecurities. They may act out, speak loudly, or laugh at inappropriate moments to ensure they're always the center of attention.
What Are Your Insecurities?
The best way to identify personal insecurities is by asking yourself a series of questions. Start by imagining your dream life. List out your accomplishments, dreams, and goals. Then, ask yourself what's keeping you from working toward those today. What change in yourself would make your life "perfect"?
You can rephrase this question as, "If only I was ______ enough, then ______ would happen." Asking this question allows you to reevaluate both the future goals you want and the part you see yourself taking in your future.
Insecurities sap your belief in yourself until you're too emotionally weak to even try for what you want.
Dealing with insecurity is essentially dealing with unhealthy thoughts about yourself. It's normal to feel down every once in a while. However, feeling bad about yourself for a long period of time means there's a problem you need to address. Regardless of what you might think, you are worthy of love, happiness, and achieving your dreams.
👉🏽  RELATED POST: How to Stop Thinking Negatively About Yourself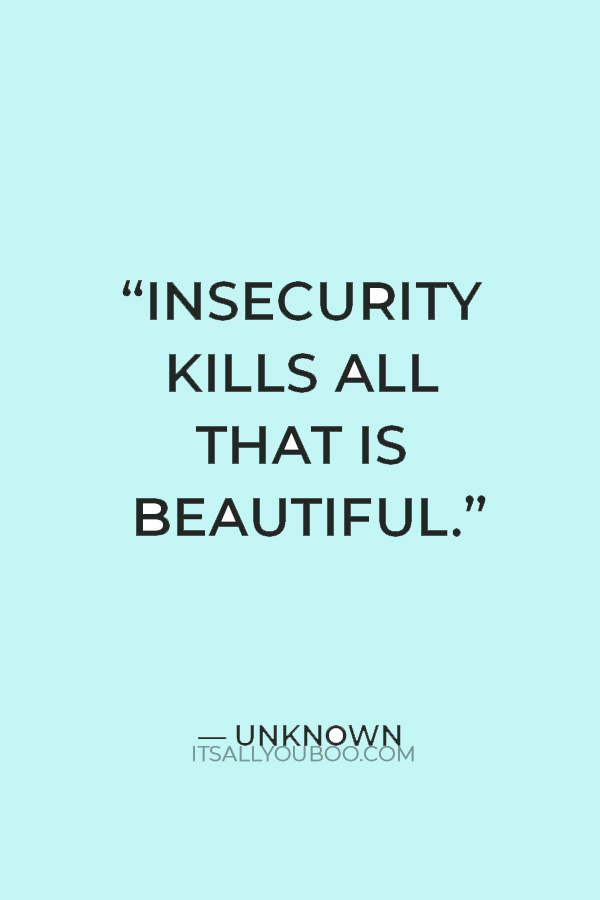 What Causes Insecurity?
Think back over your life and try to remember a time before you were dealing with insecurity. Remember moments when you were full of confidence, unafraid of what other people thought, and unaffected by negative thoughts about your self-worth and personal ability. Now, recall how that felt, and then ask yourself what changed. Even just one thing that's different.
Around 7% of people experience social anxiety – mean anxiety triggered by social interactions. Having a lack of self-confidence can interfere with daily life, preventing people from participating in activities or going to social events.
Some people can trace their insecurities back to a comment they heard or a traumatic event they experienced as a child. Poor parenting, abuse, neglect, or negative social experiences at school are often the beginning of deep-rooted insecurity. These experiences can become internal narratives that stay with you for many years.
For example, consider a child who is bullied while at school. Although the bullies are really the ones at fault, many children internalize these experiences and end up believing they're the problem. If they were only cool enough, pretty enough, or interesting enough, the other children wouldn't exclude or make fun of them.
People are relational creatures and they want to belong. Most if not all insecurities are the result of anxiety about being rejected. For example, you might be afraid to ask for a raise. However, what you're really afraid of is your boss telling you that you're not worth the raise. Many people are terrified to look too closely at themselves. What if they don't measure up?
👉🏽  RELATED POST: 17 Self-Confidence Journal Prompts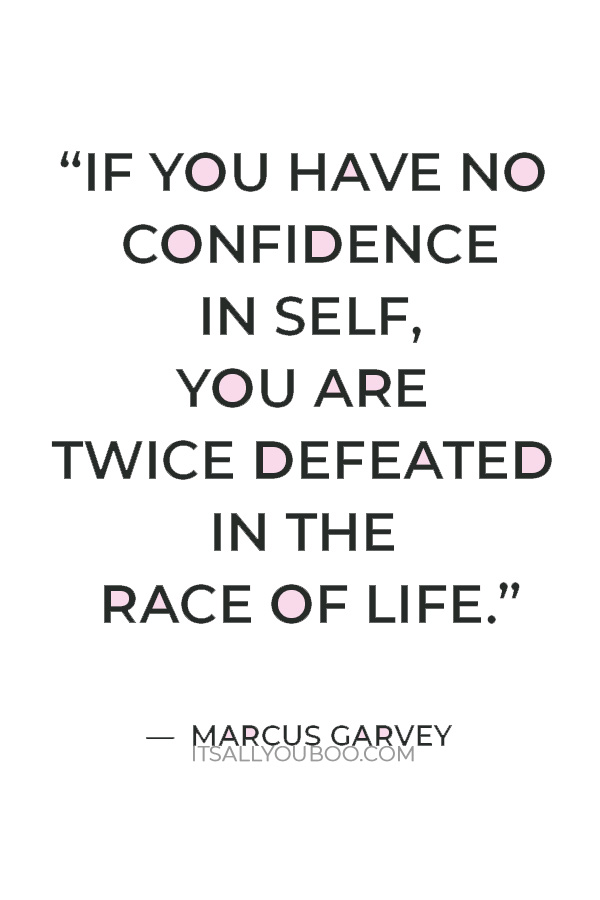 When dealing with insecurity, it's helpful to think back on past experiences that "confirm" negative beliefs about yourself. Understanding where these thoughts came from can help you confront and change them. Although it may be painful to relive these moments in your mind, confronting them will help you to resolve the pain they've caused you.
The only way to escape insecurity is to walk straight toward it.
Ask yourself what would happen if your thoughts about yourself are true.
What if you are worthless?
What if you're never good enough?
You may be surprised to find that facing these thoughts directly causes them to lose power over your life.
How to Start Gaining Confidence
The opposite of insecurity is confidence. If you're wondering how to overcome low self-esteem and insecurities, one way is to cultivate a sense of confidence. Some people are better at believing the best about themselves than others. However, confidence is a skill you can grow with practice. Here are nine steps for growing your confidence.
#1.

Examine Your Values
Many people experience poor self-esteem because they base their personal value on what other people think of them. If you are constantly looking for external validation, you'll never be secure in yourself. The first step in dealing with insecurity and becoming confident is examining your values. What determines your worth? How secure and trustworthy is that thing?
If you put your confidence in your personal appearance, your view of yourself will change depending on how you look. If you rely on a romantic relationship to give you a sense of worth, how will you feel when someone breaks up with you? To become truly self-confident, you must base your beliefs about yourself on values that aren't affected by changing circumstances.
👉🏽  RELATED POST: This is How To Trust Your Intuition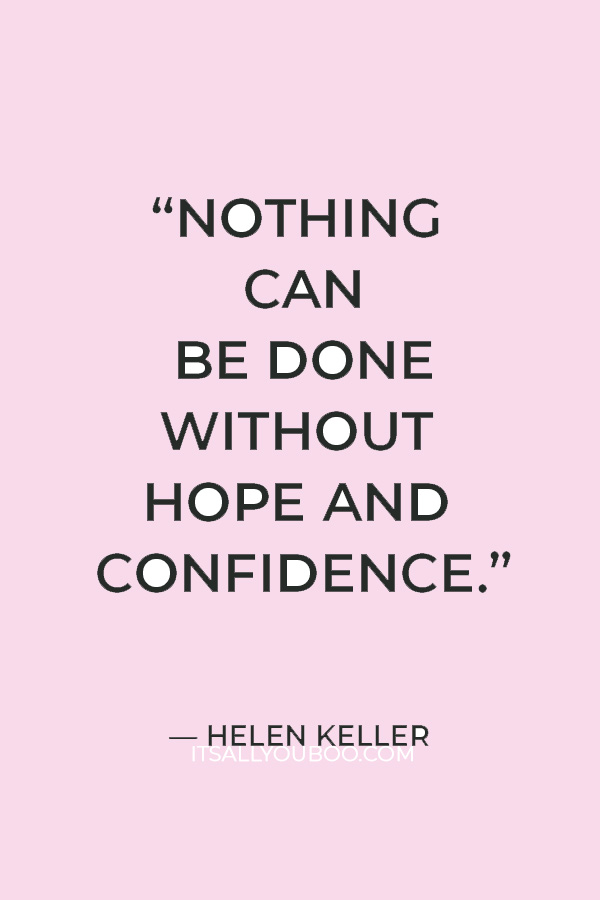 #2.

Move Your Body
If you have low self-confidence, going to the gym is probably the last thing you want to do. However, exercising is an excellent way to start to build confidence in yourself. Working out will help you to feel better physically, improving your physical and mental health. Exercise boosts your mood and changes your body chemistry in a number of positive ways.
You don't have to hit the gym to start reaping these benefits. Simply going on a walk gets your blood moving and can reduce stress levels. When you're not stressed, it's easier to reframe your mindset and push past insecurity.
Doing yoga, biking, or swimming are also great ways to move your body and start to build confidence in yourself. Try incorporating exercise into your morning routine to start off your day feeling confident.

#3.

Encourage Yourself
The way you talk to yourself has a huge impact on your self-confidence. If you're constantly tearing yourself down, it won't matter how much work you do to improve your life on the outside.
Changing the way you speak to yourself will make a huge difference in your confidence and empower you to blast through insecurities.
Practice speaking positive affirmations to yourself. The more you hear good things about yourself, the less you'll listen to the voice of insecurity, and the sooner you'll begin to believe in yourself. Although it may feel cheesy, it can be helpful to practice making eye contact and talking to yourself in the mirror when you start.

#4.

Prune Your Friends
If your friends are tearing you down, it won't matter how much you affirm yourself on the inside. You will continue to struggle with feelings of insecurity and low self-confidence until you cut unhealthy influences out of your life. The same thing goes for other voices in your life – social media, podcasts, television, and even music can all impact your sense of self-worth.
Before you start pruning your friends, make sure they're actually the problem. Sometimes, insecurity can impact relationships and make healthy friendships feel toxic. For example, someone who is lonely may feel hurt whenever their friends talk about successful relationships. Ask yourself whether your friends are making you feel small or whether you're interpreting the conversation that way because you're insecure.
Overcoming insecurity requires you to surround yourself with a healthy community of friends and family. Remind yourself, "I don't have to do this all by myself." Having support, and feeling loved can build your confidence.
👉🏽  RELATED POST: Have No Friends?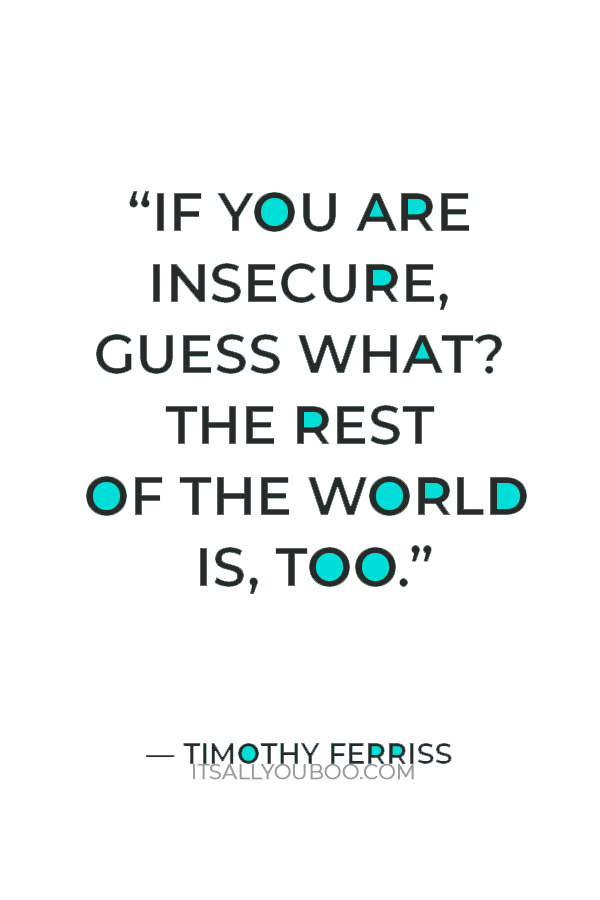 #5.

Practice Confidence
You may have heard the phrase, "Fake it 'til you make it." One of the best ways to become confident is to act like you are. Imagine how you would handle a situation if you were confident. Then, act like the person you want to become. Start with something small and work up to more stressful situations over time.
For example, you could try talking to one new person every time you go to a coffee shop. If social situations make you feel anxious, try going to a busy place and just existing there for 15 minutes a day. With practice, you can create memories that support a new narrative. If you're persistent in dealing with insecurity, it will become a distant memory.

#6.

Start a Journal
Journaling is a helpful tool for understanding your own thoughts. By putting daily frustrations and worries down on paper, you get the chance to reevaluate them. Look for patterns in your daily notes so you can identify any insecurities in your head. Key emotions that signal insecurity include uncertainty, fear, jealousy, anger, and bitterness.
It may take a while for these insecurities to surface in your writing. In the meanwhile, you can reap the benefits of journaling for only the price of a pencil and a notebook. Studies show that a daily journaling practice reduces stress and improves your ability to regulate emotions and understand yourself.
So, start a daily journal, as it empowers you to understand what's going on with yourself so you can change it.

#7.

Parent Yourself
Unfortunately, real-life parents aren't perfect. They are dealing with insecurity of their own and these are often passed on to their children. For example, your mother may have been too harsh on herself. Through her example, you may have learned that failure is unacceptable and now have trouble being gentle to yourself.
When you become an adult, you inherit your parents' job to take care of yourself. Imagine the best parents you can think of and what they would do for their children. Then, start watching over yourself the way those perfect parents would. This includes physical care as well as practicing positive self-talk. Imagine yourself as a small child and ask, "What do I need?".
👉🏽  RELATED POST: Let Go of Your Parents' Expectations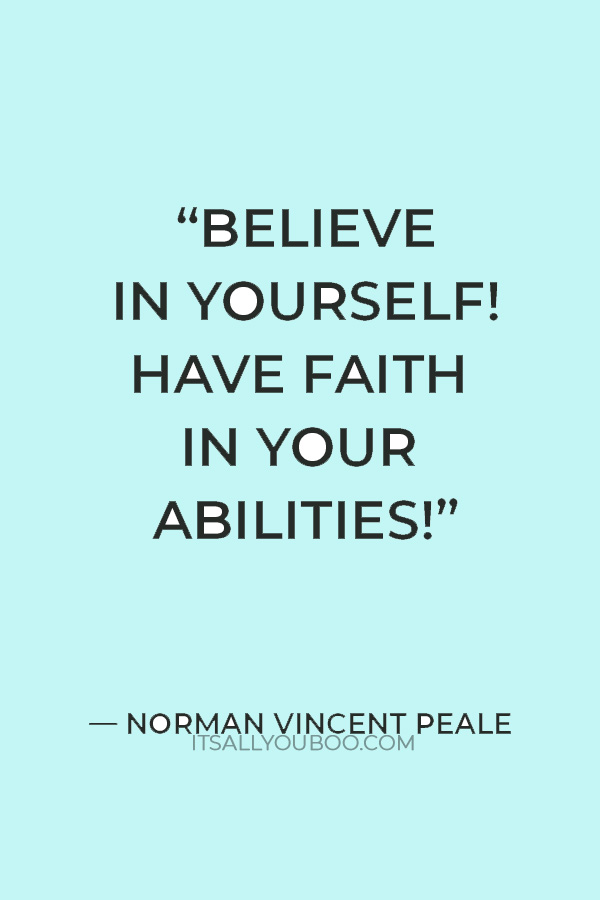 #8.

Gather Wisdom
As you start to think about insecurity, you'll begin to notice more of it in your life. While some insecurities are easy to redefine, others may have deep roots in your past or surface daily in your relationships. Reading books and stories about other people learning confidence can give you the courage and wisdom to develop your own.
Everyone thinks differently, but someone has already wrestled with the insecurities you're facing. The way someone communicates that struggle can help you shift perspectives and see yourself differently. Spend time gathering wisdom from other people's experiences so you can more efficiently tackle your own insecurities.

#9.

See a Therapist
If you struggle with emotional insecurity or feel that low self-worth is negatively affecting your life, it's worthwhile to meet with a therapist. A certified counselor is trained to help you identify unhealthy thoughts and challenge your assumptions about yourself. They can help you uncover personal struggles and shift your perspective more quickly.
Working with a therapist is an emotional commitment and it takes courage. However, it's a choice you'll benefit from for the rest of your life. Talking about your inner thoughts and emotions with someone else isn't easy, but it will help you heal. If you need to recapture your sense of self-worth, going to therapy is a practical step you can take to get there.
If your insecurities are fueling dangerous or harmful behaviors like eating disorders, seek out medical advice from a doctor or therapist immediately. They have the tools that can help you, especially if you also experience mental health conditions like bipolar disorder. Plus, this way your self-assessed insecurities can be medically reviewed, and professionally guided into a healthier state.
👉🏽  RELATED POST: How to Become Self Aware by Journaling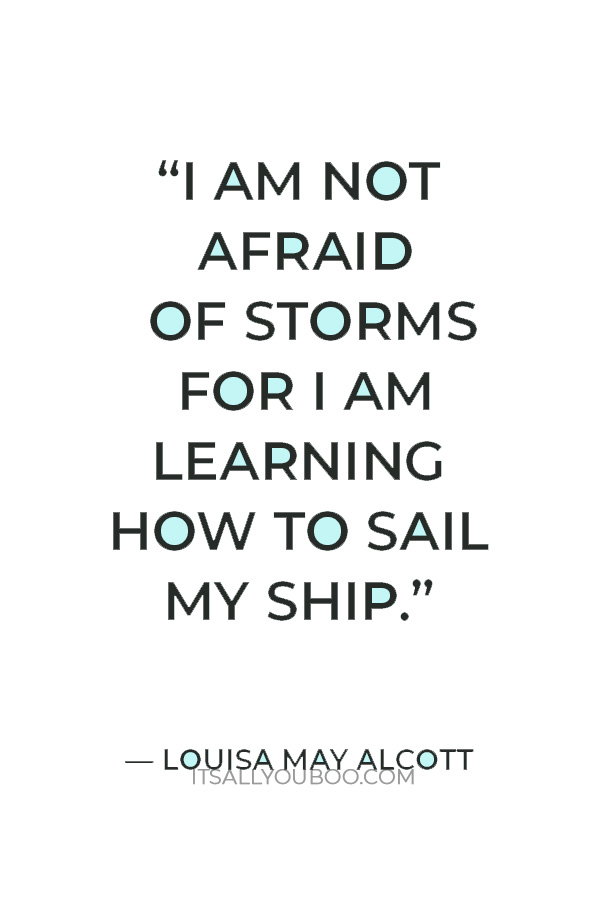 Successfully Deal With Insecurity
Almost everyone struggles with insecurity in some form. If you feel like a lack of confidence is ruining your life, you're not alone. Thankfully, you don't have to let insecurities run your life. Realizing you have a problem is the first step. Now, you can start dealing with insecurity and grow your confidence instead.
Winning the fight against insecurity takes attacks on multiple fronts. The more you understand your insecurities, the easier it will be to push back against them and rewrite your thoughts.
Get Your Self-Confidence Quotes
Ready to start dealing with insecurity and gaining more confidence? Get your 10 FREE printable self-confidence quotes!
They're perfect for your office, home bedroom, or wherever you need to find inspiration daily. Each design is black and white and features brushed ink letter detailing.
This download comes with 10 high-resolution graphics ready to be printed and posted.
Healing from insecurities takes time and persistence, but the reward is worth the effort. With courage and hard work, you can shift from insecurity to confidence.
Do you feel insecure at work, school, or in your relationships? Click here for how to start dealing with insecurity and gaining confidence by @revivalist_mag. #Insecure #Confidence #SelfConfdience #Mindset

How are you dealing with insecurity?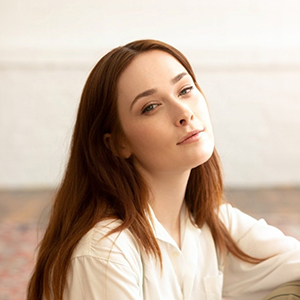 More About Guest Contributor
Cora Gold has a passion for living life to the fullest and exploring her experiences through her writing. She's the Editor-in-Chief for women's lifestyle magazine Revivalist.com.
Last Updated on September 20, 2022
✕
Get Your Confidence Quotes
+ get weekly tips to help you slay your goals.