Ever wondered how to become self-aware?
Or maybe how you can discover your passion and purpose in life?
Have you considered how journaling can enhance self-awareness?
The truth is: most of us aren't as self-aware as we think. I know, it's a tough pill to swallow.
In fact, according to research, about 95% of us believe we are self-aware but less than 15% of us really are. Yikes.
In that case, the path to self-discovery is a journey for the masses. A happy and purposeful life comes easy to those who have self-awareness. And better self-awareness is quite literally at our fingertips through the art of journaling.
When I made journaling a daily habit, it unlocked an abundance of clarity and direction in a time where I needed it most. But forming a habit of journaling every day didn't happen overnight. With many attempts (and failures), I've figured out how to become self-aware by journaling every day.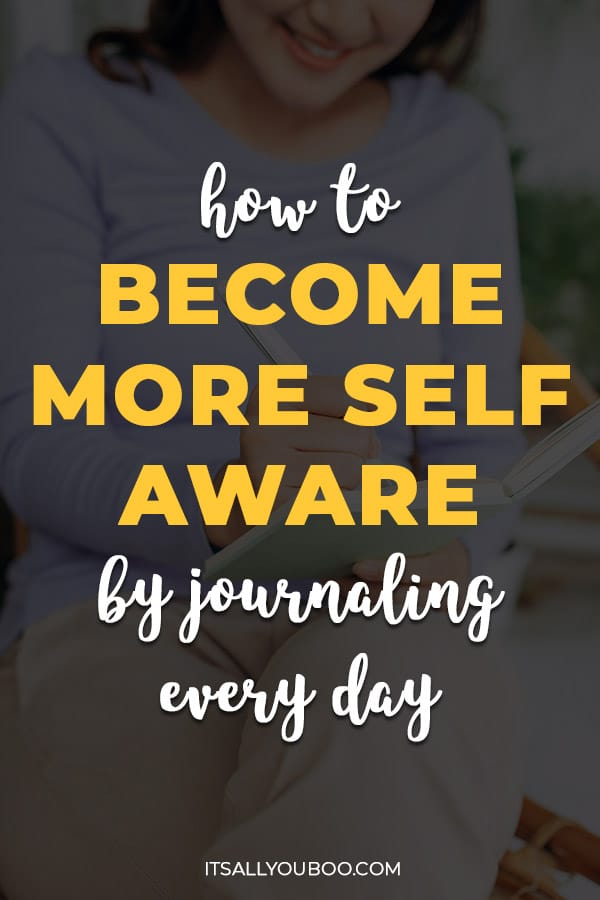 What is Self-Awareness?
Self-awareness is defined by Oxford Languages as the "conscious knowledge of one's own character, feelings, motives, and desires."
I'd like to think of self-awareness as an intimate relationship with yourself. Just like any relationship, the ability to understand one's character, emotions, behaviors, and so forth deepens the connection and enhances the nature of the relationship.
In that way, self-awareness is an ongoing effort to be attuned to who you are and who you're becoming.
👉🏽  RELATED POST: How to be Comfortable with Yourself
The Psychology of Self-Awareness
According to Dr. Tasha Eurich, an expert organizational psychologist, there are two types of self-awareness: internal self-awareness and external self-awareness.
Internal self-awareness is our own self-perspective and the ability to see ourselves clearly. Internal self-awareness is positively correlated to being happy, having self-control, and being satisfied with work and relationships.
External self-awareness is understanding how other people view us. People with high external self-awareness value feedback from others which leads to having empathy, understanding, and better relationships.
Dr. Eurich highlights that these two types of self-awareness have no relationship to each other, but instead creates a spectrum of self-awareness defined by a particular archetype.
👉🏽  RELATED POST: How to Find Yourself When You Are Lost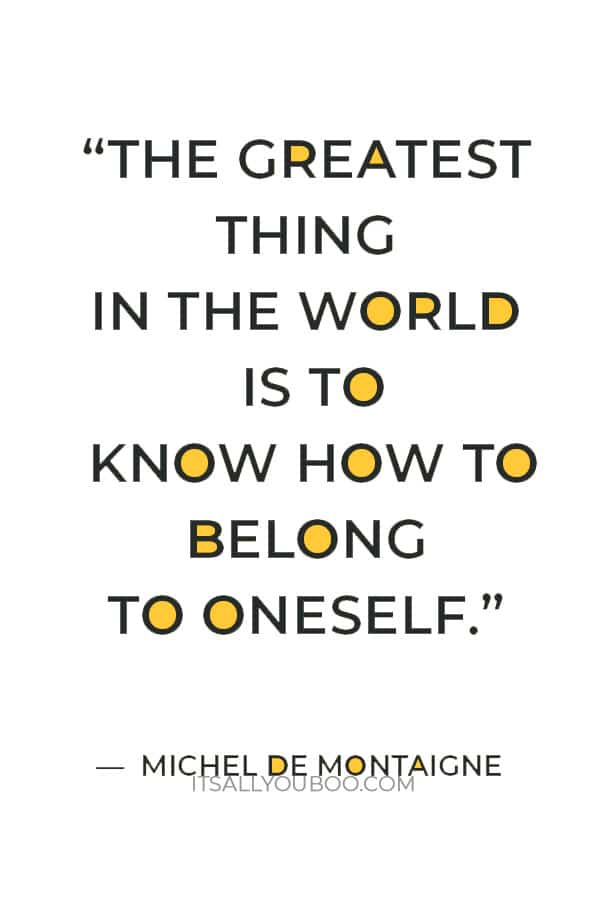 The Four Self-Awareness Archetypes
#1. The Introspector
Although Introspectors have high internal self-awareness, their external self-awareness is low. In short, Introspectors know who they are but they don't value constructive criticism. This eliminates external challenges that lead to growth and can negatively impact relationships with others.
#2. The Seeker
The seeker is an archetype with both low external self-awareness and low internal self-awareness. With that in mind, seekers often look to others to help them define their character, motives, and goals.
#3. The Pleaser
Considering its title, the pleaser is an archetype that has a focus on how they appear to others. This is due to having low internal self-awareness and high external self-awareness. As a result, pleasers do not prioritize making choices that benefit themselves.
#4. The Aware
Ideally, the Aware archetype should be the goal for self-awareness. With both high internal and external self-awareness, the Aware has a good balance between knowing who they are and what they stand for while also valuing others' opinions. This balance is great for decision-making, cultivating relationships, and personal growth.
👉🏽  RELATED POST: How to Start a Daily Journal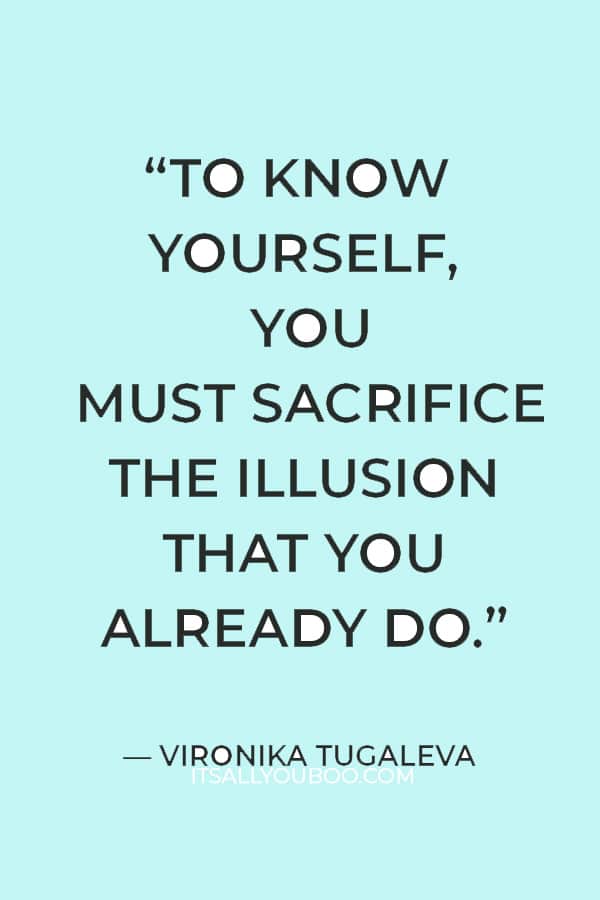 What Are Some Examples of Self-Awareness?
The four self-awareness archetypes give insight on how to become self-aware. But what are some examples of self-awareness? What are some of the practical benefits of having self-awareness?
#1. Self-awareness strengthens your emotional intelligence
A person who is attuned to their thoughts and behaviors understands their emotional response a bit better. They know what makes them happy, sad, or mad and can learn how to communicate those feelings to others in a healthy way.
#2. It helps identify strengths and weaknesses
Moreover, a person who is self-aware can identify their strengths and weaknesses. Knowing what you can improve on is beneficial to personal growth, achieving goals, and dealing with conflict.
#3. It helps determine your needs in any relationship
A high self-awareness reinforces individuality in relationships; allowing us to prioritize ourselves a bit more. Self-awareness also gives us clarity on what we need from others leading to healthier and more fulfilling relationships.
👉🏽  RELATED POST: 100 End of Year Reflection Questions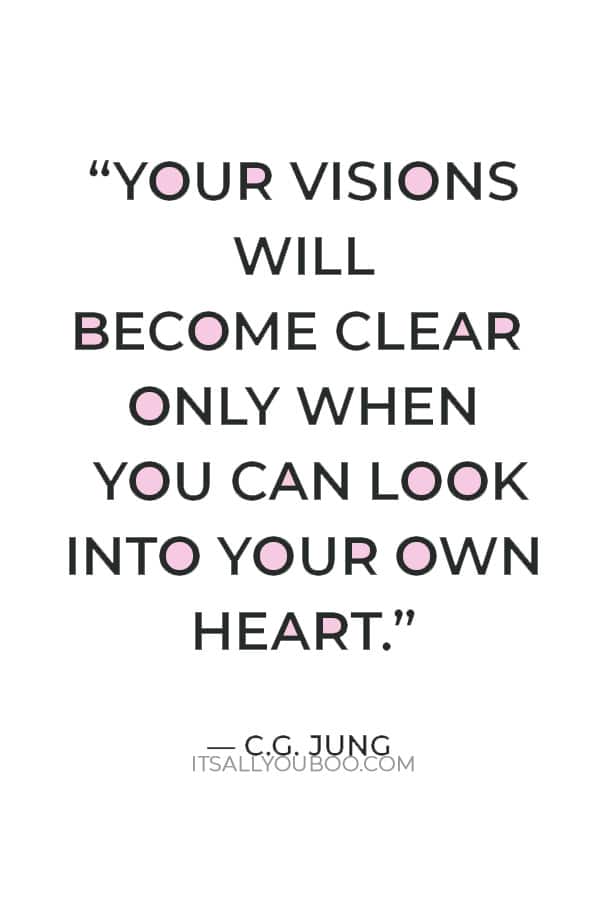 #4. Self-awareness helps align your goals with your life purpose
Similarly, reinforced individuality through self-awareness can help us channel our life desires and reach our full potential. When a person knows what they love and what they can achieve, they can excel.
#5. It gives clarity to your own beliefs and values
Our beliefs and values are the foundation of how we live. They define our morals, how we behave, and how we interact with others in our community.
Consider all the things that can influence our core values: religion, politics, science, and other people. Self-awareness allows you to distinguish what's important to YOU and live your life the way that makes you happy.
So now that we know the psychology of self-awareness and its benefits, let's talk about how to become self-aware.

How to Become Self-Aware
There isn't a one-size-fits-all hack to becoming self-aware. After all, cultivating a relationship with yourself takes time, effort, and practice.
To become more self-aware, we should be doing activities that require both introspection and retrospection. Self-awareness is something we develop when we examine our thoughts and feelings while also connecting them to our past experiences.
That's why journaling is a great method of becoming self-aware.
But before we talk about how to become self-aware by journaling, let's talk about a few other journaling benefits.
The Benefits of Journaling for Self-Awareness
Journaling benefits extend beyond just having a place to jot down memories. As a matter of fact, journaling offers practical benefits that help improve overall health.
#1. Expressive writing reduces stress and alleviates anxiety
It's common knowledge that stress does a lot of damage to our mental and physical health. Owing to its ability to reduce the impact of stress, journaling has also shown to alleviate anxiety. This is why writing in a journal every day is commonly used as a way to decompress and meditate.
👉🏽  RELATED POST: 100 Mindfulness Mediation Quotes for Anxiety
#2. Journaling offers healing benefits
In a similar sense, journaling also boosts immune system function. A study showed that because writing every day reduces stress, the body is able to sleep better and heal faster. Who would've thought that daily journaling could be this miraculous?
#3. Journaling every day boosts memory and brain function
Writing things down sticks to our brains a bit better. I mean, that's like the whole point of taking notes in school right? It's the same with everyday journaling: writing things down connects your mind and ideas while also making them tangible. This helps to boost memory and cognitive processing.
👉🏽  RELATED POST: How to Declutter Your Mind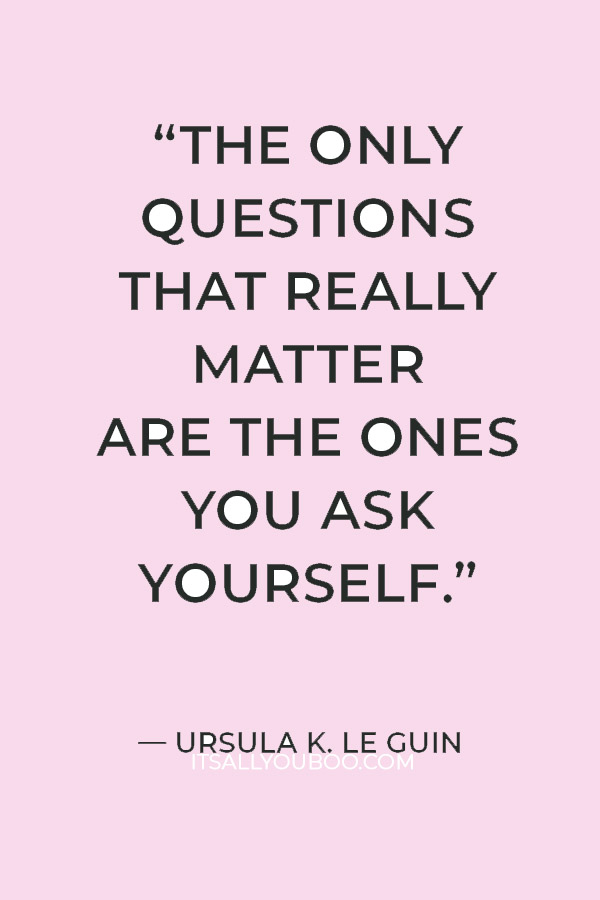 #4. Journaling improves mood and encourages mindfulness
Journaling every day helps us to come to terms with everyday thoughts and intentions. It also gives clarity to our feelings and helps us to process them. In this way, journaling encourages mindfulness and improves our mood.
Considering just these few benefits, journaling every day appears to be worthwhile. With that said, let me show you a few journal exercises that illuminate how to become self-aware by journaling every day.
4 Ways to Journal for Self-Awareness
Contrary to popular belief, not all journals have the same format. You know, the typical "dear diary" format for every day entries. I can admit, using the same format for journal entries could get boring over time. Luckily, there are plenty of journaling formats that can guide you on how to become self-aware.
#1.

Daily Entries
Daily entries help to recount your day. Writing in a "dear diary" format allows for processing emotions and thoughts. This is great for daily introspection and good record-keeping. Think about your day, how you feel about what happened, or even any thoughts or memories that are sticking in your mind.
You could write about whether you feel successful, grateful, or frustrated about what you accomplished. Your journal is listening!
#2.

Making Lists
Lists are an underrated form of journaling. Writing out lists in a journal can help you identify your interests, your personal goals, and more! For instance, my daily entry consists of me writing out three things I'm grateful for, two positive affirmations, and one thing that made me happy. After I make this list, I follow up with a daily entry of what I did that day.
Other lists that can be made in a journal are
pros vs. cons comparison,
gratitude lists,
a list of things to check out,
bucket lists,
a list of inspiring quotes,
a list of positive affirmations,
and more.
What lists can you write in your daily journal today?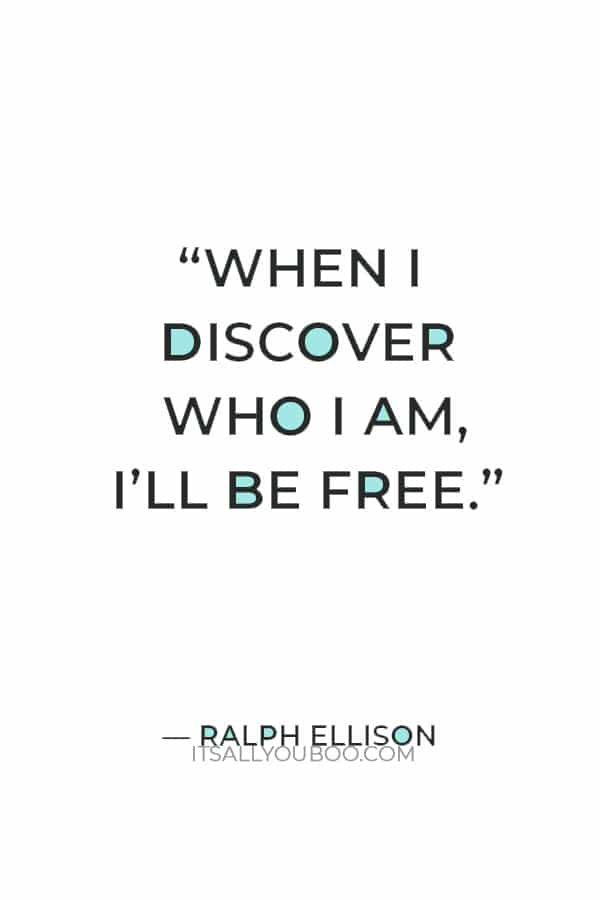 #3.

Daily Logs



I first learned of logs using the Bullet Journal method and have implemented them into my journaling exercises. Logs are a place in a journal where you keep track of things.
My top 3 recommended logs on how to become self-aware by journaling are mood trackers, dream logs, and trigger logs. Mood trackers will help you stay attuned to how you are feeling. Along with the trigger log, it can reveal what events trigger a negative emotion.
Dreams give some clarity to what you might feel in your subconscious. Dream logs allow you to see if your dreams have meaning to your life.
Other logs and trackers on how to become self-aware are habit trackers, self-care logs, meditation tracker, reading tracker, horoscope trackers, and more.
#4.

Journal Prompts
Ever sat down with your notebook and had absolutely no idea what to write? Same here!
This is why my absolute favorite way of journaling is using guided journals and journal prompts. Guided journals include journal prompts and various exercises that require reflection.
Depending on the topic, journal prompts can offer both introspective and retrospective clarity. They also make journaling every day a little bit easier. Journal prompts are perfect because they give you a place to start.
But how do you start a journal prompt? What is some good journal prompts for self-awareness?
👉🏽  RELATED POST: How to Reprogram Your Subconscious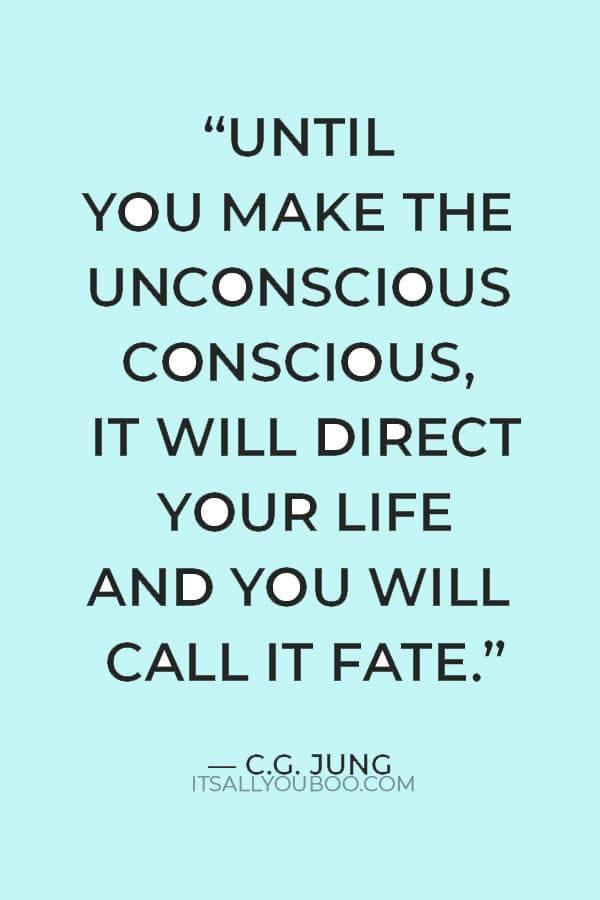 Self-awareness Journal Prompts
I can admit that knowing what to write is the hardest part of journaling. That fresh and empty page sure can be intimidating. Starting with a journal prompt is the quickest way to get your writing flow started.
So here are 10 quick self-awareness journal prompts to get you in the habit of journaling every day:
What are your most important life values? How do these values help you make your decisions on a day-to-day basis?
What are you most passionate about? What sparked this passion?
Imagine a community in which you can be your most authentic self. What does that community look like? Describe how you would feel to live in that community.
What is your ultimate life goal? In what ways does your lifestyle help push you towards this goal?
Describe some of your everyday habits. How do you feel when you perform these habits?
Think about a time you were told some bad news. What was your reaction? Would you react any differently in hindsight? Why or why not?
What kind of impact do you make on the people around you? Is that the impact that you want to have? Describe why or why not.
Think about your closest friends and family. What character traits do they have that you value the most?
Is there something you enjoy doing that's unpaid and offers zero incentives? What emotions do you feel while doing this activity?
Make a quick bucket list of at least 10 things you wish to do in your lifetime. The sky isn't the limit.
Want extra help to create a habit of journaling every day? Get started with my guided journal on self-awareness!
👉🏽  RELATED POST:  How to Start a Bullet Journal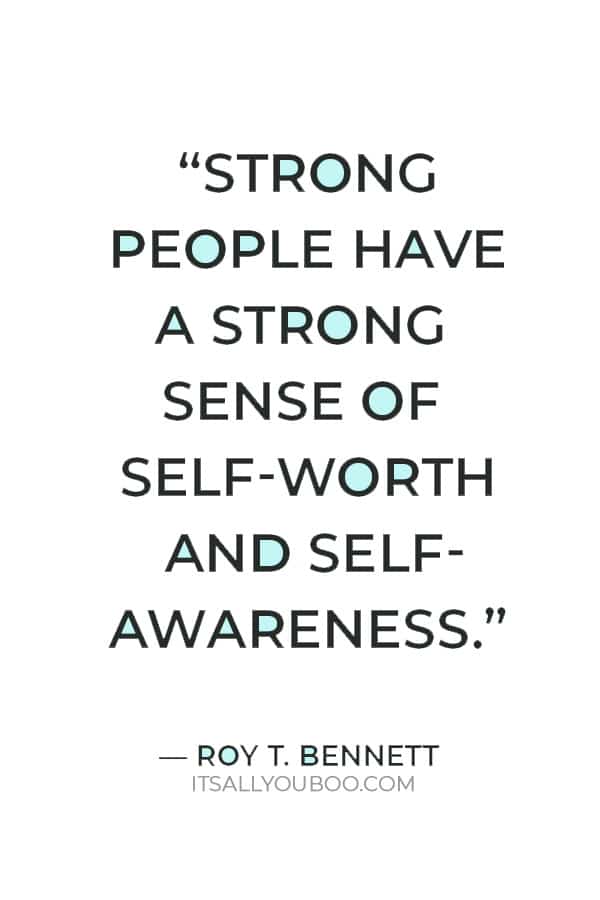 More Tips for Journaling
When thinking about how to become self-aware by journaling every day, these journaling tips may help you create a habit you will want to keep!
#1. Use aesthetically pleasing stationery
I'm not ashamed to say that my number one motivation to start journaling was to have an excuse to buy cute pens and notebooks. Having pretty stationery made me want to write more and led to a habit of journaling every day!
#2. Add journaling to your morning or evening routine
The quickest way to make daily journaling a habit is to add it to your routine. Consider pairing it with your morning coffee or your evening wind-down time.
#3. You don't have to write a novel in your journal
There's an undeniable pressure for beginner journalers to write A BUNCH and that's not the case. Start writing just a bit a day and you can gradually increase if you want. But remember: a short journal entry is just as beneficial.
#4. Read what you've already written
I highly recommend reading what you've already written for several reasons. Firstly, it's a healthy self-awareness technique to reflect on what you've written in your journal. Reading older entries helps draw connections from past experiences to the present. Additionally, old entries may give ideas of what to write about on days you draw a blank.
#5. Your journal doesn't have to be perfect!
The best and most-used journal may look a little disorganized, illegible, and plain. And guess what? It doesn't matter! So let go of the pressure of trying to have a nice and neat journal. Your journal doesn't have to be perfect, it just has to be perfect for you!
Free 30-Day Gratitude Journal
Ready to start journaling daily for self-awareness and reflection? Get your FREE Printable Gratitude Journal, with 30 days of self-reflection prompts.
And there it is! How to become self-aware by journaling every day.
Will you be creating the habit of journaling every day for self-awareness?
Let's chat in the comments below!
Want to find and know yourself? This is how to become more self-aware by journaling every day, with examples of self-awareness journal prompts by @queensandbeyond #FindYourself #SelfAwareness #Journaling

Ready to become self-aware by journaling every day?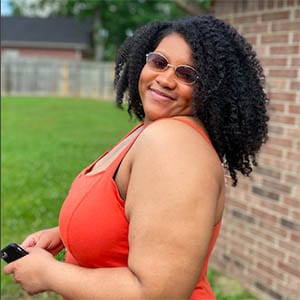 More About Guest Contributor
Jayda is a personal growth blogger at Queens and Beyond. She creates guided journals and other tools for women who want to reach their full potential. Her life motto: "When I've succeeded at becoming my best self, then all of my goals have been conquered." When she's not blogging, Jayda doubles as a Chemist. She also loves to read fantasy novels, explore exotic coffee blends, and watch Rick and Morty reruns with her husband.
Last Updated on July 11, 2021
✕
Get your FREE Gratitude Journal
+ get weekly tips to help you slay your goals.