How do you follow your dreams with no money?
Can you pursue your passion when you have no money to get started?

Do you wonder if it's worth chasing your dreams? If you should pursue your passion? Yes, it is! Here's how exactly to follow your dreams with no money by @gioguazzarotti. #FollowYourDreams #Entrepreneur
Is it worth it chasing your dreams when you don't have any money?
Can you really do what you love when you have bills to pay, a roof to keep over your head and food to put on the table?
Yes, you can. I know because I've done it.
Table of Contents:
Four years ago, I moved to London (one of the most expensive cities in the world) with only a tiny pink trolley full to the brim with all my belongings, a small amount of savings that wouldn't allow me to survive more than 3 months in the city, and big dreams to make a living writing and coaching.
I had no idea at the time how I was gonna make it happen or how to pay the rent while pursuing my dream career, but I didn't let that stop me. I knew I would find a way.
I'm not special. If I can pursue my passion and chase my dreams with no money, so can you. All it takes is a little planning, a big dollop of determination, and some good old common sense.
Here's everything I've learned about how to follow your dreams with no money.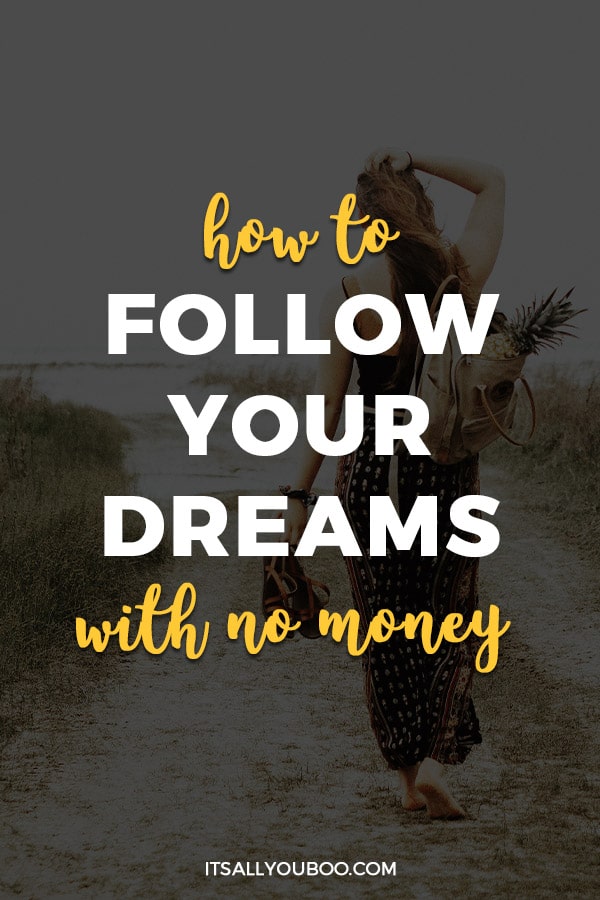 Is It Worth Chasing Your Dreams?
I deeply believe that you wouldn't have a dream if you didn't have what it takes to make it happen. But not all dreams are worth chasing.
So, before I tell you how to follow your dreams with no money, let's make sure you're following the right dream. Here are 3 questions to ask yourself:
#1. Is It Really Your Dream Or Someone Else's?
Do you feel butterflies in your stomach when you're thinking about your dream?
Sometimes, you're pursuing a dream just because everyone else expects you to.
You enroll in medical school to please your parents. Or you take that job at Google because your friends will think you're crazy not to. But deep down, you know this isn't what you want to do with your life.
Let this dream go. A dream is worth chasing only if it's 100% your own. Instead, you need to find your passions and follow them.
👉🏽 RELATED POST: How to Start Fighting for Your Dreams Today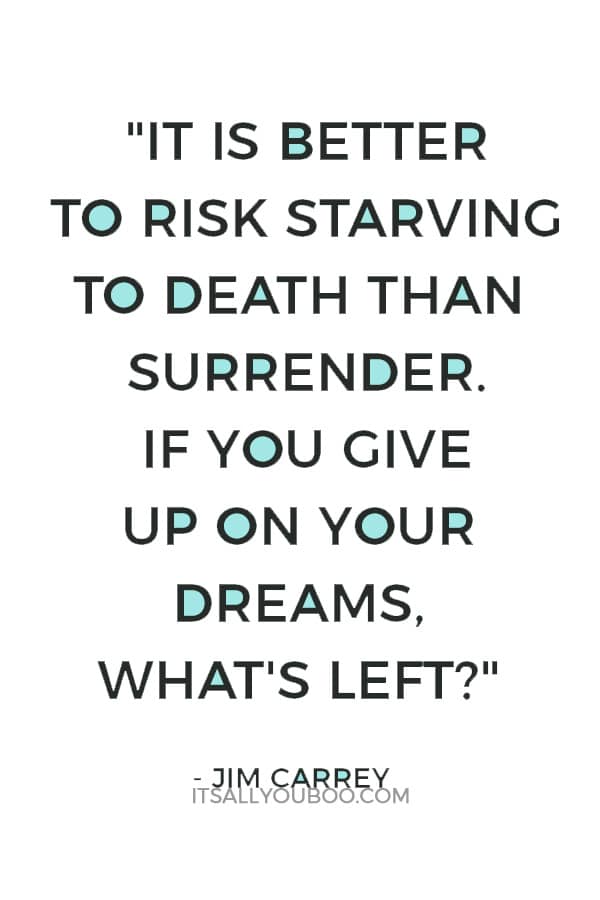 #2. What's Your Why?
Why do you want to pursue that dream or career?
When I first started blogging, I had dreams of becoming a popular influencer, go on all-expenses-paid trips around the world and be sent a lot of stuff for free.
But when I realized what I would have to do to make it happen – document my life on social media, give up some of my editorial control to brands, and up my photography game – I realized I didn't want to be an influencer.
I just wanted some of the lifestyle perks that came along with the job. My why wasn't strong enough.
But when I dreamt of becoming a writer and coach? It's not just something I like. I want to use these gifts to empower people to fulfill their life purpose, so they can earn more money doing what they love and make a bigger impact on the world.
You need to find your why.
When you have a strong why, not pursuing your dreams isn't an option.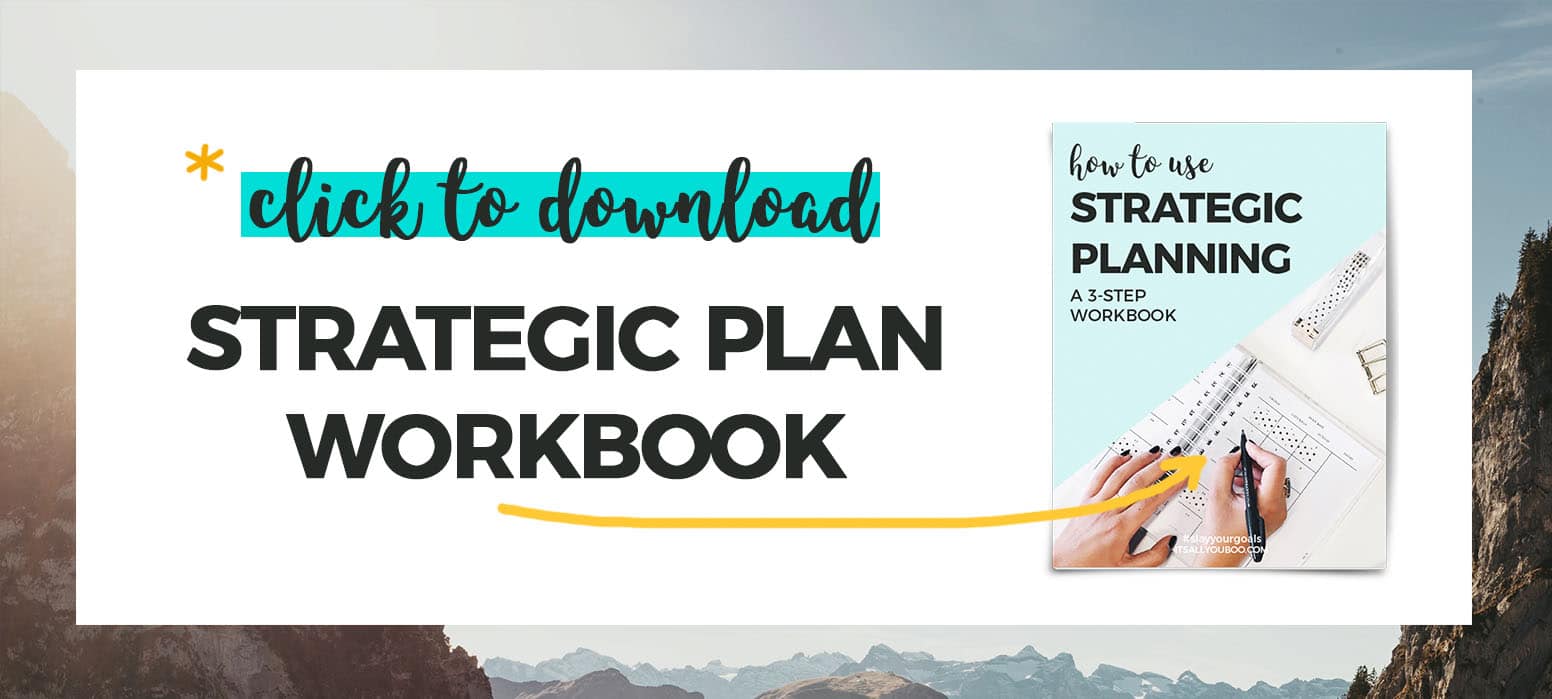 #3. What Can I Do To Fulfill My Dreams? Do I Have What It Takes?
Contrary to popular opinion, you don't need a lot of money to pursue your dreams. What you really need is:
Courage: Are you willing to get out of your comfort zone and do things that scare you?
Perseverance: You won't get it right the first time. Will you keep getting up after every failure?
Time: Overnight success takes years. Are you committed for the long haul?
Passion: Do you love what you do enough to keep going when you feel like giving up?

If you've answered yes to all these questions, it's totally worth it to chase your dreams. You've got what it takes to fulfill them.
Can You Pursue Your Passion When You Have No Money?
For years, I told myself I should not be pursuing my dreams. I desperately wanted to move to London and become a writer and coach, but whenever I looked at my bank account, the bleak reality set in: I barely had enough to pay my bills, let alone move to one of the most expensive cities in the world, where I knew no one.
Instead of making plans to make it happen, I was too busy worrying about all the things that could go wrong.
That's what happens when you don't have any money. Your brain goes into survival mode and tells you to sacrifice your future so that you can make ends meet in the present.
Instead of making a decision based on facts or on what's best for you, you make decisions based on fears that may never come true.
👉🏽 RELATED POST: Can I Afford to Quit My Job?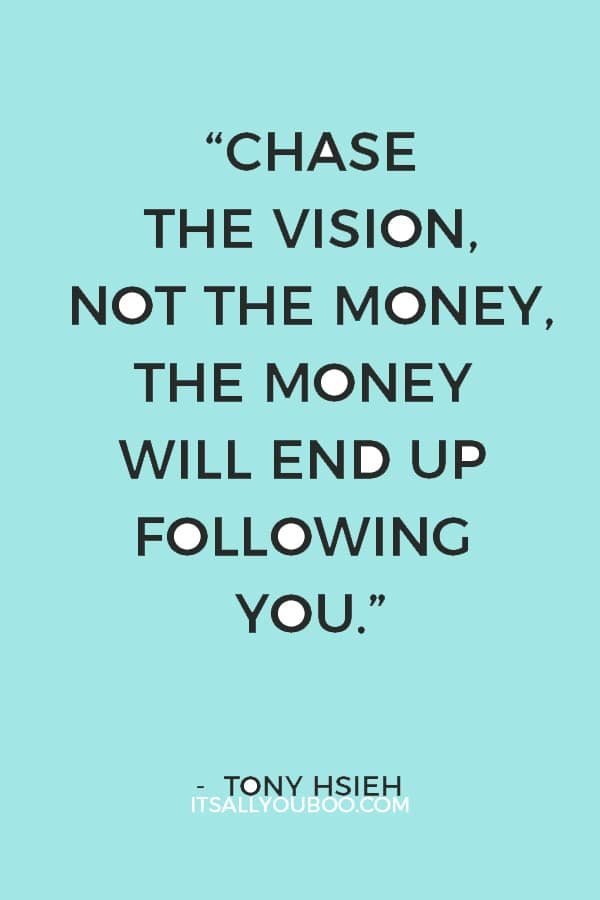 When you allow money worries and fears to suffocate your dreams, you slowly become miserable and bitter. Do you want to spend the rest of your life wondering what if?

The irony? Fear never meant to stop you from following your dreams. It's there simply to make sure you have a solid plan to pursue your passion, so you don't end up making rash decisions that could bankrupt you… or worse.
So, let's make that plan. Here's how to follow your dreams with no money:
How To Follow Your Dream With No Money
Step #1.
Figure Out How Much You Need To Cover Your Basic Expenses
Time to be realistic. Transitioning from your current job to your dream career won't happen overnight. In the meantime, you still have bills to pay.
The first step is to figure out exactly how much money you need to cover your basic expenses. I'm talking only about the essentials here: rent, food, transport, and everything else you absolutely need to survive.
👉🏽 RELATED POST: Quotes About Quitting Your Job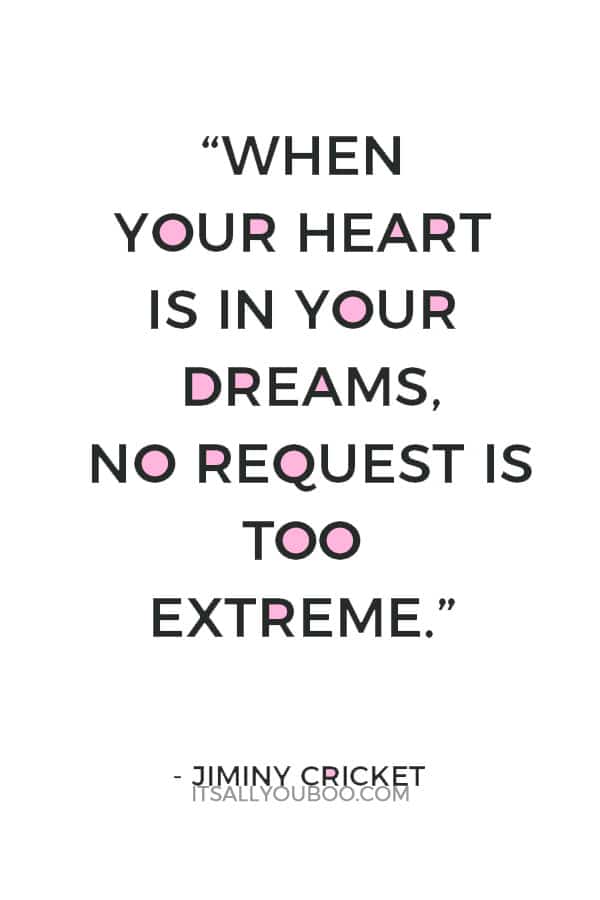 This figure is different for everyone. It really depends on where you live and what kind of lifestyle you want. But it's never as big as you think.
I knew a flat in Central London was out of the question for me. Instead, I rented a room with a friend in a shared house in a less expensive neighborhood. This cut my rent down from £1550/month to £360/month!
Step #2:
Cut Back On Unnecessary Expenses
Truth bomb: if you want to pursue your dream career, you need to be willing to make some sacrifices. What can you cut back on to reduce your monthly expenses?
I don't recommend cutting out all indulgences. You need a little treat every now and then, especially when things are tough.
I always went out for tea and cake twice a month to celebrate the small wins. But I mercilessly cut back on buying new clothes and ordering takeaway every other night.
What are you willing to give up now to fulfill your dreams later?
Step #3.
Tap All Your Resources
What if I told you you have more money than you think? Chances are you away some lying around in forgotten places. Look for:
Savings account
Old bank accounts you forgot to close down
Checks you haven't cashed
Unclaimed benefits from an old job
Coins in a money jar
Old junk you can sell on eBay
Heck, I've even found $20 banknotes inside books!
Go on a treasure hunt and recover every last cent. Every coin counts when you're following your dreams with no money.
👉🏽 RELATED POST: How To Overcome Your Limiting Beliefs As An Entrepreneur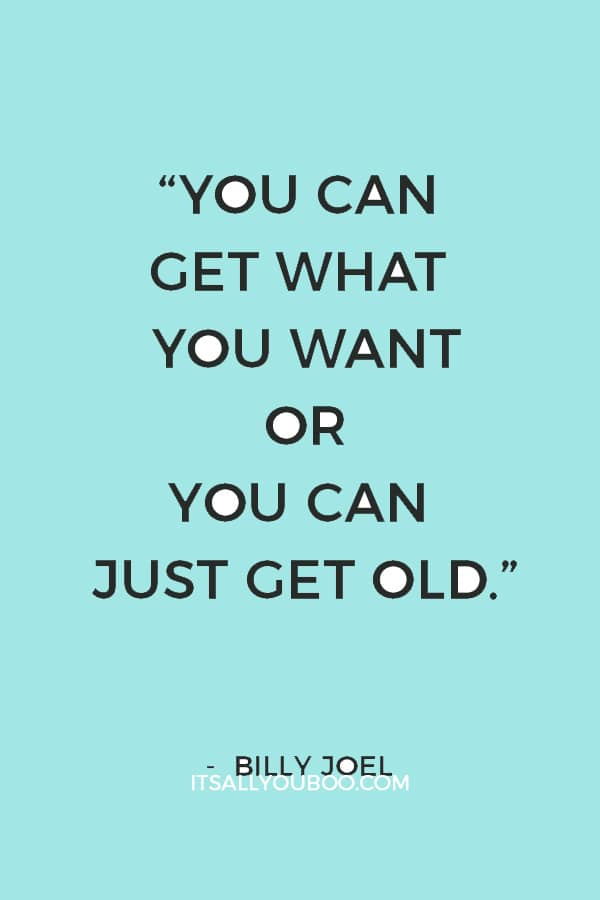 Step #4.
Keep Your Day Job (Or Get One)
You don't have to quit your job to pursue your dream career. In fact, this is the best advice I can give you on how to follow your dreams with no money: keep your day job to pay the bills and work on your passion in your spare time.
Don't have a job? Get one. I recommend you to look for a job that's somehow related to your dream career.
That's what I did when I moved to London. I found a ghostwriting job for an influencer to pay the bills and worked on my coaching business in my free time.
Not only that ghostwriting gig allowed me to put food on the table and keep a roof over my head, but it also gave me peace of mind to pursue my dream career (and extra money to invest in it, too!).
Step #5:
Make Extra Money Online
Maybe you already have a job, but the money is barely enough to cover your necessary expenses. Or you need some extra cash to invest in your dreams.
It's never been easier to make some extra money online. From internet surveys to match betting, the opportunities are endless!
If you have a skill, like writing or photography, you can also look for freelancing gigs to take on in your spare time and start bringing in some extra income.
👉🏽 RELATED POST: 15 Ways to Make Money from Home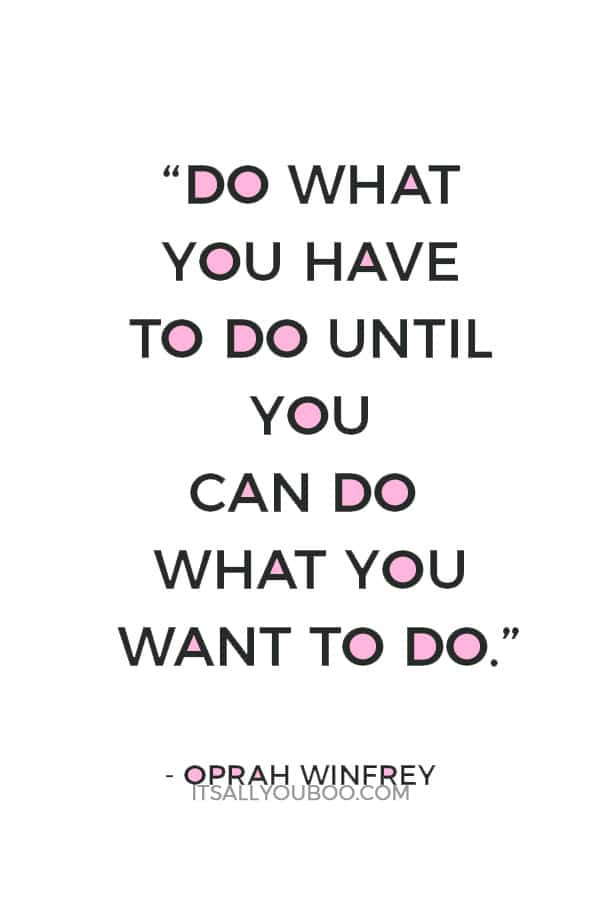 Step #6:
Learn As Much As You Can
I know what you're thinking: what does learning has to do with how to follow your dreams with no money? Hear me out.If you want to pursue your dream career in a field you have no knowledge or experience about, you may be tempted to give up because you can't afford the tuition fee.
Don't. These days, you don't need to spend thousands of dollars on a college degree (unless you want to be a lawyer or doctor) to learn your craft.
You can take online courses on Skillshare or Udemy. Watch Youtube tutorials. Get an internship or volunteer at a charity that's related to your dream career.
Get creative. Learn in any way you can. Everything counts.
👉🏽 RELATED POST: 100+ Free Printables and Courses
Step #7.
Invest Wisely
If you have a small budget, it's essential that you spend it on the things that move the needle forward.
A shiny website or business cards can wait. They may make you look professional, but won't attract as many clients as you think. Trust me on this.
Spend that money for the things that bring you the results you want. Like transport to go to networking events where you can meet your target audience or a coffee meeting with a referral that can put in a good word for you at your dream company.

Step #8.
Find A Business Partner/Investor
If you're wondering how to follow your dreams with no money when you dream of opening a brick and mortar business that requires way more money than getting a job, selling your old junk on eBay, and cutting mercilessly on unnecessary expenses can get you, here's the answer.
It's the secret that allows many Silicon Valley entrepreneurs to become millionaires. Are you ready?
Those entrepreneurs didn't use their own money. They used someone else's money.
When you're skint, look for a business partner or investor who can fund the venture. A loan from the bank isn't the only option. You can ask your family and friends for a small loan. You can start a campaign on Kickstarter. Or look for angel investors in your area.
Step #9.
Surround Yourself With Positive People
Don't let anyone tell you that you can't make your dreams come true with no money.
Plenty of people have started empires by working on a side hustle in their free time, borrowing money from friends, and selling their old junk on eBay.
Just like you, these people had no money when they started out. What they had was a supportive community of friends who believed in them no matter what and who encouraged them to keep going when they felt like giving up.
If you don't have supportive people in your life right now, go look for them. Attend networking events. Hang out in Facebook groups. Send an email to your fave bloggers.
Build your tribe. It's the best investment you can make.
👉🏽 RELATED POST: How To Start A Profitable Business That You Love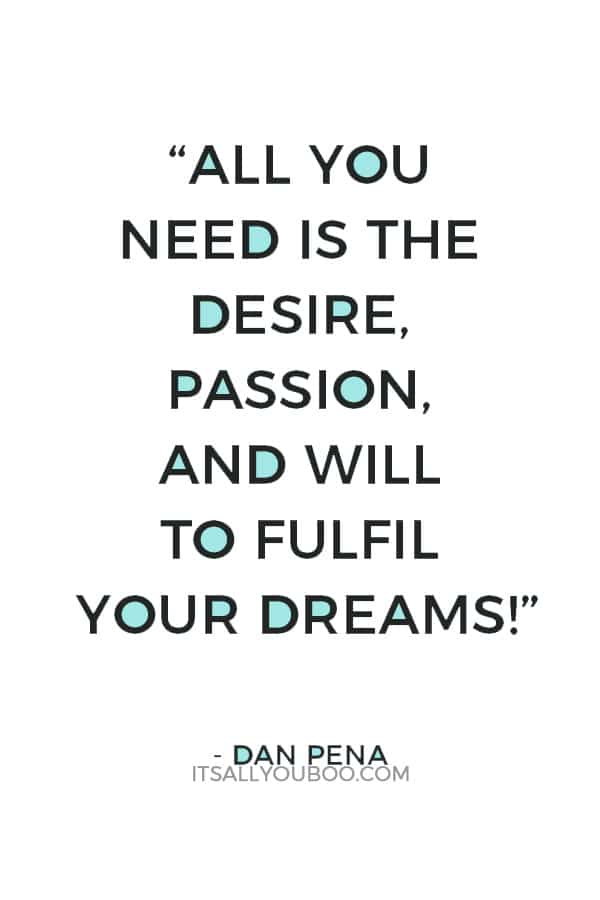 Step #10.
Be Flexible
The biggest mistake people make when they're pursuing their dreams with no money? They waste too much time on an idea with no future. If you find that your initial idea didn't succeed and you're not getting any traction, don't be afraid to pivot and try something new.
When I first started my coaching practice, I wanted to help everyone with whatever problem they had… but no one wanted to hire me!
It took me a while to realize that my services were too generic. After a bit of soul searching and market research, I niched down to helping ambitious millennial women discover their life purpose and fulfill the mission they came on this planet to do.

I never would have had the business I had now if I hadn't been willing to go back to the drawing board and ditch what wasn't working.
How Do I Pursue My Dream Career?
I hope that after reading my tips on how to follow your dreams with no money, you've realised that you don't need to be rich to pursue your dream career.
What you need is a burning passion and a lot of determination to overcome any obstacles you may face.
It's never been easier to get started. The internet has given us plenty of opportunities to make some extra cash to invest in our businesses, gain the knowledge and education we need in our careers, and connect with people who can help you get your dream job.
Printable Strategic Planning Workbook
Ready to create a plan to follow your dreams? Get the Free Strategic Planning Workbook, and create a step-by-step plan to help you successfully create your dream job.
What are you waiting for? Start following your dreams now.

How will you follow your dreams with no money?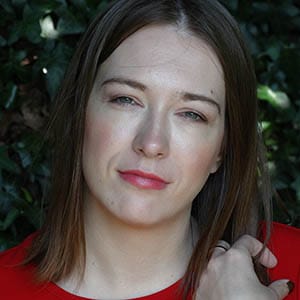 More About Guest Contributor
Giorgia Guazzarotti is a life purpose coach who helps ambitious millennial women figure out what to do with their life, so they can earn more money doing what they love. Connect with her at The Treasures Within.
Last Updated on July 11, 2021
✕
Start Strategic Planning!
+ get weekly tips to help you slay your goals.