Need quotes about staying calm in a crisis? Looking for inspirational calming quotes for stress or anxiety?
Your world is upside down, something has gone terribly wrong and you've been thrown into a crisis.
The chaos of it all has robbed you of not just "your normal life" but your peace and serenity too. So, how do you get it back?
With the current crisis and pandemic forcing businesses to close, jobs being lost, and almost everyone trying to stay sane staying at home, it's no wonder you need to find ways to stay calm.
The new cycle is more 24-7 than usual, with more bad news, endless projections, climbing numbers, uncertainly, and confusion. It's really not helping the situation, is it?
Take a deep breath with me right now. Inhale and exhale, find that place inside that's still and quiet.
To help you find your calm, here are 84 inspirational quotes about staying calm in a crisis. Each and every one offers a fresh perspective and tips for keeping calm in the chaos.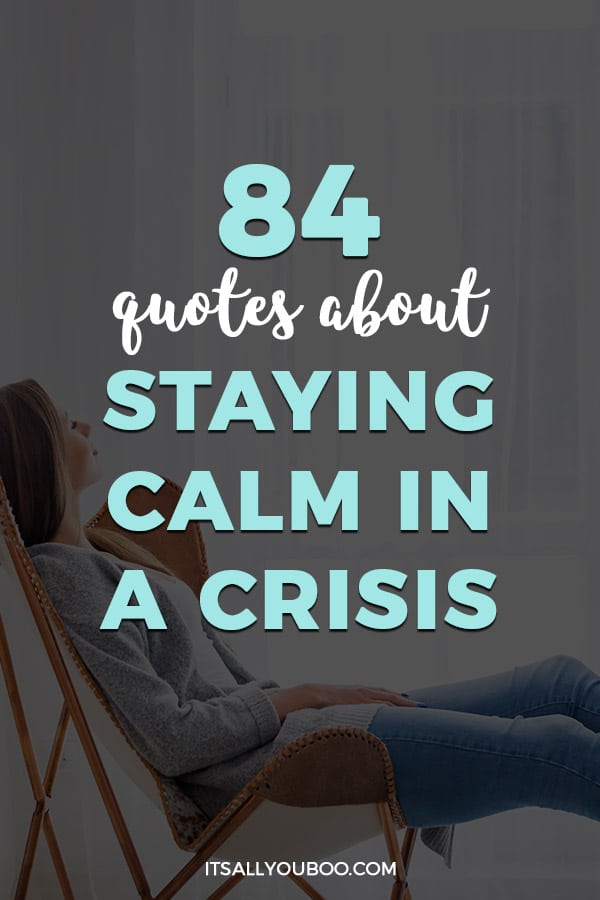 Inspirational Quotes About Being Calm
What does it mean to be calm? How do you describe a calm person? This first collection of inspirational quotes about staying calm defines what it means to be calm. Do you exemplify or exhibit these characteristics in a crisis? Let nature teach you how to be calm.
"Look at a tree, a flower, a plant. Let your awareness rest upon it. How still they are, how deeply rooted in being. Allow nature to teach you stillness." — Eckhart Tolle
2. "The ideal of calm exists in a sitting cat." — Jules Renard
3. "Look at a tree, how calm, lovely and beautiful she is. She is always meditating for the love of the sun." ― Debasish Mridha
👉🏽 RELATED POST: Ways to Deal with Panic Attacks and Anxiety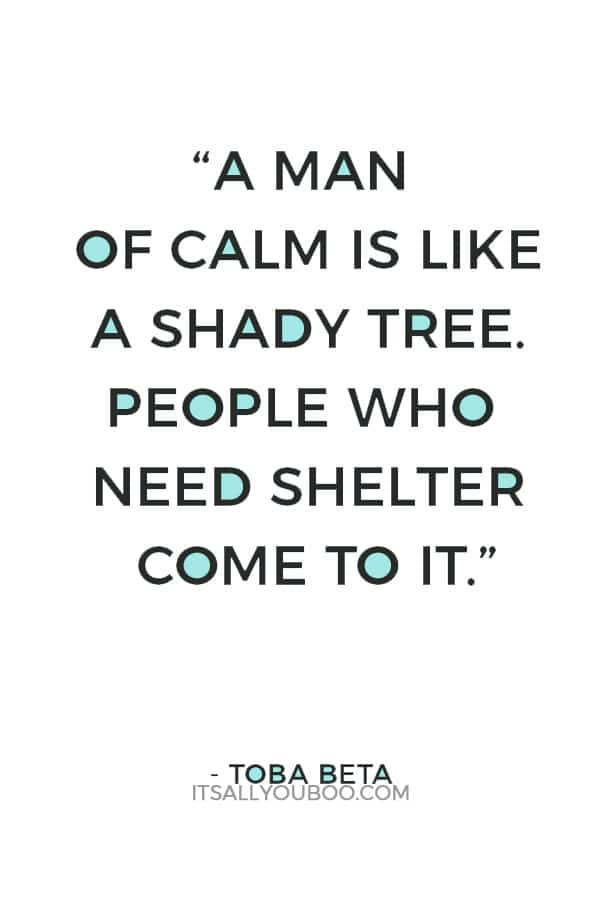 4. "A man of calm is like a shady tree. People who need shelter come to it." ― Toba Beta
"Be like a duck. Calm on the surface, but always paddling like the dickens underneath." — Michael Caine
6. "The panda is a funny, lovable animal, which defends its territory well. It's strong but calm. It suits me perfectly." — Metta World Peace
👉🏽 RELATED POST: How to Deal with Stress and Anxiety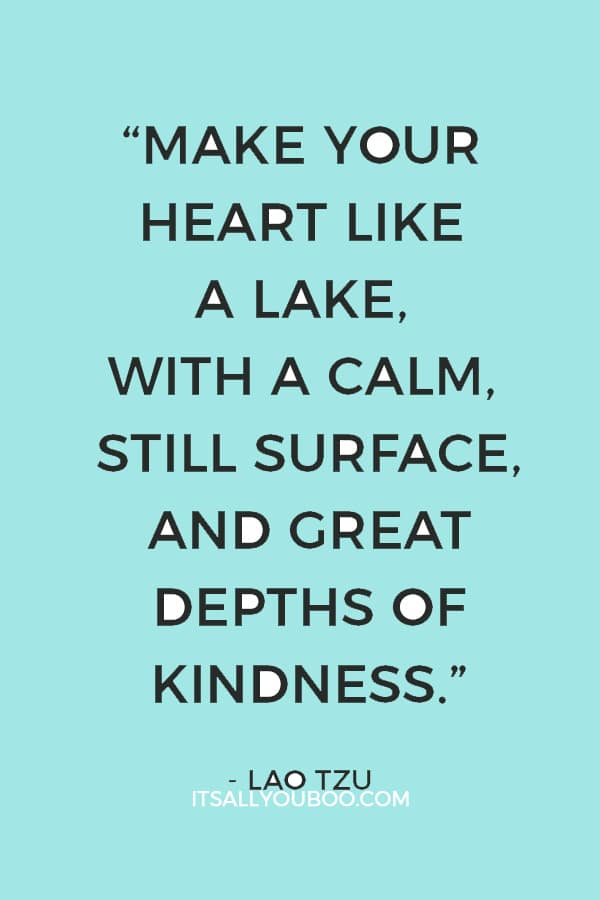 7. "Make your heart like a lake, with a calm, still surface, and great depths of kindness." — Lao Tzu
"There is a calmness to a life lived in gratitude, a quiet joy." — Ralph H. Blum
9. "Calmness is the cradle of power." — Josiah Gilbert Holland
Quotes About a Calm and Peaceful Mind
What does it mean to have a calm mind? How do you keep calm without freaking out? The following inspirational quotes about staying calm in a crisis illustrate the characteristics of a calm and peaceful mind. There are things calm people do differently, and it starts with their mindset.
"Compassion, tolerance, forgiveness and a sense of self-discipline are qualities that help us lead our daily lives with a calm mind." — Dalai Lama
11. "Sometimes you can find peace of mind by transferring yourself to different situations. They're just reminders to stay… calm." — Yves Behar
"Patience is the calm acceptance that things can happen in a different order than the one you have in mind." — David G. Allen
👉🏽  RELATED POST: Quotes About Calming Down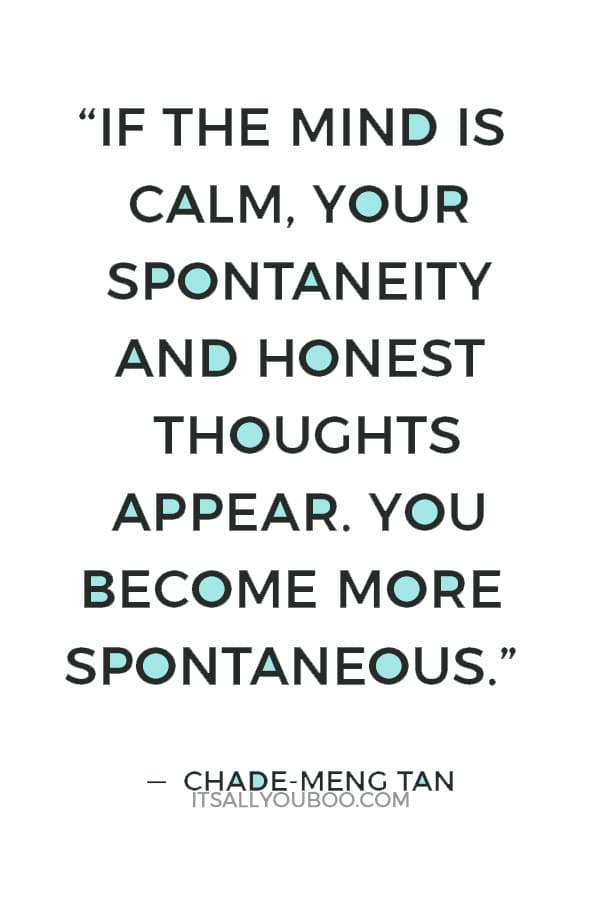 13. "If the mind is calm, your spontaneity and honest thoughts appear. You become more spontaneous." — Chade-Meng Tan
"Learn to calm down the winds of your mind, and you will enjoy great inner peace." — Remez Sasson
15. "The purpose of meditation is to make our mind calm and peaceful. If our mind is peaceful, we will be free from worries and mental discomfort, and so we will experience true happiness. But if our mind is not peaceful, we will find it very difficult to be happy, even if we are living in the very best conditions." ― Kelsang Gyatso
👉🏽 RELATED POST: How to Meditate for Beginners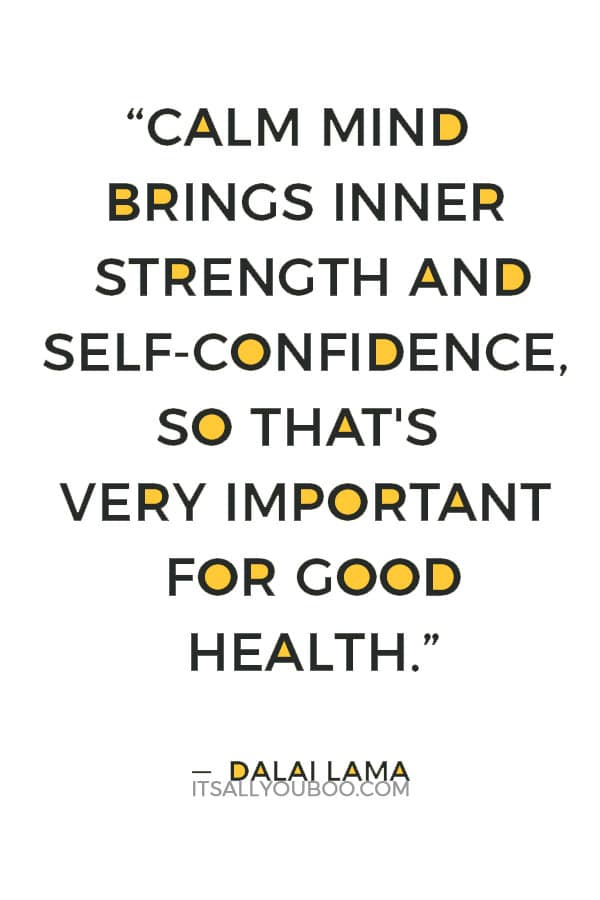 16. "Calm mind brings inner strength and self-confidence, so that's very important for good health." — Dalai Lama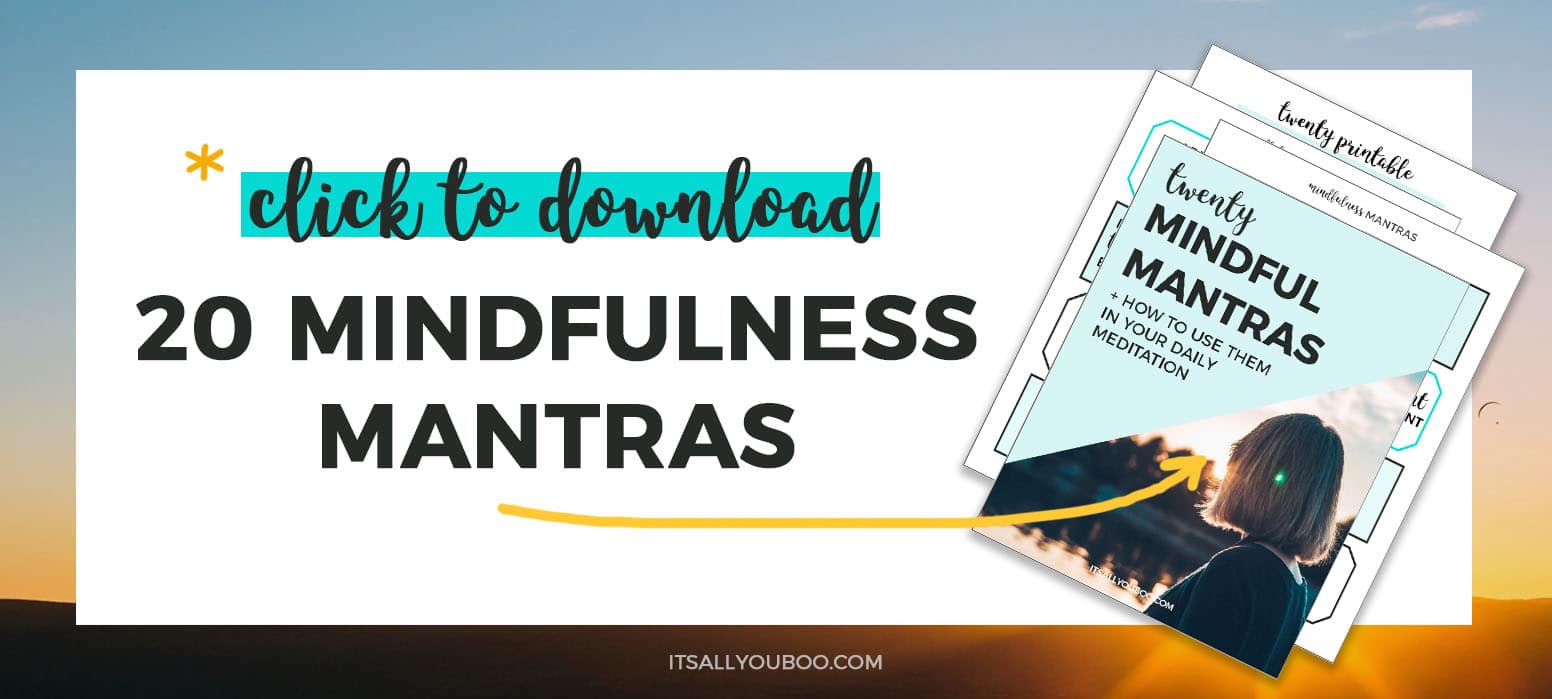 Make Finding Peace a Priority Quotes
How do you find peace in the chaos? Why should you keep calm? This selection of quotes about staying calm in a crisis implore you to seek peace, to make finding it a priority. Here's a hint: it's within you!
"Let peace be your middle name." — Ntathu Allen
👉🏽 RELATED POST: Qigong Meditation for Beginners
18. "Set peace of mind as your highest goal, and organise your life around it." — Brian Tracy
19. "We must go beyond the constant clamor of ego, beyond the tools of logic and reason, to the still, calm place within us: the realm of the soul." — Deepak Chopra
"Everything we do is infused with the energy with which we do it. If we're frantic, life will be frantic. If we're peaceful, life will be peaceful." — Marianne Williamson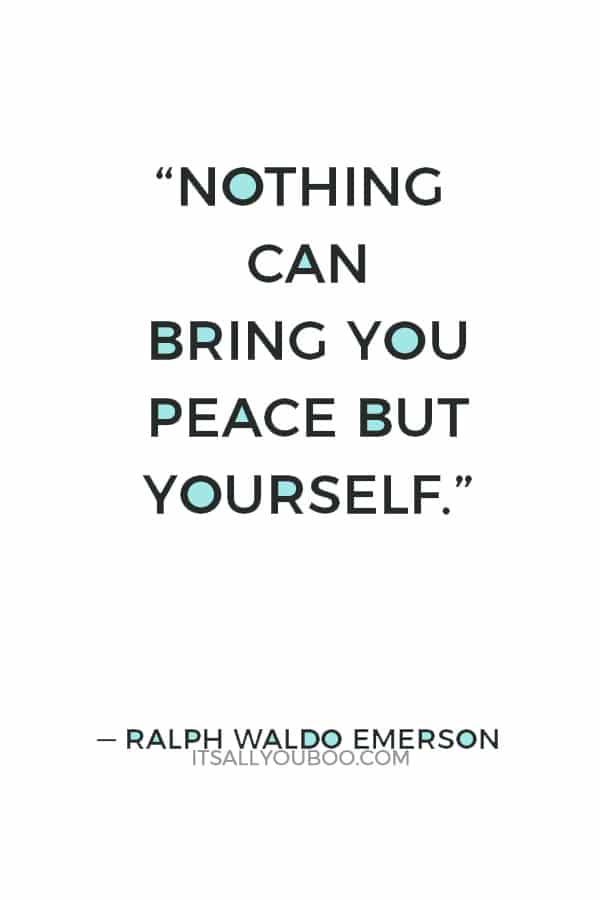 21. "Nothing can bring you peace but yourself." — Ralph Waldo Emerson
"Peace is the result of retraining your mind to process life as it is, rather than as you think it should be." — Wayne W. Dyer
Quotes About Staying Calm in the Choas
What happens when life gets chaotic? How do you handle the craziness of everyday life? The following inspirational quotes about staying calm in a crisis share much-needed wisdom with us. Just because your life is chaotic, doesn't mean that you have to. Find the peace, keep your calm and you can get through this!
23. "When everything around you is crazy, it is ingenious to stay calm." ― Mehmet Murat ildan
👉🏽 RELATED POST: How to Train Your Subconscious Mind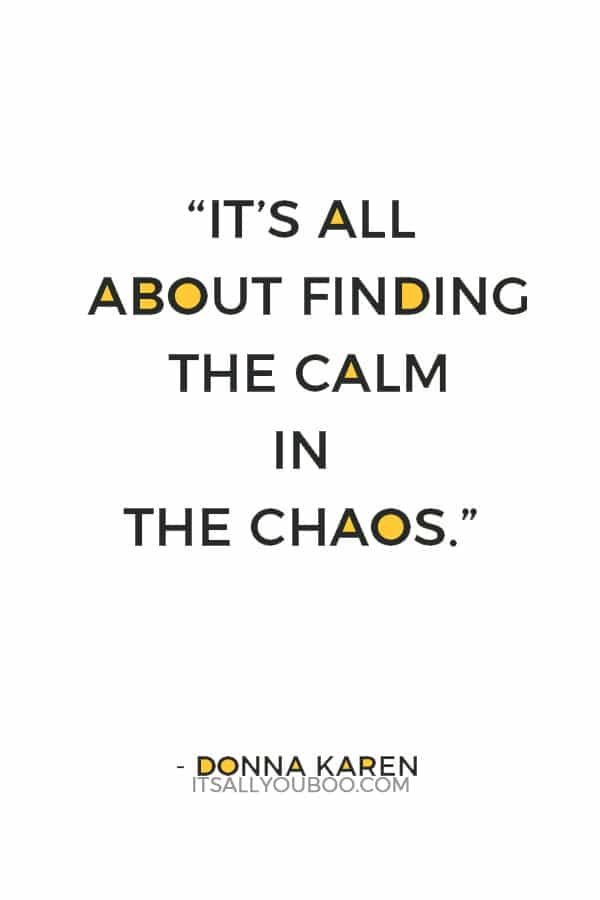 24. "It's all about finding the calm in the chaos." — Donna Karen
25. "Nothing conquers the chaos around me like the calm assurance that I am at peace with God." — Ron Brackin
26. "Anybody can pilot a ship when the sea is calm." — Navjot Singh Sidhu
"The man who has experienced shipwreck shudders even at a calm sea." — Ovid
28. "By staying calm, you increase your resistance against any kind of storms." ― Mehmet Murat ildan
29. "Vows made in storms are forgotten in calm." — Thomas Fuller
30. "Remember to keep the mind calm in difficult moments." — Horace
👉🏽 RELATED POST: Quotes for When You Feel Like Giving Up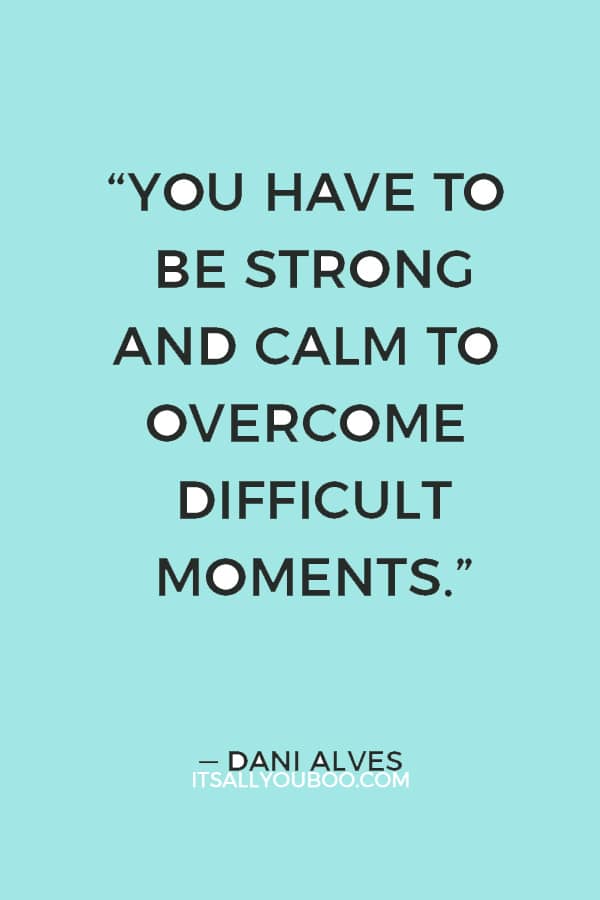 31. "You have to be strong and calm to overcome difficult moments." — Dani Alves
"Storms visit the quietest and the most peaceful places to calm themselves down and to have their nervousness cured!" ― Mehmet Murat ildan
33. "Where there's a storm, from one moment to the next, God can bring calm. That's why I have faith. I confide in him and give myself to his hands." — Yoel Romero
34. "Nothing is so bitter that a calm mind cannot find comfort in it." — Seneca the Younger
Life is a Cycle of Storms and Calm Quotes
Do you hate facing the storms of life? Do you wish life was always calm and peaceful? This collection of inspirational quotes about staying calm explains how life is a cycle of chaos and peace. You can't avoid the storms in life, you can only face them. Don't worry this too shall pass and it will be calm again.
"The only order in the universe is just a cycle of calm and chaos." ― Toba Beta
👉🏽 RELATED POST: How to Improve Emotional Health and Wellness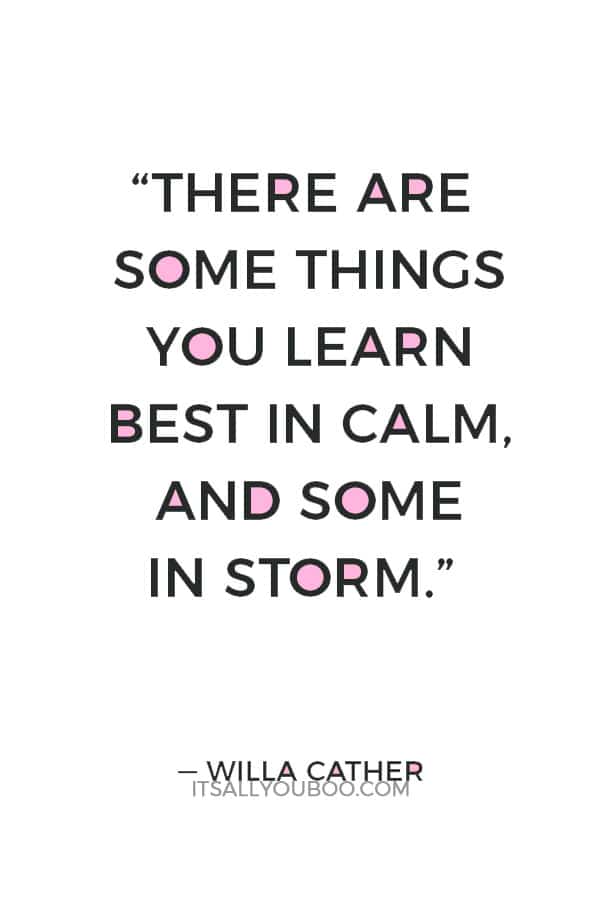 36. "There are some things you learn best in calm, and some in storm." ― Willa Cather
"After a storm comes a calm." ― Matthew Henry
38. "The secret of success is to be in harmony with existence, to be always calm to let each wave of life wash us a little farther up the shore." ― Cyril Connolly
39. "With the coming of spring, I am calm again." ― Gustav Mahler
"Many a calm river begins as a turbulent waterfall, yet none hurtles and foams all the way to the sea." ― Mikhail Lermontov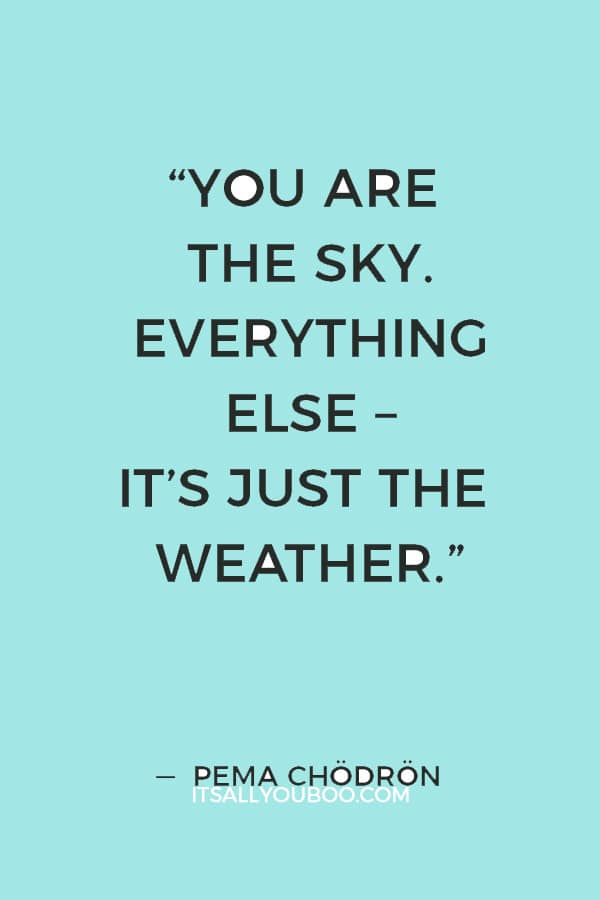 41. You are the sky. Everything else – it's just the weather." ― Pema Chödrön
42. "It's calm under the waves in the blue of my oblivion." ― Fiona Apple
"When you realize how perfect everything is you will tilt your head back and laugh at the sky." — Buddha
Inspirational Quotes for a Time of Crisis
What do you do when the crisis hits? How do you manage to stay calm in the chaos? This selection of keep calm quotes emphasizes the importance of keeping your cool when faced by a crisis. Have a peaceful mind, stay calm, so you can manage it properly. Don't panic, choose peace! Don't complain, choose compassion! As hard as it is to imagine, good can come from any crisis.
"In every crisis, doubt or confusion, take the higher path – the path of compassion, courage, understanding and love." ― Amit Ray
45. "Crises are part of life. Everybody has to face them, and it doesn't make any difference what the crisis is." ― Jack Nicklaus
46. "Sometimes you need a little crisis to get your adrenaline flowing and help you realize your potential."― Jeannette Walls
👉🏽 RELATED POST: Inspirational Keep Moving Forward Quotes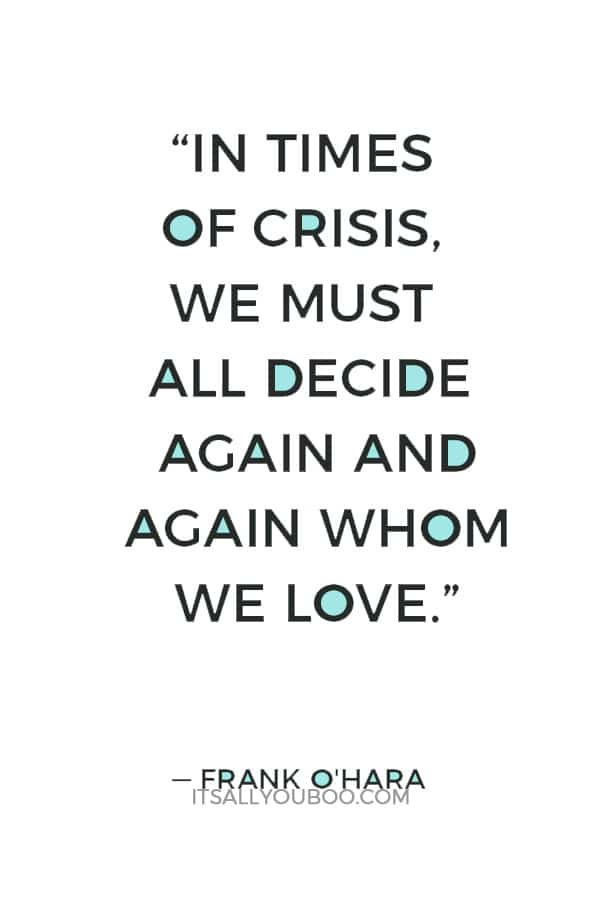 47. "In times of crisis, we must all decide again and again whom we love." ― Frank O'Hara
48. "Crisis is what suppressed pain looks like; it always comes to the surface. It shakes you into reflection and healing." ― Bryant McGill
"Deep within every crisis is an opportunity for something beautiful." ― Kate McGahan
50. "Crisis forces commonality of purpose on one another." ― Michelle Dean
👉🏽 RELATED POST: Quotes About Change In Life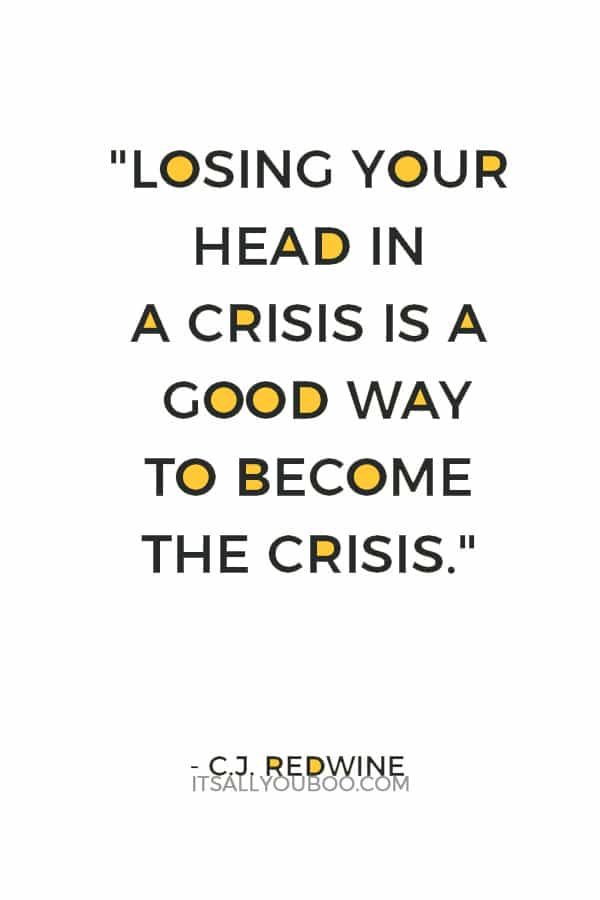 51. "Losing your head in a crisis is a good way to become the crisis." ― C.J. Redwine
52. "When you face a crisis, you know who your true friends are." ― Magic Johnson
"Any kind of crisis can be good. It wakes you up." ― Ryan Reynolds
54. "Don't wait until you're in a crisis to come up with a crisis plan." ― Phil McGraw
Quotes About Choas and Crisis
What exactly is chaos? Is chaos bad? Can it even be good? These quotes about chaos explore the nature of it. Read them and see how it changes your perspective or feelings about this current crisis. Didn't life start with a big bang after all? The chaos outside can't be an excuse for your chaos inside.
55. "You must have chaos within you to give birth to a dancing star." ― Friedrich Nietzsche
56. "I accept chaos, I'm not sure whether it accepts me." ― Bob Dylan
"Our real discoveries come from chaos, from going to the place that looks wrong and stupid and foolish." ― Chuck Palahniuk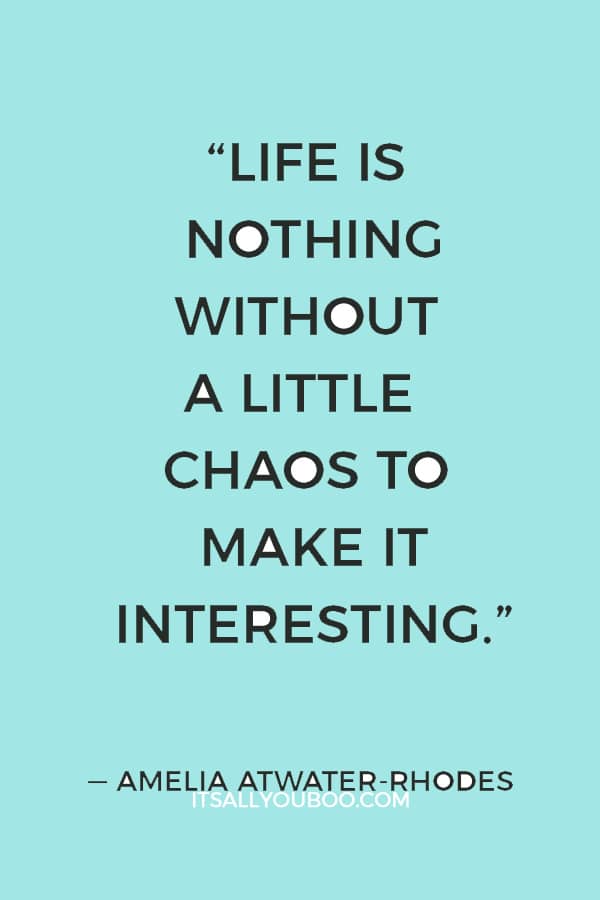 58. "Life is nothing without a little chaos to make it interesting." ― Amelia Atwater-Rhodes
59. "In chaos, there is fertility." ― Anais Nin
"Invention, it must be humbly admitted, does not consist in creating out of void but out of chaos." ― Mary Shelly
61. "Chaos was the law of nature; Order was the dream of man." ― Henry Adams or
"Stop blaming outside circumstances for your inside chaos." ― Steve Maraboli
63. "Perhaps it is controlling the chaos within more than the chaos without." ― Erin Morgenstern
👉🏽 RELATED POST: Appreciation Quotes for Doctors to Say Thank You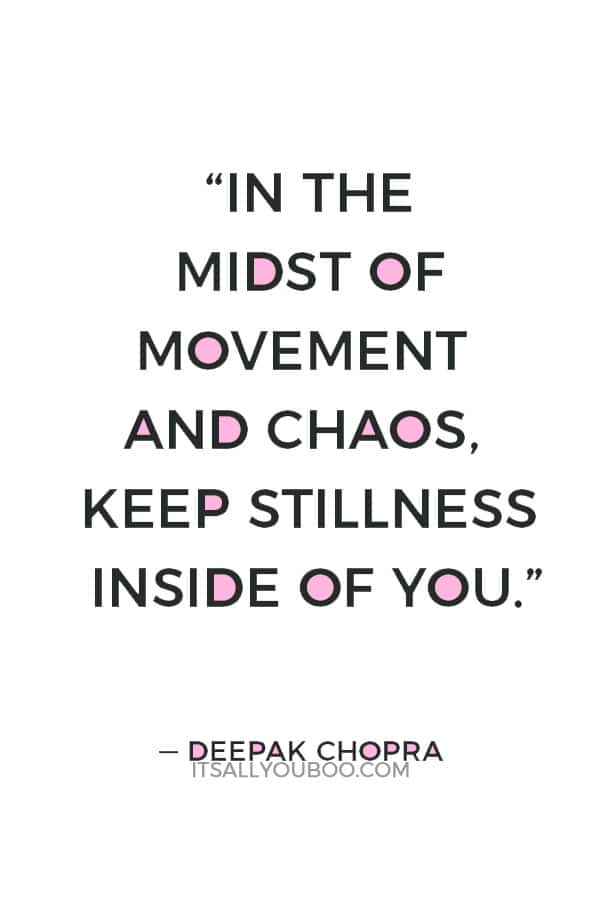 64. "In the midst of movement and chaos, keep stillness inside of you." ― Deepak Chopra
"Normal is an illusion. What is normal for the spider is chaos for the fly." ― Charles Addams
66. "Chaos is the score upon which reality is written." ― Henry Miller
Find Hope in Being Calm Quotes
How can you be hopeful in a crisis? How do you find hope in the darkness and fear? Use the following quotes about staying calm in a crisis to help you look on the bright side, to be more optimistic and to believe that everything will be okay. Remember, when you're calm you can find solutions to your problems.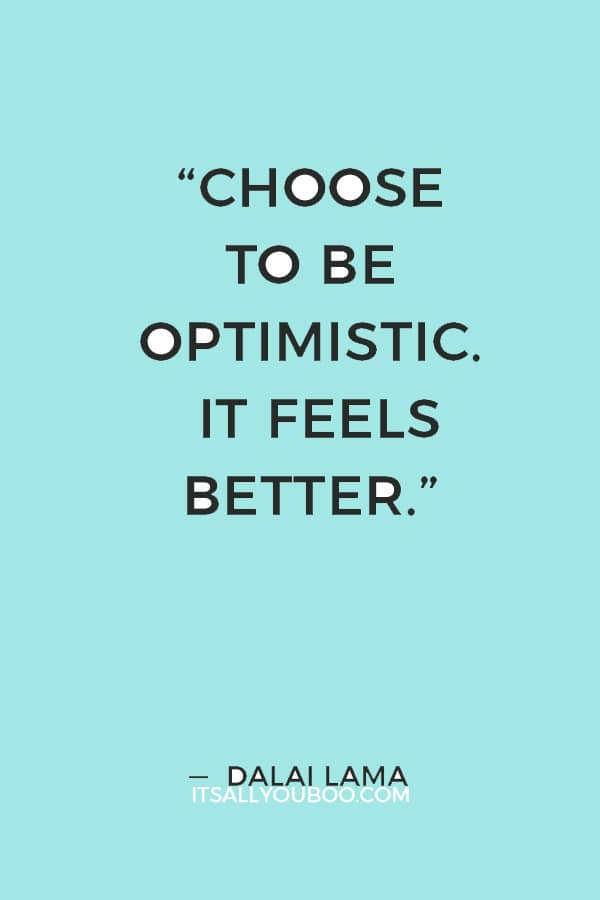 67. "Choose to be optimistic. It feels better." — Dalai Lama
"When you have peace in yourself and accept, then you are calm enough to do something, but if you are carried by despair, there is no hope." — Thich Nhat Hanh
69. "God is working on your problem. Stay calm. Stay sweet. Stay out of fear and keep on keeping on." — Joyce Meyer
70. "Keep calm and carry on." — Winston Churchill
"Panic causes tunnel vision. Calm acceptance of danger allows us to more easily assess the situation and see the options." — Simon Sinek
72. "I don't think you should always stay calm in a tense situation, because you might not ever confront the problem. Maybe it's better to actually let yourself be tense – and find a solution." — Yoko Ono
👉🏽 RELATED POST: How to Stay Positive No Matter What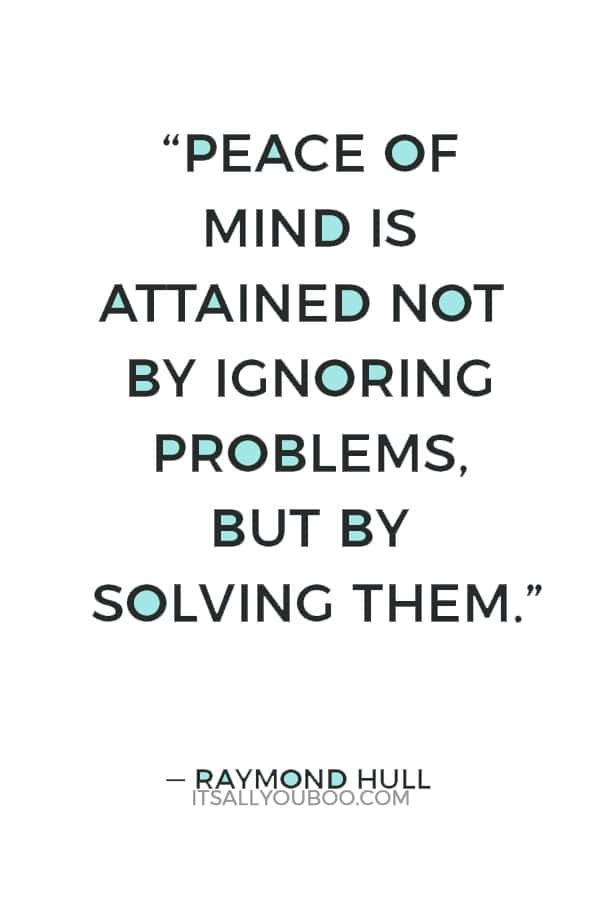 73. "Peace of mind is attained not by ignoring problems, but by solving them." — Raymond Hull
"Calm can solve all issues." — Pope Shenouda III
75. "Keep calm because pain makes you stronger, fear makes you braver and heartbreak makes you wiser." — Ritu Ghatourey
Quotes about Calmness and Serenity
So, how do you find peace and serenity in the chaos? How do you manage your emotions to stay cool in the crazy? Use this final collection of inspirational quotes about staying calm in a crisis as a reminder. When life gets crazy, you stay cool. When you're under pressure, don't panic. How you survive and come out on the other side is determined by your ability to stay calm.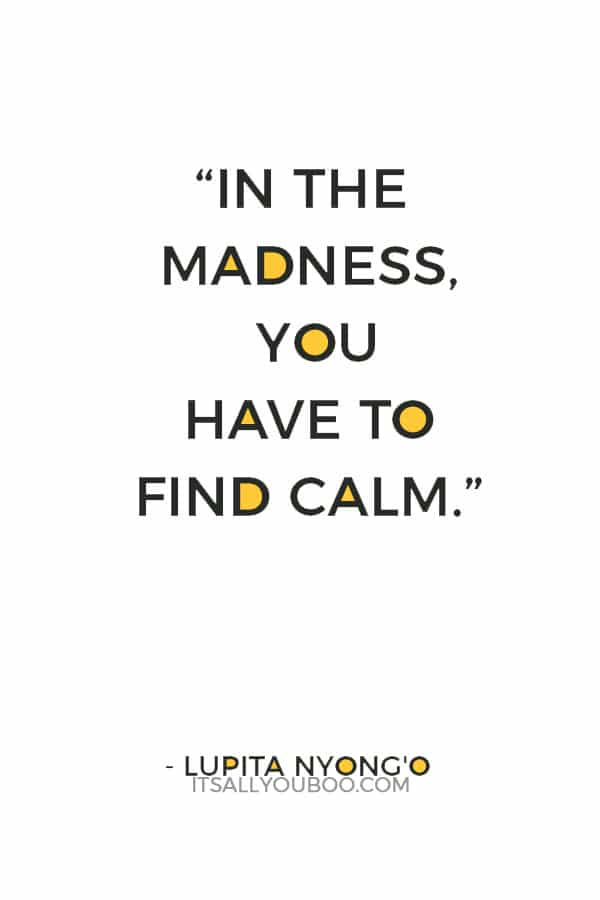 76. "In the madness, you have to find calm." — Lupita Nyong'o
77. "When the odds are hopeless, when all seems to be lost, then is the time to be calm, to make a show of authority – at least of indifference" ― Ian Fleming
"A samurai must remain calm at all times even in the face of danger." ― Chris Bradford
79. "As a lifelong practitioner of martial arts, I'm trained to remain calm in the face of adversity and danger." — Steven Seagal
"When adversity strikes, that's when you have to be the most calm. Take a step back, stay strong, stay grounded and press on." ― LL Cool J
81. "The most important lesson my dad taught me was how to manage fear. Early on, he taught me that in a time of emergency, you've got to become deliberately calm." ― Rudy Giuliani
82. "To experience peace does not mean that your life is always blissful. It means that you are capable of tapping into a blissful state of mind amidst the normal chaos of a hectic life." ― Jill Bolte Taylor
"Be it high or low, it doesn't matter. I need to stay calm and neutral all the time." — Vijay Shankar
84. "Win or lose, just stay calm." — Mirko Cro Cop
Free Printable Mindfulness Mantras
Ready to keep calm no matter what crisis is raging around you? Get your 20 FREE Printable Mindfulness Mantra cards.
So, how do you feel about staying calm in a crisis? Are you convinced that it's so important to keep your cool when life goes crazy?
You cannot control your circumstances, you can't stop chaos from happening, the only thing you can control is yourself. You can find peace and serenity within, giving you the strength you need to face the challenge.
Don't let panic, stress, anxiety, or overwhelm overtake you. Take it one day at a time.
Stay safe, and please stay calm.
Feeling stress and anxiety about life? Is this current crisis getting to you? Click here for the best inspirational quotes about staying calm in a crisis. #KeepCalm #StayCalm #InnerPeace #DontPanic

Which quote about staying calm in a crisis do you love?
Last Updated on May 25, 2023
✕
Get Your 20 Mindfulness Mantras
Subscribe to our VIP newsletter, plus get the free affirmations.