Do you wonder, "Should I follow my dreams or be realistic?"
Want to know if you should pursue your dream or make money?
Want to follow your dreams, but worried you should be realistic? Click here to figure out if you should pursue your dreams or stick to your day job by @crazycuteco.
The internet has no shortage of inspirational content and feel-good motivation these days. We're constantly surrounded by success stories of normal, everyday women who have somehow become InstaFamous, or built 6 or 7-figure business empires that freed them from soul-sucking jobs.
Somewhere between the TED talks, InstaQuotes and podcasts, a fire was lit deep in your heart that made you realize you were meant for more in this life.
Table of Contents:
Then you started to ask yourself, "Should I follow my dreams, or be realistic?"
If all these other amazing women you've read about could take a chance, follow their dreams and experience success, why can't you join their ranks?
But then come the other questions…
How do I even make it happen?
What do I have to offer?
Where do I even start?
And… am I crazy for even having these kinds of aspirations?
Maybe you've found yourself searching for real ways to make money from home?
Or can't stop thinking about quitting your day job and starting a successful blog or business?
I've been there, this is exactly to decide to follow your dreams or be realistic.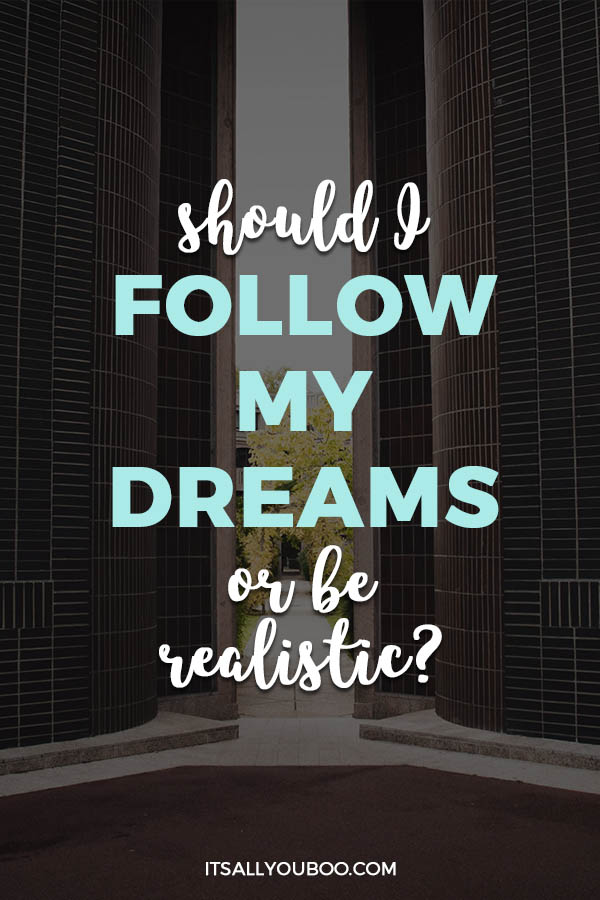 Decide What Following Your Dreams Means to You
Take it from a "crazy" lady like me who was in your shoes 7 years ago.
I was a young CPA working at a global accounting firm, then at a large national bank. I had a window office and six-figure salary but still felt like something was missing in my life.
Early in my career, I thought "going after your dreams" meant climbing the corporate ladder. Instead, it was eating away at my soul. I longed to ditch the spreadsheets and get back to my creative roots.
👉🏽 RELATED POST: Why You Need to Define Success In Your Own Words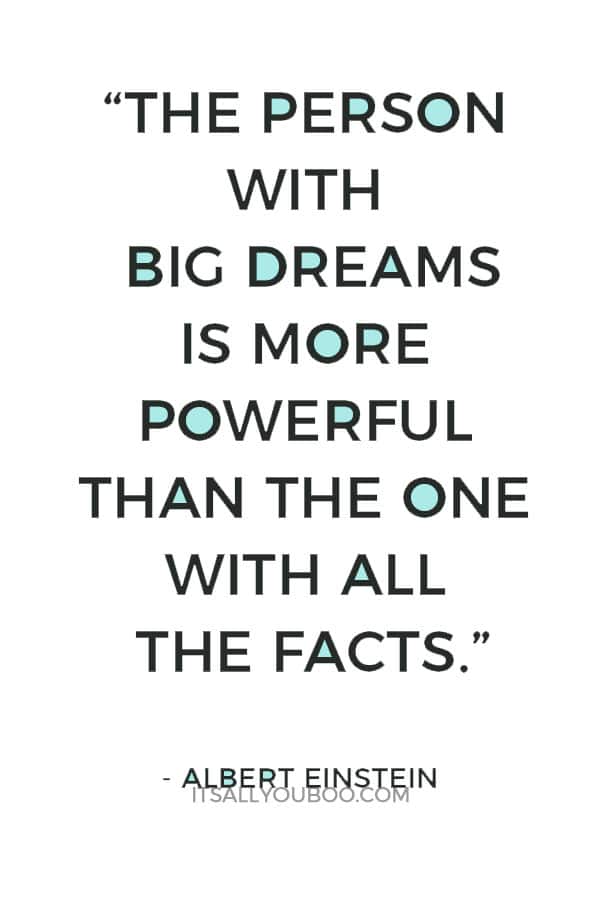 After my own wedding, I ended up designing invitations and stationery for friends because they were so impressed with the ones I made for myself. When referrals started coming in, I suddenly realized that I'd already done "market testing" for my product, and had accidentally started a bona fide design business!
It started off as a side-hustle where I'd work on it on evenings and weekends. But as business picked up, it got harder to balance the demands of my day-job along with serving my clients.
Working on my business brought me so much joy I'd never experienced before – I decided to go part-time at my job (it felt SO SCARY at the time). Within 6 months, I knew it was time to take the leap and escape the 9-5 to become a full-time entrepreneur.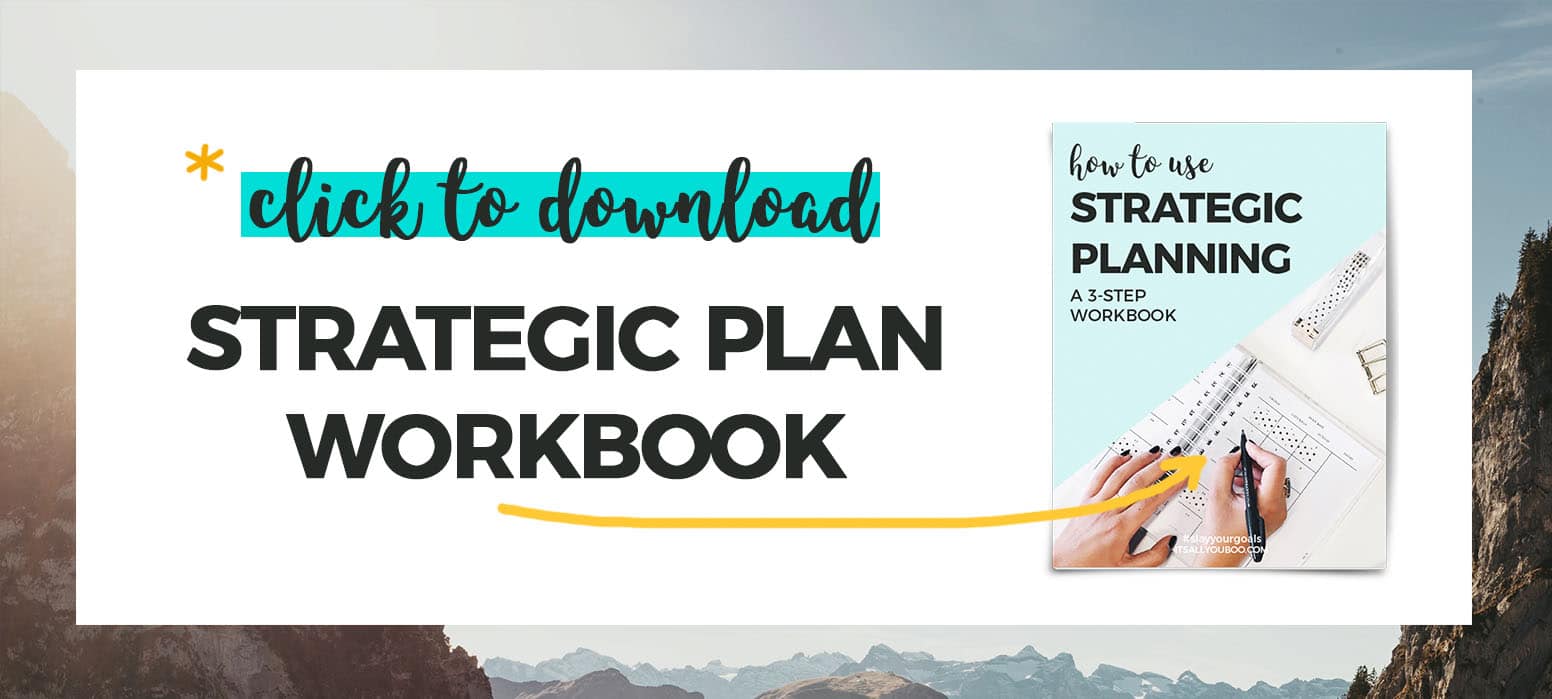 So, Should You Follow Your Dreams?
I know you're revved up, but let's think this through for a moment first, shall we?
For many of us, the decision to follow your dreams or start your own business is primarily an emotional one.
Maybe you can't imagine sticking it out in your soul-sucking job until the glorious day you retire (like me!), or perhaps you need a way to supplement your income to pay down debt or save for the future.
Maybe you see yourself killing it on Shark Tank.
Guess what? It's ok to be emotional… at least in the beginning, because that's what helps you find your passion and discover your WHY.
Diana Raab Ph.D., an author, and speaker defines "passion" as an inclination or desire to do something one likes to do or thinks is important to do.
"Passion is the fuel that drives us to get out of bed in the morning; it moves us toward our goals. Sometimes, finding our passion simply has to do with listening to our inner voice and ignoring the noise around us telling us what we should do."

However, once the dust settles and you realize all the hard work lies up ahead, it's important to take a practical approach to figure out whether you should follow your dreams, or be realistic.
First, let's deal with the most important shift that needs to happen…
To Pursue Your Dreams You Will Be Uncomfortable
Question: Are you comfortable with being uncomfortable?
Answer this honestly – are you an adaptable person who can roll with the punches, or are you a stickler around set routines?
Does the thought of selling, or plastering your face across social media as an "expert" give you the chills?
If so, you're not alone! Don't let your fear stop you from going for it. Many entrepreneurs have had to overcome personal obstacles before experiencing business success because nobody was born a master from Day 1.
👉🏽 RELATED POST: Forget Overcoming Fear, You Need to Understand It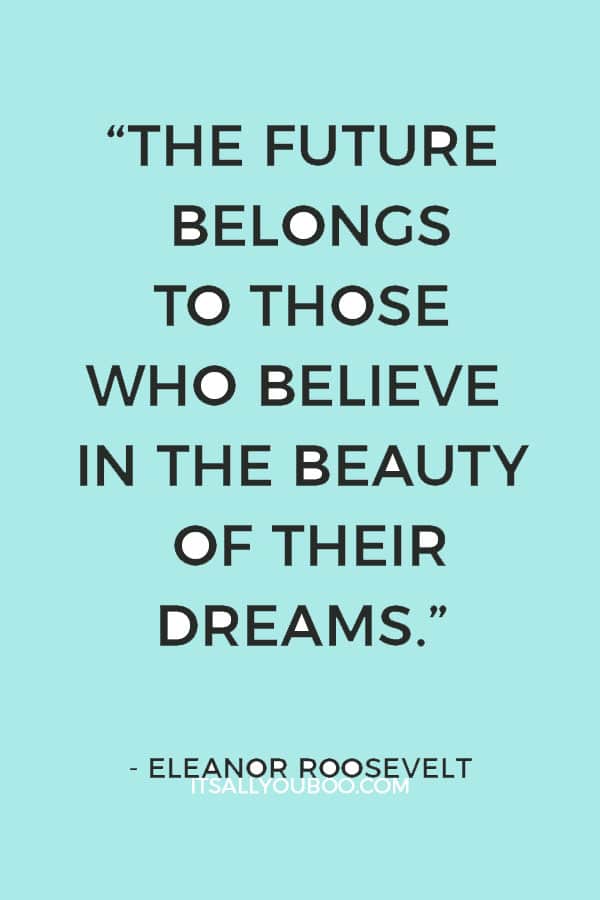 The sooner you understand the fears and knowledge gaps you must overcome to grow and succeed in business, the faster you can whip yourself into #bossbabe shape.
Read my article on 8 Questions To Ask Yourself Before Starting a Business to see other practical things you should consider before you decide if this path is right for you.
4 Steps to Going After Your Dreams
So, you've decided to go for it – Congrats! I knew you had it in you, babe.
Here are some practical steps on how you can start "responsibly" going after your dreams without it feeling like a gamble.
#1.
Plan It Out
I've never believed in 100-page business plans, but I do think it's important to write things down! Otherwise, ideas kept in your brain will turn into chaos.
Planning is important because you need to chart out your intended destination before you get behind the wheel and drive. Whether you get this done on the back of a napkin or in a pretty notebook is up to you.
The main objectives of planning are to:
Develop goals that you can measure your efforts and results against
Craft a strategy for slaying those awesome goals
Execute with clarity in your direction, so you can focus on the right things to get you there
Communicate ideas with mentors or potential business partners
Keep in mind, this isn't meant to be a one-time deal.
A business plan is fluid and could change as your business evolves. You'll get the best results by revisiting your plan AT LEAST annually and updating it as necessary.
For those who need a little bit of help getting started to check out this Printable Strategic Planning workbook to help you plan your dream.
It'll help you chart out your motivations, and reverse-engineer your goals into easy, actionable steps.
#2.
Keep Your Day Job
As much as you want to call in sick at work (and never go back), I'd recommend you stay put for a while, especially if it's your first rodeo. Even if you're struggling in a toxic work environment, it's just for a while longer.
Your job is your safety net. This is crucial, especially if you want to follow your dream with no money.
The LAST thing you need is the added financial pressure of paying rent or putting food on the table without any money coming in.
In the beginning, you'll be testing out a lot of business ideas and strategies before you see what sticks. You'll likely burn through some savings and make some mistakes.
👉🏽 RELATED POST: Top 15 Real Ways To Make Money From Home
Keep side-hustling until you see consistent revenues rolling into your business, or you have enough projects/clients booked out to cover your living expenses for at least the next 3-6 months.
#3.
Get Your Numbers in Check
Numbers are definitely one of the scariest parts of running a business!
According to the Bureau of Labor Statistics, 50% of businesses fail within their first 5 years. The hard truth is that it usually happens because the business runs out of cash. Cash is the lifeblood of your business, and the numbers don't lie.
Before you go all-in, do yourself a favor and create a business budget or a financial projection of your business over the next 3 to 5 years. Estimate all your business expenses including start-up costs, your phone & internet bills, utilities, rent, online services or memberships, marketing costs, and bank fees just to name a few!
👉🏽 RELATED POST: How to Manage Your Money From a Side-Hustle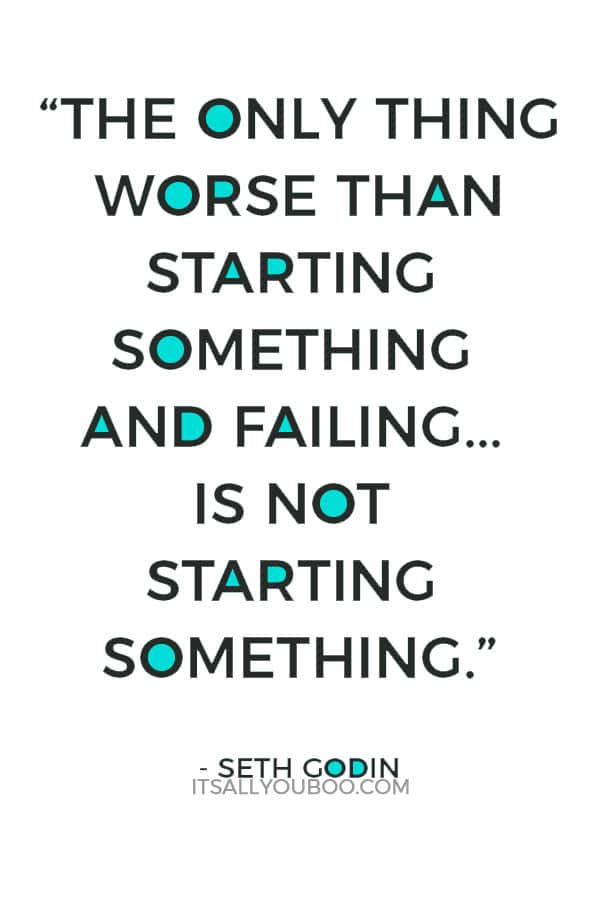 Budgeting will help you create a clear picture of how much money you need to stay in the game.
Then, start building up your savings and set aside at least 6 month's worth of estimated operating expenses so that you have some cash to work with. Start thinking about your business as an investment, where you've gotta spend money to make money.
#4.
Find Your People
Going after your dreams is a journey that often feels lonely — That's why being around like-minded people is vital.
Shed the crazy notion that you have to figure everything out on your own. Find fellow business owners in your social network or in mastermind groups who can relate to your struggles and way of life — they can motivate you and keep you accountable for your goals.
My first "real" clients came from referrals from friends and family (no shame in that!). Don't be shy talking about your business, and what you want to accomplish. You'll find that people around you are more than willing to help you out – you just have to ask!
Start Realistically Following Your Dreams
If you're in this, you're passionate and you have a plan, pursue your dreams and live your dream life.
In the end, it's not a question of, "Should I follow my dreams or be realistic?" It's a matter of following your dreams realistically.
Entrepreneurship is the path less traveled. Get used to the feeling of constantly swimming upstream, and be motivated by the possibility that once you finally achieve success, it'll all be worth it
Get Your Strategic Planning Workbook
Ready to create a simple yet realistic plan for following your dreams? Get the Printable Strategic Planning Workbook, and plan out your dream, step by step.
Going after your dreams could be one of the most fulfilling and life-changing decisions you ever make. I hope you'll take the plunge and discover that it's absolutely possible to make a living doing what you love!
You can achieve your dreams and reach your goals!
I'm rooting for you, Crazy Lady!

Will you follow your dreams or be realistic?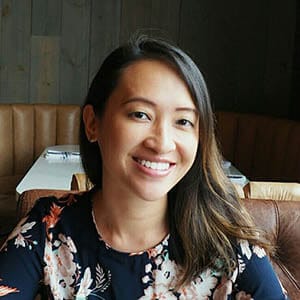 More About Guest Contributor
Charlene is an accountant turned full-time business owner and mompreneur. Her blog, Crazy Cute Co., helps ambitious women build businesses with the strategies, financial knowledge, and mindset needed to cash in on your passion.
Last Updated on July 11, 2021
✕
Start Strategic Planning!
+ get weekly tips to help you slay your goals.