Why should I prioritize putting myself first? What are the benefits of practicing self-care?
Have you been hearing about self-care everywhere but you aren't quite sure how it could benefit your life? Luckily for you, I'm sharing 3 remarkable ways practicing self-care can give you the kick in the butt you need!
Self-care has become all the rage for millennials. (By now, it's basically the equivalent of avocado toast!)
Although constantly hearing about the importance of self-care may make some people cringe, you can't argue with the fact that self-care is tremendously important!
Yet, as busy students, parents, bloggers, and entrepreneurs, self-care is usually the first thing we forget about.
If you want to go beast mode on your life goals, taking care of yourself is not an option. It's necessary!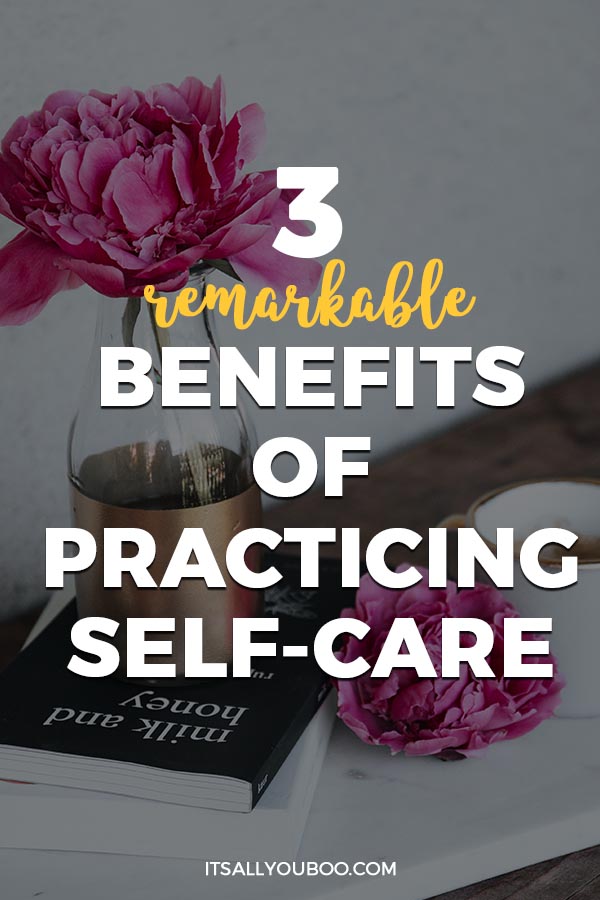 Why Self-Care is Important
Have you ever heard the saying, "You can't pour from an empty cup?" If you think about it in a literal sense, it's 100% true, right?
If a cup is empty, how could you possibly pour anything from it? There's nothing to pour. Nothing to give. Nothing to share with others.
Now imagine that YOU are that cup. You may have a job, a side hustle, a family, friends, hobbies, goals…but if you are empty, you have nothing to dedicate to those high-priority people and things in your life.
👉🏽 RELATED POST: How to NOT Fall Apart When Pursuing Your Dream

So how do you make sure your cup is not empty? By taking care of yourself first… a.k.a. self-care!
There are loads of benefits to self-care:
Physically, you feel better. Your body is relaxed and you remain healthy.
Emotionally, you're in tune with yourself. When you feel better about yourself, you're more confident and ready to take on the world.
Spiritually – and not necessarily in a religious sense – you begin to understand your purpose in life.
While all these benefits make a great case for self-care, would you believe that there are even more benefits?
Especially for creatives like you!
Get ready to learn how taking care of yourself first can help you be more productive, be more creative, and make more money!


How Self-Care Can Skyrocket Your Productivity
How much time is left in your day after you do everything you have to do? One hour? Maybe you have NO time leftover? Are you pushing into the negatives?
Do you not make time for yourself because you feel like there is no extra time?
If so, trust me, you are NOT alone. I can totally relate to that feeling.
When you're out in the world goal-crushing and taking care of business, you might feel like you have to focus on everyone and everything else FIRST. You may think that if you set aside time for yourself first, you're taking time away from something else super important that just has to get done.
This kind of thinking is the perfect way to end up with an empty cup. (And remember, you can't pour from an empty cup, right?)
👉🏽 RELATED POST: How to Have a Self-Care Retreat at Home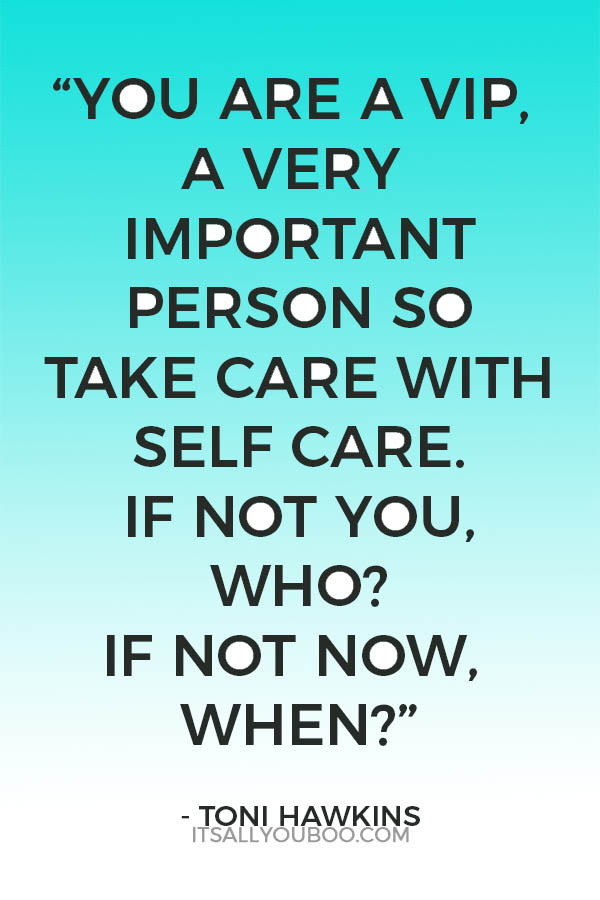 If you are constantly focusing on everyone else except for yourself, you'll eventually burn out and have nothing left to give. Self-care is so important for you to keep from burning out.
What does burnout look like, you ask?
Taking 2 hours to do a task that should have taken 20 minutes
Being so overwhelmed with things to do that you just get in the bed and do nothing at all
Feeling down and sad because you have all these ideas but can't seem to actually implement any of them
These are all signs of an empty cup. You're not very productive in these moments, are you?
That's why it's actually more productive for you to set aside time for yourself first so that you are continuously "refilling your cup."
That way, you can achieve your goals and get things done.
I'm going to give you a challenge for the next month: Every week, plan time to take care of yourself…first! If you're in the (terrific!) habit of keeping a planner or calendar, make sure you block out at least 1-2 hours of time every week for self-care.
Even if you don't normally use a planner, you should write down your self-care plans so that you can hold yourself accountable. For an extra layer of accountability, you could invite a friend along too!
Stick to your plan and see how much more productive you can be!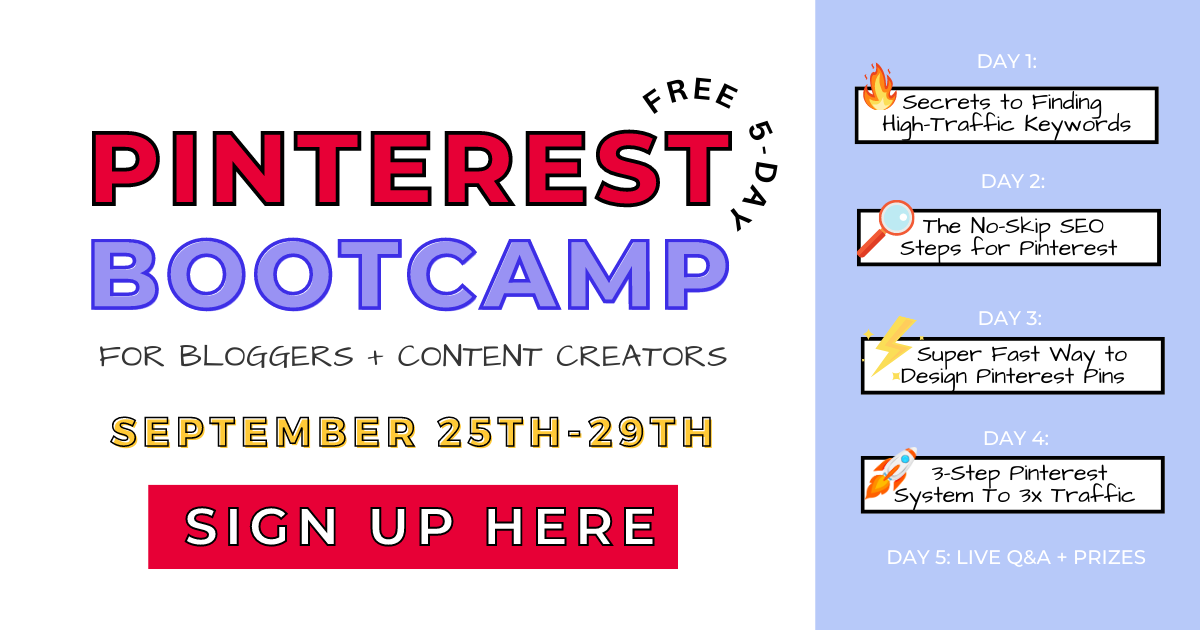 How Self-Care Can Enhance Your Creativity
If there's one guaranteed creativity-killer, it's stress. No matter where it comes from – your job, your family, your friends – stress can completely squash your creative energy.
Why is that?
When you feel safe, you feel comfortable being open and vulnerable. You're free to explore your emotions, thoughts, and beliefs. This feeling of freedom allows you to create freely.
Stress causes the exact opposite response. When you're stressed, your mind and body automatically go into fight-or-flight mode. Your mind shuts down to other important things so that can you can focus on fighting the stress or running away from it.
If your mental energy is going towards fighting or fleeing a situation, you have no energy left to create.
It turns out that self-care is a great way to cope with stress and reduce your stress levels!
When you reduce the stress in your life, you become more relaxed and your mind is ready to create whatever you want to. Regularly engaging in self-care activities helps unload stress so that you can get back to your hobbies, passion projects, and side hustles.
Here's the kicker: Many self-care activities actually ARE creative outlets! Using creative activities like these as part of your self-care routine is a genius idea!
👉🏽 RELATED POST: Ways To Pamper Yourself at Home Every Day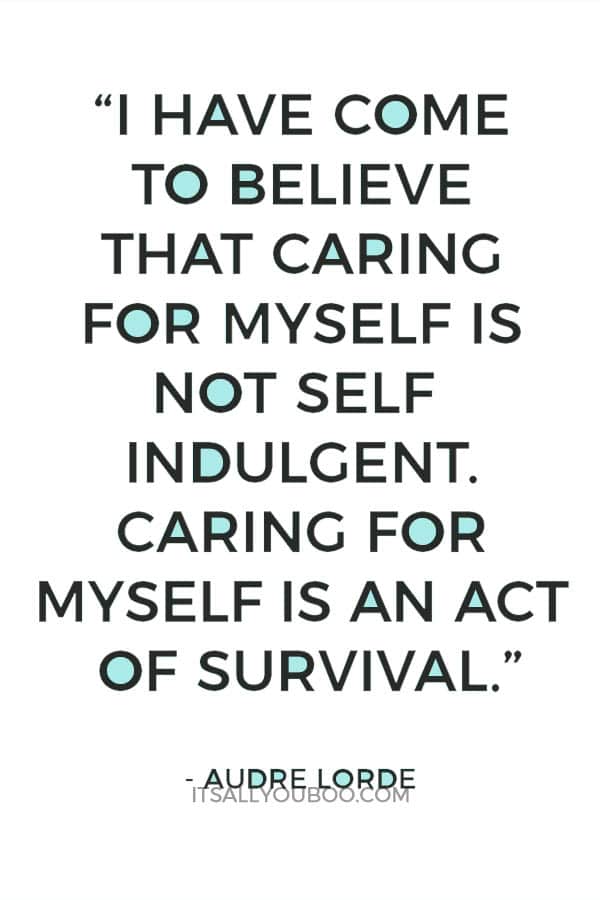 How Self-Care Can Boost Your Income
Hopefully, you won't mind if we do a quick and painless math problem.
Here it goes: PRODUCTIVITY + CREATIVITY = __________?
Any ideas?
You've got it – MONEY!
When you're able to do more and create more, you're able to make more money.
How exactly does this work?
These days, almost everyone has some sort of side hustle or wants to have a side hustle. But we all know that most legitimate side hustles take real work. If you want your side hustle to actually succeed, you have to offer something that other people aren't offering AND you have to manage your time well.
In other words, you've gotta be creative and you absolutely have to be productive.
It takes creative marketing strategies to stand out from the crowd, especially if you're in a field that's supersaturated.
Plus, if it's truly a "side" hustle, that means you have something more substantial, like a job or school, that's your primary focus. Clearly, you don't have a lot of time to waste.
👉🏽 RELATED POST: How to Have a Staycation that Feels Like a Vacation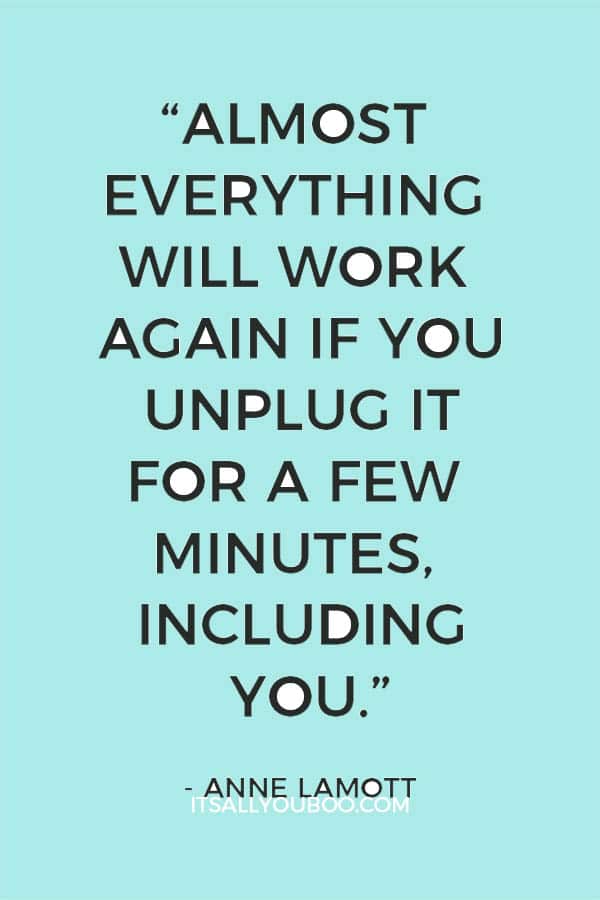 By making time to take care of yourself, you get the productivity and creativity boosts that you need to be a BOSS!
When your mindset is in tip-top shape, you have the formula for slaying those goals and making the money you've worked so hard for!
What Are the Best Self-Care Activities?
This is where the fun part comes in. Choosing your self-care activities is totally up to you!
What I find to be fun and relaxing may be different from the things you love to do.
Here are a few questions you can ask yourself to guide you in the right direction:
What are activities you don't have to convince yourself to do?
The point of self-care is to do something you actually enjoy doing. If you have to convince yourself to do it, it's officially a chore. That's a no-go.
What are activities that only take 1-2 hours at most?
The amount of time you spend on self-care is ultimately up to you. But remember that you have lots of other things to accomplish. Try to limit your activities to 1-2 hours at a time so that you're still motivated to get work done after your personal time ends.
Would you rather be alone or with other people?
You may love being around friends or strangers and participating in group activities. You may also prefer to be alone sometimes. Deciding whether you want to be in a group setting or try a solo gig will help you figure out what to do.
👉🏽 RELATED POST:  12 Cheap and Easy Self-Care Ideas That Feel Luxurious
What are your favorite hobbies?
Do you like to go hiking on the weekends? Read books? Go for walks? Sometimes the hobbies you already enjoy doing (but just don't do enough) can be the perfect way to set aside time for yourself!
Are there any activities you use to enjoy when you were younger?
As we get older, we tend to do less and less of what use to make us happy. It may be a great time to revisit some of those activities you use to love before life got real!
What helps you relieve stress?
This might be one of the most important questions to ask yourself. You want to be sure to choose activities that will help you feel lighter and more relaxed once you're done with them.
Like I mentioned before, what works best for you may not work best for someone else.
Free Printable Self-Love Quotes
Ready to invest in your self-care? I've created 10 beautifully designed, printable self-care and self-love quotes for you.
This download comes with high-resolution, graphic quotes that are ready to print and post in your home or office.
There are so many self-care tips, activities, and ideas available to you. Take the time, make it a priority. Yes, self-care is for busy parents too!
Now that you know all the benefits of practicing self-care, you have no excuse!
With a little time and a lot of self-care, you'll be CRUSHING your goals in no time!
Your self-care is important! Taking time for yourself makes you more creative, more productive and stress-free. Click here to find out how by @lazimillennial. #selfcare #selflove #selfcaresunday #selfcaresaturday

How will you practice self-care?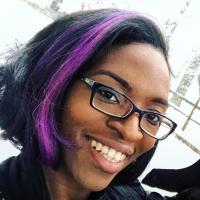 More About Guest Contributor
Megan Nichole is the creator of
The LaziMILLENNIAL Movement
, a community for multi-passionate millennials like YOU who want to be more creative, be more productive, and make more money!
Last Updated on May 28, 2023
✕
Get Your Self Love & Care Quotes
+ get weekly tips to help you slay your goals.