What are the best self-love quotes and sayings?
Is self love the best love? If so how do you love yourself more, as you are?
Do you need a hug on the inside? Here are 26 inspiring self-love quotes to start loving yourself today. #SelfLove #LoveYourself #Quotes
Do you ever just need a hug on the inside? Deep down where no one can see.
Are you struggling to love yourself right now? Perhaps to even accept or admire who you are?
Maybe you feel inadequate, unworthy, and unwanted? It's hard to admit at times that a lack of love from others, can impact how we feel about ourselves.
Whether you hate being single, in a relationship or free to mingle, self-love is about so much more than your relationship status.
The beginning of all things wonderful in your life is you simply loving yourself where you are at.

You can't want more for yourself, believe in yourself, or even have confidence that everything that you can achieve your goals or dreams if you do not first love yourself!
Want to live a life you love? Start by loving yourself.
Ready to try new things, leave your comfort zone, and put yourself out there? Embrace all that you are.
Want to manifest love in your life? Begin by falling madly in love with you.
If you haven't heard it in a while, or even at all, let me tell you (and please hear me when I say) that you are freaking fantastic! You're wonderful, brilliant, beautiful and everything in between! Never forget that for a minute.
Here are 26 must-read self-love quotes and sayings to inspire your much-needed self-love life.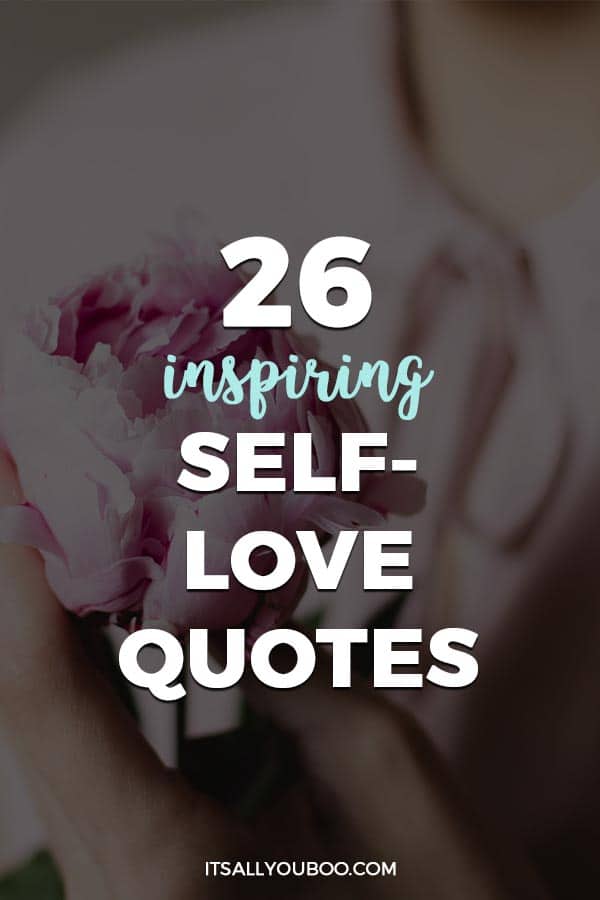 Fall in Love with Yourself Quotes
Do you love yourself? Here's the perfect test of your self-love. When you look at yourself in the mirror, what do you see? Do you see the eyes you love, the features you think are adorable, perhaps your hair you love to style, or do you see flaws you can't stand looking at? Do you look away or do you gaze into your gorgeous eyes? Stop trying to change yourself, and start falling in love with who you are right now. The following self-love quotes encourage you to fall in love with you.
"Do you want to meet the love of your life? Look in the mirror." ― Byron Katie
👉🏽 RELATED POST: How to Date Yourself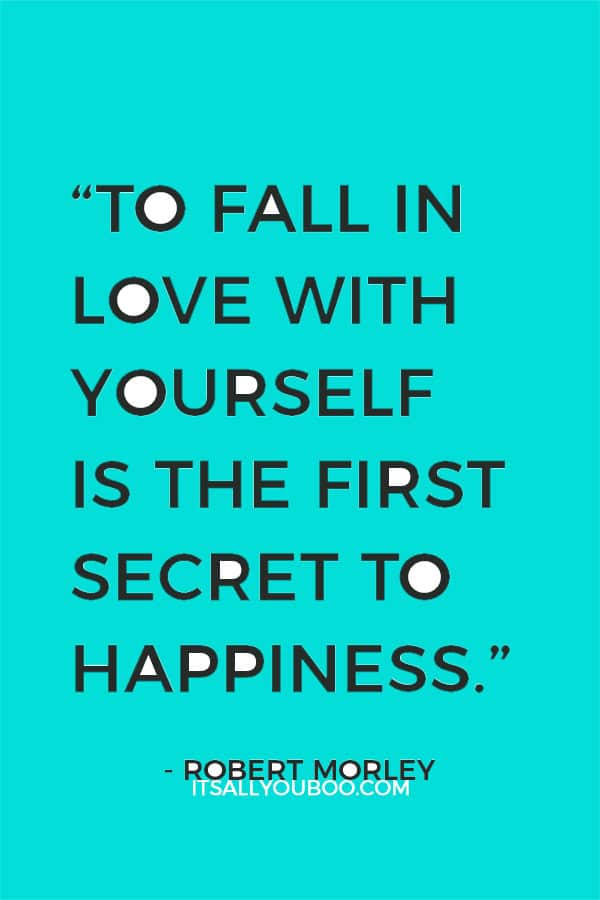 2. "To fall in love with yourself is the first secret to happiness." ― Robert Morley
"You yourself, as much as anybody in the entire universe, deserve your love and affection." ― Gautama Buddha
4. "It's not selfish to love yourself, take care of yourself, and to make your happiness a priority. It's necessary." ― Mandy Hale
👉🏽 RELATED POST: Inspirational Quotes about Love and Romance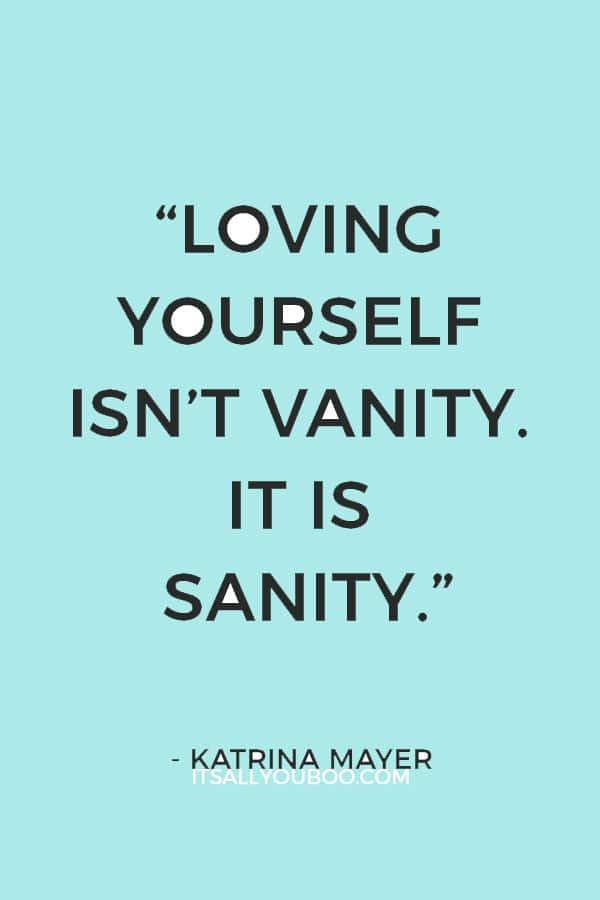 5. "Loving yourself isn't vanity. It is sanity." – Katrina Mayer
6. "If you have the ability to love, love yourself first." ― Charles Bukowski
Your Self-love is Powerful Quotes
Waiting for your epic love story? Popular culture would have you believe that to fall in love is the greatest love. But, that's all fantasy, the strongest love starts with the love you have for yourself. To love yourself truly, wholly and unconditionally can change your life. It will mend broken places and strengthen every area of your life. This collection of self-love quotes speaks of the power of self-love.
7. "To love yourself right now, just as you are, is to give yourself heaven. Don't wait until you die. If you wait, you die now. If you love, you live now." – Alan Cohen
"The use of love is to heal. When it flows without effort from the depth of the self, love creates health." – Deepak Chopra
👉🏽 RELATED POST: Quotes for Singles on Valentine's Day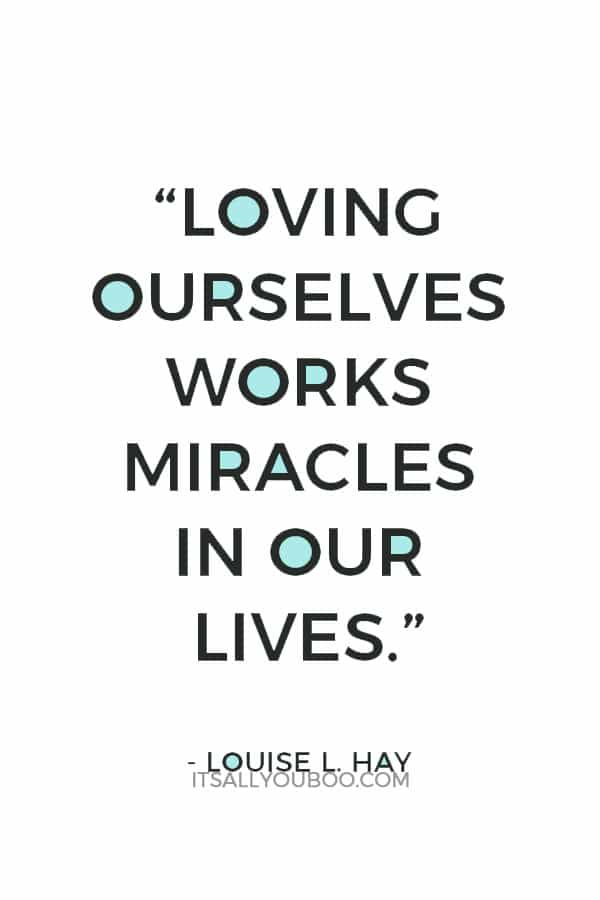 9. "Love is the great miracle cure. Loving ourselves works miracles in our lives." – Louise L. Hay
10. "Love recognizes no barriers. It jumps hurdles, leaps fences, penetrates walls to arrive at its destination full of hope." – Maya Angelou
👉🏽 RELATED POST: 3 Remarkable Benefits of Practicing Self-Care
11. "When I loved myself enough, I began leaving whatever wasn't healthy. This meant people, jobs, my own beliefs and habits – anything that kept me small. My judgement called it disloyal. Now I see it as self-loving." – Kim McMillen

Love Yourself By Doing What You Love Quotes
Do you love your life? To love yourself is to make time for doing what you love. Yes, your life may not be perfect, but it doesn't have to be for you to show yourself kindness by giving yourself what you need. Some might call it self-care or scheduling alone time, others will call it self-compassion, whatever it is, you owe it to yourself to find that joy. The following self-love quotes inspire us to not just ask yourself daily what you need, but also give it to yourself. Yes, even if you're busy!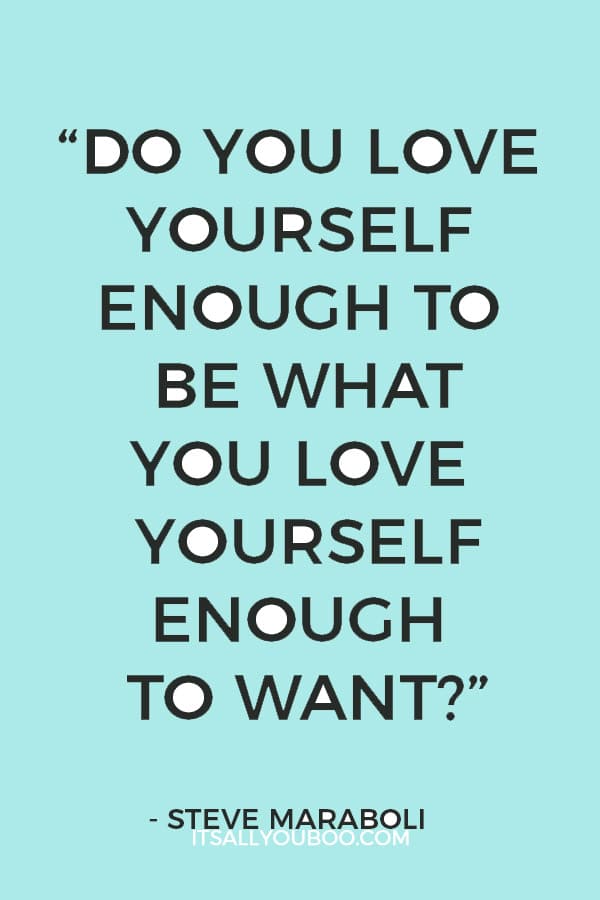 12. "Do you love yourself enough to be what you love yourself enough to want?" — Steve Maraboli
13. "When you recover or discover something that nourishes your soul and brings joy, care enough about yourself to make room for it in your life." – Jean Shinoda Bolen
"Self love is asking yourself what you need – everyday – and then making sure you receive it." – Unknown
👉🏽 RELATED POST: 39 Amazing Quotes to Boost Your Confidence Right Now
15. "Whatever you are doing, love yourself for doing it. Whatever you are feeling, love yourself for feeling it." – Thaddeus Golas

Quotes About Stop Hating and Hurting Yourself
Do you hate yourself? Are you hurting yourself? We're not just talking about things like self-harm and intentionally hurting yourself, we're also talking about subtle ways like negative self-talk. Every time your subconscious mind thinks negatively about yourself, you are hating yourself. Every time you give into your fears and tell yourself you're a loser and you can't do it, you're hurting yourself. This collection of self-love quotes invites us to truly complete how we treat ourselves. Be gentle, you're the only you, you have.
16. "Self-love seems so often unrequited." – Anthony Powell
"Your greatest treasure hides behind your self-loathing. Love it out of hiding." – Pamela Mills
18. "Remember, you have been criticizing yourself for years and it hasn't worked. Try approving of yourself and see what happens." ― Louise L. Hay
👉🏽 RELATED POST: 37 Inspirational Gratitude Quotes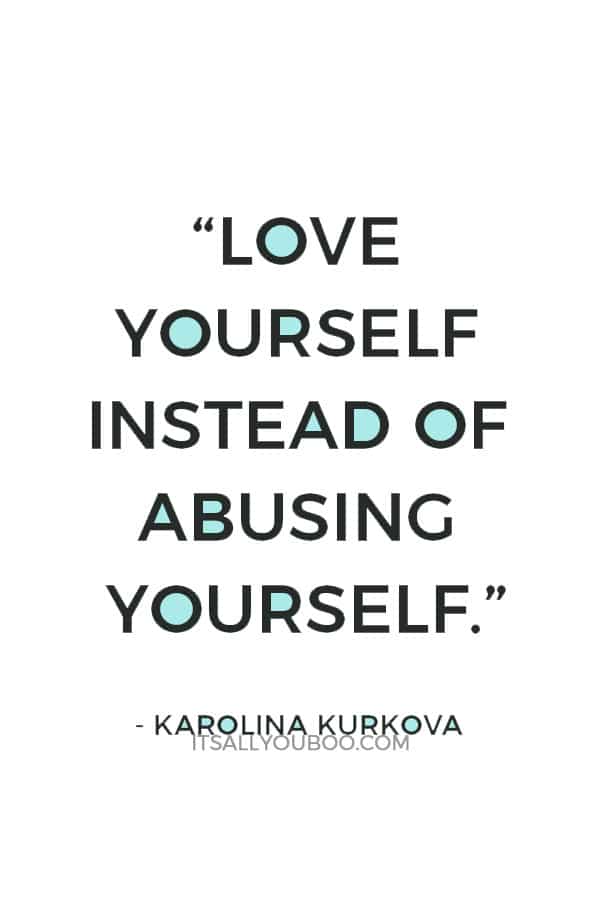 19. "Love yourself instead of abusing yourself." – Karolina Kurkova
"Your problem is you're… too busy holding onto your unworthiness." – Ram Dass
21. "The only person who can pull me down is myself, and I'm not going to let myself pull me down anymore." – C. JoyBell C.
22. "The things we hate about ourselves aren't more real than things we like about ourselves." – Ellen Goodman
Practice Loving Self-Talk Quotes
How do you talk to yourself? Are you loving and kind, or harsh and hurtful? The thoughts you have about yourself are stronger than what anyone else thinks about you. Want to be successful? Start telling yourself that you are. Using positive affirmations and loving language you can have a healthy self-love life. The following self-love quotes encourage us to talk to ourselves with love, to use loving self-talk.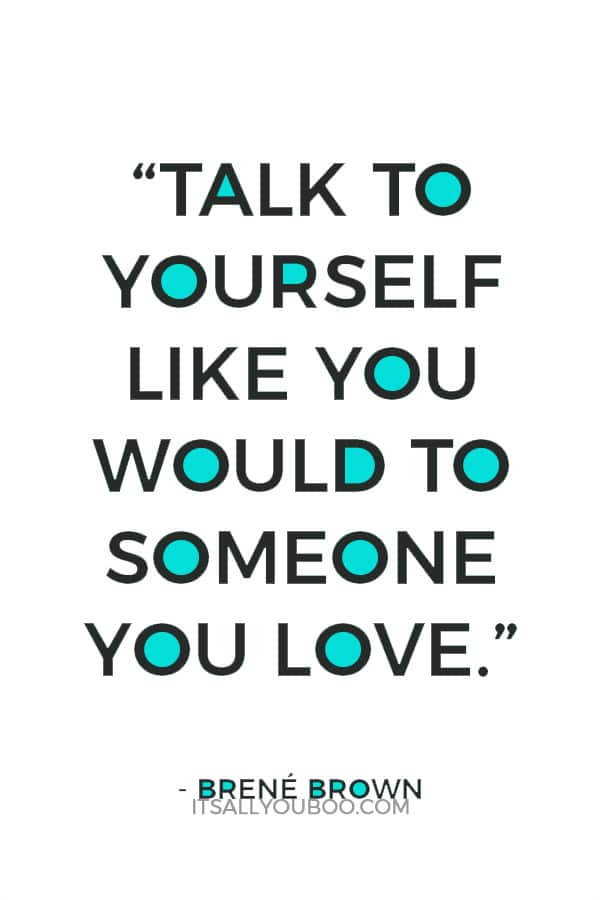 23. "Talk to yourself like you would to someone you love." – Brené Brown
24. "There are days I drop words of comfort on myself like falling leaves and remember that it is enough to be taken care of by myself." – Brian Andreas
👉🏽 RELATED POST: 12 Cheap and Easy Self-Care Ideas That Feel Luxurious
" I celebrate myself, and I sing myself." – Walt Whitman
26. "What are the most powerful words in the universe? The ones you use to talk to yourself." – Karen Salsamsohn
Printable Self-Love Quotes
Don't you just love these quotes? They provide the perfect reminder to just love yourself.
I've created 10 printable self-love quotes that you'll just love.
This download comes with high-resolution, graphic quotes that are ready to print and post in your home or office.
Have a Full Self-Love Life
Sometimes we can be so hard ourselves, especially when we are just not where we want to be in life or something is taking a lot longer to come to pass.
Please, take it easy on yourself! No one is perfect, not even you. But our imperfections are what make us who we are.

Taking time for self-love is important!
Be kind to yourself, we are all works in progress. Love your faults and your failures, your "imperfections" are your perfections.
Speak lovingly to yourself, don't forget to make time to do what you love and fall madly in love with yourself.
You are so worth loving!

What's your favorite self-love quote?
Last Updated on July 12, 2021
✕
Get Your Self Love & Care Quotes
+ get weekly tips to help you slay your goals.