Looking for activities for your at-home wellness retreat? Want to plan a self-care retreat at home?
Whether you're a working mother, an entrepreneur, or a graduate student, we're all in need of self-care every now and then.
With all of life's daily responsibilities and our busy schedules, it seems as if we hardly have any time to devote to ourselves.
But believe me when I tell you that you need and deserve this! Self-care must be a priority, not just so you don't fall apart, but for your emotional health and wellness too.
But as self-care often helps to bring out the best version of ourselves, it's imperative we take a little R&R time once in a while.
If you're feeling a little bit tight on money, don't worry, you don't have to break the bank by booking a luxurious spa getaway.
Luckily, you can apply self-care right within the comfort of your own home! Keep reading on to find 6 ways that you can make a relaxing self-care retreat right at your humble abode.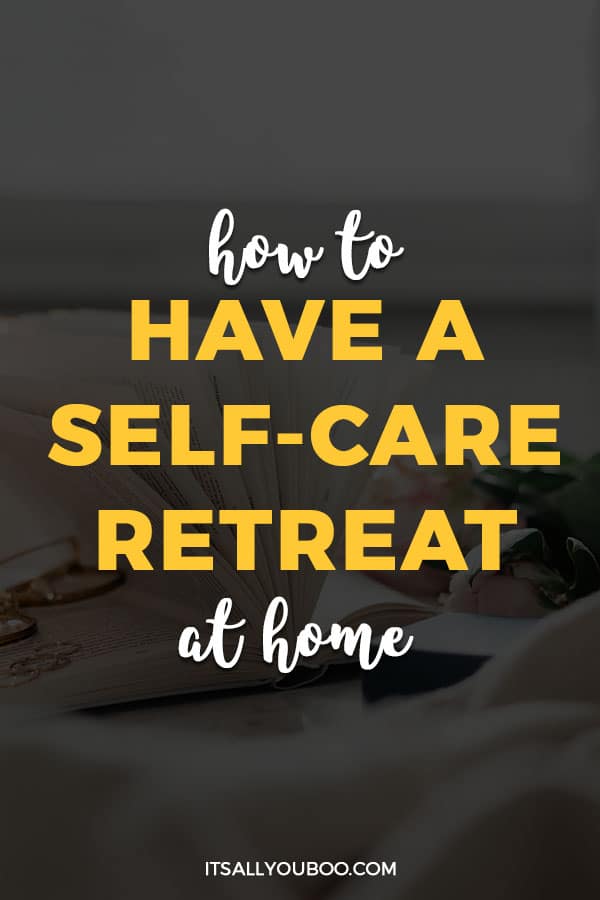 6 at Home Self-Care Retreat Ideas
#1.
Do a Digital Detox
It's hard to fully relax if you're spending all of your free time looking into what other people are doing or reading through your work emails.
A self-care retreat is supposed to be all about you and your mental health so ridding yourself of all electronics is the perfect way to focus only on yourself.
With social media and technology being at the peak of popularity, doing a digital detox can benefit you in more ways than one.
It's no secret that there are negative side effects of being addicted to technology and social media. Sleeplessness, lack of productivity, and low self-esteem are only some of the negative side effects.
👉🏽 RELATED POST: 20 Mental Health Day Ideas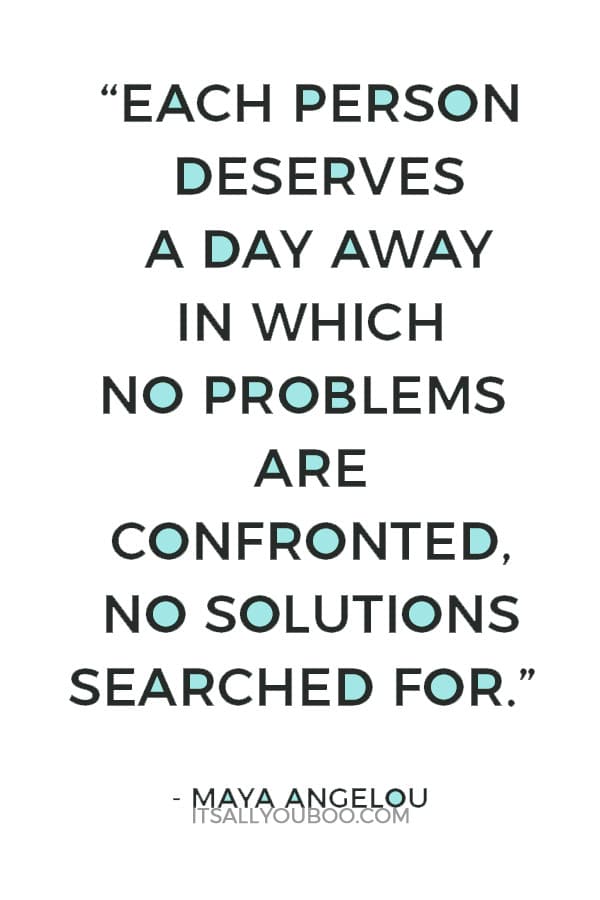 Performing a digital detox will give your brain a chance to relax and recharge while also allowing you to focus on other things in your life.
In order to have an effective digital detox, turn off or silence your phones, stay away from laptops, keep your television off and just enjoy your time off.
Even though this can be difficult to do initially, you may find after a while that you don't even miss having your phone on you or checking out social media.
If you're someone who needs at least a little bit of screen time, allow yourself 15-20-minute breaks to check your phone throughout your day. This will create the perfect balance of unwinding while allowing to stay up to date with happenings.
#2. Invite Friends and/or Family to Participate
Chances are you are not alone in needing a little bit of R&R time. If you want to make your self-care retreat extra fun, invite the people closest to you to take part as well.
This can be for the entire weekend or just for a night, whatever you prefer! Not only will it be much appreciated by those closest to you but having some fun socialization will only benefit your relaxation.
In order to make sure everyone has a fun and relaxing time, ask everyone that you invite beforehand which kind of treatments they would prefer. Doing so will make them feel more included and excited about the relaxing activities!
You can even bring coziness and self-care to your workplace by taking time to Hygge each day.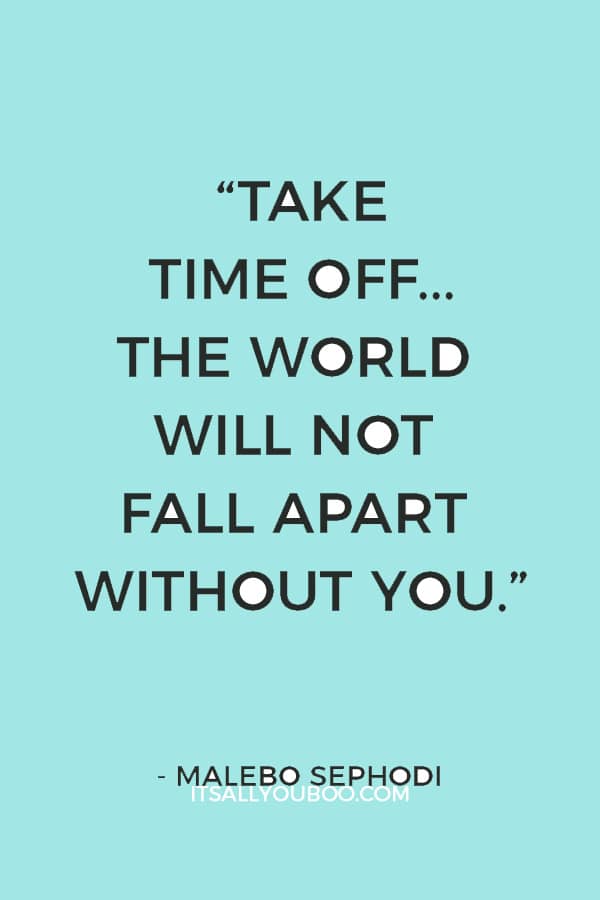 Prepare Appetizers or Just Order In
If you really want to take your self-care retreat to the next level, plan ahead and prepare drinks and appetizers that you think your guests would appreciate.
Depending on how healthy you want to be for the weekend, the kind of food will vary. But since your weekend is all about relaxation, don't stress too much about the food you'll want to make and stick to quick and easy recipes.
This could be by making mini sandwiches for all your guests, delicious smoothies or even creating a cheese platter. Whatever kind of food you prepare, just the act of putting food together will be appreciated.
If you really don't want to have to worry about what you'll make for your guests, don't nix the idea of ordering in! This will help relieve a ton of pressure and will also allow all your guests to order exactly what they're in the mood for.
👉🏽 RELATED POST: 26 Inspiring Self Love Quotes
Mix Fun Cocktails and Drinks
Is there anything that will make your self-care retreat feel more luxurious than having specially created cocktails for it? Serving delicious drinks to your guests will put them on the fast road to relaxation.
No one wants to feel bloated on their spa-cation, so skip the beer and create drinks that are rejuvenating, delicious, and light.
If you want to stick with the well-known tradition of adding cucumber to your spa treatments, incorporate them into your drinks as well with a cucumber margarita or a special take on a gin and tonic.
If you're not well-known for your bartending skills, stick to easier drinks to serve such as hard seltzers or a glass of wine.

#3.
Give Yourself the Entire Weekend
Why only give yourself one free day to fit in your zen time, when you have the entire weekend?
Even though it's highly beneficial for us all to have a mental health day every now and then, giving yourself the full weekend will allow you to fit in all the activities you want while also enjoying full relaxation.
We all get caught up in our daily chores and are constantly reminding ourselves of the things we have to get done, allowing yourself 48 hours of uninterrupted relaxing time will pay off in the end.
Get all your work done during the week, clear your schedule, and just enjoy the weekend!
👉🏽 RELATED POST: Mommy "Me Time" Ideas
#4.
Create Your Self-Care Retreat Agenda
Giving yourself a schedule of the activities planned will give the feeling of actually being at a self-care retreat.
If you're more of a type A personality, chances are you'll already have an idea of what you have planned.
If you plan on having others involved in your self-care retreat, having an agenda or at least an outline of activities planned will make it all the more official and give your guests a sense of direction of what they can expect for their relaxation weekend.
👉🏽 RELATED POST: Self-Care Tips for Parents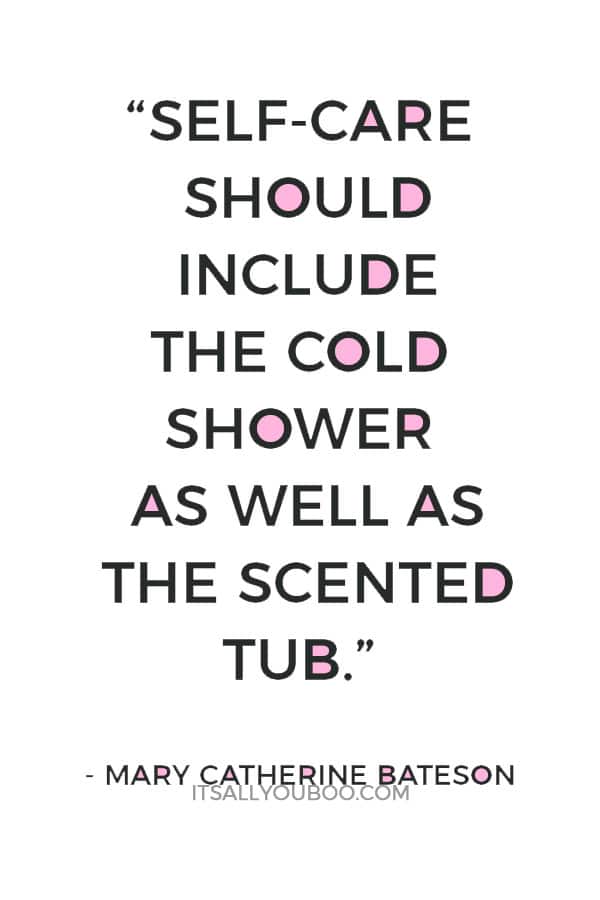 This can be done through creating outlined pamphlets, putting all events on a shared Google calendar or just sending a brief text to all guests with what you have planned.
#5.
Try New Things at Your Self-Care Retreat
Your self-care retreat is all about doing things for you. If there's any kind of luxurious spa treatment you've wanted to try, now is the time! Whether it's trying out a deep-sea mud bath or a facial, trying new things at your self-care retreat is the perfect excuse to treat yourself.
Why Not Get a Message?
Even though most treatments are things you'll be able to do yourself, other kinds of spa experiences such as hot stone or aromatherapy massages will be next to impossible to perform on yourself and really, is there anything more relaxing than a massage?
If this is something you want to make sure you fit into your weekend, don't be afraid to spend a little extra money and splurge on a calming massage.
By no means does this mean you have to leave your oasis though, you can have a personal masseuse delivered right to your door! If you don't feel like calling to make an appointment, there are apps available to make your search that much easier. Massage on-demand app, Soothe is one app available that connects you to top masseuses in your area. It allows you to pick what kind of message you want along with the amount of time you're looking to book it for.
Why not care for your feet, lips or hair?
Having a mini staycation right at home is also the perfect excuse to pay attention to those parts of your body we all tend to forget about such as your feet, lips and even possibly your hair.
👉🏽 RELATED POST: 12 Cheap Self-Care Ideas that Feel Luxurious 

A Self Care Retreat for Your Feet
Even though we're all familiar with pedicures, foot care is often something we neglect. You can take your foot care to the next step by applying specially created foot creams and/or foot masks to give your feet the hydration they deserve!
If you really want to provide extra hydration, apply the cream all over your feet, cover them with fuzzy socks, put your feet up and let your feet soak up the lotion for an hour or two. This will definitely leave your feet feeling as rejuvenated as ever!
Take Care of Your Lips Too
Of course, we occasionally hydrate our lips with Chapstick or lipstick, but it's also important to take the steps in providing some TLC to our smoochers, due to the constant exposure are lips are facing. Use your time within your self-care retreat to apply a lip mask.
Many can be applied overnight but some even have a hue incorporated in them so you can wear it throughout your day as well, giving you some color while helping you to achieve softer, smoother lips! If you'd prefer to go the DIY route, there are plenty of homemade lip scrubs that you can make right within your own kitchen.
👉🏽 RELATED POST: Ways To Pamper Yourself at Home Every Day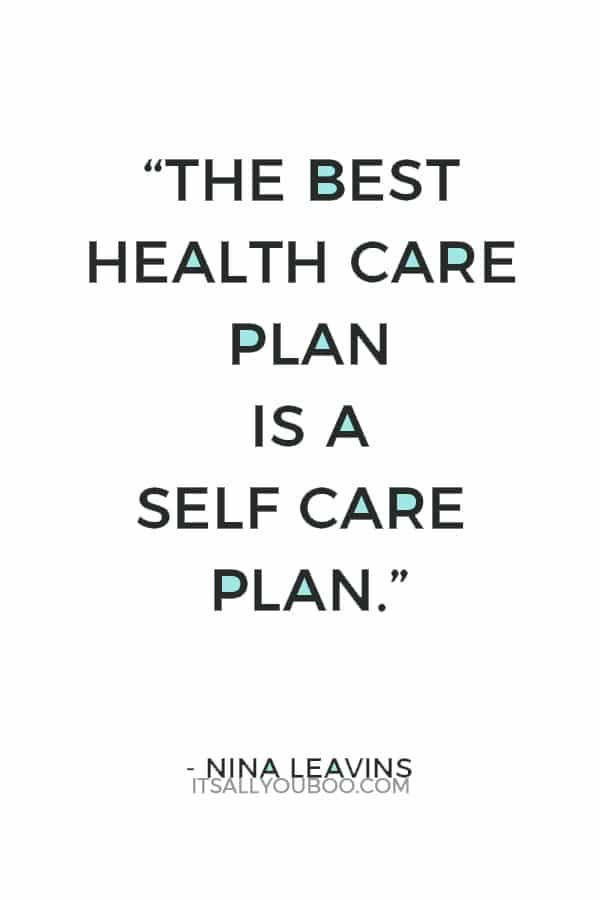 Apply a Hair Mask or Add Color
Although we're all familiar with hair masks, oftentimes, we're so rushed in our daily lives that we hardly ever have time to take care of our hair's needs. Use your relaxing spa time to make and apply that DIY hair mask you've been dying to try.
You'll find many of the ingredients needed are already right at home! Honey, coconut oil, and avocado are some of the popular ingredients needed for an effective hair mask. Depending on the hair treatment you're looking for, your hair masks will vary.
If you want to take your hair to the next level, consider applying a fun color with a semi-permanent hair dye. Trying something new and different will be a fun activity to add to your relaxing weekend and definitely something you'll want to show off Monday morning!


#6. Use the Time to Do Whatever You'd Like
Part of the joy of self-care is to use the time to do whatever most piques your interest. If you've been dying to take a nap, use the time to do so. If there's a face mask you've been wanting to try, make sure to fit it into your day.
Even if you have a full agenda of things that you don't end up getting too, don't stress about it. As long as you've spent your time doing all the things that leave you feeling relaxed and happy, that's what's most important in the end!
Unwind Today at Home with a Self-Care Retreat
Creating a relaxing oasis full of pampering and self-care is the perfect way to unwind and decompress from our hectic and busy lives.
Whether it's for a full weekend or only for half a day, it's important that we all find time to devote to ourselves.
Get Your Printable Self-Care Quotes
Ready to plan your self-care retreat at home? To give yourself the gift of self-care? I've created 10 beautifully designed, printable self-care and self-love quotes for you.
This download comes with high-resolution, graphic quotes that are ready to print and post in your home or office.
These were only 6 of the ways to create a self-care retreat at home but the options are truly endless!
Let me know in your comments below, what are some of your favorite ways that you create a self-care retreat right in your own home?
You'll be so thankful you took the time to pamper yourself at home!
Are you tired, overworked and burnt out? You need to take time for rest and self-care! Here's how to plan a self-care retreat at home by @oVertoneColor. #SelfCare #Wellness #MentalHealth #Relaxation

When will you host your self-care retreat at home?
More About Guest Contributor
This guest contributor article was written by writers at oVertone.co.
Last Updated on May 28, 2023
✕
Get Your Self Love & Care Quotes
+ get weekly tips to help you slay your goals.