Are you bored of working from home? Tired of the monotony of working at home business?
If you're bored of working from home then it sounds like you need a change of routine or something to get you motivated again.
It's not uncommon for the novelty of remote work to wear off and leave you feeling pretty disinterested, but there are a few things you can do to beat the monotony of working from home.
Instead of feeling bored every day, it's essential to try new things to stay creative, productive, and — most importantly — enjoy the remote work you're doing. Let's face it, being in the same space all day every day can be tedious.
Ready to change that? In this piece, we'll cover some signs that you're bored working at home, then set out 10 ways to give the WFH life an overhaul!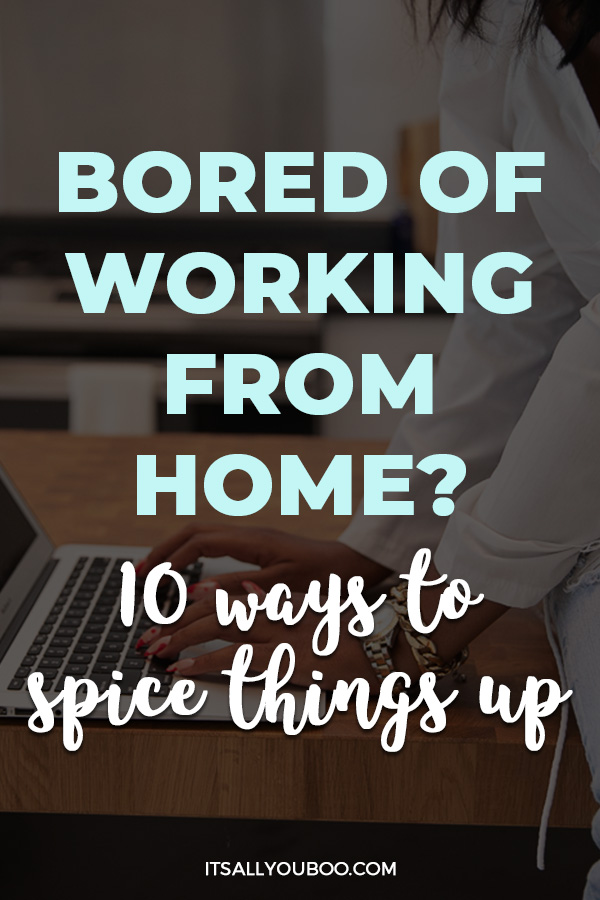 Signs That You're Bored of Working from Home
Being bored of working from home doesn't mean that it's the wrong choice for you overall, but it does mean that something needs to be changed. You should feel motivated in your working environment, but when your office is your home it's easy to get distracted and completely zone out from what you need to be doing.
Top signs that you're bored at home include:
Having issues concentrating for long periods of time.
Being less productive than you are working in an office.
Changing rooms frequently looking for the right space.
Consistently being in a bad mood or feeling lazy.
Making more mistakes than you usually would.
If any of the above apply to you then it's time to overcome the monotony of working from home. Being bored will not only make your day less enjoyable but also have a knock-on effect on the quality of your work, so don't overlook the importance of creating the best work environment you can.
How Will Improving Your Work Environment Help You?
When you become bored of your daily routine, especially when it comes to work, this will inevitably have an effect on your performance. Working at home obviously takes some getting used to if you're used to being in an office, but the adjustment period is at least still motivating to some extent.
It's when you become overly familiar with your repetitive routine that you start to switch off and resent your circumstances.
Recognizing that something needs to be done is the first step towards making things better, though, so don't feel discouraged if you're in that position. It may take a little trial and error to find what works best for you, but in the long run you'll be hugely glad that you made the effort, as you'll have a much more positive view of your work.
👉🏽  RELATED POST: Can't Focus When Working from Home?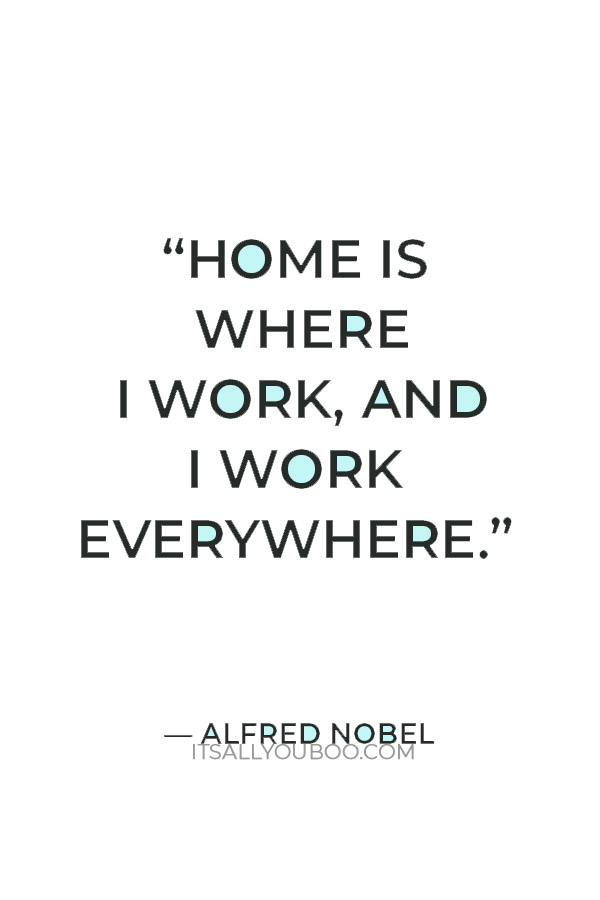 At a minimum, remember, improving your work environment will help you in these ways:

It'll Increase Your Productivity
Nothing is more frustrating than working for what seems like an eternity without actually achieving anything. Improving your work environment will help you shore up your planning and hone your mindset, empowering you to be more effective and efficient. Soon enough you'll find that you're getting more done while feeling that you're working less hard.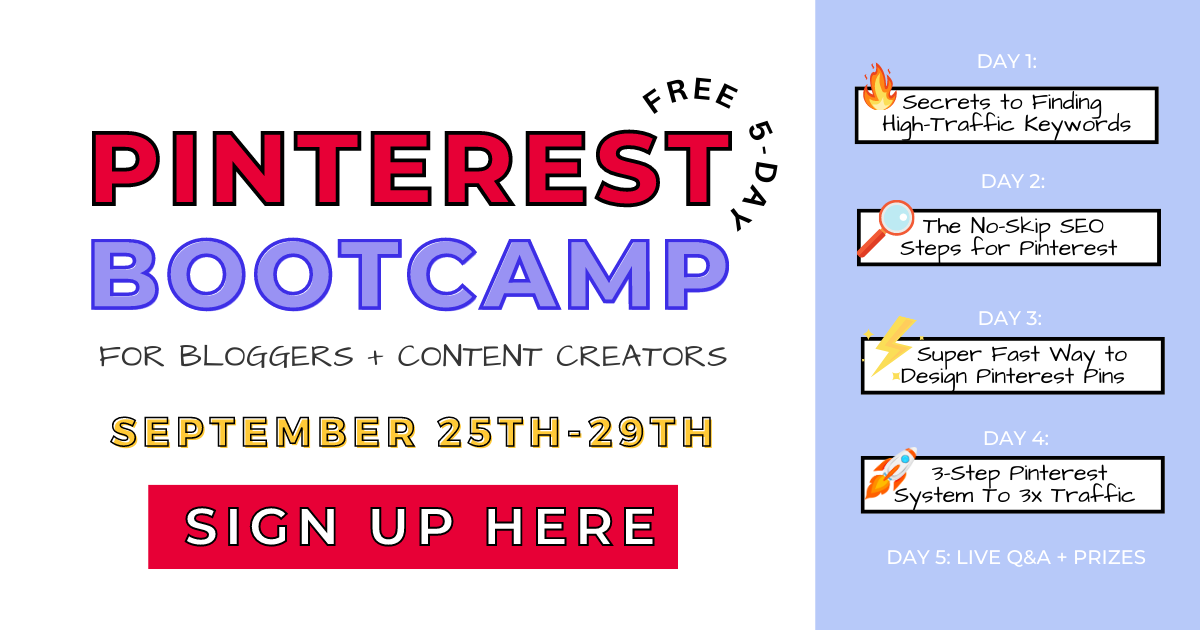 It'll Bring Back Your Motivation
When you know you have a boring day ahead of you, it can massively impact your mood and make you resent your employer. If you can make your work environment better, it can make even the most mundane tasks feel at least marginally more interesting, allowing you to wake up and actually feel somewhat enthusiastic about the day ahead of you.
It'll Improve Your Professional Future
Boredom leads to procrastination, which in turn leads to mediocre results. You may enjoy your job in principle and want to rise through the ranks, but you'll struggle to make progress if your working environment is working against you. If you can build a better home office, you can have more of an impact, helping you land the promotion you've been hoping for.
👉🏽  RELATED POST: 10 SMART Goals for Freelancers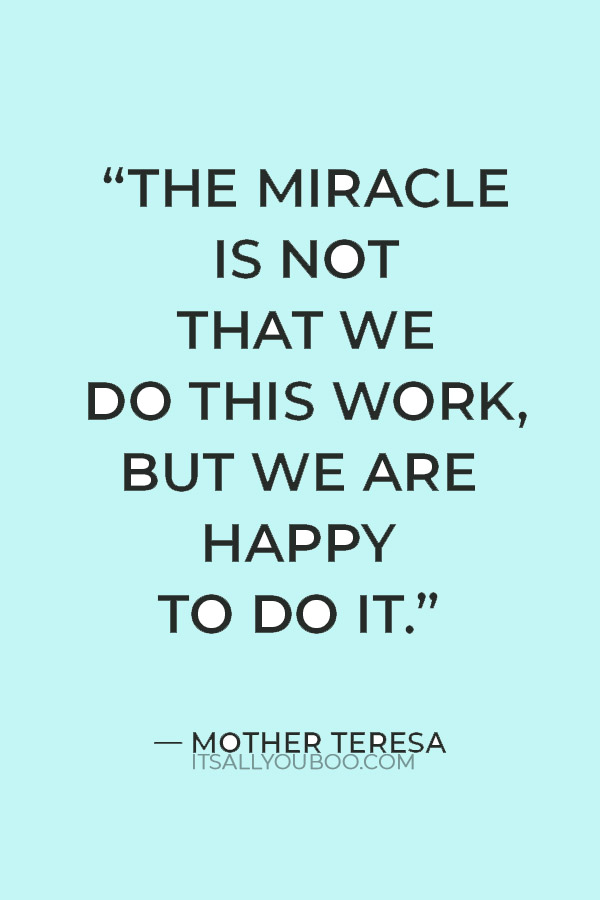 How Can You Make Working from Home Less Monotonous?
If you're bored of working from home, the good news is that there are plenty of ways in which you can spice up your daily routine and improve your zest for working. Nobody wants to be sitting there twiddling their thumbs, but these 10 useful tips can help you beat the monotony of suffering through a dull working week at home:
#1.
Reorganize Your Work Environment
Are you working from your sofa in front of the TV in the living room? Do you have a cramped workspace that is difficult to work from? Sometimes feeling bored of working from home can be down to a poor work setup (including mess, lack of resources, and more) that's more of a burden than somewhere that enhances the way you work.
Creating a new workspace can make you feel inspired, happier, and more focused. Consider upgrading your desk, painting the walls a new color, and adding some cool artwork into your office space to blow away the cobwebs. Forging a new surrounding is a surefire way of creating a new dynamic and positively affecting your mood.

#2.
Incorporate Exercise Into Your Daily Routine
Sitting at your desk for hours is no fun. When you're in an office with other people there are more opportunities to get up and about, whether you're going into meetings or going out for lunch, but things can more easily stagnate when you're working from home.
So why not take opportunities to get away from your desk and get your heart rate up? You could even find a physically active new hobby that gets your body moving.
👉🏽  RELATED POST: 11 Ways to Stay Healthy with a Desk Job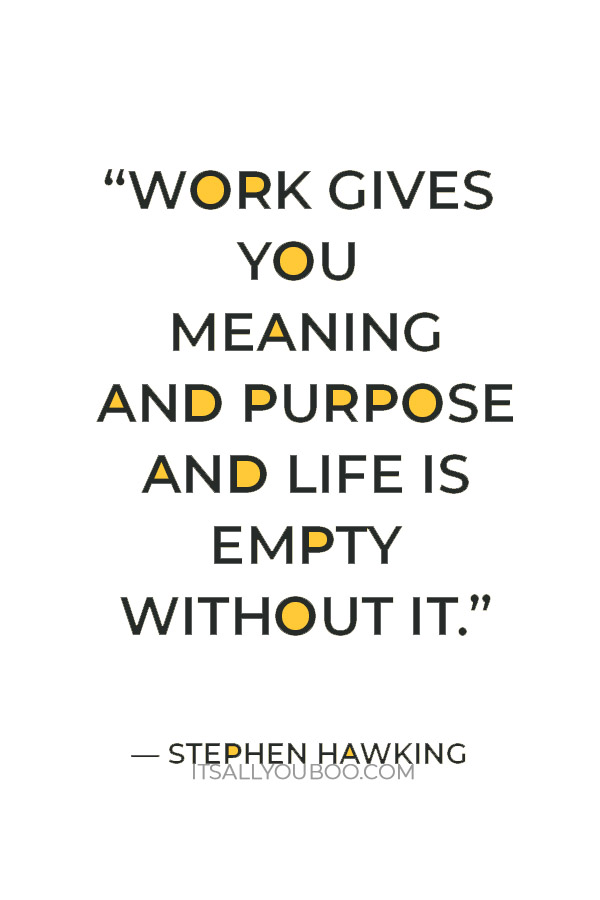 Adding exercise into your daily routine can benefit you in so many ways. You don't have to go for 10-mile runs, too: even going for a short walk before you start work or breaking up the day with a gym session can help beat the monotony of working from home.
Plus, you'll feel less sluggish as the natural endorphins provide a much-needed boost. You'll have a 2-in-1 uplift buoying your body and mind! It's important to exercise daily when working at home.

#3.
Switch Up Your Work Hours
One of the great things about working from home is that you can work flexible working hours (more on this from TalentLyft, so use this to your advantage. Creating a new schedule so you can start later or earlier can get you out of your funk.
It may be that you're more productive later in the day, so shifting your routine by a few hours can make a big difference. If you can, go with how you feel each morning.
Don't cheat yourself out of a lie in if your body needs it! When you work around what your body needs both physically and mentally, you'll find it much easier to stay focused while working. And if it seems impossible due to work commitments, start making some noise about asynchronous operation: there's often no compelling need for workers to be online and working at the same time.

#4.
Create a WFH Playlist
The right kind of background noise can enhance the way you work, and, most importantly, break the monotony of working from home. Try listening to calming music to get you in the zone: you can even create your own playlist with tunes that make you feel happy and motivated. Wear headphones and you won't need to worry about your taste being judged!
Beyond providing background noise, music is great for decreasing stress and helping you focus when silence proves to be distracting. It's important to cater your music selections to your mood.
Do what works for you, whether that's video game music or classical music. If you want to relax and get in the zone, opt for a selection of mellow tunes. If you need an energy boost, break out the all-time feel-good classics.
👉🏽  RELATED POST: Wellness Tips For Working From Home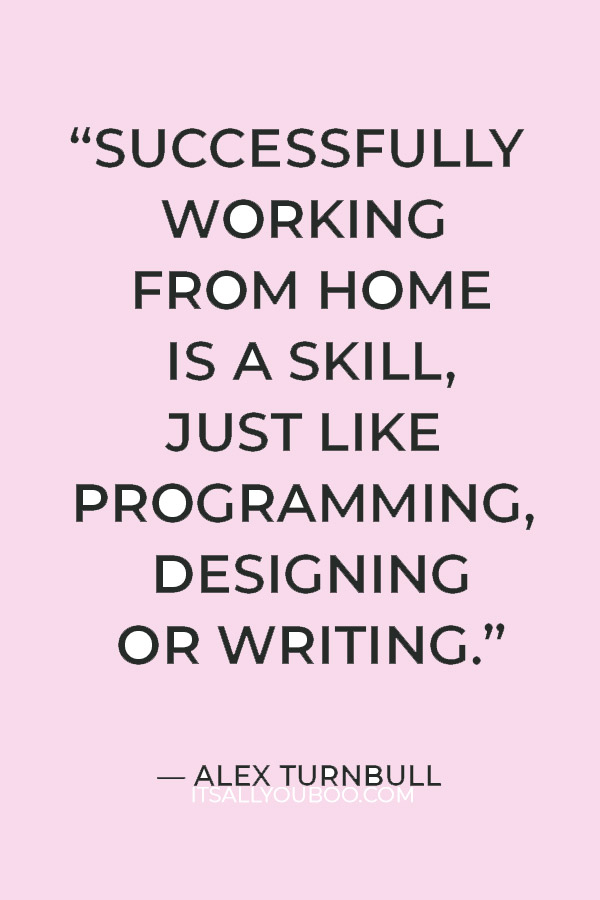 #5.
Plan Your Day in Short Bursts
Everyone needs a plan to arrange their goals, of course, and planning your day hour by hour can be easier to digest than blocking out large chunks of time. If you're wondering how to overcome boredom at home, looking at your day through shorter tasks could be the way forward, helping you to feel less overwhelmed.
When you're facing large tasks and don't know where to start, this can lead you to procrastinate, greatly slowing you down. Breaking things down into small chunks (Workiro has some handy tips for doing this) will make them much more manageable, leading you to feel more accomplished and motivated.

#6.
Try the 50:10 Rule
Too much screen time can drive anyone crazy, so it's important to have regular breaks. If you're wondering how to overcome boredom at home then a simple yet effective solution is to take time away from your screen.
Instead of taking a break from your laptop and going to another device like your phone or TV, follow the 50:10 rule that encourages 10 minute breaks every 50 minutes, and make a real commitment to it. It's like the Pomodoro Technique for working at home.
What should you do with that time? It's totally up to you! Get some fresh air by walking around the block, or do something around the house to give your mind a chance to refresh. This will help you prevent burnout, reduce boredom, and be more productive.
👉🏽  RELATED POST: Stay Motivated Working From Home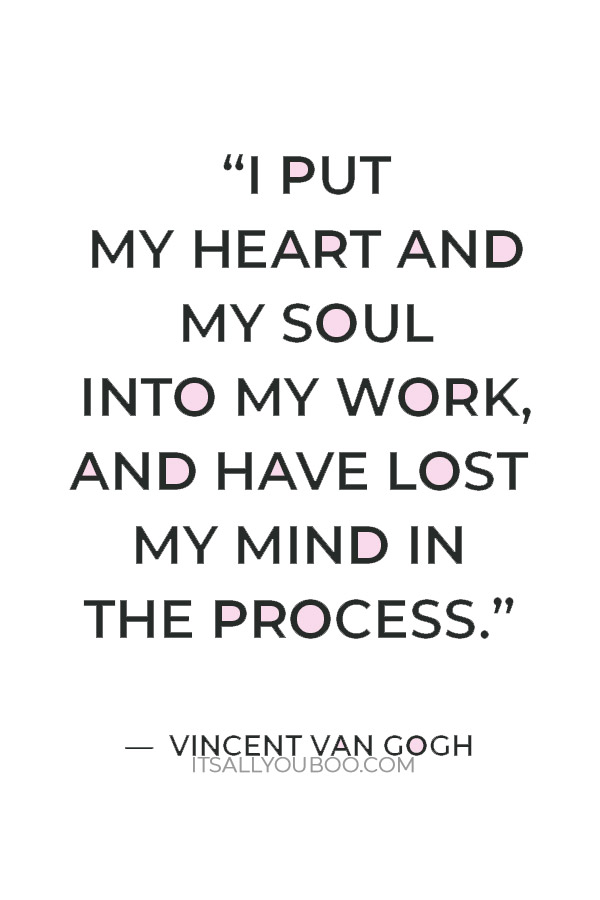 #8.
Invest in WFH Accessories
There's nothing like an accessory or gadget to make you feel excited about starting your day. If you can't get through the day without a constant supply of coffee, for instance, then a mug warmer could be the perfect addition to your desk.
Alternatively, a wireless speaker is a great choice if you're bored of working from home: you can listen to the radio as you work, or use the playlist we talked about earlier to keep you in the zone.
If you look around, you'll find that there are many useful gadgets around: you just didn't know you needed them. And when you're fully equipped with tools that make your work easier (or are simply handy), you'll spend less time making excuses to get away from your desk. Overall, investing in good WFH accessories can be a small change that makes a big difference.

#9.
Organize Remote Coffee Meetings
What do you least enjoy about working from home? If you miss not being around your colleagues in person, this can add to the monotony of being away from the office. Even if you work better on your own (enjoying it more and being more productive), talking to your colleagues regularly is one of the best ways to beat loneliness.
Video calls with your team can thus help alleviate boredom and boost productivity. And if your colleagues are also working remotely, you can take advantage of being in the same boat to share stories and tips.
Weekly catch-ups are great for reconnecting: each of you can grab a coffee and set aside a short while to talk about anything and everything. You might worry about missing vital working time, but getting back to your workload feeling refreshed will help you get things done much faster.
👉🏽  RELATED POST: 14 Working From Home Productivity Tips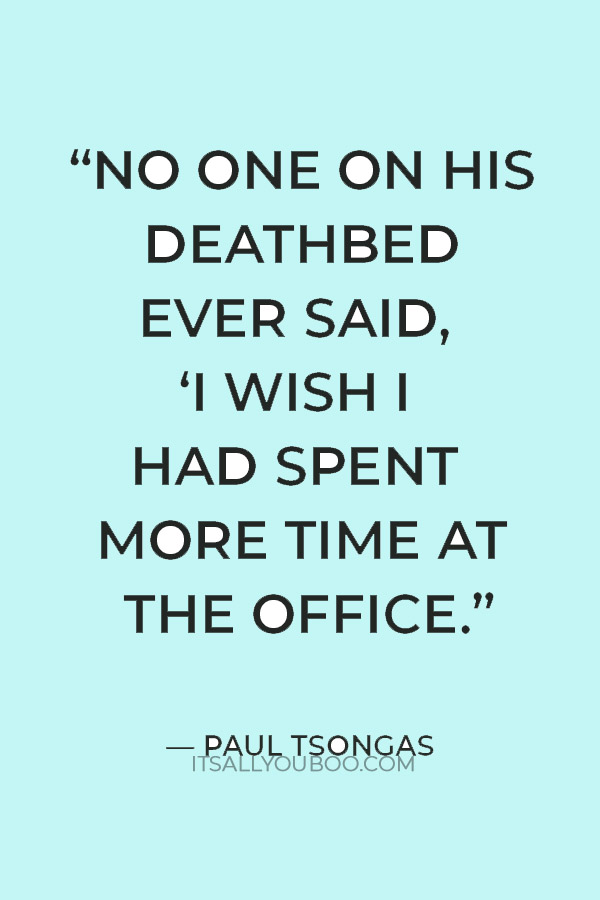 And since we're all now used to using tools such as Slack for instant messaging, video calls, and more, there's no reason not to reach out if you're feeling down. It can be scary to be so proactive, but you'll probably find that others are just as eager to talk as you are!
Even just taking a moment for a short mindful coffee meditation in your morning can boost your day.

#10.
Practice Your Favorite Hobby
It's tempting just to sit using your phone during lunch breaks, but this won't help when you're already feeling bored and sluggish. Instead, schedule time to practice your favorite hobby or take up something new so you have something to look forward to.
Sometimes stepping away from your desk and doing something more fun can help you overcome a challenge when you return to work as you'll be in a different frame of mind.
Work can very quickly become your main priority leaving little time for the things you love. Balance is key! Whether you want to take up running again or maybe just enjoy a spot of painting, taking 30 minutes out of your day to doing something you enjoy can prevent boredom and help the day pass quicker.
👉🏽  RELATED POST: SMART Goal Examples for Work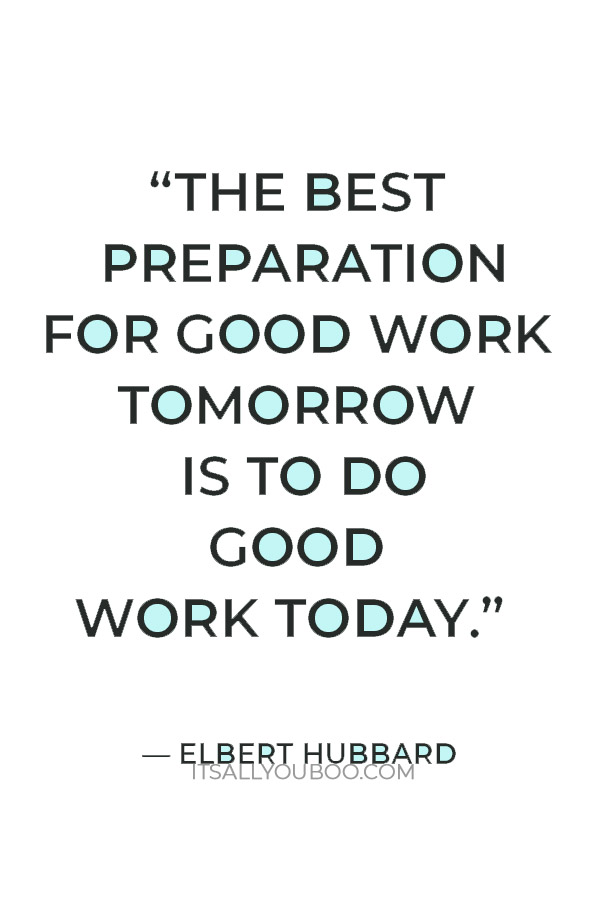 #11.
Work Outside in the Sunshine
Summer is the perfect season for getting outdoors and enjoying some afternoons working in the sunshine. You won't feel bored working from home when you have a great outdoor setup! Similarly to reorganizing your work environment, having a complete change of scenery can be enough to radically change how you feel.
Live in a drab area? Why not take a working vacation somewhere nicer? Some employers are even willing to sponsor their employees to work overseas full-time.
They can only achieve this using services like Remote, admittedly (an employer of record service covers things from payroll to legal concerns), but if you can promise a big bump in productivity from a move abroad then it's possible you could convince your boss! Why not try asking?

Take the FREE Productivity Challenge
Ready to be productive instead of feeling bored working at home? Sign up for the FREE 3-Day Productivity Challenge, with daily video lessons and a printable workbook.

It's normal to feel bored of working from home or disinterested in the monotony of being disconnected from your team, but there are plenty of ways to spice things up.
Give these 10 tips a go and you can make working from home a lot less boring!
Bored of working from home? Tired of how monotonous every day is? Click here for ten ways to spice up WFH life by @EcomPlatformsio. Get excited about remote work again! #WorkAtHome #WorkingAtHome #WFH #RemoteWork

Are you bored of working from home?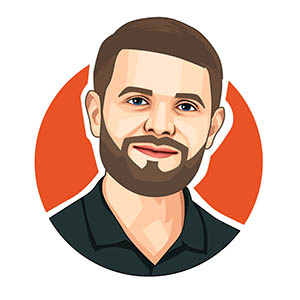 More About Guest Contributor
Rodney Laws is an eCommerce expert with over a decade of experience in building online businesses. Check out his reviews on EcommercePlatforms.io and you'll find practical tips that you can use to build the best online store for your business. Connect with him on Twitter @EcomPlatformsio.
Last Updated on August 25, 2022
✕
Join the FREE Productivity Challenge
+ get weekly tips to help you slay your goals.