Looking for inspirational Chadwick Boseman quotes?
Want to relive the more memorable Black Panther quotes?

My heart is heavy with the loss of Chadwick Boseman. 2020 has been a year that just feels as if it keeps on taking.
He meant so much to all of us, in many ways he was the best of us.
His commitment to portraying excellence was only matched by his own. Although I did not know him personally, there was a light and fire to him and genuine kindness and compassion.
It was mesmerizing and marvelous to behold. Not only in his acting, but in his own right. In his many iconic roles in black culture, like James Brown, Jackie Robinson, Thurgood Marshall as well as King T'challa, he brought life to ageless heroes.
Chadwick Boseman was undeniably the most defining American actor of this time, and his abundance will be felt for generations. To honor and remember him, here are 42 most memorable Chadwick Boseman quotes. May you rest in power.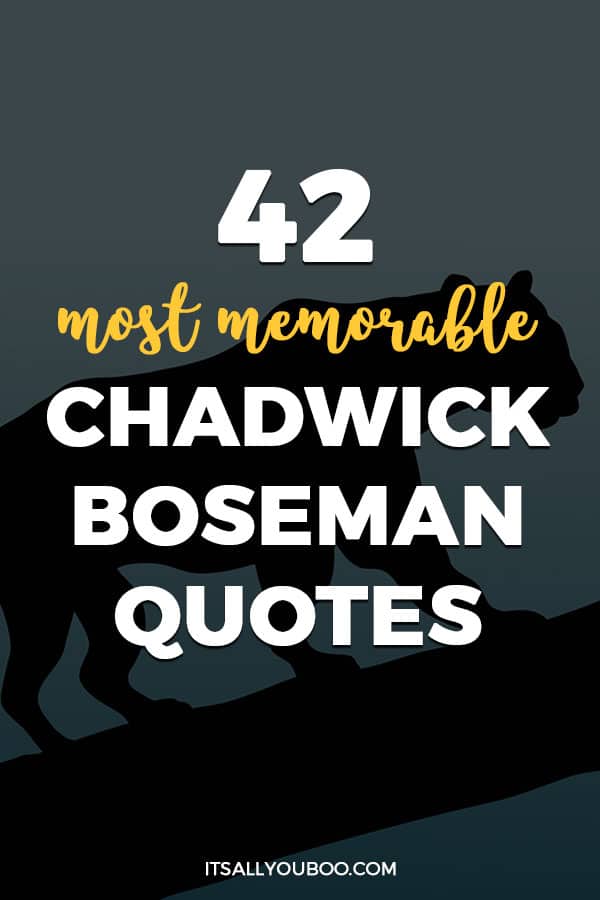 Motivational Chadwick Boseman Quotes
Need the motivation to be your best self? To push beyond boundaries and barriers? This first collection of memorable Chadwick Boseman quotes to encourage and challenge us to push ourselves, to show up, and to live a life of purpose. Most are taken from his motivational 2018 Howard Commencement Speech. Let these Chadwick Boseman quotes on purpose change your life.
1. "You would rather find purpose than a job or career. Purpose crosses disciplines. Purpose is an essential element of you. It is the reason that you're on the planet at this particular time in history. Your very existence is wrapped up in the things you are here to fulfill."
👉🏽  RELATED POST: Empowering Graduation Quotes for Life After College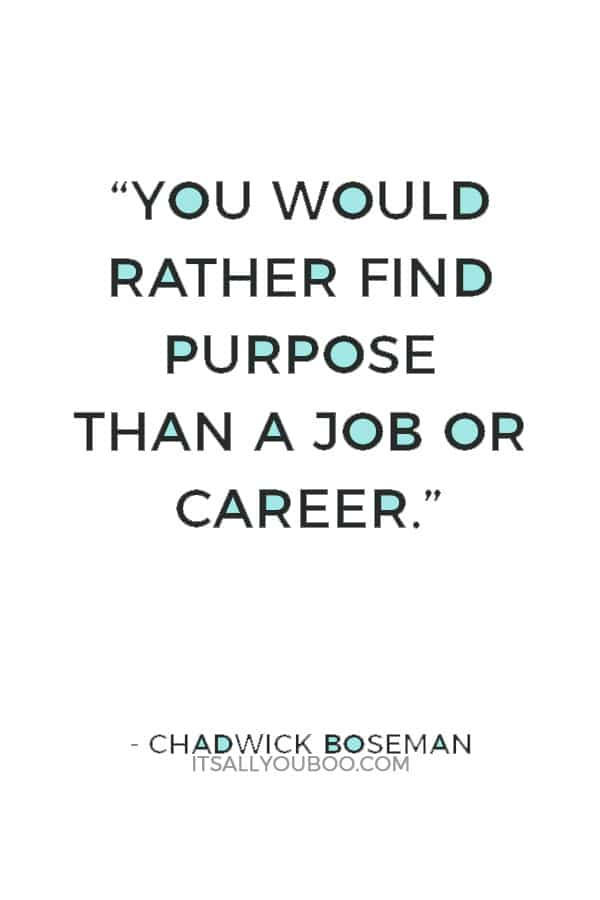 "You might have one thing in your head, but the things you're doing don't really lead down the right road, necessarily. When you're young, you don't want to hear that. You think you can do everything, be all things."
3. "To be young, gifted, and Black. We all know what it's like to be told that there is not a place for you to be featured. Yet you are young, gifted and Black. We know what it's like to be told there's not a screen for you to be featured on, a stage for you to be featured on. We know what it's like to be the tail and not the head. We know what it's like to be beneath and not above.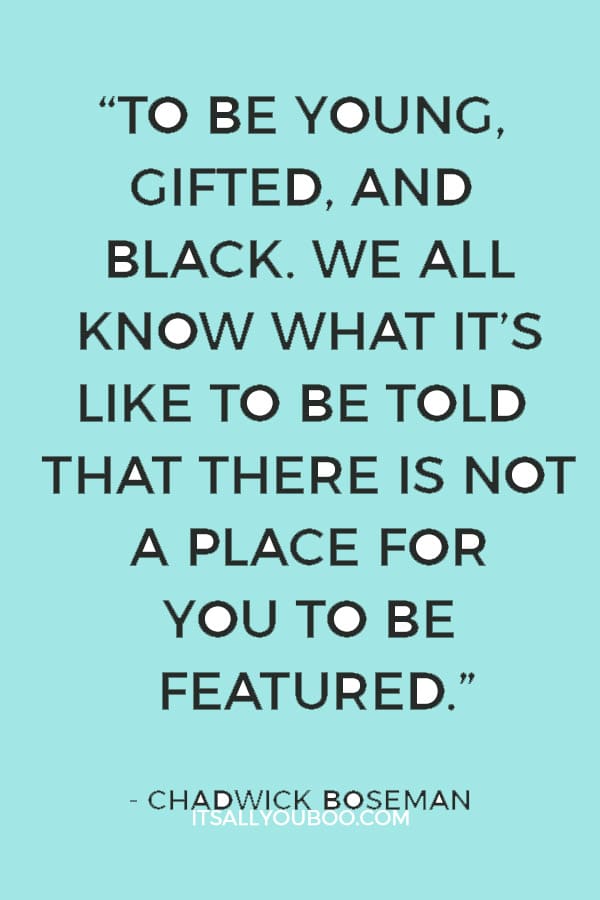 4. "Sometimes your grades don't give a real indication of what your greatness might be."
"Whatever you choose for a career path remember the struggles along the way are only meant to shape you for your purpose."
6. "As you commence to your paths, press on with pride and press on with purpose."
Chadwick Boseman Quotes about Hard Work
Are you working hard for success? Making the necessary sacrifices to achieve your goals in life? The following Chadwick Boseman quotes are about hard work and dedication. About showing up and putting in the necessary time to hone your craft. Sometimes it isn't always the easy way.
7. "That is what we went to work with every day. Because we knew that we had something special that we wanted to give the world. That we could be full human beings in the roles that we were playing. That we could create a world that exemplified a world that we wanted to see."
👉🏽  RELATED POST: Quotes About Working Hard for Success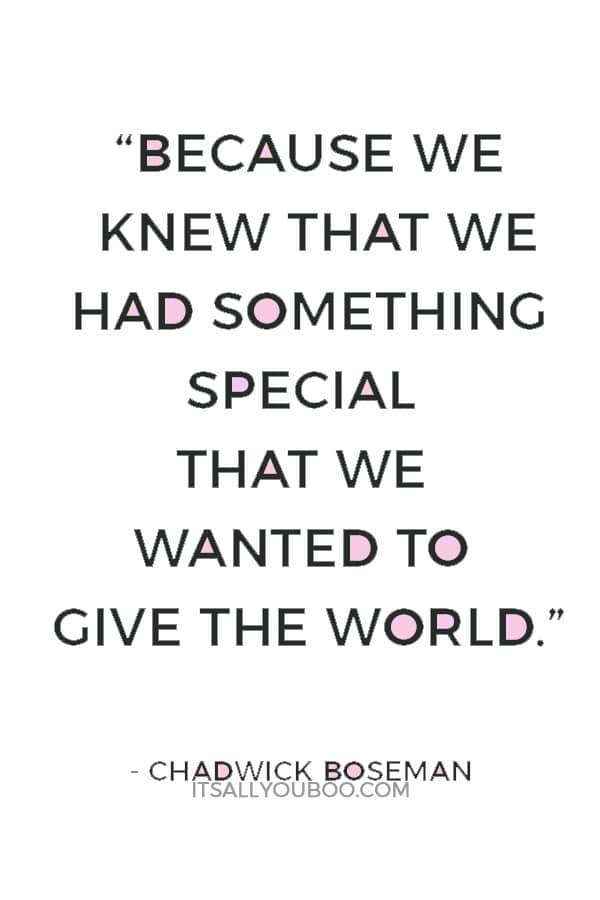 8. "You can say you worked hard, but you can't say you deserved it. You can say you wished for it and prayed for it, but you can't say you made it happen."
"Sometimes that's the irony of life that during the most difficult moments you look back on it and you realized how much you enjoyed it—how much you could celebrate it."
10. "Sometimes you need to feel the pain and sting of defeat to activate the real passion and purpose that God predestined inside of you."
👉🏽  RELATED POST: Feel Like Giving Up Quotes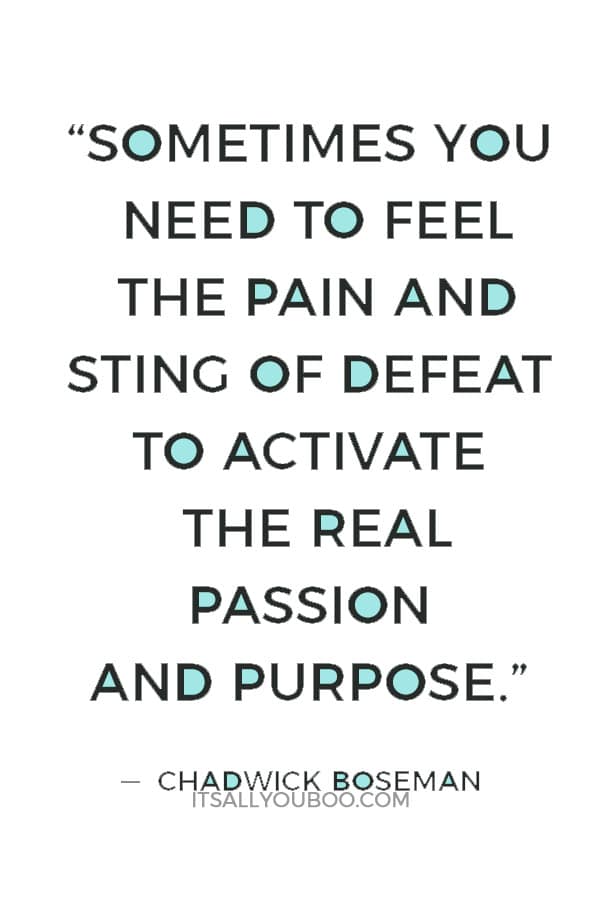 "When you pray for something, it can actually happen. And that is powerful."
12. "There's nothing more stressful than your stomach growling. But interestingly enough, some of my best writing came when I was poor and hungry – living off water and oatmeal, mind clear."
13. "Sometimes you need to get knocked down before you can really figure out what your fight is and how you need to fight it."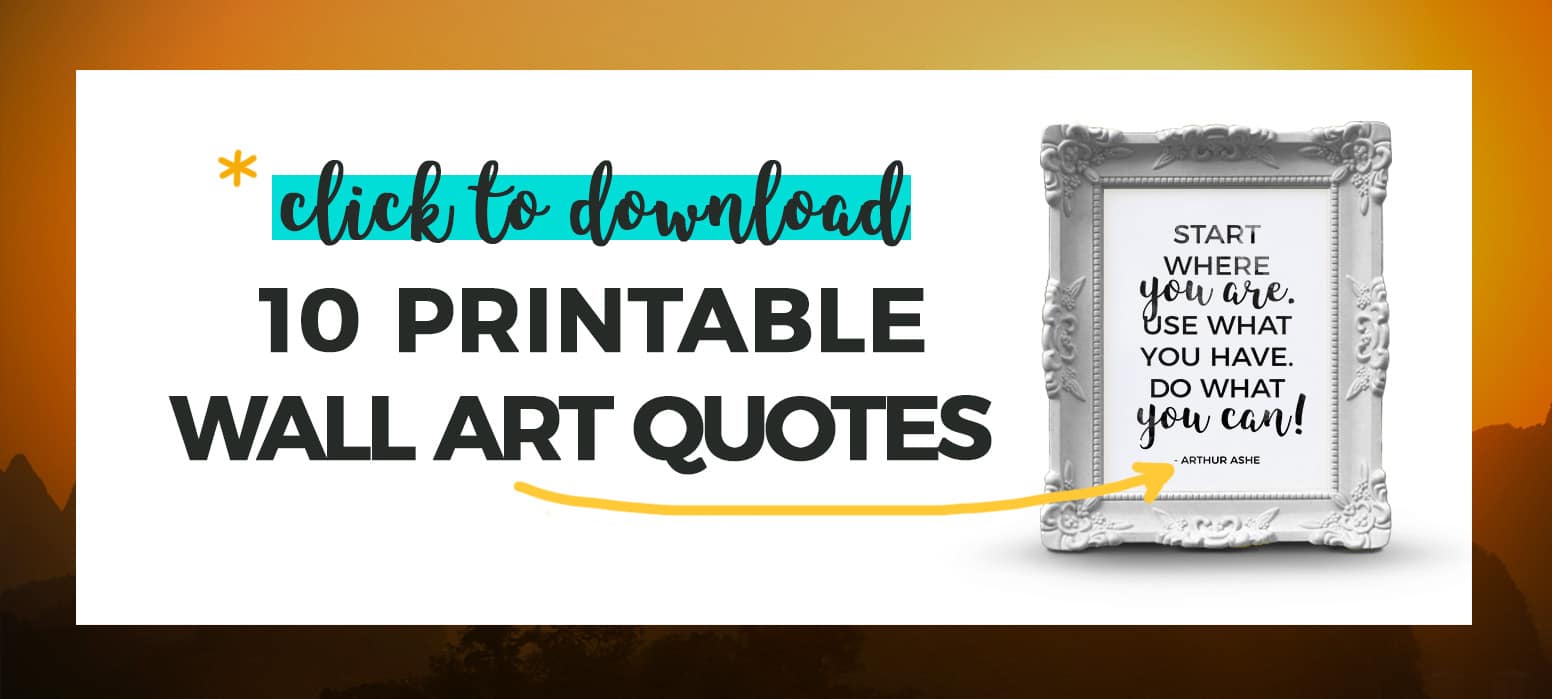 Inspirational Quotes about Moments and Time
Are you making the most of the time your have? Are you cherishing your moments in time? This selection of Chadwick Boseman inspiring quotes will move us to enjoy the moments, and make the most of them. He knew his time was limited, do you? You have to be present.
14. "At this moment, most of you need some realizations because right now you have some big decisions to make. Right now, I urge you to—in your breath, in your eyes, in your consciousness—invest in the importance of this moment. And cherish it."
15. "You have to cherish things in a different way when you know the clock is ticking, you are under pressure."
👉🏽  RELATED POST: Quotes About Staying Calm in a Crisis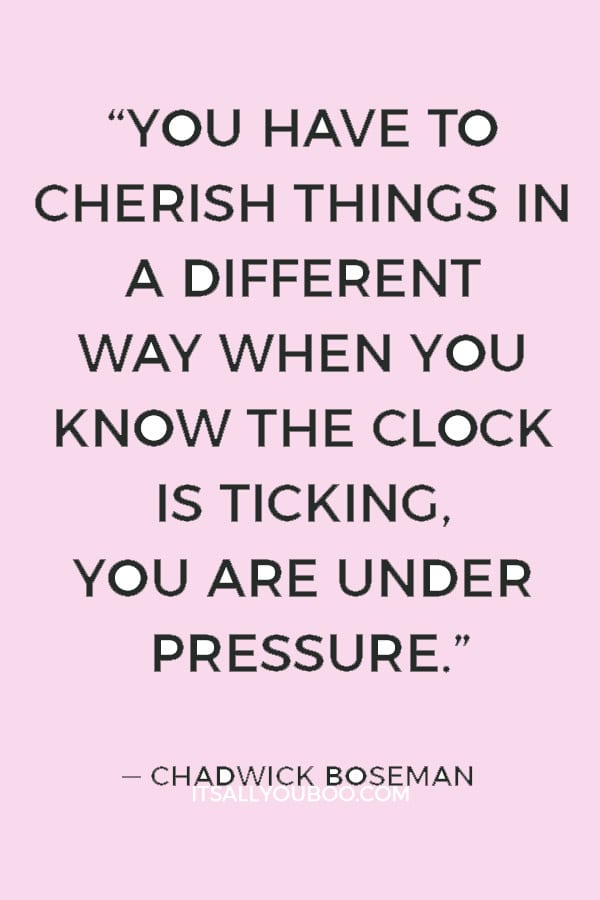 16. "I don't know what your future is, but if you're willing to take the harder way, the more complicated one, the one with more failures at first than successes, the one that has ultimately proven to have more meaning, more victory, more glory—than you will not regret it."
17. "I might have had too many friends in my twenties. I probably said yes too much, and then I had to learn how to say no. How to get away in order to work on stuff."
👉🏽 RELATED POST:  Inspirational Juneteenth Quotes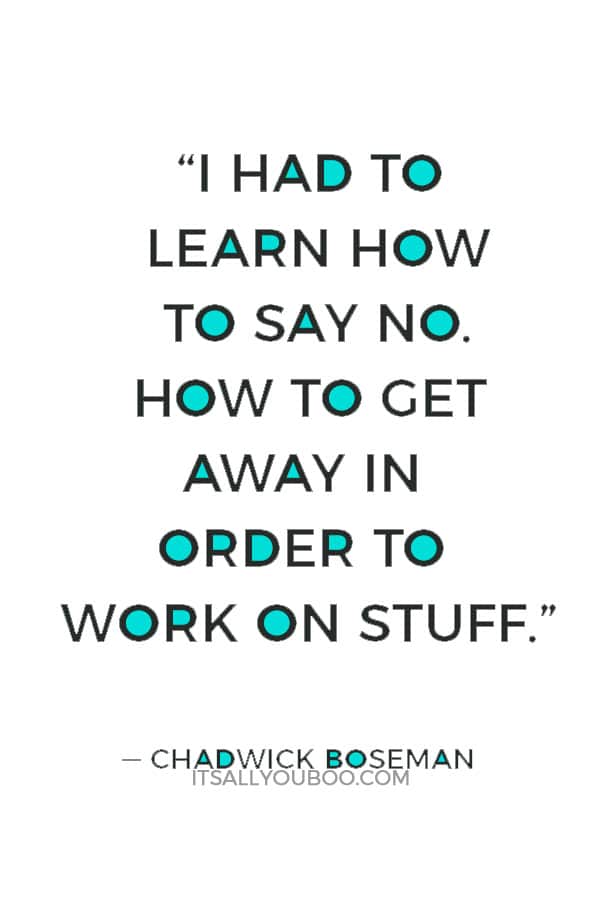 "I think you realize how much you need to have people that you love. It's not as much about them loving you – it's about you needing to love people."
19. "But now that the rain has stopped and today's storm has cleared, I urge you to go outside and take a DEEP breath. Notice how fresh the air is right now. Thank God for the unique beauties and wonders of the day. We should take advantage of every moment we can to enjoy the simplicity of God's creation, whether it be clear skies and sun or clouded over with gloom."
Chadwick Boseman Quotes on Conflict
Did you know that life is a struggle against self? That the only person you are in competition with is you? These insightful Chadwick Boseman quotes about conflict help us to understand that we need to make hero choices for ourselves. That our entire life is about choice. Are you making the right ones?
"Whatever you choose for a career path remember the struggles along the way are only meant to shape you for your purpose."
21. "What they don't realize is the greatest conflict you will ever face will be the conflict with yourself."
👉🏽  RELATED POST: Black History Month Quotes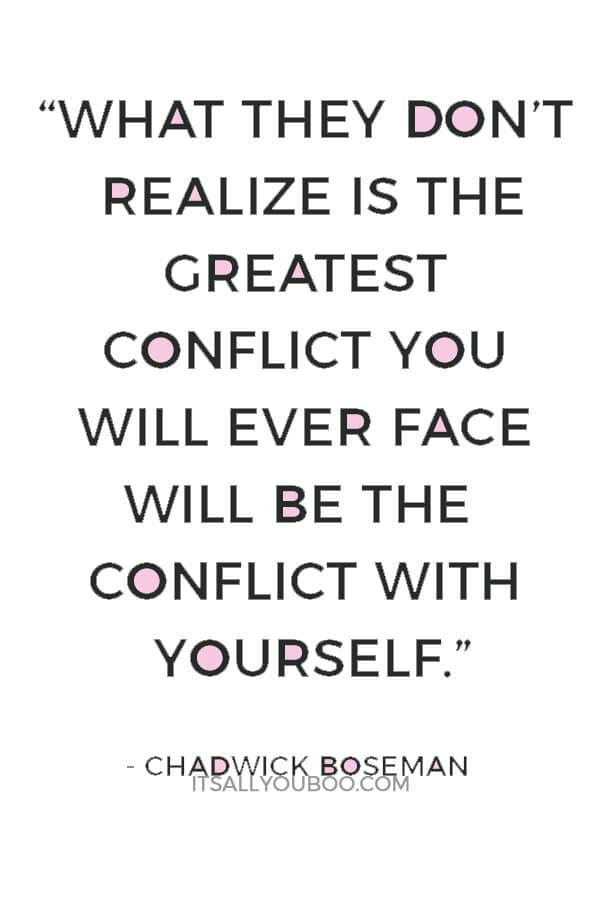 22. "Everybody is the hero in their own story—you should be the hero in your own story. You should see yourself conquering the dramatic action of whatever you're trying to do so that when you get to crisis, you know how to deal with it. You should be able to do that. There are people that come in to help you with your story, but you have to be the person who deals with the conflicts that are in place. Even if you pray to God, God expects you to do some things."
23. "Guys are natural problem solvers – they like to have strategies."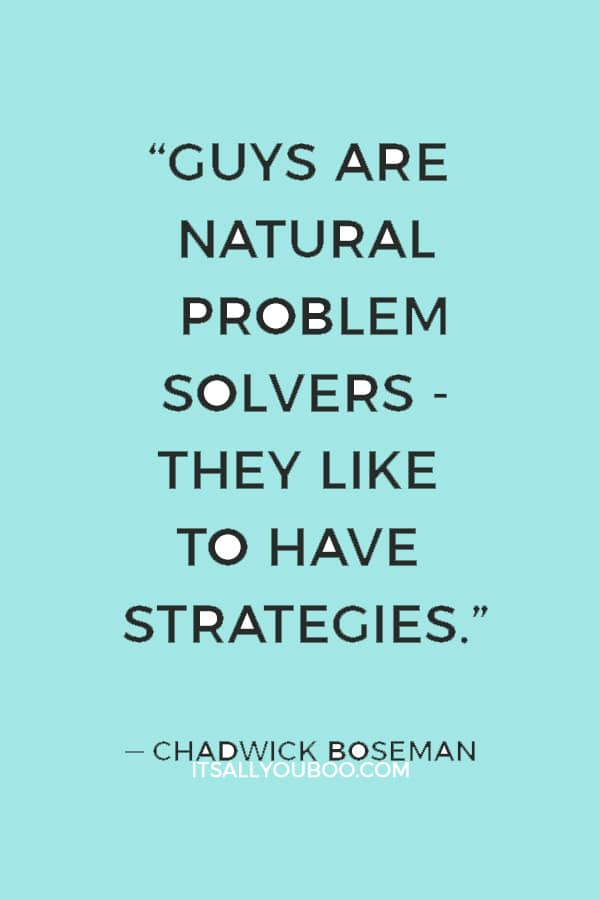 24. "Some people would view Jackie Robinson as a very safe African-American, a docile figure who had a tendency to try to get along with everyone, and when you look at his history, you learn that he has this fire that allows him to take this punishment but also figure out savvy ways of giving it back."
"The only difference between a hero and the villain is that the villain chooses to use that power in a way that is selfish and hurts other people."
Memorable Chadwick Boseman Quotes on Acting
Are you an artist or an actor? Looking for sage wisdom to help you hone your craft? This selection of Chadwick Boseman of quotes let us his audience in on his process. He shares the secrets of how he creates such vivid and real characters in his movies.
26. "I'm an artist. Artists don't need permission to work. Regardless of whether I'm acting or not, I write. I write when I'm tired in fact, because I believe your most pure thoughts surface."
👉🏽  RELATED POST: Martin Luther King Quotes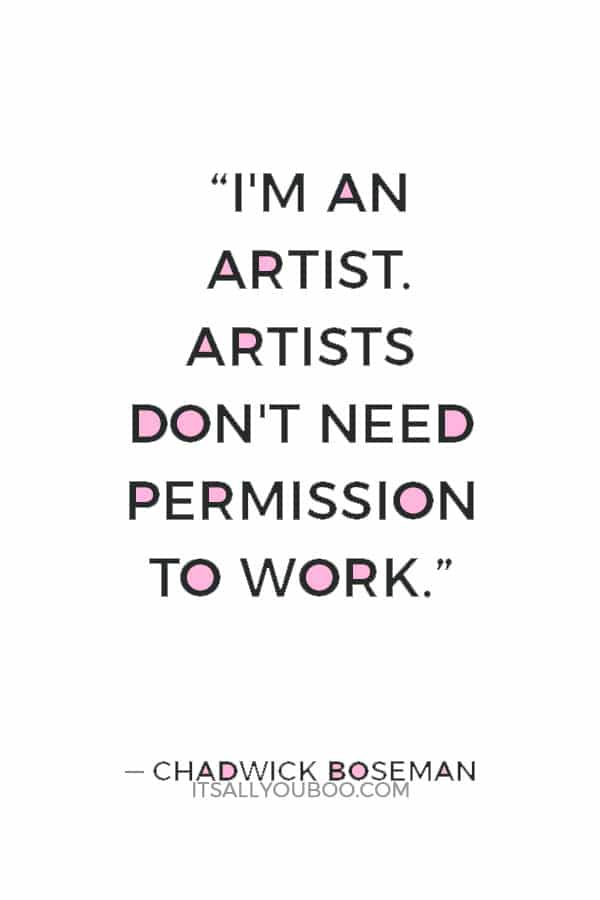 27. "Fearlessness means taking the first step, even if you don't know where it will take you. It means being driven by a higher purpose, rather than by applause. It means knowing that you reveal your character when you stand apart, more than when you stand with the crowd."
"The number one rule of acting is: Do not seek approval from the audience. People don't realize that. You can't do stuff to get applause. You have to live in the truth."
29. "When you play characters, you shouldn't just be putting on their characteristics — you should be finding it inside yourself."
"I try to look at every role the same way, regardless of whether the character is real or the character is fantasy. I always start from myself, because you have to know yourself first."
31. "You're not free unless you can show the good and the bad, all sides of them. So to me, when I play a character, it's important that I can show every aspect of them."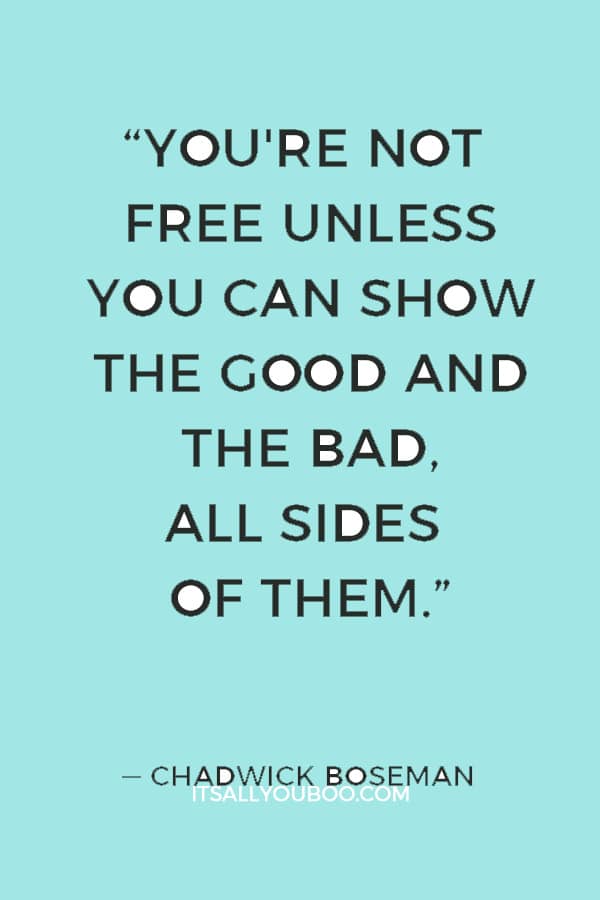 32. "People often ask, 'What is Black Panther? What is his power?' And they have a misconception that he only has power through his suit. The character is existing with power inside power."
King T'Challa and Black Panther Quotes
What are the best Chadwick Boseman quotes from Black Panther? This final selection of memorable quotes is by King T'Challa in the Marvel movies. His most iconic role, Chadwick Boseman will be king forever.
33. "The Black Panther has been a protector of Wakanda for generations. A mantle passed from warrior to warrior."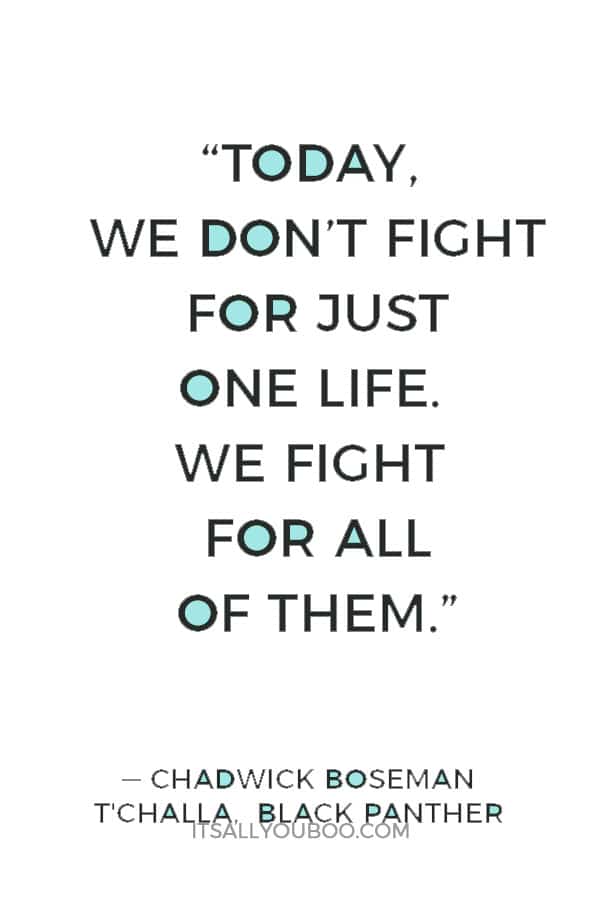 34. "Today, we don't fight for just one life. We fight for all of them."
35. "I never yielded! And as you can see, I am not dead!"
"Vengeance has consumed you. It's consuming them. I'm done letting it consume me. Justice will come soon enough."
37. "I will not abandon someone to die, when I have the means to save his life."
38. "You were wrong—all of you were wrong—to turn your backs on the rest of the world! We let the fear of discovery stop us from doing what is right. No more! I cannot stay here with you. I cannot rest while He sits on the throne! He is a monster of our own making! I must take the mantle back. I must! I must right these wrongs!"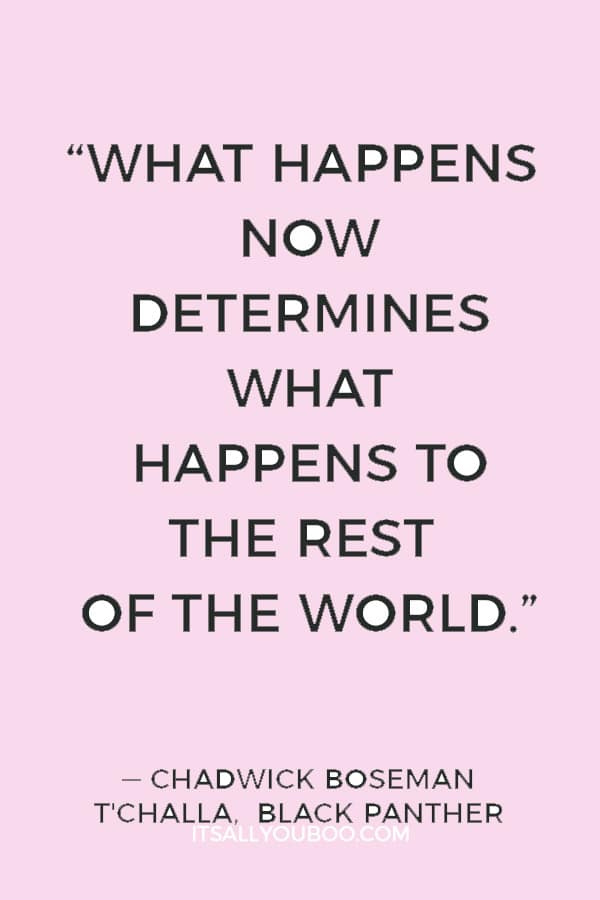 39. "What happens now determines what happens to the rest of the world."
40. "Wakanda will no longer watch from the shadows. We can not. We must not. We will work to be an example of how we, as brothers and sisters on this earth, should teach each other. Now, more than ever, the illusions of division threaten our very existence."
41. "We all know the truth: more connects us than separates us. But in times of crisis the wise build bridges, while the foolish build barriers. We must find a way to look after one another, as if we were one single tribe."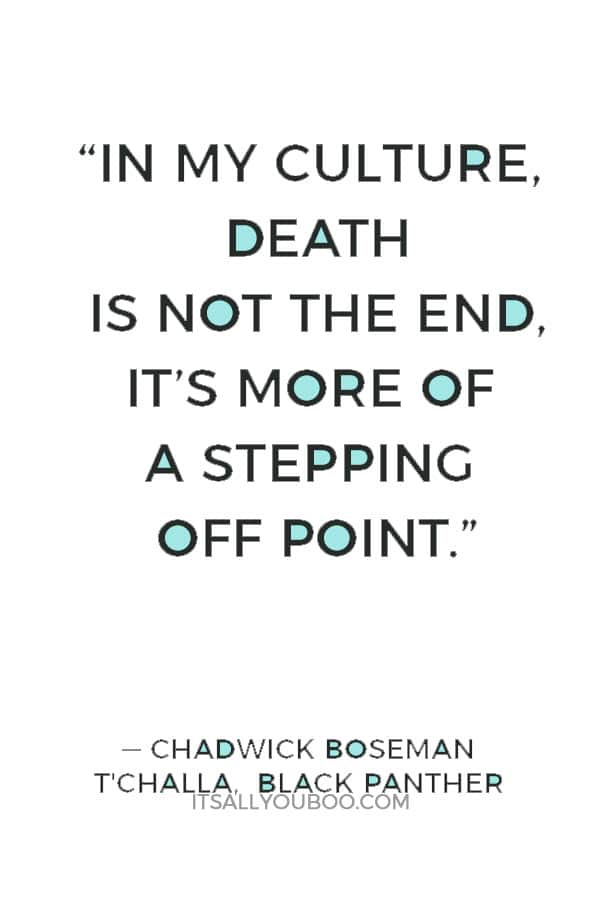 42. "In my culture, death is not the end, it's more of a stepping off point. You reach out with booths hands and Bast and Skhmet, they lead you into a green veld where… you can run forever."
Printable Black & White Wall Art Quotes
Looking for motivational and inspirational quotes? Get your free printable black and white wall art quotes that are perfect for your home, office, bedroom or wherever you need to find inspirational daily. Each design is black and white and features brushed ink letter detailing.
This download comes with 10 high-resolution graphics ready to be printed and posted.
My heart is cracked open with gratitude and grief for you.
Although you have moved on, your spirit lives on with us. You gave us all of you, without restraint and without complaint.
Thank you. Rest in Power, Chadwick Boseman.
Looking for the best Chadwick Boseman quotes? Here are 42 most memorable Chadwick Boseman quotes from interviews and movies like Black Panther. Rest in Power, Chadwick. #BlackPanther #InspirationalQuotes

What's your most memorable Chadwick Boseman quote?
Last Updated on June 4, 2023
✕
Get Your Printable Quotes
+ get weekly tips to help you slay your goals.