Looking for quotes about being calm under pressure? Are you feeling stressed, overwhelmed, or at the point of breaking?

On some level, we all are feeling it right now. It's completely normal given all that's happening this year.
What's adding pressure to your life right now?
Let me take a guess. Is it the pressures of everyday life mounting, like financial worries in the crisis, working at home with kids, or even trying to stay sane while social distancing?
Maybe for you, it's the emotional turmoil of all that's happening around you. It's hard to not feel the pressure building like bricks being placed on you one by one.
What exactly is pressure? Feeling under pressure means being stressed out, overwhelmed with life or work, and near the breaking point. Are you?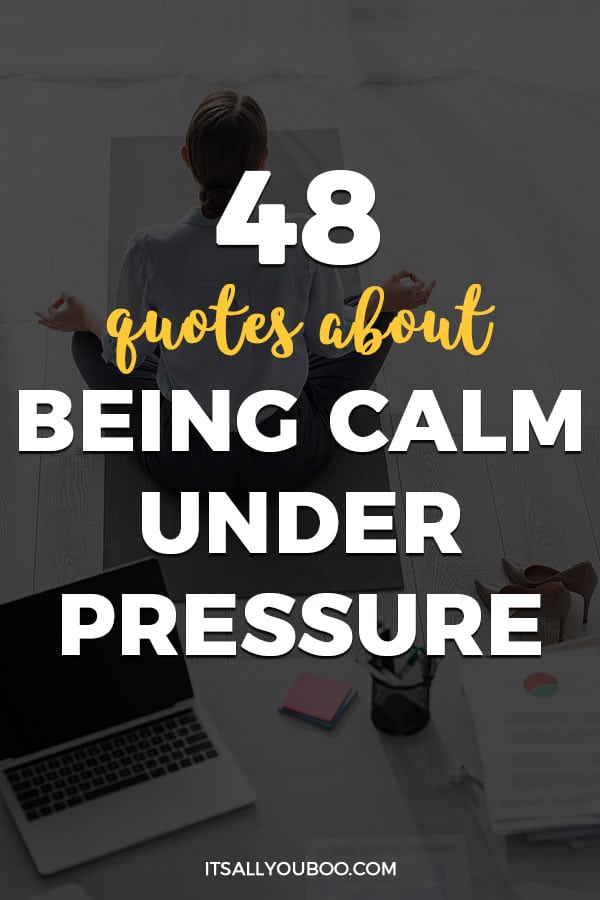 The signs and symptoms of stress are compounding and far-reaching, from impacting your sleeping and eating patterns, chest pains, and headaches, to mood swings, depression, extreme sadness, and emotional outburst.
What signs are you seeing in yourself? How can you relieve them?
Being under pressure is no joke and shouldn't be ignored. You have to find a way to relieve the pressure and deal with stress in your life.
To help you relieve the pressure, here are 48 quotes about being calm under pressure. May they help you deal with the stress, overwhelm, and anxiety you're feeling right now.
Quotes About Dealing with Stress and Pressure
What do you do when you're feeling under pressure? How do you respond to stress? This first collection of quotes about being under pressure shows us healthy ways to handle our stress. Don't just sit with it, find a way to let it out and let go of it.
👉🏽  RELATED POST: 118 Quotes About Calming Down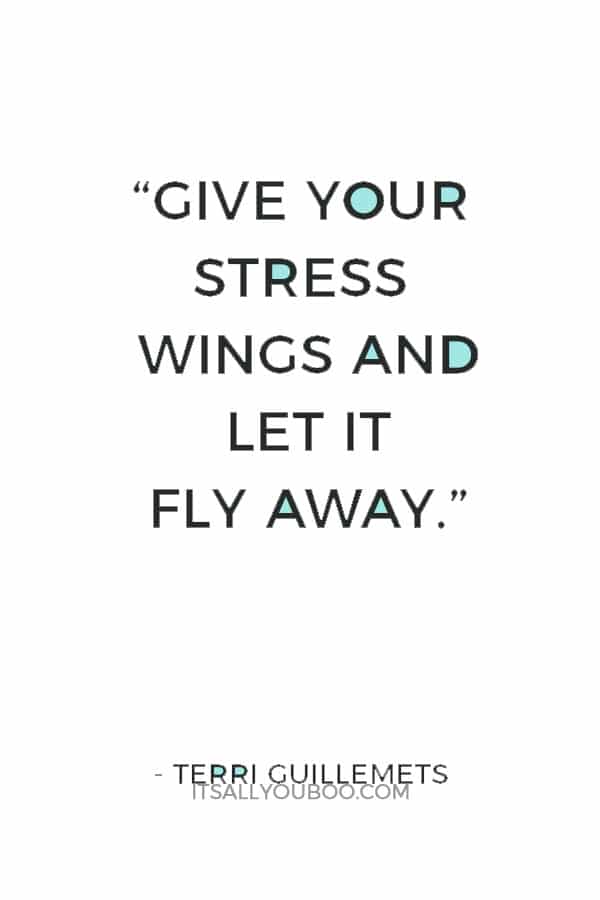 1. "Give your stress wings and let it fly away." — Terri Guillemets
"The ability to remain calm and focused in stressful situations is central to making positive decisions." — Goldie Hawn
3. "I think I approach pressure by having discipline and learning to be calm in everyday life. I do this with a daily mindfulness practice and commitment." — Christen Press
👉🏽  RELATED POST: Mindfulness Activities to Stop Living in Crisis Mode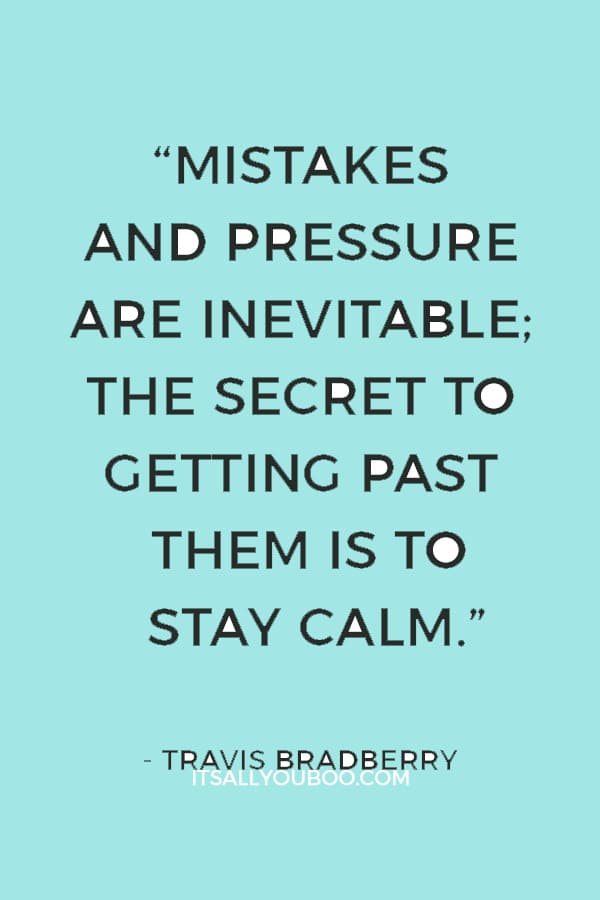 4. "Mistakes and pressure are inevitable; the secret to getting past them is to stay calm." — Travis Bradberry
5. "Sometimes, when you're doing too much, things get overwhelming. So I just have to calm myself down and think, 'What would my mama want me to do?'" — Megan Thee Stallion
"Crying relieves pressure on soul." ― Toba Beta
7. "Nobody works better under pressure. They just work faster." ― Brian Tracy
👉🏽 RELATED POST: Ways to Deal with Panic Attacks and Anxiety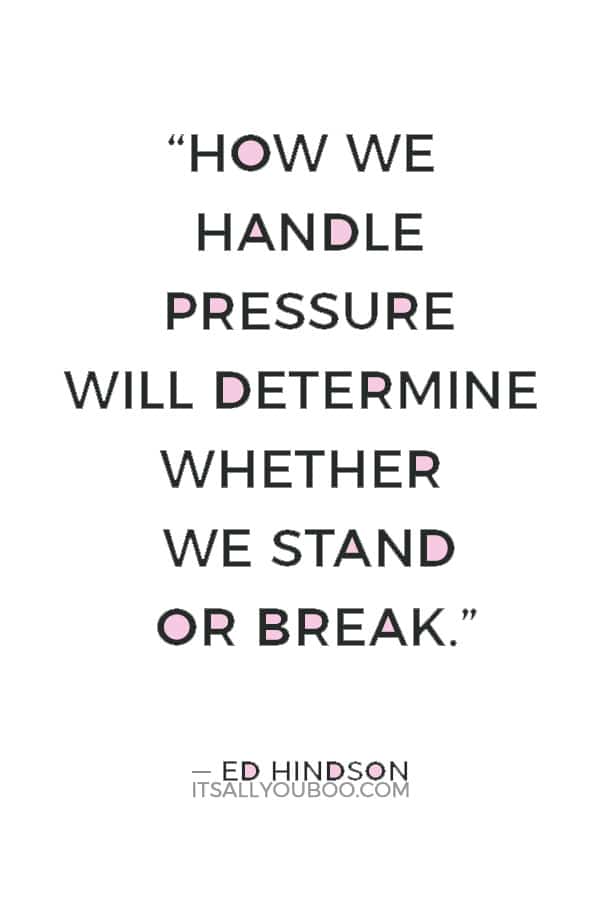 8. "How we handle pressure will determine whether we stand or break." — Ed Hindson
9. "The greatest weapon against stress is our ability to choose one thought over another." — William James
What is Pressure Quotes
Is pressure just stress and anxiety? What does the word even mean? The following quotes about being calm under pressure explore the meaning and definition of the word. They might change your mind as to why you feel pressure in the first place. Is it really a lack of preparation? Do we create it ourselves?
10. "Pressure is something you feel when you don't know what the hell you're doing." — Peyton Manning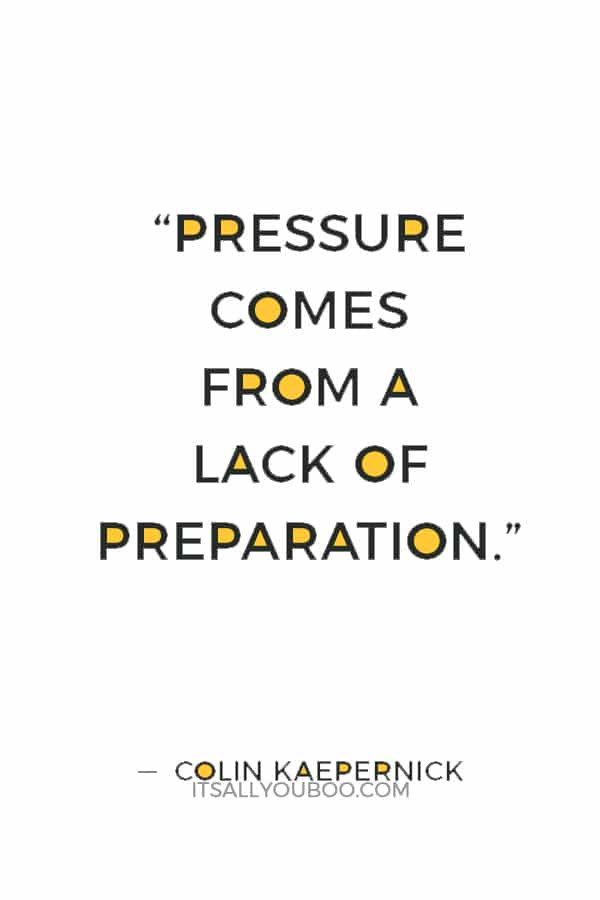 11. "Pressure comes from a lack of preparation." — Colin Kaepernick
12. "Only the unprepared are overcome by pressure." — Lou Holtz
"Pressure is nothing more than the shadow of great opportunity." — Michael Johnson
14. "Pressure is a word that is misused in our vocabulary. When you start thinking of pressure, it's because you've started to think of failure." — Tommy Lasord
👉🏽  RELATED POST: Quotes About Staying Calm in a Crisis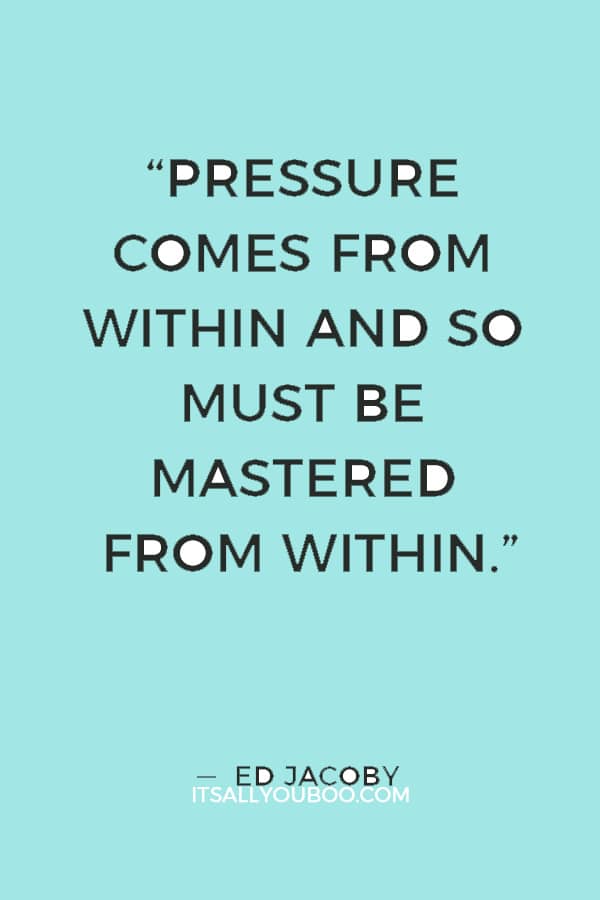 15. "Pressure comes from within and so must be mastered from within." — Ed Jacoby
16. "Life's pressure is equal to your resistance." — Bryant McGill
"Pressure doesn't exist. We create it for ourselves." — Derek Hough
18. "Pressure is only what you make of it and what you put on yourself." — Marcus Giles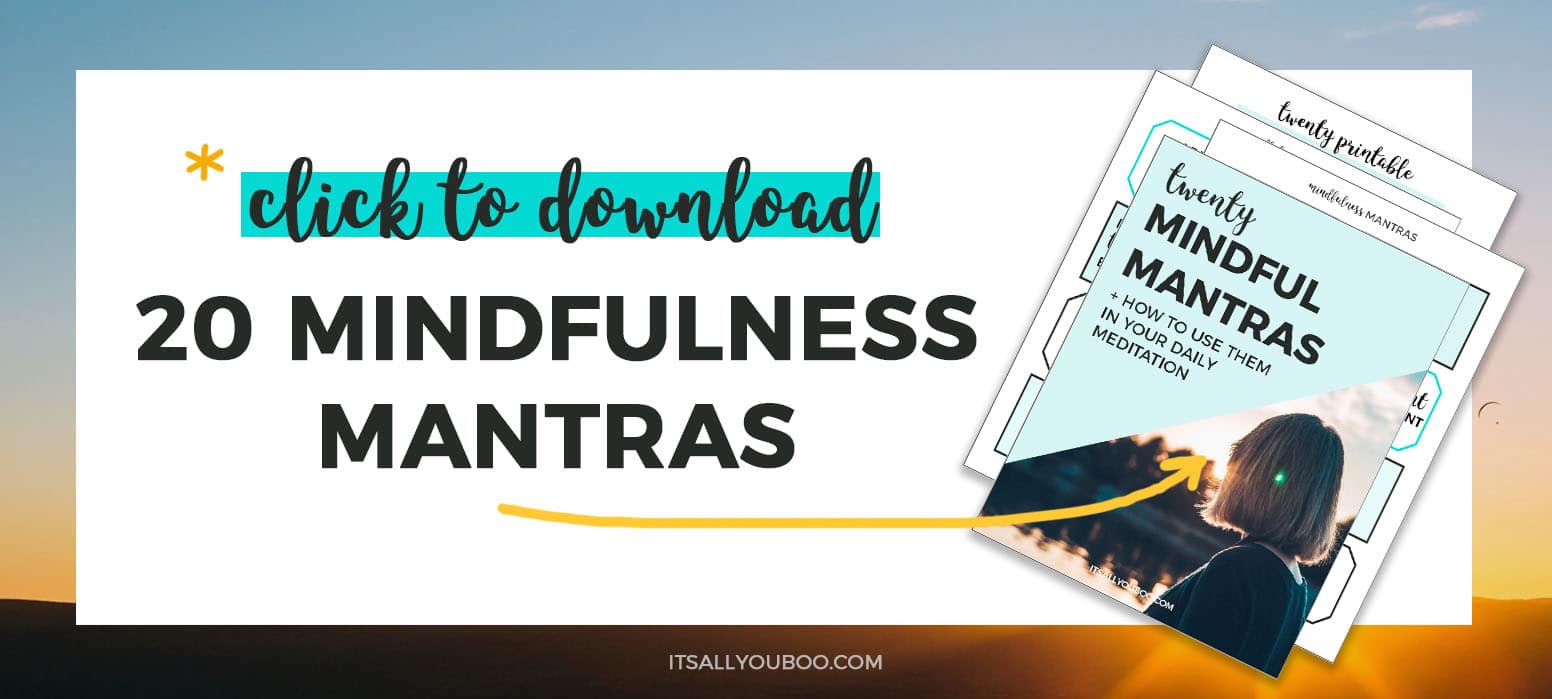 Stay Calm Under Pressure Quotes
Do you get emotional when faced with a challenge? How do you respond to an emergency? This selection of quotes about staying calm under pressure encourages us to manage our emotions, to breath and slow down. Learn to train your body and your mind to keep cool in these high-stress situations.
19. "The ability to manage your emotions and remain calm under pressure has a direct link to your performance." — Travis Bradberry
"You have to slow your heart rate, stay calm. You have to shoot in between your heartbeats." — Chris Kyle
👉🏽  RELATED POST: Mental Health Tips for Coping with a Crisis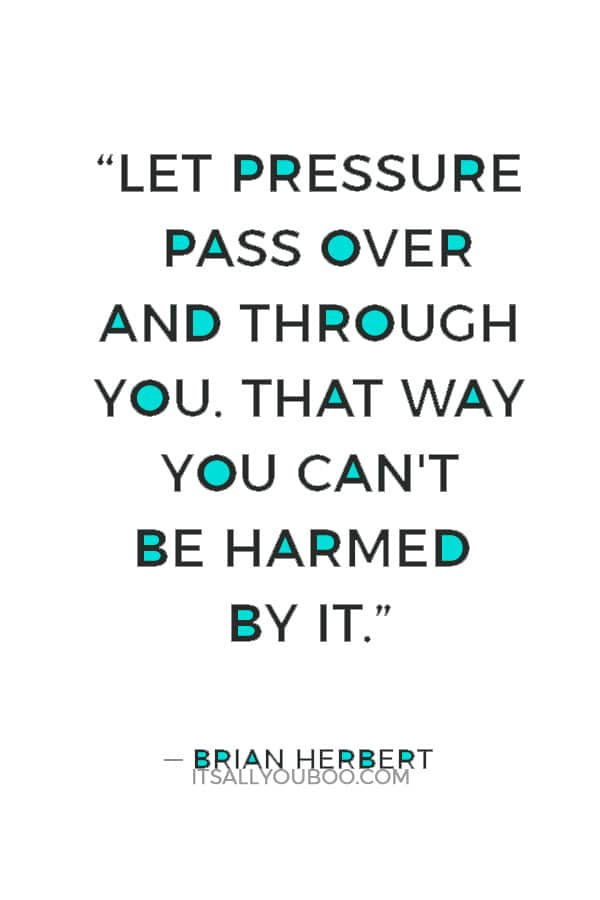 21. "Let pressure pass over and through you. That way you can't be harmed by it." — Brian Herbert
"Under pressure, you can win with your mind." — Tiger Woods
23. "He who is of calm and happy nature will hardly feel the pressure of age, but to him who is of an opposite disposition youth and age are equally a burden." — Plato
"Pressure squeezes effort out of winners and excuses out of losers." — Orrin Woodward
25. "Winning comes down to who can execute under pressure." — Billie Jean King
Quotes About What Pressure Creates
What happens when we experience pressure? How does pressure transform us? This collection of quotes about being calm under pressure reminds us that pressure isn't a bad thing, it's a natural process. Experiencing hard times, make us stronger. Do you agree?
26. "Courage is grace under pressure." — Ernest Hemingway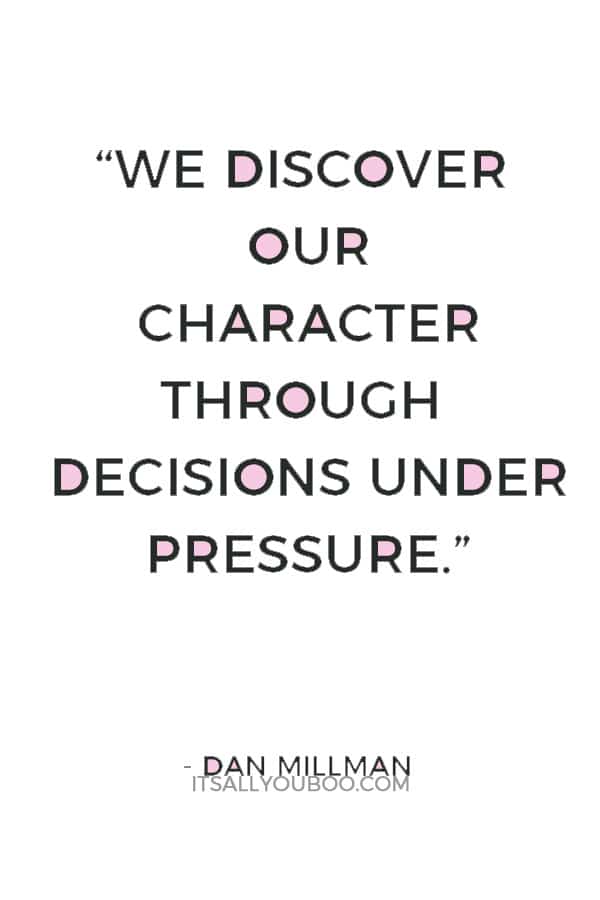 27. "We discover our character through decisions under pressure." — Dan Millman
"To me, character in a person is judged by the decisions that are made under pressure." — Bryan Cranston
29. "I'm at my best when I'm exhausted and under pressure." — Jimmy Page
"When we long for life without difficulties, remind us that oaks grow strong in contrary winds and diamonds are made under pressure." — Peter Marshall
👉🏽  RELATED POST: Mindfulness Meditation Quotes for Stress and Anxiety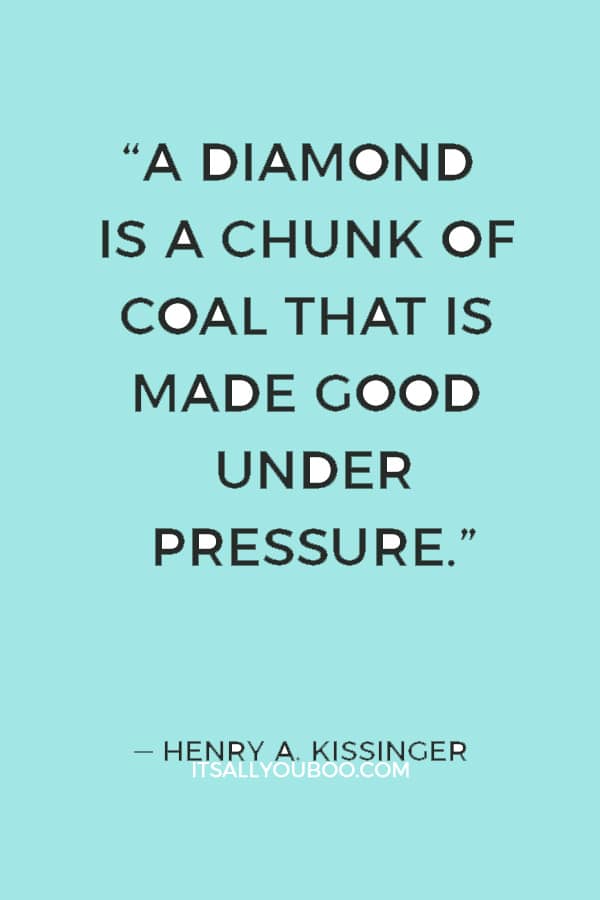 31. "A diamond is a chunk of coal that is made good under pressure." — Henry A. Kissinger
32. "Pressure has the power to create a diamond, but it has to be the 'right' pressure." — Shannon L. Alder
"You can always tell your true values by looking at your behavior — especially under pressure." — Brian Tracy
34. "Pressure is a privilege it's what you do with it that matters." — Billie Jean King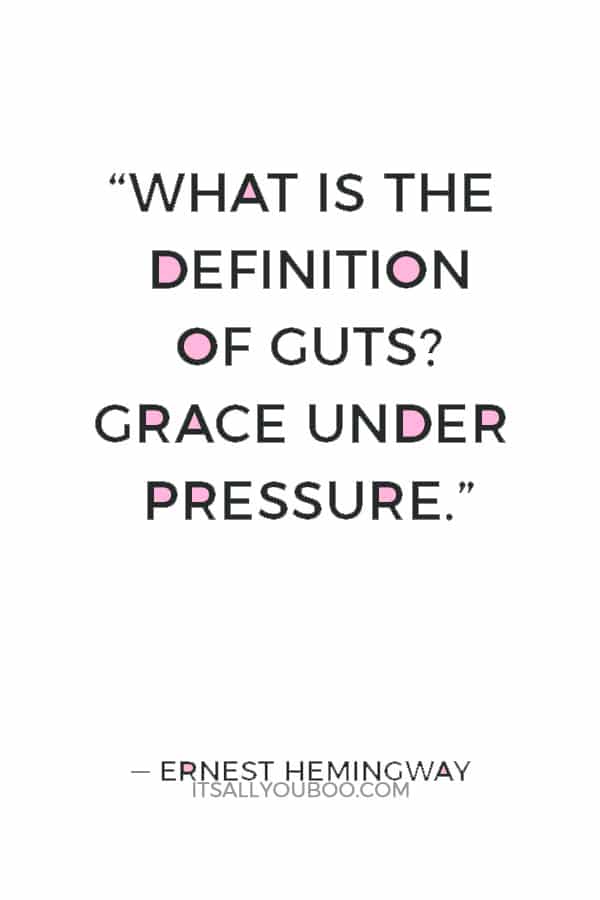 35. "What is the definition of guts? Grace under pressure." — Ernest Hemingway
"You may be cool under pressure and challenge, but can you be cool under success?" — Robert Holden
Staying Calm Enough to Be Successful Quotes
Could the key to achieving your dreams and goals be your ability to stay calm? Could staying calm be the way to be successful? This final collection of quotes about staying calm illustrates how our ability to be calm is what allows us to succeed in the end. How you react and deal with the pressure defines how things work out. So, stay calm and just be confident in yourself and all the work you're putting in. It's enough.
38. "If you are calm about your ambitions, you become confident of achieving what you set out to do." — Shiv Nadar
"Being relaxed, at peace with yourself, confident, emotionally neutral loose, and free-floating – these are the keys to successful performance in almost everything." — Wayne W. Dyer
40. "That's what helped me be successful is staying as calm as possible." — Jared Goff
👉🏽  RELATED POST: How to Stop Stressing About Being Perfect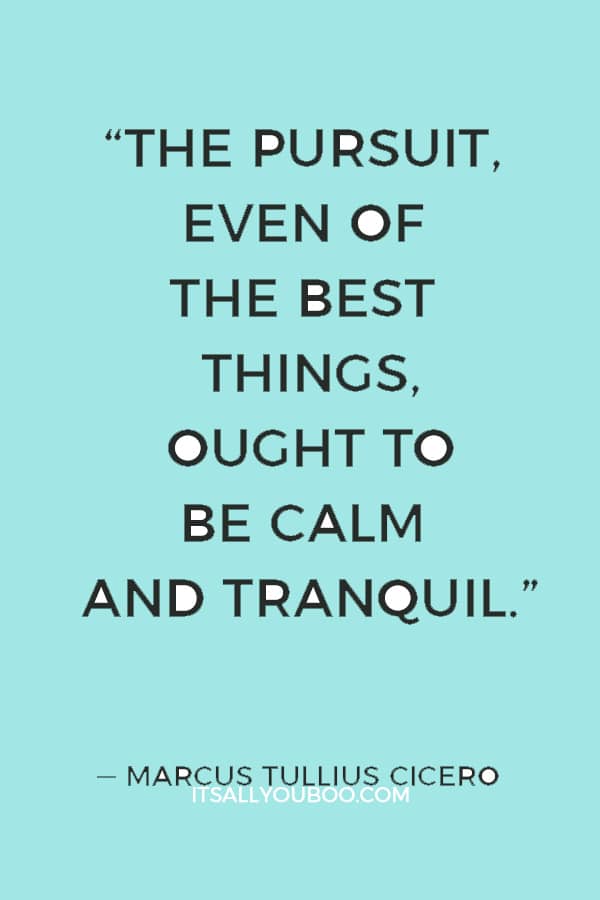 41. "The pursuit, even of the best things, ought to be calm and tranquil." ― Marcus Tullius Cicero
42. "Avoid all haste; calmness is an essential ingredient of politeness." Alphonse Karr
"We have to keep calm and stick together; that's the key to success." — Sergio Ramos
44. "I am very calm, because I know how hard I am working and how much effort I am putting in." — Jorginho
45. "Work, look for peace and calm in work: you will find it nowhere else." — Dmitri Mendeleev
46. "Working makes me happy, makes me calm." — Alicia Vikander
👉🏽  RELATED POST: Ways to Feel More Grateful in Hard Times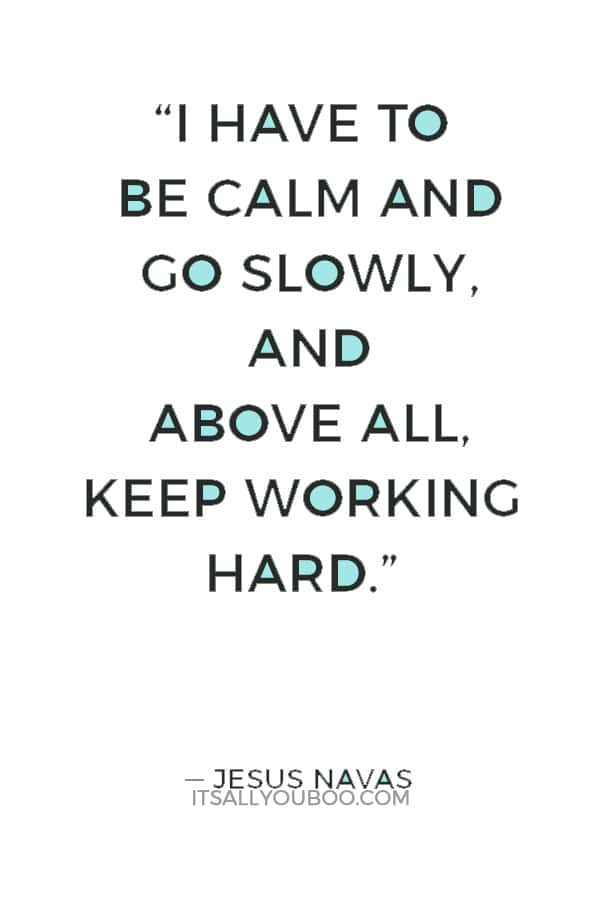 46. "I have to be calm and go slowly, and above all, keep working hard." — Jesus Navas
"Have confidence that if you have done a little thing well, you can do a bigger thing well too." — David Storey
48. "When you have inner calmness then you automatically succeed in what you do. The more silent you are from inside, your thoughts and actions become more powerful." ― Sri Sri Ravi Shankar
Free Printable Mindfulness Mantras
Ready to step into your calm? To achieve quiet confidence, despite the pressure and stress of life? Get your 20 FREE Printable Mindfulness Mantra cards.
Deep breath, exhale, and just go slowly. Don't panic, don't freak out, don't let the pressure and overwhelm take you down. Always, just work hard and do what you can.
The pressure is imposed by you, ti's an internal battle that you can end at any moment. Use success affirmations and mantras to find your calm within. Choose one of these quotes about being calm under pressure, memorize it, and speak it to yourself to help you keep calm.
Don't stop there! Use physical exercise, deep breathing, meditation, yoga, and mindfulness techniques to distress and relieve the pressure.
You can survive and even thrive under pressure if you change your mindset and manage your nervous energy.
Feeling overwhelmed at home or at work? Is the pressure of it all getting to you? Take a deep breath and click here for 48 quotes about being calm under pressure. #KeepCalm #StayCalm #InnerPeace #DontPanic

What quotes about being calm under pressure speak to you?
Last Updated on May 25, 2023
✕
Get Your 20 Mindfulness Mantras
Subscribe to our VIP newsletter, plus get the free affirmations.