What are the best Black History Month quotes?
Looking for African American quotes about life and success?
Black history is so much more than the American Civil Rights Movement, but it's a great place to start.
One cannot forget what has happened to a people, yet at the same time, one must be more than the past, the best of the present, and push forward to the future.
2020 exposed more than any year in my own life just how close at our heels the past really is. How little progress has been made.
Yet still, we stand, yet still, we prosper, yet still, we are beautiful people. Each and every one of us, in shades of browns.
That was my intention for this collection of 100 inspirational Black History Month quotes – to not just focus on the fight and the ongoing struggle, but to capture the brilliance and inspiration of some of the greatest black people in history.
With so many famous and influential people of African descent all across the world, there are so many names and stories worth remembering. From famous African American inventors like Granville Woods who was known as the Black Edison and o Viola Desmond a Canadian businesswoman who now graces the $5 bill, our accomplishments as a people are far and wide.
The month of February is not long enough to celebrate all of these achievements. Black History Month should be a daily commemoration and influence on us all – no matter our heritage.
But, to my black sisters and brothers, know your history, it's a part of you. They fought to be first, and the door is now held open for those who come after, like me and you.
May this post and the words of these motivational women and men inspire you to greatness. Here are 100 Inspirational Black History Month quotes to remember.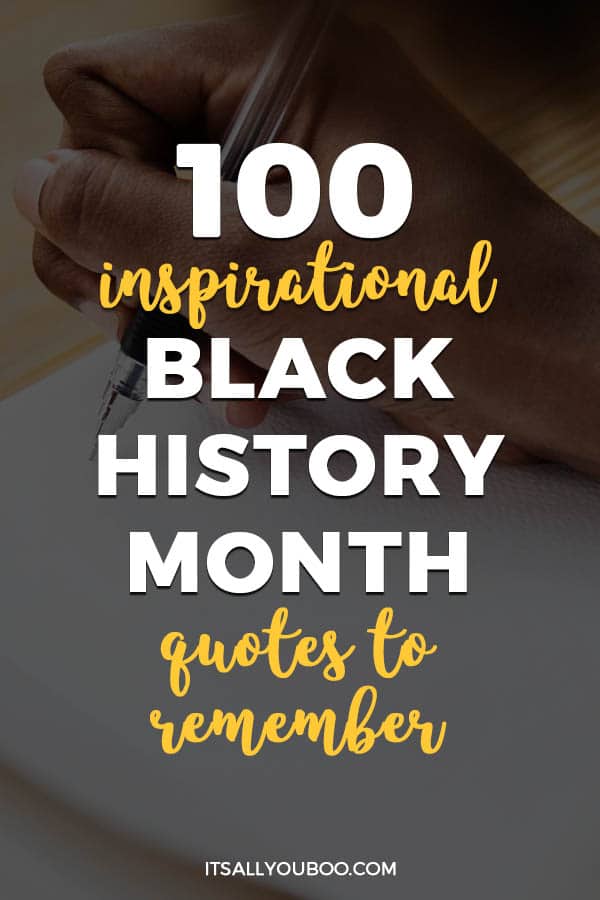 Eye-opening Civil Rights Movement Quotes
Sparked by incidents across the United States, notably Rosa Parks' refusal to give up her bus seat, the Civil Rights Movement as we know it was born. From 1954 to 1968, African American Civil Rights leaders and activists spoke for a people desperate for equality and fairness. This collective of Black History Month quotes echo the words of abolitionists who spoke and fought for truth and appealed to the consciousness of the county.
1. "This country has been unconscious, and it's got to awake. That's my belief." — Charles Alston, African-American artist
2. "There is a higher law than the law of government. That's the law of conscience." — Stokely Carmichael, Trinidadian-American revolutionary
"Truth is powerful and it prevails." — Sojourner Truth, African-American abolitionist and women's rights activist
4. "The way to right wrongs is to turn the light of truth upon them." — Ida B. Wells, journalist and early leader in the Civil Rights Movement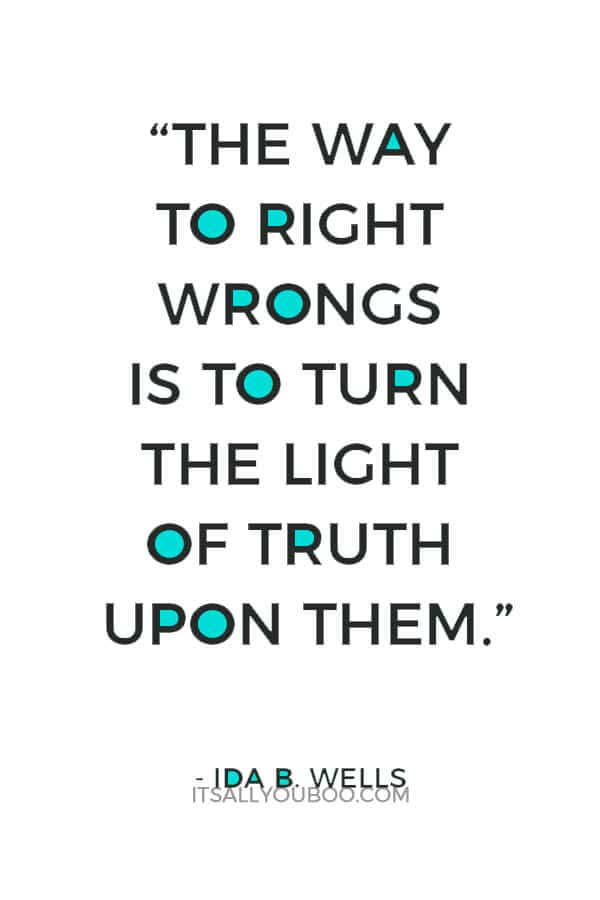 5. "You can kill a man but you can't kill an idea." — Medgar Evers, Civil Rights activist
"It is harder to kill a whisper than even a shouted calumny." — Maria W. Stewart, journalist, abolitionist and women's rights activist
7. "It's easy to get people's attention, what counts is getting their interest." — A. Philip Randolph, leader in the Civil Rights Movement
8. "There is a thin line between politics and theatricals." — Julian Bond, social activist and leader in the Civil Rights Movements
Famous Quotes by Civil Rights Leaders and Abolitionist
We know their names and we remember their deeds. From Angela Davis to Martin Luther King Jr., just like the Anti-Slavery and Abolitionist Movement a hundred years prior, a movement is remembered for its leaders. What brave leaders the African-American community have in these history changers who fought, spoke out and refused to be silent at great cost to themselves. The following Black History Month quotes feature famous quotes by Civil Rights Leaders and Abolitionists.
"If there is no struggle, there is no progress." — Frederick Douglass, abolitionist, writer, and social reformer
10. "We have to talk about liberating minds as well as liberating society." — Angela Davis, American political activist, author, and academic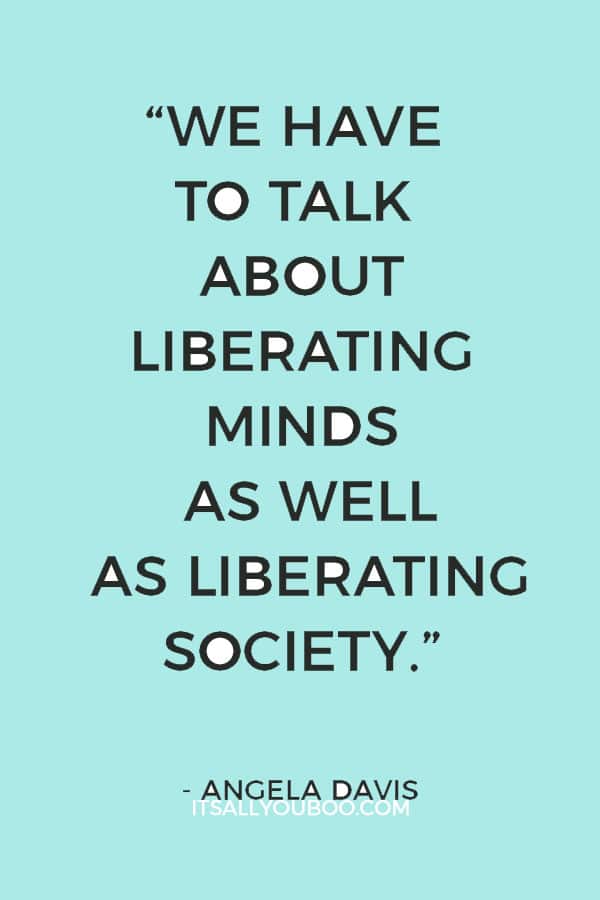 👉🏽 RELATED POST: 45 Uplifting Quotes for When You Feel Like Giving Up
11. "I freed a thousand slaves I could have freed a thousand more if only they knew they were slaves." — Harriet Tubman, African-American abolitionist and humanitarian
12. "Sometimes history takes things into its own hands."— Thurgood Marshall, first African-American justice in United States Supreme Court
"Stand for something or you will fall for anything. Today's mighty oak is yesterday's nut that held its ground."— Rosa Parks, Civil Rights activist
14. "Revolution is not a onetime event."— Audre Lorde, American writer, feminist, and civil rights activist
15. "The proof that one truly believes is in action."— Bayard Rustin, American leader in multiple social movements
16. "Struggle is a never ending process. Freedom is never really won, you earn it and win it in every generation." — Coretta Scott King, American author, activist and civil rights leader
Quotes About Equality and Fairness to Remember
At the very core of it, all anyone wants in life is to be free, safe and secure. Free to walk down the street without being abused and free to live a life in peace. To be seen as an equal and treated fairly. This collection of Black History Month quotes join their voices for equality and fairness. To not be judged by preconceived notions and prejudice based on color, race or any other factor. They encourage us to not judge anyone, but to see each other's humanity and to have compassion for one another.
"I have a dream that my four little children will one day live in a nation where they will not be judged by the color of their skin, but by the content of their character."— Martin Luther King Jr., leader in the Civil Rights Movement
18. "In recognizing the humanity of our fellow beings, we pay ourselves the highest tribute." — Thurgood Marshall, first African American U.S. Supreme Court member
19. "Unless man is committed to the belief that all mankind are his brothers, then he labors in vain and hypocritically in the vineyards of equality" — Adam Clayton Powell Jr., First African-American from New York elected to Congress
20. "Defining myself, as opposed to being defined by others, is one of the most difficult challenges I face." — Carol Moseley-Braun, politician and lawyer
👉🏽 RELATED POST:  Juneteenth Quotes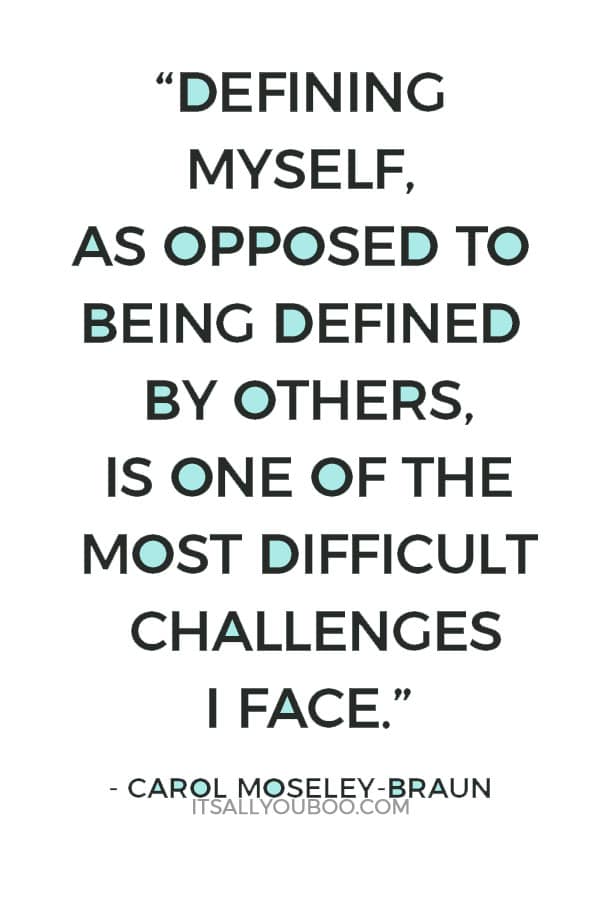 21. "My humanity is bound up in yours, for we can only be human together." — Desmond Tutu, South African cleric, anti-aparthied and human rights activist
"I find that the prejudice in this country to color is very great, and I sometimes fear that it is on the increase." — Hiram Rhodes Revels, First African-American United States Senator
23. "The air is the only place free from prejudices." — Bessie Coleman, First Female African American Pilot
👉🏽RELATED POST: 50 Powerful Martin Luther King Jr. Quotes
Quotes by Black Authors and Journalists
What is it they say, "the power of the pen is mightier than the sword"? This is so true for the black community and not just as a tool for social change for the Civil Rights or Abolitionist Movement either. There are so many distinguished academics, writers, novelists, poets and journalists to celebrate. Never forget that two of the greatest ancient libraries were found in Africa. These Black History Month quotes are by those who loved the written word.
24. "All literature is protest." — Richard Wright, novelist
"Either you deal with what is the reality, or you can be sure that the reality is going to deal with you." — Alex Haley, Author of Roots: The Saga of an American Family
26."Not everything that is faced can be changed, but nothing can be changed until it is faced." — James Baldwin, novelist, playwright, poet and social critic
27. "If you don't like something, change it. If you can't change it, change your attitude." — Maya Angelou, author, poet and Civil Rights activist
👉🏽 RELATED POST: Quotes about Changing Your Life for the Better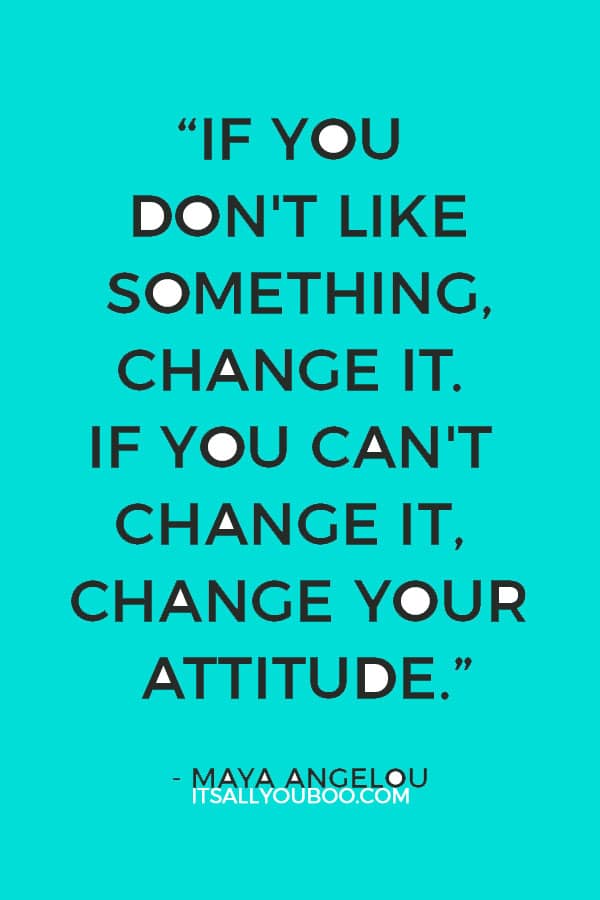 28. "If they don't give you a seat at the table, bring a folding chair." — Shirley Chisholm, American politician, educator and author
"There are years that ask questions and years that answer." — Zora Neale Hurston, American novelist, folklorist, and anthropologist
30. "Thou didst, in strains of eloquence refin'd, Inflame the soul, and captivate the mind." — Phillis Wheatley, first published African-American female poet
31. "There are times in life when, instead of complaining, you do something about your complaints." — Rita Dove, African-American poet, and author
Motivational Quotes by Famous Black Athletes
From tennis and golf to boxing and baseball, there are so many notable black athletes. Sportswomen and men who broke through barrier lines to not only compete in leagues and on the world stage but to also break records. The following Black History Month quotes are by famous athletes in history. Let them motivate you to make it happen, to get up, put the time in and play hard in life.
32. "Some people want it to happen, some wish it would happen, others make it happen." — Michael Jordan, American basketball player
33."Success is a journey, not a destination. The doing is often more important than the outcome."— Arthur Robert Ashe Jr., tennis player and the only black man to win three singles grand slams
34. "Everything comes at a cost. Just what are you willing to pay for it?" — Serena Williams, American tennis player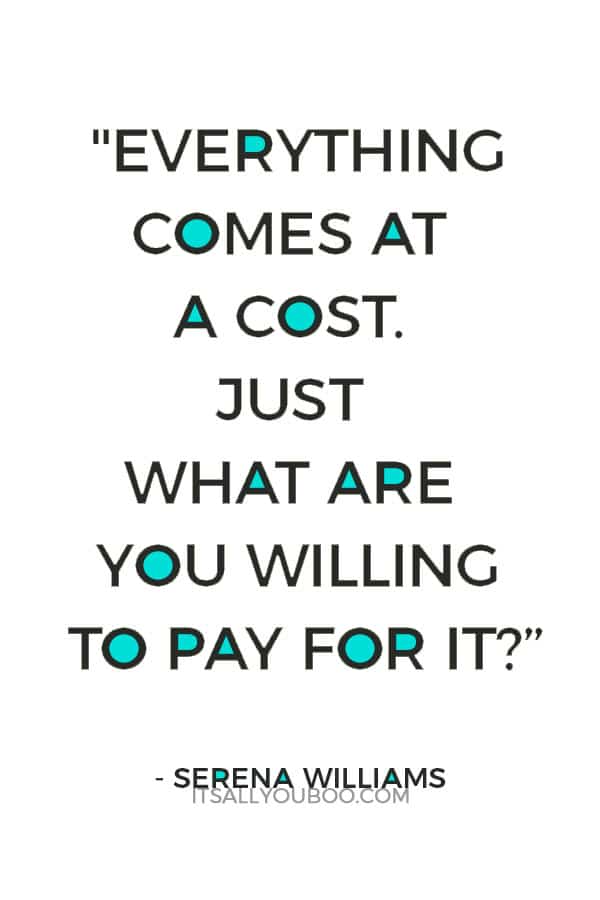 👉🏽 RELATED POST: 19 Powerful Quotes that Motivate You to Start 
35. "Don't think about the start of the race, think about the ending."— Usain Bolt, Jamaican sprinter and the fastest man alive
36. "Everyone has a plan until they've been hit." — Joe Louis, American professional boxer
"Never listen to other people's expectations. You should live your life and live up to your own expectation."— Tiger Woods, professional golfer
38. "Most of us who aspire to be tops in our fields don't really consider the amount of work required to stay tops." — Althea Gibson, first Black athlete to cross the color line of international tennis
39. "A life is not important except in the impact it has on other lives."— Jackie Robinson, first African American to play Major League Baseball
40. "The triumph can't be had without the struggle." — Wilma Glodean Rudolph was an American sprinter and a world-record-holding Olympic champion
Quotes about Living the Way You Want
It's your life, you should be able to live it the way you want. You should be able to dress, work, live, and love as you like. To be able to be yourself without fear. What were these movements for if not for the freedom to decide your own destiny? This collection of Inspirational Black History Month Quotes encourage you to live your life as you see like it.
41."I'm the one that has to die when it's time for me to die, so let me live my life, the way I want to." — Jimi Hendrix, American guitarist and greatest electric guitarist of all time
42. "We do what we have to so we can do what we want to."— James Leonard Farmer Jr., civil rights activist and leader in the Civil Rights Movement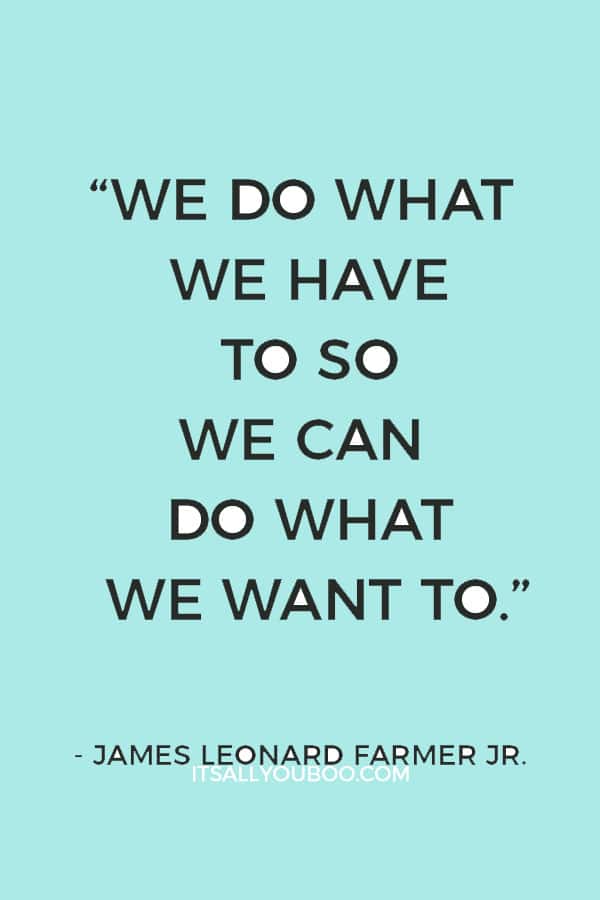 👉🏽RELATED POST: 26 Inspiring Self-Love Quotes
43. "It's being willing to walk away that gives you strength and power – if you're willing to accept the consequences of doing what you want to do." —Whoopi Goldberg, award-winning American actress
"As for those grapefruit and buttermilk diets, I'll take roast chicken and dumplings." — Hattie McDaniel, actress, comedian, and singer-songwriter
45. "No time to marry, no time to settle down; I'm a young woman, and I ain't done runnin' around." — Bessie Smith, American Blues Singer
46. "While most girls run away from home to marry, I ran away to teach." — Mary Church Terrell, first African-American women to earn a college degree
47. "What's the world for if you can't make it up the way you want it? — Toni Morrison, American novelist
Famous Black Singers and Musicians Quotes
The music industry has deep roots in the black community, from plantations days to churches. African American artists have contributed to almost every genre including Blues, Jazz, Hip-Hop, Rap, and Pop. There's something about music: it manages to speak to so many people even though we're all completely unique, complex human beings. It brings people together as nothing else can. The following Black History Month Quotes are from some of the most famous black singers and musicians.
"Sometimes, what you're looking for is already there."— Aretha Franklin, American singer-songwriter
49. "I never want to be anything more than I am; what I don't have, I don't need." — Louis Armstrong, American trumpeter
50. "If you cannot find peace within yourself, you will never find it anywhere else." — Marvin Gaye, American singer-songwriter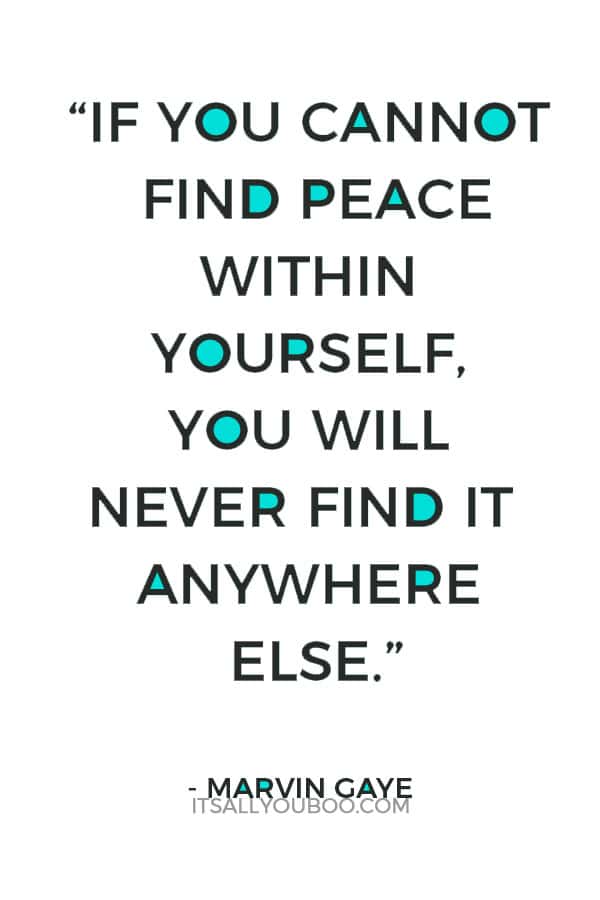 51. "Power means happiness; power means hard work and sacrifice." — Beyoncé Knowles, American singer-songwriter
52. "Just don't give up trying to do what you really want to do. Where there is love and inspiration, I don't think you can go wrong." — Ella Fitzgerald, American singer
"I decided long ago never to walk in anyone's shadow; if I fail, or if I succeed at least I did as I believe."— Whitney Houston, American Singer


54. "I believe that if you'll just stand up and go, life will open up for you."— Tina Turner, American singer
55. "Instead of looking at the past, I put myself ahead twenty years and try to look at what I need to do now in order to get there then."— Diana Ross, American singer
Quotes that About Following Your Dreams
Got a big dream and passion in life? Want to quit your job and start a business? Dream big, reach for the stars, the sky's the limit and just go for it. Some of the most notorious Black figures did things differently in their own way, even in a time that wasn't ready for their individuality. Celebrate Black History Month by following your dreams to achieving all that's possible for you. You can achieve your dreams and goals!
56. "Stay far from timid, only make moves when your heart's in it, and live the phrase 'sky's the limit.'"— The Notorious B.I.G., American rapper
57. "When you're creating your own shit, man, even the sky ain't the limit." — Miles Davis, American jazz trumpeter
"You can't copy anybody and end with anything. If you copy, it means you're working without any real feeling." — Billie Holiday, American singer
59. "There is no passion to be found playing small – in settling for a life that is less than the one you are capable of living." — Nelson Mandela, anti-apartheid revolutionary and South African President
👉🏽RELATED POST: Inspirational Quotes About Making Dreams Come True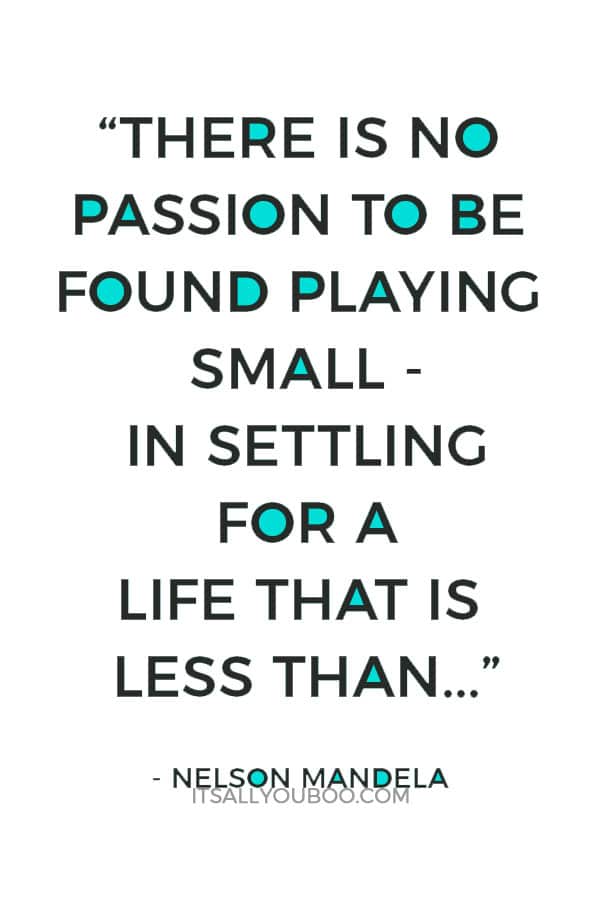 "The biggest adventure you can ever take is to live the life of your dreams." — Oprah Winfrey, American executive
61. "Dreams are lovely. But they are just dreams. Fleeting, ephemeral, pretty. But dreams do not come true just because you dream them. It's hard work that makes things happen. It's hard work that creates change." — Shonda Rhimes, American television producer
62. "We all have dreams. But in order to make dreams come into reality, it takes an awful lot of determination, dedication, self-discipline, and effort." — Jesse Owens, American Olympic gold medalist for track and field
👉🏽RELATED POST: 40 Inspirational New Year's Resolution Quotes
"Never abandon your vision. Keep reaching to further your dreams." — Benjamin Banneker, Author, mathematician and astronomer
64. "During your life, never stop dreaming. No one can take away your dreams." — Tupac Shakur, American rapper
Black Inspirational Quotes on Never Giving Up
These inspirational quotes from Black leaders will help you achieve your goals. It all starts with figuring out what exactly your dreams are, setting goals and going after them. Achieving your goals isn't easy – it takes persistence and hard work to overcome challenges and obstacles in your way. These Black Inspirational Quotes encourage you to never give up in the pursuit of your dreams.
65. "Don't let your dreams be dreams." — Jack Johnson, first Africam American world heavyweight boxing champion
"The first step is clearly defining what it is you're after, because without knowing that, you'll never get it." — Halle Berry, only African-American women to win the Best Actress Oscar
67. "I have discovered in life that there are ways of getting almost anywhere you want to go, if you really want to go." — Langston Hughes, poet, social activist, playwright, and novelist.
68. "To succeed, one must be creative and persistent." — John H. Johnson, business and the first African American on the Forbes 400
👉🏽RELATED POST: 50 Quotes About Being Criticized and How to Handle it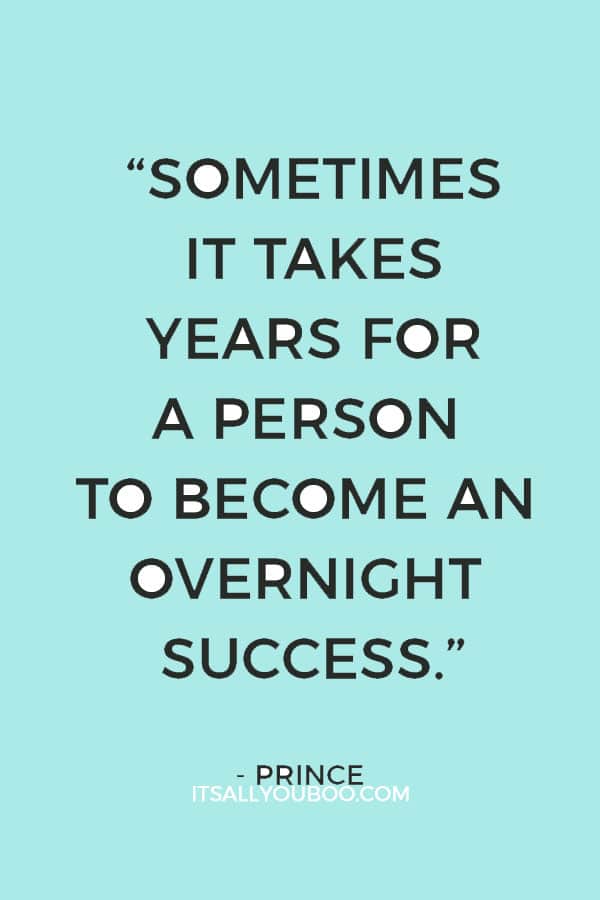 69."Sometimes it takes years for a person to become an overnight success." — Prince, American singer-songwriter
70. "Success is to be measured not so much by the position that one has reached in life as by the obstacles which he has overcome."— Booker T. Washington, African American Author, and Educator
71. "We proved that we are still a people capable of doing big things and tackling our biggest challenges. — Barack Obama, Frist Africam-American President
Inspirational Quotes About Having Confidence
All of the figures of Black history have one thing in common, they had confidence. And you too must have confidence, even when the odds are against you. The following Black History Month quotes encourage you to have confidence and courage in your life.
72. "If you have no confidence in self, you are twice defeated in the race of life." — Marcus Garvey, Jamaican political leader who encouraged Pan-African unity
"Hold your head high, stick your chest out. You can make it. It gets dark sometimes but morning comes… Keep hope alive." — Jesse Jackson, American civil rights activist
74. "No man or woman who tries to pursue an ideal in his or her own way is without enemies." — Daisy Bates, civil rights activist, journalist, and lecturer
👉🏽RELATED POST: 39 Amazing Quotes to Boost Your Confidence Right Now

"You just have to be yourself and go full with confidence and be courageous." — Gabby Douglas, American gymnast
76. "In fact, the confidence of the people is worth more than money." — Carter G. Woodson, historian, and author
77. "And my father and mother strengthened me in this my first impression, saying in my presence, I was intended for some great purpose…" — Nat Turner, leader of a slave rebellion
Motivational Black Excellence Quotes
There are so many Black History Month figures who were the first to do something notable. Don't just be the first to, but be the best to. Don't just try your best, but aspire to be the best. This collection of Motivational Black History month quotes encourage you to be the best you.
78. "If you can be the best, then why not try to be the best?"— Garrett Morgan, African-American inventor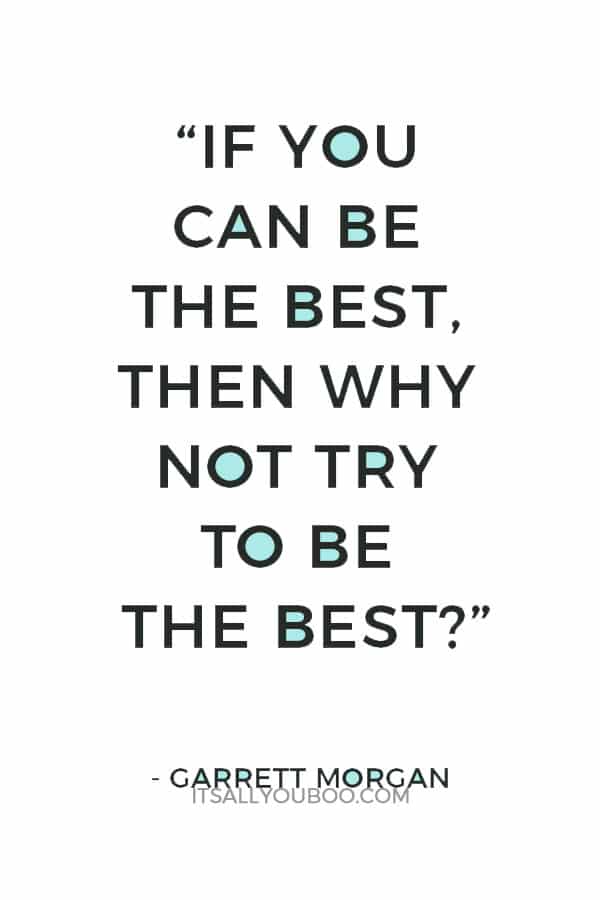 79. "Never limit yourself because of others' limited imagination; never limit others because of your own limited imagination." — Dr. Mae C. Jemison, first African-American women to travel to space
80. "If you're going to do something, you're going to do it to be the best." — Colin Kaepernick, American football player turned activist
"I am the greatest, I said that even before I knew I was." — Muhammad Ali, one of the greatest heavyweights in the history of boxing
82. "To simply wake up every morning a better person than when I went to bed." — Sidney Poitier, first black actor to win an Academy Award for Best Actor
83. "Be the best version of yourself in anything you do. You don't have to live anybody else's story." — Stephen Curry, American basketball player, the greatest shooter in NBA history
👉🏽RELATED POST:  48 Happy International Women's Day Quotes
84. "There is nothing a woman can't do. Men might think they do things all by themselves—but a woman is always there guiding them or helping them." — Marjorie Joynor, inventor and businesswoman
85. "I believe in the impossible because no one else does." — Florence Delorez Griffith–Joyner, American track and field athlete considered the fastest woman of all time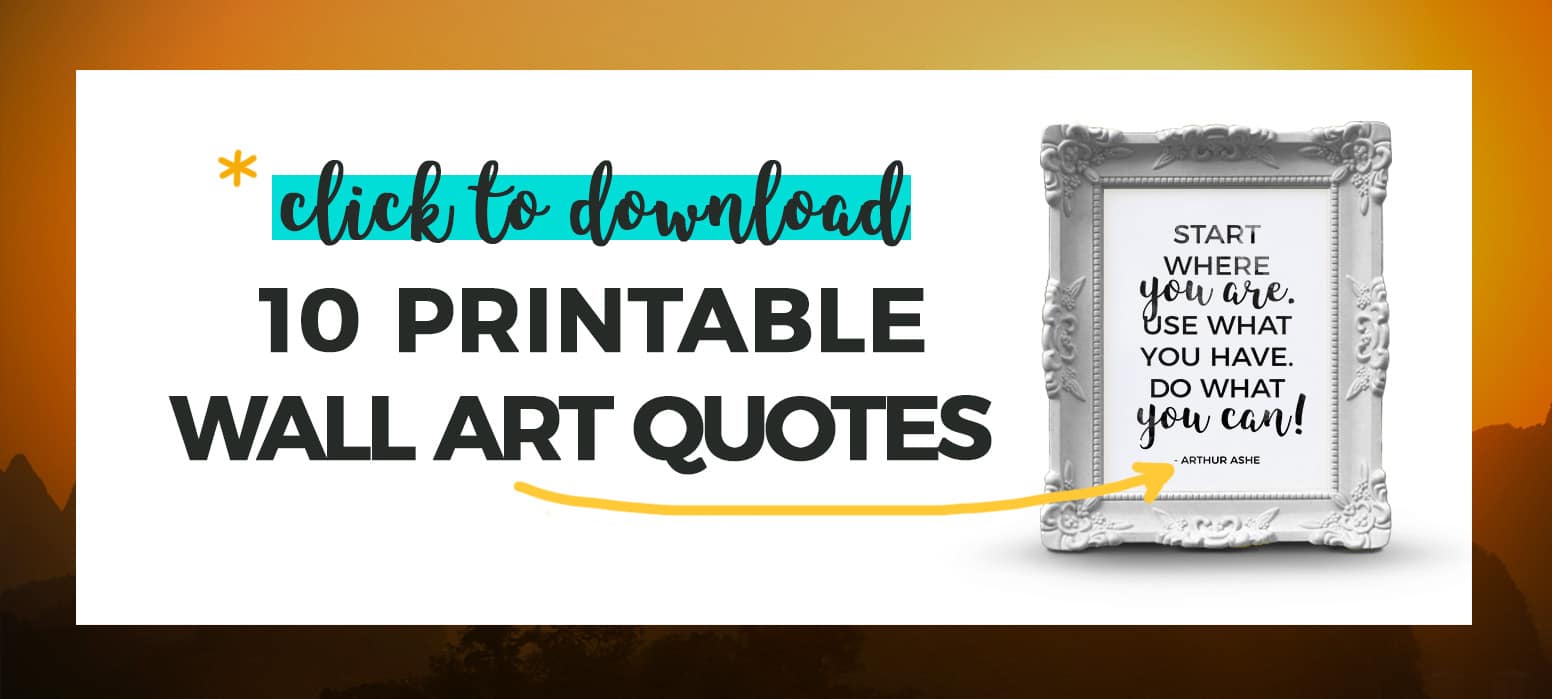 Quotes About Being Prepared for Opportunity
From a historical and socio-economic perspective, it is simply impossible to deny the barriers and challenges faced by Black people all over the world. Despite this the heroes celebrated during Black History Month beat the odds – they prepared themselves and created their own opportunities. Let this selection inspirational quotes encourage you to create opportunity in your own life. To rise above and be the exception.
86. "The future belongs to those who prepare for it today." — Malcolm X, human rights activist
87. "I had to make my own living and my own opportunity. But I made it! Don't sit down and wait for the opportunities to come. Get up and make them." — Madam C. J. Walker, the first female self-made millionaire in America
88. "We create our future, by well improving present opportunities: however few and small they be." — Lewis Howard Latimer, Inventor
It is better to be prepared for an opportunity and not have one than to have an opportunity and not be prepared." — Whitney Young, American Civil Rights leader
90. "It is better to look ahead and prepare than to look back and regret."— Jacqueline Joyner-Kersee, American track and field athlete
👉🏽RELATED POST: Keep Moving Forward Quotes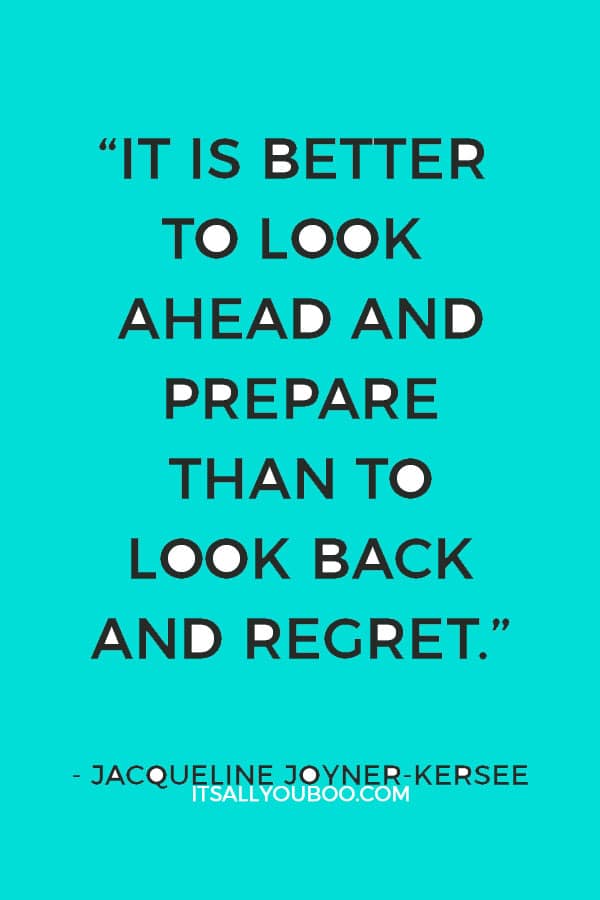 91. "Neither god, nor angels, or just men, command you to suffer for a single moment. Therefore it is your solemn and imperative duty to use every means, both moral, intellectual, and physical that promises success." — Henry Highland Garnet, African-American abolitionist, and educator
92. "If you are fortunate to have opportunity, it is your duty to make sure other people have those opportunities as well." — Kamala Harris, United States Senator
Black History Month Quotes for Students
Education has been the vehicle of progress for the black community. Once denied, it has opened the doors of opportunity for many and it can for you too. Take your education seriously, set goals as a college student and continue to learn as an adult. This final set of Black History Month quotes are for the student in all of us. Know your history, know who you are, and use it to direct your future.
93. "In order to see where we are going, we not only must remember where we have been, but we must understand where we have been." —Ella Baker African-American civil rights and human rights activist.
94. "There's no excuse for the young people not knowing who the heroes and heroines are or were." — Nina Simone, American singer
95. "Muffle your rage. Get smart instead of muscular." — Roy Wilkins, prominent Civil Rights Activist
"Do not call for black power or green power. Call for brain power." — Barbara Jordan, American lawyer, and leader of the Civil Rights Movement
97. "Without education, there is no hope for our people and without hope, our future is lost" — Charles Hamilton Houston, a prominent African-American lawyer known as the man who killed Jim Crow
98. "You can't educate a child who isn't healthy, and you can't keep a child healthy who isn't educated." — Joycelyn Elders, first African American appointed as Surgeon General of the United States
"Education is the key to unlock the golden door of freedom." — George Washington Carver, agricultural scientist, and inventor
100. "Education must not simply teach work – it must teach Life." — W. E. B. Du Bois, American sociologist, scholar, and activist
Inspirational Black & White Wall Art Quotes
Ready to live a life filled with daily inspiration? These wall art quotes are perfect for your office, bedroom, or wherever you need a daily boost of inspiration. Each design features brushed-ink letter detailing.
This download comes with 10 high-resolution quotes ready to be printed and posted.
How are you celebrating Black History Month? Don't just say 'Wakanda forever' here are 100 inspirational Black History Month quotes worth remembering. #BlackHistoryMonth #BlackHistory

What's your favorite Black History Month quote?
Last Updated on June 4, 2023
✕
Get Your Printable Quotes
+ get weekly tips to help you slay your goals.