What are the best daily activities to improve mental health?
Looking for positive mental health habits to get you through tough times?
With the pandemic spreading across the world and more time being spent at home, stress, anxiety, worry, and other emotions are common.
Perhaps you feel numb or stuck, or even overwhelmed and isolated? No matter the feelings, know you're not alone.
Mental health issues are on the rise as many try to cope with this stressful reality. Learning how to cope with stress and anxiety and take care of yourself (as well as your loved ones) is more important than ever.
Nows the time to adopt good mental health practices that build strength and resilience. And it doesn't have to be complicated. With just a few daily activities you can improve your mental health. You can be mentally healthy and even happy during this traumatic time.
If you're struggling mentally or emotionally, please reach out to professionals. Call your local help phone or connect with a therapist or counselor. It's as easy as searching in Google for "therapist near me" or "help phone line."
To help you develop positive mental health habits during the crisis, here are 15 daily activities to improve mental health. From waking up to bedtime rituals, use this post to build your own mental health care plan. Select a few or use them all. Either way, investing in mental health will keep you calm during the crisis or any other stresses life brings your way.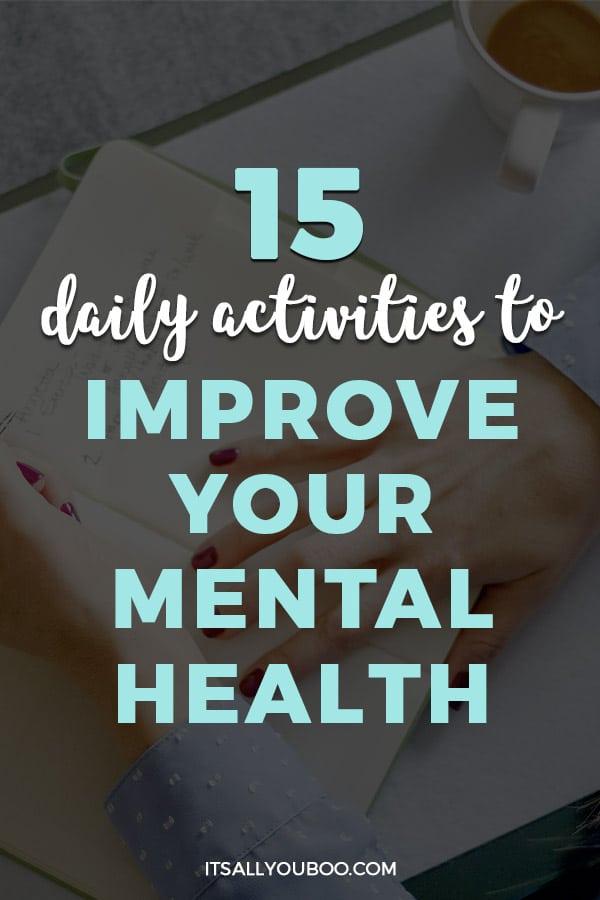 Daily Activities to Improve Mental Health
#1.
Wake Up Gradually with Deep Breathing
Instead of hopping out of bed abruptly or reaching for your phone, try allowing yourself time to wake up gradually. This will enhance feelings of tranquility for both mind and body and reduce the chances of you going on auto-pilot.
Take five deep long breaths in and out. Deep breathing is one of the best ways to lower stress and reduce tension.
When you breathe deeply, it sends a message to your brain to calm down and relax. This will help you start your day feeling peaceful and in control, at a time when the world feels chaotic and out of control. You can return to deep breaths as you move throughout your day if you start to feel overwhelmed.
#2.
Have a Self-Care Morning Routine
I have found profound peace implementing a really strong self-care morning routine to jumpstart my day.
Up by 6 am
Coffee on the patio listening to the peaceful chirping of the birds while reading and writing three things I'm grateful for in my journal.
After making a healthy protein shake, I go for a two-mile walk to get my blood flowing and breath in the fresh air. During this time I listen to worship music or a great mindset podcast on retraining my thoughts.
I then alternate each day with a 15 minute free YouTube class of yoga or light free weights.
Take a quick cool shower (I live in Florida:-)
By 9 am I head for my office, click my diffuser on with Lavender essential oil, and begin work where I encourage women to live lighter in their lives.
👉🏽 RELATED POST: 5 Things to Do Every Morning
Taking care of myself first thing in the morning sets up the rest of my day for success. I also am very careful to get my eight hours of sleep each night. Without a healthy routine, our mental capacity can be altered throughout the day. Taking care of our mental, physical, and spiritual health first is so important to sustain our peace during this season of uncertainty.
#3.
Get Out and Spend Time In Nature
Spending time in nature is super beneficial for your mental health! Take a nap outdoors, read a book on your patio or under a tree, go backyard camping, do some yard work, play hide the ball with the kids, start a "stay at home" vegetable garden. Spinach and tomatoes are two easy to maintain crops that are super nutritious.
The possibilities are endless! I enjoy playing dodgeball with the kids. I get a great workout PLUS vitamin D from the sun. Vitamin D from the sun is a powerful mood booster. Add to that the exercise from moving around outdoors and you have a double dose of pure natural goodness! You'll be walking in the sunshine, and that definitely feels good!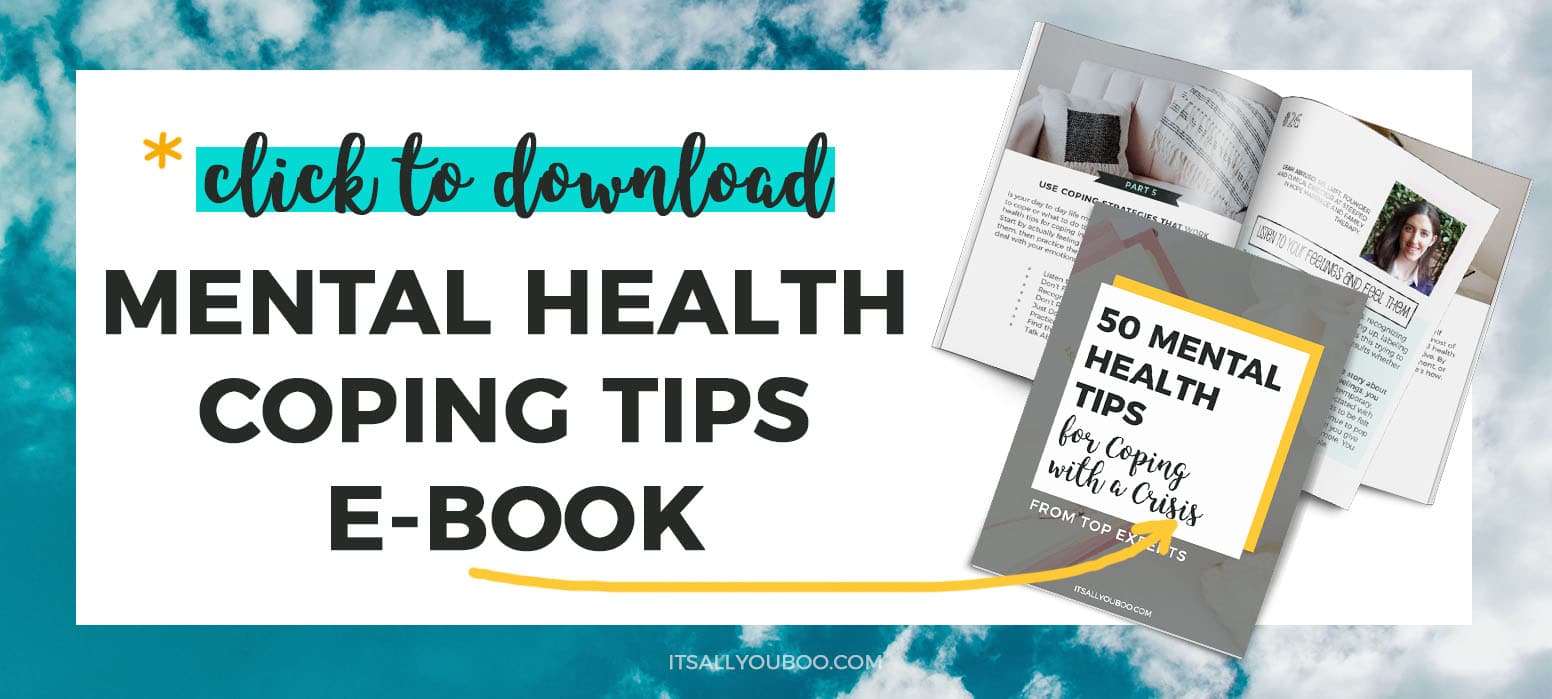 It's amazing how much control we DO have in our lives. Even in the middle of a crisis, there is a lot we can do to take care of our mental health. Nature has a gazillion natural stress busters, they are all FREE and they are super effective for daily activity to improve mental health! So make spending time in nature a regular part of your self-care routine! It's GOOD for you. 🙂
#4.
Appreciate The Simple Things
Returning to the absolute basics and re-learning how to appreciate the simplest things is a great way to be able to re-energize and refocus. Over time, we clutter our minds with things that take us away from nature and the basic fundamentals of life.
We worry too much about many things that most often are never actually worth worrying about. We in fact spend so much time worrying about things that never happen.
In order to reconnect with ourselves, a great way is to turn to a very basic mindfulness technique and that is to find an object and to focus our energy and attention on it and to learn its value and to really appreciate it. For example, if you have a garden, spend a few minutes observing a flower. Observe in detail the colors, feel its texture, smell it. How many petals does it have? Do bees and other insects seem to like it?
👉🏽 RELATED POST: How to Be More Thankful
You will begin to notice things you have never noticed before and gained a new appreciation. By learning to reconnect with the simplest things in life, it is a start to refocusing and re-energizing. Which is why appreciating the simple things is one of the best daily activities to improve mental health.
#5.
Start Journaling to Destress
Journaling is a great practice that helps many topics that people are facing right now including the stress of such a drastic life change and being isolated. More (sub) tips for journaling:
1. What are the benefits of journaling? Journaling helps us to identify and articulate our feelings. One of my favorite quotes is, "In writing, we become." Through the act of journaling, we are able to develop self-awareness and insights and empty our minds of our fears, concerns, and anxieties.
2. Why is journaling especially beneficial during the current global crisis? Journaling during the current global crisis is more important than ever; through the act of writing, we are able to put words and language to our fears and anxieties. By emptying our minds of our fears and putting them on paper, it's a way of releasing our anxiety so that it takes up less space in our minds.
👉🏽 RELATED POST: How to Start a Daily Journal
3. How can journaling help your mental health while being quarantined? Journaling is extremely helpful for our mental health during quarantine: When we are able to identify and articulate our emotions with precision and clarity, we are able to better soothe ourselves and relax. It is comforting to put words and language to our feelings because this enables us to calm and soothe ourselves.
4. What are some practices beginner journal-ers can implement when first starting? Here is my favorite way to journal. For 5-10 minutes, do a big brain dump of anything on your mind.
This can be a to-do-list, things you are worried about, fears, and also things you are grateful for or excited about.
Next, I come up with potential solutions to any problems or fears that arose.
I always end journaling with articulating my plan for the rest of the day and ways to address any issues that came up in my journaling.
Gratitude journaling is extremely important at this time as well, as it can improve depression and anxiety to identify the parts of our life that we are grateful for.
5. What are the best prompts for first-time journal-ers?
What fear is coming up for me today?
How can I take care of myself just a little bit better today?
List 5 things–big or small- that you are grateful for today, and why.
#6.
Accept and Validate Your Emotions
One of the most difficult yet important things you can do for your mental health is to accept the emotions that you're feeling. This doesn't mean that you over-indulge in the negativity, as that can also be a downward spiral. Accepting emotions means that you don't simply brush feelings of sadness or anxiety under the carpet in order to feel better.
👉🏽 RELATED POST: How to Improve Emotional Wellness
More often than not, in an attempt to 'just get over it', we crush our emotions into a corner and (try to) go on with our day. This can lead to suppressed emotions, and anyone who has tried it can attest to the fact that it's usually more detrimental to your mental health, although it may seem like a quick-fix.
Instead, cope with the crisis by actually coping with the crisis. This means naming emotions and acknowledging them. Validate the way that you feel and take some deep breaths. This helps to ground you and is a step in the right direction in terms of really dealing with the emotions you may be feeling during a crisis.
#7.
Eat High-Quality, Nutrient-Dense Foods
As a nutritional therapy practitioner, my biggest tip is to focus on eating high-quality, nutrient-dense foods and avoiding processed junk food and refined sugar. This includes high carbohydrate foods and especially soda. The chemicals in these foods affect the production of mind stabilizing neurotransmitters. Many of these foods have been linked to depression and anxiety.
👉🏽 RELATED POST: How to Eat Healthy When You're Busy
Compound this with the lack of movement due to stay at home orders and these foods are a recipe for disaster. My best food recommendations include lots of fruits and vegetables, high-quality grass-fed meats, and especially organ meats. These foods are loaded with lots of vitamins like B-vitamins, vitamin A, Vitamin C… minerals like iron, zinc, copper, and selenium and nutrients like choline, Co-Q-10, and quercetin.
It's especially important to get lots of protein in your diet along with healthy fats. Neurotransmitters like serotonin and dopamine are made from amino acids, and fat keeps your gallbladder working and helps your prostaglandin inflammation system. Chronic inflammation is at the heart of most mental illnesses.
That's why one of the best daily activities to improve mental health is to just eat healthy, high-quality foods.
#8.
Cultivate What You See and Hear
Motivation seems to be a trait that is cultivated through daily practice and discipline. If we have a low sense of motivation, I highly encourage people to read books, listen to podcasts, or go to workshops with individuals whose motivational techniques are uplifting.
Just as negativity is contagious, so is positivity and motivation. There are reasons why the self-help world is such a phenomenon. People like Tim Ferriss, Tony Robbins, Gabriel Bernstein, Marie Kondo, Oprah, and Jay Shetty are a few that seem to easily uplift people's motivational skills. Also, develop a daily discipline, just as we try to exercise our physical bodies several days a week or brush our teeth for hygiene we must develop a daily practice of motivating ourselves.
👉🏽 RELATED POST: How to Spend a Mental Health day
The best ways to stay motivated right now with no end in sight is to cultivate what you are choosing to let in your eyes and ears. Is Netflix constantly streaming? Jim Rohn once said we are the product of the five people we surround ourselves most with. If this is difficult to do because of the crisis what are you listening to and watching?
Choose wisely. Follow people's social media or youtube tutorials for starting a business, such as Marie Forleo. I highly emphasize developing a routine and daily mindfulness practice. Carve out time to meditate, engage in daily morning pages, daily gratitude, physically work out, and focus on one's business or side hustle.
#9.
Ground Yourself with Your Senses
Stay in the present moment. Get away from the media as often as you can and focus on where you are at this moment and what's going on in front of you. Ground yourself by bringing your full awareness to your senses. Notice what you hear, see, feel, smell, and taste. Feel the ground hold you up. Feel the sensations of being alive. Breathe deep into your belly and relax your shoulders.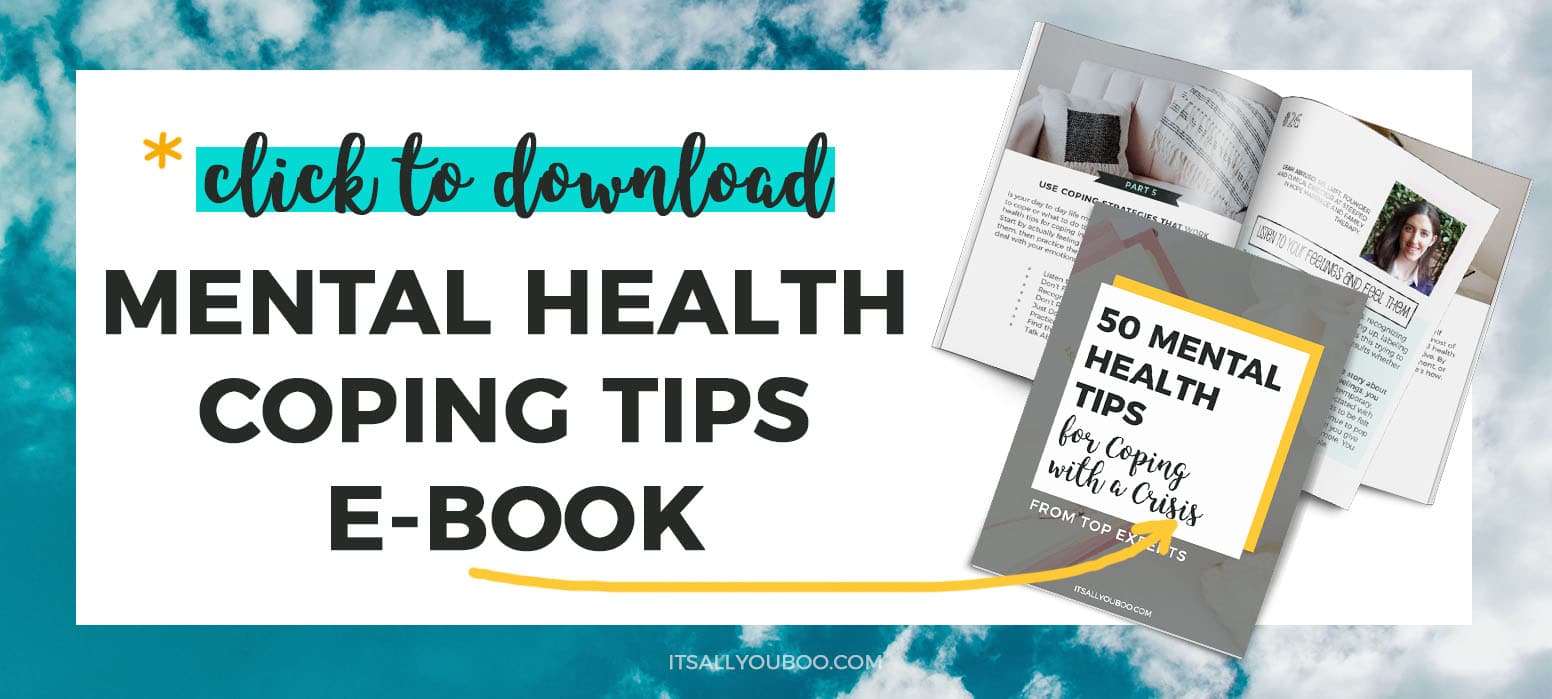 You are strong. You need only focus on what you CAN do. Let the problems in front of other people be solved by those people. To avoid panic and overwhelm we must focus on our situation alone and not take on the emotions, problems, and fear of the world. We can help when things appear in front of us but only if we are collected into a calm and clear composure. Care for yourself so that you may care for others when the time arises.
Staying grounded is a powerful daily activity to improve your mental health and wellness.
#10.
Make One Joyful Commitment A Day
As I teen I spent six months undergoing chemotherapy for cancer in LA, hundreds of miles away from my brothers, my dad, and my friends. There were often long stretches of time when my immune system was too weak to leave the house or be in public for risk of infection; not unlike today's crisis.
My strategy for coping with such frustrating, anxiety-inducing restlessness was to supplement each day with at least one joyful commitment – something to look forward to that wasn't life-goal oriented.
I've long struggled with depression as well, and my mother taught me at a young age that excitement and enthusiasm are incredible motivators. So while still being productive professionally, I make sure to add at least one thing to my to-do list that's all about joy. Whether it's an aura-cleansing bubble bath or making a special dinner, make sure you have something to look forward to each day.
Getting things done and feeling accomplished is a great feeling; it doubles in satisfaction when that productivity has a reward attached and brings playfulness back into times of uncertainty and restriction. After all, we're lucky to be alive! Life should be enjoyed, even amidst struggle! Improve your mental health by making joyful commitments a daily activity.
#11. Do Deep Breathing Exercises
DBE is scientifically effective in managing stressful situations such as a crisis. In the health setting, professionals often tell patients to deep-breathe when they're in pain. Deep breathing is effective in releasing stress and improving lung function.
A crisis can develop a mental strain. When you do deep breathing, it sends a signal to the brain to relax. This helps in stabilizing your heart rate and blood pressure.
How is DBE done?
Sit in a comfortable position.
Take a deep breath in through your nose.
Breath out through pursed lips like you are whistling.
Do this 3-5 times, taking your time each breath.
By making deep breathing a habit, you are training your body to calm down easily. Stress and anxiety have a negative impact on your health. Learning how to release them will have many health benefits in the long run.
#12.
Meditate for a Few Minutes a Day
One of the ways that I cope and I suggest to others is mediation. Meditating for just a few minutes a day can not only improve your mood but also relax your mind so that you can get on with your day.
I have had others say to me they can't meditate but what they don't realize is that when you are in the shower and your thoughts aren't on work or anything else, you are actually meditating. Going for a walk is a form of mediation. Coloring or just drawing is a form of meditation, writing in a journal can be a form of meditation, at this point you're able to write down all that you are feeling.
Meditation isn't about emptying the mind it's about relaxing the mind, body, and spirit. When these three things are balanced you can get more done and this can help you overcome anything. Meditation can be practiced anywhere unless you're driving. It's one of the best daily activities to improve mental health.
#13.
Open Up To A Counselor
Life is filled with curveballs. All of us have felt this feeling one time or another where we feel that all hope is lost, despair, and anxiety. Well, you are not alone.
Researchers have estimated that 75 percent of all people experience some form of trauma in life – the loss or suffering of a loved one, the diagnosis of an illness, the pain of divorce or separation, the shock of an accident, assault or disaster. Estimates suggest that around a fifth of all people are likely to experience a potentially traumatic event within a given year.
So, what could we do to overcome and cope in times we have a personal crisis? Ask for help. Open up to a counselor.
Counselors can help you figure out and deal with your issues constructively. They can support you clinically and give you all the help you need that family and friends could not give you. They are professional listeners who can help you find the root of all of your problems, help you overcome your emotional challenges, and make positive changes in how you look at life and how you live your life.
#14.
Reduce Anxiety with Guided Imagery
Picture one of your favorite places. It could be in the mountains, on a beach somewhere, or any place that carries special significance for you. Picture yourself at this place, and visualize your surroundings. Engage all of your senses one at a time, and nestle into the energy of this place, allowing it to encompass you, nourish you, and carry your anxieties and worries away.
You can also imagine a huge bubble growing above your head. Allow all of your fears, anxieties, and uncertainties to encapsulate the bubble, growing it bigger and bigger. When it's just about ready to pop, visualize yourself reaching up with a pin, popping the bubble, and releasing its content into the ether.
#15. End Each Day with a Humming Meditation
The mind is like a running Vacuum Pump without a power-off button. It keeps itself feeding whatever we provide it with. So, in a crisis like the situation, we cannot help but tend to fill our minds with a lot of negative vibes like anxiety, stress, grief, and loneliness.
The best way to avert a mental crisis during any crisis situation is to begin as well as end our day with Humming Meditation while playing any Soft Music you like. It's a well-tested tool and let me tell how it works.
The Humming Meditation soothes our troubled mental state and helps us to repel the negative vibes away from getting sucked up by the mind. Then Soft Music acts as a good and positive replacement for negative vibes for feeding our calmed mind. Hence, our mind starts working as a thought purifier rather than a vacuum pump of negative thoughts.
More Mental Health Tips for Daily Use
These are just fifteen of countless daily activities you can use to improve your mental health. With the current pandemic and crisis, it's the best choice to focus on creating good mental health habits.
Get your free copy of the 50 Mental Health Tips for Coping in a Crisis eBook.
Get your FREE 50-Page eBook
Please remember to be sure to seek professional help if you need it, call a crisis line or make an appointment with a counselor.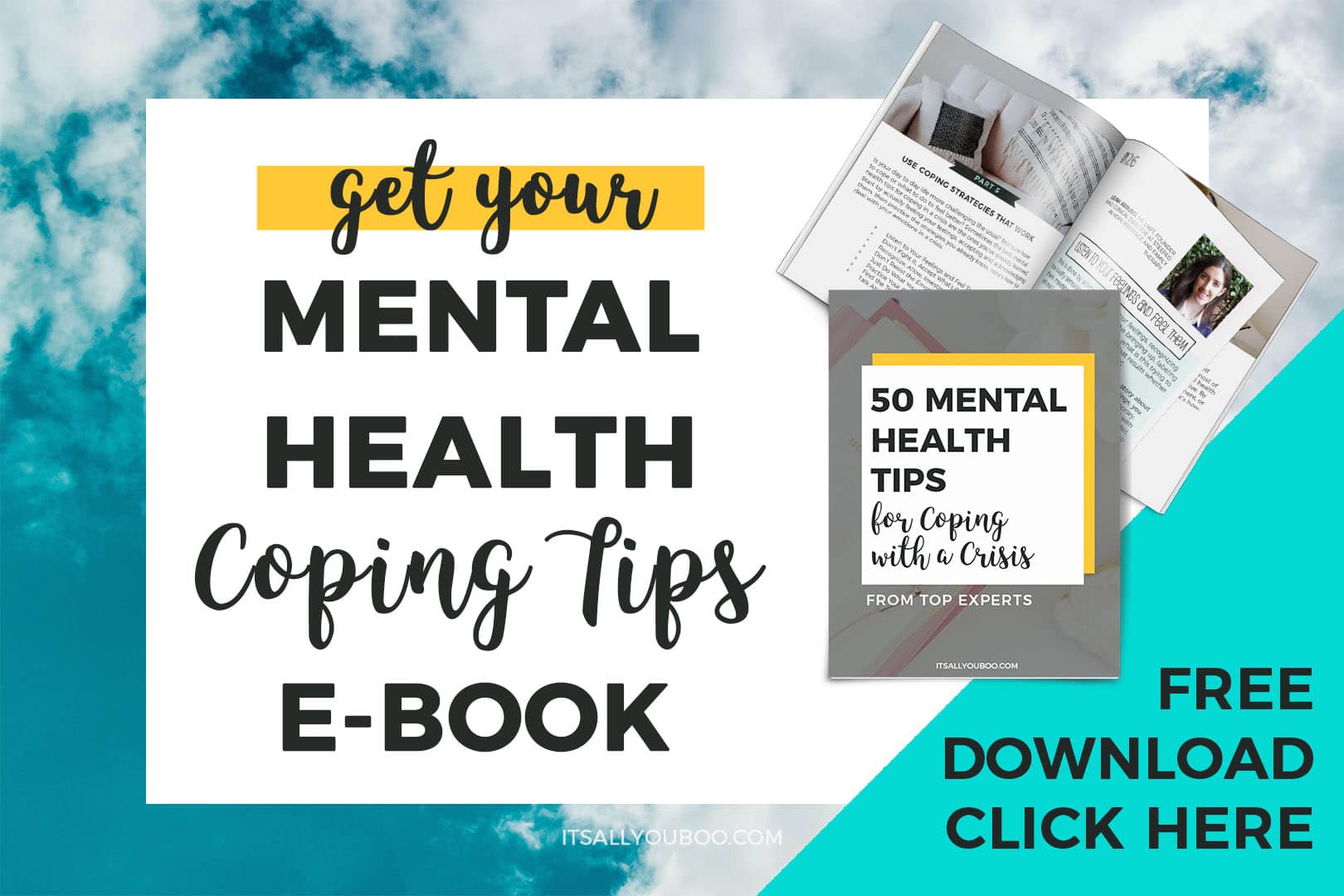 Wishing you the best for your mental health during these trying times.
Stay safe and take good care of your emotional health and wellbeing.
Struggling right now and need good mental health tips? Click here for 15 daily activities to improve mental health and create positive habits. #MentalHealth #MentalHealthMatters #MentalHealthAwareness

What daily activities to improve mental health do you do?
Last Updated on May 19, 2023