What is a good quote for hot weather? Looking for hot weather quotes to beat the heat?
Sunny days are here, and the days are getting hotter and hotter. Rolling in thick and heavy, summer heat settles in for a long day of sunshine.
The earth is getting hotter, that's a fact. With daily records being broken and scorching temperatures we have never experienced before. We better get used to hearing headlines like "Today was the hottest day ever recorded."
Love it or hate it, warm weather turns to hot weather, and for some unbearable weather. Maybe you're looking to beat the heat and stay cool.
For those in the Northern Hemisphere, hot weather typically happens from June through August. And on the flip side, the Southern Hemisphere enjoys summer from December through February. If you love hot weather you could become a snowbird!
Or perhaps you love those hot summer days when the sun is high and your energy is low. Lazy hot days when you can lay on the sofa, stretch out by the pool, or breath in the cool breeze at the beach.
Whether you want to celebrate hot summer days or looking to beat the heat, here are 110 Hot Weather Quotes. Don't forget your sunglasses and your sunscreen!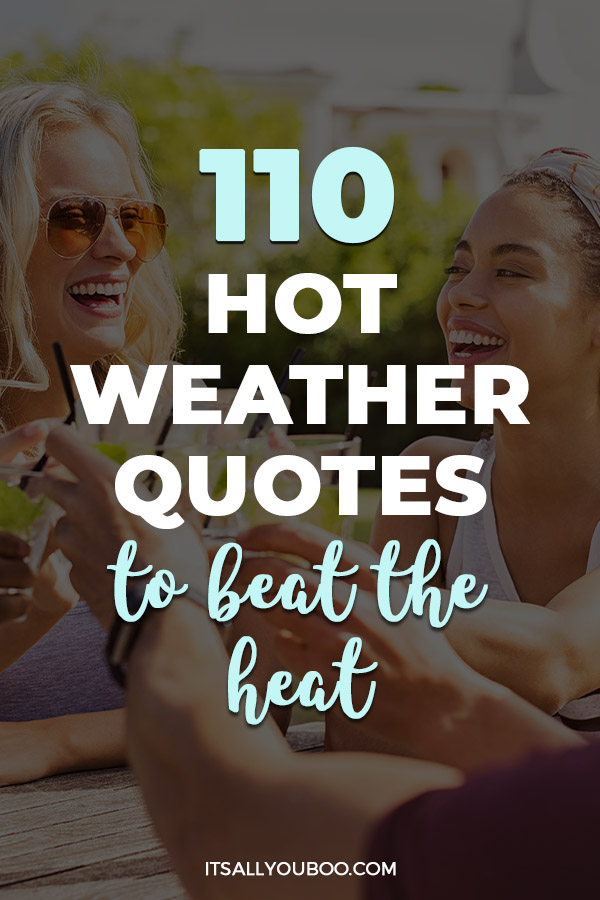 Feel the Warmth of Summer Quotes
What does warm weather feel like? How would you describe a hot summer day? Let's begin with hot weather quotes that illustrate the warmth of summer. There's something cozy and caring about a warm day. Somehow being warmed on the outside, warms the inner parts of you too.
"In the summertime, when the weather is hot, you can stretch right up and touch the sky." — Mungo Jerry

"I love how summer just wraps its arms around you like a warm blanket." — Kellie Elmore
👉🏽  RELATED POST: Short Summer Quotes and Captions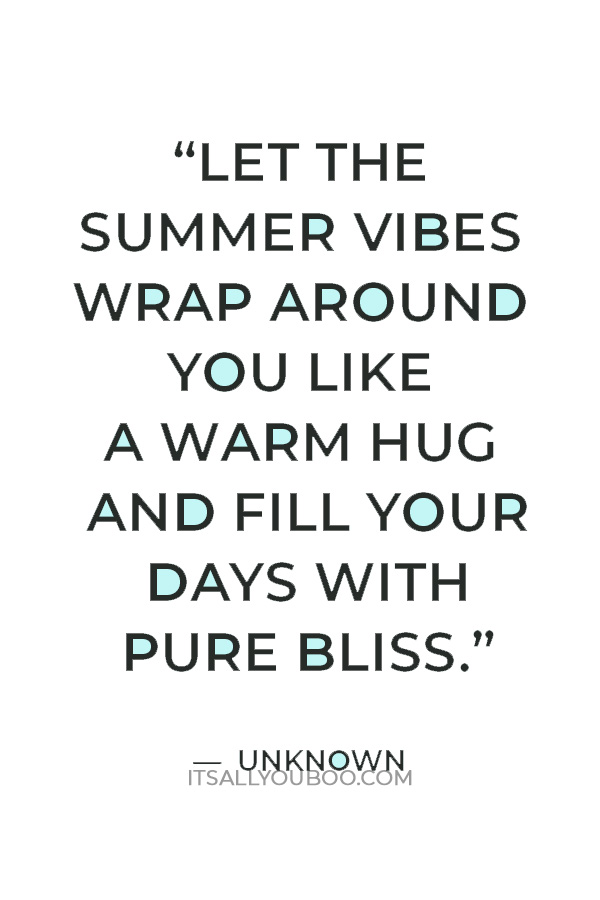 "Let the summer vibes wrap around you like a warm hug and fill your days with pure bliss." — Unknown
"As if summer had bloomed inside the club and wrapped her in its lazy heat" ― Malinda Lo

"Thanks to hot weather for letting me enjoy my ice cream, thanks to cold weather for letting me feel my mommy's warm hug…" ― Sulim
"Sleeping is hard in the very hot weather because the blanket is too warm but I can't take them off as monsters might get me." ― Unknown
Soak Up the Summer Sun Quotes
Ready to welcome the sun? To soak up its rays and enjoy perfect summer days? I sure hope so because the following hot weather quotes celebrate the summer sun in all her glory. As the sun moves closer to us during the summer months, we become alive!
"Here comes the sun, and I say, it's all right." —The Beatles
"Oh sun! Fervid Sun! You welcome me with summer. Drench me in your rays." — Richelle E. Goodrich
"Ô, Sunlight! The most precious gold to be found on Earth." ― Roman Payne

"Summer has a flavor like no other. Always fresh and simmered in sunshine." — Oprah
👉🏽  RELATED POST: 71 Hello August Quotes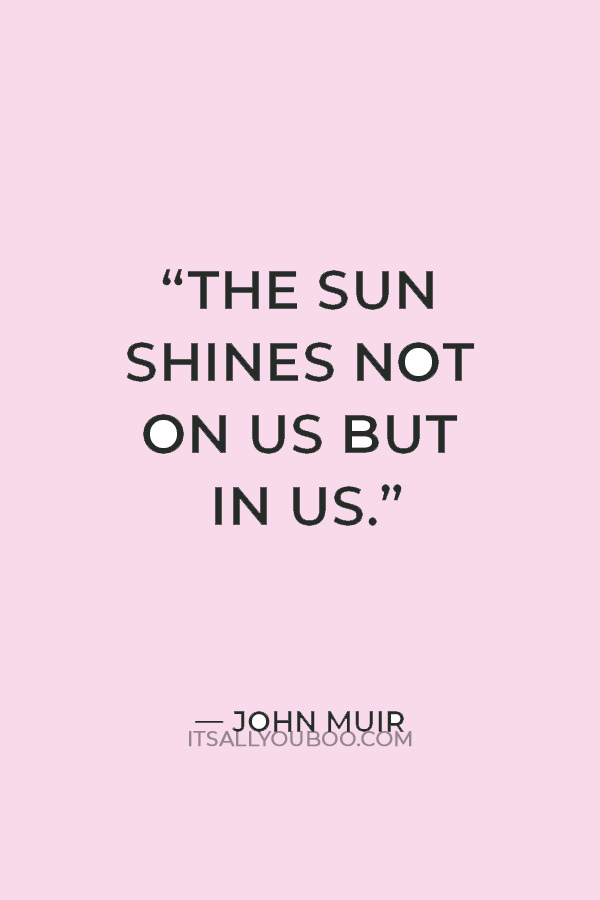 "The sun shines not on us but in us." — John Muir


"Summer days drifting away to, oh, oh, the summer nights." — Grease


"In summer, the song sings itself." — Williams Carlos Williams
"You are so much sunshine in every square inch." — Walt Whitman


"Then followed that beautiful season… Summer… Filled was the air with a dreamy and magical light.." — Henry Wadsworth Longfellow


"Summer has filled her veins with light and her heart is washed with noon." — C. Day Lewis



👉🏽  RELATED POST: Summer Solstice Quotes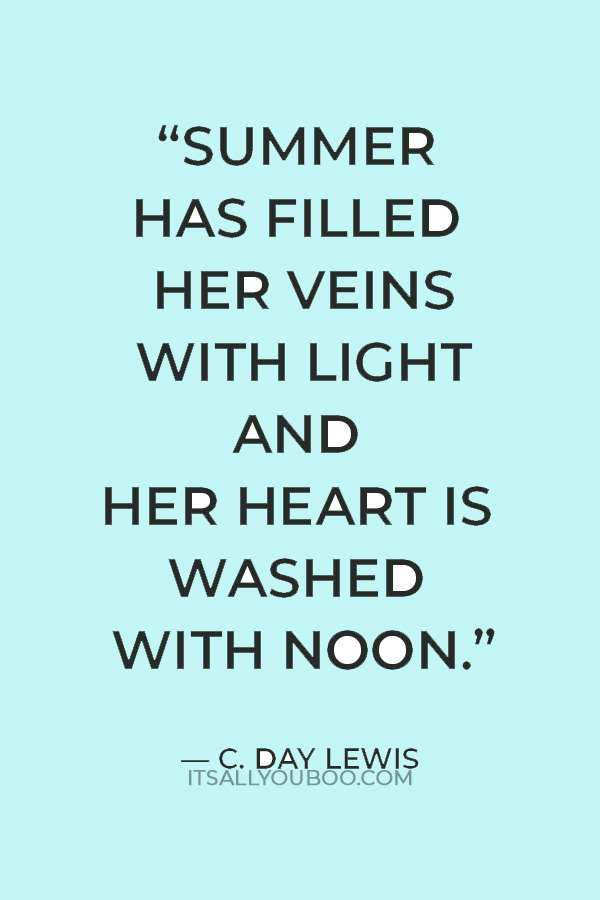 "We know summer is the height of being alive." — Gary Shteyngart


"I had that familiar conviction that life was beginning over again with the summer." — F. Scott Fitzgerald

"I will always be haunted by thoughts of a sun-drenched elsewhere." — Isabelle Eberhardt
Summer Puts You In A Good Mood Quotes
Are you happier in summer? Do you feel better in hot weather? This selection of hot weather quotes to beat the heat explores the wonder of how we feel in summer. Something about hot weather just puts us in a good mood. Life is better, days are brighter, and our burdens lighter. What does your happiness look like?
"Let us dance in the sun, wearing wild flowers in our hair…" ― Susan Polis Schutz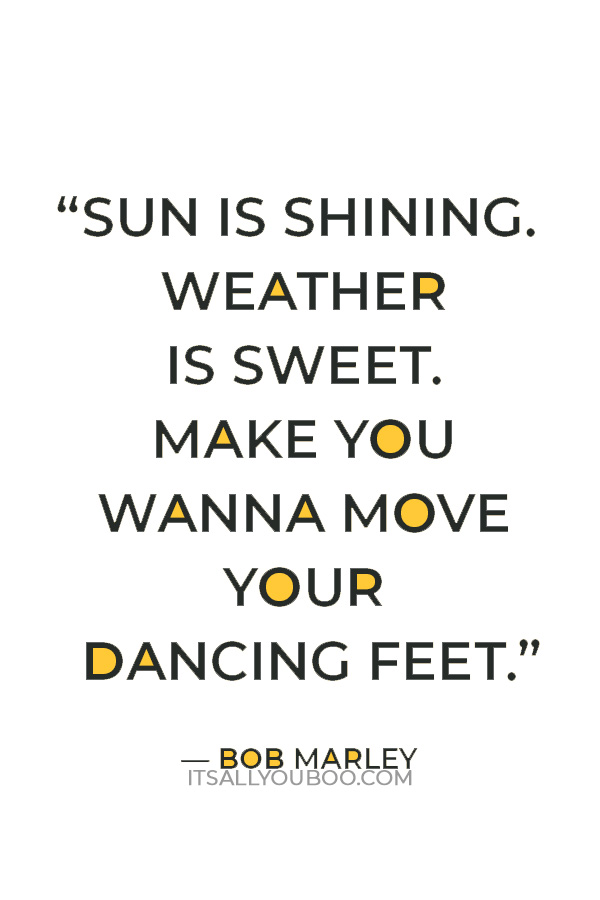 "Sun is shining. Weather is sweet. Make you wanna move your dancing feet." — Bob Marley


"When the sun is shining I can do anything; no mountain is too high, no trouble too difficult to overcome." — Wilma Rudolph


"Deep summer is when laziness finds respectability." — Sam Keen
"Keep your face to the sun and you will never see the shadows." — Helen Keller


"On an island in the sun, we'll be playing and having fun, and it makes me feel so fine, I can't control my brain." — Weezer
👉🏽  RELATED POST: Hello June Quotes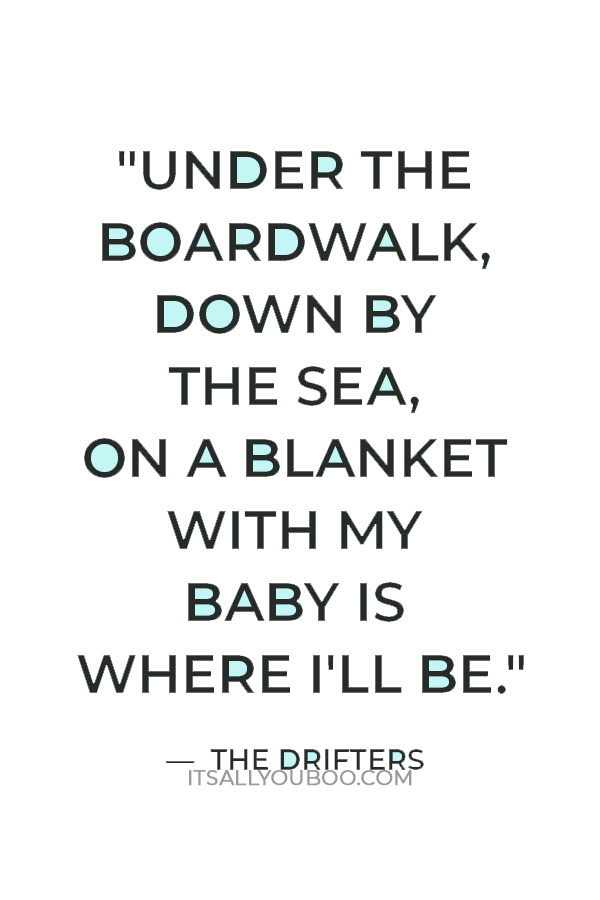 "Under the boardwalk, down by the sea, on a blanket with my baby is where I'll be." — The Drifters


"Summer means happy times and good sunshine. It means going to the beach, enjoying the scenery, having fun with family and friends." — Brian Wilson


"I love the summer…. the warm weather, hangin out with friends, and swimmin in the warm water….. but most importantly grabin a glove and a ball and playin some softball in the heat." — James Madison


"There's nothing better than a beautiful day at the beach filled with sun, surf, and uh, diligent note-taking. "— Pam Beesly, The Office


"Everything good, everything magical, happens between the months of June and August." — Jenny Han
The Smell of Summer Heat Quotes
What does summer smell like to you? What do your senses experience? The proceeding hot weather quotes explore the senses. From the sounds and smells to the overall feeling of life during the summer months. Flowers, sunshine, rainbows? When the weather is warm, there's often an odor and it's not always pleasant.

"The mild heat of the morning sun is a healing gift from heaven." ― Michael Bassey Johnson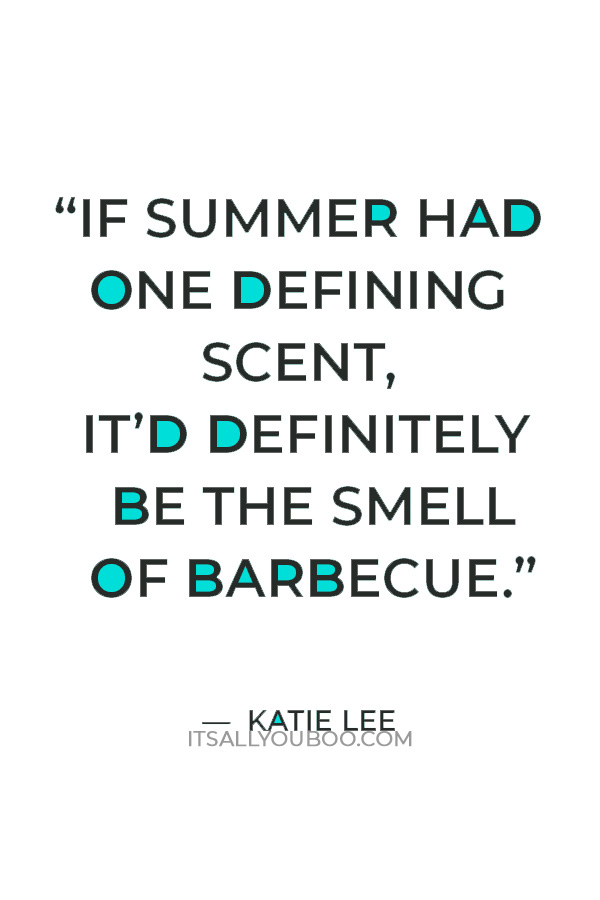 "If summer had one defining scent, it'd definitely be the smell of barbecue." — Katie Lee


"I love New York, but I don't like how it smells like hot pee and garbage in the summer. I feel like Chicago isn't that way. Maybe I'm just being romantic." — Cecily Strong


"I know that if odour were visible, as colour is, I'd see the summer garden in rainbow clouds." — Robert Bridges


"At night, got weather opens the skull of a city, exposing its white brain, and its heart of nerves, which sizzle like the wires inside a lightbulb. And there exudes a sour extra-human smell that makes the very stone seem flesh-alive, webbed and pulsing." — Truman Capote


"I know that if odor were visible, as color is, I'd see the summer garden in rainbow clouds." — Robert Bridges
👉🏽 RELATED POST: End of Summer Quotes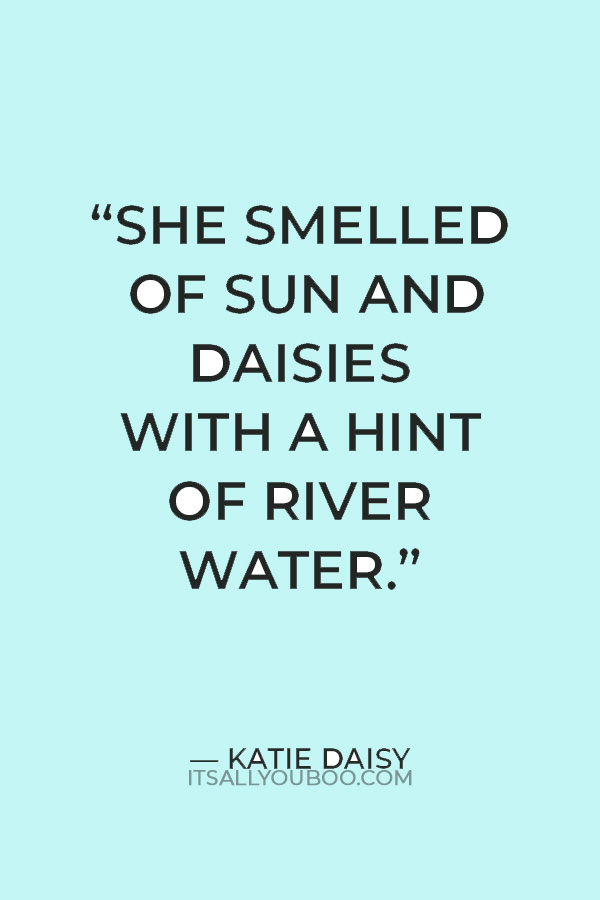 "She smelled of sun and daisies with a hint of river water." — Katie Daisy
Summer Hot Weather Quotes
What makes you feel refreshed during the summer? What gives you joy and energy in warm weather? The following collection of hot weather quotes to beat the heat describe the almost divine nature of summer. No wonder the ancients worshipped the sun and almost every culture has a sun god or goddess. I wonder what the deity of hot weather is?
"Wind is God's way of balancing heat." – Unknown


"Live in the sunshine, swim the sea, drink the wild air." — Ralph Waldo Emerson


"Just living is not enough … one must have sunshine, freedom, and a little flower." — Hans Christian Andersen


👉🏽  RELATED POST:  36 Hello Summer Quotes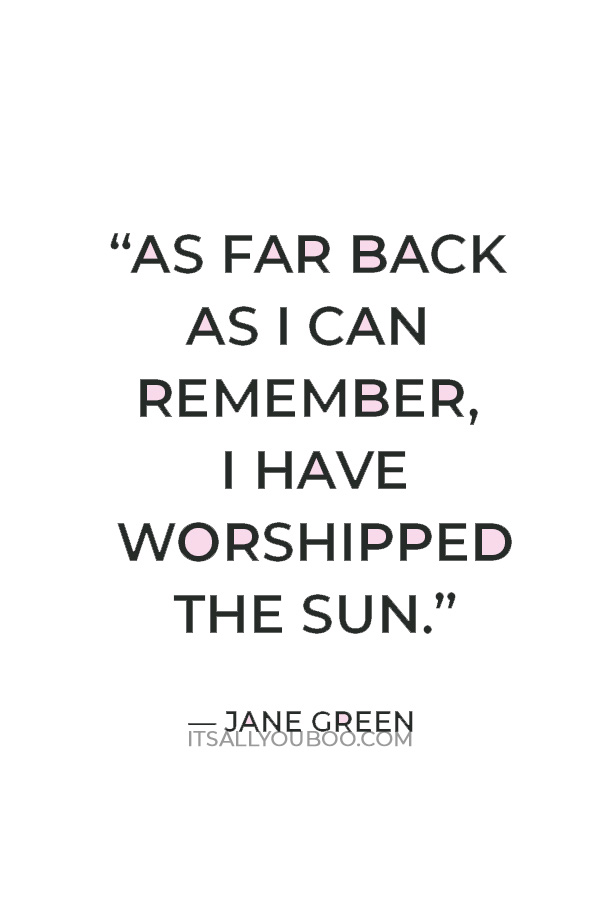 "As far back as I can remember, I have worshipped the sun." — Jane Green


"I walk without flinching through the burning cathedral of the summer. My bank of wild grass is majestic and full of music. It is a fire that solitude presses against my lips." — Violette Leduc


"Sunshine is delicious, rain is refreshing, wind braces us up, snow is exhilarating there is really no such thing as bad weather, only different kinds of good weather." ― John Ruskin
Scorching Hot Sunny Weather Quotes
What do you do when it's super hot outside? How do you enjoy or endure warm weather? This next of very hot weather quotes describes the feeling of both loving and hating the heat. Is it suffering or sweetness to you?
👉🏽  RELATED POST: Strong Leo Quotes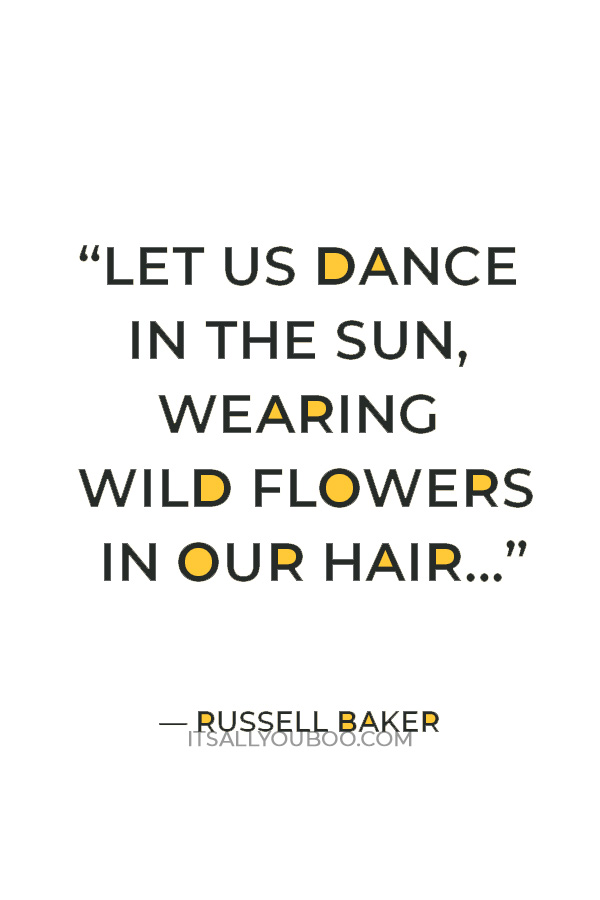 "Ah, summer, what power you have to make us suffer and like it." ― Russell Baker
"The most obnoxious thing in the world is to listen to others drone on about how much they love the heat." — Anonymous

"When I feel the heat, I see the light." ― Everett Dirksen


"When you can't make them see the light, make them feel the heat." ― Ronald Reagan


"You can feel it in the streets. On a day like this, the heat, I feel like summer." — Childish Gambino


"Surely, anyway, a working day of eight or nine hours which is not split by a nap is simply too much for a human being to take, day in, day out, and particularly so in hot weather." – Tom Hodgkinson


"I like hot weather. I think it might be a bit better if England was a bit hotter." — Freddie Highmore


"When the weather is really hot, I tend to live in denim cut-offs." — Ashley Madekwe
Beat the Heat with a Cool Drink Quotes
How do you cool down on a super hot day? What do you drink or eat to break the heat? With this selection of hot weather, quotes are all about cooling down with your favorite drink or treat. How do you stay cool in a heat wave? Or do you drink hot coffee in hot weather?
"Ice is most welcome in a cold drink on a hot day." ― Vera Nazarian
👉🏽  RELATED POST: Find Happiness in Nature Today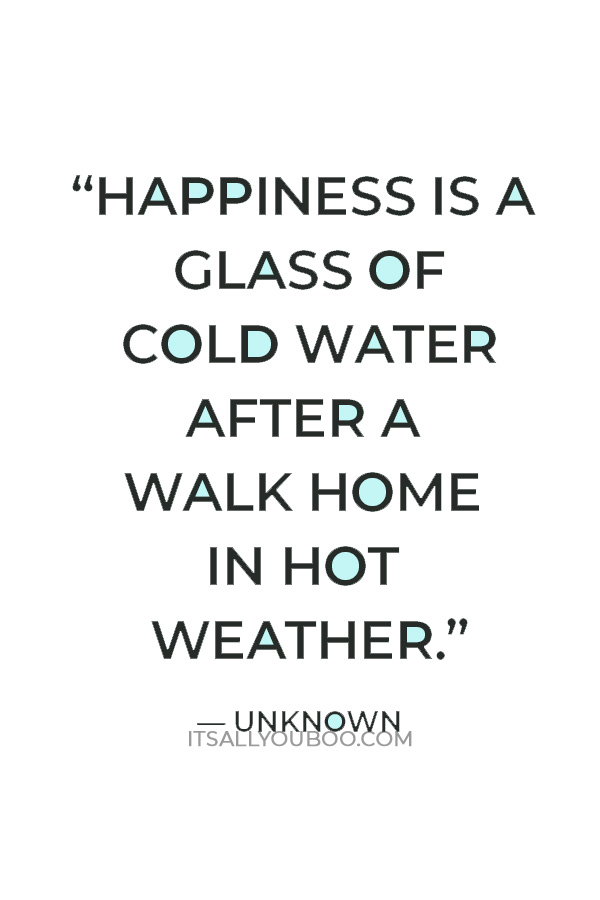 "Happiness is a glass of cold water after a walk home in hot weather." ― Unknown

"Iced tea is too pure and natural a creation not to have been invented as soon as tea, ice, and hot weather crossed paths." — John Egerton


"Dirty hands, iced tea, garden fragrances thick in the air and a blanket of color before me, who could ask for more?" — Bev Adams

"It is a grave error to assume that ice cream consumption requires hot weather." — Anne Fadiman


"Let a man walk ten miles steadily on a hot summer's day along a dusty English road, and he will soon discover why beer was invented." — Gilbert K. Chesterton


"This kind of heat sucks when you're not at the beach with a cold beer in your hand. I need a vacation from my vacation." ― April Mae Monterrosa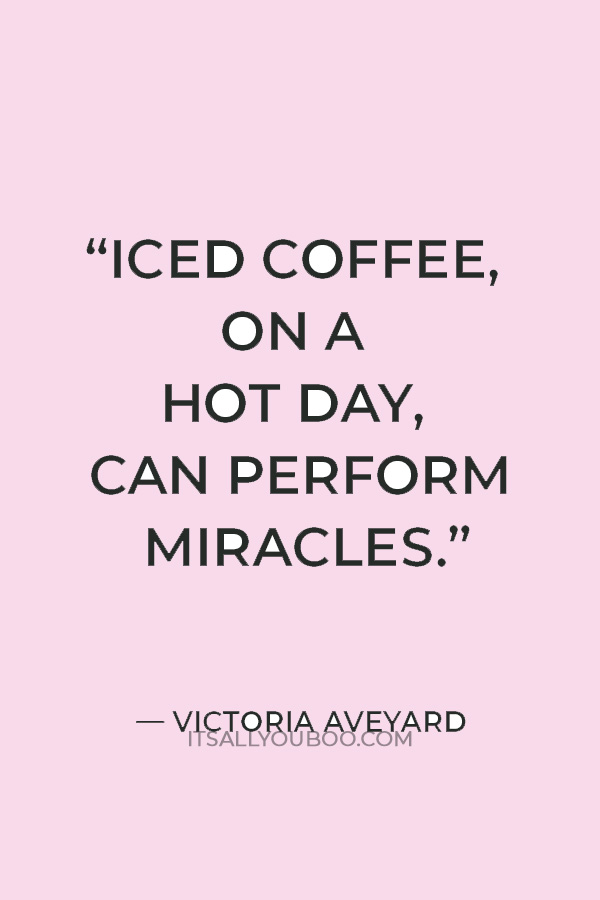 "Iced coffee, on a hot day, can perform miracles." ― Victoria Aveyard


"It's a smile, it's a kiss, it's a sip of wine… it's summertime!" — Kenny Chesney


"I am cruel thirsty this hot weather… Nothing makes me so excessively peevish as hot weather." ― Jonathan Swift
Quotes About Hot Summer Flings
Do you always fall in love during summer? Are you looking for a hot summer flight? Let's celebrate summer love with these hot weather quotes. You never know what romance awaits you in warm weather.
"When the weather is hot, keep a cool mind. When the weather is cold, keep a warm heart." — Ajahn Brahm
"What grows best in the heat: fantasy, unreason, lust." ― Salman Rushdie



👉🏽  RELATED POST:  Quotes about Love and Romance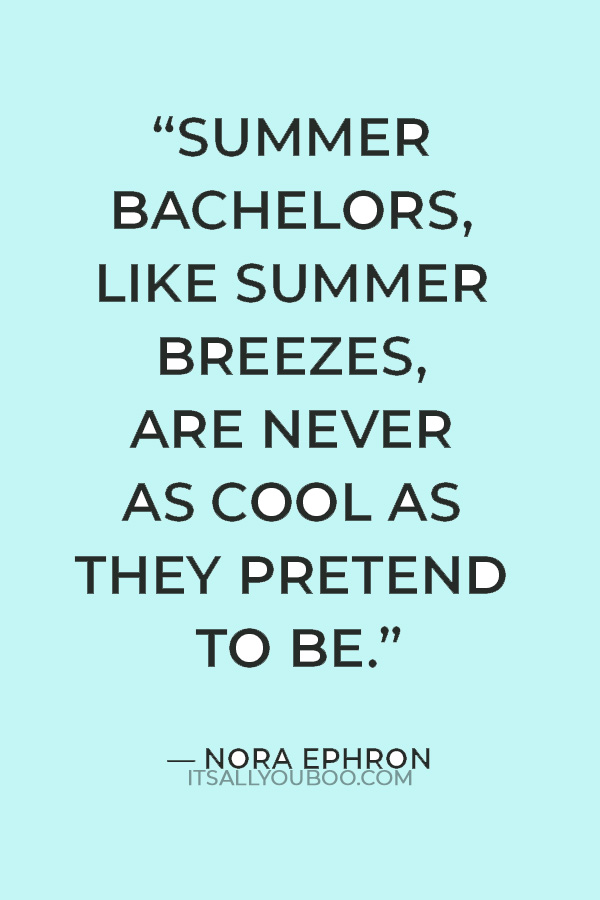 "Summer bachelors, like summer breezes, are never as cool as they pretend to be." — Nora Ephron


"It was always the view of my parents…that hot weather encouraged loose morals among young people." — Ian McEwan
"I know I am but summer to your heart, and not the full four seasons of the year." — Edna St. Vincent Millay


"Summer, dropping so easily a delicious everything upon your skin and lips. Like a never-ending kiss — taunting, deep, and luscious. The sun. The heat. The thousand echoes of a timelessness before time, when every day seems longer than the next and no day seems likely to ever truly end. Summer." – Carew Papritz


"People change more frequently than the seasons do, and still, we blame the sun for bringing in the heat." — Shweta Tale
Hot Sunny Weather Quotes
Does it ever feel too hot for you? Are you dreading the summer months? Let's talk about it with these hot weather day quotes to beat the heat. Maybe you lose your cool on hot days, or perhaps you just like to sizzle in the sun.
"It ain't the heat, it's the humility." — Yogi Berra


"What dreadful hot weather we have! It keeps me in a continual state of inelegance." — Jane Austen
"The damned heat was getting to his brain." — Erik Tomblin


"Then came July like three o'clock in the afternoon, hot and listless and miserable." — Allie Ray, Holler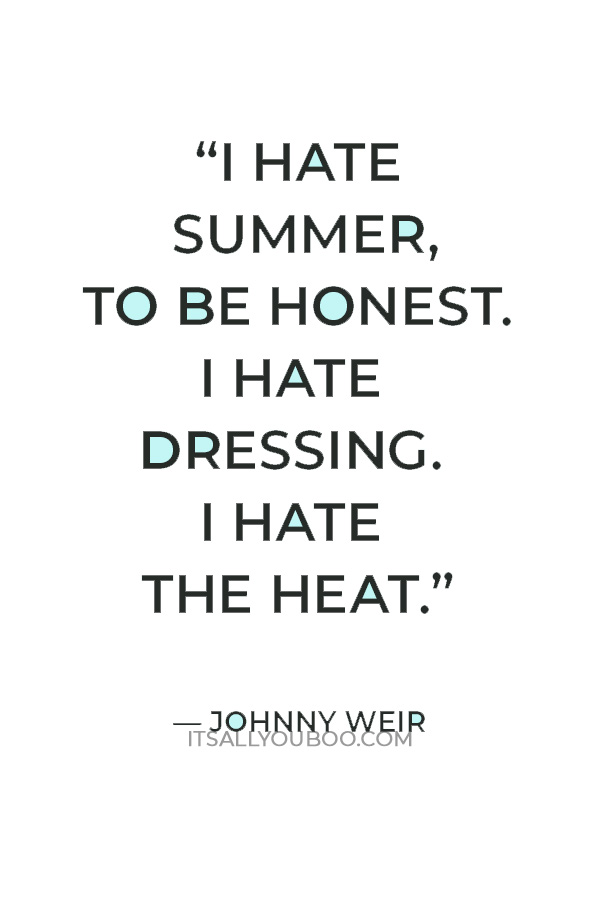 "I hate summer, to be honest. I hate dressing. I hate the heat. I hate sweaty people getting aggressively close to you when you're walking down the street." — Johnny Weir


"It is difficult to be good-natured in a hot day. Intense heat destroys even the temper of steel, and why not that of flesh and blood?" — George D. Prentice
"If you can't stand the heat, get out of the kitchen." — Harry S Truman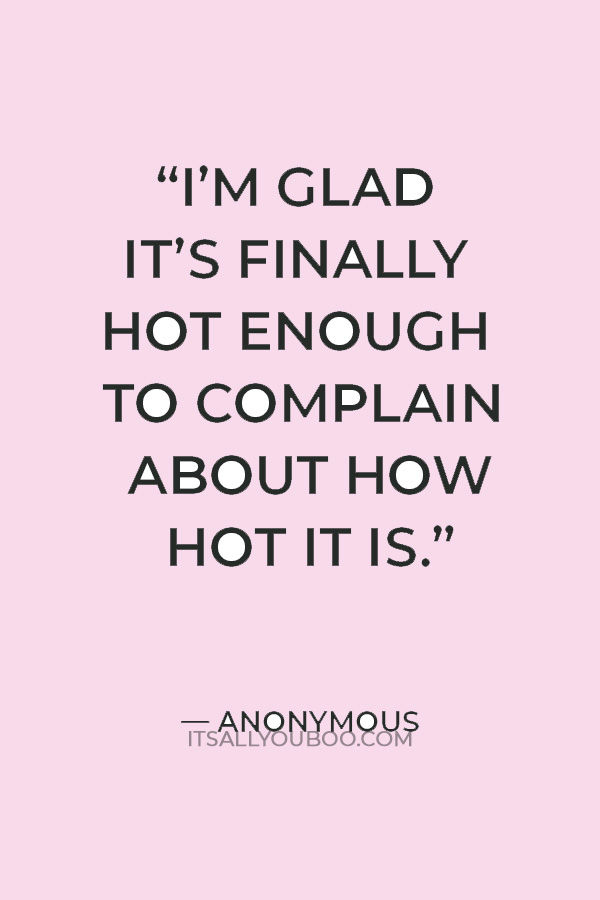 "I'm glad it's finally hot enough to complain about how hot it is." — Anonymous


"The morning heat had already soaked through the walls, rising up from the floor like a ghost of summers past." — Erik Tomblin


"Summer nearly does me in every year, It's too hot and the light is unforgiving and the days go on way too long." – Anne Lamott


"The thing with heat is, no matter how cold you are, no matter how much you need warmth, it always, eventually, becomes too much." ― Victoria Aveyard


"August is a month when if it is hot weather it is really very hot." — Gertrude Stein
Funny Hot Weather Quotes
How well do you handle the heat? What's the funniest thing you've said while melting in the sun? The next collection of funny hot weather quotes will put a smile on your face. When it's hot, when you're not your best self, things happen.
"Ah earth you old extinguisher." ― Samuel Beckett


"It's a sure sign of summer if the chair gets up when you do." — Walter Winchell


"Hot weather is like the government, always in the wrong." — Jerome K. Jerome


"The heat index is somewhere between OMG and WTF." — Unknown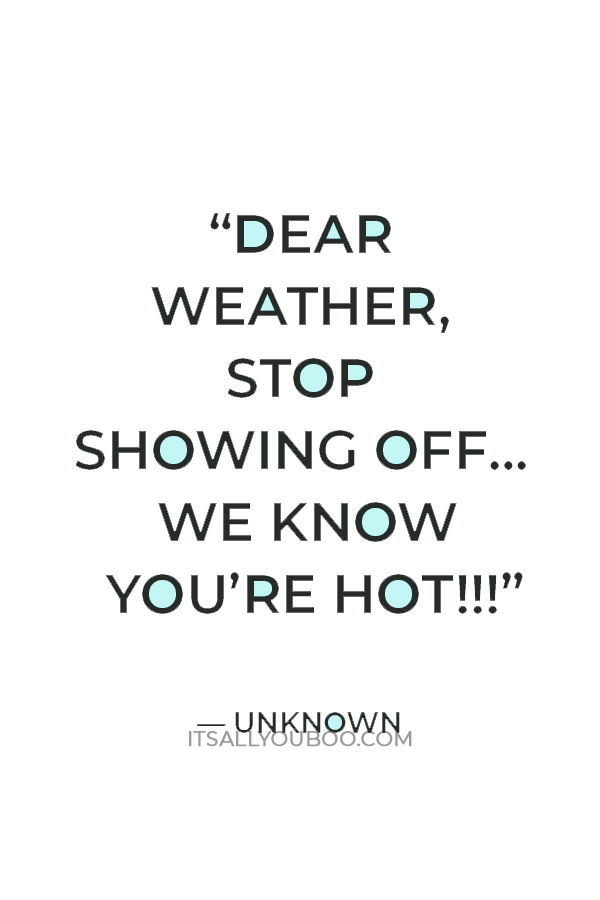 "Dear weather, stop showing off… We know you're HOT!!!" — Unknown
"A perfect summer day is when the sun is shining, the breeze is blowing, the birds are singing, and the lawnmower is broken." — James Dent


"The best thing about a heatwave is constantly having the illusion you're getting exercise." – Unknown


"I wanted to work in either Miami or L.A. After Canada, I wanted warm weather." — Jillian Barberie



"The Bermuda Triangle got tired of warm weather. It moved to Alaska. Now, Santa Claus is missing." — Steven Wright
Funny Beat the Heat Quotes
What's the funniest thing that's happened to you in summer? What's the craziest story you've ever heard? The following funny hot weather quotes illustrate the hilarity that is summer weather. Strange things happen when we're all hot and sweaty.
"One upside of the heat. Kind of cool to see a cat pant." ― Jonah Goldberg


"You know it is hot when even the dog starts to melt." — Unknown


"Never kick a fresh turd on a hot day." ― Harry S. Truman


"If you saw a heat wave, would you wave back?" — Steven Wright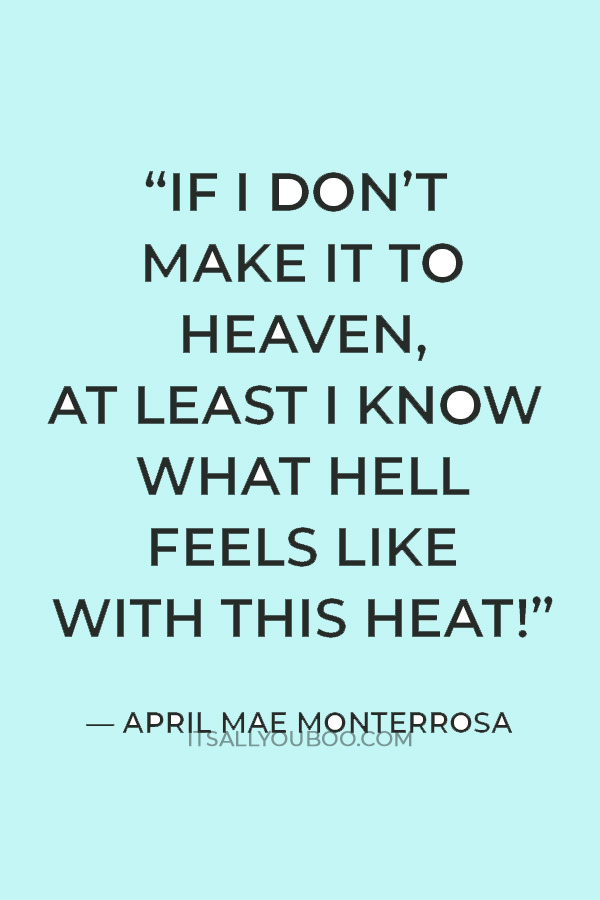 "If I don't make it to heaven, at least I know what hell feels like with this heat!" ― April Mae Monterrosa


"Satan called. He wants his weather back." — Unknown
"Heat, ma am! It was so dreadful here that I found there was nothing left for it but to take off my flesh and sit in my bones." — Sydney Smith


"I'm pretty sure humans were intended to hibernate all summer. I'm sure that I'm one of those humans. Wake me up in October." – Unknown


"It's so hot outside that I went to buy vegetables, and by the time I got home they turned into soup already." – Unknown


"God, it was hot! Forget about frying an egg on the sidewalk; this kind of heat would fry an egg inside the chicken." ― Rachel Caine
Hot and Cold Weather Quotes
Are you a winter or a summer person? Do you like it hot or cold, or neither? This final selection of hot weather quotes contrasts winter with summer. Somehow we always end up complaining that it's too hot or too cold. Would you agree?
"Cause a little bit of summer is what the whole year is about." — John Mayer

"One must maintain a little bit of summer, even in the middle of winter." — Henry David Thoreau
"People don't feel so quarrelsome in warm weather. They get crotchety in the fall and begin to go to law about things after the first hard frosts." — Elizabeth Jane Coatsworth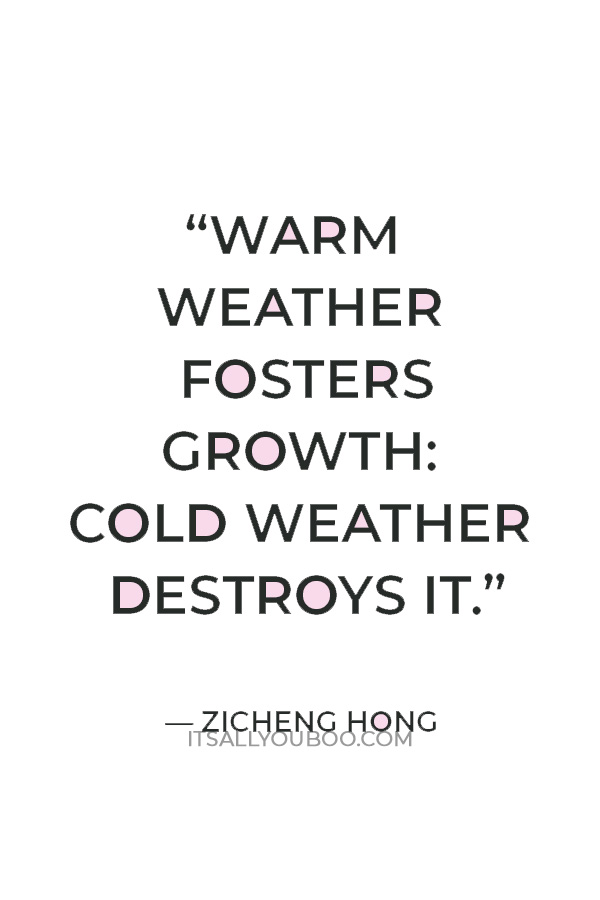 "Warm weather fosters growth: cold weather destroys it." — Zicheng Hong


"If the weather is summer in your mind, even the coldest winter will be hot for you! If the weather is winter in your mind, even the hottest summer will be cold for you!" — Mehmet Murat Ildan



"I always say that in order to appreciate warm weather, you must experience cold. I wouldn't change one thing – all the embarrassing moments, the defeats, all of everything – through all of this, I have learned me." — Floyd Patterson



"When the weather is too hot they complain, too cold they complain, and when it's just right, they're watching TV." — Rita Rudner


"I love summertime more than anything else in the world. That is the only thing that gets me through the winter, knowing that summer is going to be there." — Jack McBrayer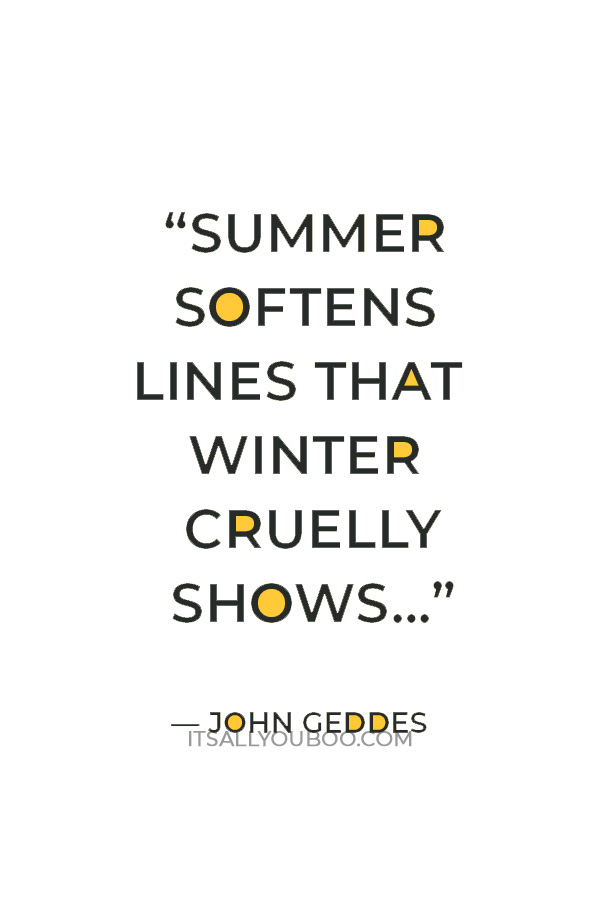 "…summer softens lines that winter cruelly shows…" — John Geddes
"People don't notice whether it's winter or summer when they're happy." – Anton Chekhov


"I'm not into cold weather, I like warm weather." — Amos Lee
Inspirational Black & White Wall Art Quotes
Loving these hot weather quotes to beat the heat? Here are 10 beautiful printable black and white art quotes that are perfect for your office, bedroom, or wherever you need the reminder to live an inspired life. Each design features a brushed ink letter detailing.
This download comes with 10 high-resolution graphics ready to be printed, framed, and posted.
I hope reading these hot weather quotes inspires you to make the most of the summer. Perhaps you're lucky enough to live in a part of the world that's always on the warmer side.
For the rest of us, we've got to get out and enjoy it while we can, until labor day arrives and we're back to school and reality.
Perhaps these are more enjoy the nice weather while you can quote because we'll soon be transitioning into fall and winter weather.
No matter the temperature, stay cool, and more importantly, keep a cool head. May we be grateful for the weather, no matter how hot it is or isn't.
Looking for quotes for hot summer weather? Here are 110 hot weather quotes to beat the heat on a scorching hot day. Enjoy the warm weather! #HotWeather #HeatWave #SummerQuotes #SummerForever #Summer #SummerVibes

Which are your favorite hot weather quotes?
Last Updated on August 8, 2023
✕
Get Your Printable Quotes
+ get weekly tips to help you slay your goals.