Looking for a nice quote about August? Want to welcome the end of summer with hello August quotes?
There's something beautiful about the month of August. Two temperate extremes housing 31 days, starting out the hottest and ending the coolest.
Saying hello to August is saying goodbye to summer. It's summer's last hot breath, the final call to enjoy slower days and warm weather. It's your last chance to indulge.
The word, August, originates in the Latin word "Augustus" and means majestic and great. How perfectly does that describe the month of August?
The ancient Roman calendar was originally ten months and started in March, making what would be August the sixth, not the eighth month of the year. During the rule of Emperor Augustus in 8 BCE, the month of Sextilis (meaning sixth) was renamed August in his honor.
Fast forward to today, a few more changes to the calendar, August is now harolds the end of summer in the Northern Hemisphere. In the Southern Hemisphere, enjoy the end of winter and the start of spring. Wherever you are in the world, August is a month of transition.
Ready to enjoy long days and warmth this August? Here are 70 Hello August Quotes to Welcome the Last Month of Summer.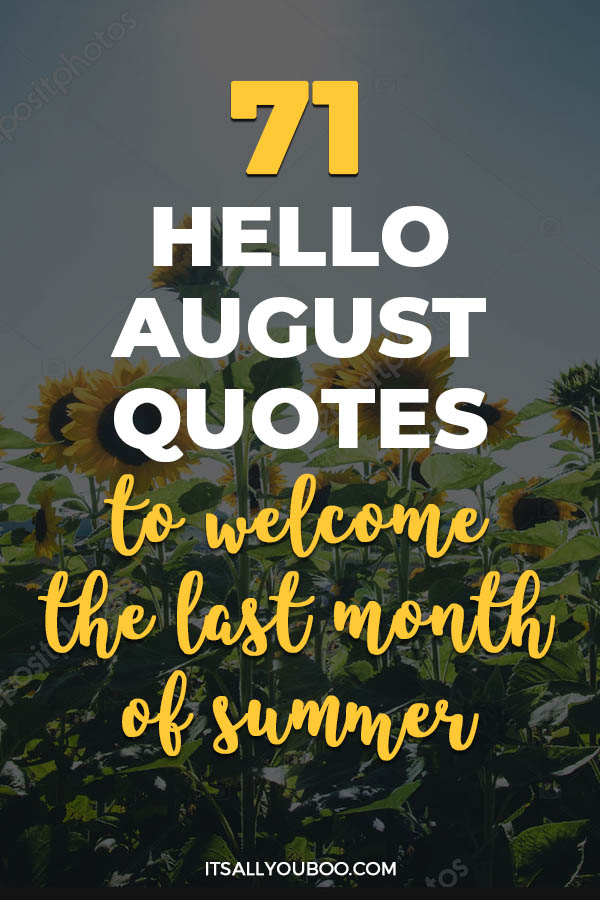 The Beauty of August Quotes
What's your favorite aspect of August? How would you describe the last of summer? Let's begin our exploration of inspirational August quotes by discovering the characteristic and beauty of the month. The sunshine is just the beginning.
"August of another summer, and once again, I am drinking the sun, and the lilies again are spread across the water." — Mary Oliver
2. "August creates as she slumbers, replete and satisfied." — Joseph Wood Krutch
👉🏽 RELATED POST: 36 Hello Summer Quotes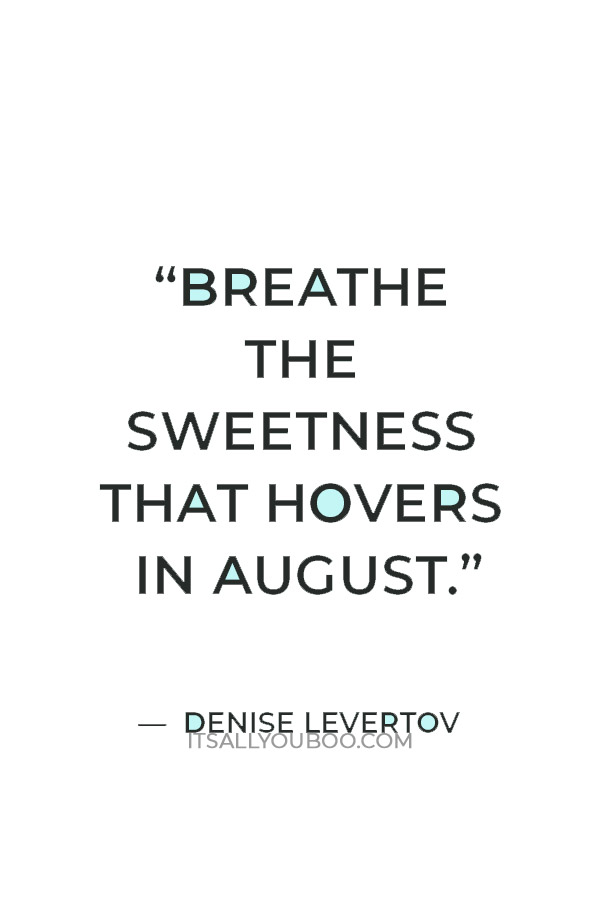 3. "Breathe the sweetness that hovers in August." ― Denise Levertov
4. "August breeze—perched on the flame tree, a red-vented Bulbul." ― Meeta Ahluwalia
5. "August is ripening grain in the fields… Vivid dahlias fling huge tousled blossoms through gardens and joe-pye-weed dusts the meadow purple." — Jean Hersey


6. "August is the time when the earth dances to the rhythm of summer, swaying with the gentle breeze." — Unknown
👉🏽 RELATED POST: Short Summer Quotes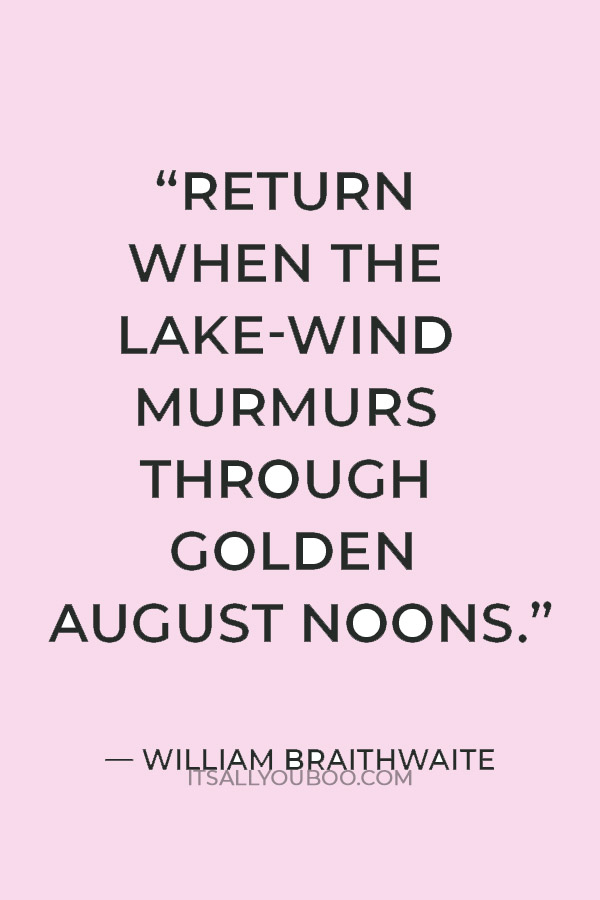 7. "Return when the lake-wind murmurs through golden August noons." — William Braithwaite
"A golden afternoon of August: every breath from the hills so full of life that it seemed whoever respired it, though dying, might revive." — Emily Brontë
9. "August is the slow, gentle month that stretches out the longest across the span of a year. It yawns and lingers on with the light in its palms." — Victoria Erickson
Welcome The Heat and Sun of August Quotes
Do you love or hate the hot weather? Are you an outside-in-the-sun or inside-in-the-air-conditioning kind of person? The following funny August Quotes are all about the heat and sunshine. Whatever you do, don't forget to wear sunscreen in August, when the sun is the hottest.


10. "Dry August and warm, doth harvest no harm." —Thomas Tusser
11. "Every year, August lashes out in volcanic fury, rising with the din of morning traffic, it's great metallic wings smashing against the ground, heating the air with ever-increasing intensity." — Henry Rollins
"The month of August had turned into a griddle where the days just lay there and sizzled." — Sue Monk Kidd
👉🏽 RELATED POST: Strong Leo Quotes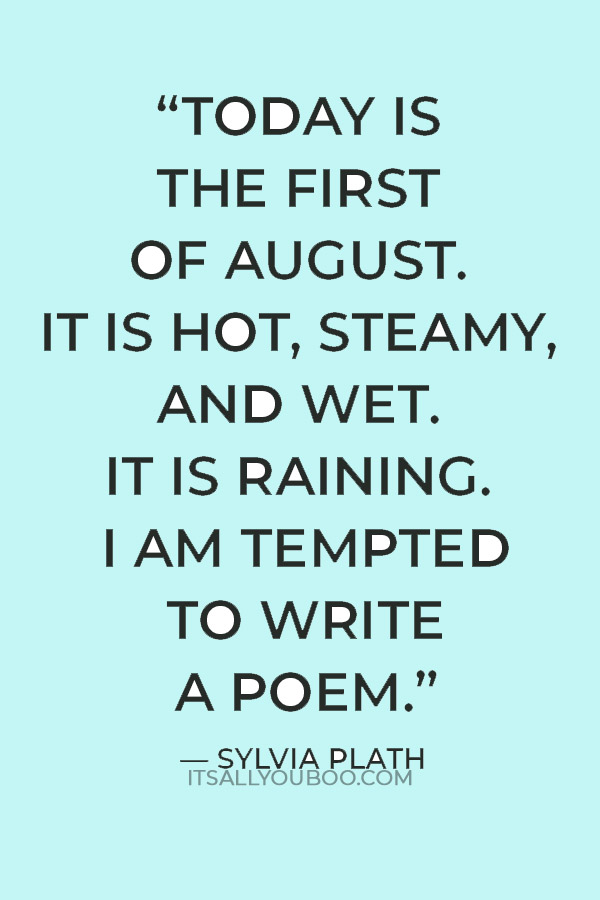 13. "Today is the first of August. It is hot, steamy, and wet. It is raining. I am tempted to write a poem." ― Sylvia Plath


14. "Some days in late August at home are like this, the air thin and eager like this, with something in it sad and nostalgic and familiar." — William Faulkner
15. "Leaving any bookstore is hard, especially on a day in August, when the street outside burns and glares, and the books inside are cool and crisp to the touch." — Jane Smiley
16. "In August, an inescapable blanket of heat settled over Paducah, the last gasping breath of summer roaring its weight out over the populace." ― Kelsey Brickl
👉🏽 RELATED POST: Hot Weather Quotes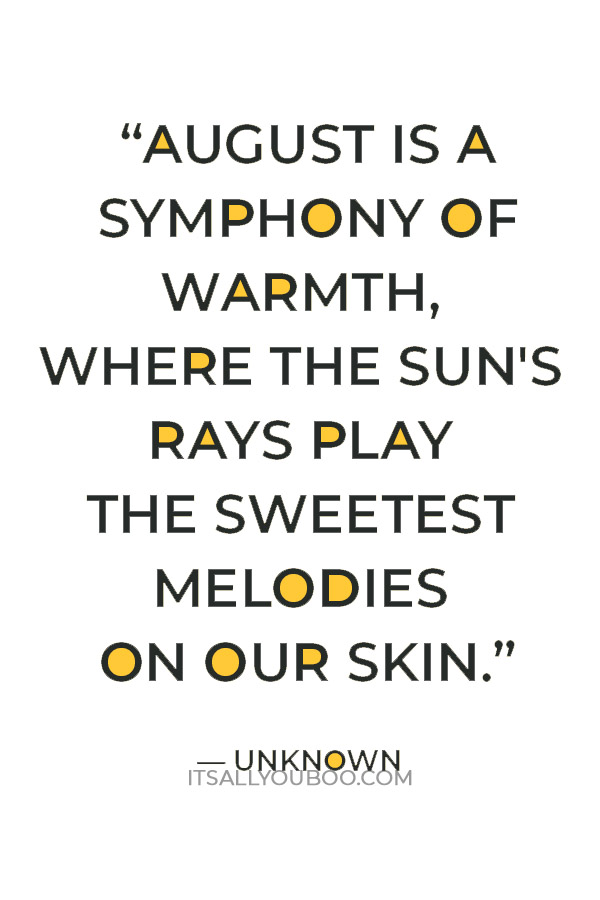 17. "August is a symphony of warmth, where the sun's rays play the sweetest melodies on our skin." — Unknown
18. "Remember to be gentle with yourself and others. We are all children of chance, and none can say why some fields will blossom while others lay brown beneath the August sun." — Kent Nerburn
Things To Do In August Quotes
How do you spend your days in August? What are your favorite summertime activities? This selection of Welcome August quotes remind us of all we can do. Nature is alive, soaring high before the crash of Autumn. Go outside and be a part of it.
19. "August is the month of the high-sailing hawks. The hen hawk is the most noticeable. He is a bird of leisure and seems always at his ease." ― John Burroughs
20. "That smell of freshly cut grass makes me think of Friday night football in high school… The cutting of the grass reminds me of the August practice." — Garth Brooks
"It was August, and the fields were high with corn." ― Melanie Gideon
22. "August is ripening grain in the fields blowing hot and sunny, the scent of tree-ripened peaches, of hot buttered sweet corn on the cob. Vivid dahlias fling huge tousled blossoms through gardens and joe-pye-weed dusts the meadow purple." – Jean Hersey
23. "In August, the large masses of berries, which, when in flower, had attracted many wild bees, gradually assumed their bright velvety crimson hue, and by their weight again bent down and broke their tender limbs." — Henry David Thoreau
👉🏽 RELATED POST: 65 Inspirational Hello Spring Quotes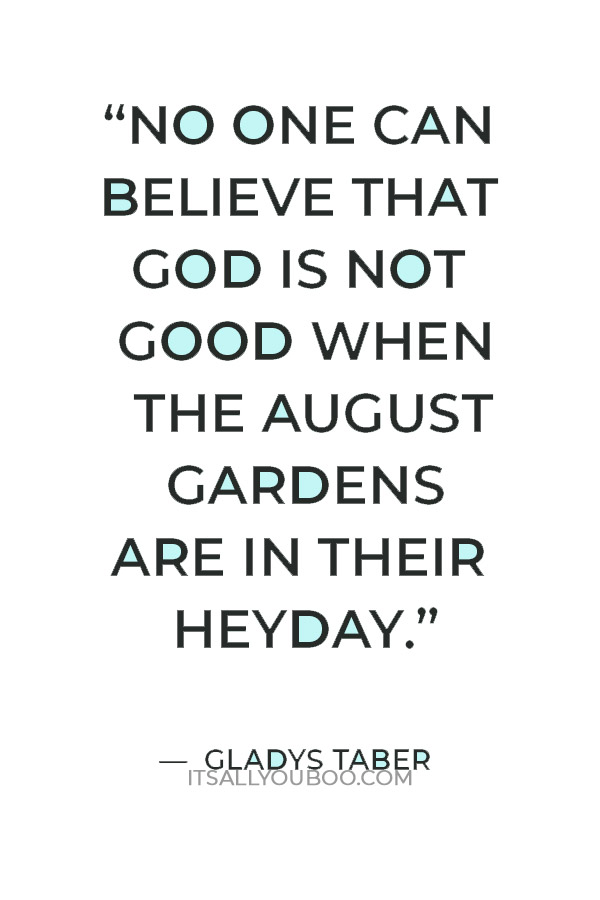 24. "No one can believe that God is not good when the August gardens are in their heyday." — Gladys Taber
25. "Walking the streets of Charleston in the late afternoons of August was like walking through gauze or inhaling damaged silk." — Pat Conroy
26. "Always keep mint on your windowsill in August, to ensure that buzzing flies will stay outside, where they belong. Don't think the summer is over, even when roses droop and turn brown and the stars shift position in the sky. Never presume August is a safe or reliable time of the year." — Alice Hoffman
27. "The children start school now in August. They say it has to do with air-conditioning, but I know sadism when I see it." ― Rick Bragg
"August was nearly over – the month of apples and falling stars, the last care-free month for the school children." — Victor Nekrasov
Time Flies and Seasons Shift Quotes
Does time slow down for you or speed up in summer? How do you feel about the seasons changing? The proceeding Hello August quotes are reflections on the passage of time and shifting seasons. Blink and you'll miss it. August's 31 days go quickly.
👉🏽 RELATED POST: 64 Happy Summer Solstice Quotes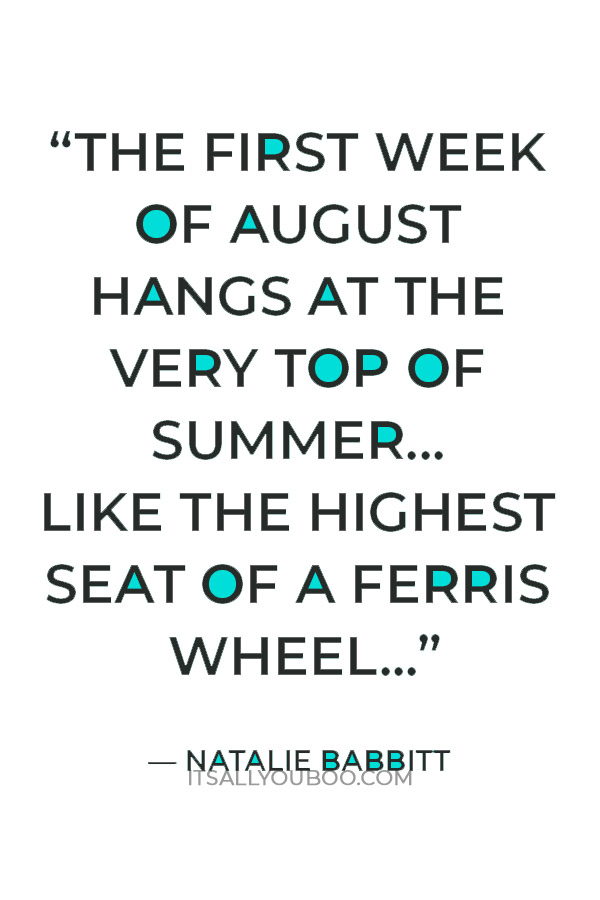 29. "The first week of August hangs at the very top of summer… like the highest seat of a Ferris wheel when it pauses in its turning." ― Natalie Babbitt
30. "August brings into sharp focus and a furious boil everything I've been listening to in the late spring and summer." — Henry Rollins
"…August still stretched before us – long and golden and reassuring, like an endless period of delicious sleep." — Lauren Oliver
32. "Everything good, everything magical happens between the months of June and August." — Jenny Han
👉🏽 RELATED POST: 149 Hello June Quotes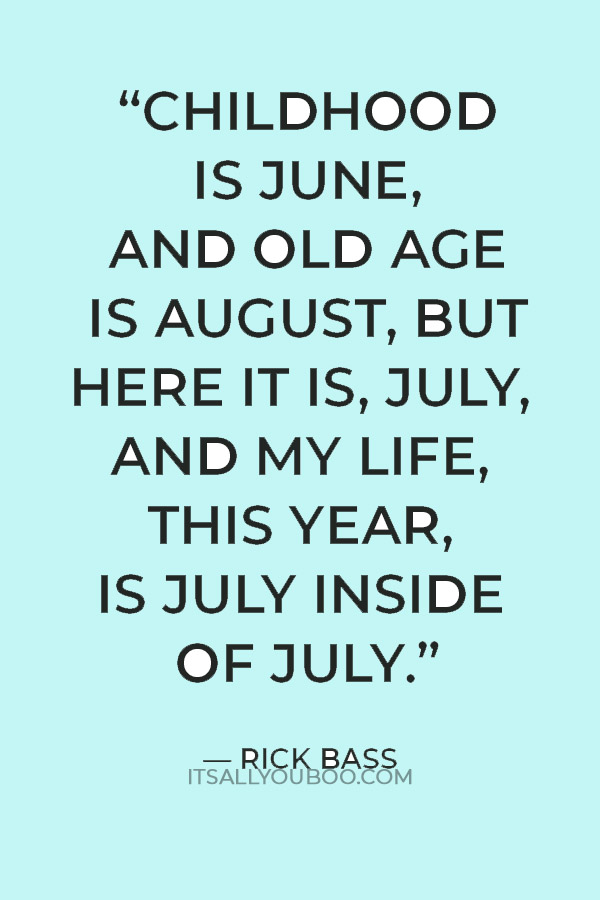 33. "Childhood is June, and old age is August, but here it is, July, and my life, this year, is July inside of July." — Rick Bass
34. "But I can see us lost in the memory, August slipped away into a moment in time…" ― Taylor Swift
35. "Caught in the doldrums of August we may have regretted the departing summer, having sighed over the vanished strawberries and all that they signified." – Denis Mackail
"August rain: the best of the summer gone, and the new fall not yet born. The odd uneven time." — Sylvia Plath
👉🏽 RELATED POST: End of Summer Quotes
37. "August is like the Sunday of summer." — Unknown
Appreciate Summer Days and Nights Sayings
Are you grateful for warm summer days? Do you appreciate all the August has to offer? The following collection of Hello Summer quotes and August sayings celebrates the bounty of summer and its joys. Soak it all up, Auugst only comes once a year. Find happiness outside this summer.
"Summer means happy times and good sunshine. It means going to the beach, going to Disneyland, having fun." — Brian Wilson
39. "And so with the sunshine and the great bursts of leaves growing on the trees, just as things grow in fast movies, I had that familiar conviction that life was beginning over again with the summer." — F. Scott Fitzgerald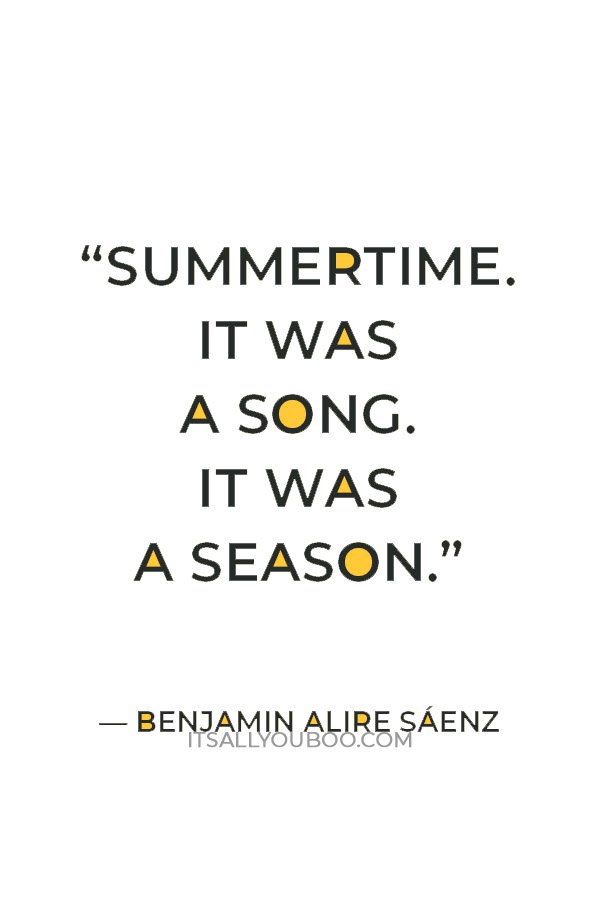 40. "Summertime. It was a song. It was a season. I wondered if that season would ever live inside me." — Benjamin Alire Sáenz
41. "That August time it was delight, To watch the red moons wane to white." — Algernon Charles Swinburne
"In the long dusks of summer, we walked the suburban streets through scents of maple and cut grass, waiting for something to happen." — Steven Millhauser
43. "I could never in a hundred summers get tired of this." ― Susan Branch
👉🏽 RELATED POST: School's Out For Summer Quotes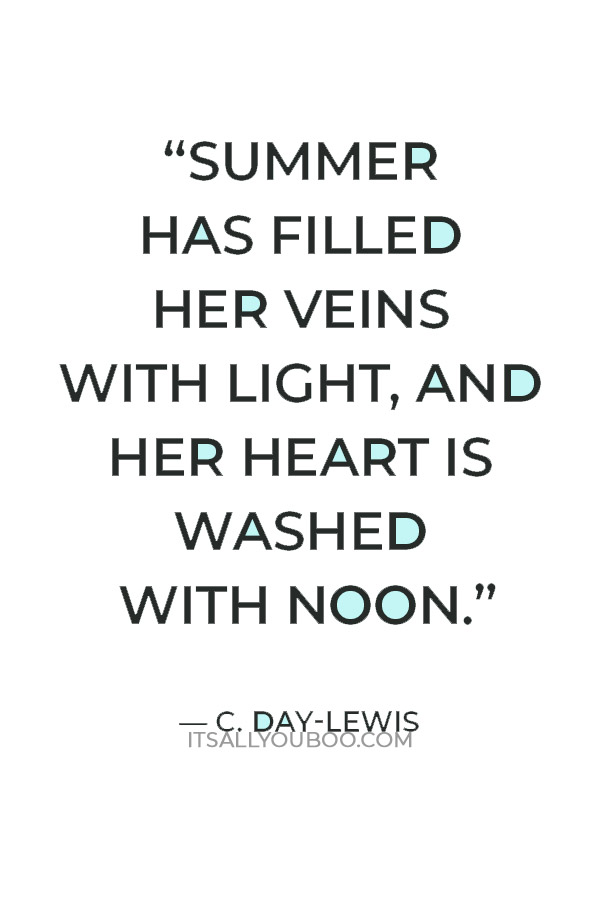 44. "Summer has filled her veins with light, and her heart is washed with noon." ― C. Day-Lewis
45. "Summer was a book of hope. That's why I loved and hated summers. Because they made me want to believe." ― Benjamin Alire Sáenz
Welcome The Beauty of August Sayings
How special and glorious are summer days? Don't you just love the beauty of the world in summer? This next of hello summer quotes explores the beauty of nature in the summertime. Taste the sunshine, kiss the sky, hug the water, this is the season of natural beauty. Let these messages inspire images of a wonderful summer.
46. "The summer night is like a perfection of thought." – Wallace Stevens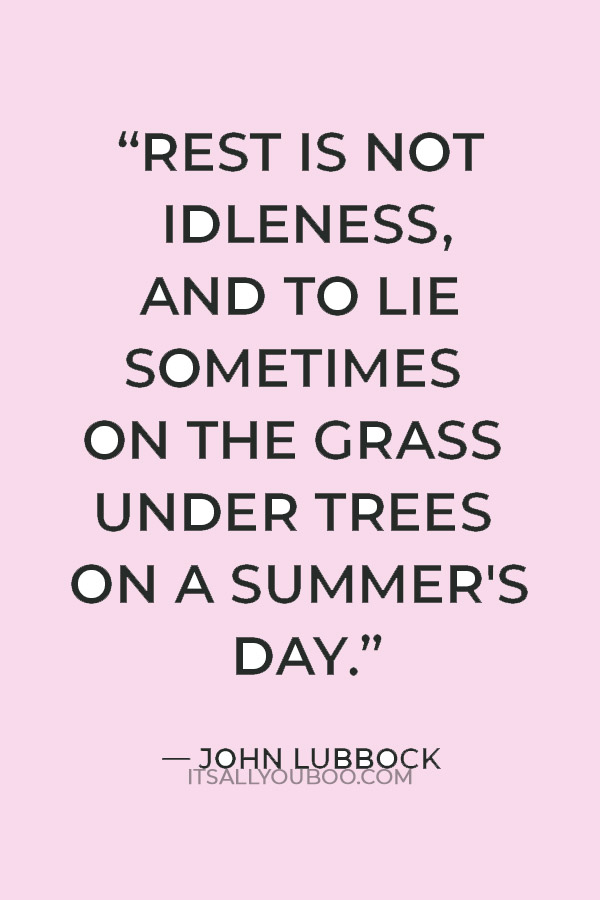 47. "Rest is not idleness, and to lie sometimes on the grass under trees on a summer's day, listening to the murmur of the water, or watching the clouds float across the sky, is by no means a waste of time." ― John Lubbock

48. "Summertime is always the best of what might be." ― Charles Bowden

"Life, now, was unfolding before me, constantly and visibly, like the flowers of summer that drop fanlike petals on eternal soil." – Roman Payne


50. "Oh, the summer night has a smile of light, and she sits on a sapphire throne." ― Bryan Waller Procter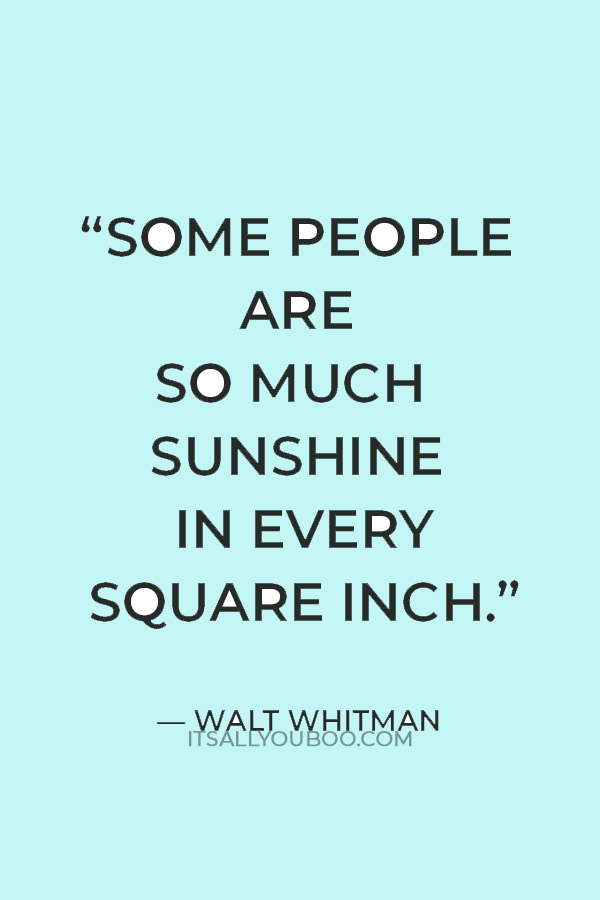 51. "Some people are so much sunshine in every square inch." ― Walt Whitman
The Power Energy of August and Summer Quotes
How do you feel during August? Do the summer months make your life better? With this selection of Hello Summer quotes, let's invite the positive energy and vibes of summertime into our lives. Don't forget, life is good if you choose to embrace it.
"When the sun is shining, I can do anything; no mountain is too high, no trouble too difficult to overcome." — Wilma Rudolph

53. "The summer stretched out the daylight as if on a rack." ― China Miéville
54. "August is the time to bask in the warmth of the sun and embrace the golden hues of nature." — Unknown
55. "August is a gentle reminder for us to cherish the remaining days of summer." — Unknown
56. "Shall I compare thee to a summer's day? Thou art more lovely and more temperate." ― William Shakespeare
57. "It is best to be born in April or August when the life-giving Sun is in its exaltation… for then we enter the sea of life on the crest-wave and are backed in the battle of existence by an abundant fund of vim and energy." — Max Heindel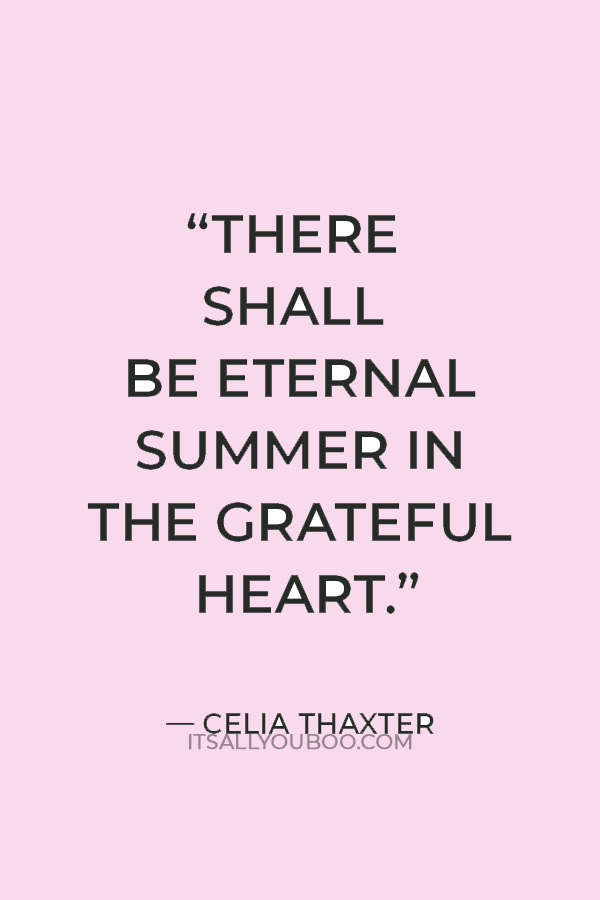 58. "There shall be eternal summer in the grateful heart." ― Celia Thaxter
"August is a reminder that the best things in life are often fleeting, so let's savor every moment." — Unknown
60. "I know I am but summer to your heart, and not the full four seasons of the year." ― Edna St. Vincent Millay
August Welcomes The End Of Summer Quotes
How do you say goodbye to summer? What are your end-of-summer rituals? This final selection of Hello August quotes reminds us that with every hello, comes a goodbye. Summer is fleeting, and August is even more. After summer comes fall and the cycle continues.
61. "August is that last flicker of fun and heat before everything fades and dies. The final moments of fun before the freeze. In the winter, everything changes." — Rasmenia Massoud
62. "Did you know that a bee dies after he stings you? And that there's a star called Aldebaran? And that around the tenth of August, any year, you can look up in the sky at night and see dozens and dozens of shooting stars?" – Elizabeth Enright
👉🏽 RELATED POST: 100 Happy Back to School Quotes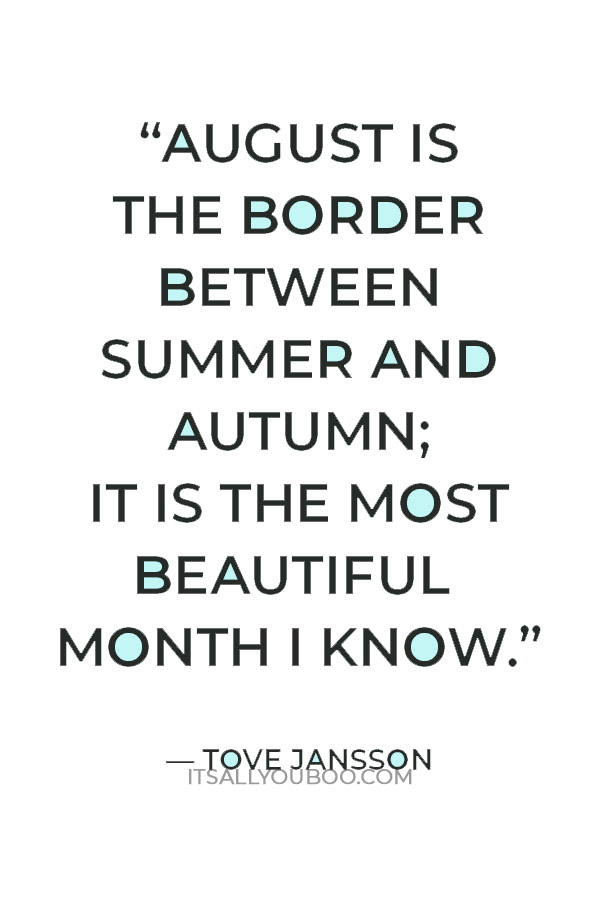 63. "August is the border between summer and autumn; it is the most beautiful month I know." ― Tove Jansson
64. "August, the summer's last messenger of misery, is a hollow actor." — Henry Rollins



65. "When summer opens, I see how fast it matures and fears it will be short; but after the heats of July and August, I am reconciled, like one who has had his swing, to the cool of autumn." — Ralph Waldo Emerson
"If June was the beginning of a hopeful summer, and July the juice middle, August was suddenly feeling like the bitter end." — Sarah Dessen
67. "August has passed, and yet summer continues by force to grow days. They sprout secretly between the chapters of the year, covertly included between its pages." ― Jonathan Safran Foer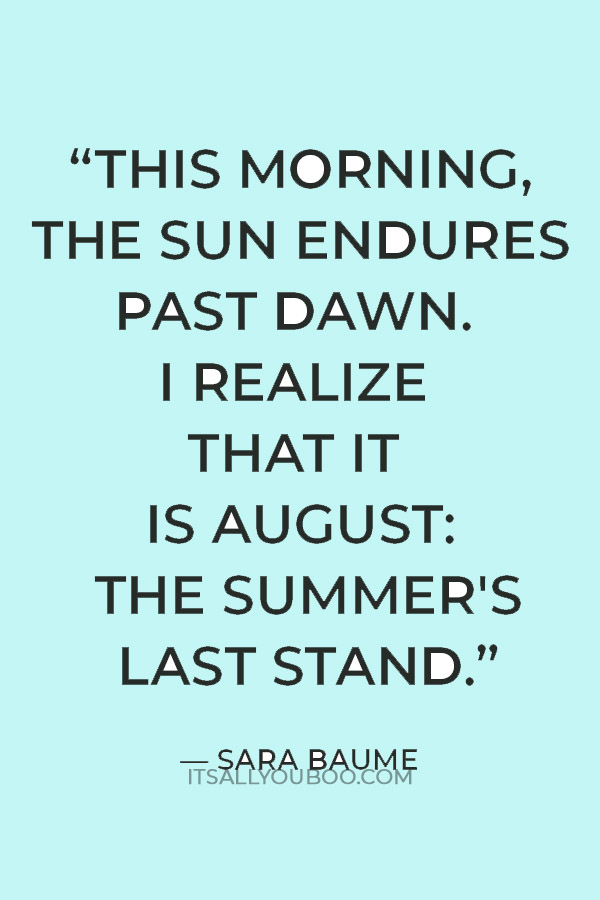 68. "This morning, the sun endures past dawn. I realize that it is August: the summer's last stand." — Sara Baume
69. "One evening in August, you have an errand outdoors, and all of a sudden, it's pitch-black. It is still summer, but the summer is no longer alive." — Tove Jansson
70. "I will cast My August days behind me with my May, Nor strive to drag them into Autumn's place, Nor swear I hope when I do but remember. Now violet and rose have had their day, I'll pluck the soberer asters with good grace And call September nothing but September." — Ella Wheeler Wilcox
71. "What good is the warmth of summer, without the cold of winter to give it sweetness." ― John Steinbeck
Inspirational Black & White Wall Art Quotes
Are you enjoying these Hello August quotes? Here are 10 beautiful printable black and white art quotes that are perfect for your office, bedroom, or wherever you need the reminder to live an inspired life. Each design features a brushed ink letter detailing.
This download comes with 10 high-resolution graphics ready to be printed, framed, and posted.
You've heard the saying to take time to smell the roses, well take time to soak up the sun too.
August comes only once per year and with it such beautiful splendor. Embrace this last month of summer, welcoming sunny days and star-filled nights.
With all things, you usually get what you put into them, and August has so much to offer you if you are open to it. Let's say goodbye July, and welcome a new month, and the gateway to another season.
Happy August, and happy summer!
Want nice quotes about August? Ready to welcome a new month? Click here for 71 Hello August quotes to welcome the last month of summer. #HelloAugust #HappyAugust #SummerQuotes #SummerVibes #Summer

What are your favorite Hello August quotes?
Last Updated on August 4, 2023
✕
Get Your Printable Quotes
+ get weekly tips to help you slay your goals.