What is the best caption for the Leo zodiac sign? Looking for fierce Leo quotes for women and men?
For thousands of years, humans have looked to the stars for guidance. And since the times of ancient Mesopotamia and Babylon, astrology has been one of the ways to find answers.
The zodiac as we know it today, with twelve signs, dates back to ancient Babylon, around the end of the 5th century. Through celestial observations and interpretations, the zodiac was created.
Of all the signs in the zodiac, the Lion stands fierce, loyal, and protective. This fifth sign coincides with the rising of the summer sun, leos are born between July 23rd and August 22nd.
Leos are confident and charismatic, exuding a natural radiance that shines like the lion's mane. Beyond being known for their desire to be the center of attention and outgoing, leos are also a warm, caring, and generous person.
As the lion they are named for, Leos are loyal and protective of their family and friends. But also, assertive and ambitious in their pursuits. They are goal orientated, ready to work hard for success, and natural-born leaders.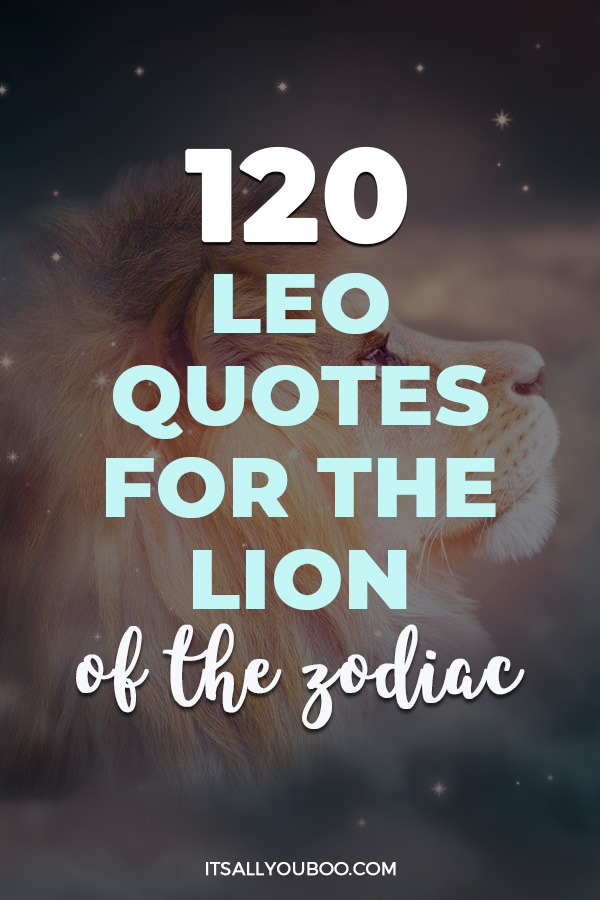 It's not all serious, as Leo is also often fun and playful, enjoying the company of others, parties, socializing, and gatherings.
Leos are ruled by the sun, their element is fire and they are symbolized by the lion. Look to the sky around the spring equinox for the lion's head to spot the Leo constellation.
Ready to learn even more about the Leo zodiac sign? Here are 120 strong Leo quote for the lion of the zodiac.
The Leo Zodiac Sign Is Quotes
What are Leo men and women like? How do Leos present themselves? Let's begin with quotes about the Leo zodiac sign's most apparent qualities and traits. Leos are vibrant, exuberant, bright, and luminant people. They shine bright like the sun.
"The vibrations of Leo, ruled by the Sun itself, are things you can actually feel throughout your whole being in the presence of a lion or lioness." — Linda Goodman


2. "Leo is the fire sign ruled by the Sun. It represents individual self–expression." — Joyce Levine
3. "You're always glowing, Leo. Something about being born in the summertime means that you have the natural ability to shine bright like the sun. You're quite possibly the loudest in any room — or at least the most radiant — and a firm believer that a good laugh can cure just about anything and spark any social situation." — Marisa Casciano
👉🏽 RELATED POST: Summer Solstice Quotes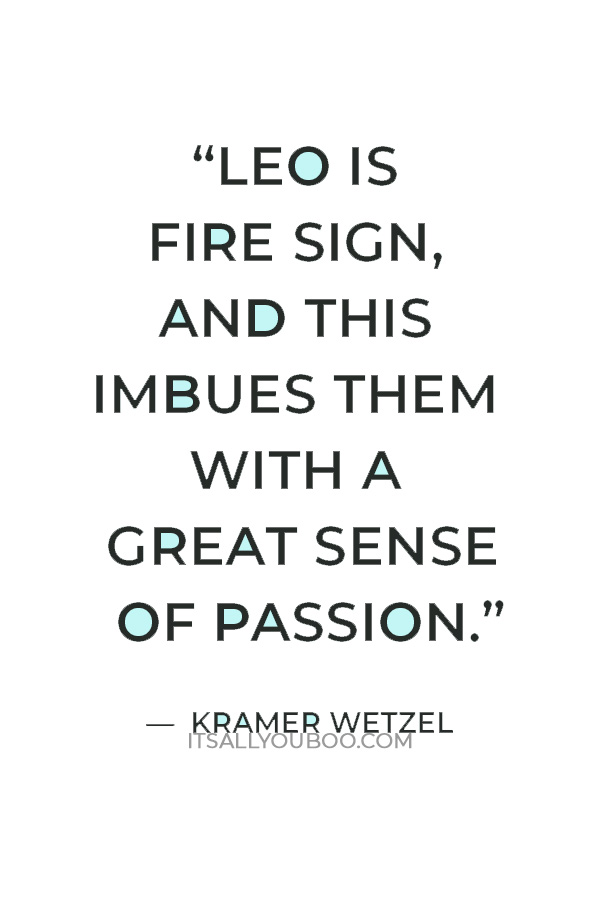 4. "Leo is fire sign, and this imbues them with a great sense of passion." — Kramer Wetzel
"Don't forget that Leo contains the essence of royalty." — Linda Goodman
6. "I think of myself as a young prince from a long line of royalty. My sign is Leo. A Leo has to walk with pride." — Wesley Snipes
Leo Attitude Quotes for Female and Male
What are Leos most known for? What are the core traits of the Leo astrology sign? As the following Leo zodiac sign quotes express, Leos love attention and admiration. Show the Leo in your life more attention and affection, they love it.
7. "For Leos, there is one currency to rule them all: attention. When they love someone, they laugh at their jokes, compliment them, make them the star of the show." — Chrissy Stockton
👉🏽 RELATED POST: 36 Hello Summer Quotes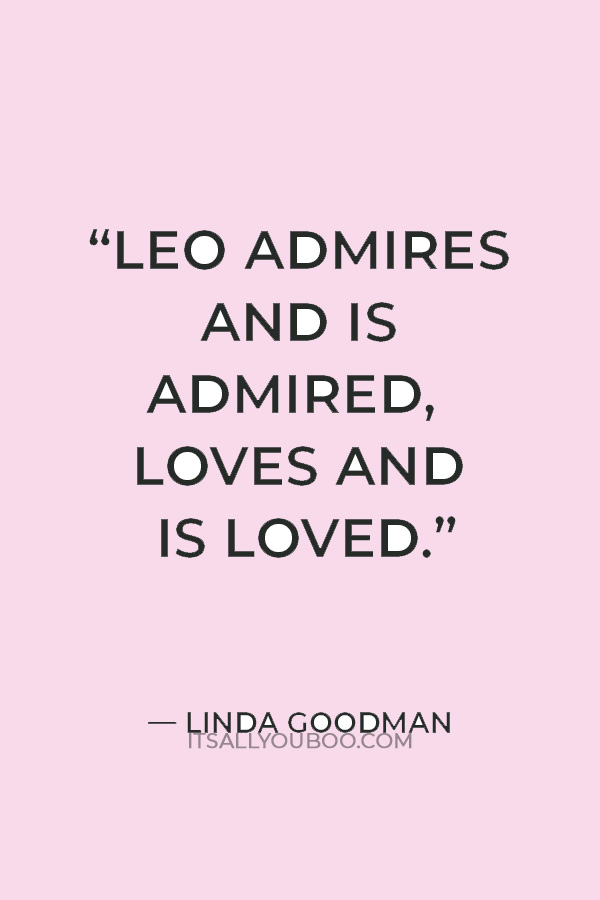 8. "Leo admires and is admired, loves and is loved." — Linda Goodman
9. "A Leo absolutely loves being around people. They also really enjoy watching their favorite shows with someone they love." — January Nelson
10. "My sign is Leo. A Leo has to walk with pride. When he takes a step, he has to put his foot down. You walk into a room, and you want people to know your presence, doing nothing." — Wesley Snipes
11. "With inborn showmanship, Leos are often the centre of attention and love to lead organizations."— A.S.K. Kingsley
"A Leo will hook you with their humor, and they know it." — January Nelson
13. "In essence, Leo symbolizes the concept of the noble heart. Especially, you're known for your vitality and star-quality." — Joanna Martine
Leos Are Self-Confident and Ego Quotes
Do you feel confident and assertive? Is your ego in check or out of control? This selection of fierce Leo quotes explores the confident nature of the lion of the zodiac. You've got to build confidence and believe in yourself, just like the lion.
14. "I have such an ego 'cause I'm a double Leo. I can't let go of me, you know, so it's very difficult for me to be somebody else and not me. I'm so into me." — Paul Mooney
"A Leo's motto: I'm not gonna change who I am, so you're just going to have to deal with it." — Unknown

16. "Confidence is key, dear Leo. You take charge and others take notice. You're dominant and never passive. You make the first move and are the ones to turn up the temperature." — Bob Alaburda

👉🏽 RELATED POST:  Dealing With Insecurity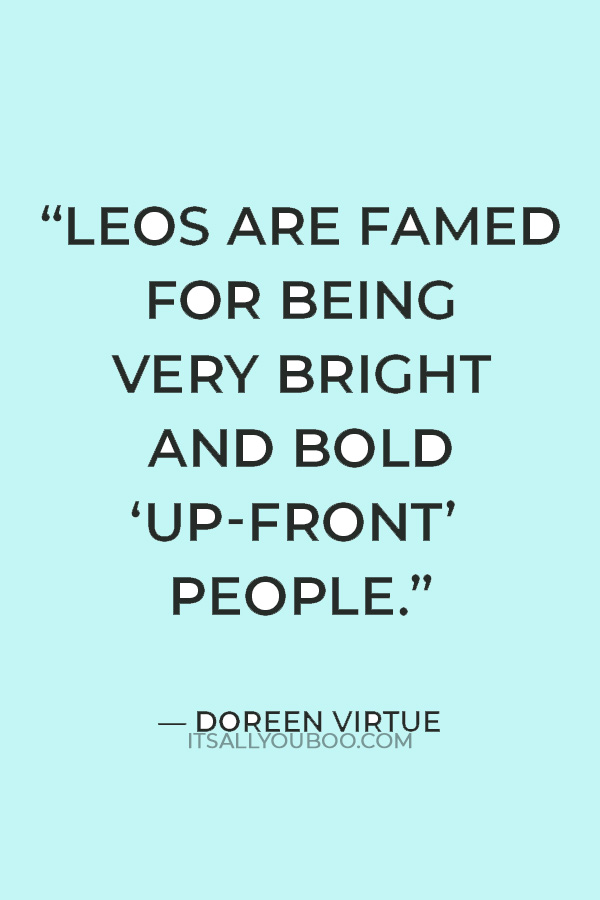 17. "There are no introverted Leo, they pretend to be introverts." ― Linda Goodman
18. "If a raise is out of the question, a Leo will be almost as happy with an impressive title." — Paula Taylor
19. "Leos are famed for being very bright and bold 'up-front' people. If you've incarnated as a Leo, there's probably not a lot that intimidates you." — Doreen Virtue
20. "Usually, a Leo will not let up an attack until the foe is completely demolished. Pride and vanity can be the undoing of a Leo." — Peter Balin
21. "Don't mess with a Leo." — Danielle Dahl
Lion Sign Is Protective and Persistent Sayings
Dear Leo, are you fiercely protective of those you love? Are you loyal and steadfast? The proceeding quotes about the Leo zodiac sign explore the protective nature of Leos. Even in nature, lions provide safety to all under their protection. They are persistent in their pursuits as well.

22. "Leos are faithful, adoring, and jolly but can become fixated if there is a problem they cannot solve and never walk away in an argument. They need the final word!" — Mary English
"Leos don't give up like a lion chasing its prey until he gets it." — A. P. Parashar


24. "A Leo will give your butt just enough chances to show they care (their forgiving nature) but don't push it." — Unknown


👉🏽 RELATED POST: Hello August Quotes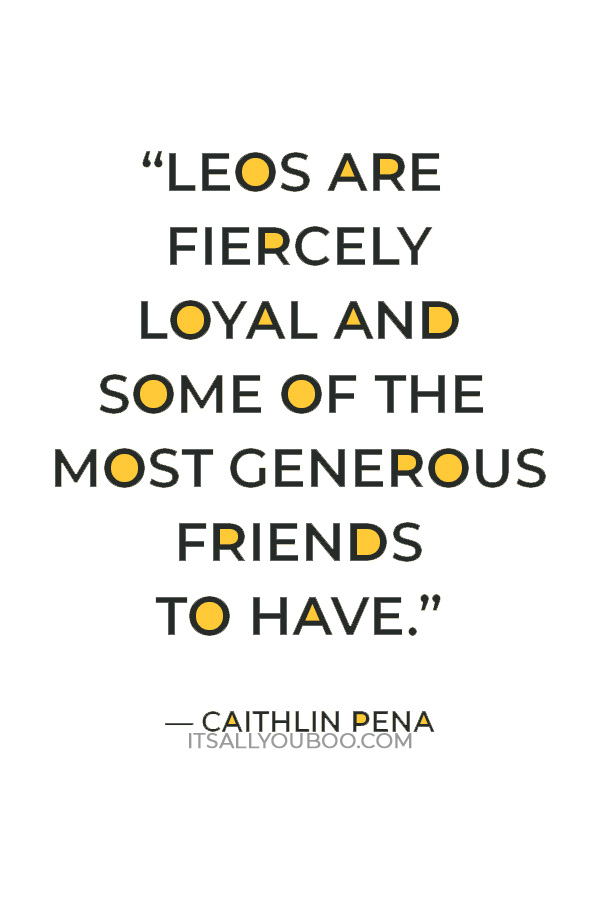 25. "Leos are fiercely loyal and some of the most generous friends to have. People are drawn to their enthusiasm and passion, in everything they do." — Caithlin Pena
26. "Having a Leo as a best friend is a lot of fun. They are generous and adored by so many people. They love having the spotlight on them and are often considered bossy. However, a lot of people will turn a blind eye to how bossy the Leo is because they are so fun. They always know how to cheer people up, and everyone wants to keep the Lion around because of its good nature and its thrilling personality." — January Nelson


27. "I'm Pisces with Leo rising. The Pisces part is the dreamer. The Leo says, 'Let's execute.'" — Quincy Jones
28. "A Lion in love will conquer the world. They positively burst with energy and will fight enemies three times larger if their beloved is threatened." — Therrie Rosenvald
Dramatic and Creative by Nature:
What are the common characteristics of Leos? How do Leos act? The following collection of Leo quotes describes the dramatic and creative nature of Leos. Does this sound accurate to you?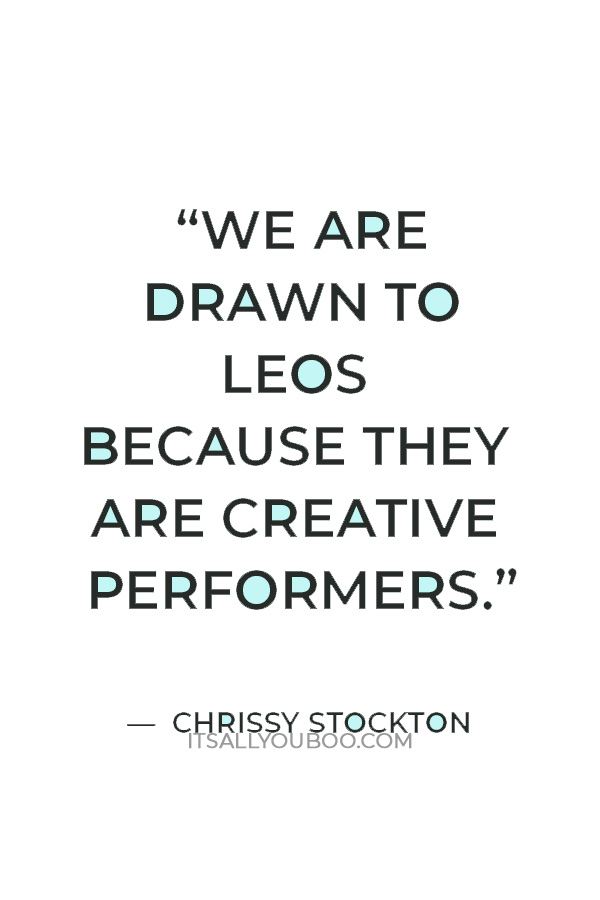 29. "We are drawn to Leos because they are creative performers." — Chrissy Stockton
"Full of fire that bursts from within, Leos are dramatic yet creative in nature. How could life never be spectacular with a Leo around?" — Carlie Fox
31. "Glorious Leo! Your sign is ruled by the brilliant sun, and you tend to be creative, generous, and open-hearted." — Rick Levine
32. "If he is a Leo male, he is bold, confident, is exceptionally generous, kind-hearted, very creative and loves children. He is turned on by women who are strong and own their power." — Leigh Goldberg
33. "I am into having my hands in a bunch of different things. I am a Leo and I love to be active and creative." – Howie Dorough
Leos Are Charismatic Quotes and Sayings
How would you describe Leos? This next set of Leo quotes and sayings examine the charismatic nature of the lion of the zodiac. Leos are known for their charm and charisma. It often makes them great leaders.
👉🏽 RELATED POST: Tips for Improving Your Self-Confidence
34. "Confidence is key, Leo. You're dominant and never passive. You make the first move and are the ones to turn up the temperature." — Bob Alaburda
"To impress a Leo, it is quite simple. Demand attention, be charming, and look them straight in the eye." — January Nelson
36. "Nice guys and girls everywhere bitterly envy a Leo who has no problem singing their own praises. Leos are successful and get their well-deserved acclaim because, very simply, they ask for it." — Chrissy Stockton
37. "Bright, undaunted by failures, resilient and exuding positivity, the Leo woman handles life with a true 'bring it on' attitude!" — Chetan D. Narain
38. "If Leo was a drug, it'd be cocaine." — Oneta Walker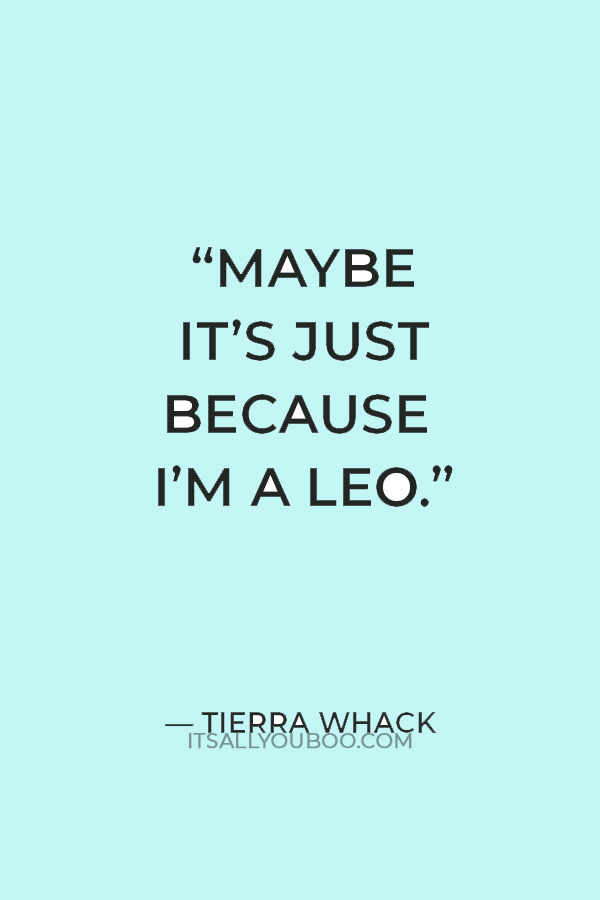 39. "Maybe it's just because I'm a Leo." – Tierra Whack
Leos Are Deep Feeling and Caring Quote
Did you know that Leos are also deeply caring people? With this selection of Leo quotes you'll discover how vulnerable and feeling Leos can be underneath all that confidence. There's a duality to Leo's nature: a softness that they often hide.
40. "Leos may be born brave by the brain. Yet the fragile heart which kneels for their loved one, always makes them go weaker by the time." — Zephyr Limns

41. "Leos ride a pendulum between overdoing things or just not giving a f*ck at all." — Unknown
"Sometimes Leos sit in the bathroom and cry, but then walk out like nothing ever happened." — Unknown

43. "You don't want to tell a Leo to leave because they'll leave and they won't come back." — Unknown
👉🏽 RELATED POST:  How to Have a Spiritual Awakening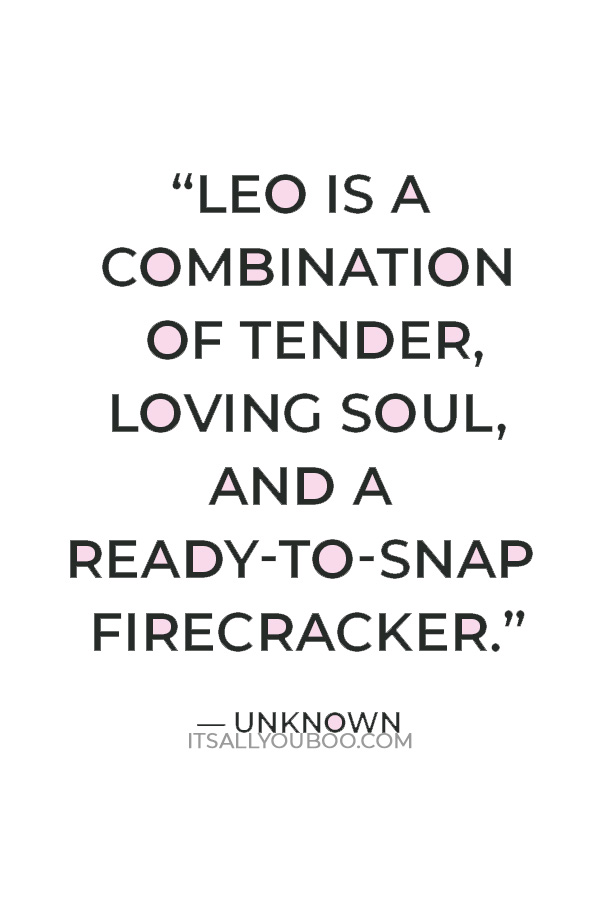 44. "Leo is a combination of tender, loving soul, and a ready to snap firecracker." — Unknown

45. "Leo has the distinction of being the sign that rules the human heart!" — Vera Kaikobad
Love Quotes for the Lion of the Zodiac
Are you friends or family to a Leo? Do you feel their love and passion for you? This collection of Leo zodiac quotes celebrates the fierce love of the lion. Keep this in mind if you plan to date or marry a Leo.
"Being different is what a Leo loves." — Unknown
47. "More than anything, Leo needs to respect a partner intensely. Without the grand respect, Leo can fall into lust but never in love." — Jenni Kosarin
48. "Dating a Leo is like dating the head cheerleader in high school, there's a bit of intrigue about someone like that who would actually date a mortal."— Chrissy Stockton
49. "When a Leo is falling in love, they're as charismatic as ever, but they're also looking for someone with whom they can share the life they love so much." — Brianna Wiest
50. "Having sex with a Leo is a unique experience. Correction: Having sex with a Leo is a mind-blowing experience." — ​Unknown
👉🏽 RELATED POST: Become More Spiritual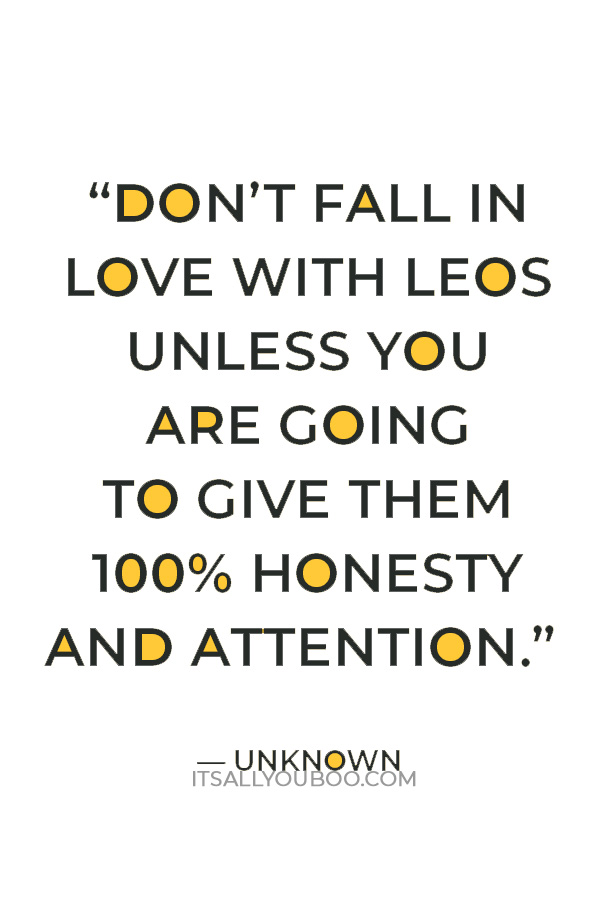 51. "Don't fall in love with Leos unless you are going to give them 100% honesty and attention." — Unknown
52. "Leo doesn't get along with the mundane reality of relationships and the inconsistency and limitations of human nature." — Liz Greene
Lion As A Symbol of Strength and Power
When you think of a lion, what do you see? What does the lion represent? The following Leo quotes for women and men illustrate the strength and power of the lion. Learn to live life like the lion.
53. "A lion doesn't concern itself with the opinion of sheep." — George R.R. Martin
"She slept with wolves without fear, for the wolves knew a lion was among them." — R.M. Drake
55. "If ever you feel like an animal among men, be a lion." — Criss Jami
👉🏽 RELATED POST: Short Summer Quotes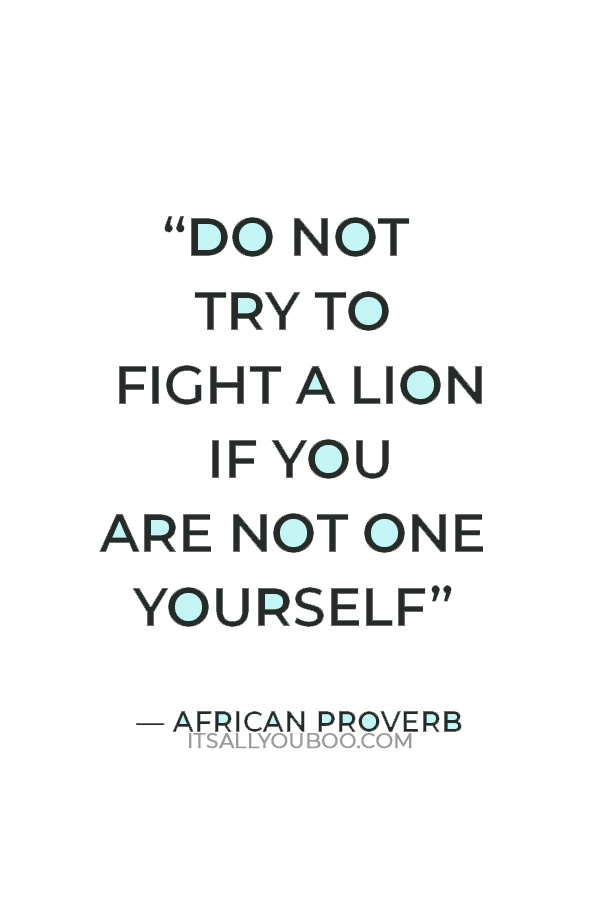 56. "Do not try to fight a lion if you are not one yourself." — African Proverb
57. "A lion sleeps in the heart of every brave person." — Turkish Proverb*
58. "The lion does not need the whole world to fear him, only those nearest where he roams." — A.J. Darkholme
59. "Only in art will the lion lie down with the lamb, and the rose grow without thorn." — Martin Amis
60. "You know the lion is dangerous when it is quiet, stalking, sneaking up on its prey. Only after it has ambushed and killed its prey does the lion roar. It wants to intimidate the jackals." ― J.Hand
61. "Intelligence entails a strong mind, but genius entails a heart of a lion in tune with a strong mind." ― Criss Jami
62. "Lions make leopards tame." — William Shakespeare
The Lion is Courageous and Brave Quotes
Are you brave like the lion? Do you live life courageously? This next set of Leo quotes explores the bravery of the lion. Leos are often brave individuals, who go up against any odds, never give up, and refuse to back down.
👉🏽 RELATED POST: Very Hot Weather Quotes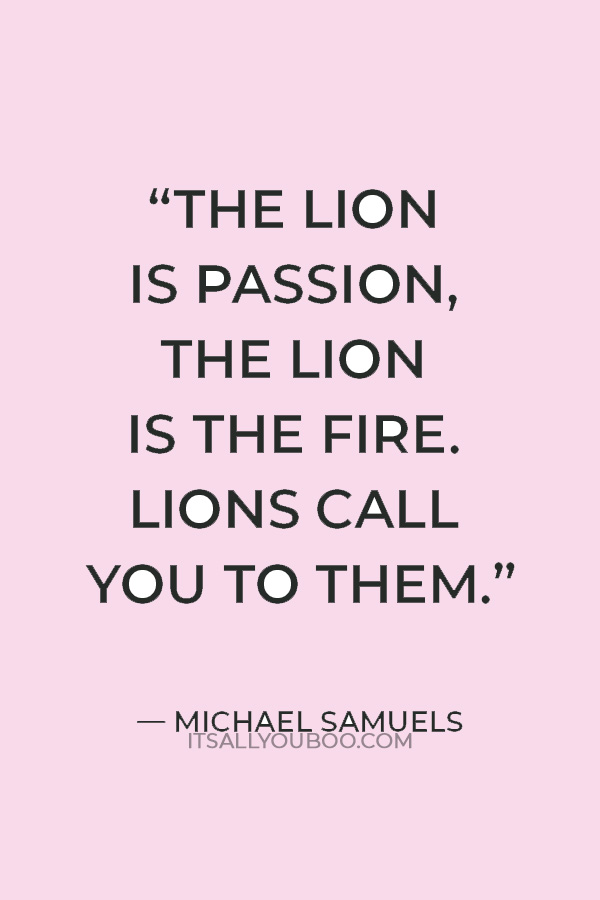 63. "The lion is passion, the lion is the fire. Lions call you to them." — Michael Samuels
64. "The lion will be a chivalrous and gallant suitor, tenderly protective and sentimentally affectionate." – Linda Goodman
65. "The lion is an emblem of the dream of absolute power — and, as a wild rather than a domestic animal, he belongs to a world outside the realm of society and culture." — Charles H. Hinnant

66. "The creation of freedom for oneself and a sacred 'No' even to duty — for that, my brothers, the lion is needed." — Friedrich Nietzsche

67. "The lion is the defender of faith, strength, valor, fortitude, and kingliness." — Murray Zimiles
The Leo Zodiac Sign Is Fierce Quotes
Are you fierce like the lion? Do you embrace your internal fire? These Leo quotes embrace the fierce nature of the lion. Listen up leos, you are fierce! You can do this!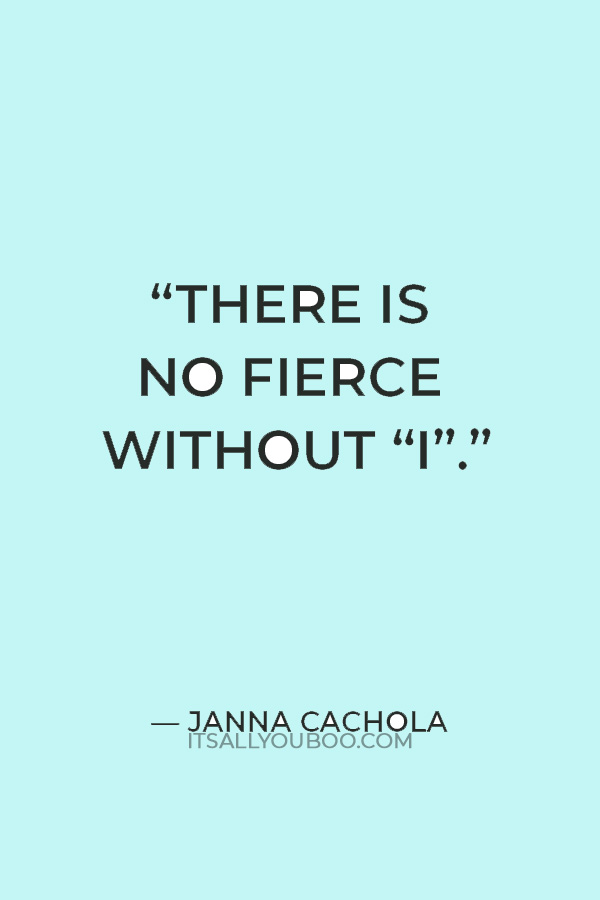 68. "There is no fierce without 'I'." — Janna Cachola

69. "Though she be but little, she is fierce." — William Shakespeare

"Above all, be the heroine of your life, not the victim." — Nora Ephron

71. "Her soul is fierce. Her heart is brave. Her mind is strong." — R.H. Sin

72. "He is fierce like a lion, yet humble in his demeanor." — Miriam Maron
73. "Wolves travel in packs, but the fiercest travel alone." — Matshona Dhliwayo

74. "We need a fierce heart and the willingness to face ourselves." — Spring Washam

75. "And that then they would be as they ought to be, gentle to their friends and fierce with their enemies." — Socrates



👉🏽 RELATED POST:  What is the Law of Attraction?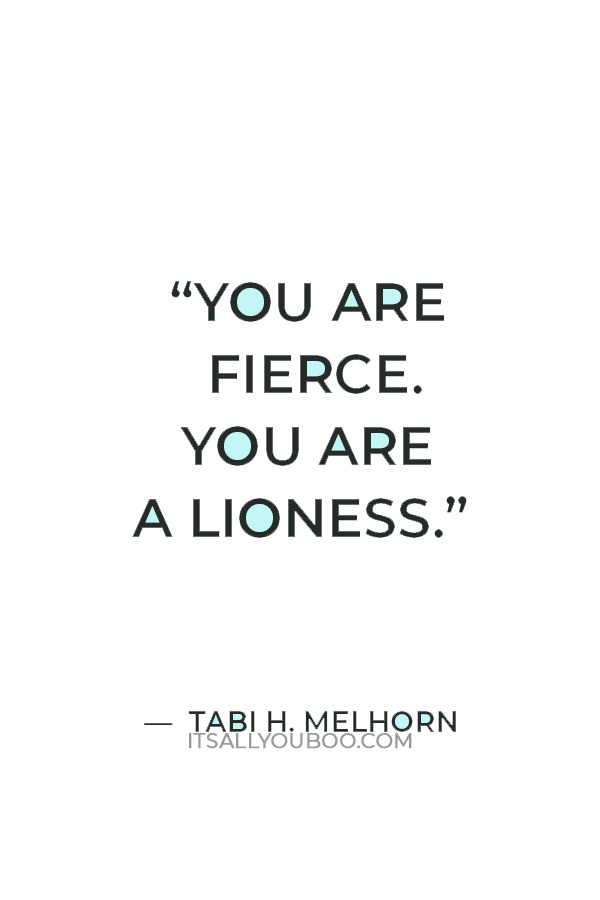 76. "You are fierce. You are a lioness. You have ventured where few would go and showed up to lead and take charge." — Tabi H. Melhorn

"But you are fierce — you are unsubduable — you are no more to be touched in such moods than fire is to be touched." — Georgiana Marion Craik

78. "The world needs us to be fierce enough to see challenges as gifts, to express our unique selves, and to expand the limits of what is possible." — Susie Caldwell Rinehart
Leos Believe In Themselves Quotes
Do you have faith in yourself and your abilities? Are you acting like you do? Leos are believers in themselves, let these Leo quotes inspire you to also believe in the power of you.
"It is best to act with confidence, no matter how little right you have to it." — Lillian Hellman

80. "No one can make you feel inferior without your consent." — Eleanor Roosevelt
81. "Be who you are and say what you feel, because those who mind don't matter and those who matter don't mind." — Bernard Baruch

82. "Trust yourself–you know more than you think you do." — Benjamin Spock

83. "You wouldn't worry so much about what others think of you if you realized how seldom they do." — Eleanor Roosevelt
👉🏽 RELATED POST: Stop Thinking Negatively About Yourself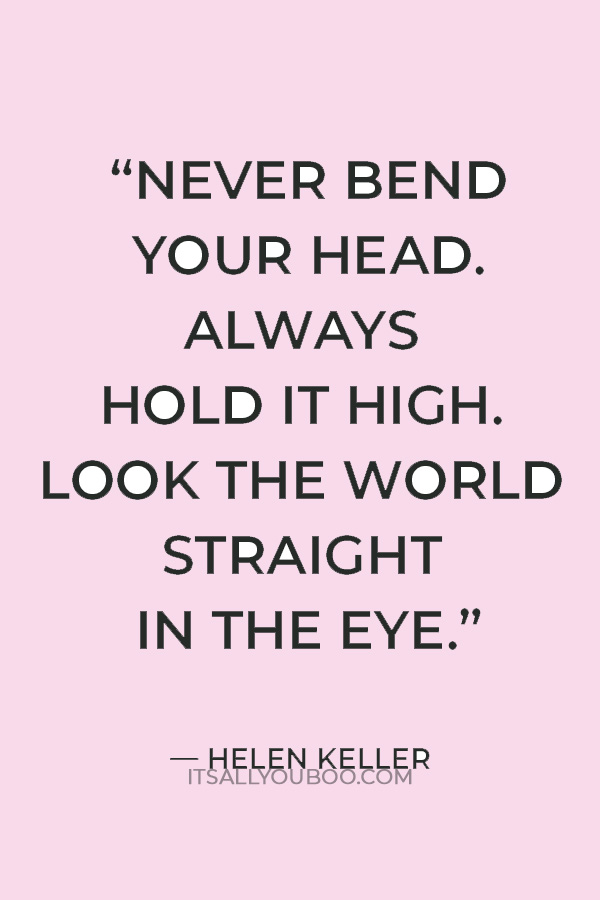 84. "Never bend your head. Always hold it high. Look the world straight in the eye." — Helen Keller


85. "I am not afraid of storms for I am learning how to sail my ship." — Louisa May Alcott
86. "Don't be distracted by criticism. Remember–the only taste of success some people have is when they take a bite out of you." — Zig Ziglar

"Always be yourself–express yourself, have faith in yourself. Do not go out and look for a successful personality and duplicate it." — Bruce Lee


88. "You have no control over other people's taste, so focus on staying true to your own." — Tim Gunn



89. "Don't waste your energy trying to change opinions … Do your thing, and don't care if they like it." — Tina Fey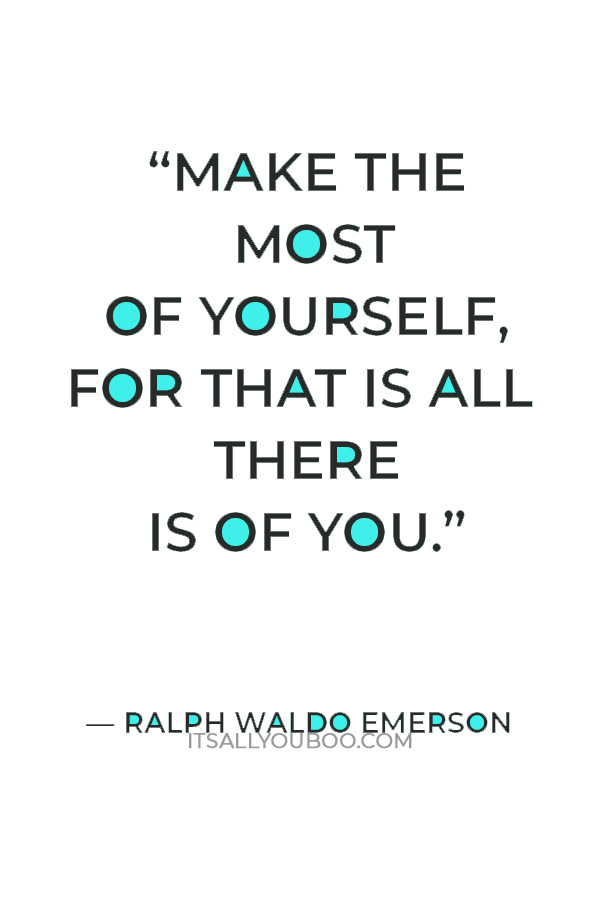 90. "Make the most of yourself, for that is all there is of you." — Ralph Waldo Emerson
Confidence as a Key to Success Quotes
Curious about how Leos find success in life? Wondering how to unleash your inner Leo? Be inspired to find your inner confidence with the following Leo quotes.

91. "With confidence, you have won before you have started." — Marcus Garvey
92. "You've got to take the initiative and play your game. In a decisive set, confidence is the difference." — Chris Evert
93. "If you have no confidence in self, you are twice defeated in the race of life. With confidence, you have won even before you have started." — Cicero
"Optimism is the faith that leads to achievement. Nothing can be done without hope and confidence." — Helen Keller
👉🏽 RELATED POST: Stop Self Sabotaging Yourself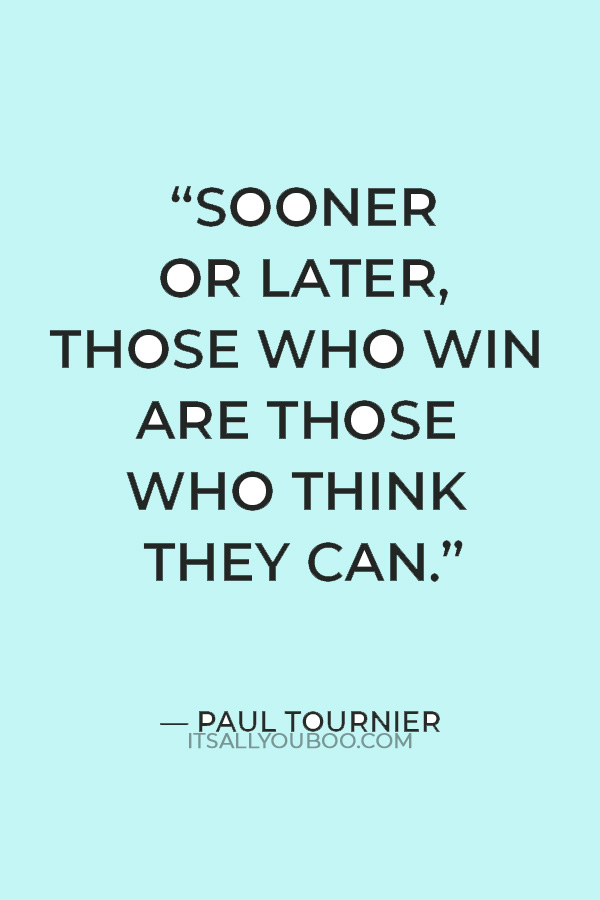 95. "Sooner or later, those who win are those who think they can." — Paul Tournier
96. "The confidence which we have in ourselves give birth to much of that which we have in others." — Francois de la Rochefoucauld
97. "Confidence doesn't come out of nowhere. It's a result of something… hours and days and weeks and years of constant work and dedication." — Roger Staubach
98. "When you have confidence, you can have a lot of fun. And when you have fun, you can do amazing things." — Joe Namath
99. "Success is most often achieved by those who don't know that failure is inevitable." — Coco Chanel
100. "Courage is resistance to fear, mastery of fear, not absence of fear." — Mark Twain
Quotes by Famous Leo Women
Looking for famous Leo quotes by celebrities? Want to be inspired by successful Leos? This collection leo zodiac quotes shares the wisdom of the famous Leos. Who's your favorite Leo? Let these quotes help you to own your life and your choices.
👉🏽 RELATED POST: Empowering Feminist Quotes for Badass Women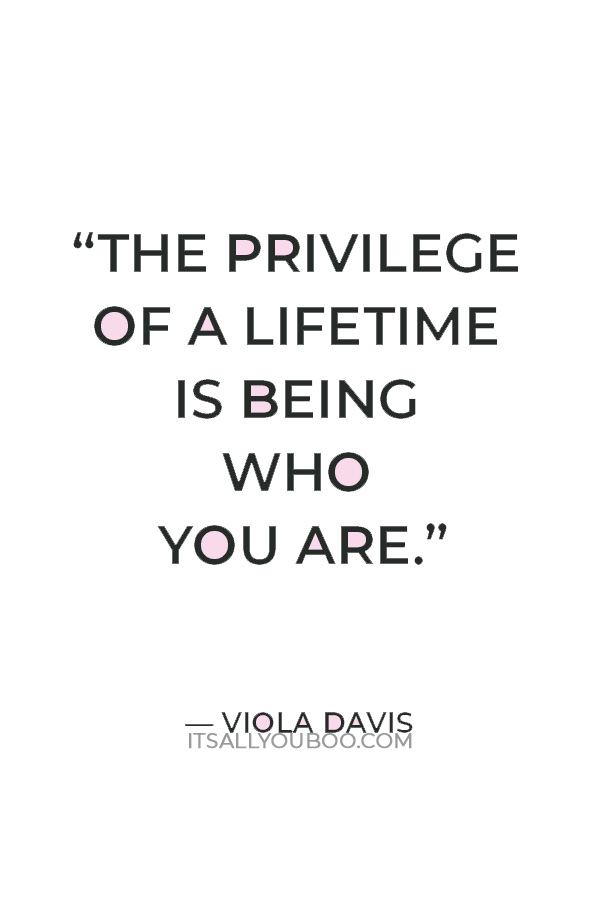 101. "The privilege of a lifetime is being who you are." — Viola Davis
"Life is either a daring adventure or nothing." — Helen Keller
103. "You can't control how other people see you or think of you. But you have to be comfortable with that." — Helen Mirren
104. "I am my own experiment. I am my own work of art." — Madonna


105. "Make a choice: continue living your life feeling muddled in this abyss of self-misunderstanding, or you find your identity independent of it. I think that having the courage to step out of the norm is the most important thing." — Meghan Markle


106. "To be brave is to love someone unconditionally without expecting anything in return." — Madonna


👉🏽 RELATED POST:  Happy International Women's Day Quotes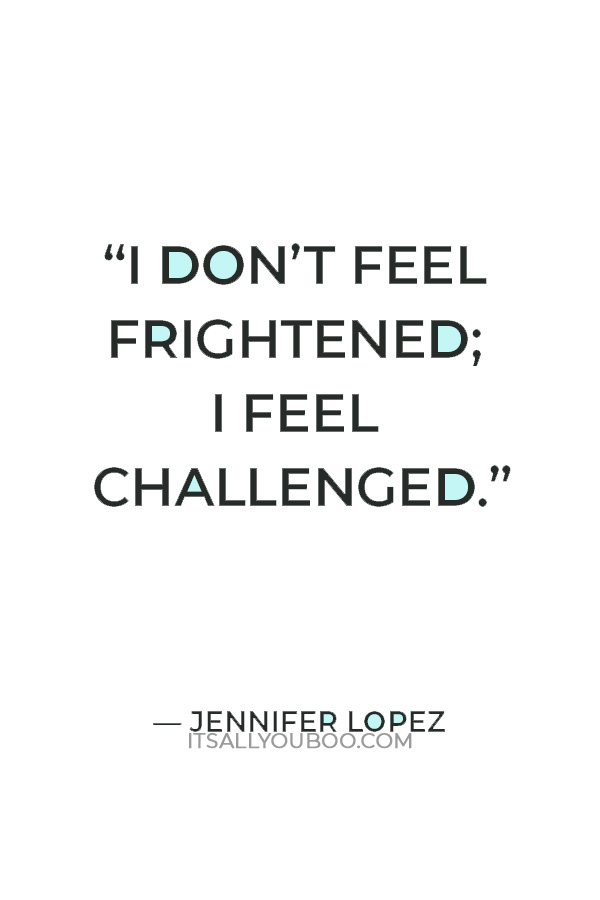 107. "I don't feel frightened; I feel challenged." — Jennifer Lopez
108. "There's nothing I despise more than people trying to be something that they're not." — Charlize Theron
"I've learned you can make a mistake, and the whole world doesn't end. I had to learn to allow myself to make a mistake without being defensive and unforgiving." — Lisa Kudrow
110. "The times may have changed, but the people are still the same. We're still looking for love, and that will always be our struggle as human beings." — Halle Berry
111. "Whatever you dream of doing one day, don't give up on that dream because you never know where it can take you." — Demi Lovato
112. "I am stubborn, and I admit it, so it's OK." — Mila Kunis
Famous Leo Quotes for Men
What's the best advice for Leo men, from Leo men? This final selection of Leo quotes is by famous Leo men. Let them inspire you to live your best life.
113. "Change will not come if we wait for some other person or some other time." — Barack Obama


114. "Sometimes the only way to win is to die trying." — Joe Jonas


115. "I must be careful not to get trapped in the past. That's why I tend to forget my songs." — Mick Jagger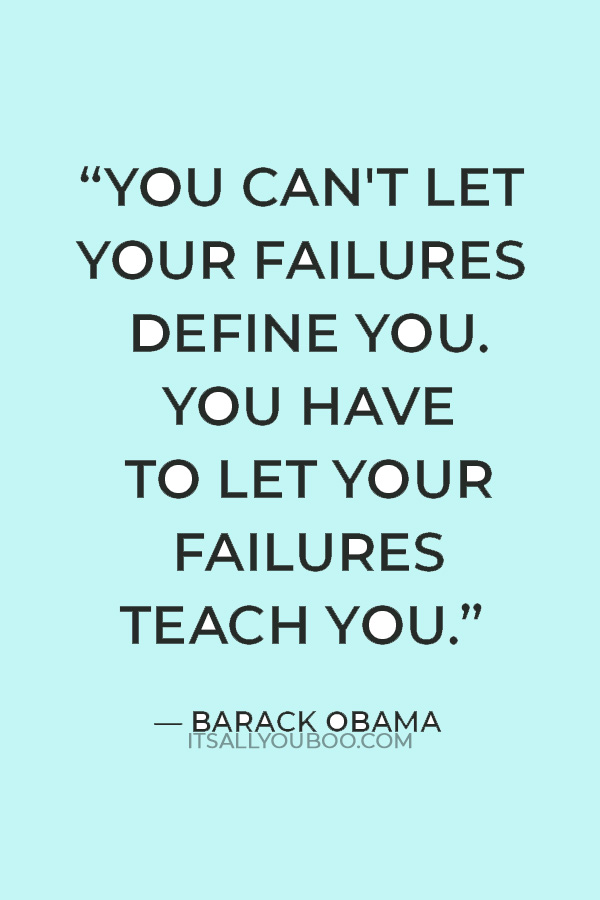 116. "You can't let your failures define you. You have to let your failures teach you." — Barack Obama

117. "I don't leave the house without thinking of how to represent myself." — Taylor Momsen

118. "The future rewards those who press on. I don't have time to feel sorry for myself. I don't have time to complain. I'm going to press on." — Barack Obama


119. "I believe that laughter is the best emotional Band-Aid in the world. It's like nature's Neosporin." — Matt LeBlanc



120. "You know, I am a Leo. The lion is a giant part of me." — Patrick Swayze
Inspirational Black & White Wall Art Quotes
Ready to embrace your inner lion and Leo? Here are 10 beautiful printable black and white art quotes that are perfect for your office, bedroom, or wherever you need the reminder to live an inspired life. Each design features a brushed ink letter detailing.
This download comes with 10 high-resolution graphics ready to be printed, framed, and posted.
How inspiring were these Leo quotes? Whether the lion is your zodiac sign or not, you can embrace your inner lion or lioness.
Whether you're a staunch believer in astrology or a casual reader, there are lessons to learn from every zodiac sign. Patterns to be aware of, and traits to embrace or beware of.
If you're a Leo, do the above characteristics ring true for you? Are you a text-book Leo, or a more nuanced Leo, perhaps with a greater influence of your moon rising, or on the cusp?
Here's one more quote: "Give like the sun, and the whole world grows tall" – Atticus
There's power in knowing and being yourself.
What are Leo vibes? What is Leos motto? Click here for 120 strong Leo Quotes for the lion of the zodiac, perfect for Leo women and men. #LeoZodiac #ZodiacSign #Astrology #ZodiacSigns

What are your favorite Leo quotes?
Last Updated on August 4, 2023
✕
Get Your Printable Quotes
+ get weekly tips to help you slay your goals.