What are the best end-of-summer quotes? How do you say goodbye in summer?
No matter how many hot sunny days you have, one is never really ready for the end of summer.
But, as the days start to get shorter and colder at night, one thing is for sure, summer is at an end.
It seems just like yesterday we were celebrating the summer solstice and saying hello to summer. How does summer go so quickly? Why do summer vacations have to end at all?
With the crisp fall air now blowing in the breeze, the season of cozy is upon us. We'll be trading in our sunglasses, flip-flops, and summer dresses, for boots, sweaters, and scarfs.
When things get cold and dark, it's important to remember those hot summer days that made life wonderful. Those 500 days of summer are filled with so much to be thankful for.
To help you stay warm all year long, not just in the summertime, here are 65 end-of-summer quotes to remember all year long. May they help you dream of summer, sunny days, beach days, and everything in between.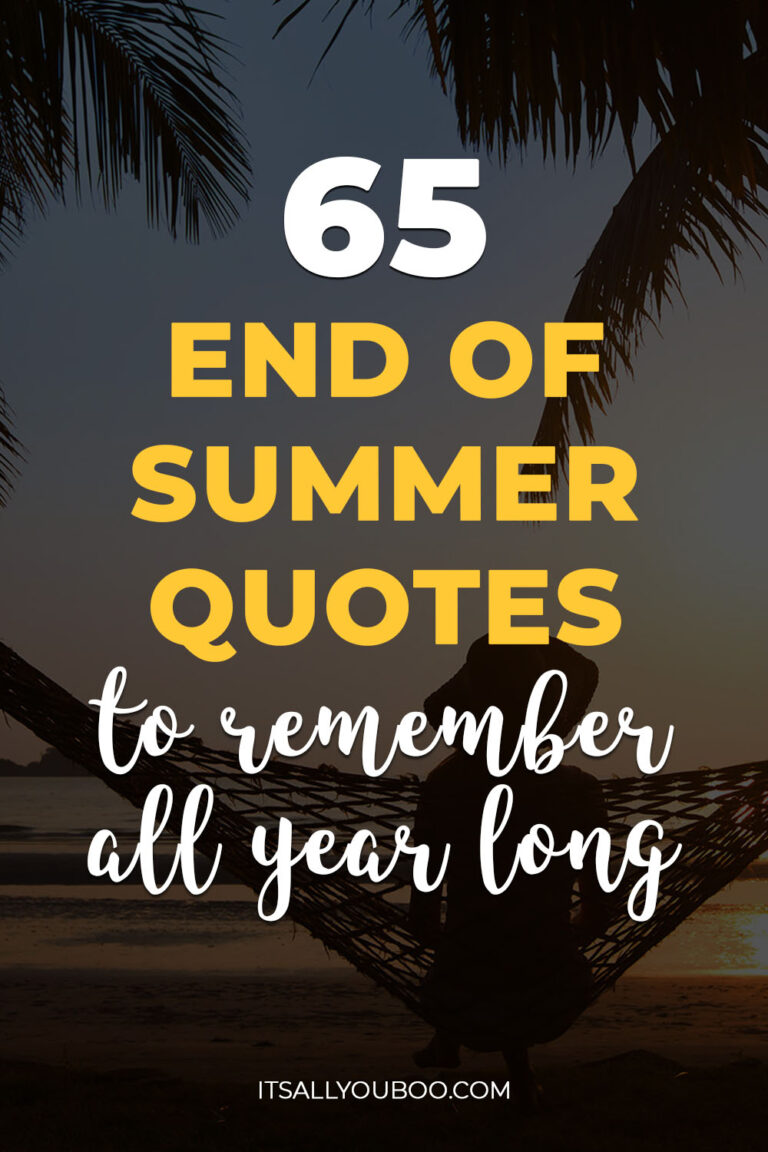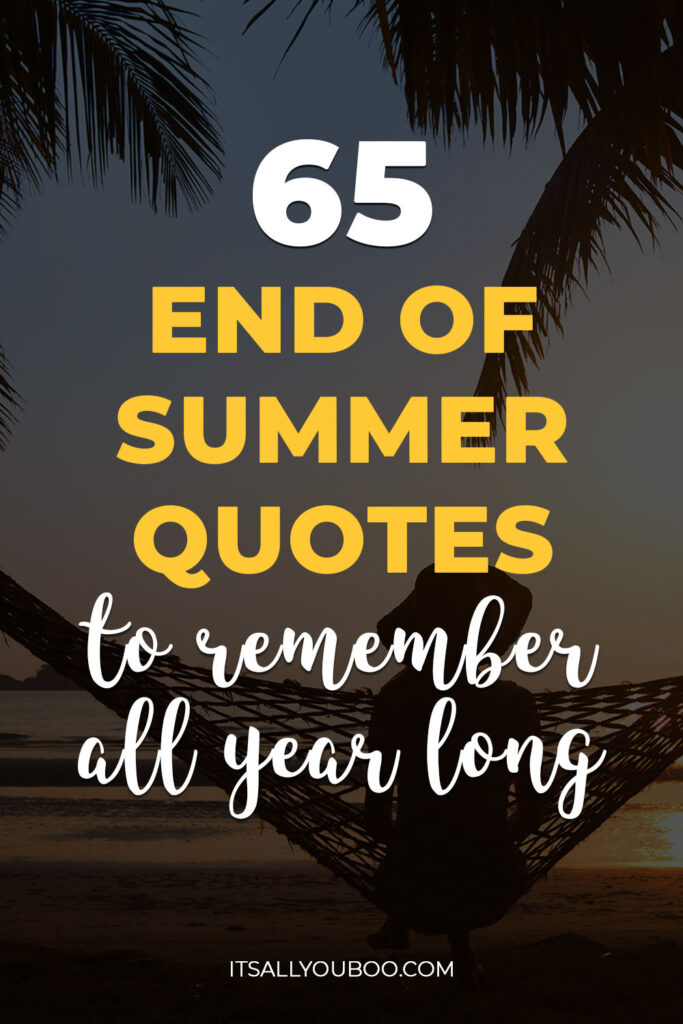 ---

Memories of Summertime Quotes
What were your favorite memories of summer? What do you love most about the season of the sun? This first collection of end of summer quotes welcomes the first day of summer and everything it stands for. These hello summer quotes all describe summer in all its glory.

"Summer passes and one remembers one's exuberance." — Yoko Ono
👉🏽  RELATED POST: Hello Summer Quotes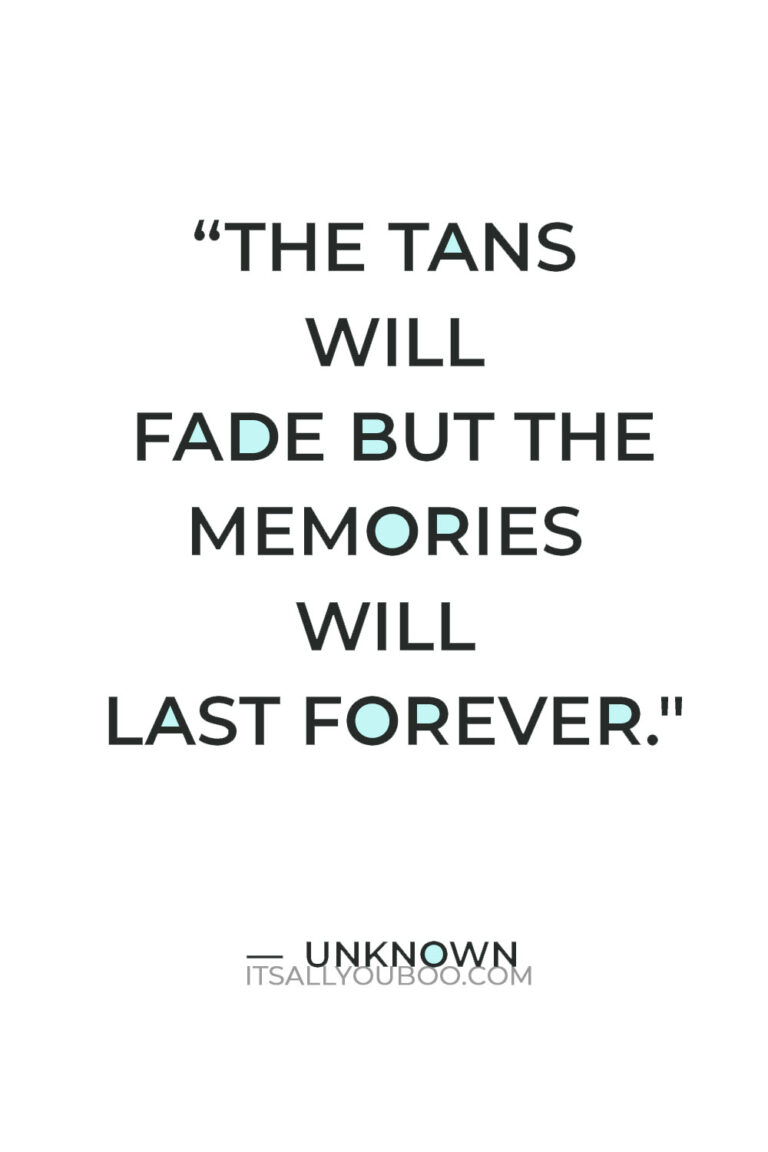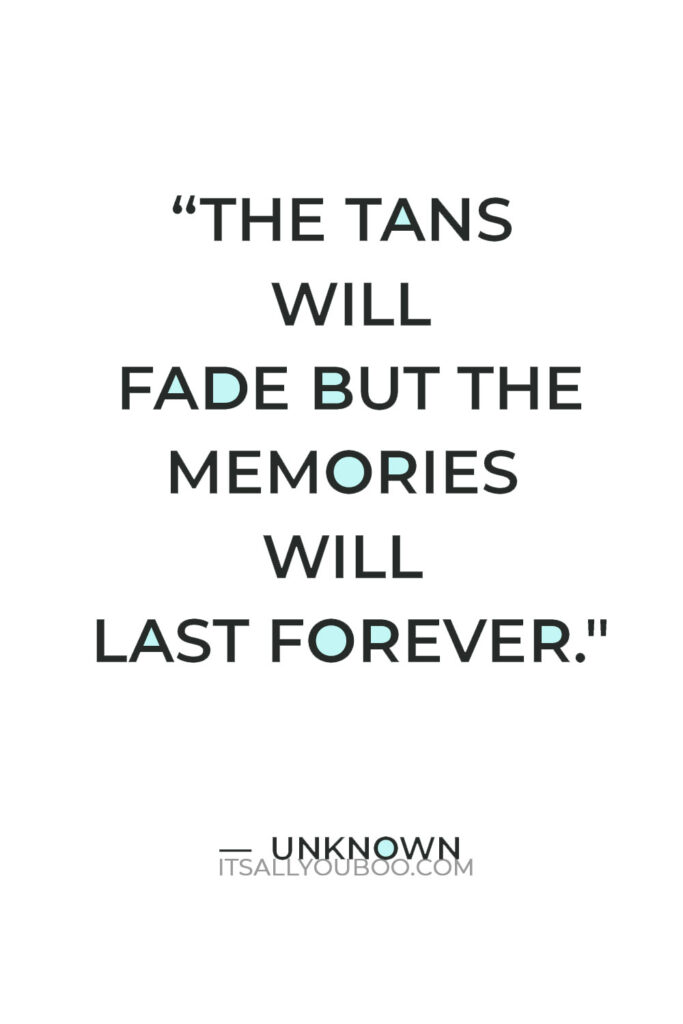 2. "The tans will fade but the memories will last forever." — Unknown
"A breeze, a forgotten summer, a smile, all can fit into a storefront window." ― Dejan Stojanovic

4. "All in all, it was a never-to-be-forgotten summer… one of those summers which, in a fortunate combination of delightful weather, delightful friends, and delightful doing, come as near perfection as anything can come in this world." — L.M. Montgomery
👉🏽  RELATED POST:  Hello Spring Quotes and Flower Sayings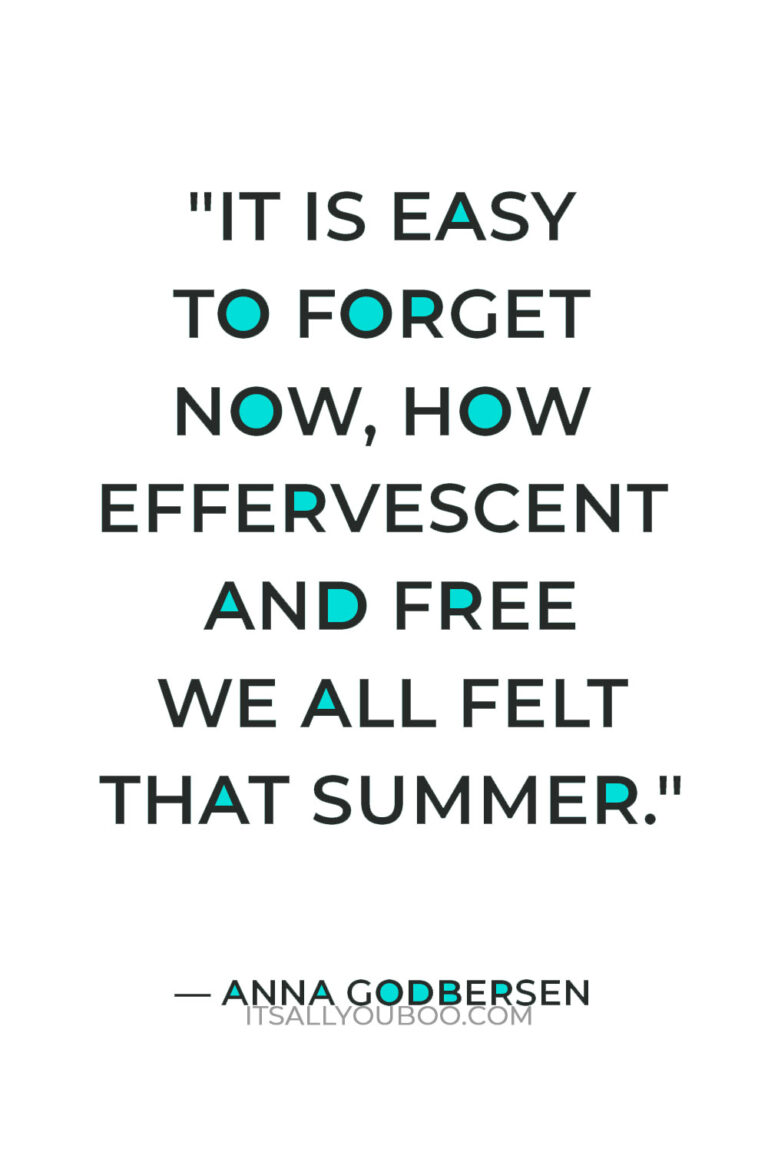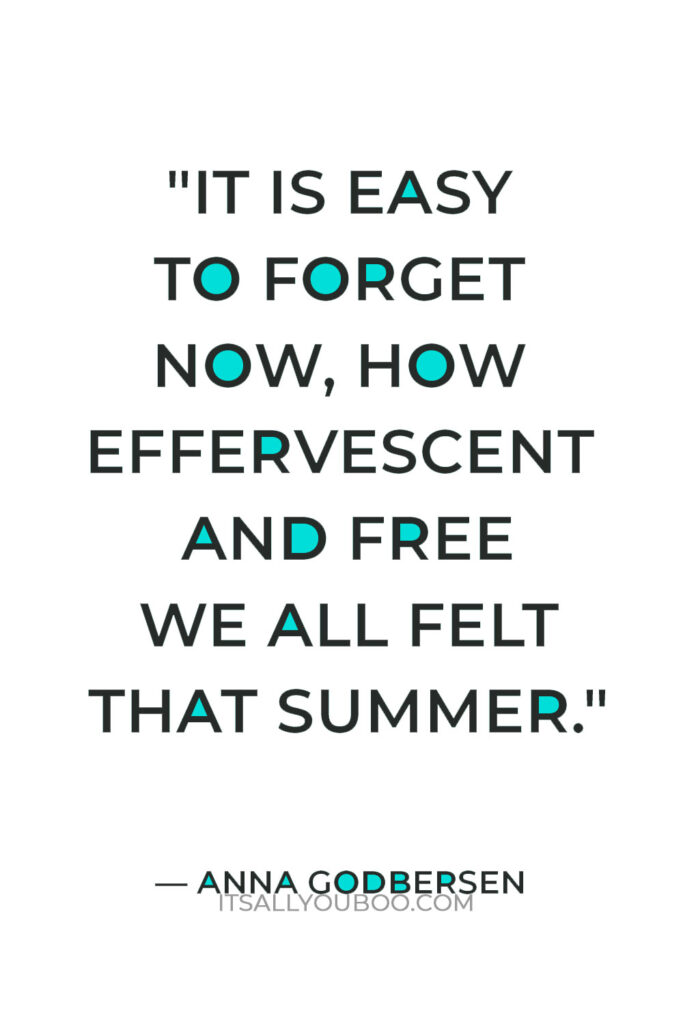 5. "It is easy to forget now, how effervescent and free we all felt that summer." — Anna Godbersen
"I'm a summer baby, so I usually have my birthday as a good summer memory." — Sloane Crosley
7. "People take pictures of the Summer, just in case someone thought they had missed it, and to proved that it really existed." — Ray Davies
End of Summer Fling and Romance Quotes
Mourning the end of a summer romance? Moving on from a summertime fling? The following inspirational end-of-summer quotes are dedicated to your summertime love lives. From dates on patios and sunsets at the beach, nothing says summer like love.
👉🏽  RELATED POST: 143 Quotes about Love and Romance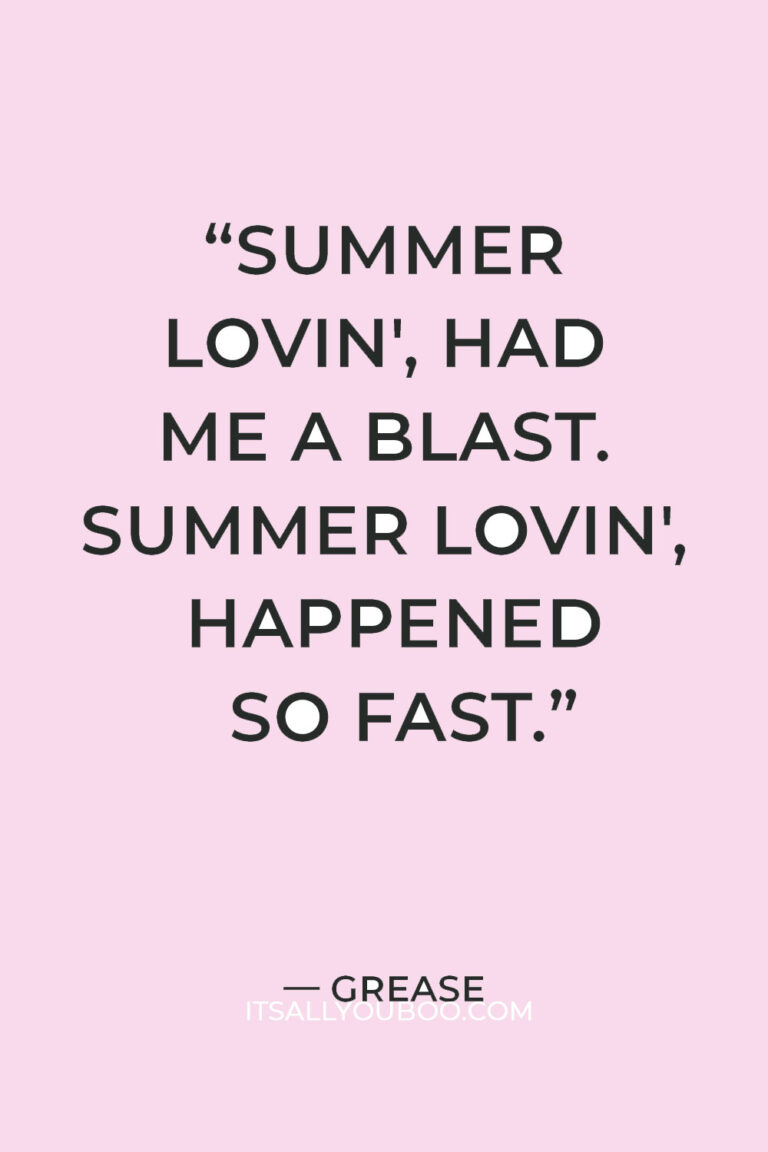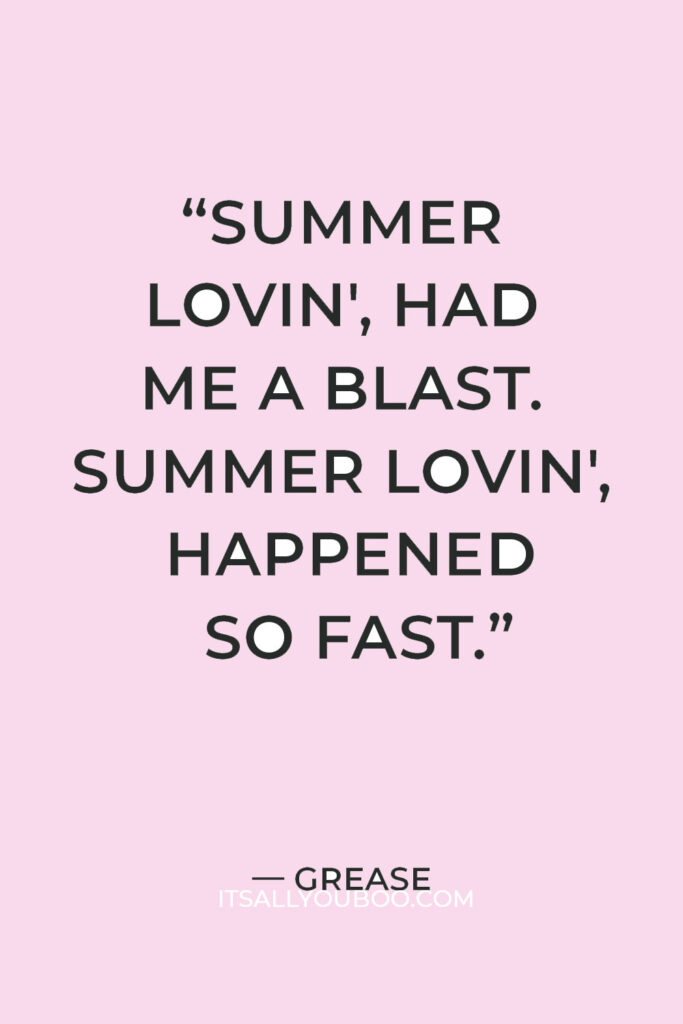 8. "Summer lovin', had me a blast. Summer lovin', happened so fast. I met a girl crazy for me. Met a boy cute as can be. Summer days drifting away. To, uh oh, those summer nights." — Grease

"A man says a lot of things in summer he doesn't mean in winter." ― Patricia Briggs

10. "Without continuity, men would become like flies in summer." — Melville Fuller
11. "Summer romances end for all kinds of reasons. But when all is said and done, they have one thing in common: They are shooting stars-a spectacular moment of light in the heavens, a fleeting glimpse of eternity. And in a flash, they're gone." ― Nicholas Sparks
👉🏽  RELATED POST: Relationship Quotes for Him and Her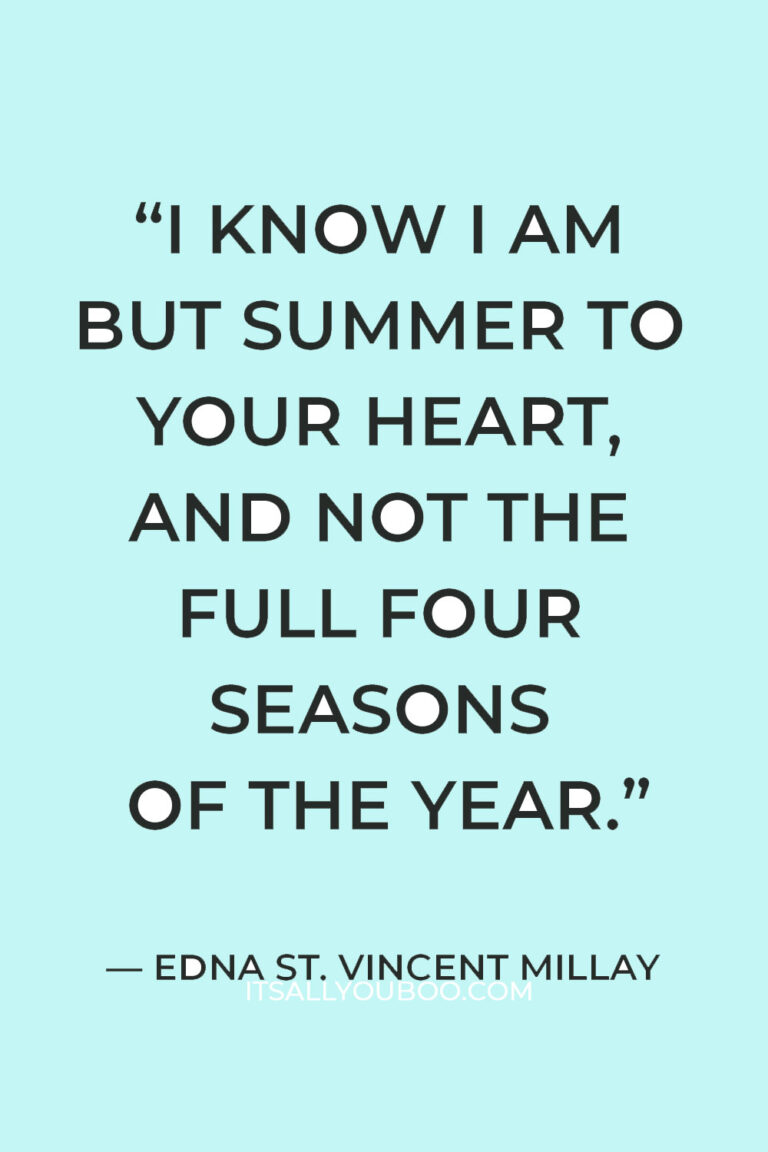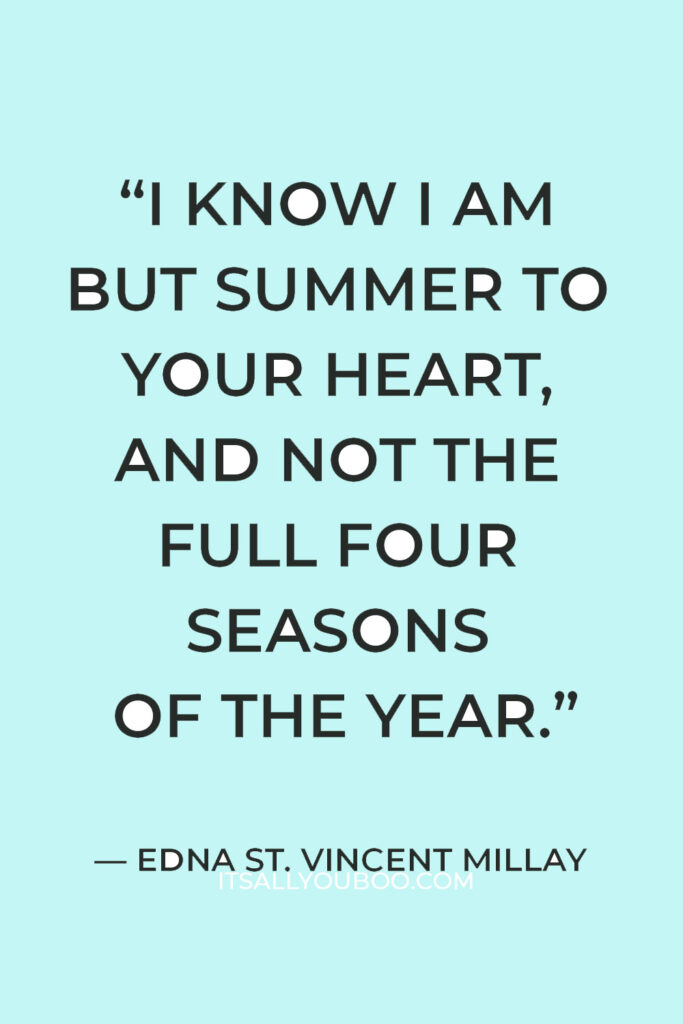 12. "I know I am but summer to your heart, and not the full four seasons of the year." ― Edna St. Vincent Millay
"Sometime between when the Summer of Love ended and the Summer of Sam began, America became a nation of cynics about love." — Tracy McMillan
👉🏽  RELATED POST: 170 Quotes About Being Single and Happy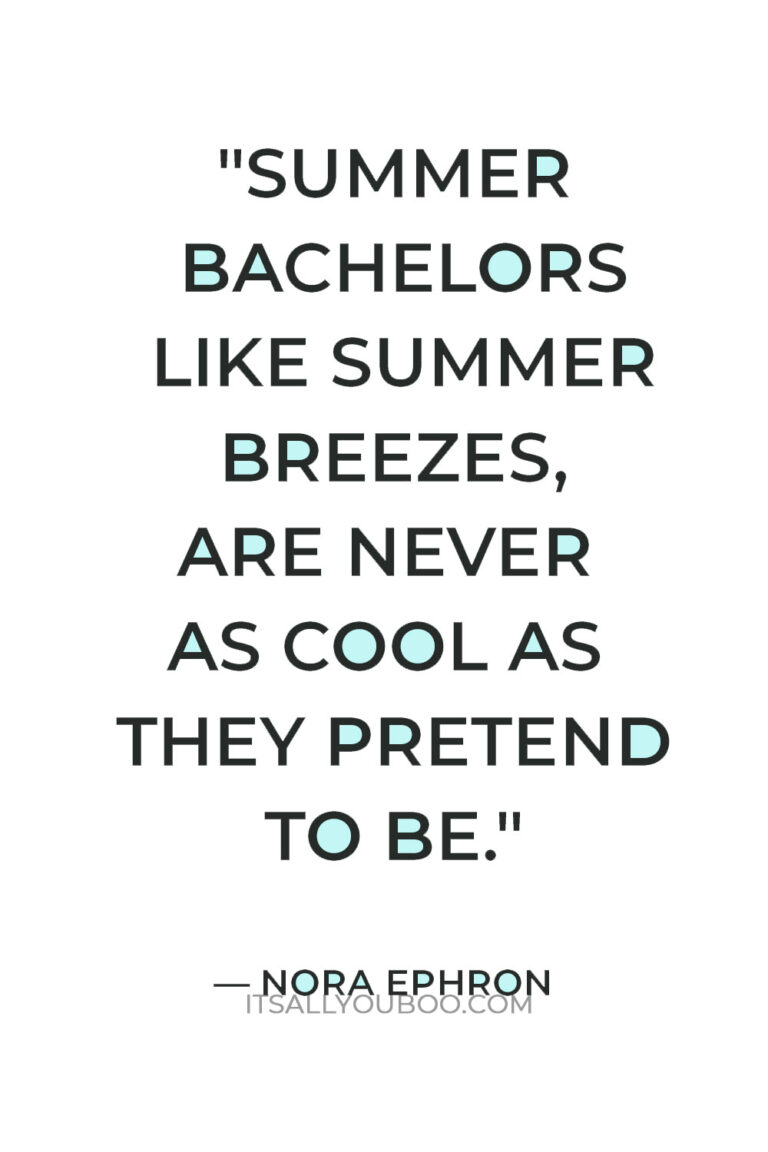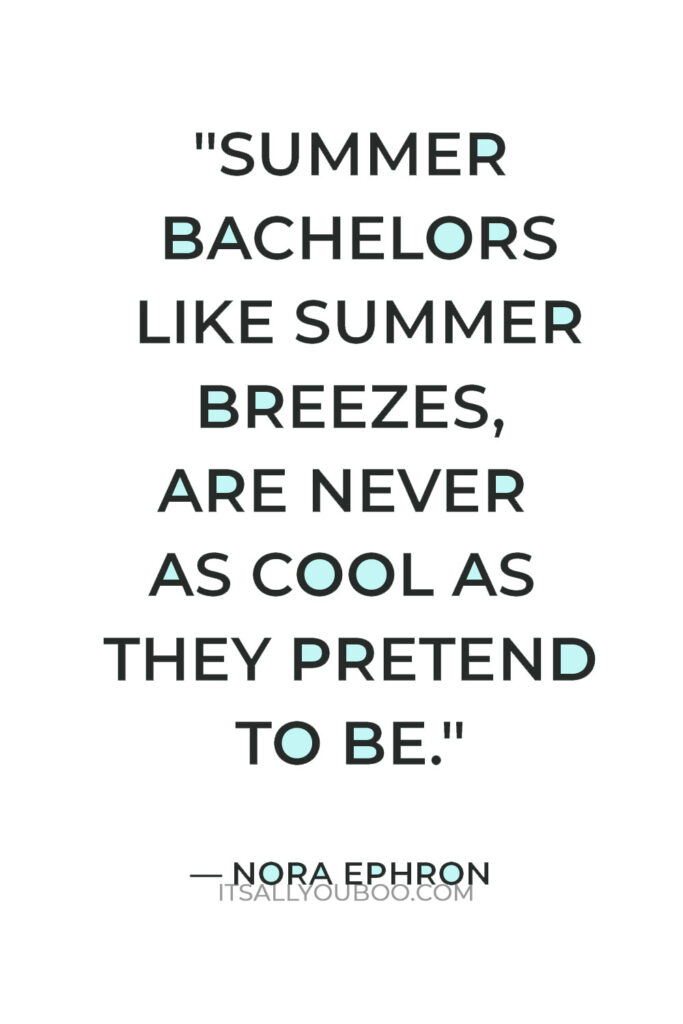 14. "Summer bachelors like summer breezes, are never as cool as they pretend to be." — Nora Ephron
"Why is summer mist romantic and autumn mist just sad?" — Dodie Smith
August is the End of Summer Quotes
What does August mean to you? Is it the last chance to enjoy summer? August is the month of glorious sunshine. This selection of end-of-summer quotes reminds us that August is a sign of summer's end, with shorter days that burn bright. These Hello August quotes are perfect to welcome summer's last stand.
👉🏽  RELATED POST: Cute Fall is Here Quotes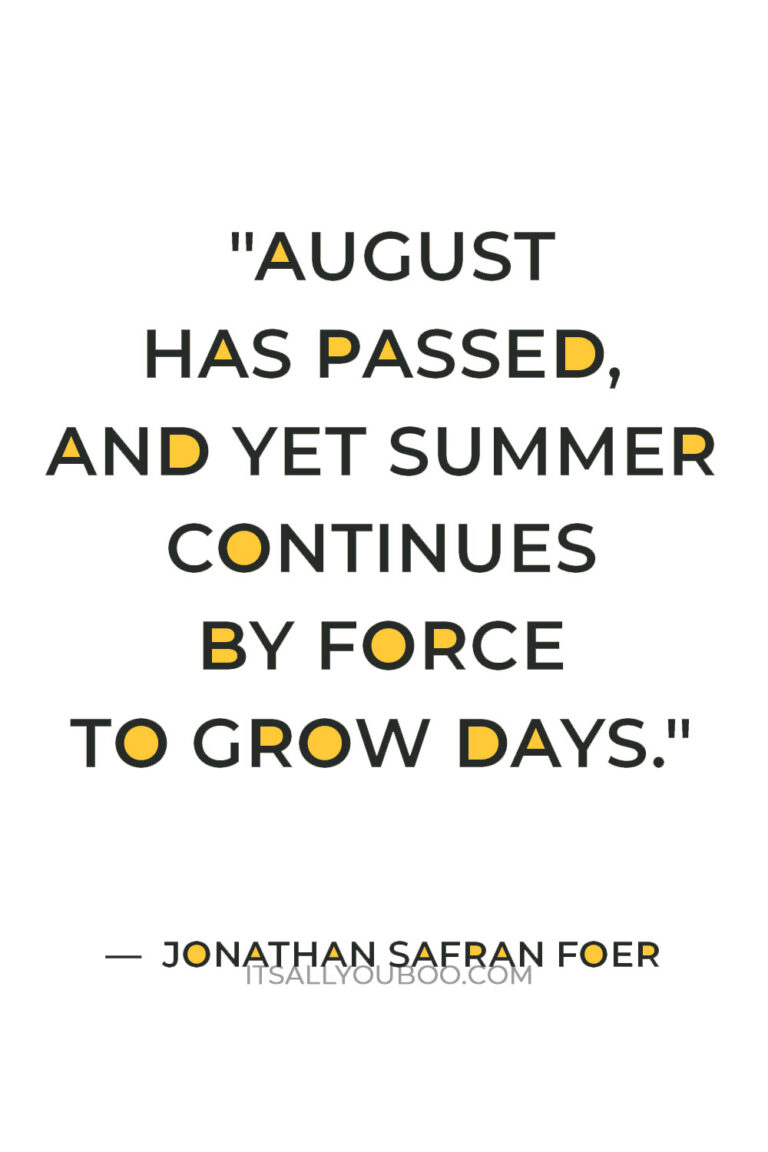 16. "August has passed, and yet summer continues by force to grow days. They sprout secretly between the chapters of the year, covertly included between its pages." ― Jonathan Safran Foer
"August, the summer's last messenger of misery, is a hollow actor." — Henry Rollins
👉🏽  RELATED POST: 37 Inspirational Gratitude Quotes for Thanksgiving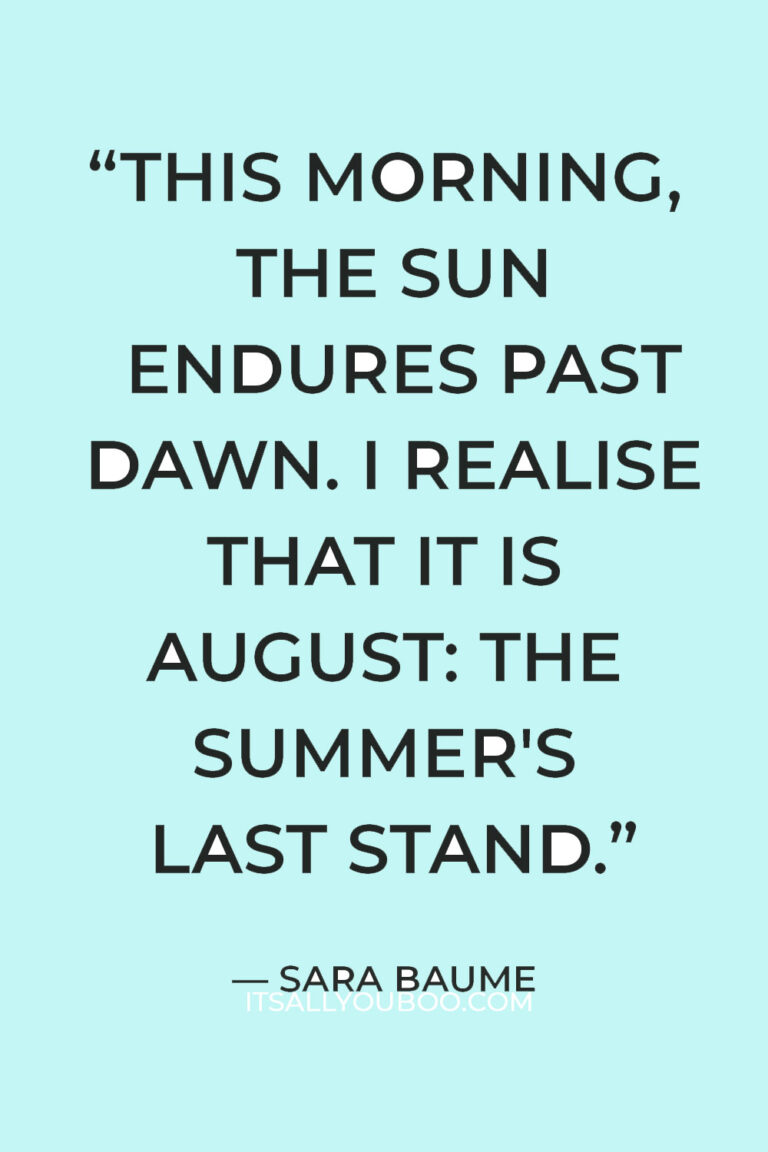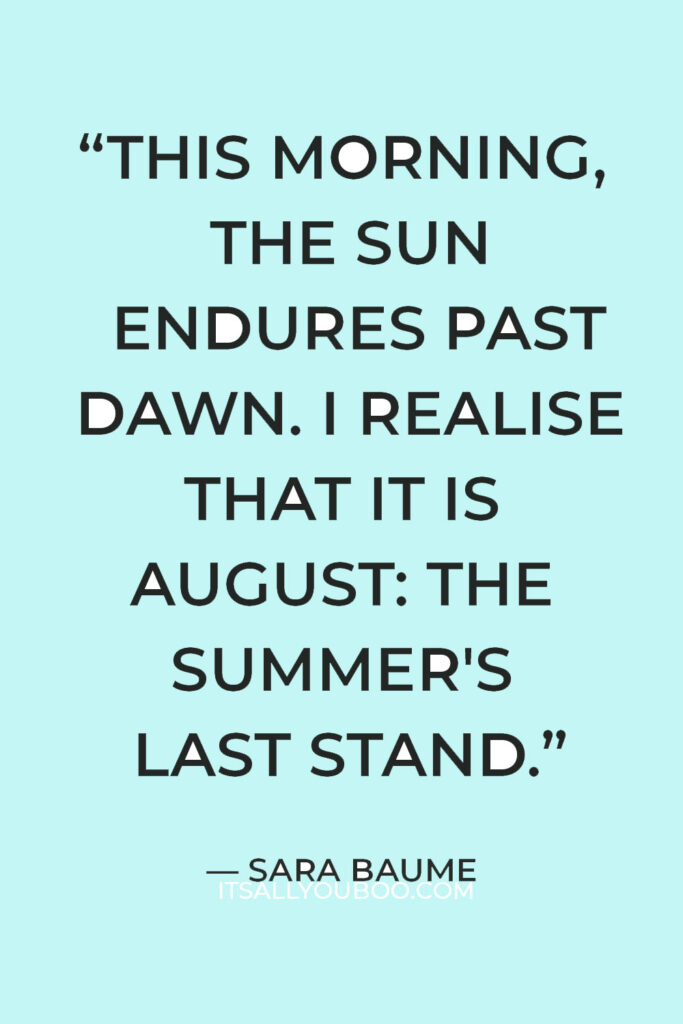 18. "This morning, the sun endures past dawn. I realise that it is August: the summer's last stand." ― Sara Baume
"August rain: the best of the summer gone, and the new fall not yet born. The odd uneven time." ― Sylvia Plath
20. "August brings into sharp focus and a furious boil everything I've been listening to in the late spring and summer." — Henry Rollins
Last Days of Summer Quotes
How do you feel about the end of summer? Ready to get back to school and busy life? The following collection of end of summer quotes mourns the loss of sunshine and freedom.
21. "Summer will end soon enough, and childhood as well." — George R.R. Martin
"Summer's lease hath all too short a date." — William Shakespeare
👉🏽  RELATED POST: 83 Happy Halloween Quotes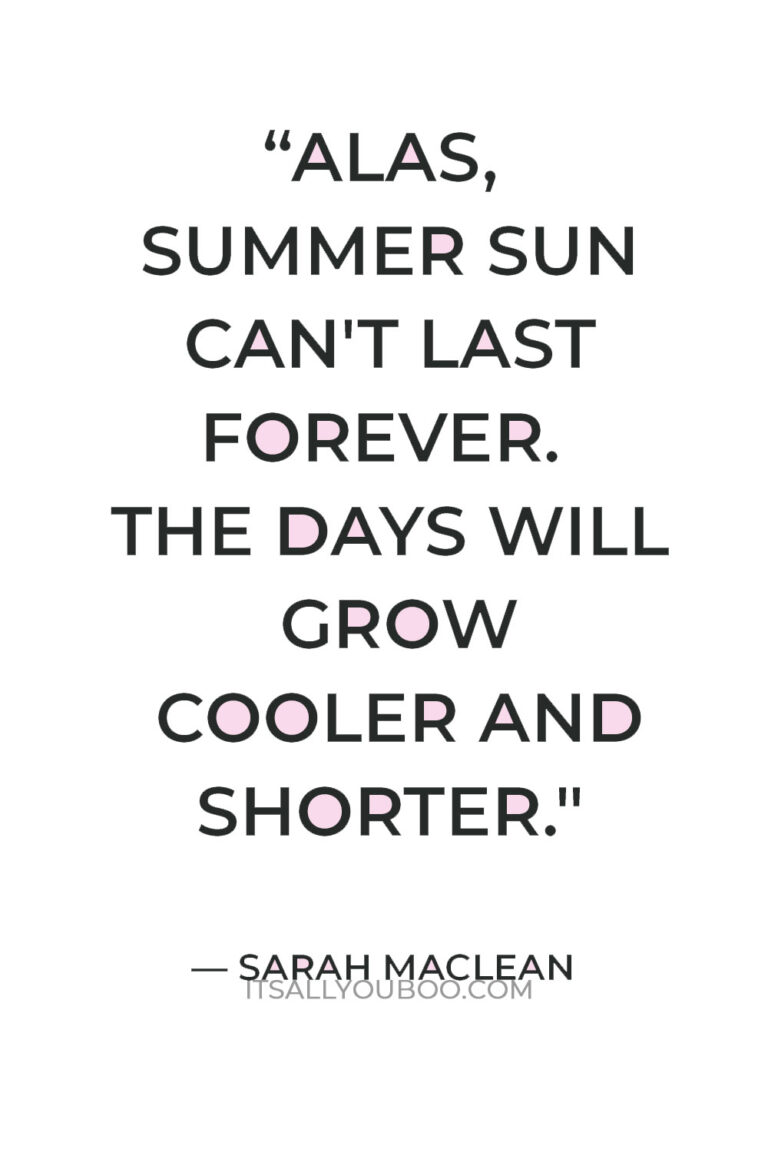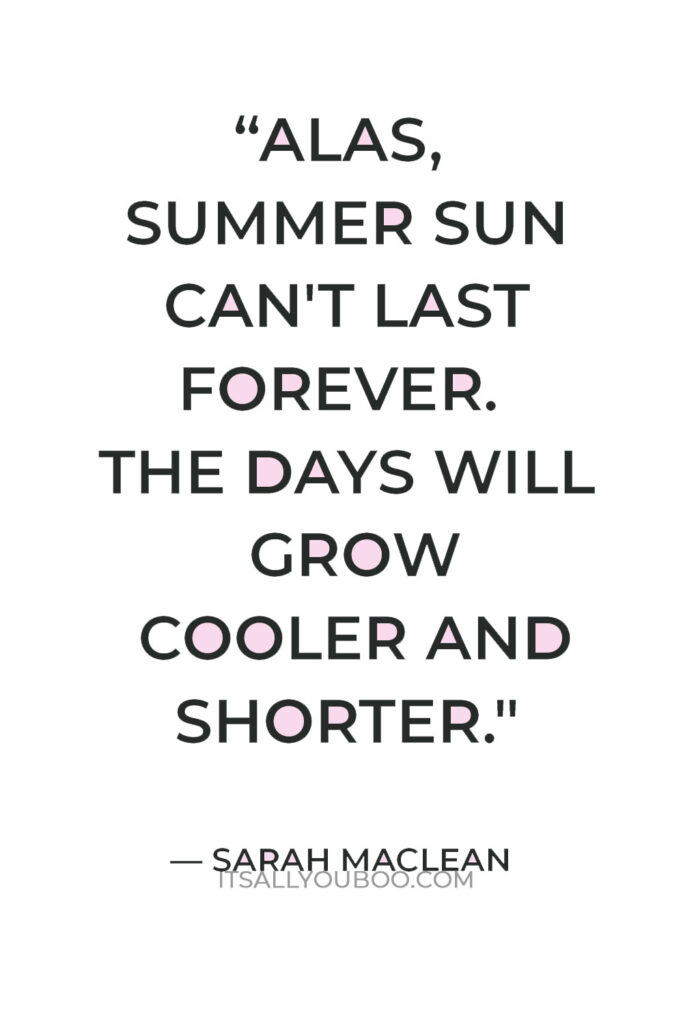 23. "Alas, summer sun can't last forever. The days will grow cooler and shorter, and our skin will once again pale." — Sarah MacLean
"If June was the beginning of a hopeful summer, and July the juice middle, August was suddenly feeling like the bitter end." — Sarah Dessen
25. "The winding down of summer puts me in a heavy philosophical mood." — Robert Fulghum
26. "Watching the summer close is like watching a good kid die for no apparent reason." — Darnell Lamont Walker
👉🏽  RELATED POST: Thank You Quotes for Teachers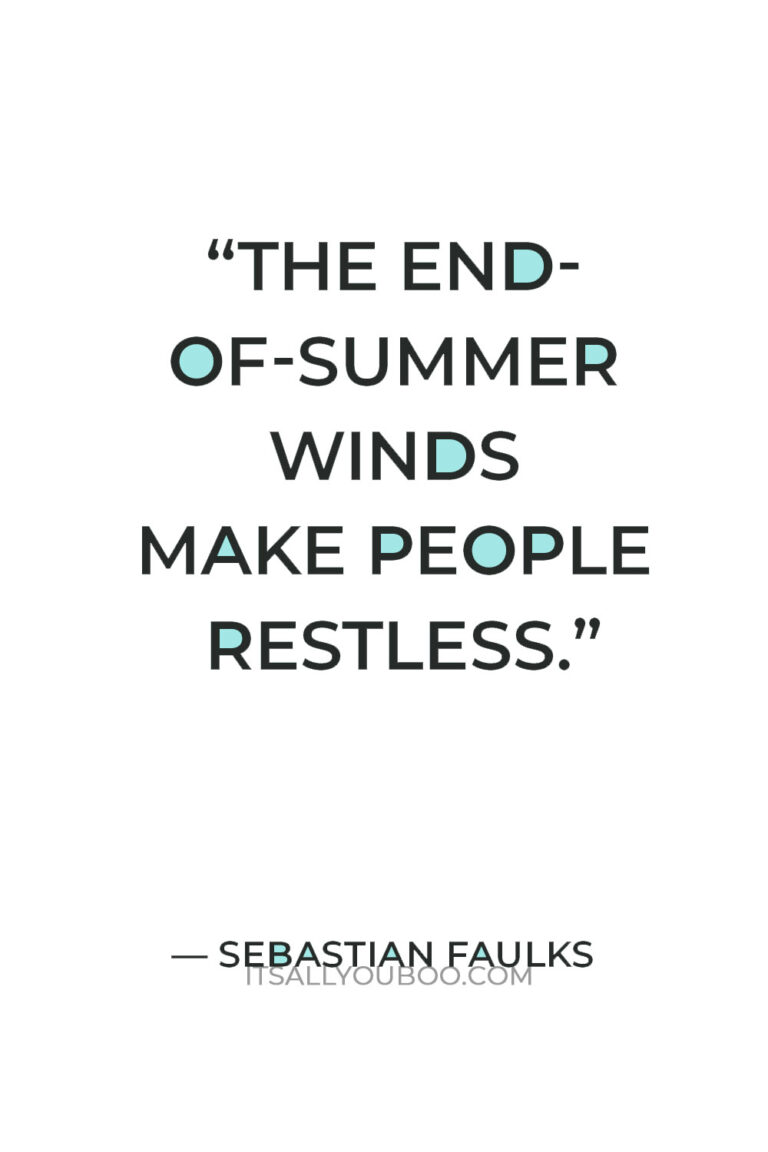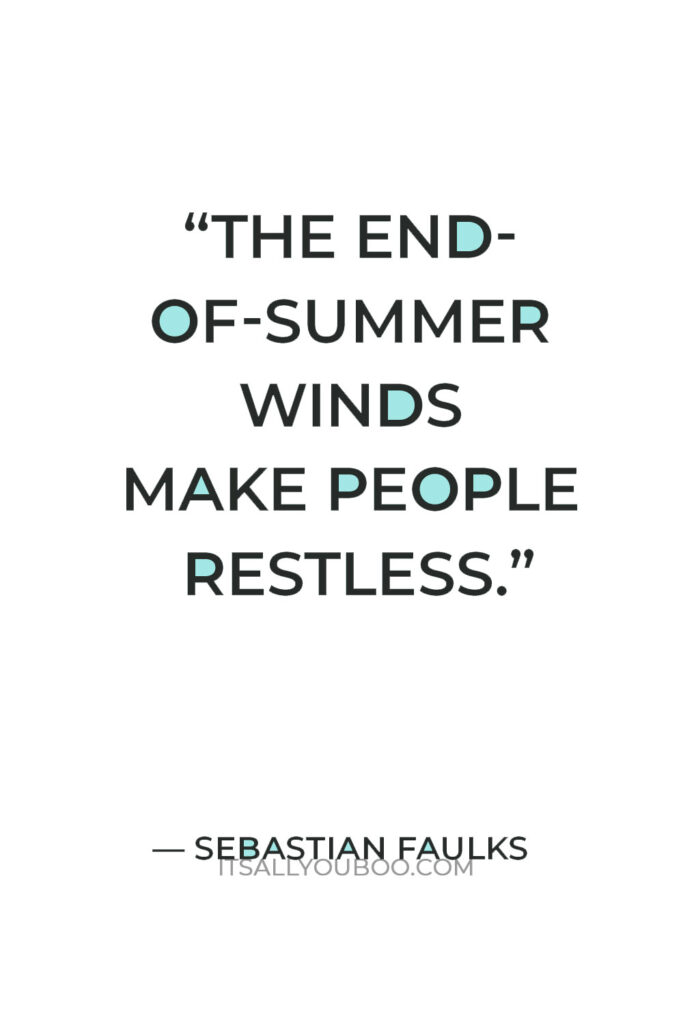 27. "The end-of-summer winds make people restless." — Sebastian Faulks

"We know that in September, we will wander through the warm winds of summer's wreckage. We will welcome summer's ghost." — Henry Rollins

29. "Autumn is leaving its mellowness behind for its spiky, rotted stage. Don't remember summer even saying goodbye." ― David Mitchell

Autumn Is Coming After Summer Quotes
Are you excited for the arrival of autumn? Do you enjoy fall more than summer? These end of summer quotes welcome the cool and cozy days of the fall season.
30. "Summer ends, and Autumn comes, and he who would have it otherwise would have high tide always and a full moon every night." — Hal Borland
👉🏽  RELATED POST: 100 Inspirational Merry Christmas Quotes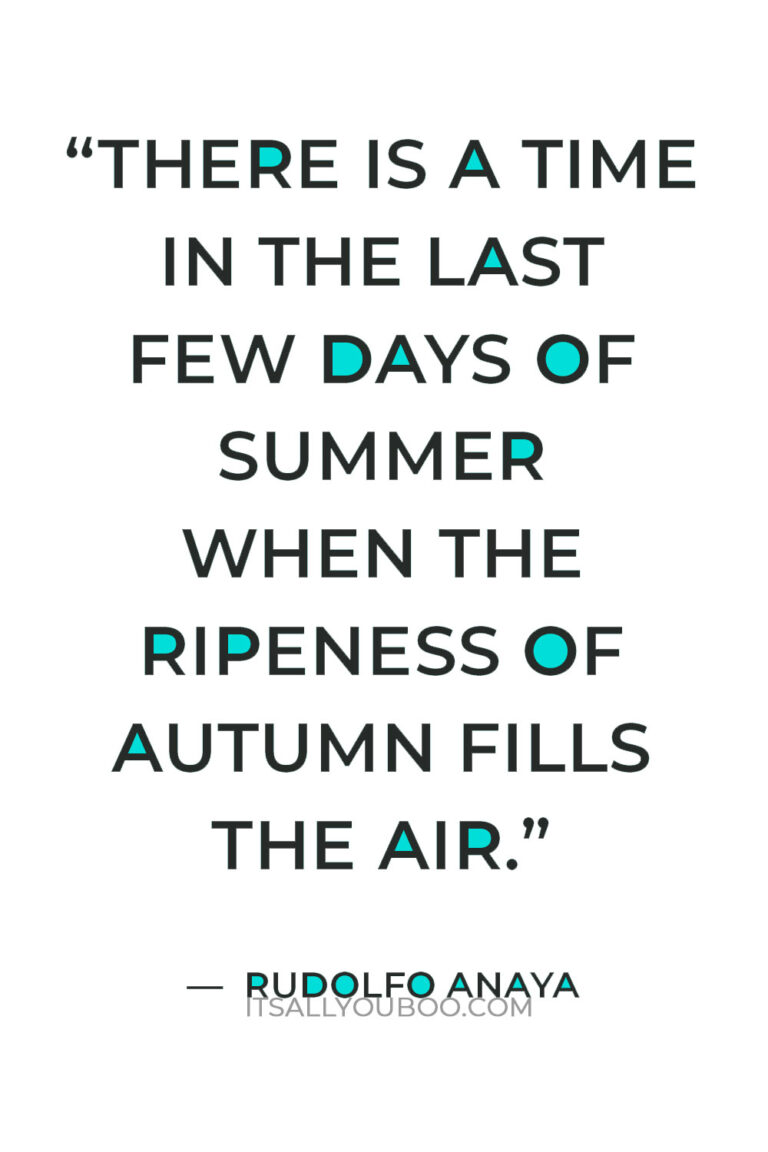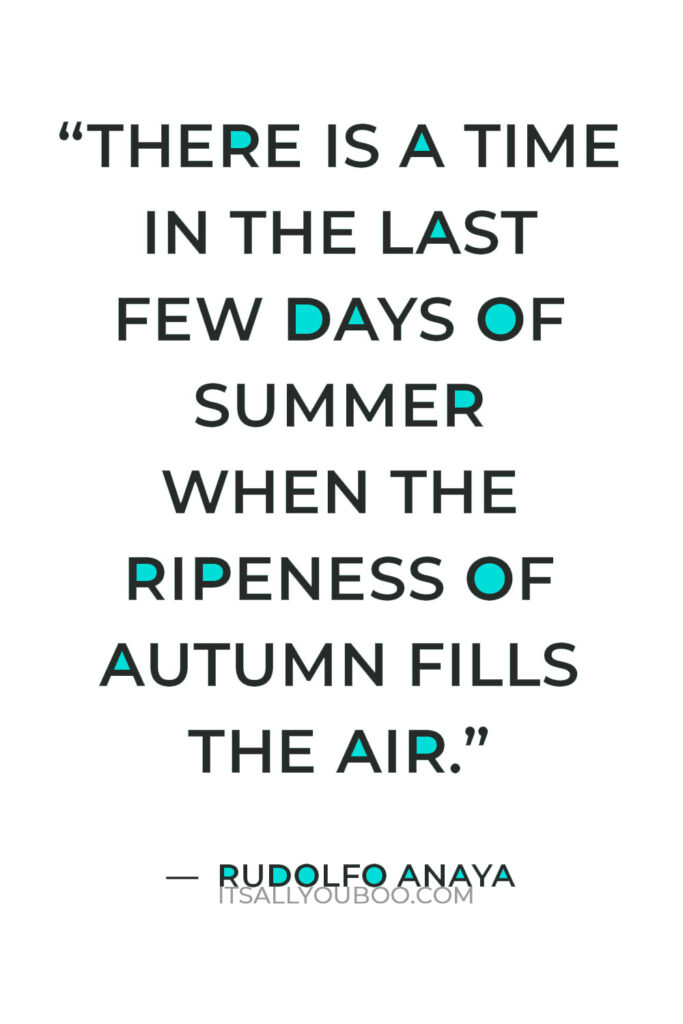 31. "There is a time in the last few days of summer when the ripeness of autumn fills the air." — Rudolfo Anaya
32. "The crickets felt it was their duty to warn everybody that summertime cannot last forever. Even on the most beautiful days in the whole year – the days when summer is changing into autumn – the crickets spread the rumor of sadness and change." — E.B. White
"By all these lovely tokens September days are here, With summer's best of weather And autumn's best of cheer." — Helen Hunt Jackson
👉🏽 RELATED POST: 100 Happy Back to School Quotes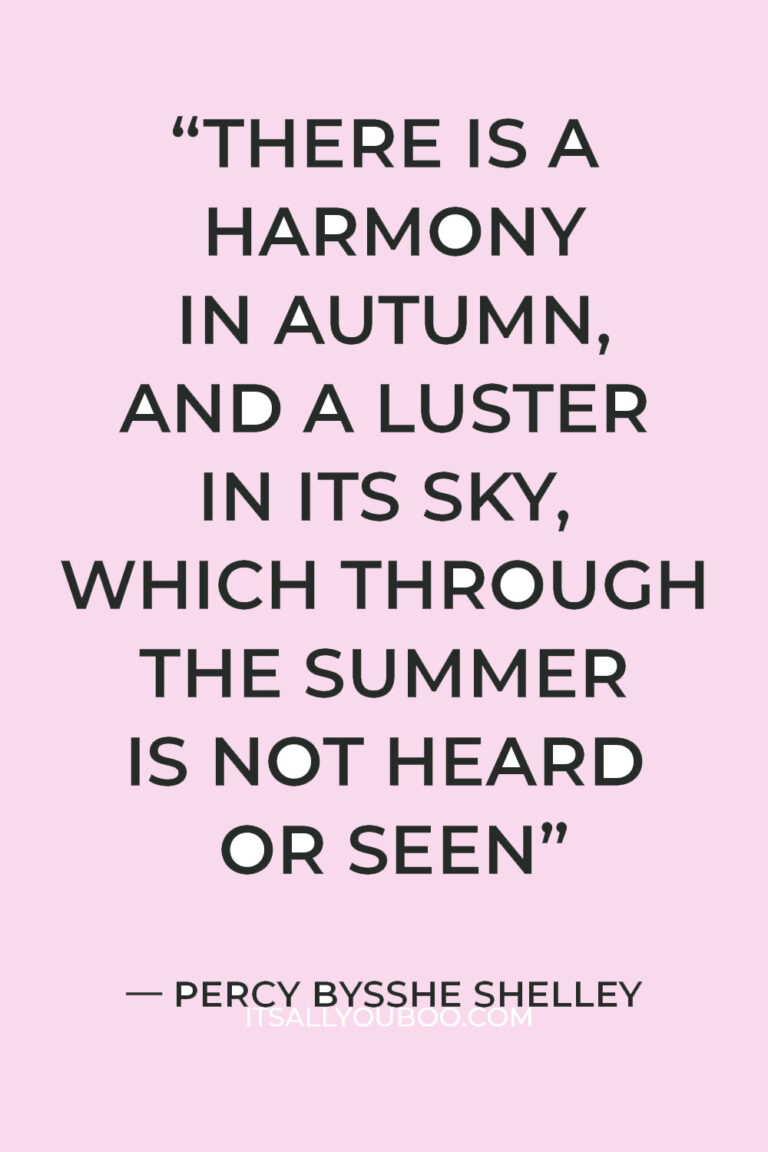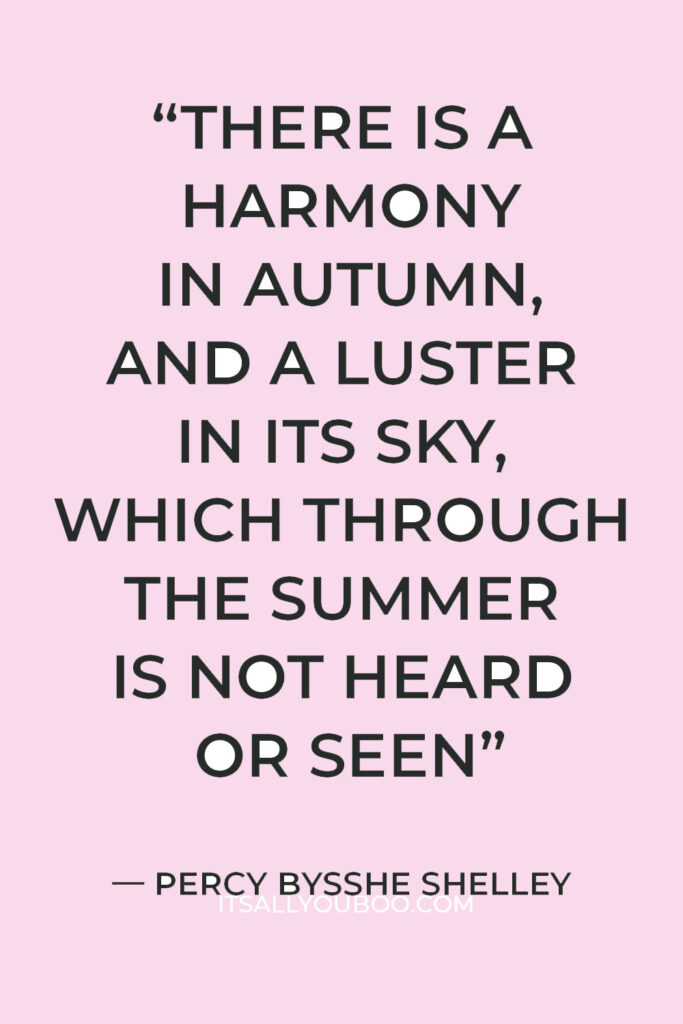 33. "There is a harmony in autumn, and a luster in its sky, which through the summer is not heard or seen, as if it could not be, as if it had not been!" — Percy Bysshe Shelley
34. "But then fall comes, kicking summer out on its treacherous ass as it always does one day sometime after the midpoint of September, it stays awhile like an old friend that you have missed. It settles in the way an old friend will settle into your favorite chair and take out his pipe and light it and then fill the afternoon with stories of places he has been and things he has done since last he saw you." — Stephen King
"Start going to bed earlier! It is a tough adjustment when you have had a summer of staying up late and waking up late." — Bella Thorne
👉🏽 RELATED POST: School's Out For Summer Quotes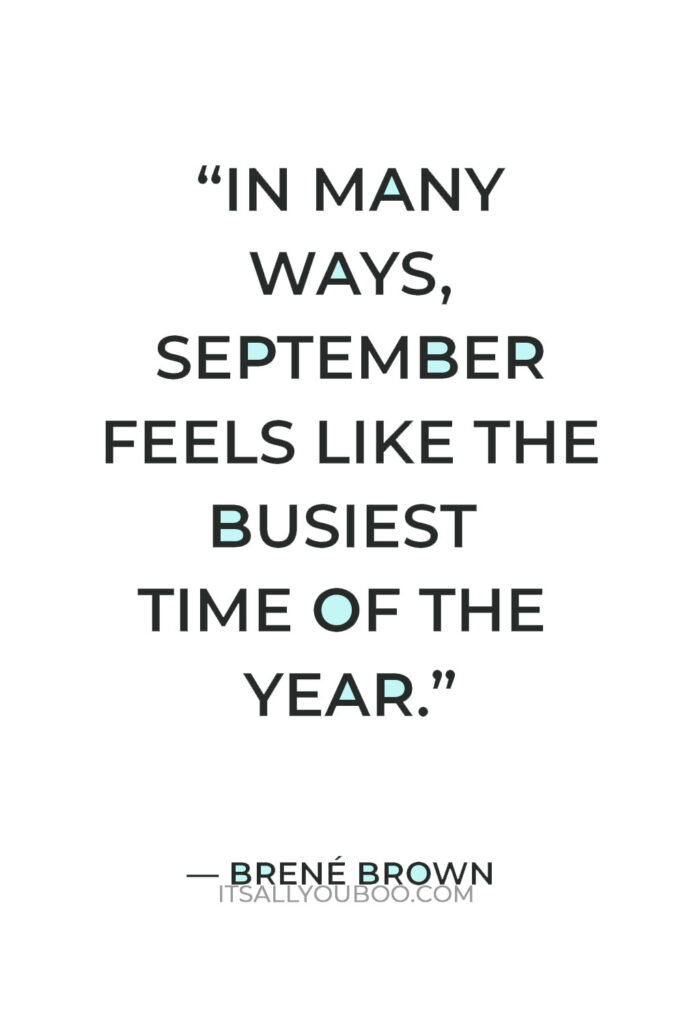 37. "In many ways, September feels like the busiest time of the year: The kids go back to school, work piles up after the summer's dog days, and Thanksgiving is suddenly upon us." — Brené Brown

Winter Comes Long After Summer's Gone Quotes
Are you a summer or winter person? Do you look forward to winter's arrival? The next collection of end-of-summer quotes is all about winter's eventual arrival. On the heels of autumn, the colder winds blow announcing the holiday season's arrival. Winter means Thanksgiving Day, Christmas Day, and New Year's Eve.
38. "December's wintery breath is already clouding the pond, frosting the pane, obscuring summer's memory…" ― John Geddes

👉🏽  RELATED POST: 70 Hello Winter Quotes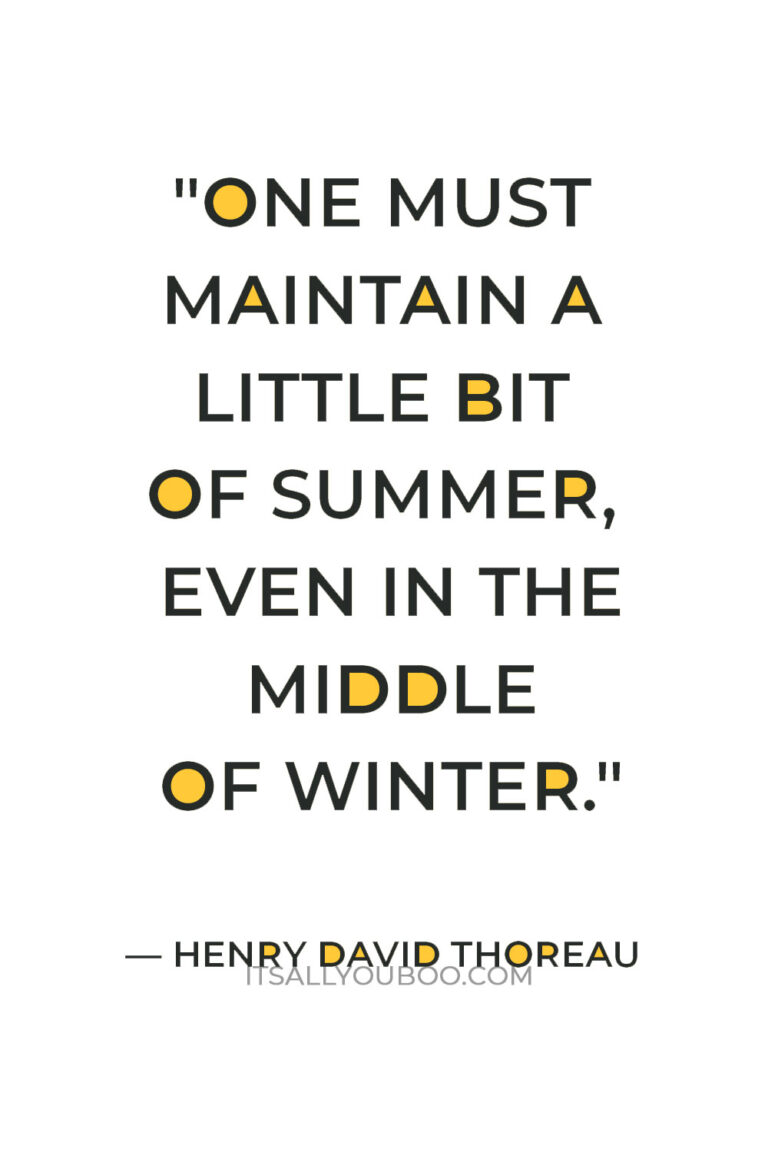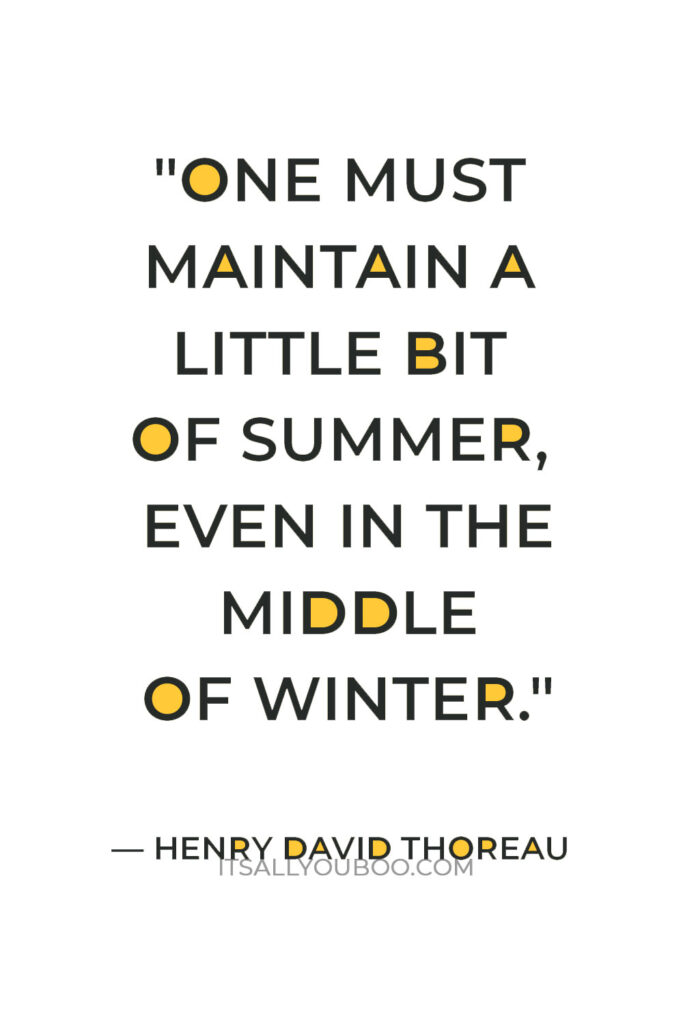 39. "One must maintain a little bit of summer, even in the middle of winter." — Henry David Thoreau
"People don't notice whether it's winter or summer when they're happy." ― Anton Chekhov
👉🏽  RELATED POST:  110 Inspirational Winter Quotes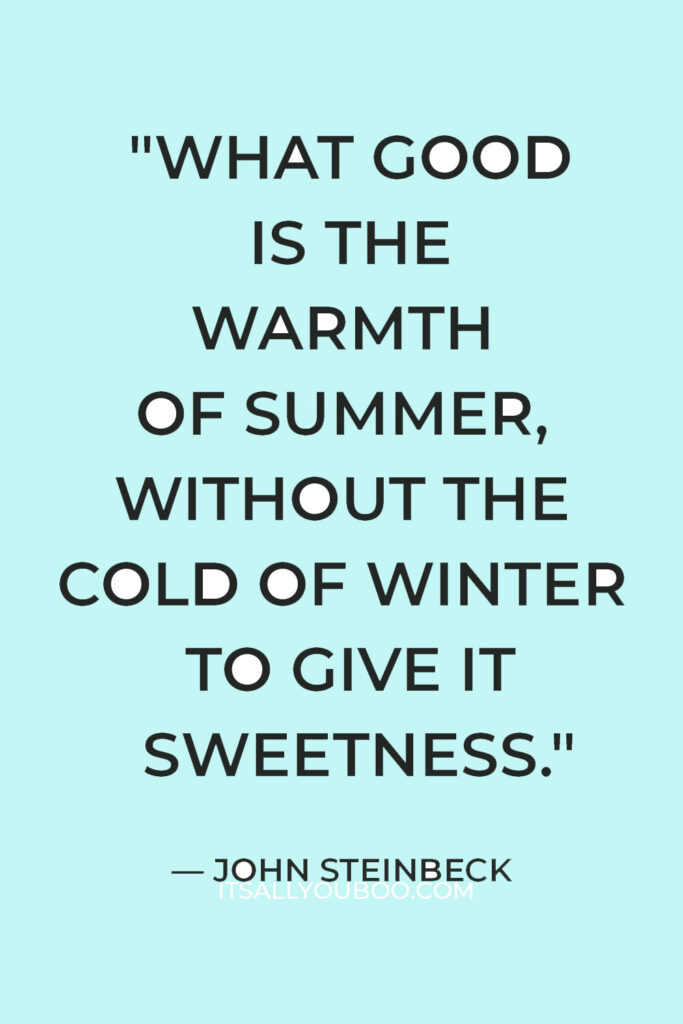 41. "What good is the warmth of summer, without the cold of winter to give it sweetness. You only truly, deeply appreciate and are grateful for something when you compare and contrast it to something worse." — John Steinbeck
"Write about winter in the summer." ― Annie Dillard
43. "I'm sorry for the things I said when it was winter." ― Unknown
"He who marvels at the beauty of the world in summer will find equal cause for wonder and admiration in winter." ― John Burroughs
👉🏽  RELATED POST: Happy Summer Solstice Quotes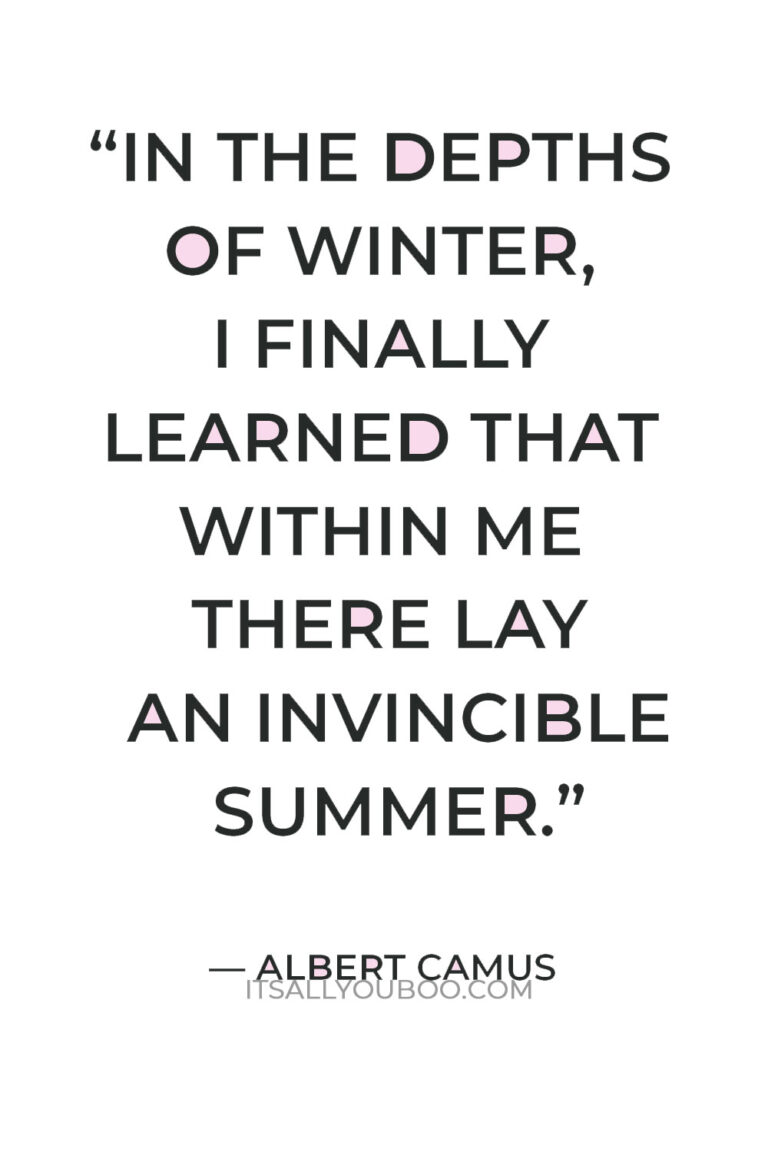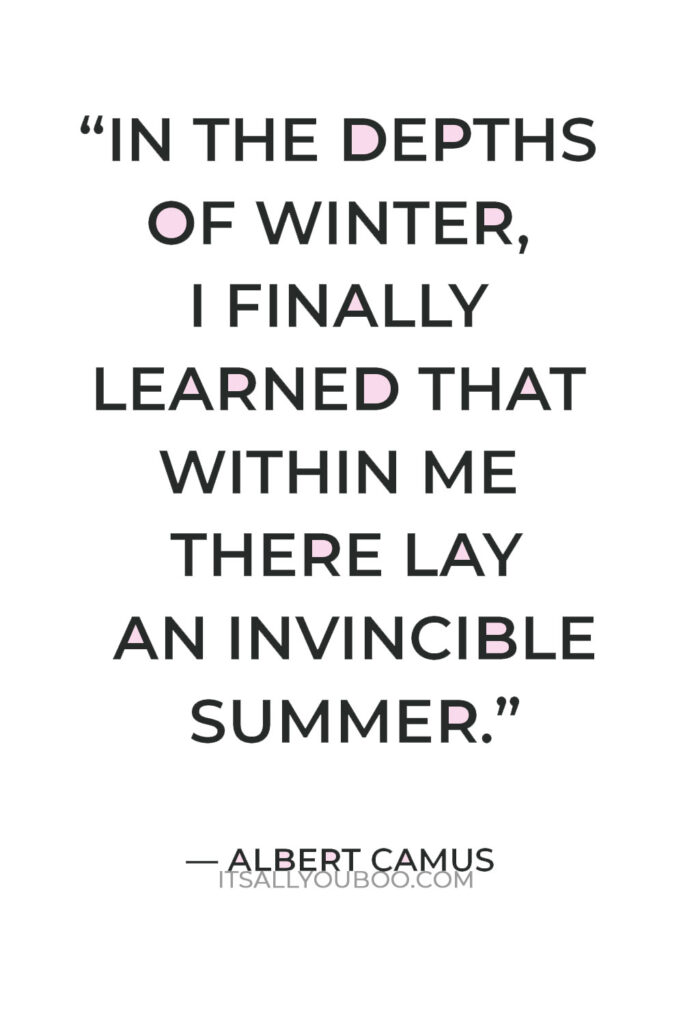 45. "In the depths of winter, I finally learned that within me there lay an invincible summer." ― Albert Camus
Quotes About The Balance of the Seasons
Do you wish it was always summer? Not a fan of the other seasons? In the following end of summer quotes, the perfect balance and harmony of the four seasons is explained. It can't always be hot and sunny, nature shows us the necessity of all four seasons.

46. "It was one of those March days when the sun shines hot and the wind blows cold: when it is summer in the light, and winter in the shade." ― Charles Dickens


👉🏽  RELATED POST: Leo Quotes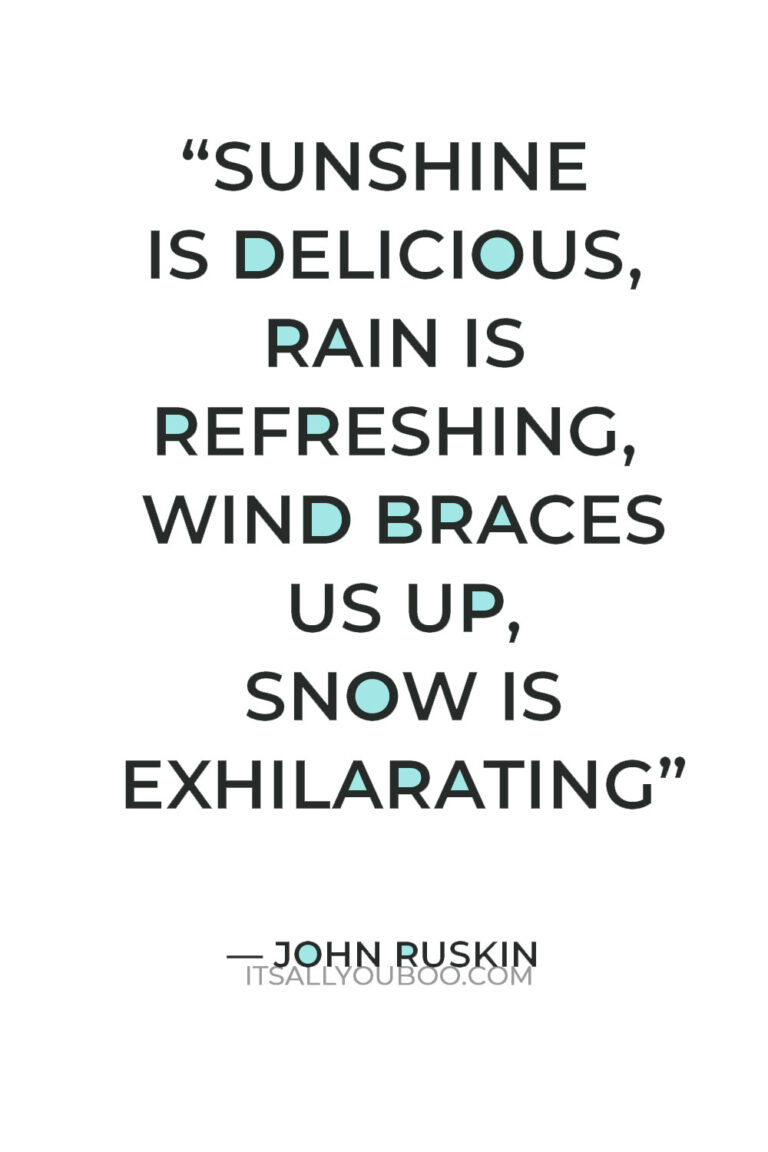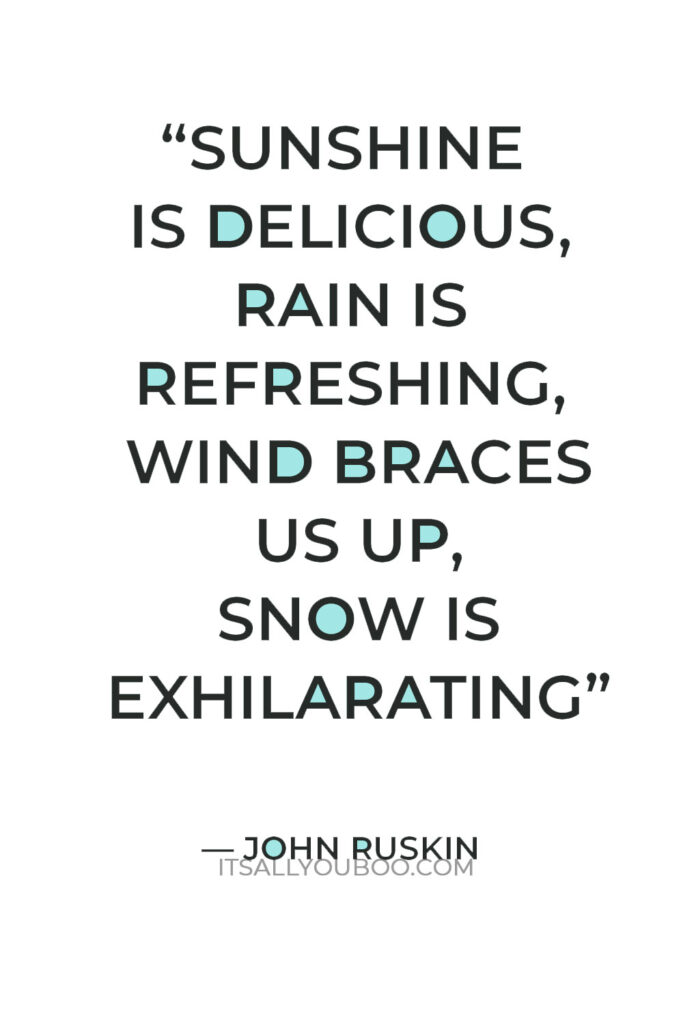 47. "Sunshine is delicious, rain is refreshing, wind braces us up, snow is exhilarating; there is really no such thing as bad weather, only different kinds of good weather." ― John Ruskin
"We need society, and we need solitude also, as we need summer and winter, day and night, exercise and rest." ― Philip Gilbert Hamerton

49. "I know that my energy falls and rises with the phases of the moon. I rest in the winter. I wake up at my own pace, and I blossom in the summer. Life is supposed to be a natural process." ― Kerli
👉🏽 RELATED POST: Short Summer Quotes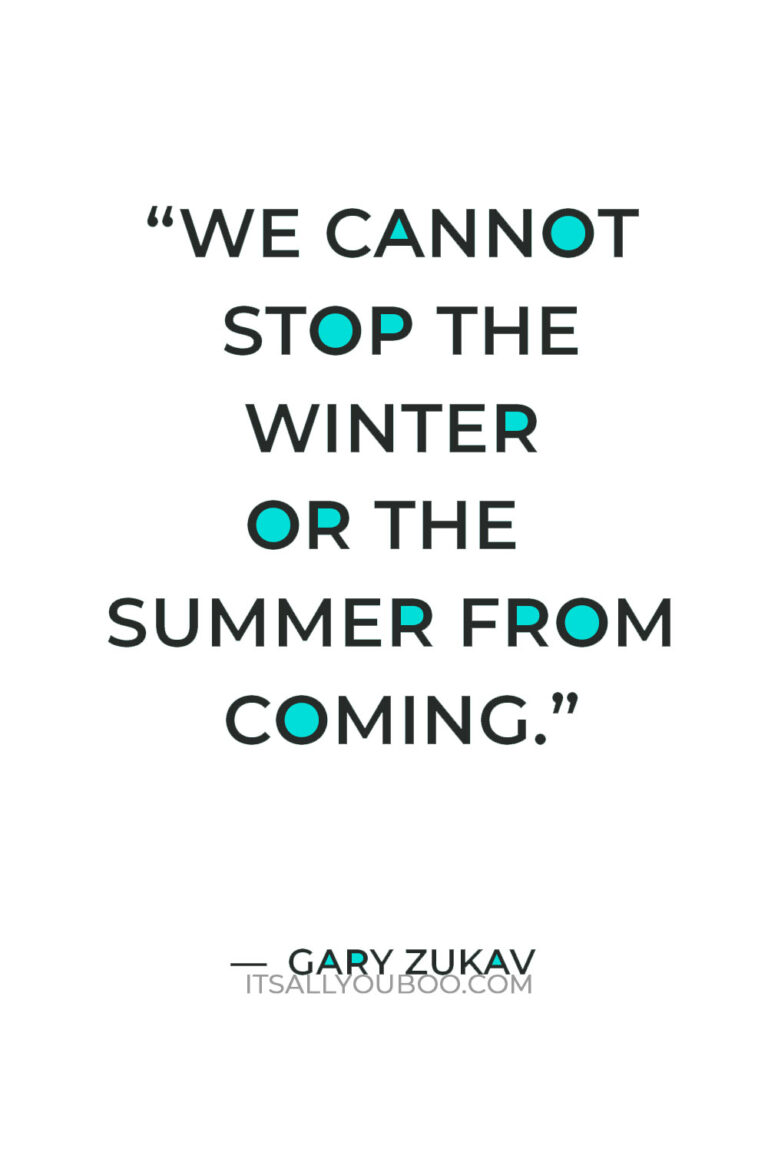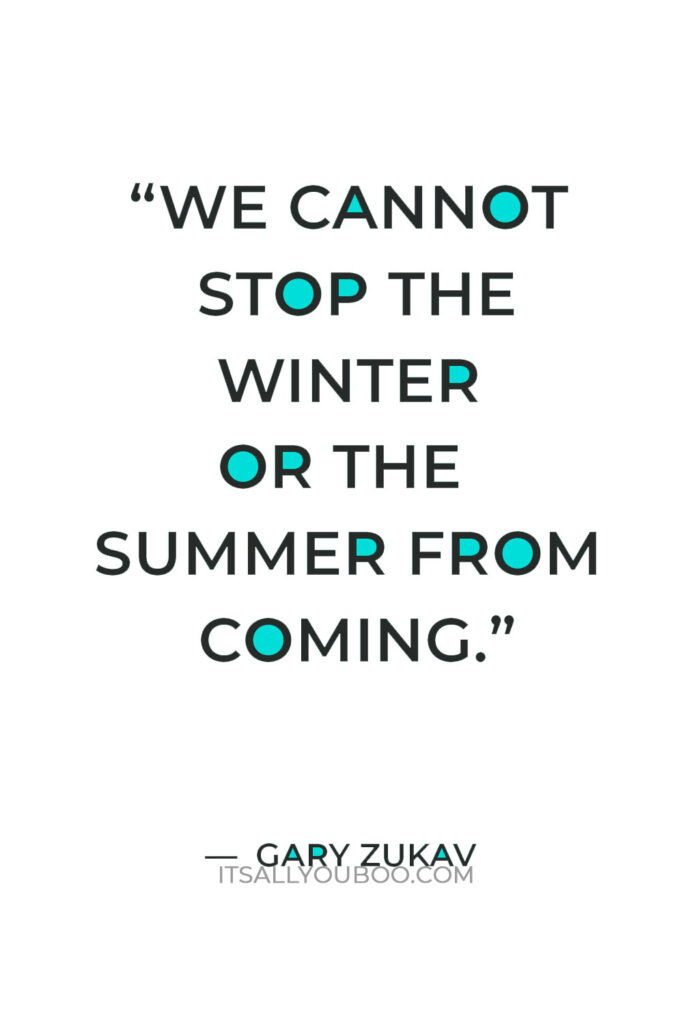 50. "We cannot stop the winter or the summer from coming. We cannot stop the spring or the fall or make them other than they are. They are gifts from the universe that we cannot refuse. But we can choose what we will contribute to life when each arrives." ― Gary Zukav

51. "God is day and night, winter and summer, war and peace, surfeit and hunger." ― Heraclitus

52. "Both the Winter and the Summer Solstices are expressions of love. They show us the opposition of light and dark, expansion and contraction, that characterize our experiences in the Earth school so that we can recognize our options as we move through our lives." ― Gary Zukav
"I think holiday spirit can mean many things and I think holiday spirit is just sort of your state of happiness during the holidays. You could say the same thing about spring spirit or summer spirit." ― Noah Galvin
Life Lessons from Summer Quotes
What did you learn about yourself this summer? What memories and life lessons will you always remember? This final selection of end of summer quotes is all about the important life lessons from the season of summer.
👉🏽  RELATED POST: Hello June Quotes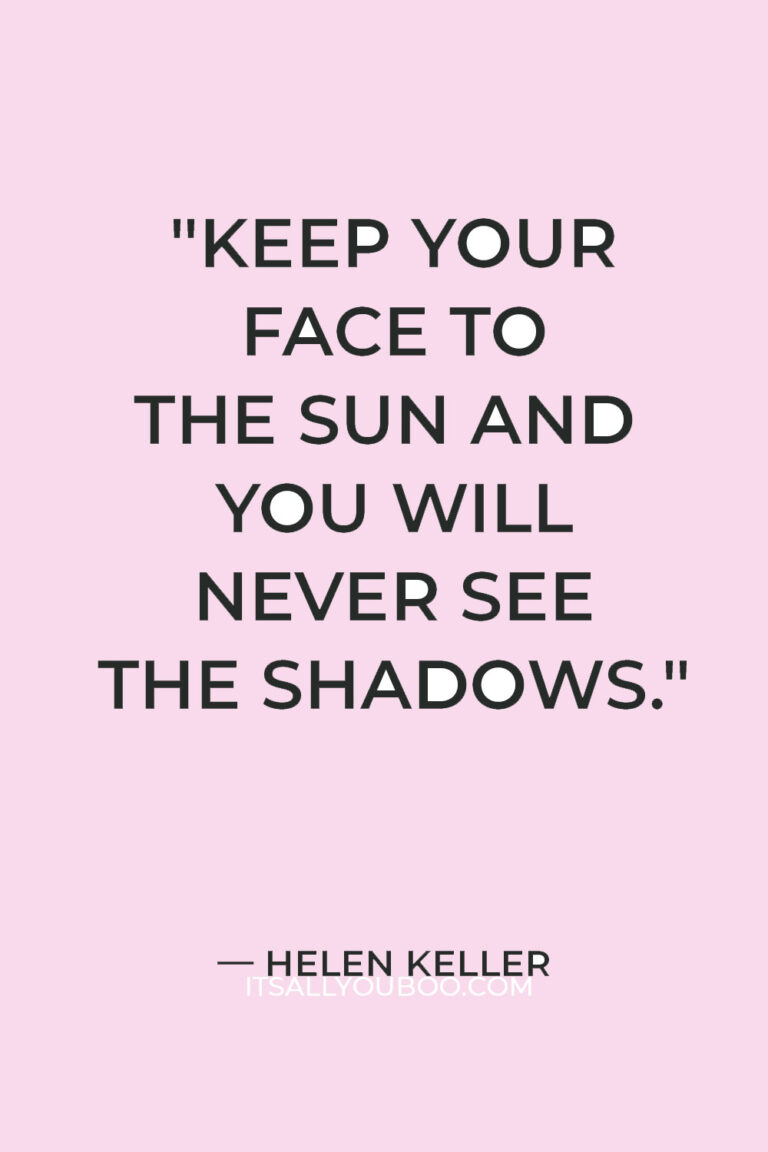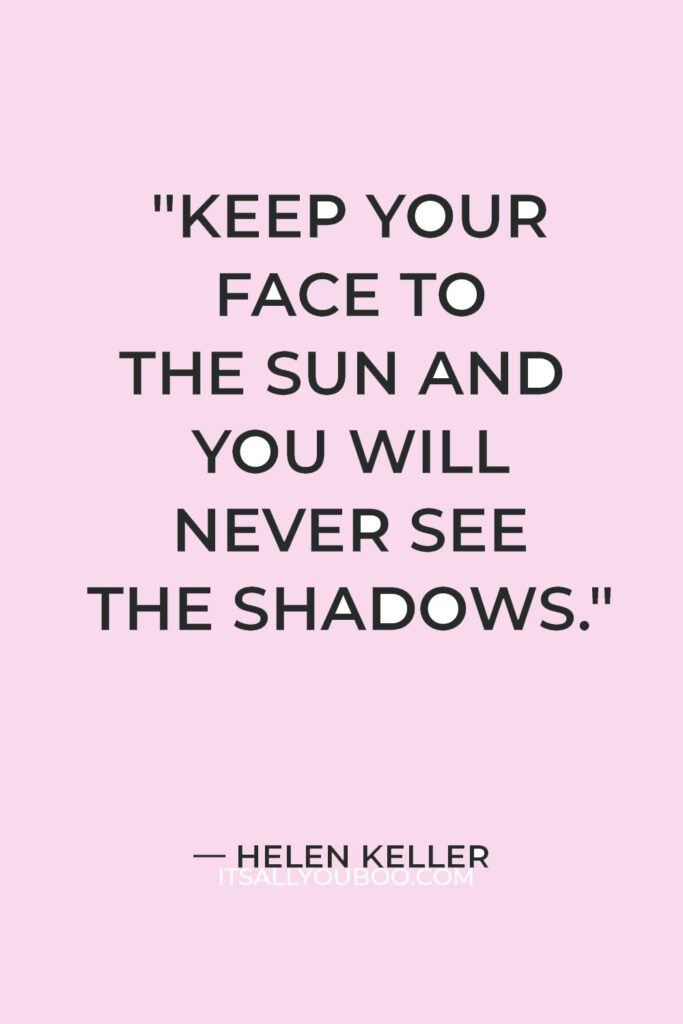 54. "Keep your face to the sun and you will never see the shadows." — Helen Keller
"I learned a valuable life lesson that summer. You should find something in life that you really enjoy and seriously consider making that your life's work." — Jim Evans
56. "For one swallow does not make a summer, neither does one fine day; similarly one day or brief time of happiness does not make a person entirely happy." ― Aristotle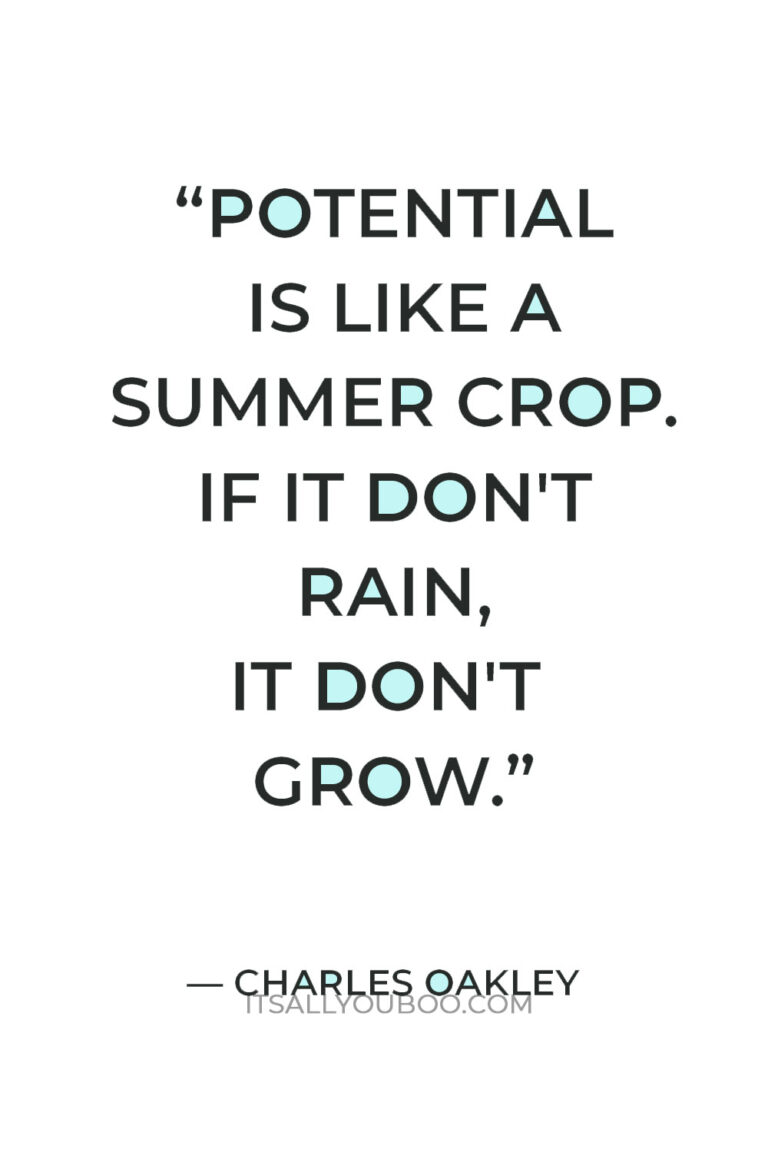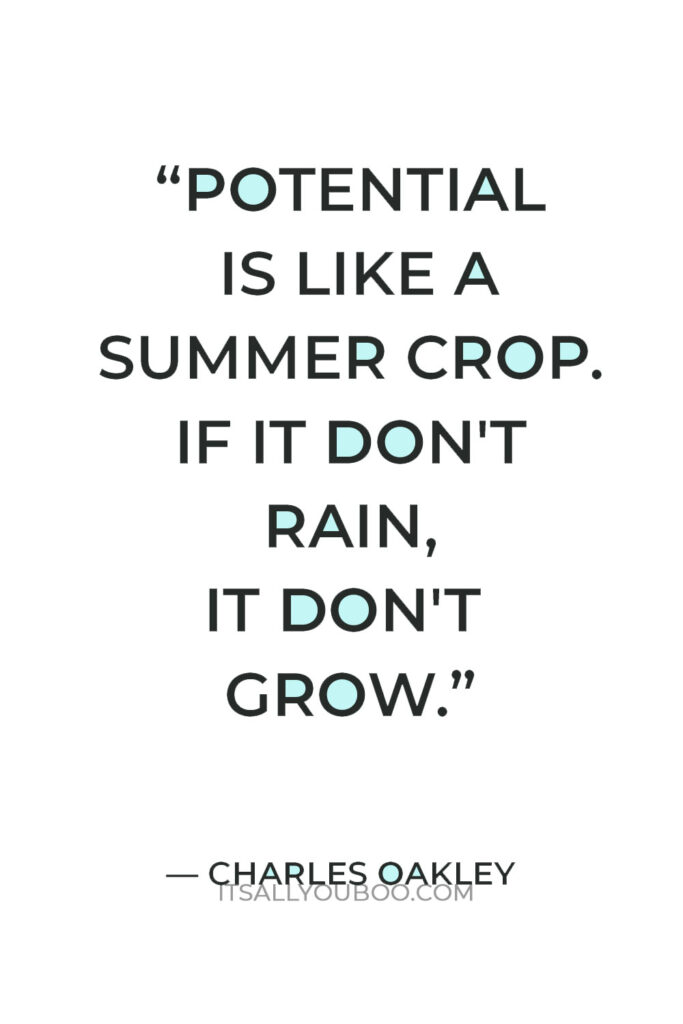 57. "Potential is like a summer crop. If it don't rain, it don't grow." ― Charles Oakley
58. "Integrity is so perishable in the summer months of success." ― Vanessa Redgrave
"That's what the summer is all about – showcasing what you can do and then learning the areas where you still need to grow." ― Duncan Robinson

60. "Another secret of the universe: Sometimes pain was like a storm that came out of nowhere. The clearest summer could end in a downpour. Could end in lightning and thunder." ― Benjamin Alire Saenz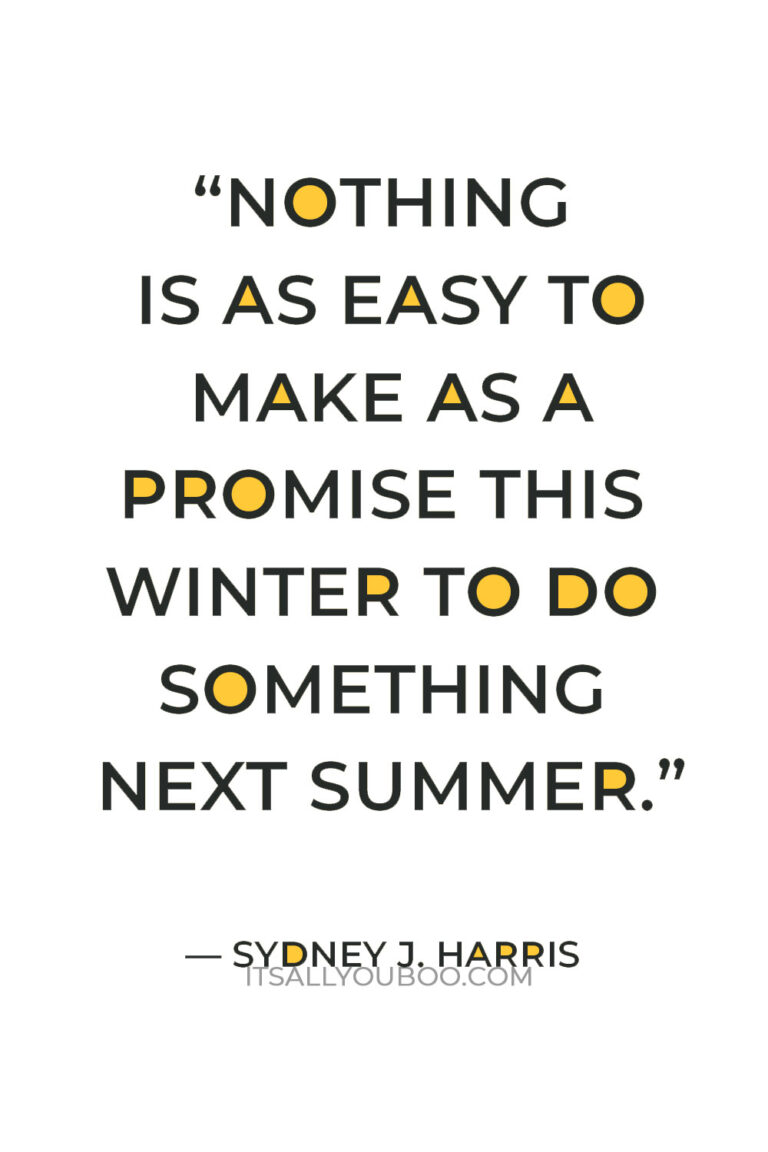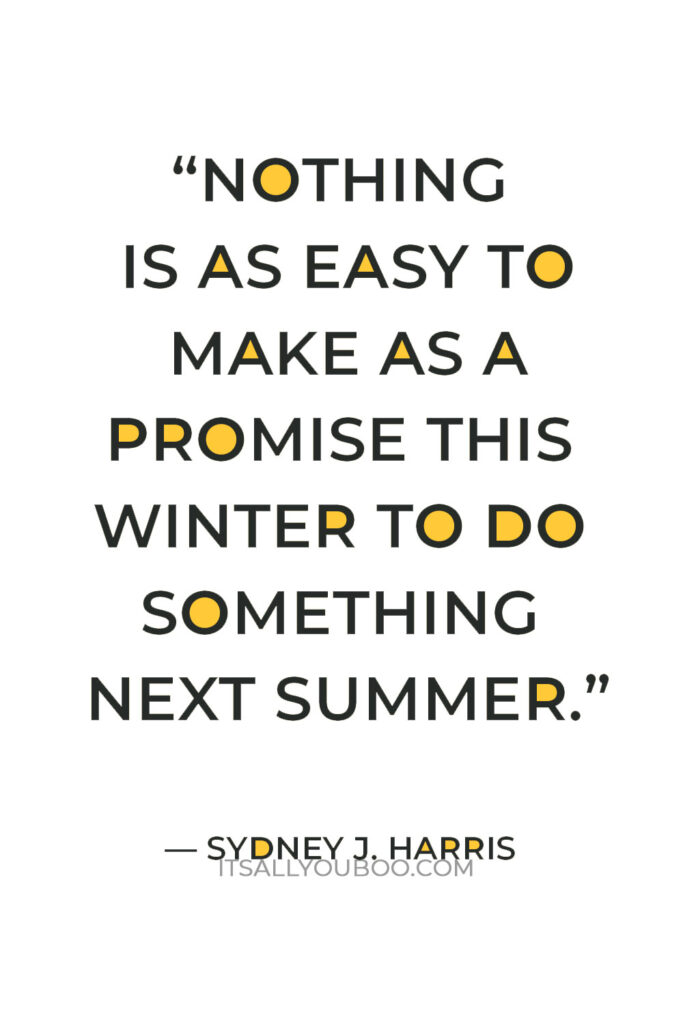 61. "Nothing is as easy to make as a promise this winter to do something next summer; this is how commencement speakers are caught." ― Sydney J. Harris

62. "My old grandmother always used to say, Summer friends will melt away like summer snows, but winter friends are friends forever." — George R. R. Martin
"It will not always be summer; build barns." ― Hesiod

64. "The Indian Summer of life should be a little sunny and a little sad, like the season, and infinite in wealth and depth of tone, but never hustled." — Henry Adams
"Some people plant in the spring and leave in the summer. If you're signed up for a season, see it through. You don't have to stay forever, but at least stay until you see it through." ― Jim Rohn
Inspirational Black & White Wall Art Quotes
Loving these end of summer quotes and captions? Here are 10 beautiful printable black and white art quotes that are perfect for your office, bedroom, or wherever you need the reminder to live an inspired life. Each design features a brushed ink letter detailing.
This download comes with 10 high-resolution graphics ready to be printed, framed and posted.
There's still time to enjoy the sunshine, summer never ends if you keep it in your heart.
Remember the warm memories and beautiful days of summer during the crisp fall days and cold winter nights.
Keep these end of summer captions with you, to help you look forward to summer's arrival next year.
May you enjoy life's moments, and be thankful and grateful no matter the weather.

Which are your favorite end of summer quote?
Last Updated on July 20, 2023
✕
Get Your Printable Quotes
+ get weekly tips to help you slay your goals.