What good summer vibes quotes? Looking for short summer quotes and sayings?
In the words of Bob Marley, "Sun is shining and the weather is sweet." Is there a better short summer quote to summarize the vibe that sunshine blesses us with?
Happy summer days are here and the sunshine is just the start of it. From beach days and playing in the park, to vacations and relaxing long days, summer is a vibe!
Whether you're taking it easy at home or close to home with a staycation, cottage trip, or day at the beach, or traveling a bit farther to enjoy far-off destinations, summer is the season of enjoyment.
In the Northern Hemisphere, the summer solstice kicks off summer on June 21st. And with months until summers end on September 23rd, life can feel like an open road, with summer stretched out before us. What can feel like so many days of freedom, can blink by in a moment if you're not careful.
This summer take advantage of every moment of summer. Enjoy a day off, go for a walk, take a hike, spend time with loved ones, whatever will help you make the most of these sunny days.
To help you feel the vibe of summer, here are 100+ Short Summer Quotes and Captions. They're also the perfect Instagram captions for your summer pics.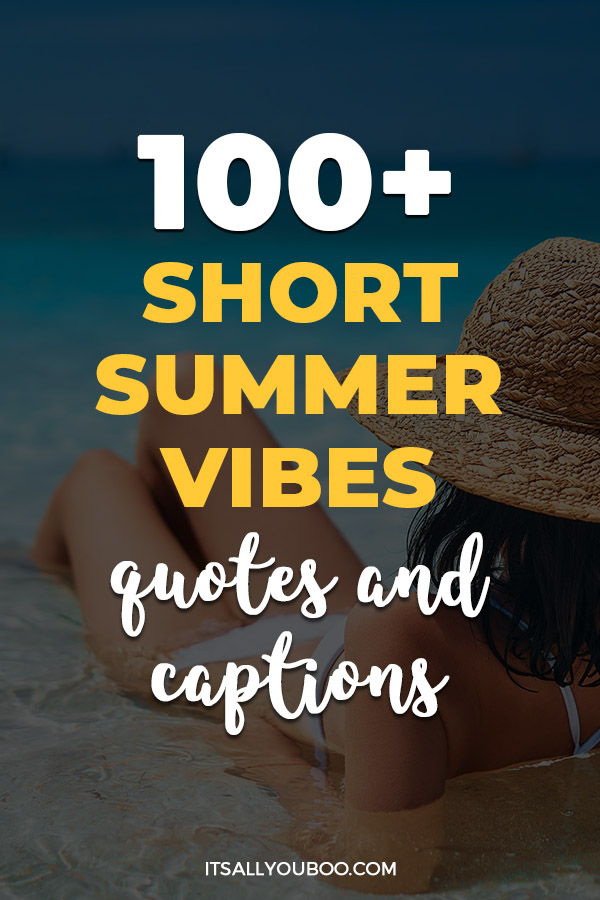 Short Summer Sayings and Captions
What does summer mean to you? How do you feel about the season of sunshine? Let's begin with short summer quotes about what summer even is. It's more than what you can do, it's a feeling, there's an energy to summer. Can you feel it?
"Summer is very precious." — Dylan Lauren


"I am a summer person." — Elin Hilderbrand


"I felt like summer had taken me over." — Junot Diaz
"Summer was here again. Summer, summer, summer." ― Benjamin Alire Sáenz


👉🏽  RELATED POST: Summer Solstice Quotes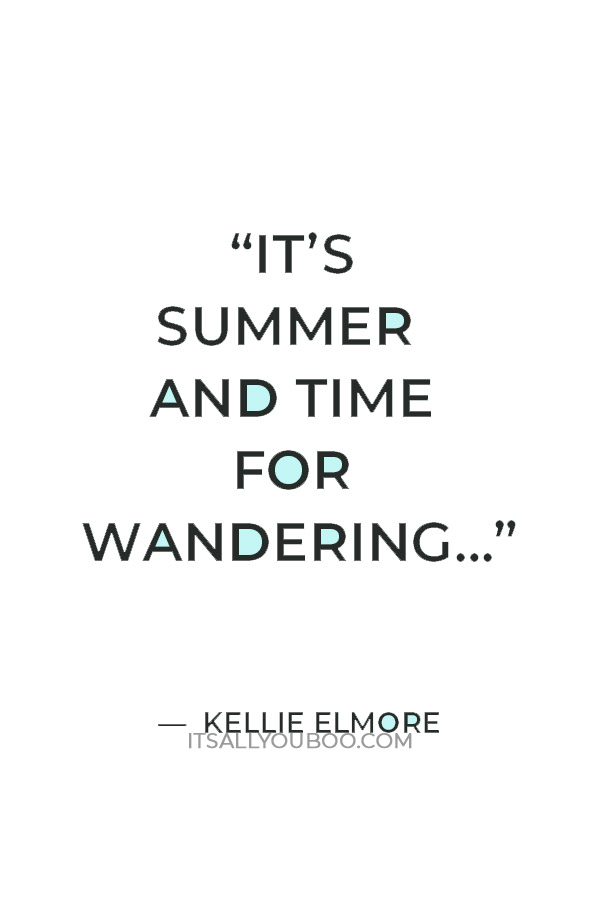 "It's summer and time for wandering…" — Kellie Elmore
"I was made for sunny days." — Unknown


"It's always summer somewhere." — Lilly Pulitzer
"I could never in a hundred summers get tired of this." — Susan Branch


"I love how summer just wraps its arms around you like a warm blanket." ― Kellie Elmore
"August is like the Sunday of summer." — Unknown


👉🏽  RELATED POST: Hello August Quotes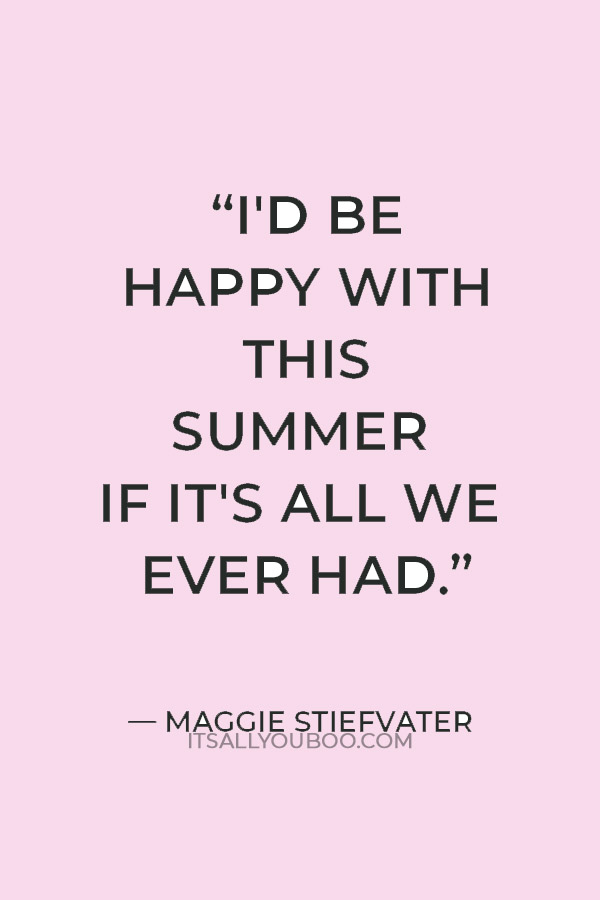 "I'd be happy with this summer if it's all we ever had." — Maggie Stiefvater


"Summertime, and the living is easy." — Ella Fitzgerald


"There shall be eternal summer in the grateful heart." — Celia Thaxter
"Your voice was the soundtrack of my summer." — Boys Like Girls


"We know summer is the height of being alive." — Gary Shteyngart


👉🏽  RELATED POST: Hot Weather Quotes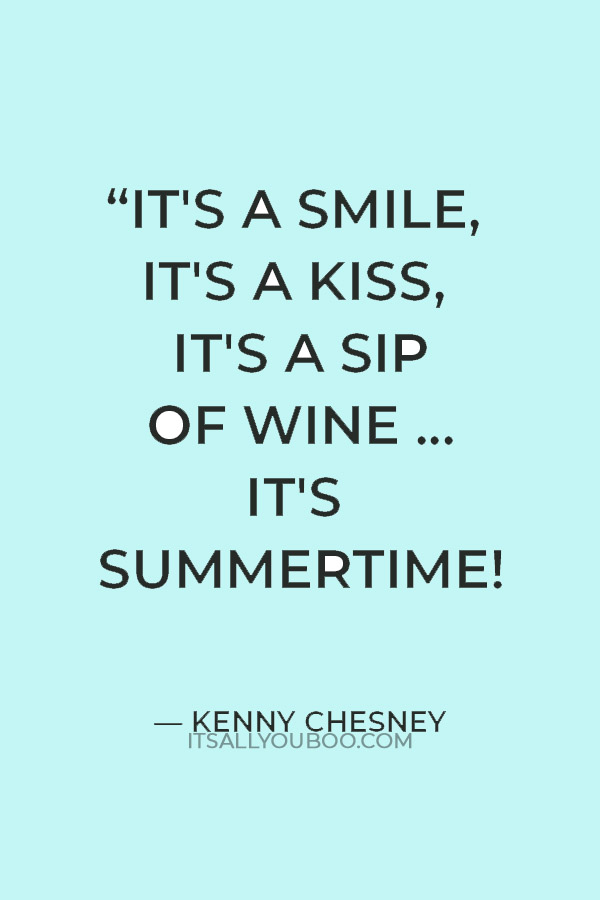 "It's a smile, it's a kiss, it's a sip of wine … it's summertime!" — Kenny Chesney


"Cause a little bit of summer is what the whole year is about." — John Mayer
Short and Sweet Summer Sayings
What is a good short quote about summer? Looking for some short summer quotes for Instagram? I sure hope so because the following short summer quotes are perfect summer captions for your profile. Share them with a photo of you living your best life this summer.
"Life's a beach. Enjoy the waves."


"Summertime is always the sweetest escape."
"Life is better in flip-flops."


👉🏽  RELATED POST: Hello June Quotes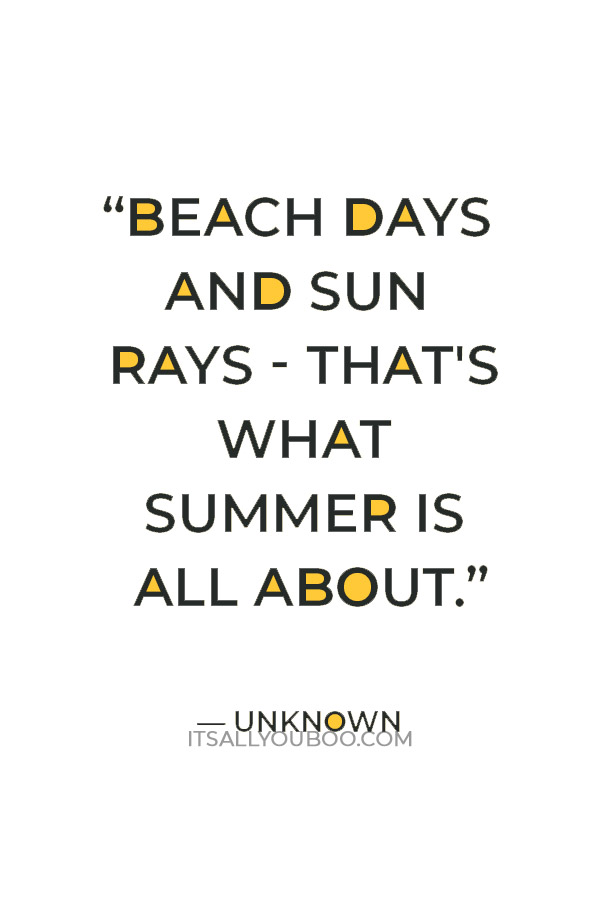 "Beach days and sun rays – that's what summer is all about."


"When in doubt, wear a swimsuit."
"Keep calm and enjoy summer."


"Sun, sand, and surf – that's the perfect recipe for a summer escape."


"Summer is here, make a splash."


"Summer days are meant for bare feet and ice cream treats."
Summer Is Quotes And Captions
What do you think of when you envision summer? What does it sound, feel and taste like to you? This selection of short summer quotes describes what summer is. From a quiet afternoon in the sun, to a song on the radio, this is what summer is. What is summer to you? To me, summer means happy days in the sun.
"Summer is a state of mind." ― Unknown


"Summertime is always the best of what might be." ― Charles Bowden
"In summer, the song sings itself." — William Carlos Williams


"Summer is the season of infinite possibilities." ― Unknown


"Summertime. It was a song. It was a season. I wondered if that season would ever live inside of me." ― Benjamin Alire Sáenz


"I love summertime more than anything else in the world. That is the only thing that gets me through the winter, knowing that summer is going to be there." ― Jack McBrayer


"The sun,–the bright sun, that brings back, not light alone, but new life, and hope, and freshness to man." ― Charles Dickens
"Summer has always been my favorite season. I feel happier." ― Zooey Deschanel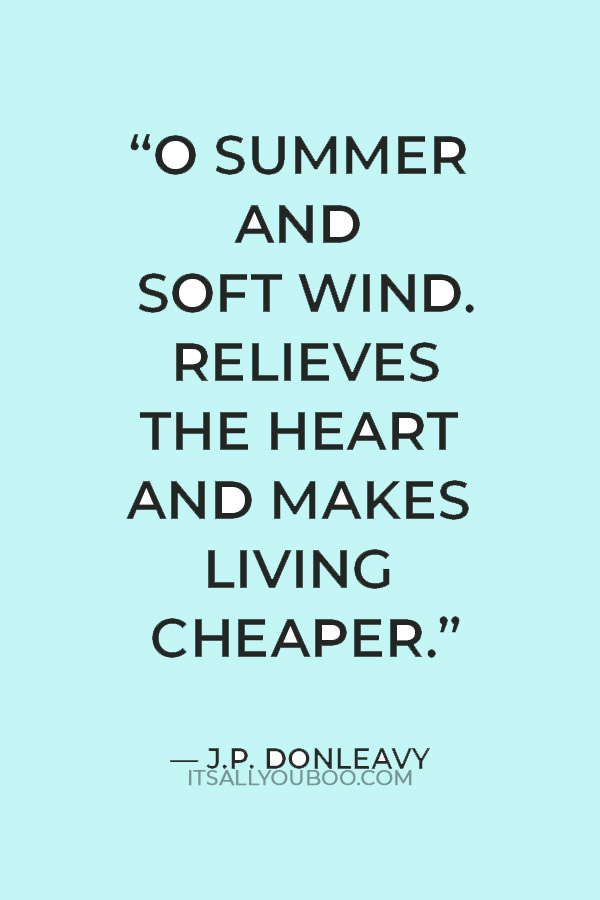 "O summer and soft wind. Relieves the heart and makes living cheaper." — J.P. Donleavy


"One benefit of summer was that each day we had more light to read by." — Jeannette Walls


"Summer afternoon—summer afternoon; to me those have always been the two most beautiful words in the English language." — Henry James
Summer Vibes Quotes And Sayings
What is the summer vibe like for you? How do you spend your days and nights? The proceeding cute short summer day quotes and captions illustrate what summer is like or can be like if you embrace it. Forget your plans, enjoy the summer while it's here.
👉🏽  RELATED POST: 36 Hello Summer Quotes
"Summer vibes: lazy days, flip—flops, and cool drinks." — Unknown
"Sun is shining. Weather is sweet. Make you want to move your dancing feet." — Bob Marley
"Good vibes happen on the tides of summer." — Unknown
"Sunshine is the best accessory for a perfect summer vibe." — Unknown



"Summer vibes are like magic; they make everything feel lighter and brighter." — Unknown
"The sunshine was like powdered gold over the grassy hillside" — Maud Hart Lovelace.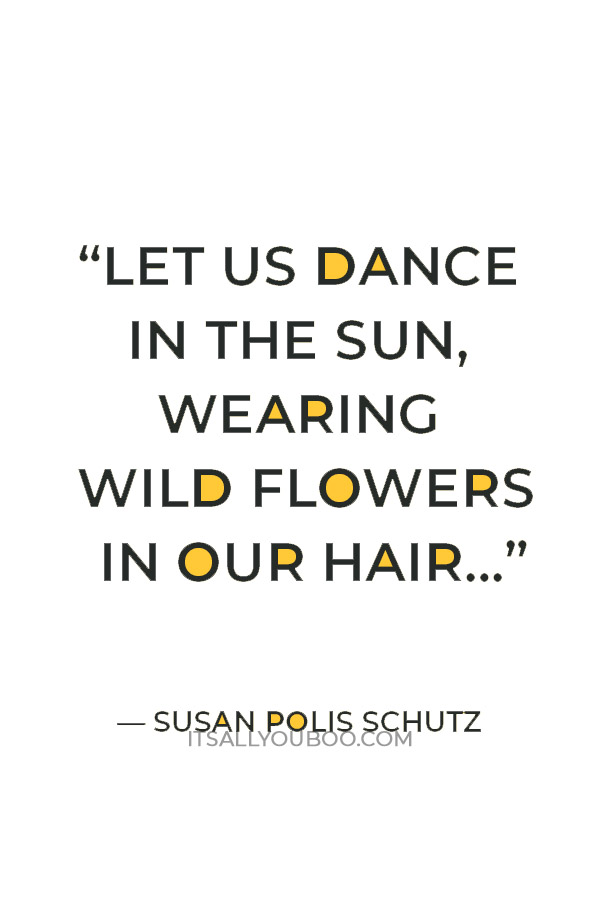 "Let us dance in the sun, wearing wild flowers in our hair…" ― Susan Polis Schutz
"Summer is a time to relax and recharge. A time to soak up the sunshine and find inspiration in the beauty of nature." — Unknown


"Summer: Hair gets lighter. Skin gets darker. Water gets warmer. Drinks get colder. Music gets louder. Nights get longer. Life gets better." — Unknown
"In the summer, the days are longer, and the vibes are stronger." — Unknown


"Summer is the time when one sheds one's tensions with one's clothes, and the right kind of day is jeweled balm for the battered spirit. A few of those days and you can become drunk with the belief that all's right with the world." — Ada Louise Huxtable


"Capture the essence of summer vibes and let them fill your heart with joy." — Unknown
"Deep summer is when laziness finds respectability." — Sam Keen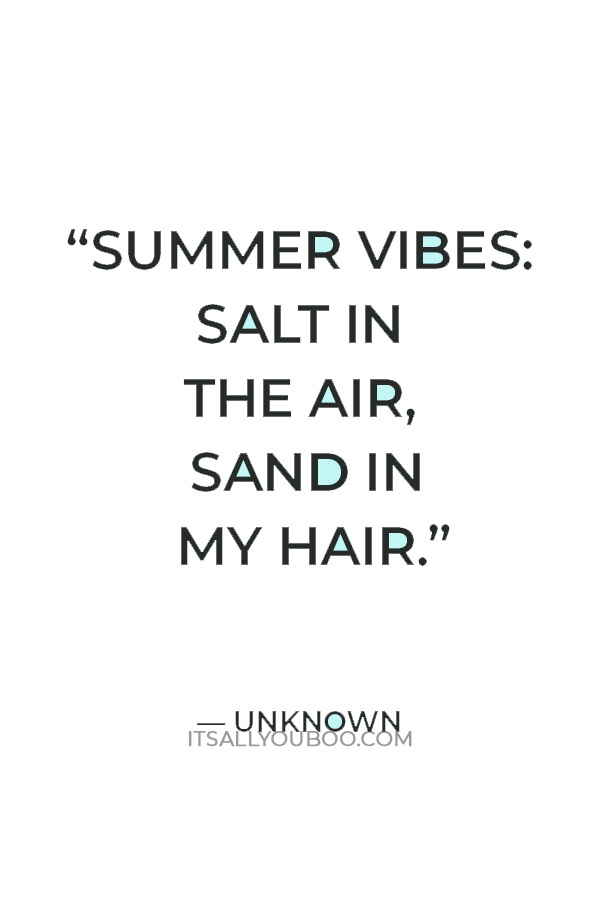 "Summer vibes: salt in the air, sand in my hair." — Unknown
"And at the end of the day, your feet should be dirty, your hair messy and your eyes sparkling." — Shanti
Summer Breeze and Seas Sayings
Do you take time to feel the summer breeze? How about spending time on the seas? The following collection of short summer quotes and captions describes life on the seas, from sweet breezes to sandy beaches. Make time to visit some of the best beaches in the world.

"Smell the sea, and feel the sky. Let your soul and spirit fly." — Van Morrison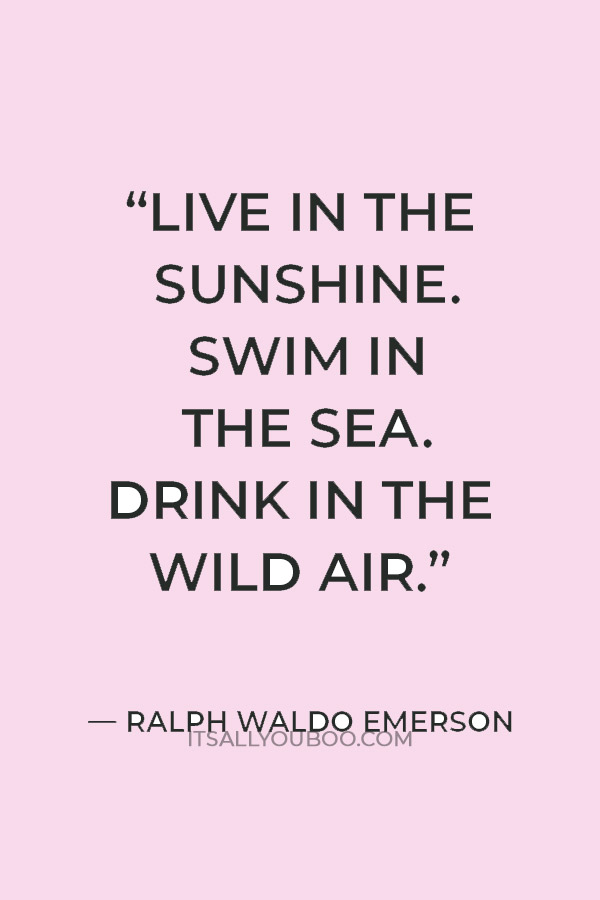 "Live in the sunshine. Swim in the sea. Drink in the wild air." — Ralph Waldo Emerson


"Summer breeze makes me feel fine." — Seals & Crofts


"Summer vibes: endless blue skies and the sound of waves crashing on the shore." — Unknown
"Friends, sun, sand, and sea, that sounds like a summer to me." — Unknown


"I'll tell anybody, I think the seacoast in the summer is as good as it gets." — Duncan Robinson


"Summer is singing with joy, and the beaches are inviting you with dancing waves." — Debasish Mridha



👉🏽  RELATED POST: Leo Quotes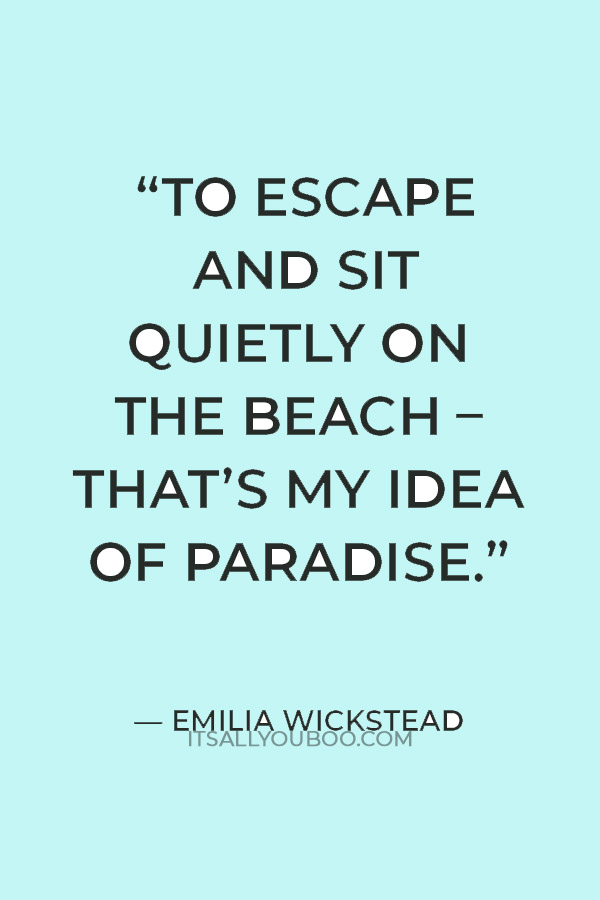 "To escape and sit quietly on the beach – that's my idea of paradise." — Emilia Wickstead


"At the beach, life is different. Time doesn't move hour to hour but mood to moment. We live by the currents, plan by the tides, and follow the sun." —Sandy Gingras


"A good swimming pool could do that—make the rest of the world seem impossibly insignificant, as far away as the surface of the moon." — Emma Straub


"I like summer. I like warmer weather and long days. I'm one of those silly people who still enjoy lying in the sun." — Danielle Steel


"If you hear a song and all you want to do is open the window and drive to the beach it's a good song for the summer." — Dennis Lloyd



👉🏽  RELATED POST: End of Summer Quotes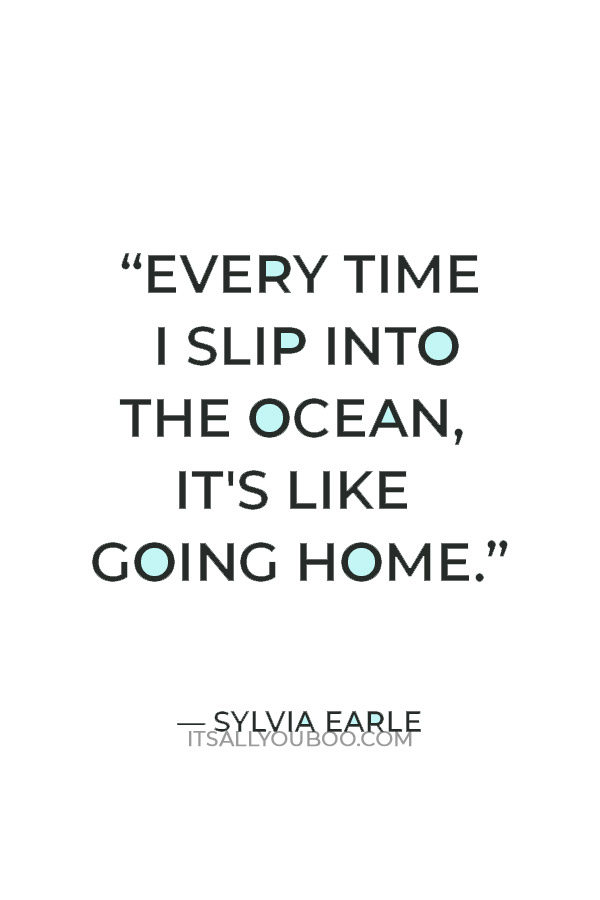 "Every time I slip into the ocean, it's like going home." — Sylvia Earle
Funny Summer Quotes and Captions
What makes you laugh about summer? What's your funniest summertime memory? This next of short summer quotes is all about the hilarious nature of summer. I'm sure you have a funny summer camp, swimsuit, or sunburn story.
"It's a sure sign of summer if the chair gets up when you do." — Walter Winchell
"A perfect summer day is when the sun is shining, the breeze is blowing, the birds are singing, and the lawnmower is broken." — James Dent



👉🏽  RELATED POST: 15 Benefits of Solo Travel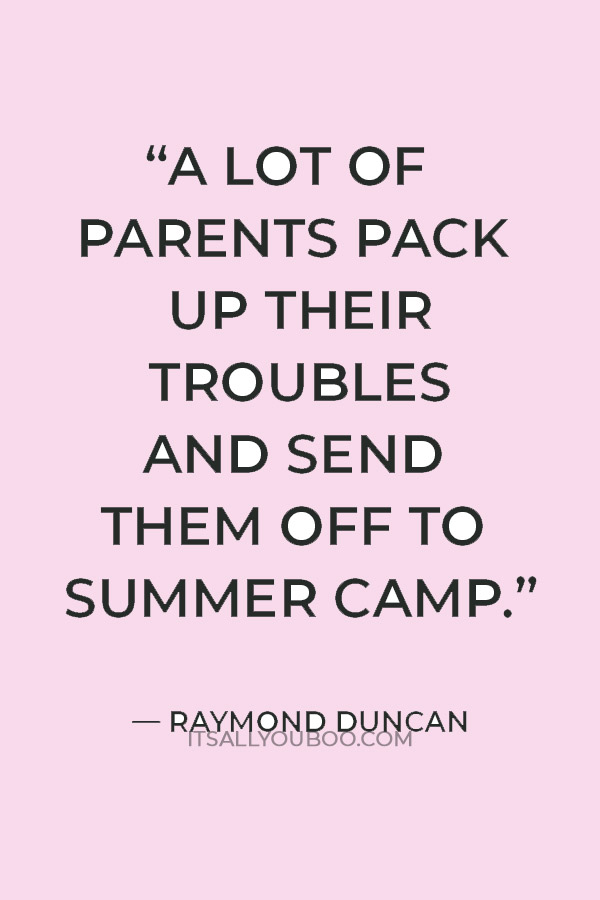 "A lot of parents pack up their troubles and send them off to summer camp." — Raymond Duncan


"I get burnt in the sun, so there's no point me getting pecs for when I take my shirt off in the summer." — Brian O'Driscoll


"I'm ready for summer. Now if only my bank account felt the same way." — Unknown


"Summer is the season when a man thinks he can cook better on an outdoor grill than his wife can on an indoor stove." ― Unknown


"I know white clothing is supposed to enhance that summer glow, but writers don't tan." — Diablo Cody


"I'm on a seafood diet. I see food, and I eat it… especially in the summer." — Unknown


"Being a child at home alone in the summer is a high-risk occupation. If you call your mother at work thirteen times an hour, she can hurt you." ― Erma Bombeck


👉🏽  RELATED POST: Outdoor Person Activities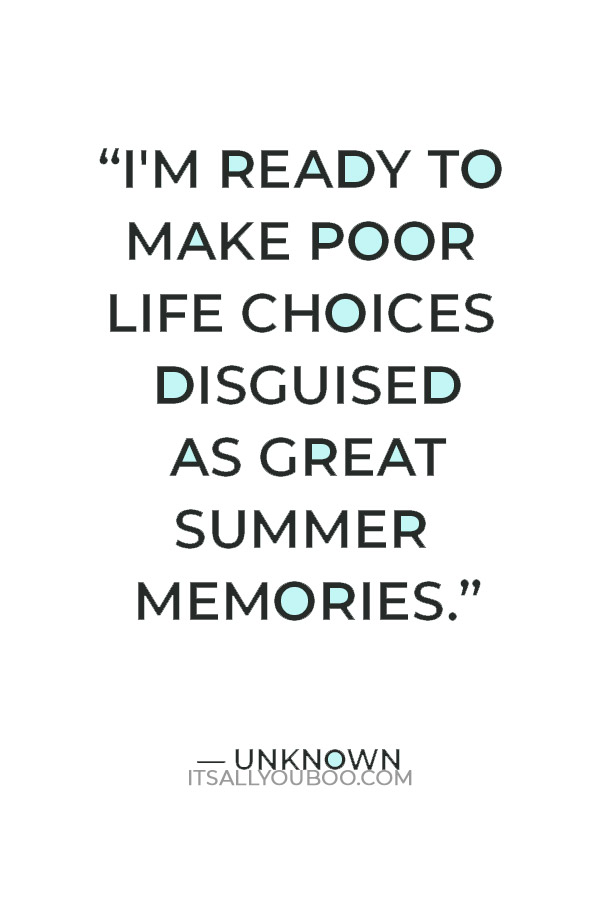 "I'm ready to make poor life choices disguised as great summer memories." — Unknown


"Summer-induced stupidity. That was the diagnosis…" ― Aimee Friedman


"I'm sorry for what I said before I had my coffee… and sunscreen." — Unknown
"My favorite summer activity is doing absolutely nothing in the shade." — Unknown
Summer Rain Quotes and Sayings
Do you love or hate summer rain storms? How it rolls in and pours heavily? This selection of short summer quotes and captions is all about summer thunderstorms. I love how the air is heavy and charged until the rain starts and it breaks. One of my favorite memories is standing on the porch watching the lighting dance in summer.
"The dearest events are summer-rain." ― Ralph Waldo Emerson
"But tomorrow may rain, so I'll follow the sun." ― The Beatles

"The summer sun was not meant for boys like me. Boys like me belonged to the rain." ― Benjamin Alire Sáenz


"Rise above the storm and you will find the sunshine." ― Mario Fernández


👉🏽  RELATED POST: Find Happiness in Nature Today
"If you dance like raindrops, there will always be sunshine." ― Curtis Tyrone Jones
"Tears of joy are like the summer rain drops pierced by sunbeams." ― Hosea Ballou



"Like a welcome summer rain, humor may suddenly cleanse and cool the earth, the air and you." ― Langston Hughes

"Rain soft rain, summer rain. Whispers from bushes, whispers from trees." ― Hermann Hesse

"Just as teardrops… the summer rain as it washes away the motionless dust can bring to a person's soul something like endless breathing." ― Muriel Barbery


"The diamond sparkles without effort, and the flowers open impulsively beneath the summer rain…" ― Edwin Hubbel Chapin


"I cry intermittently, like a summer rain." ― Anne Lamott
👉🏽  RELATED POST: Happy Back to School Quotes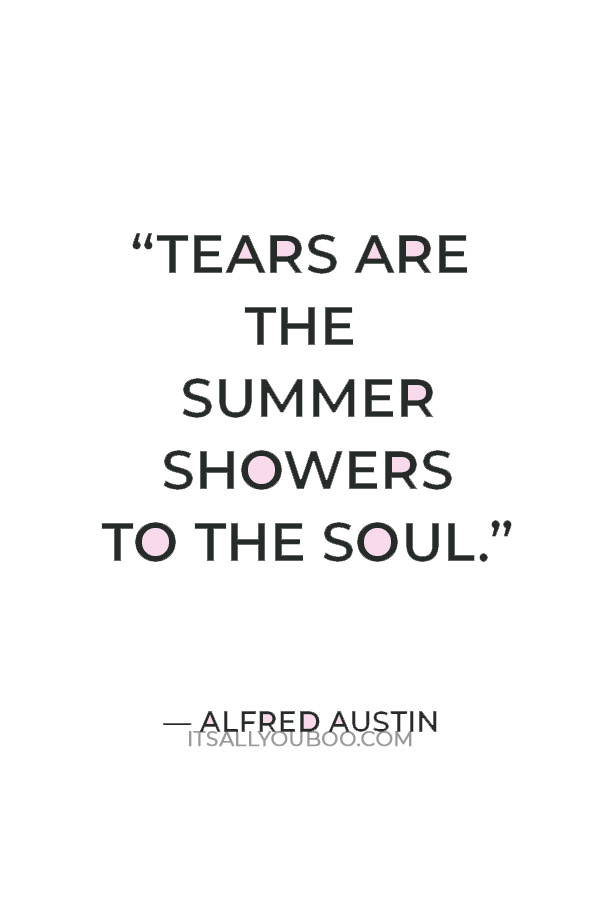 "Tears are the summer showers to the soul." ― Alfred Austin


"Oh my love, it's you that I dream of / Oh my love, since that day / Somewhere in my heart I'm always / Dancing with you in the summer rain." ― Belinda Carlisle


"The rainbows that stretch from horizon to horizon after a summer rain are the most spectacular I have ever seen." ― Charley Pride


"One such melting occurs in summer rain, at midnight, during the vine-green breathing time right before sleep." ― Karen Russell
Summer Memories Last Forever Quotes
What will you remember of summer? What about in your twilight years? This final selection of short summer quotes and captions plays on the nostalgia of summer. How when you're little summer feels like forever, and how things will never be so simple again. Cherish this summer, you never know when you'll have these moments again.
"Take only memories, leave only footprints." ― Chief Seattle
"The tans will fade, but the memories will last forever." — Unknown
"Summer memories are like seashells we gather along the shore of time." — Unknown
"America may be the best country in the world, but that's kind of like being the valedictorian of summer school." ― Dennis Miller
👉🏽  RELATED POST: School's Out For Summer Quotes for Kids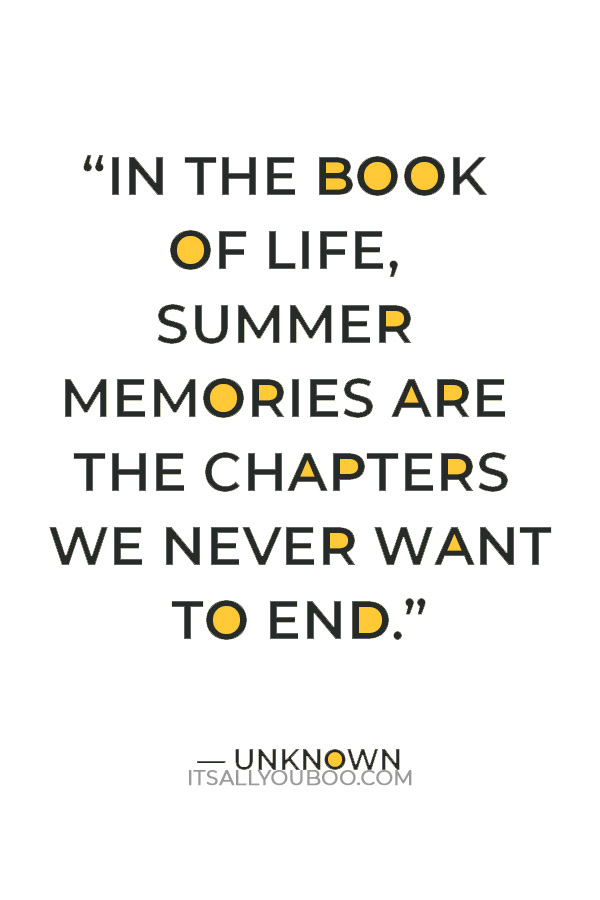 "In the book of life, summer memories are the chapters we never want to end." — Unknown
"Take the road less traveled, explore new places, and make memories that defy expectations." — Unknown
"The sweetest memories are made under the sun, during lazy summer days." — Unknown
"Even as I think of smells, my nose is full of scents that start awake sweet memories of summers gone and ripening fields far away." — Helen Keller
"What good is the warmth of summer, without the cold of winter to give it sweetness?" ― John Steinbeck
"One must maintain a little bit of summer, even in the middle of winter." — Henry David Thoreau
👉🏽  RELATED POST: Inspirational Winter Quotes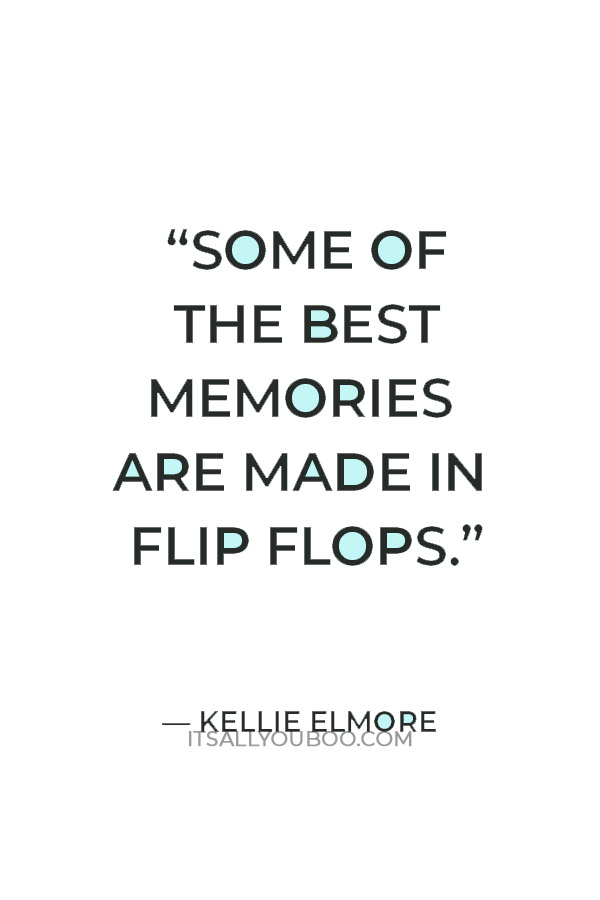 "Some of the best memories are made in flip flops." — Kellie Elmore
"Memories are the diary we all carry with us." — Oscar Wilde
"We do not remember days, we remember moments." — Cesare Pavese
Inspirational Black & White Wall Art Quotes
Did you enjoy reading these short summer quotes and captions? Here are 10 beautiful printable black and white art quotes that are perfect for your office, bedroom, or wherever you need the reminder to live an inspired life. Each design features a brushed ink letter detailing.
This download comes with 10 high-resolution graphics ready to be printed, framed, and posted.
Are you ready to enjoy the season of sunshine and sweet days?
May these short summer quotes remind you just how short summer really is? It can fly by if you don't reach out and catch it. Summer means happy times!
In the words of Jenny Han, "Everything good, everything magical happens between the months of June and August."
From warm summer afternoons to cool summer nights, cherish each day in June, July, and August. Because as soon as September is on the horizon, you know it's almost over.
Get out and enjoy the summer!
Looking for good summer captions for Instagram? Here are 100+ short summer quotes and saying about the summer vibe and happy days in the sun. #SummerQuotes #SummerForever #Summer #SummerVibes

What short summer quotes do you love best?
Last Updated on August 4, 2023
✕
Get Your Printable Quotes
+ get weekly tips to help you slay your goals.