Looking for inspirational happy June quotes and sayings? Want hello June quotes to welcome summer and the first month of sunshine?
Isn't there something magical about the month of June? Unlike May which can still bring rain and chilly days, June days are a sure bet on sunshine.
Lighting the way to warmer days, heat builds, and summer is on its way. More time to friends and family, days outside, and enjoying what nature has to offer. Picnics in the sun, running outside, kids playing in the park, let's press play in summer.
Named after the Roman goddess of childbirth and marriage, Juno, there's a contagious youthfulness to June. She's the queen of the gods and perhaps June is the queen month of all others.
June stands as the glorious gateway to the season of sun and fun. Will you welcome her? Will you go out and play and enjoy yourself? To choose to say yes to adventure?
The summer solstice on the 21st for the Northern Hemisphere is the crown jewel of June. The sun's path across the sky is the longest and brightest on this day. But while we enjoy warm days ahead, our friends in the Southern Hemisphere experience the opposite.
Ready to welcome summer and sunshine? Here are 149 Hello June quotes to welcome a happy summer. Read on and enjoy!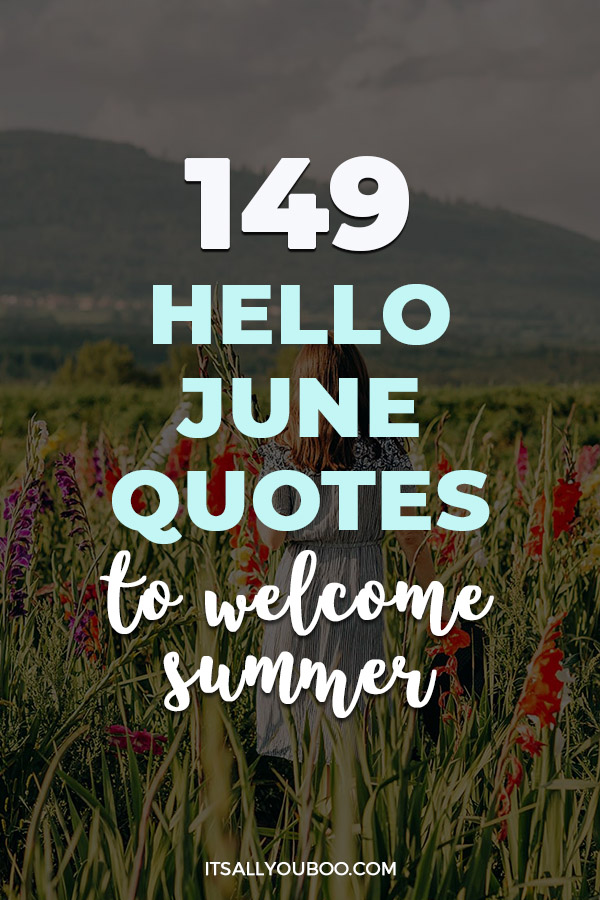 Short and Sweet Happy June Quotes
What does June mean to you? What do you imagine when you think of the month of June? Let the following Hello June quotes and sayings get you excited for the first month of summer. You can feel it when June is here.
"I wonder what it would be like to live in a world where it was always June." — L. M. Montgomery
2. "And since all this loveliness cannot be Heaven, I know in my heart it is June." — Abba Woolson Goold


3. "June has never looked more beautiful than she does now, unadorned and honest, vulnerable yet invincible." — Marie Lu, Legend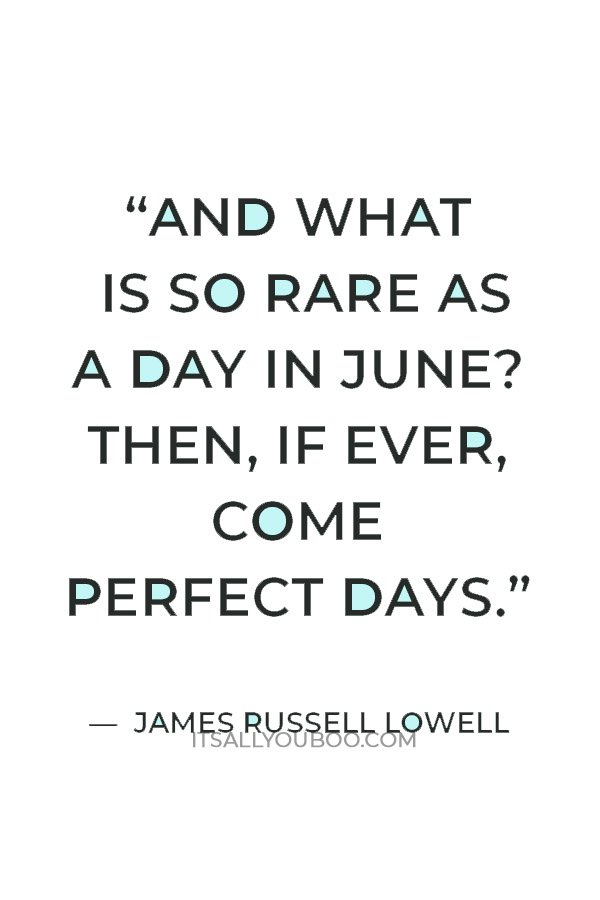 4. "And what is so rare as a day in June? Then, if ever, come perfect days." — James Russell Lowell
"June will break your heart. I can see it already. She'll shatter you into a million pieces." ― Marie Lu

6. "June is a love song, a sweet melody of summer." ― Unknown

"June is the time for being in the world in new ways, for throwing off the cold and dark spots of life." — Joan D. Chittister
👉🏽 RELATED POST: School's Out For Summer Quotes for Kids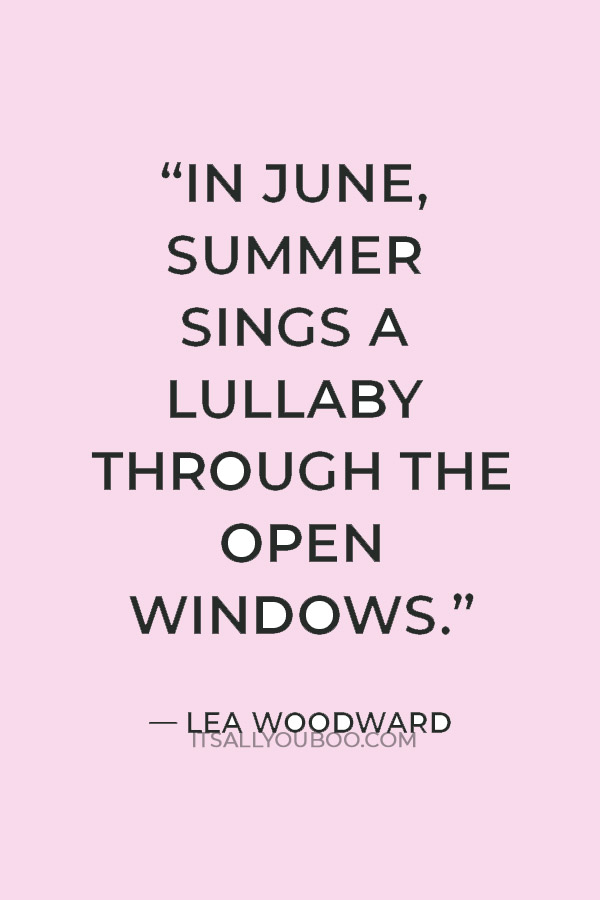 7. "In June, summer sings a lullaby through the open windows." ― Lea Woodward



8. "June is the elixir of life." ― Lailah Gifty Akita
Spring Ends This Month Quotes
Do you enjoy spring or summer more? Which do you prefer, rain or sunshine? The following selection of Welcome June quotes says farewell to spring and welcome summer. While Spring is a welcome change to winter, June is the promise of summer realized!
"Spring being a tough act to follow, God created June." — Al Bernstein
👉🏽 RELATED POST: Inspirational Hello Spring Quotes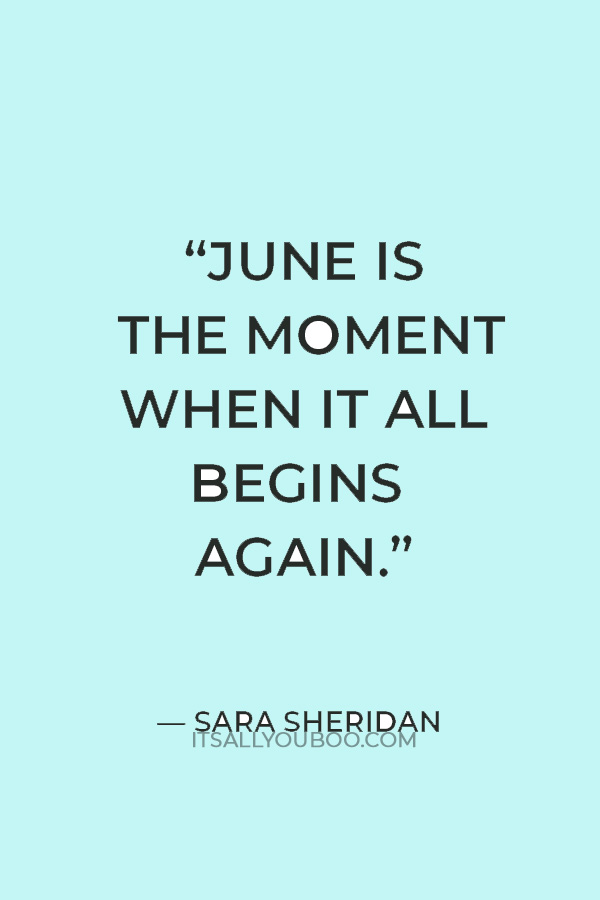 11. "June is the moment when it all begins again." ― Sara Sheridan


12. "The month of June, tip-toed in, bringing along a promise of summer." ― Charmaine J. Forde


13. "What is one to say about June, the time of perfect young summer, the fulfillment of the promise of the earlier months, and with as yet no sign to remind one that its fresh young beauty will ever fade." — Gertrude Jekyll



14. "I know well that the June rains just fall." — Onitsura


15. "Do it now and avoid the June rush! Fear death by water!" — Diane Duane


16. "Today has been a day dropped out of June into April." — L.M. Montgomery


17. "June played with her eyes closed as if May's spirit getting into heaven depended solely on her. You have never heard such music, how it made us believe the death was nothing but a doorway." — The Secret Life of Bees


👉🏽 RELATED POST: Inspirational Happy Easter Quotes and Spring Sayings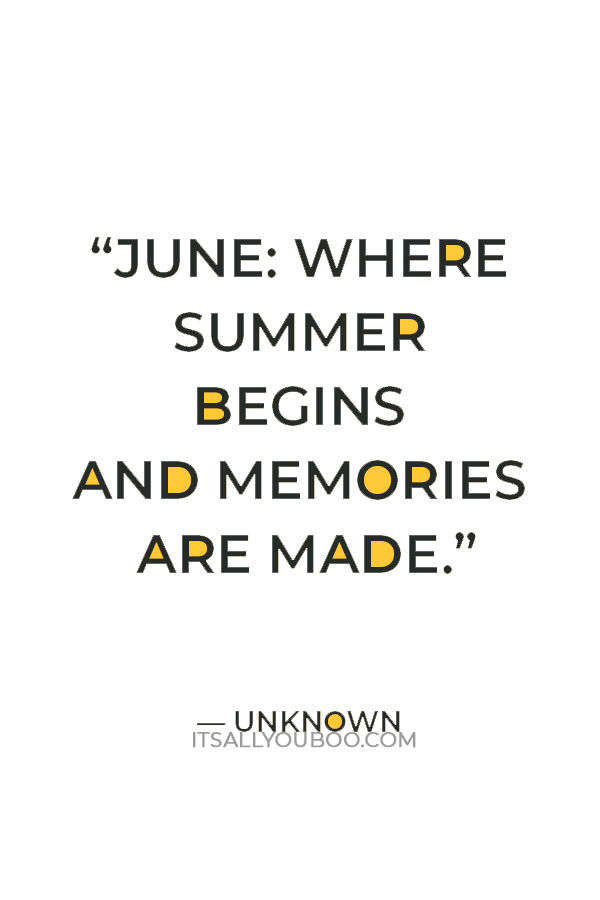 18. "June: where summer begins and memories are made" — Unknown


19. "The voice of one who goes before, to make. The paths of June more beautiful, is thine Sweet May!" — Helen Hunt Jackson
"June is the gateway to summer." — Jean Hersey
Hello June Quotes and Poems
Ready to leave Spring behind and welcome Summer? To get out and enjoy the sunshine of summer? This selection of famous June quotes and sayings says hello to June and all her happy warmth, including a few funny inspirational quotes. It's time to celebrate, Summer is finally here! Everything will get better now.
👉🏽 RELATED POST: 36 Hello Summer Quotes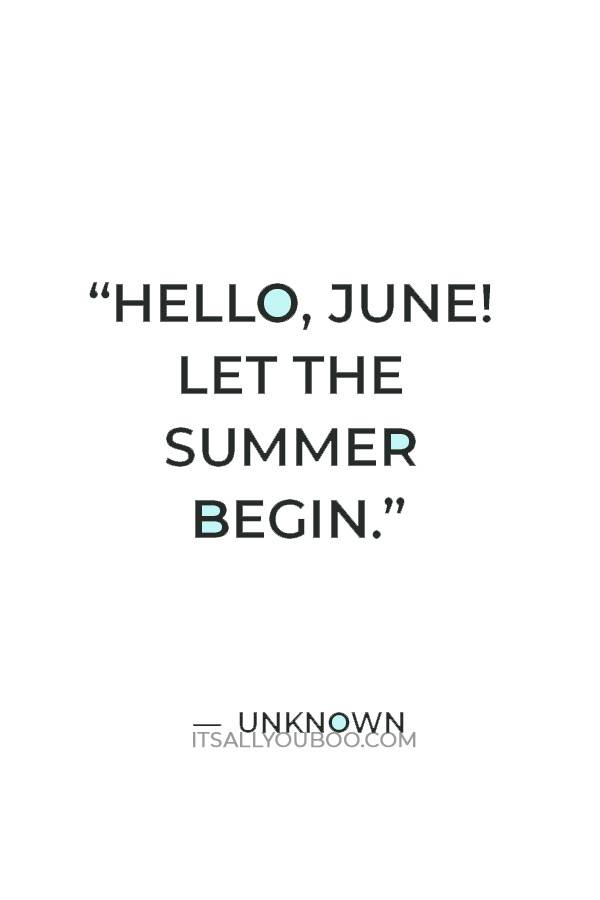 21. "Hello, June! Let the summer begin." — Unknown


22. "It makes perfect sense since June is going to arrive after May comes to an end." — Unknown


"Hello, June! Be a month of peace and love." — Unknown
24. "I did have my moments of despair. It was certainly not – it's not an experience I would like to have again. And then June came along." ― Edmund Hillary


25. "Take it easy, don't rush things. Half-year is gone, but hey, welcome, June." — Unknown


26. "Too young for love? Ah, say not so, While daisies bloom and tulips glow! June soon will come with lengthened day. To practice, all love learned in May." — Oliver Wendell Holmes


27. "What are you going to call somebody that does not believe that it is June even now? May-Sayer!" — Unknown
👉🏽 RELATED POST:  Motivational Spring Cleaning Quotes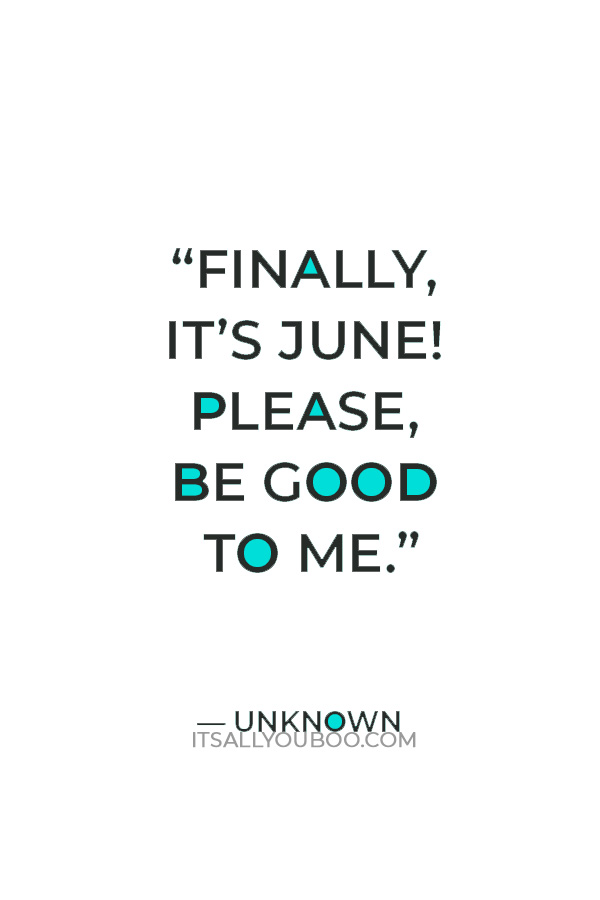 28. "Finally, it's June! Please, be good to me." — Unknown



29. "It is June. I am tired of being brave." — Anne Sexton



"Everything good, everything magical happens between the months of June and August. Winters are simply a time to count the weeks until the next summer." ― Jenny Han

31. "If I had Aladdin's lamp and the usual three wishes, the first would always be, 'Give me the first day of June." ― Gladys Taber
Famous June Quotes and Sunshine Poems
What is a famous short quote about summer? Looking for the best quotes about summertime? You're in luck, the following Hello June quotes are all about sunshine. There's one common description for June: sunny days! Get ready for happy days at the summer beach, and don't forget to pack your sunglasses and sunscreen.
👉🏽 RELATED POST: How To Be Happy With Where You Are In Life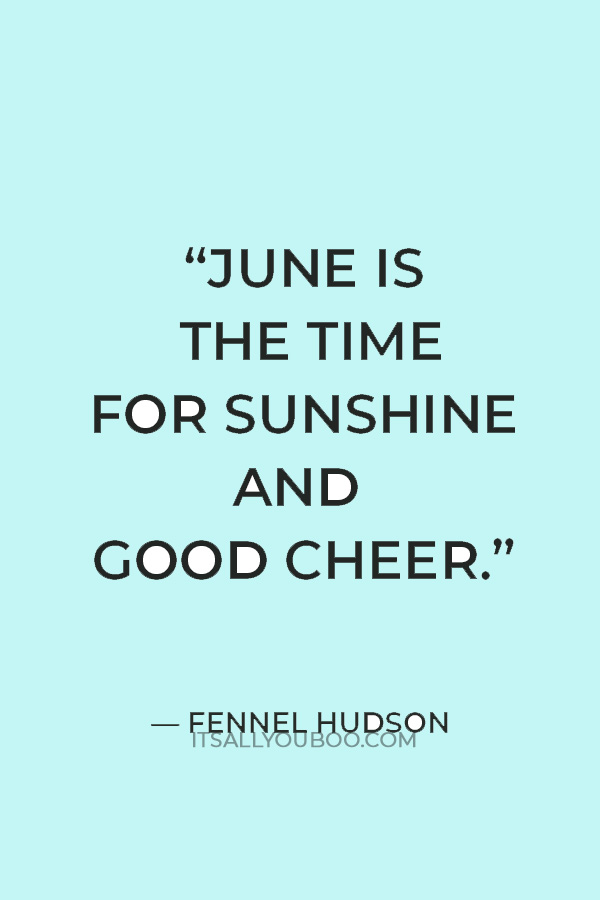 32. "June is the time for sunshine and good cheer." ― Fennel Hudson
"In June, the world is kissed by the sun, and everything feels possible." ― Unknown


34. "June suns, you cannot store them." — A.E. Housman
35. "June is the time for dreams, the time for fantasies to come alive." ― Pippa Middleton
36. "And sunny June brings longest day." — Christina Rossetti
37. "June is bustin' out all over." — Oscar Hammerstein II
38. "June, it's time to unfold the beach chair, take out the sunglasses, and enjoy the summer sun." ― Unknown
"It's beautiful the Summer month of June . . . and the sun shines most of the day brightly." — Francis Duggan
👉🏽 RELATED POST:  Juneteenth Quotes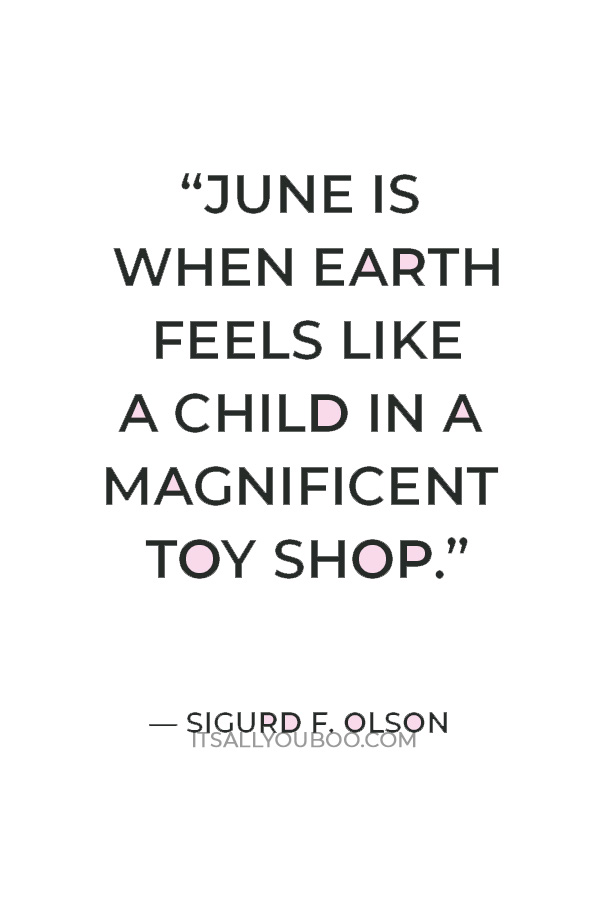 40. "June is when Earth feels like a child in a magnificent toy shop." ― Sigurd F. Olson


41. "June, she believed, was the month of possibility. The month of prom dresses and dreams come true." ― Sarah Dessen


42. "It is dry, hazy June weather. We are more of the earth, farther from heaven these days." — Henry David Thoreau


43. "O suns and skies and clouds of June, and flowers of June together. Ye cannot rival for one hour October's bright blue weather." ― Helen Hunt

Enjoy June Nature Quotes and Poems
What's your favorite part of June? Do you get outside and enjoy nature? This set of Hello June quotes to welcome Summer illustrate the beauty of nature. They describe the lush, green paradise that emerges in June. Go for a hike or a walk!
👉🏽 RELATED POST: Find Happiness in Nature Today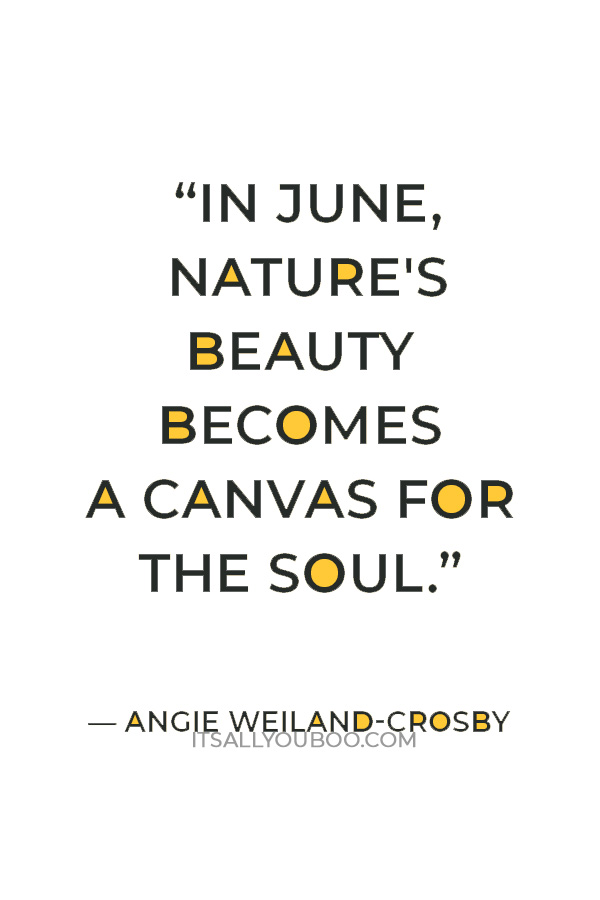 44. "In June, nature's beauty becomes a canvas for the soul." ― Angie Weiland-Crosby
45. "It was June, and the world smelled of roses. The sunshine was like powdered gold over the grassy hillside." — Maud Hart Lovelace
46. "June is the month of grass and leaves." ― Henry David Thoreau
47. "I recall feeling an almost delicious terror when one day I found myself alone in the midst of tall June grasses that grew high as my head." ― Pierre Loti



"June is nature's way of saying, 'Let's celebrate!'" ― Unknown

49. "June is a symphony of greens and blues." ― Terri Guillemets



50. "June is the music of the forest." ― Fennel Hudson
51. "In June, immerse yourself in the beauty of gardens and botanical parks, embracing tranquility." ― Unknown
52. "May and June. Soft syllables, gentle names for the two best months in the garden year: cool, misty mornings gently burned away with a warming spring sun, followed by breezy afternoons and chilly nights. The discussion of philosophy is over; it's time for work to begin." ― H. Peter Loewer

👉🏽 RELATED POST: Easy Outdoor Person Activities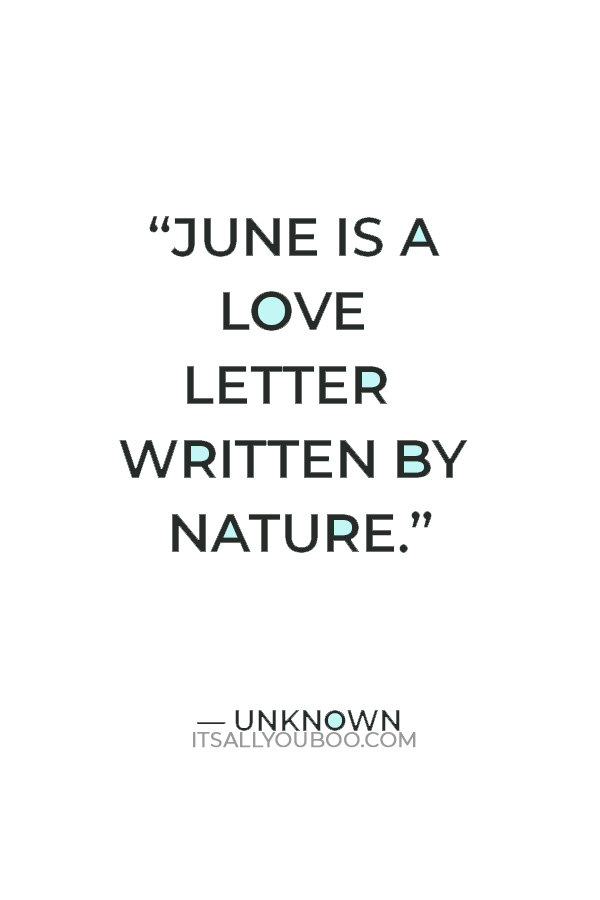 53. "June is a love letter written by nature." ― Unknown
"In June, embrace the therapeutic power of nature and take peaceful walks in serene landscapes." ― Unknown
55. "There are two seasons when the leaves are in their glory, their green and perfect youth in June and this their ripe old age." — Henry David Thoreau
June Bug Quotes And Other Creatures
Can you hear the sounds of nature coming alive? From birds chirping to June bugs in song, June is a month of life for nature. These Hello June quotes describe the natural world in the movement of its smallest creatures. Stop and watch, and take time to listen, it's magnificent.
56. "It is better to be a young June bug than an old bird of paradise." — Mark Twain
"Green was the silence, wet was the light, the month of June trembled like a butterfly." — Pablo Neruda, 100 Love Sonnets



👉🏽 RELATED POST: Benefits of Walking Everyday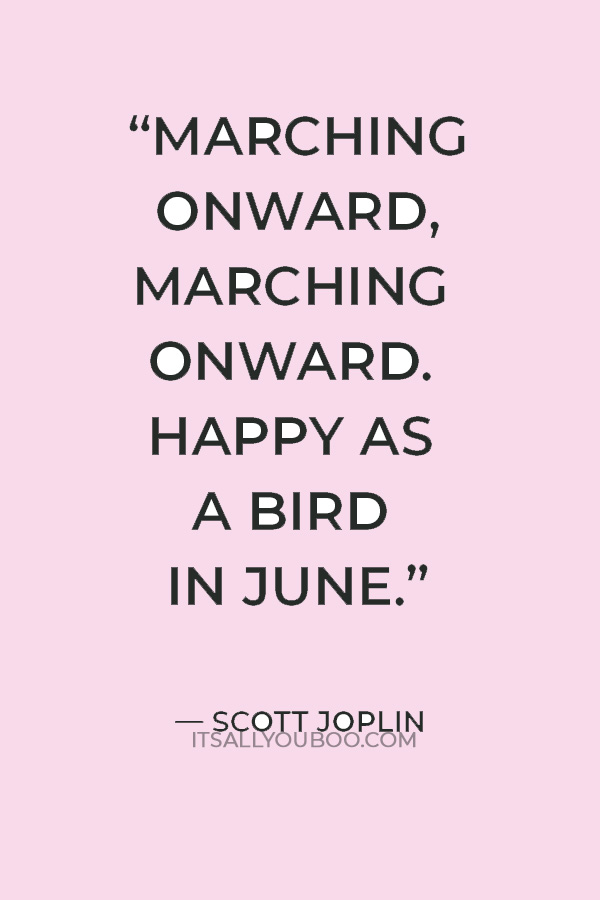 58. "Marching onward, marching onward. Happy as a bird in June." ― Scott Joplin



59. "The arrival of June bugs signals the onset of summer, a time of joy and warmth." – Unknown


"June is the month of fireflies, long warm nights, and swimming in lakes." ― Sarah Addison Allen
61. "June is a symphony of birdsong and the whisper of summer breezes." ― Unknown
62. "Far up in the deep blue sky, Great white clouds are floating by; All the world is dressed in green; Many happy birds are seen, Roses bright and sunshine clear Show that lovely June is here." — F. G. Sanders


"When June bugs come out to play, summer is officially here to stay." ― Unknown


64. "June is the month of renewal, growth, and blooming flowers." ― Unknown
👉🏽 RELATED POST: Short Summer Quotes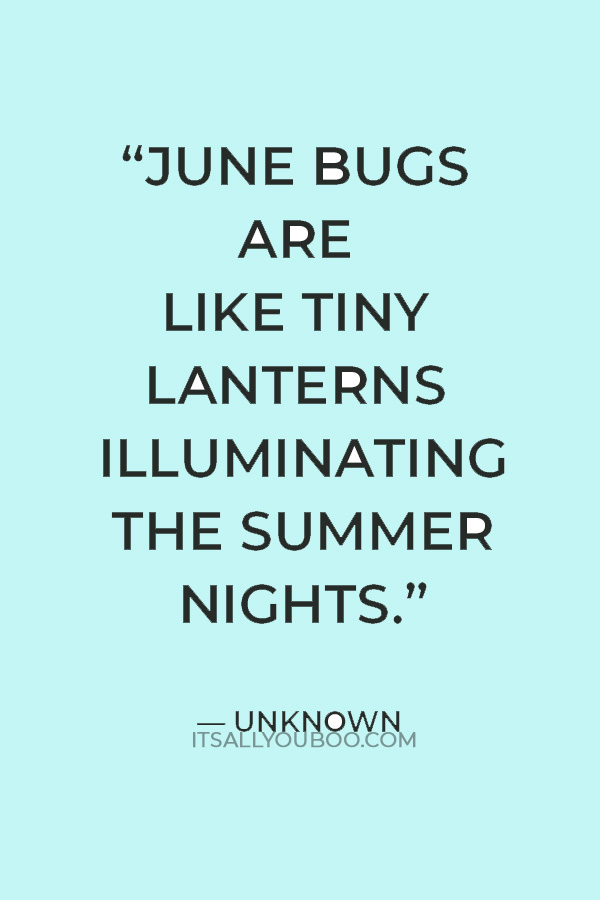 65. "June bugs are like tiny lanterns illuminating the summer nights." ― Unknown

66. "The buzz of June bugs is the symphony of summer, filling the air with its melody." ― Unknown
June In Bloom Flower Quotes
Do you take time to smell the roses? To enjoy the adornment of nature? You should! This collection of Hello June motivational quotes is dedicated to all the beautiful flowers in bloom. All that spring rain was for this natural splendor.


👉🏽 RELATED POST: Hot Weather Quotes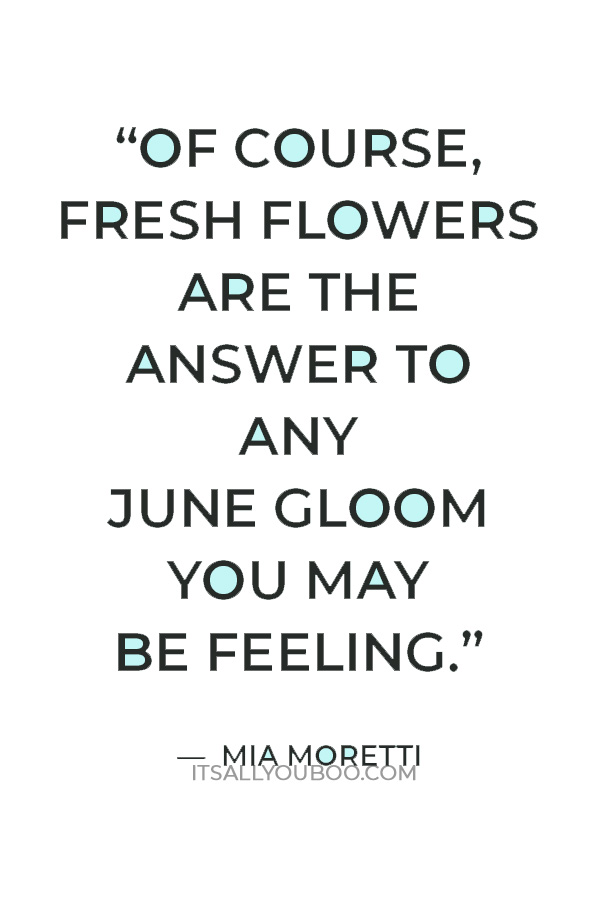 67. "Of course, fresh flowers are the answer to any June gloom you may be feeling. Flowers really do solve all problems." — Mia Moretti


68. "And let them pass, as they will too soon, With the bean-flowers' boon, And the blackbird's tune, And May, and June!" ― Robert Browning
"June brings tulips, lilies, roses, Fills the children's hands with posies." — Sara Coleridge


70. "It is the month of June, The month of leaves and roses, When pleasant sights salute the eyes and pleasant scents the noses." — Nathaniel Parker Willis


71. "I have laughed more than daffodils and cried more than June." — Sanober Khan


72. "June is bright with roses gay, Harebells bloom around her feet." — Dora Goodale


73. "On this June day the buds in my garden are almost as enchanting as the open flowers. Things in bud bring, in the heat of a June noontide, the recollection of the loveliest days of the year, those days of May when all is suggested, nothing yet fulfilled." — Francis King
👉🏽 RELATED POST: Inspirational Quotes About Making Dreams Come True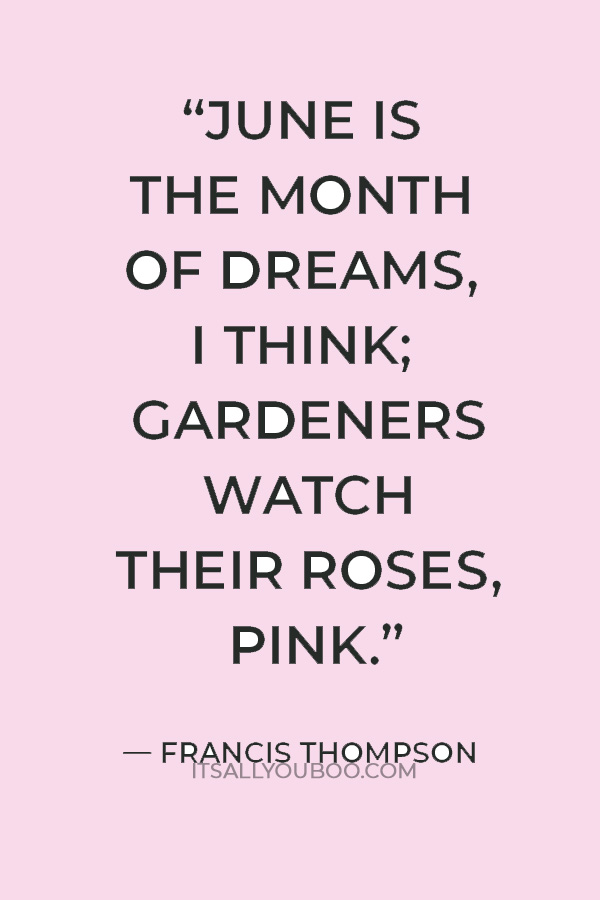 74. "June is the month of dreams, I think; Gardeners watch their roses, pink." ― Francis Thompson
"In June as many as a dozen species may burst their buds on a single day. No man can heed all of these anniversaries; no man can ignore all of them." — Aldo 'Leopold

76. "Do not the bright June roses blow. To meet thy kiss at morning hours?" — William C. Bryant
77. "June falls asleep upon her bier of flowers; In vain are dewdrops sprinkled o'er her, In vain would fond winds fan her back to life, Her hours are numbered on the floral dial." — Lucy Larcom


78. "All June I bound the rose in sheaves, Now, rose by rose, I strip the leaves." — Robert Browning

June Moon and Summer Night Quotes
Have you ever seen the moon in June? What about the clear, beautiful summer night sky? The following selection of Hello June quotes and sayings illustrate the beauty of the strawberry moon. Perfectly visible on a clear night sky, this red moon is simply breathtaking.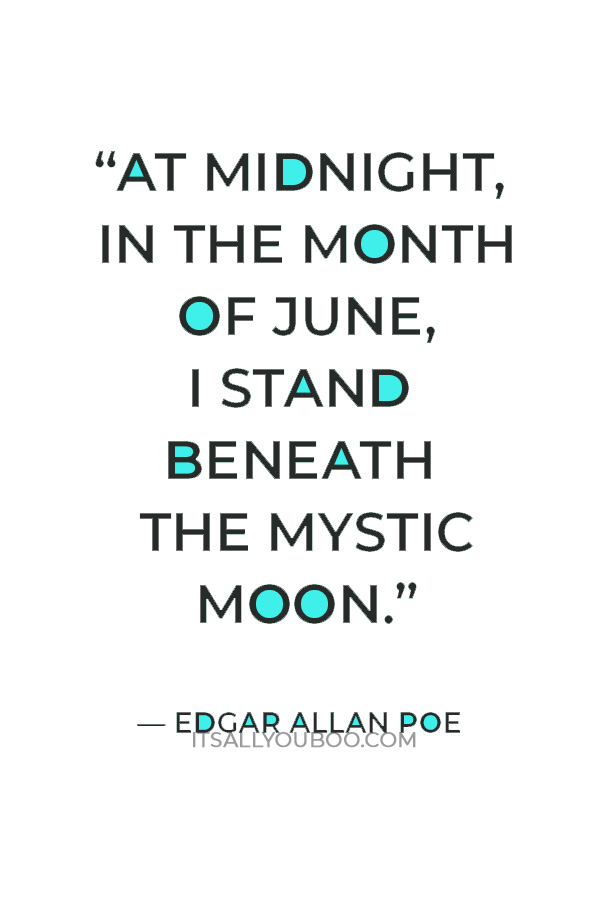 79. "At midnight, in the month of June, I stand beneath the mystic moon." — Edgar Allan Poe


80. "Moons and Junes and Ferris wheels The dizzy dancing way you feel As every fairy tale comes real I've looked at love that way." — Joni Mitchell
"In the arms of the June moon, magic is woven into the fabric of the night." ― Unknown


82. "Beneath the June moon, secrets are whispered to the night breeze." ― Unknown

83. "In a bowl to sea went wise men three, On a brilliant night of June: They carried a net, and their hearts were set. On fishing up the moon." ― Thomas Love Peacock

"The June moon paints the night sky with a brush of silver and stardust." ― Unknown

👉🏽 RELATED POST: Quotes on Dreams and Reality
85. "Under the June moon, shadows dance and dreams come alive." ― Unknown
86. "In these divine pleasures permitted to me of walks in the June night under moon and stars, I can put my life as a fact before me and stand aloof from its honor and shame." — Ralph Waldo Emerson
87. "Wine and cheese are ageless companions, like aspirin and aches, or June and moon, or good people and noble ventures." — M. F. K. Fisher
88. "There are moments, above all on June evenings, when the lakes that hold our moons are sucked into the earth, and nothing is left but wine and the touch of a hand." — Charles Morgan
June Night Sky Quotes and Poems
Have you noticed how beautiful the sunsets are in June? How the night is unlike any other month? There's something special about the night sky at this time of year, and these Hello June quotes celebrate it. Stay up late and enjoy those gorgeous sunsets and those bright stars. It's so romantic!
👉🏽 RELATED POST: Inspirational Quotes about Love and Romance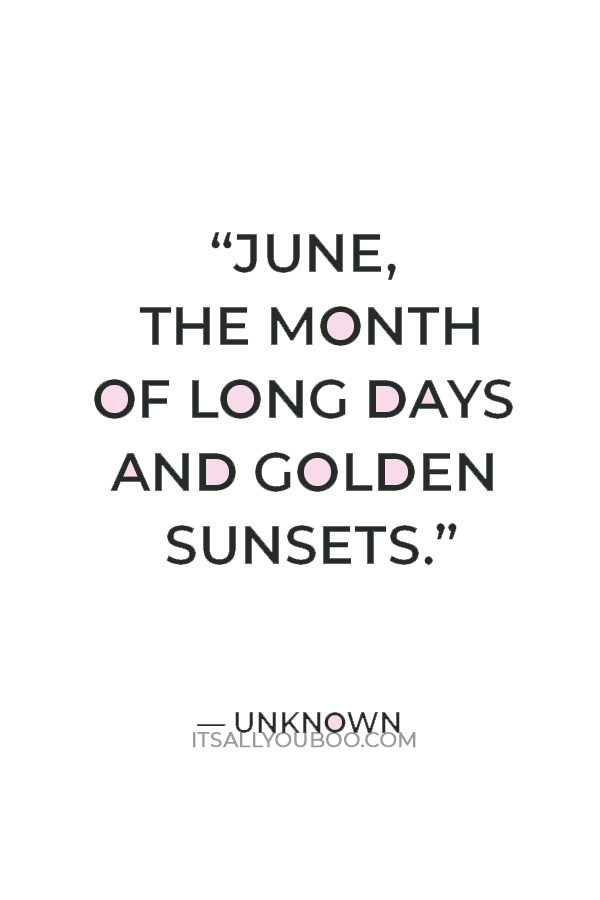 89. "June, the month of long days and golden sunsets." ― Unknown
90. "In June, make time for stargazing and marvel at the wonders of the night sky." ― Unknown
"My only sketch, profile, of Heaven is a large blue sky, and larger than the biggest I have seen in June – and in it are my friends – every one of them." — Emily Dickinson
92. "Elvish singing is not a thing to miss, in June under the stars, not if you care for such things." ― J. R. R. Tolkien
93. "The brightest light, the light of Italy, the purest sky of Scandinavia in the month of June is only a half-light when one compares it to the light of childhood. Even the nights were blue." — Eugene Ionesco
"In early June the world of leaf and blade and flowers explodes, and every sunset is different." — John Steinbeck


95. "What do I miss about the UK? Sadly, almost nothing. Maybe the midnight sun, in June in the north. That's all." — Lee Child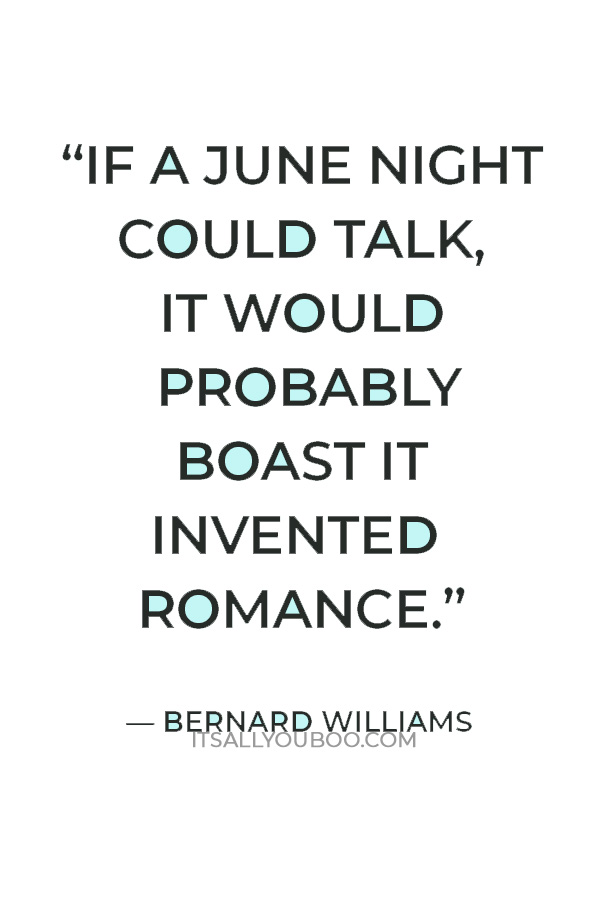 96. "If a June night could talk, it would probably boast it invented romance." — Bernard Williams
97. "A noise like of a hidden brook In the leafy month of June, That to the sleeping woods all night Singeth a quiet tune." ― Samuel Taylor Coleridge


98. "Do you recall that night in June. Do you recall that night in June. Upon the Danube River; We listened to the ländler-tune, We watched the moonbeams quiver." — Charles Hamilton Aide

99. "Goodnight, June." ― Marie Lu
Things To Do This Month Quotes
What's your favorite June activity and adventure? How do you spend this beautiful summer month? Here's a collection of famous June inspirational quotes and poems about things to do. Whether it's the month of vacations or staycations, June is the perfect month to enjoy life.
👉🏽 RELATED POST: Relationship Advice Quotes for Him and Her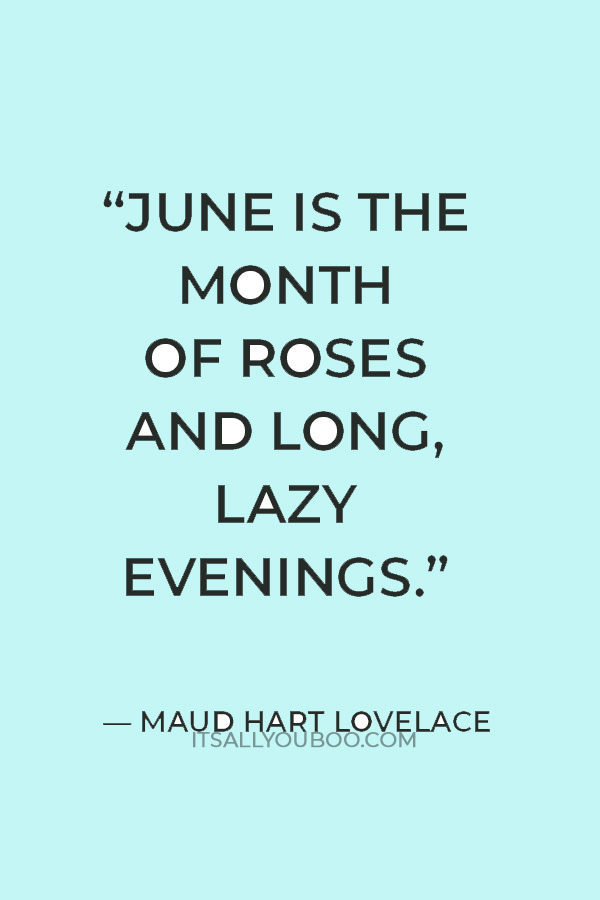 100. "June is the month of roses and long, lazy evenings." ― Maud Hart Lovelace

101. "June is the time to visit the beach, watch sunsets, and collect seashells." ― Unknown

102. "In my college years, I would retreat to our summer house for two weeks in June to read a novel a day. How exciting it was, after pouring my coffee and making myself comfortable on the porch, to open the next book on the roster, read the first sentences, and find myself on the platform of a train station." — Amor Towles

"Make June the month of volunteering, giving back to your community, and spreading kindness." ― Unknown

104. "June is the time to wander and discover the hidden treasures of the world." ― Unknown


105. "We spent June and July in the Rockies, growing stronger, feeling feral in the untamed range of mountains." ― Aspen Matis

106. "June is the time for outdoor fun, sunshine, and barbecue." ― Unknown
"In June, take long walks in nature and let the beauty of the world inspire you." ― Unknown

108. "Summer is not obligatory. We can start an infernally hard jigsaw puzzle in June with the knowledge that, if there are enough rainy days, we may just finish it by Labor Day, but if not, there's no harm, no penalty. We may have better things to do." — Nancy Gibbs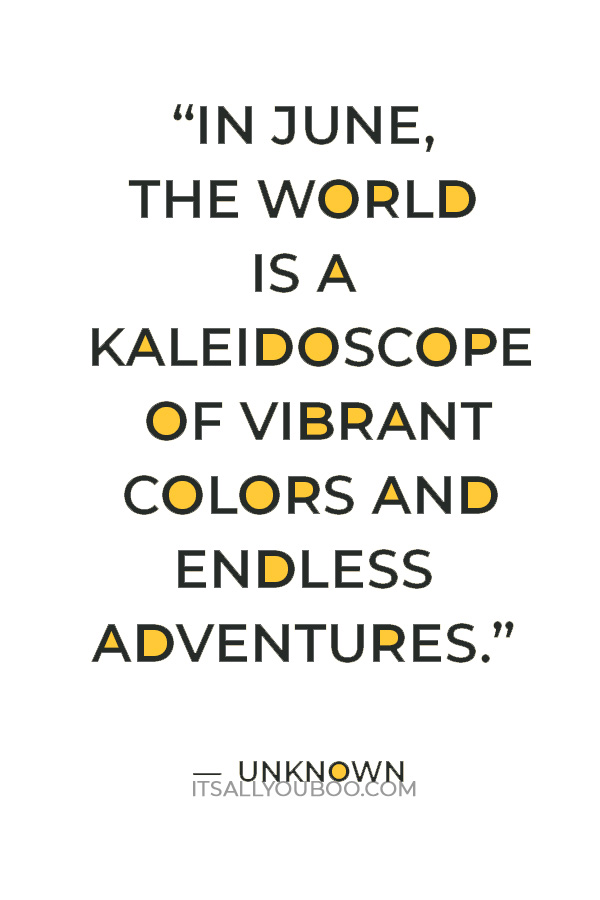 109. "In June, the world is a kaleidoscope of vibrant colors and endless adventures." ― Unknown



110. "June is the perfect time to start a garden and witness the magic of growth and blooming flowers." ― Unknown
The Best June Birthday Quotes
Were you born in June? The next selection of happy June quotes is for all the June babies. They include quotes for the Geminis and Cancers (born on or after June 21st) in your life. There are so many celebrities born in June, including Britney Spears, Scarlett Johansson, and Jennifer Lawrence. Who is your favorite person born in June?
"Never underestimate the power of people born in June. Happy Birthday to me." — Unknown
112. "I was born in June, so I like summer, and my favorite part of a sunny day is when the sun sets." — Jorja Smith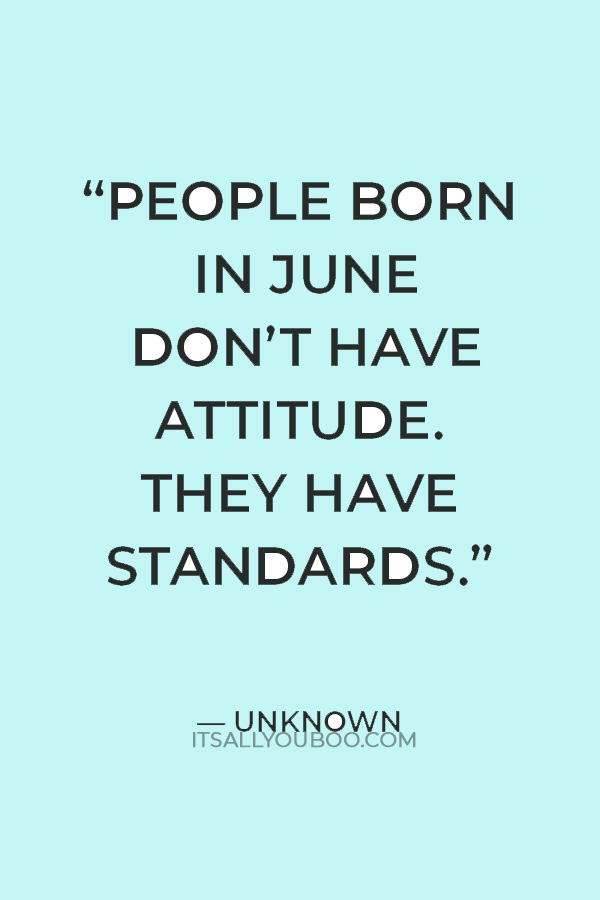 113. "People born in June don't have attitude. They have standards." — Unknown


114. "All people are born equal, but the best ones are born in June." — Unknown

115. "Those born in June are blessed with the warmth of the sun in their hearts." ― Unknown
"Legends are born in June." — Unknown


117. "June borns are not moody. They are good at multitasking." — Unknown
👉🏽 RELATED POST: Hello August Quotes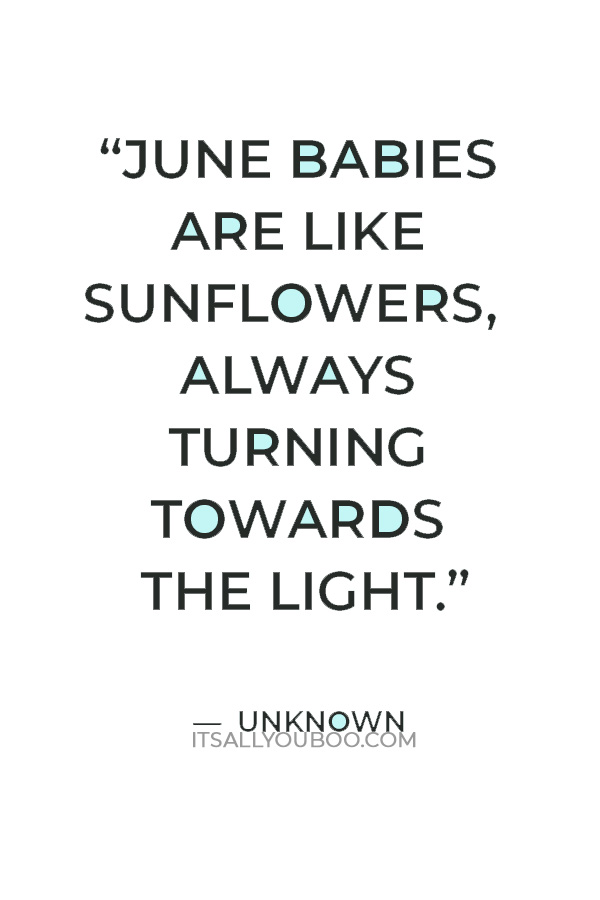 118. "June babies are like sunflowers, always turning towards the light." ― Unknown


"To be born in June is to inherit the spirit of growth, abundance, and beauty." ― Unknown

120. "Those born in June are like the summer solstice, filling the world with light and joy." ― Unknown

121. "Those born in June are like summer rain, refreshing and invigorating." ― Unknown
122. "I can't keep calm. I was born in June." — Unknown


123. "A daughter has been born to my wife and me just now, and we named our girl as June July August. Short for summer!" — Unknown
Goodbye June Quotes, Hello July Sayings
Ready for summer to take full bloom? For the weather to heat up even more? Awesome! This next collection of say goodbye to June and welcome July quotes. It only gets hotter and steamer from here! Bring on the popsicles, ice cream, and all things summer.
124. "It's the nature of the world. One thing remains, and one gone. Goodbye June and Hello July." — Unknown
"Goodbye June and Welcome July. May you get all the blessings this month and always." — Unknown
126. "Goodbye, June, you've filled our hearts with the beauty of summer." ― Unknown

127. "Hello, July and Goodbye June. Here's to an exciting, joyful, enjoyable, peaceful, and blessed month." — Unknown

128. "What was told by August when June claimed today to be the month's last day. Do not July to me!" — Unknown
👉🏽 RELATED POST: End of Summer Quotes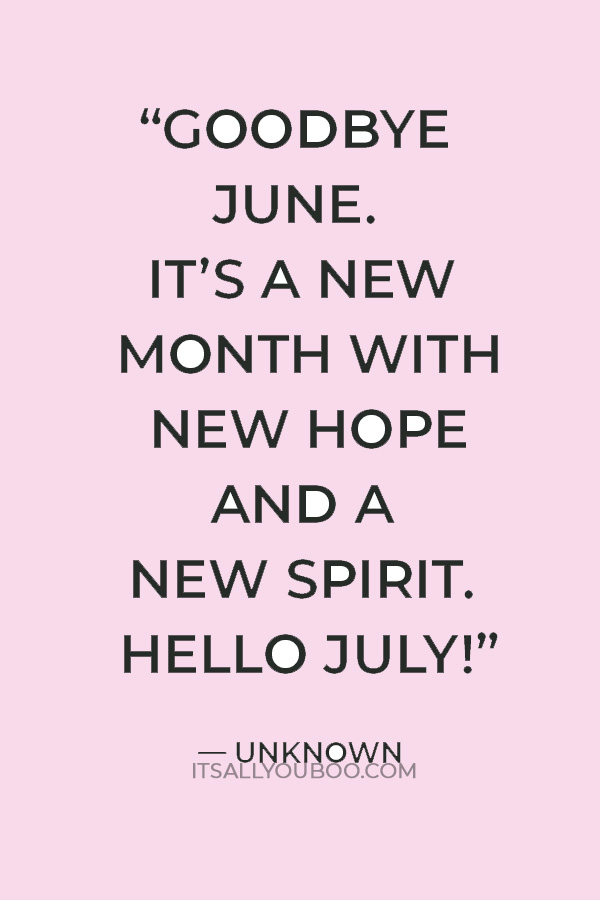 129. "Goodbye June. It's a new month with new hope and a new spirit. Hello July! Please, be good to me." — Unknown

130. "No price is set on the lavish summer; June may be had by the poorest comer." — James Russell Lowell

131. "The end has come, as come, it must, To all things; in these sweet June days, The teacher and the scholar trust, Their parting feet to separate ways." — John Greenleaf Whittier
"Goodbye, June, you've painted the sky with stunning sunsets and rainbows." ― Unknown
133. "As we bid farewell to June, we welcome the promise of a new month with open arms." ― Unknown

134. "As June draws to a close, we embrace the possibilities that July holds." ― Unknown
135. "I loved you when love was Spring, and May, Loved you when summer deepened into June, and now when autumn yellows all the leaves." — Vita Sackville-West
Cold, Winter's Will Come Again Quotes
Afraid of winter's return after summer? This final selection of June quotes reminds us that winter is always just around the corner. Enjoy these weather and seasons are funny quotes! The cold and darkness make us apprecaite the warm sunny days of June even more. Thank goodness every winter is followed by Summer and June. It's the Christmas of Summer!
"June, July, all through the warm months she hibernated like a winter animal who did not know spring had come and gone." — Truman Capote

137. "There's something I love about how stark the contrast is between January and June in Sweden." — Bill Skarsgard

138. "There are two seasons in Scotland: June and Winter" ― Billy Connolly
139. "A cold in the head in June is an immoral thing." — L.M. Montgomery
"It's so god damn cold it's gonna snow until June." — Jimmy Buffett
👉🏽 RELATED POST: 110 Inspirational Winter Quotes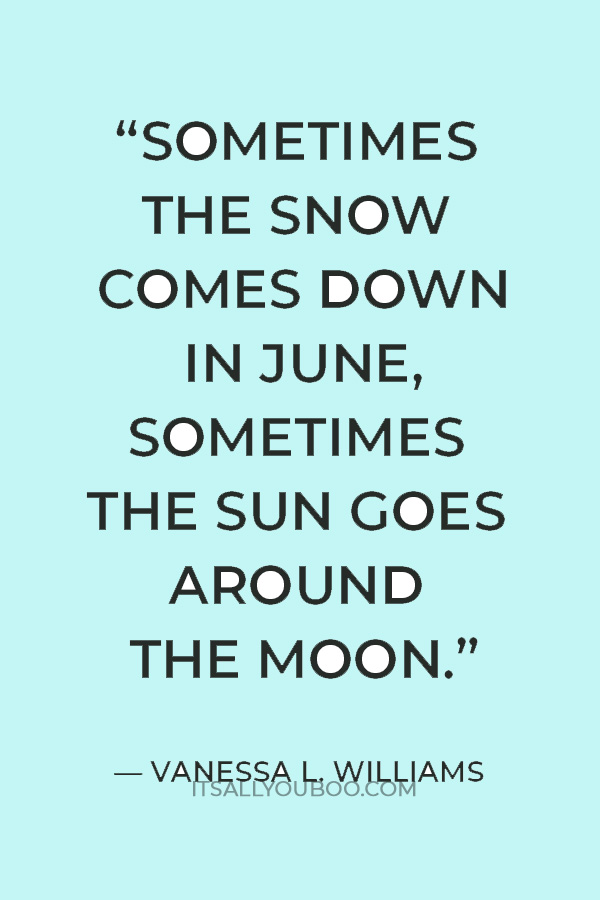 141. "Sometimes the snow comes down in June, sometimes the sun goes around the moon." — Vanessa L. Williams

142. "Occasionally I have come across a last patch of snow on top of a mountain in late May or June. There's something very powerful about finding snow in summer." — Andy Goldsworthy

143. "June suns, you cannot store them To warm the winter's cold, The lad that hopes for heaven Shall fill his mouth with mould." — A. E. Housman
"It's June in January Because I'm in love It always is spring in my heart with you in my arms." — Leo Robin
145. "As soon seek roses in December, ice in June, Hope constancy in wind, or corn in chaff Believe a woman or an epitaph Or any other thing that's false Before you trust in critics." — Lord Byron

👉🏽 RELATED POST: Hello Winter Quotes to Welcome December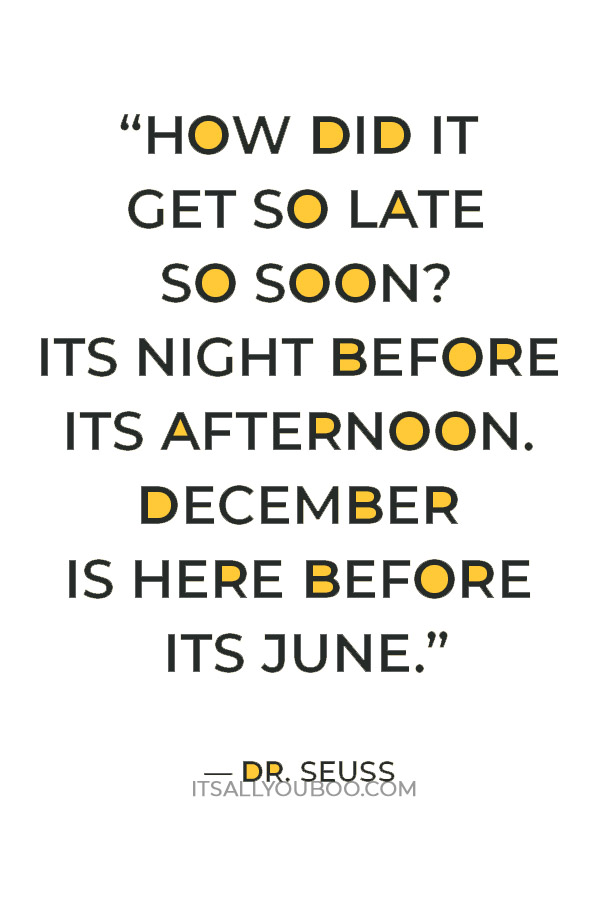 146. "How did it get so late so soon? Its night before its afternoon. December is here before its June. My goodness how the time has flewn. How did it get so late so soon?" — Dr. Seuss
147. "'Warm in December, cold in June, you say?' I don't suppose the water's changed at all. You and I know enough to know it's warm. Compared with cold, and cold compared with warm. But all the fun's in how you say a thing." — Robert Frost


148. "Today winter clouds gather in towers of white, reaching toward the wide horizon. But the rain is far off and will not come today or even tomorrow when perhaps random drops will foreshadow the deluge of June." — Michael Hogan
149. "To read a poem in January is as lovely as to go for a walk in June." — Jean Paul Sartre
Inspirational Black & White Wall Art Quotes
Loving these Hello June quotes and want more. Here are 10 beautiful printable black and white art quotes that are perfect for your office, bedroom, or wherever you need the reminder to live an inspired life. Each design features a brushed ink letter detailing.
This download comes with 10 high-resolution graphics ready to be printed, framed, and posted.

Open your arms to the month of June, she's here with sunshine and more. I hope this collection of June quotes has put a smile on your face! From the buzzing of June bugs to the explosion of nature to the hot summer days and enchanting June moon, so much awaits you in these 30 days.
June is unlike any other month on the calendar, it's the gateway to summer. May your summer be like any other, and the warm days hold you tight, for it only lasts so long. Enjoy every of those sweet summer moments.
Embrace June as the friend you only see once a year, but holds a special place is your heart and memories.
Cheers to June, let's make it a month to remember! 1st June is the day to begin!
Happy June! Looking for famous quotes to welcome Summer? Click here for 149 Hello June quotes, sayings, and poems. #JuneWishes #JuneQuotes #HappyJune #SummerQuotes

Which Hello June quotes do you love most?
Last Updated on August 4, 2023
✕
Get Your Printable Quotes
+ get weekly tips to help you slay your goals.