What are the best relationship advice quotes for him and her?
Looking for words of advice for your relationship?
From love at first message and other firsts to falling in love and other milestones, there is so much relationship advice out there.
Going on a first date with someone you've never met? Tired of being single on Valentine's Day and ready to commit?
Trying to build a connection and really bond with your partner?
For every situation and type of relationship, someone has something to say. Someone has wise words of wisdom for all matters of the heart.
That's what this collection of quotes is all about. It's a collection of the very best words of advice for dating and getting to know the man or woman in your life.
Each of these quotes is here to help you build strong relationships, with warnings for things to look out for, as well as specific advice for him and her. The love and romance is often the easy part, it's the relationship that's work.
If your relationship is important to you then invest in being the best partner you can be. May this advice help you to communicate better, accept your partner for who they are and be the best version of yourself.
Here are the best relationship advice quotes for him and her.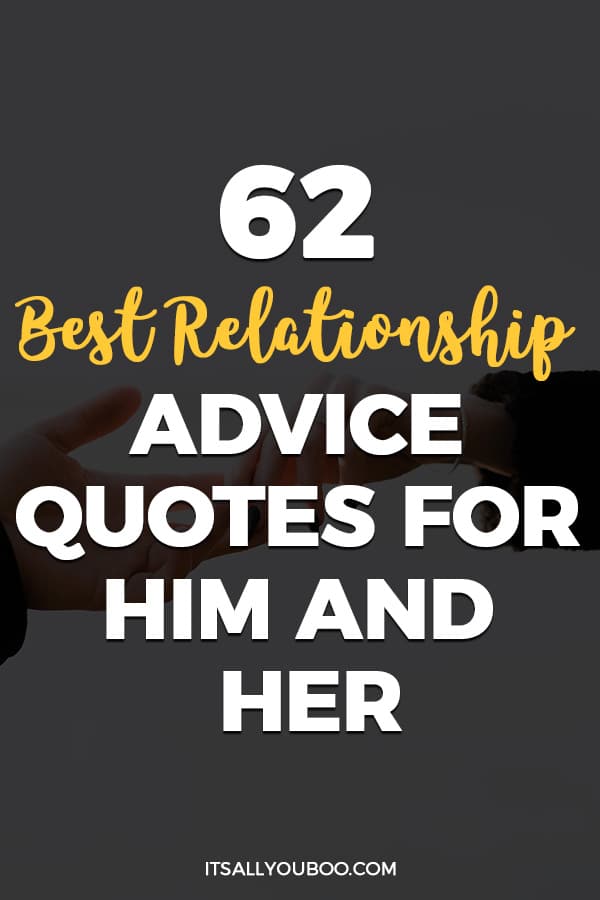 The Foundation of Relationships Quotes
What does it mean to be in a relationship? What are strong relationships built on? This first collection of relationship advice quotes for him and her explores the depth of true love, not just lust and attraction. There's more to love than the physical, it's a deeper connection: find it!
"A strong working relationship requires every participant to be on the same page." — Dinesh Paliwal
2. "The more connections you and your lover make, not just between your bodies, but between your minds, your hearts, and your souls, the more you will strengthen the fabric of your relationship, and the more real moments you will experience together." — Barbara De Angelis
3. "Spiritual relationship is far more precious than physical. Physical relationship divorced from spiritual is body without soul." — Mahatma Gandhi
👉🏽 RELATED POST: Inspirational Quotes About Love and Romance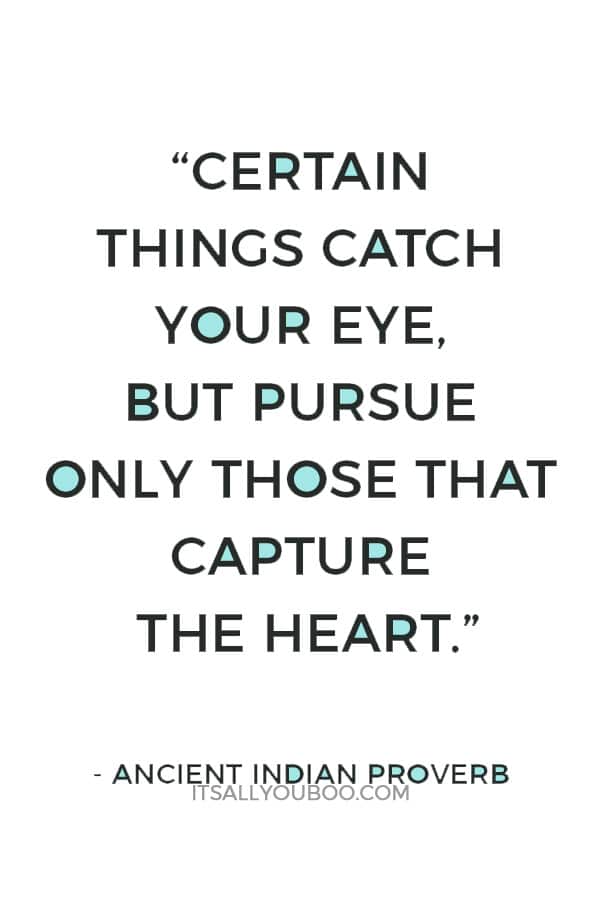 4. "Certain things catch your eye, but pursue only those that capture the heart." — Ancient Indian Proverb
"You don't love someone for their looks, or their clothes, or for their fancy car, but because they sing a song only you can hear." — Oscar Wilde
6. "Kindness in women, not their beauteous looks, shall win my love." — William Shakespeare


7. "The more we are filled with thoughts of lust the less we find true romantic love." — Douglas Horton
Relationship Quotes About Men vs. Woman
What's the difference between men and women in relationships? Are men really from Mars, and women from Venus? Is that a dated understanding? The following relationship advice quotes for him and her explores the difference between the sexes. What do you think, is this true?
8. "It is always the same: women bedeck themselves with jewels and furs, and men with wit and quotations." ― Maurice Chevalier
"Men always want to be a woman's first love – women like to be a man's last romance." ― Oscar Wilde
👉🏽 RELATED POST: Empowering Feminist Quotes for Badass Women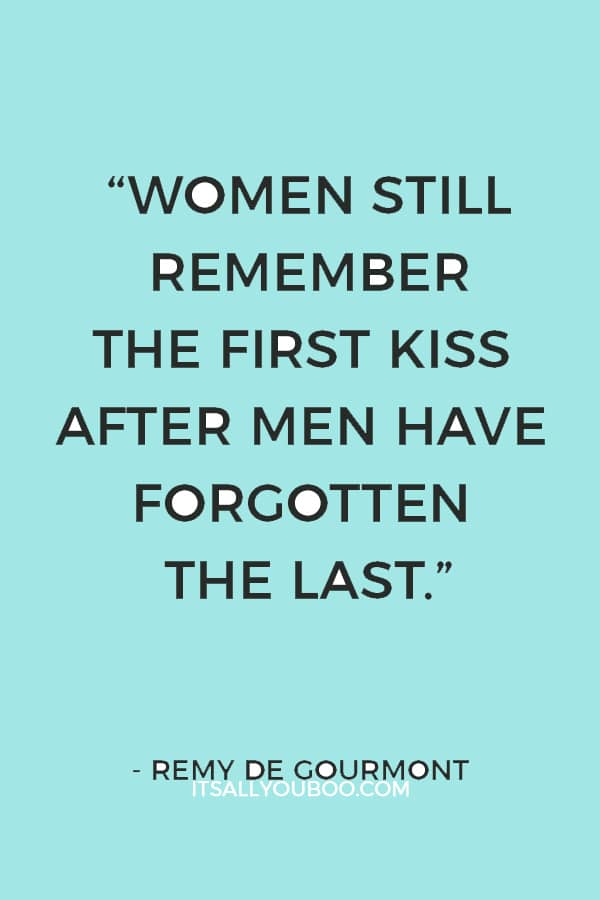 10. "Women still remember the first kiss after men have forgotten the last." ― Remy de Gourmont
11. "A man is lucky if he is the first love of a woman. A woman is lucky if she is the last love of a man." ― Charles Dickens
"Man may have discovered fire, but women discovered how to play with it." ― Candace Bushnell
13. "I see when men love women. They give them but a little of their lives. But women when they love give everything." ― Oscar Wilde
14. "Basically, all women are nurturers and healers, and all men are mental patients to varying degrees." ― Nelson DeMille
15. "Men are jealous of every woman, even when they don't have the slightest interest in her themselves." ― Jan Neruda
16. "Women are cursed, and men are the proof." ― Roseanne Barr
👉🏽 RELATED POST: Happy international women's day quotes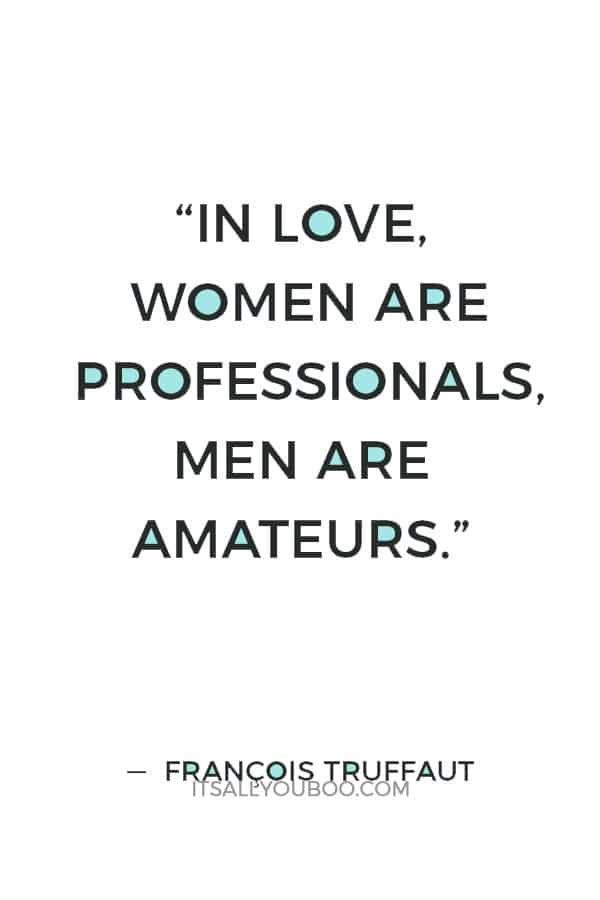 17. "In love, women are professionals, men are amateurs." ― François Truffaut
"No one will ever win the battle of the sexes; there's too much fraternizing with the enemy." ― Henry A. Kissinger
Best Dating Advice Quotes for Her
Want the best relationship advice for her? What do women need to know about relationships? This collection of best relationship advice quotes are written about men for women, to help them understand these Martians. Men and women think differently after all. If you're going on a date, you want to pay attention to these quotes.
"Never assume that the guy understands that you and he have a relationship." — Dave Barry
👉🏽 RELATED POST: Quotes for Single on Valentine's Day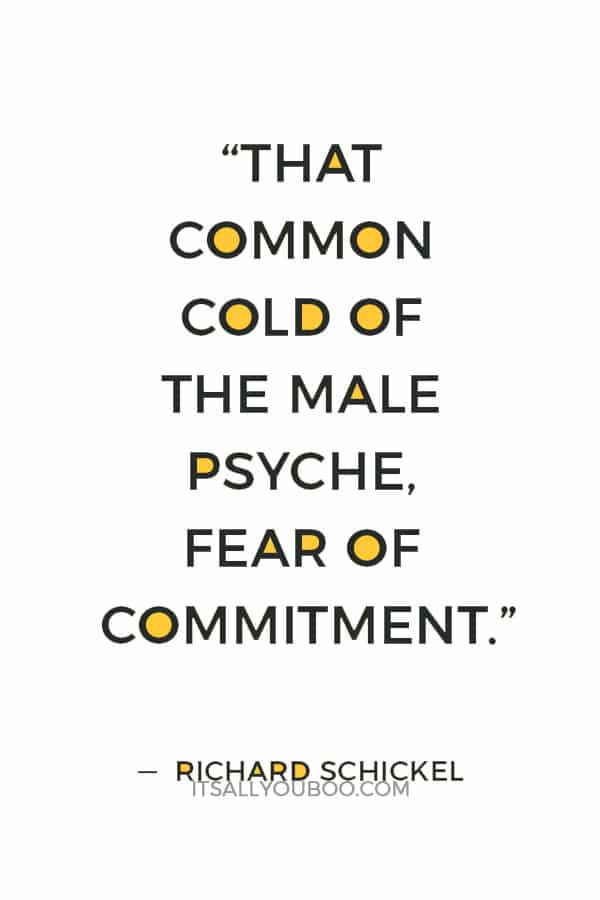 20. "That common cold of the male psyche, fear of commitment." — Richard Schickel
21. "No man wants to settle down. It happens. Eventually you're going to bump into somebody that makes you go, 'Hmm, I don't mind seeing this person every day." — Kevin Hart
"Being flirty is a way of letting a guy know you're interested without making a fool out of yourself." — Carmen Electra
23. "Never trust a husband too far, nor a bachelor too near." — Helen Rowland
👉🏽 RELATED POST: How to Date Yourself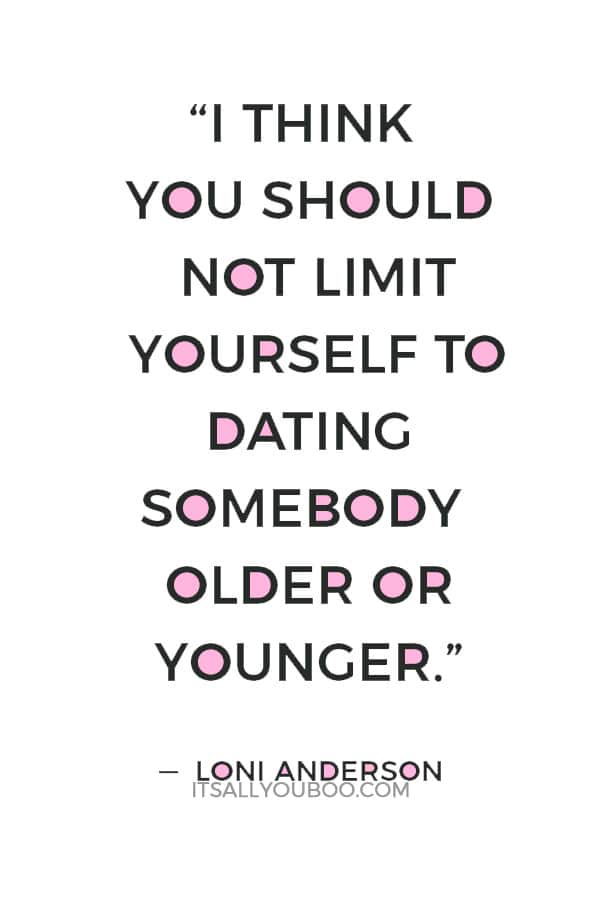 24. "I think you should not limit yourself to dating somebody older or younger." — Loni Anderson
"Dating is really hard because everyone puts on a front. It's really difficult to see who is who, so it is important to be yourself." — Brooke Burke
26. "I think it's definitely important to look like yourself on a date. You don't want to look like someone else with too much makeup or too much hair." — Lauren Conrad


27. "Beware the man who doesn't ask you any questions about yourself on your first date." — Merrill Markoe
Advice Quotes About Being Attraction
What turns you on, or turns you off of someone? What are the secrets of physical attraction? Whether it's biology, chemical reaction or something deeper, the attraction is everything. The following best relationship advice quotes for him and her open up about attraction and keeping romance alive. What's your secret?
28. "What makes you different or weird—that is your strength." — Meryl Streep
"Sex appeal is fifty percent what you've got and fifty percent what people think you've got." —Sophia Loren
30. "I know enough to know that no woman should ever marry a man who hated his mother." ― Martha Gellhor
👉🏽 RELATED POST: How to Manifest Love Using the Law of Attraction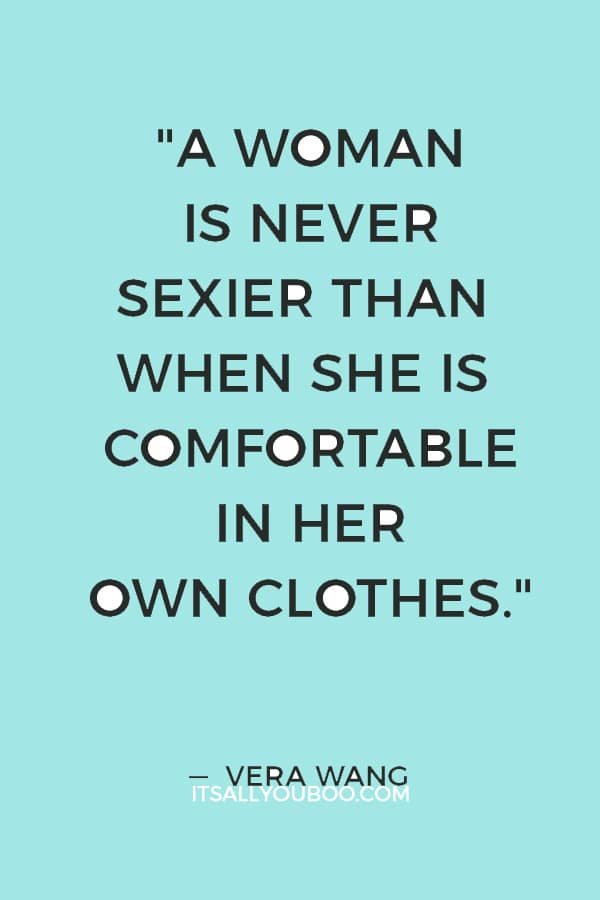 31. "A woman is never sexier than when she is comfortable in her own clothes." — Vera Wang
"Of course I am not worried about intimidating men. The type of man who will be intimidated by me is exactly the type of man I have no interest in." — Chimamanda Ngozi Adichie
33. "When you make his sandwiches, put a sexy or loving note in his lunch box." — Anne Rice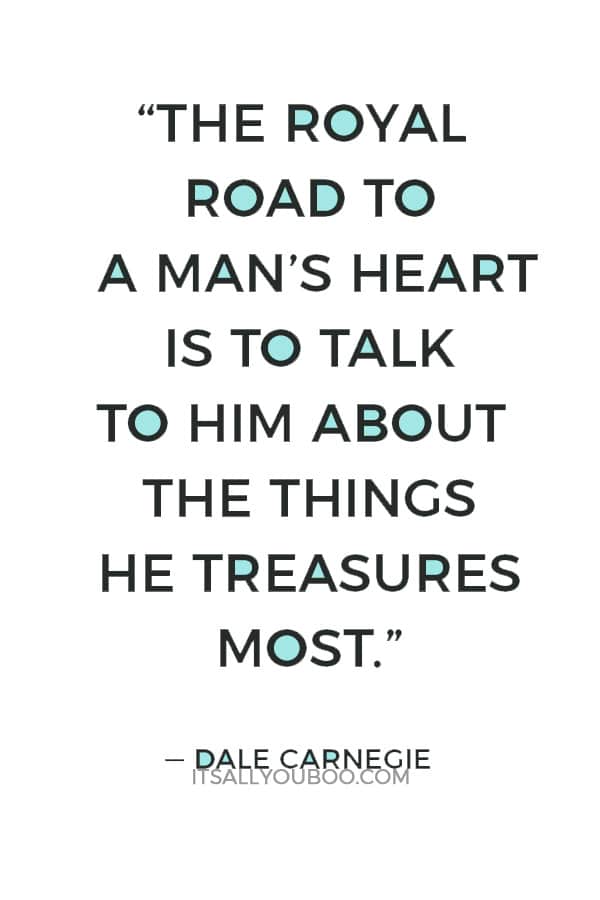 34. "The royal road to a man's heart is to talk to him about the things he treasures most." — Dale Carnegie
"Can officially confirm that the way to a man's heart these days is not through beauty, food, sex, or alluringness of character, but merely the ability to seem not very interested in him." ― Helen Fielding
36. "Hide yourself in God, so when a man wants to find you he will have to go there first." ― Shannon L. Alder
Relationship Tips for Him Quotes
Looking for relationship tips just for men? Ready to up your game on the next date? This collection of best relationship advice quotes for him is all about the ladies, from how to treat them to what they truly want. What do women want?
"If you cannot inspire a woman with love of you, fill her above the brim with love of herself; all that runs over will be yours." — Charles Caleb Colton
38. "You can show your daughter by the way you love and honor your wife that she should never settle for less. — Elaine S. Dalton
👉🏽 RELATED POST: How to Not Ruin a Relationship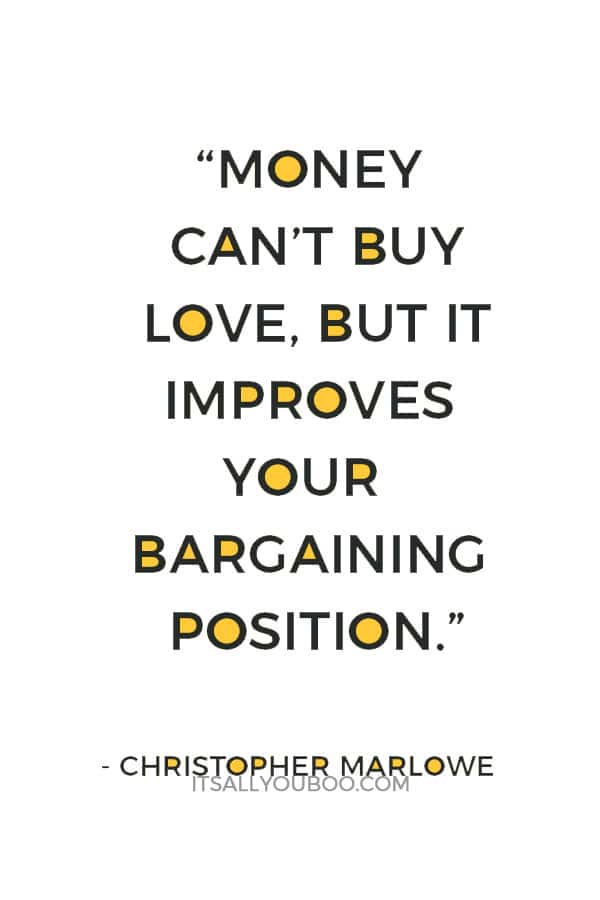 39. "Money can't buy love, but it improves your bargaining position." — Christopher Marlowe
40. "I'd rather have roses on my table than diamonds on my neck." — Emma Goldman
"A beautiful woman delights the eye; a wise woman, the understanding; a pure one, the soul." — Minna Antrim
42. "Men should only believe half of what women say. But which half?" — Jean Giraudoux
43. "When a woman is talking to you, listen to what she says with her eyes." — Victor Hugo
44. "Marriage as a long conversation. – When marrying you should ask yourself this question: do you believe you are going to enjoy talking with this woman into your old age? Everything else in a marriage is transitory, but most of the time that you're together will be devoted to conversation." ― Friedrich Nietzsche
👉🏽 RELATED POST: How to Put Yourself Out There In Life and Love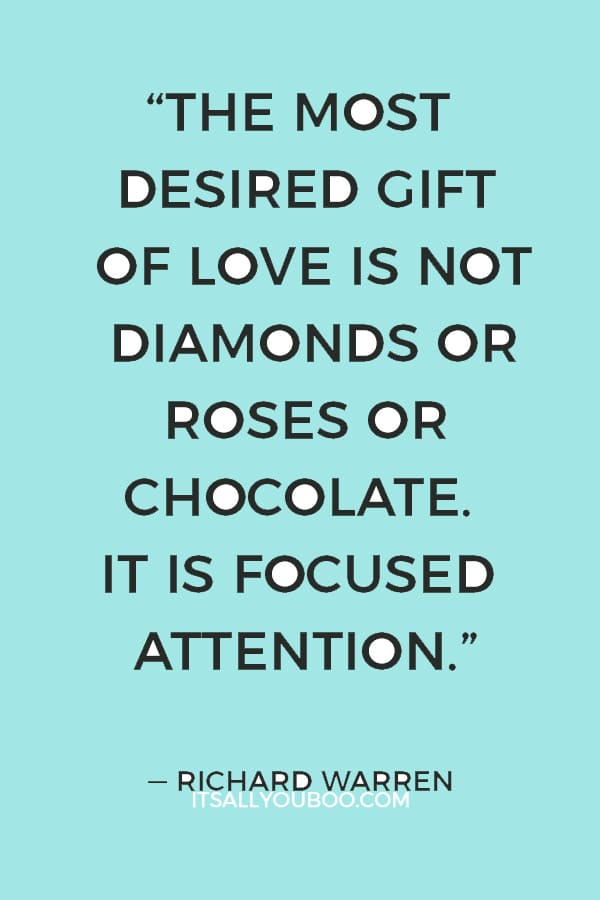 45. "The most desired gift of love is not diamonds or roses or chocolate. It is focused attention." — Richard Warren
"I definitely think the idea of friend zone is just men going, 'This woman won't have sex with me." — Daniel Radcliffe
47. "Don't forget I'm just a girl, standing in front of a boy, asking him to love her." —Anna Scott
Quotes About Whether People Change
Is someone trying to change you? Are you trying to change someone else? That's probably not the best way to build a relationship. This collection of relationship advice quotes for him and her explores the question of whether you can really, even change someone. The only person you can change is yourself.
48. "Relationships, marriages are ruined where one person continues to learn, develop and grow and the other person stands still." — Catherine Pulsifer
"Don't smother each other. No one can grow in the shade." — Leo Buscaglia
50. "People change and forget to tell each other." — Lillian Hellman
51. "This is what happened in love. One of you cried a lot and then both of you grew sarcastic." ― Lorrie Moore
"When someone shows you who they are, believe them the first time." — Maya Angelou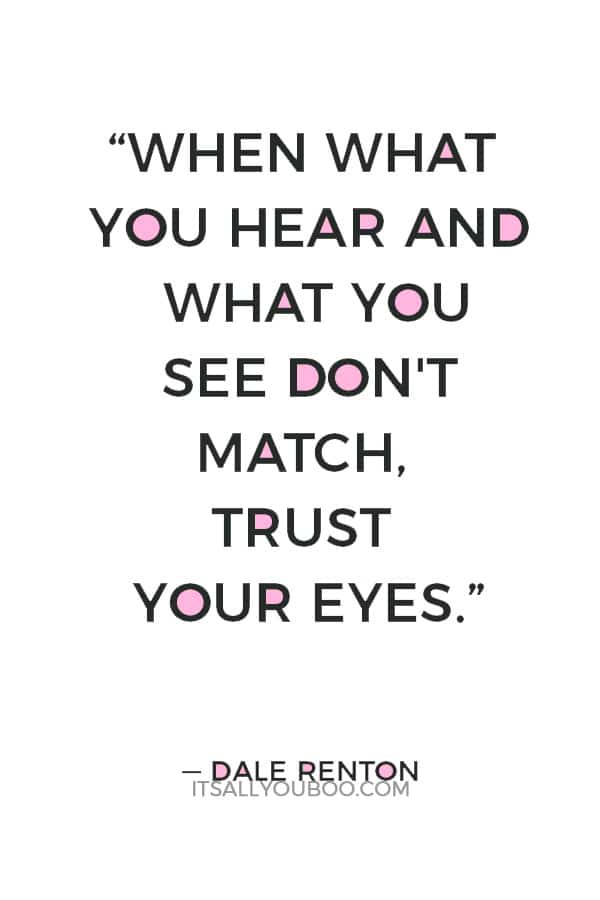 53. "When what you hear and what you see don't match, trust your eyes." ― Dale Renton
"The only time a woman really succeeds in changing a man is when he is a baby." — Natalie Wood
55. "Don't let a thief into your house three times. The first time was enough. The second time was a chance. The third time means you're stupid." ― C. JoyBell C.
No One Is Perfect Quotes
Are you looking for the perfect person? Waiting for Mr. or Mrs. Right? You might need to ask whether they exist. This final collection of relationship advice quotes shares the reality of life, that no one is perfect. That includes you.
"When you stop expecting people to be perfect, you can like them for who they are." ― Donald Miller
57. "Nothing is perfect. Life is messy. Relationships are complex. Outcomes are uncertain. People are irrational." — Hugh Mackay
58. "We come to love not by finding a perfect person, but by learning to see an imperfect person perfectly." — Sam Keen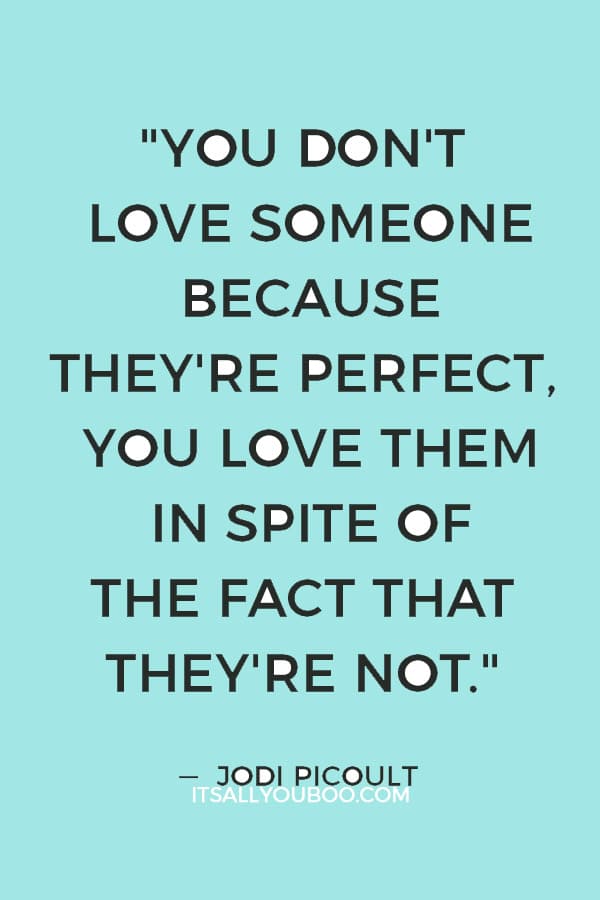 59. "You don't love someone because they're perfect, you love them in spite of the fact that they're not." — Jodi Picoult
60. "So I learned two things that night, and the next day, from him: the perfection of a moment, and the fleeting nature of it." ― Margaret George
"I saw that you were perfect, and so I loved you. Then I saw that you were not perfect and I loved you even more." — Angelita Lim
62. "A relationship isn't something that has to be created in a day or perfected in a day. Part of the game is to keep working on it. It's something that'll always be just a little flawed." ― Nora Roberts
Get Your Free Relationships EBook
Looking for more relationship advice? Get your FREE 40+ page Relationships eBook, with the best relationship tips from top experts.
No sign up necessary, just click below to share this post and unlock your free eBook.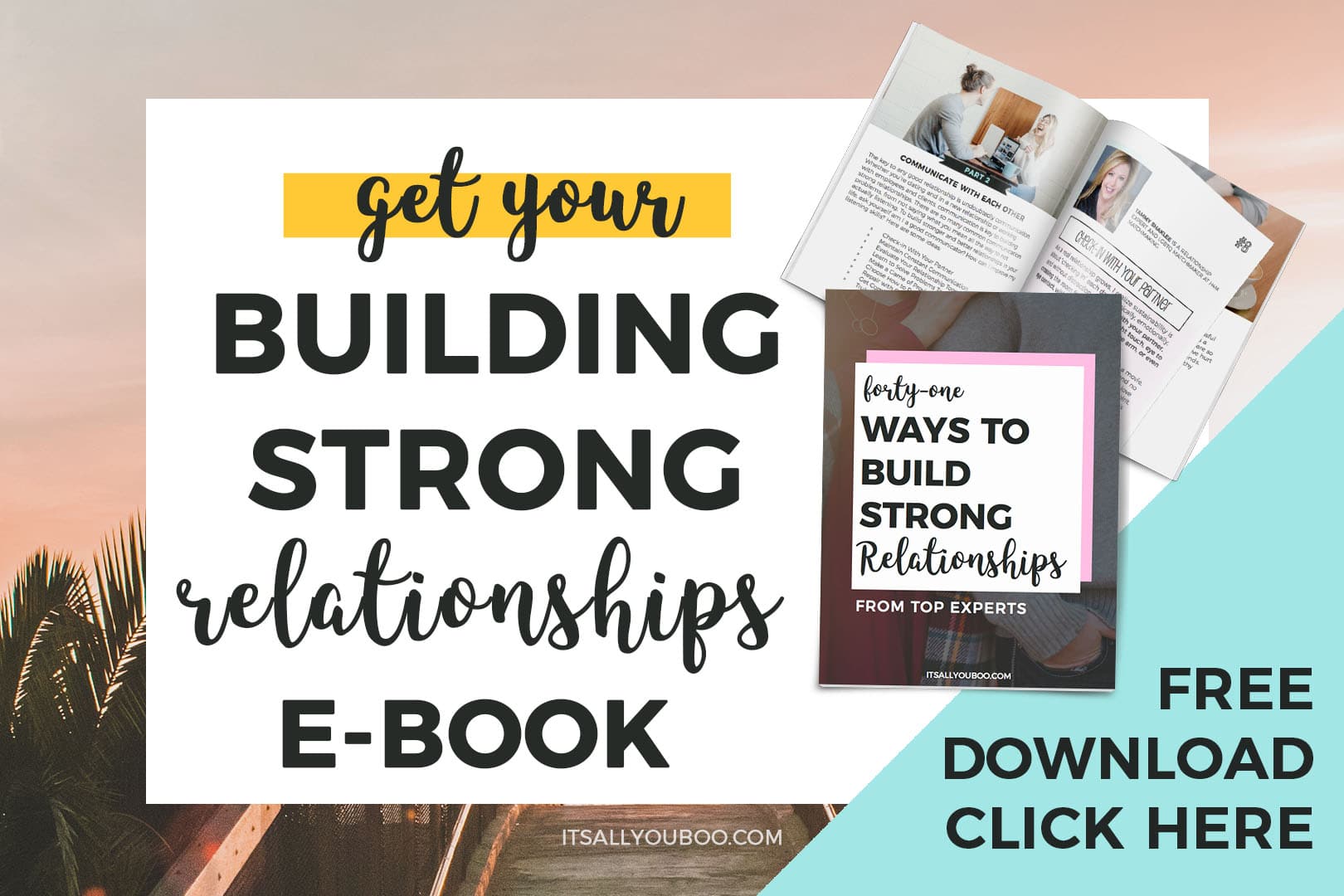 What have you learned about relationships? About dating and what it takes to make it work?
Relationships are complicated, no one's perfect, but there's love in imperfection.
New to a relationship? Looking for dating tips for men and women? Click here for 62 of the best relationship advice quotes for him and her. #RelationshipGoals #RelationshipTips #DatingTips #DatingAdvice

What's the best relationship advice quote for him or her?
Last Updated on July 11, 2021