Want to know how to give back to the community? Looking for ways to give back to the community without money?
Given the last few years that we've had, it's more important than ever to help those who need it most. Homelessness is on the rise, more people are relying on shelters and foodbank to make ends meet. The need is higher than ever before.
From volunteering and donating to sponsoring and fundraising, there are so many ways for students, businesses, and families to spread kindness and hope around their hometowns.
While many people want to lend a helping hand, it can be hard to know the best place to begin taking action. If you're looking for inspiration, here are 25 creative ways to give back to the community.
Know this, even the smallest donation and the simplest gesture of caring can make a difference in someone's life. You don't need to make more money, be more successful, or have all the time in the world to give back.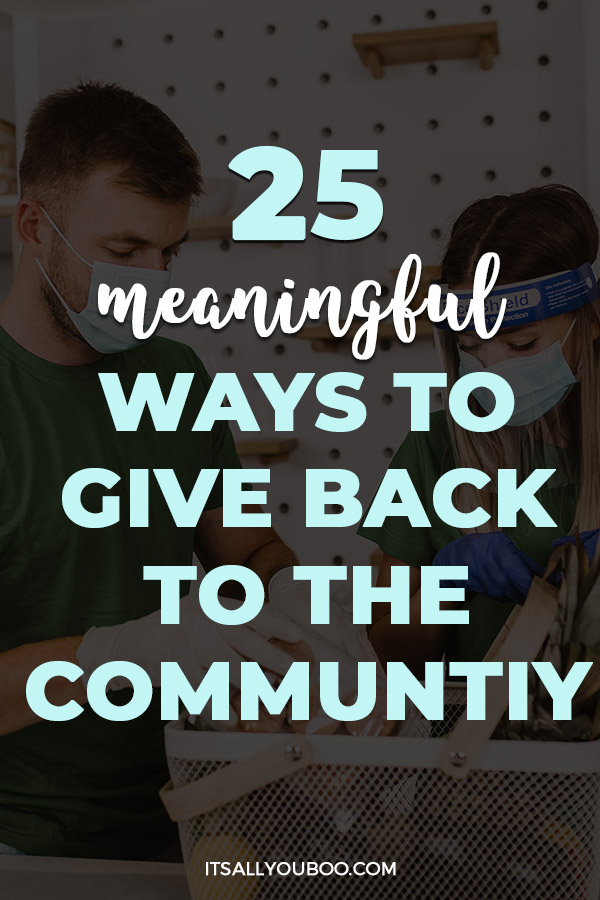 How Can Students Give Back to the Community
If you are a high school or college student, there are various special ways to give back to your current community.
#1.
Donate Used Items
If you are a teenager or a twenty-something, you are most likely going through a time of transition. That means there's a good chance that piles of clothes, childhood toys, books, and CDs are wedged in the back of your closet gathering dust.
Make it a unique new year's resolution to get rid of any unwanted items and give them a second home. Donating gently-used goods is a great creative way for students to give back to their communities.
While most charities accept monetary donations, there are certain used items that organizations and non-profits prefer more than others. Clothing, shoes and bags, kitchenware, books, toys and games, art, linens, hygiene essentials, sporting goods, and furniture are all items that most charities generally welcome.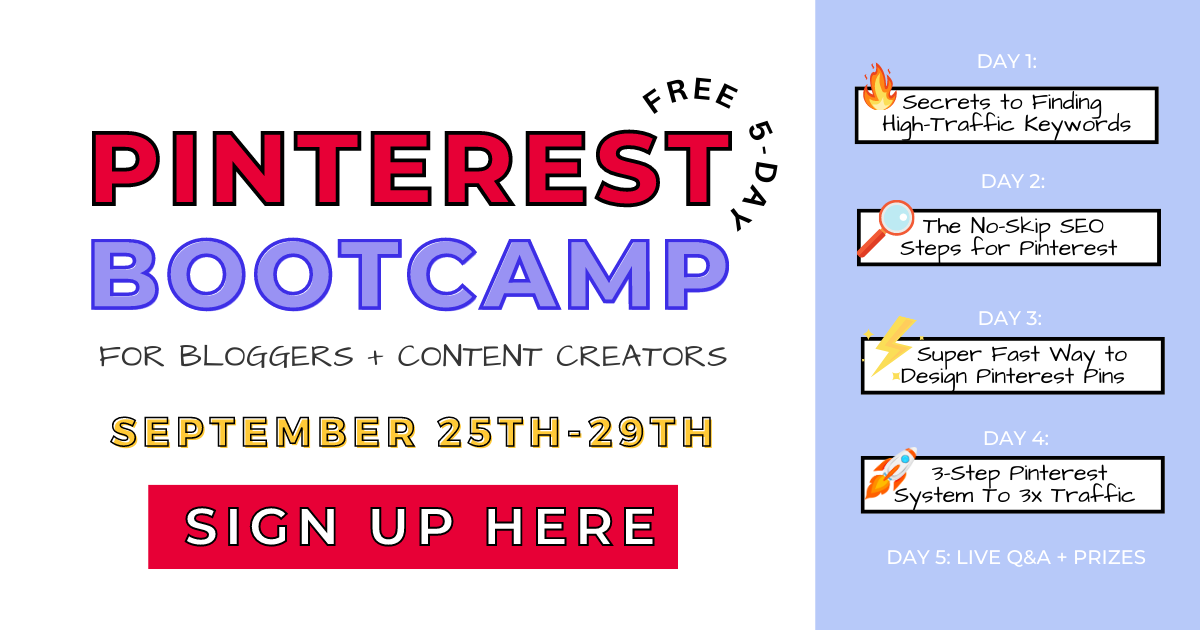 #2.
Paint a Mural
Are you an artist? If so, there's no better way to channel your creative energy than by painting a mural in your town. Upon approval from your city council, gather up a group of classmates to showcase your artistic talents.
If you love the idea of using a mural as a creative outlet to give back to your community but don't have the time or the skills to paint one yourself, there are also platforms such as Beautify that can connect you with artists who can.
There could also be opportunities for artistic expression on campus, at your school, community centers, and local charities.
#3.
Join a Community Garden
Grow plants for food and fun by joining a community garden. Not only do community gardens add greenery to urban areas, but gardens are also a way to increase fresh food access in hometowns.
Once your community garden begins to accumulate produce, you can start donating fruits and vegetables to those who don't have access to these goods. Aside from putting your green thumb to good use, you might even meet some new friends along the way!
👉🏽  RELATED POST: Have No Friends?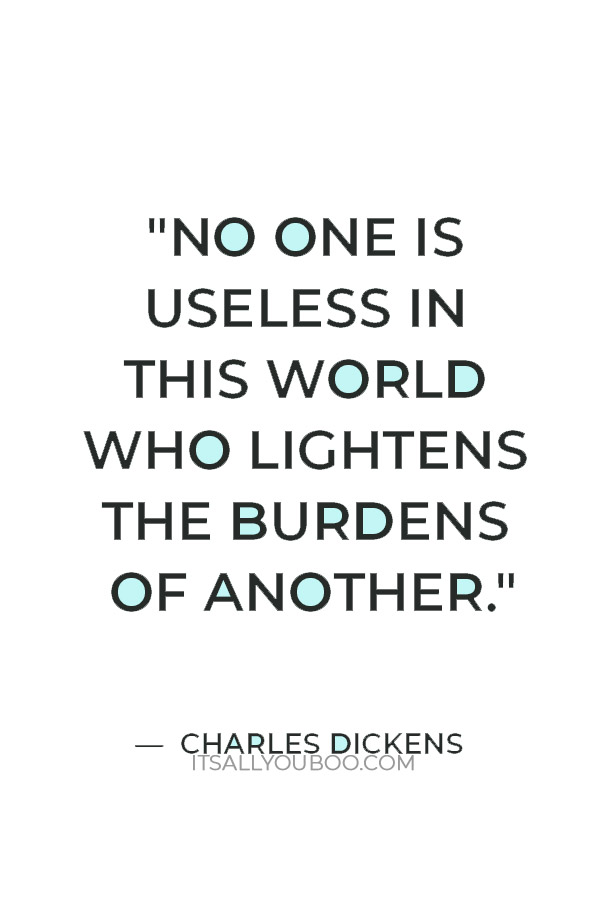 #4.
Become a Mentor
If you've spent summers as a camp counselor or love working with kids, consider volunteering as a mentor for a program like Big Brothers Big Sisters of America. Organizations like BBBS operate in communities all across the country and help create a lifelong impact by promoting the mental health and wellbeing of thousands of children.
By volunteering for a few days or hours a week, you can help change someone's life forever. While there are several nationwide programs you can get involved with, strongly consider volunteering for a local mentorship program in your high school or college town.
#5.
Volunteer Abroad
Traveling abroad is the experience of a lifetime. From being immersed in different cultures, tasting foreign foods, and learning new languages, going abroad is something every student should strongly consider. The one way to enhance your globetrotting experience even further? Volunteering abroad.
There are ways to give back to your community other than volunteering in your hometown. If you are part of a community of scientists or artists, your passion and talents are needed worldwide, oftentimes even more so than where you grew up in.
Whether you are interested in environmental conservation, health, and medicine, or teaching, numerous volunteer programs cater to students of all interests.
#6.
Become a Private Tutor
On your way to becoming an honor student or the next valedictorian? If you pride yourself on your academic prowess, whether you are a natural-born mathematician or a Shakespeare fanatic, becoming a private tutor is a creative way to give back to the community. To top that off, it will feel just as good helping a student ace their next test for you as it does for them!
While there are likely tutoring positions available at your school, also check out opportunities at your local library. Many libraries offer tutoring programs for people of all ages to learn new skills or boost their grades. One of the best parts about becoming a private tutor is you can teach subjects that fit within your expertise, whether that's Algebra 1 tutoring or ACT Math tutoring.

#7.
Start a Donation Jar
Get your whole family or housemates involved with your community by starting a family donation jar. Every month in 2022, a different family member can choose which local business or non-profit the proceeds from the jar will go towards.
Not only will you be giving back to your town, but you'll have some great family bonding opportunities along the way!

👉🏽  RELATED POST: How to Put Yourself Out There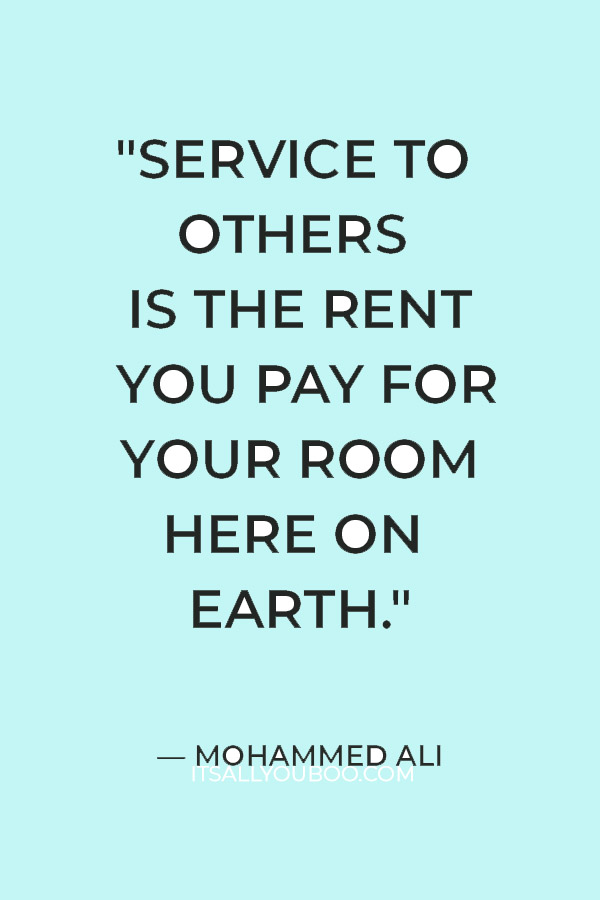 How to Give Back to the Community As A Business
Giving back as a business helps make a difference in the world, but volunteering as a business can also be a rewarding team-building exercise for your employees. Here are some easy ways for your business to start making an impact on your community.
#8.
Donate Old Workwear
If you work at a corporate company, donating gently-used workwear can make a huge impact on someone's life. Many job seekers cannot afford the expensive work attire that they need to interview for companies that mandate a professional dress code.
By giving your workwear a new home, you will be able to help numerous people in need start fresh. Encourage your employees or co-workers to donate work clothes and shoes to both Dress for Success and Career Gear.
Dress for Success helps women gain economic independence by providing them with business outfits for job interviews, while Career Gear does the same for low-income men.
#9.
Start a Scholarship Fund
Give back to your community as a business by starting a scholarship fund. As a company, you can brainstorm an important cause that you all wish to support.
Whether you honor a beloved member from your industry by starting a memorial scholarship fund, or choose to launch a mental health scholarship, giving someone the gift of higher education is the best gift you can give.
By creating a donation jar or a GoFundMe for the entire company to contribute to, you will be able to make a lasting impact on a deserving student's life.
#10.
Create a Volunteer Day
Schedule a volunteer day that allows your employees to take paid time off from work and give back to the local organizations within your community. Whether you do this every month, every quarter, or once a year, volunteer days will benefit your town and boost company morale.
If you are an employee, volunteer to find organizations in your town that support your company's mission. You could even invite your employees to be part of the selection process.
👉🏽  RELATED POST: How to Spend a Mental Health Day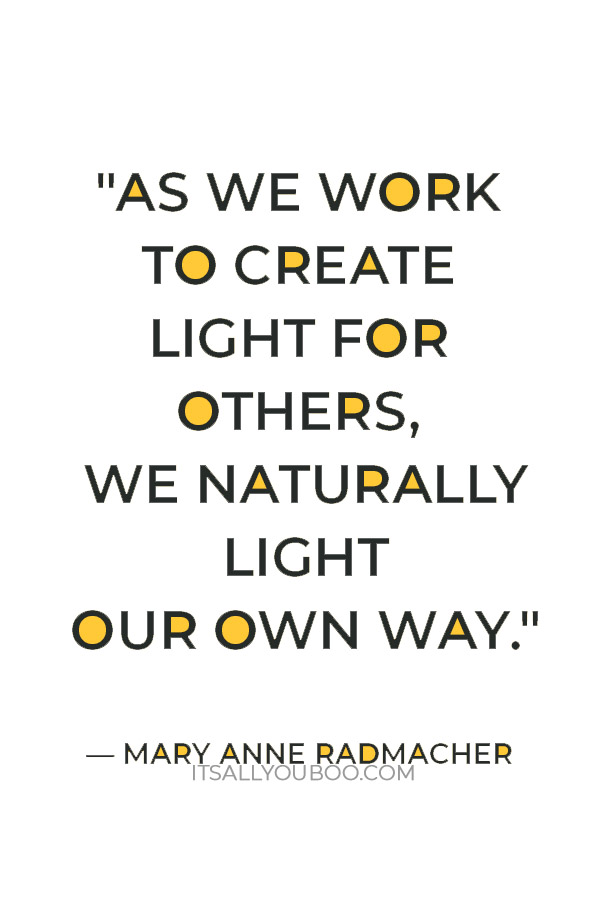 #11.
Sponsor a Sports Team
From uniforms to team dinners, equipment to travel expenses, sports teams can always benefit from extra funds. As a company, vote on your favorite sport and find a team from your town that needs a little extra help.
Whenever the team has a game day, encourage your employees to attend, even if the competition is during work hours. A bonus? You might get your company name on the team jersey, which is great publicity!
#12.
Organize a Community Clean-Up
Whether it's a local park or a town beach, everyone has a place in their community that needs a little extra love. By enlisting the help of your employees or co-workers you can organize a community clean-up and create positive change for both your town and the environment.
Pick a meeting point in your town for everyone to gather to pick up trash, pull weeds, plant flowers, paint benches, and more. A community clean-up is guaranteed to be a team-building exercise your company never forgets!
How to Give Back to the Community During Holidays
When we think about the joy of giving during the holiday season, it usually involves finding the perfect gift to share with loved ones. But there are so many ways to give during the holiday season, especially to the ones who are less fortunate than ourselves. Here are a few ways you can spread some holiday cheer this month.
#13.
Donate Old Coats
While the holidays may be the most wonderful time of the year for some, they can always be the coldest. As temperatures plummet this winter, life gets even more difficult for people living on the streets. Oftentimes people without a roof over their heads need to make the impossible choice between using their funds for food or warmth.
If you have a gently-used coat that doesn't fit or that you no longer need, consider donating it to organizations such as One Warm Coat or Operation Warm. This donation could potentially make a life-changing difference to someone in need.
👉🏽  RELATED POST: How to Clean Out Your Closet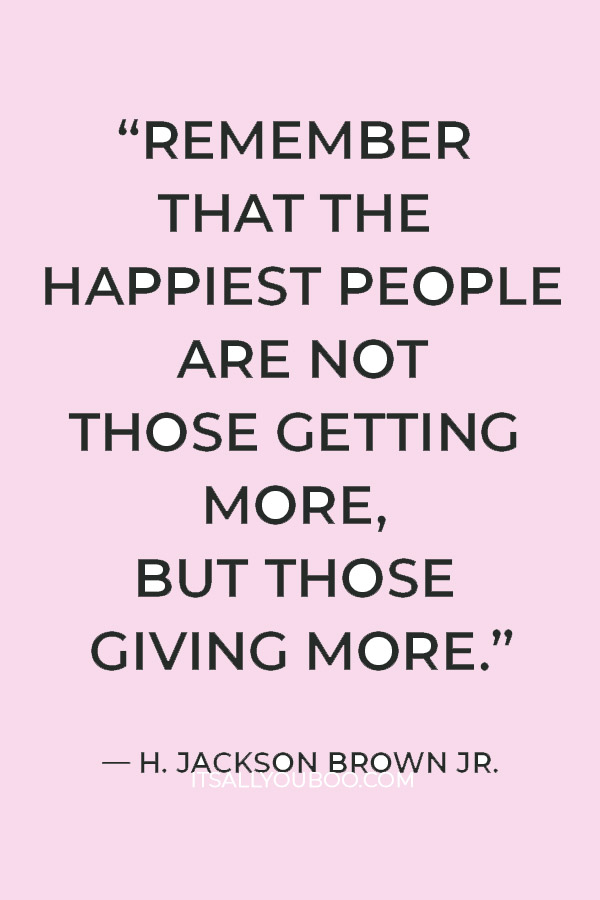 #14.
Write Holiday Cards for Senior Citizens
The holiday season can be a particularly lonely time for many, especially for senior citizens who are isolated in nursing homes. Even if you are not allowed to pay an in-person visit to a facility in your town, dropping off a stack of holiday cards is another way to spread joy. It may be a small gesture, but it will certainly mean a lot to the recipients.
If you want to take it up a notch, organize a holiday card-making party for your family and friends. Set out card-making supplies such as construction paper, markers, scissors, and stickers, and let your guests put their festive spin on each card.
Inside each card include words of hope and encouragement. You'll have a blast making the cards and are sure to put a smile on someone's face. After all, who doesn't feel a spark of excitement when receiving a handwritten letter?
#15.
Visit a Children's Hospital
Sometimes the best gift you could ever give is company and companionship. If you have any time off this holiday season, spend a day at a children's hospital reading stories, singing Christmas songs, sharing meaningful Christmas quotes, making crafts, or simply spending time with the children. For many of the kids, it will feel like Christmas came early this year.
Before you make your visit, be sure to call ahead and check whether or not the hospital or facility is welcoming in-person visitors.
👉🏽  RELATED POST: Thank You Quotes for Doctors
#16.
Run a Holiday Food Drive
During the holiday season, food banks and pantries across the country help millions of families put meals on the table. One creative way to give back to your community this year is by running a holiday food drive. This is an especially great alternative if you are not able to help out at your local soup kitchen this year.
Before getting your friends and family involved, contact your local food bank and learn about any rules or restrictions that they have regarding food that they accept.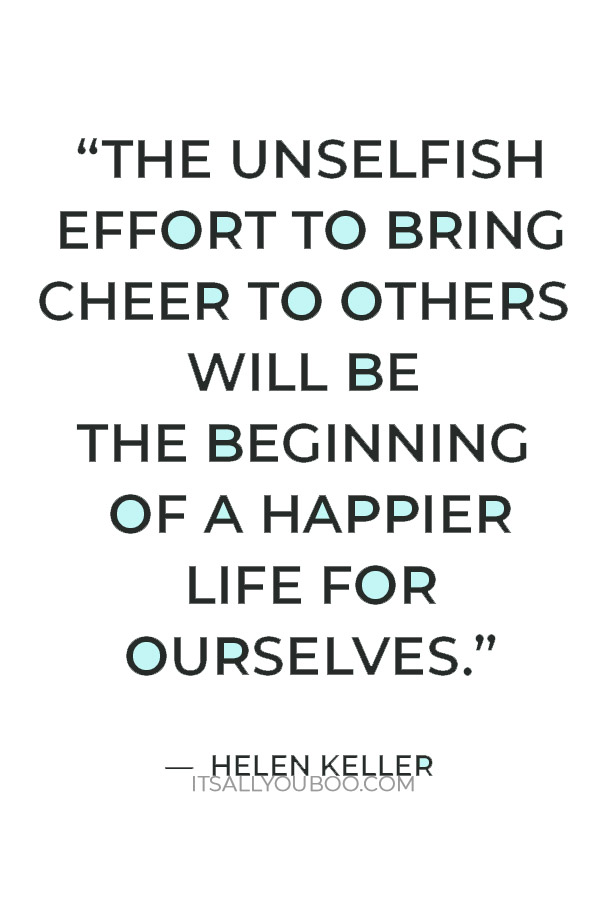 #17.
Support Local Businesses
Rather than ordering all of your presents from Amazon this year, turn your holiday shopping into a force for social change by buying locally. It's no surprise that local businesses have been struggling to stay afloat more than ever over the last couple of years. Your purchases could mean the difference between a boss keeping employees on payroll for the season.
Keep in mind, most small businesses do not have the workforce to complete orders with the same efficiency as conglomerates like Amazon. Many stores also do not have the funds to offer perks to their customers such as free shipping. Show a little patience this holiday season and cut retailers a break – they are doing the best that they can.
#18.
Gift a National Park Membership
If you have a friend or family member who loves traveling and spending time outdoors, gift them a National Park Membership this year. For only $80, a National Park Annual Pass allows the user unlimited access to over 2,000 spectacular parks, historic sites, and beautiful beaches all across the country.
The best part? The pass covers an entire car, which includes the owner and up to three adults.
Children 15 years and under can visit for free. Whether you are giving this gift to a nature-loving couple, or an adventurous family, this gift is guaranteed to generate a lot of lifelong memories.
#19.
Knit a Blanket
Is knitting your hobby of choice? If you were planning on knitting up some scarfs or hats for your family this year, consider making some blankets, as well. Women's shelters, fire stations, hospitals, and daycares across the United States are frequently looking for blankets to keep their residents warm in the winter.
Reach out to organizations in your town that might need supplies. Project Linus and Binky Patrol are two non-profits that can help gift your cozy coverings to those in need.
 👉🏽  RELATED POST: Appreciation Quotes for Teachers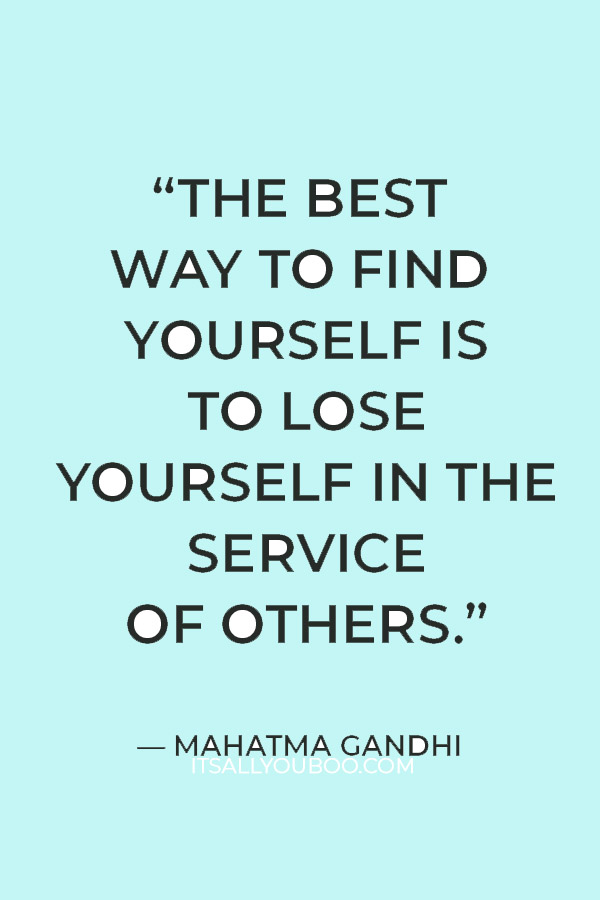 #20.
Adopt a Pet
Tis' the season to welcome a pet into your family! With everyone on vacation from school and work, there's no better time to train and get to know your new furry friend. Also, who hasn't dreamed of a cute little kitten peeking out a stocking on Christmas morning?
Instead of choosing to purchase a pricey purebred, strongly consider adopting a cat or dog from your local animal shelter. Adopting not only saves the life of one animal, but it also makes more room in the facility to welcome other animals.
More Ways to Give Back for Everyone
#21.
Donate Blood
Right now, the American Red Cross is facing the lowest supply of blood donations in over 10 years. Blood donations are crucial in helping patients in need of surgery, cancer treatment, or those suffering from traumatic injuries.
Unfortunately, only 37% of the United States population can donate blood. If you are one of those select few, your services are needed more than ever before. By just giving thirty minutes of your time, your donation can save up to three lives. If your community does not have a blood drive nearby, consider setting one up yourself!
#22.
Grant a Wish
The Make-A-Wish Foundation grants children with fatal illnesses their greatest wish. As a volunteer, you can work with the foundation to donate airline miles, hotel points, monetary funds, or volunteer for the Adopt-A-Wish program.
#23.
Donate Your Hair
If you have long locks, consider chopping off your hair and donating it to a good cause. Organizations such as Locks of Love and Wigs for Kids use hair donations to help create wigs for individuals grappling with alopecia, cancer, genetic conditions, or severe burns.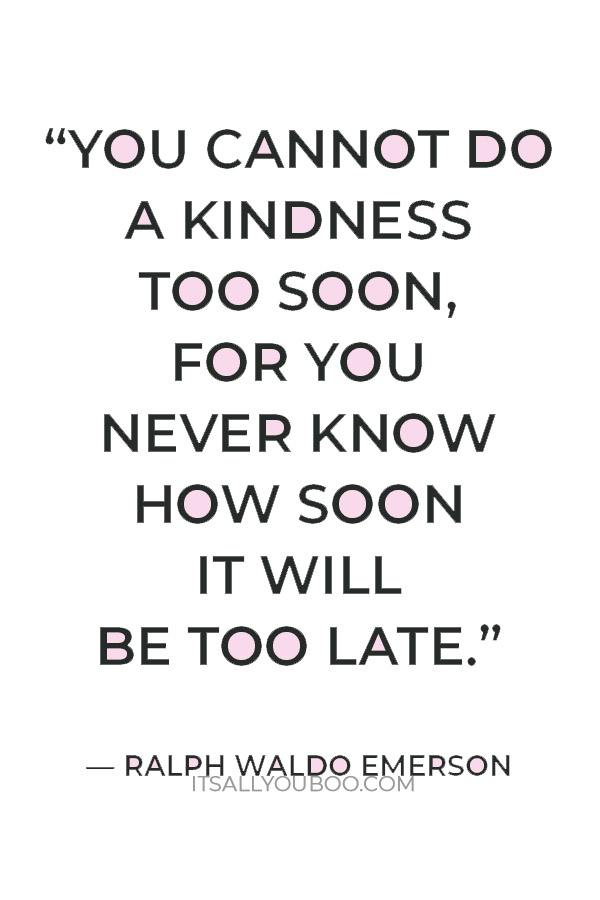 #24.
Perform a Random Act of Kindness
Giving back to your community doesn't need to be expensive or time-consuming. Performing a small random act of kindness is a great way to make someone's day and put a smile on their face.
Whether you bake a batch of cookies for your local hospital, help an elderly neighbor do some heavy lifting around the house, or volunteer at an animal shelter, there are so many little and creative ways to give back to your community.
#25.
Spread the Word
If you choose to give back to your community this holiday season or next year, document your experience and share it on social media. You might just inspire someone else in your community to give back, too!
GIve Back By Saying Thank You
You can give back to your community by saying thank you to local doctors, nurses, healthcare, and front-line workers. Even local teachers, shop workers, clerks, paramedics, and anyone who has helped to keep you safe would love a thank you.
Printable Thank You Card Quotes
Looking for printable thank you card quotes? A printable thank you quote is a perfect gift for expressing your gratitude! Use them to create a handmade card or frame for a gift they'll remember.
This download comes with 10 high-resolution black & white quotes ready to be printed.
Giving back not only is the right thing to do, but it makes you feel good. It doesn't take much to share kindness, appreciation, and hope with others.
Wake up tomorrow, ready and open to giving back to others.
Wondering, how can I give back to the community without money? Click here for 25 creative ways to give back to your community, including tips for students, businesses, and during the holidays. #GiveBack #Volunteer #Communtiy

How do you give back to the community?
---
Last Updated on March 26, 2022
✕
Get Your Thank You Quotes
+ get weekly tips to help you slay your goals.