Are you looking for unique New Year's Resolution ideas? Want the ultimate New Year's Resolution list for 2023?
As the New Year approaches, we all start thinking about the lives we wish we had. And 2023 has left many of us feeling lost and disappointed in ways we've never experienced before. More than ever we need to move forward into the bright and shiny new year!
Thinking about things we'd like to change and the steps we'd like to take toward living our best life.
Your first step to making 2023 your best year yet, is to choose the right New Year's Resolution for you!
Table of Contents:
There are ten areas of your life that you can focus on in 2023:
But where do you start? How do you set a New Year's resolution that matters?
You could choose one of the most common New Year's Resolutions, like eating healthier, getting fit for the new year, and saving more money.
I encourage you to go deeper and set a unique New Year's Resolution for yourself!
With ten possible areas of your life to focus on next year, you have the chance to choose a new year's goal that's just right for you! That actually matters and gets to the heart of what you want most.
Here are over 100 unique New Year's resolution ideas for every area of your life to help you achieve your dream and goals this year! It's the perfect way to start preparing for a successful new year.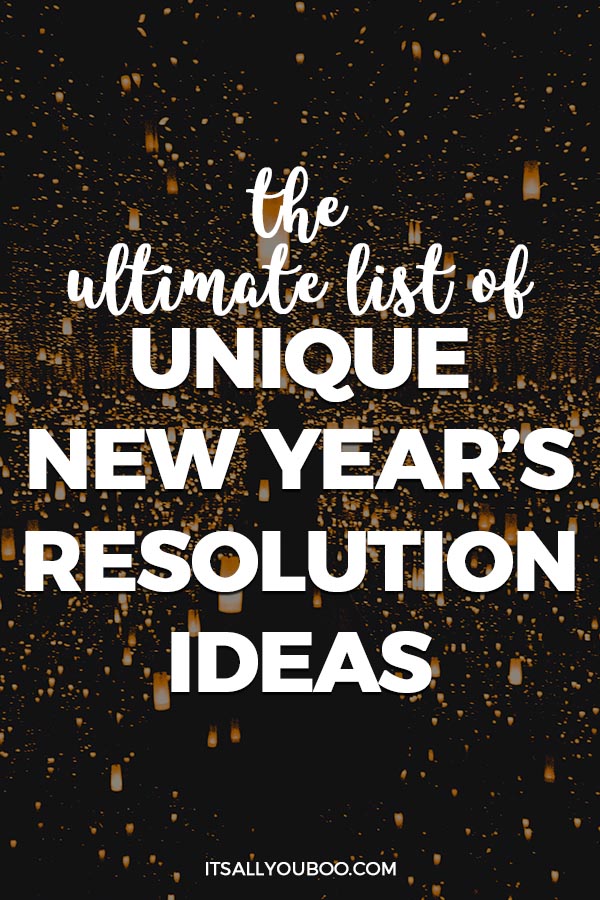 #1.

Your Physical Life

:
New Year's Resolution Ideas for Your Body and Overall Physical Health
How's your health and how you are feeling physically? Have you been making healthy lifestyle excuses?
To focus on your body and physical health in 2023, consider New Year's Resolution ideas that address what you eat and drink, your sleeping habits, the physical activities you do, your level of fitness, and how well you care for your body and your health. You can reach your health and fitness goals this year!
👉🏽 RELATED POST: Healthy Habits List: 10 Small Changes with Big Results
Here's a New Year's Resolution list for improving your physical life:
Detox or cleanse your body from sugars and toxins
Pack healthy lunches and eat out less
Drink more water and stay hydrated
Reduce your caffeine
Replace unhealthy eating habits with better ones
Get more rest or improve your sleeping habits
Start doing yoga at a local studio or online
Take dance, martial arts, or physical activity classes
Get a personal trainer or a workout buddy
Practice Tai Chi, Qigong Meditation, or another relaxing practice
Develop a sacred self-care ritual for yourself
Improve flexibility by stretching daily
Take time for deep breathing exercises every day
Diagnose an allergy by doing an elimination diet
Train for a half-marathon, spartan run, iron man, or triathlon
Start exercising for at least 30 minutes every day
Quit smoking or drink less alcohol
#2.

Your Emotional Life

:
New Year's Resolution Ideas for Your Emotions and Feelings
Do your emotions drive or drown you? How's your emotional wellness?
To focus on your emotions and feelings in 2023, think of unique New Year's Resolution ideas that address your emotional maturity and awareness, how you embrace or ignore your emotions, and how these emotions affect your behavior.
👉🏽 RELATED POST: 40 Inspirational New Year's Resolution Quotes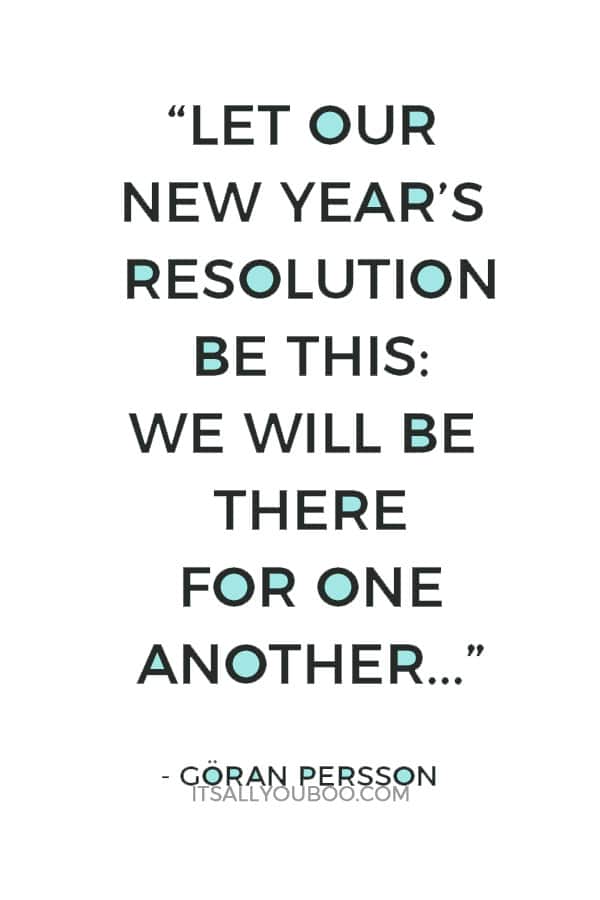 Here's a New Year's Resolution list for improving your emotional life:
Be more open to feeling and expressing your emotions to those in your life
Gain the courage to finally face your fears
Let go of whatever is holding you back from living your life to the fullest
Confront your past by cleaning out the skeletons
Start seeing a therapist to work through your emotions
Learn new stress management or coping techniques
Seek professional help for your panic and anxiety attacks
Be brave and start leaving your comfort zone by trying new things
Learn to express emotions appropriately and improve interpersonal skills
Surround yourself with a positive support system
Join an emotional support group at your church, school, workplace, or community
Increase your emotional intelligence (EQ), i.e. your empathy, impulses, how you express emotions, and so on. Take the EQ Test here.

#3.

Your Mental Life

:
New Year's Resolution Ideas for Your Mind, Memory, and Thought Life
How's your mind and mental life right now? Is your mind clear and focused, or chaotic and scattered?
To focus on your mind, memory, and thought life in 2023, consider these unique New Year's Resolution ideas for your internal thought life, from the nature of thoughts and how you process information to your mental capacity, problem-solving abilities, and the engagement of your mind.
Here's a New Year's Resolution list for improving your mental life:
👉🏽 RELATED POST: Activities to Improve Your Mental Health
#4.

Your Educational Life

:
New Year's Resolution Ideas for Your Knowledge and Learning
Are you still learning new things? Do you feel engaged and like you're still growing?
In order to focus on your educational life in 2023, consider these New Year's Resolution ideas for continuing your learning and expanding your knowledge, from formal institutions, online courses, reading books, or even from on-the-job or real-world experience.
👉🏽 RELATED POST: New Year's Resolutions for College Students
Here's a New Year's Resolution list for improving your educational life:
Take an online course in a subject that interests you
Upgrade your employable skills through training or mentorship
Learn a new language with Duolingo or taking a class
Join a study or mastermind group in your field
Improve your artistic skill by learning to paint, draw or sculpt
Develop your financial literacy through reading or training
Reach out on LinkedIn and set up discover interviews with professionals in a field that interests you
Seek out and hire a mentor or get a professional coach
Read the best personal development books
Go to night school and take a continuing education course
Improve your GPA and class averages
Join Toastmasters and improve speaking skills
Start using the Pomodoro Technique for studying
Find an internship or volunteer learning position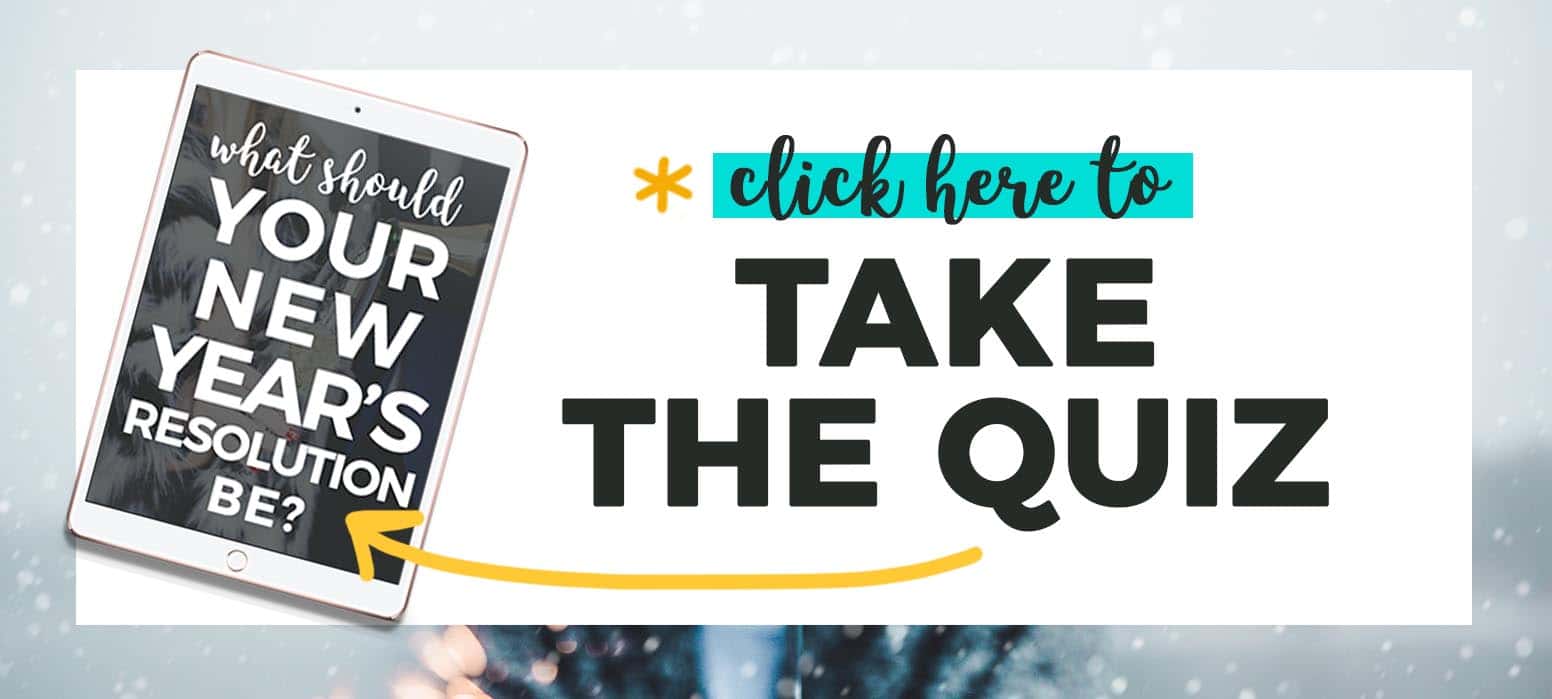 #5.

Your Experiential Life

:
New Year's Resolution Ideas for Your Experiences from Every Day to the Extraordinary
What have you always wanted to do? How can you improve your everyday life?
Consider that life is all about experiences, good, boring, or bad, from amazing adventures, traumatic events, and even the day-to-day. Do you have a bucket list? What have you always wanted and wished you could do? Adventure and opportunity await you with every new day.
Here's a New Year's Resolution list for improving your experiential life:
Take basic or wildness survival skills training near you
Learn how to DIY or make your own anything (crafts, furniture, baked goods, clothing etc.)
Get off the sofa and do more things just for the fun of it
Travel more or less by plane, car, train, boat, or bus
Develop a better morning, daily or nightly routine
Read a new book every week or month
Adopt or rescue a pet from a local or international shelter
Find a hobby that interests you and brings you joy
Spend more time doing what you love
Go on a solo travel trip to somewhere you've always wanted
Declutter your living space or embrace the minimalist lifestyle
Go to more concerts, festivals, or events
👉🏽 RELATED POST: Why You Need to Review Your Year
#6. Your Professional Life:
New Year's Resolution Ideas for Your Career, Job, Position, and Livelihood
Is your career stagnant? What's the next move you can take or have always wanted to take? Can you afford to quit your job?
Consider whether you're valued and appreciated at work if you're accomplishing your professional goals, the quality of your work environment, and the opportunities available to you.
👉🏽 RELATED POST: How to Write New Year's Resolutions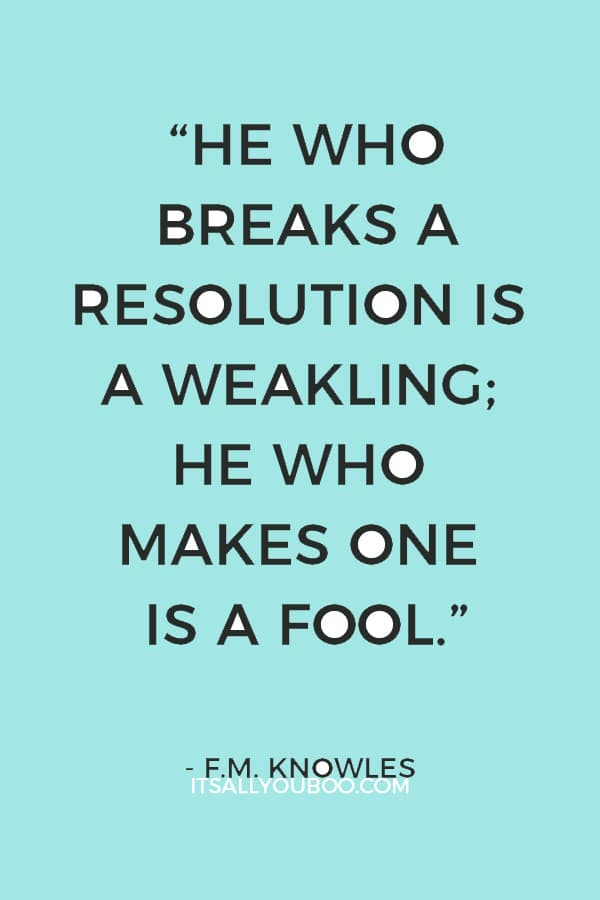 Here's a New Year's Resolution list for improving your professional life:
There are so many ways to improve your professional life that doesn't cost anything as well. Reach out, make connections, and start networking.
Plus, to improve your skills, most employers provide skill training either in-house or through accreditation at local colleges or universities, you won't know unless you ask.
It's your career if you're unhappy that the initiative to improve your job prospects.
#7.

Your Financial Life

:
New Year's Resolution Ideas for Your Money, Wealth, and Financial Habits
What does your spending say about you? What do you need to earn or save to reach your financial goals?
Consider not just how much you're worth or have in the bank, but also your possessions as they're tied to your finances and can be assets or liabilities to your bottom line.
Here's a New Year's Resolution list for improving your financial life:
Create a budget for your spending and stick to it
Learn to live on less and start spending more frugally
Put your credit cards on ice and start using cash only
Save for your emergency fund (3-6 months of income)
Improve your credit score by building up your credit
Repay or refinance your student loans
Consolidate or refinance your high-interest loans
Speak to a financial advisor
Manage your money from your side-job better
Plan and start saving for retirement
Take a financial literacy course
Cut household expenses and stop spending
Open a Tax Free Savings Account or Mutual Fund
Clear your credit card debt
Increase your assets and reduce your liabilities
Learn about the stock market and invest
Pay off your car payments
Buy a home or investment property
Donate to a worthy cause you care about

#8.

Your Communal Life

:
New Year's Resolution Ideas for You in Relation to Your Community
Where do you belong? How can you get involved? How can you get to know your community better?
Consider that your community is whatever you would define it as, it can be your city, neighborhood, school, or place of work. It can also be online or in-person. You've got to start putting yourself out there more!
Here's a New Year's Resolution list for improving your communal life:
Join online communities that interest you
Sign up for Meet Up and attend more events
Participate in local community events
Socialize with your community members or neighbors more
Start a community project
Found or join a community organization
Join a social committee at your school, work, or place of worship
Run for local government or support a local candidate
Work or volunteer at local elections offices
Support or fundraise for local food banks
Volunteer at your local soup kitchen
Organize donations for local charities or shelter
Participate in neighborhood clean-up or adopt a road project
Volunteer to be a crossing guard or join a neighborhood watch
#9.

Your Relational Life

:
New Year's Resolution Ideas for Your Relationships with Others
Is there a type of relationship you hope to develop?
Consider the quality of your relationships with family, friends, partners, and colleagues, as well as how you can improve or invest in them. There are countless unique new year's resolutions that develop your connection to others.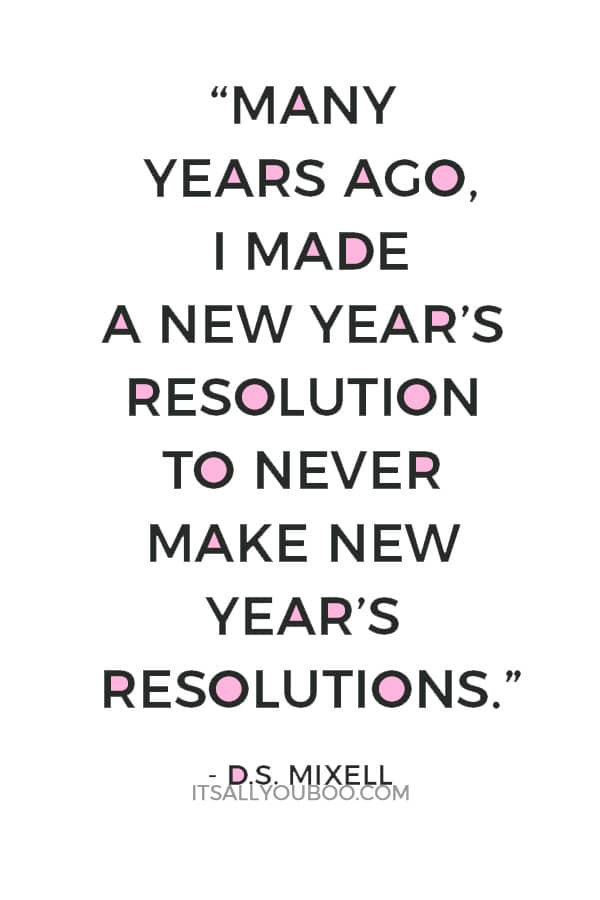 Here's a New Year's Resolution list for improving your relational life:
Disconnect from online and unplug more
Start putting gadgets away when with friends and family
Tell someone that you love or care for them
Start having regular date nights with your partner
Have more "no kids" time to reconnect
Call, Skype, Zoom, or FaceTime your relatives more often
Go home and visit your parents/grandparents
Schedule regular dates with those close to you
Invest more time in your relationships
Reconnect with lost friends and broken relationships
End toxic or negative relationships
Build a supportive entourage or squad
Find a new pen-pal or foreign correspondent
Start dating more and find a significant other
👉🏽

 RELATED POST: How to Choose the Right New Year's Resolution
#10.

Your Spiritual Life:
New Year's Resolution Ideas for Your Connection to Something Greater
How can you deepen this connection? Are you at peace? Do you need to become more spiritual?
Consider that something greater is defined as you see it: God, heaven, the universe, cosmic energy, the environment, mother nature, and so on. It's however, you see yourself inside or in relation to something greater.
Here's a New Year's Resolution list for improving your spiritual life:
Join or return to your spiritual community
Join a prayer or meditation group
Add regular prayer/meditation time to your daily routine
Fast or give up pleasures for a time
Learn to meditate and start a daily meditation practice
Frequent a place of worship
Serve or volunteer more in your religious community
Read religious texts more often
Grow your understanding through books, videos, or podcasts
Find a spiritual guide, leader, or mentor
Become a more active member of your spiritual community
Reconnect with nature and the outdoors
Find inner peace and happiness
Achieve balance and harmony with nature
What Should My New Year's Resolution Be?
So many New Year's Resolution ideas for 2023, how do you choose?
Take the New Year's Resolution Quiz to discover what area of your life you should focus on.
So, what unique new year's resolution will you set?
How will you change your life for the better in the new year?
Here's a pro tip: don't just set a new year's resolution on January 1st, but wake up every day and recommit yourself. That's one of the easiest ways to keep your resolution all year long.
Think about one way you can live your resolution every day.
Want the ultimate New Year's Resolution list for 2023? Click here for over 100 unique New Year's Resolutions Ideas for every area of your life. #NewYear2023 #NewYearGoals #NewYears

What's your unique New Year's Resolution idea for 2023?
Last Updated on November 27, 2022
✕
Take the New Year's Quiz!
+ get weekly tips to help you slay your goals.