Looking for meaningful Christmas quotes? Want inspirational Christmas quotes and sayings for a card?
You may find yourself wondering, what is the real reason for Christmas? What is the true significance of December 25th?
With so much emphasis on presents and decorations, it's easy to forget the meaning of Christmas. Surely there is more to it than twinkle lights and Christmas trees.
Somehow in the craziness of the holiday season, we can lose sight of the reason for the season.
Whether religious or traditional, if it's about the birth of Jesus or spending time with your loved ones, there is a deeper meaning to Christmas for you. Don't forget that.
Holding tight to this personal reason of what Christmas is about for you, is so important especially given all that's happened in the last few years. I know it is for me.
Christmas means faith, family, love, and spending time with those who mean the most to me. What makes this day so meaningful for you?
To get you into the Christmas spirit, here are 65 Meaningful Christmas quotes and inspirational sayings. They're short, cute and the best to get you thinking about what December 25th means to you.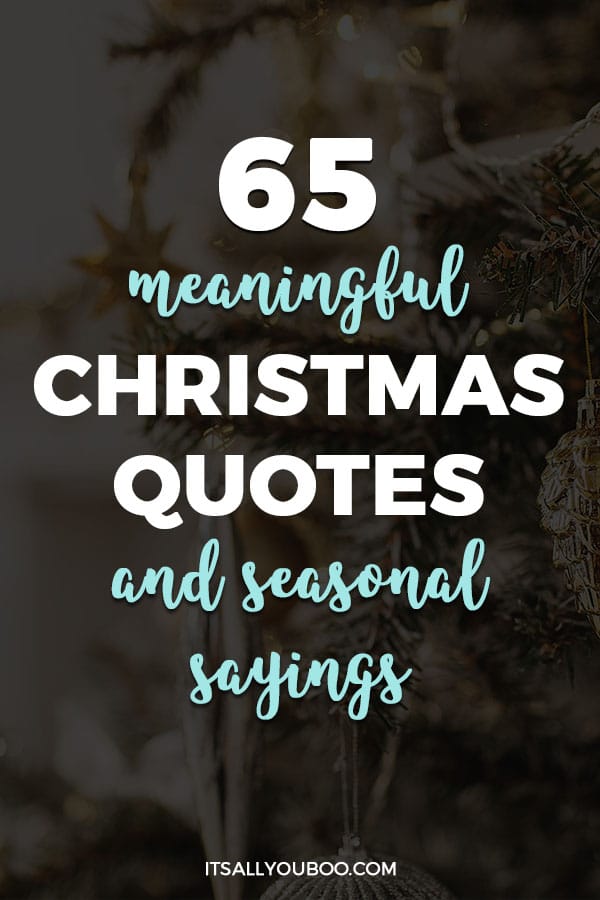 The Spirit of Christmas Quotes
What is the meaning of Christmas? What's the spirit of the season? This first collection of meaningful Christmas quotes defines the spirit of Christmas. Is it a season? A celebration? Or is there something more to what Christmas is all about?
1. "Christmas is the day that holds all time together." ― Alexander Smith
"Christmas is a season not only of rejoicing but of reflection." ― Winston Churchill
3. "Christmas is not a time nor a season, but a state of mind. To cherish peace and goodwill, to be plenteous in mercy, is to have the real spirit of Christmas." ― Calvin Coolidge
👉🏽  RELATED POST: 100 End of Year Reflection Questions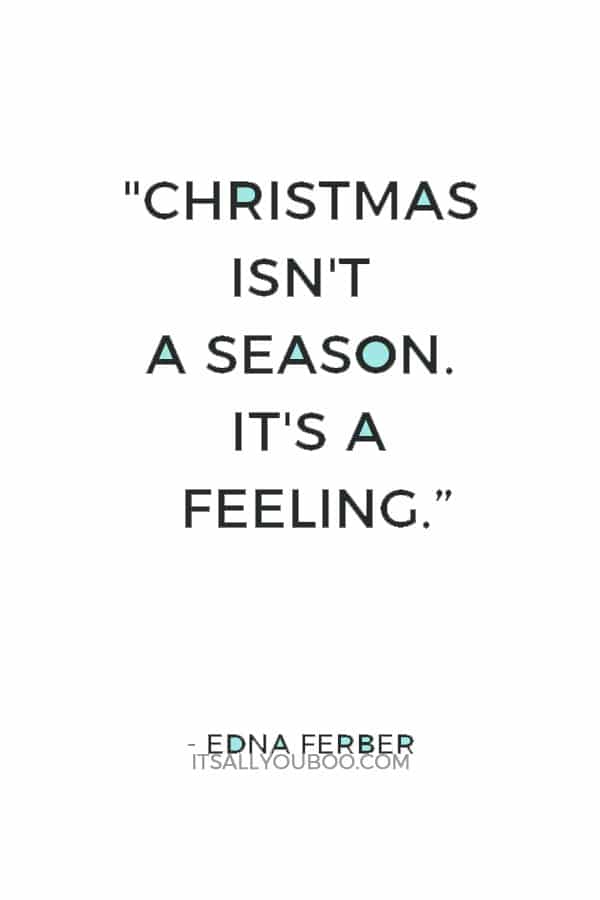 4. "Christmas isn't a season. It's a feeling." ― Edna Ferber
5. "Christmas gives us an opportunity to pause and reflect on the important things around us." ― David Cameron
"What is Christmas? It is the tenderness of the past, courage for the present, and hope for the future." ― Agnes M. Pahro
7. "Christmas is a necessity. There has to be at least one day of the year to remind us that we're here for something else besides ourselves." ― Eric Severeid
Inspirational Quotes About Joy and Cheer
What makes Christmas such a joyous time? What's your favorite Christmas carol to sing? The following meaningful Christmas quotes are all about the cheerfulness of the season. From caroling in the streets to rocking around the Christmas tree, there is so much happiness at Christmas time.
8. "Christmas! The very word brings joy to our hearts." ― Joan Winmill Brown
"At Christmas, play and make good cheer, for Christmas comes but once a year." ― Thomas Tusser
👉🏽  RELATED POST: New Year Quotes for Friends and Family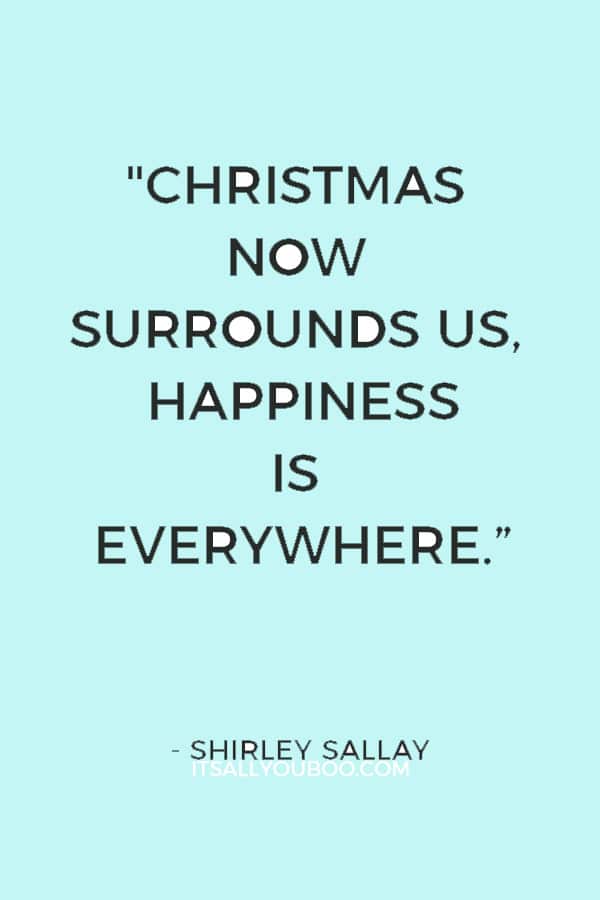 10. "Christmas now surrounds us, Happiness is everywhere. Our hands are busy with many tasks as carols fill the air." ― Shirley Sallay
11. "Christmas Eve was a night of song that wrapped itself about you like a shawl. But it warmed more than your body. It warmed your heart…filled it, too, with melody that would last forever." ― Bess Streeter Aldrich
"God put Santa Claus on earth to remind us that Christmas is 'sposed to be a happy time." ― Bil Keane
13. "I truly believe that if we keep telling the Christmas story, singing the Christmas songs, and living the Christmas spirit, we can bring joy and happiness and peace to this world." ― Norman Vincent Peale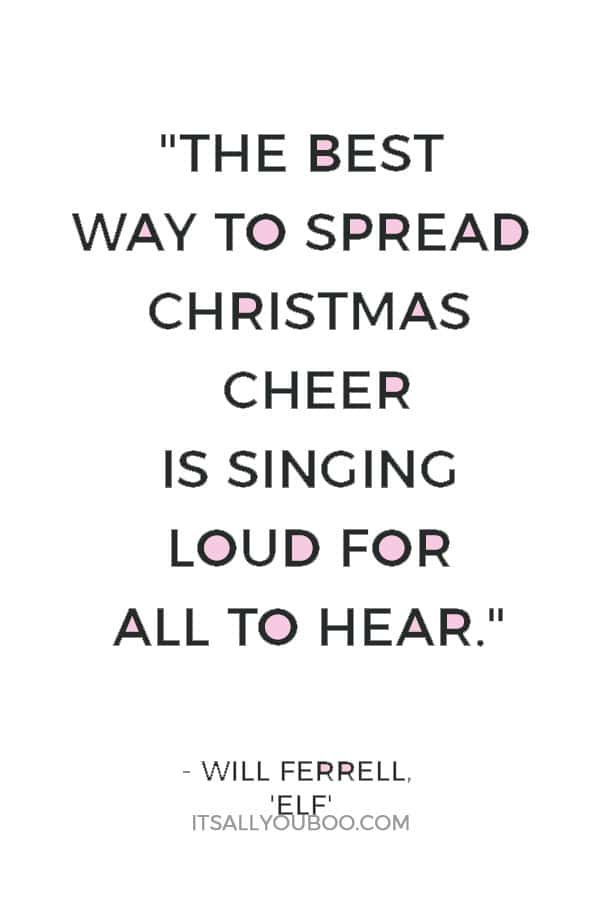 14. "The best way to spread Christmas cheer is singing loud for all to hear." ― Will Ferrell, 'Elf'
"Let us have music for Christmas… Sound the trumpet of joy and rebirth; Let each of us try, with a song in our hearts, To bring peace to men on earth." ― Mildred L. Jarrell
16. "I heard the bells on Christmas Day. Their old, familiar carols play, And wild and sweet. The words repeat Of peace on earth, good-will to men!" ― Henry Wadsworth Longfellow

Meaningful Christmas Quotes About Love
How do you share Christmas? How do you celebrate it with those you care about? This collection of meaningful Christmas quotes is all about love. Christmas isn't just about receiving, it's about giving. Not just presents and gifts, but giving your love and time. How will you share the love this Christmas?
17. "Christmas, my child, is love in action. Every time we love, every time we give, it's Christmas." ― Dale Evans Rogers
👉🏽  RELATED POST: 100 Cozy Winter Quotes and Sayings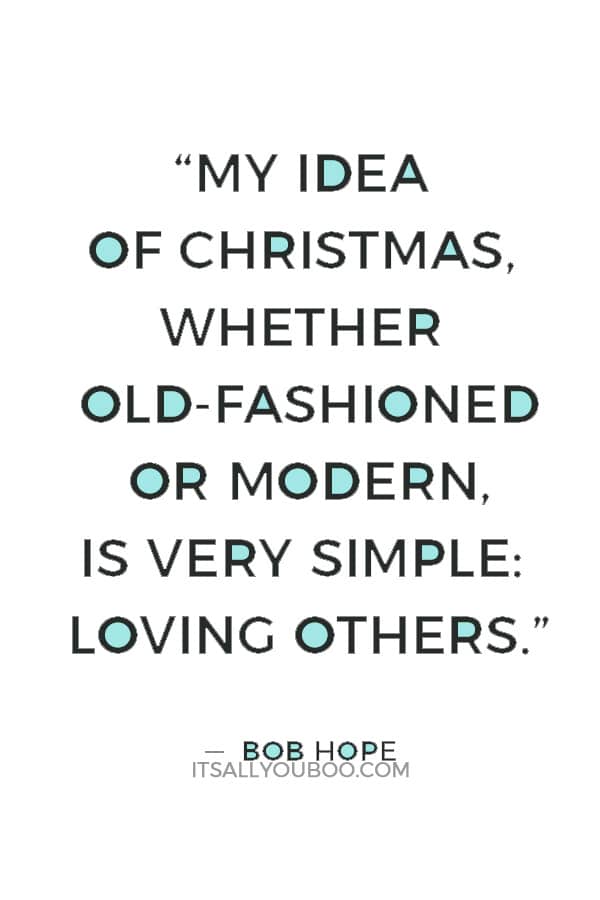 18. "My idea of Christmas, whether old-fashioned or modern, is very simple: loving others. Come to think of it, why do we have to wait for Christmas to do that?" ― Bob Hope
19. "Remember this December, that love weighs more than gold." ― Josephine Daskam Bacon
"Blessed is the season which engages the whole world in a conspiracy of love." ― Hamilton Wright Mabie
21. "Christmas is a season for kindling the fire for hospitality in the hall, the genial flame of charity in the heart." ― Washington Irving
👉🏽  RELATED POST: Thanksgiving Quotes for Friends and Family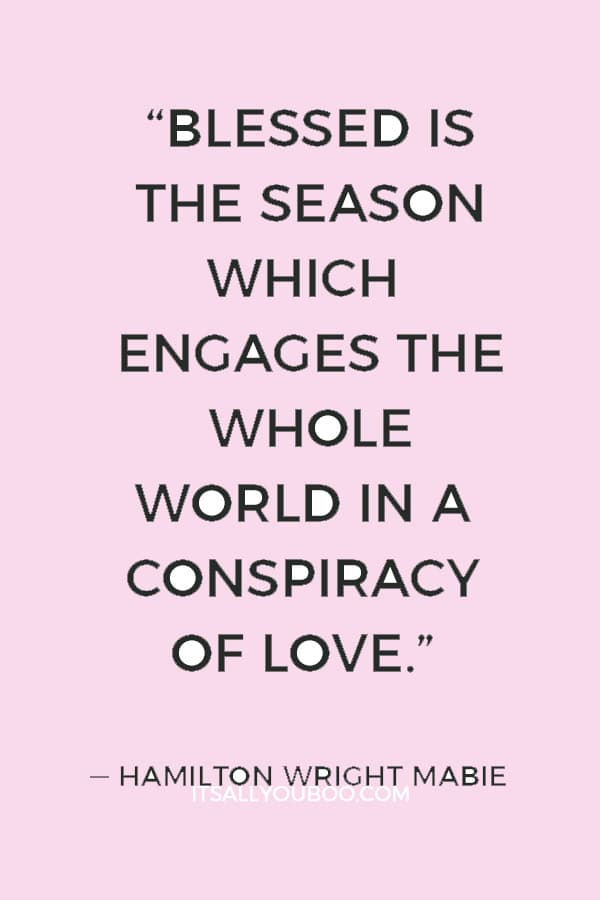 22. "Blessed is the season which engages the whole world in a conspiracy of love." ― Hamilton Wright Mabie
23. "Then the Grinch thought of something he hadn't before! What if Christmas, he thought, doesn't come from a store. What if Christmas…perhaps…means a little bit more!" ― Dr. Seuss, How the Grinch Stole Christmas!
Spirit of Christmas is Giving Quotes
Is Christmas the season of giving? What is the true spirit of the season? This collection of meaningful Christmas quotes and seasonal sayings shows us how we should spend Christmas. It's about giving, it's a season of spreading goodwill. And there are so many who are in need of your help. Open your heart to them!
24. "Christmas is built upon a beautiful and intentional paradox; that the birth of the homeless should be celebrated in every home." ― G.K. Chesterton
25. "Yet as I read the birth stories about Jesus I cannot help but conclude that though the world may be tilted toward the rich and powerful, God is tilted toward the underdog." ― Philip Yancey
👉🏽  RELATED POST: Being Thankful Quotes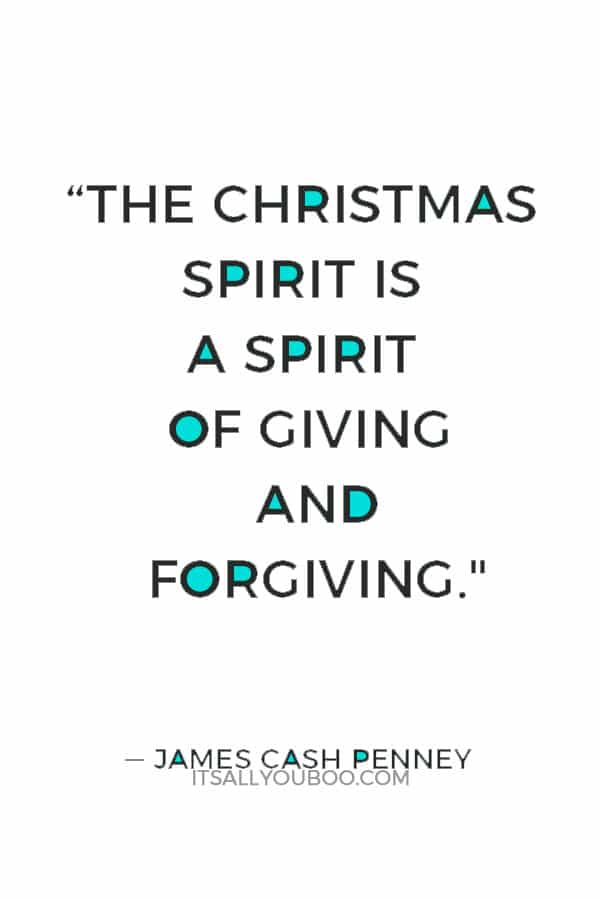 26. "The Christmas spirit is a spirit of giving and forgiving." ― James Cash Penney
"I don't think Christmas is necessarily about things. It's about being good to one another." ― Carrie Fisher
28. "Christmas is most truly Christmas when we celebrate it by giving the light of love to those who need it most." ― Ruth Carter Stapleton
29. "Christmas is a tonic for our souls. It moves us to think of others rather than of ourselves. It directs our thoughts to giving." ― B.C. Forbes
30. "And that, of course, is the message of Christmas. We are never alone. Not when the night is darkest, the wind coldest, the world seemingly most indifferent…" ― Taylor Caldwell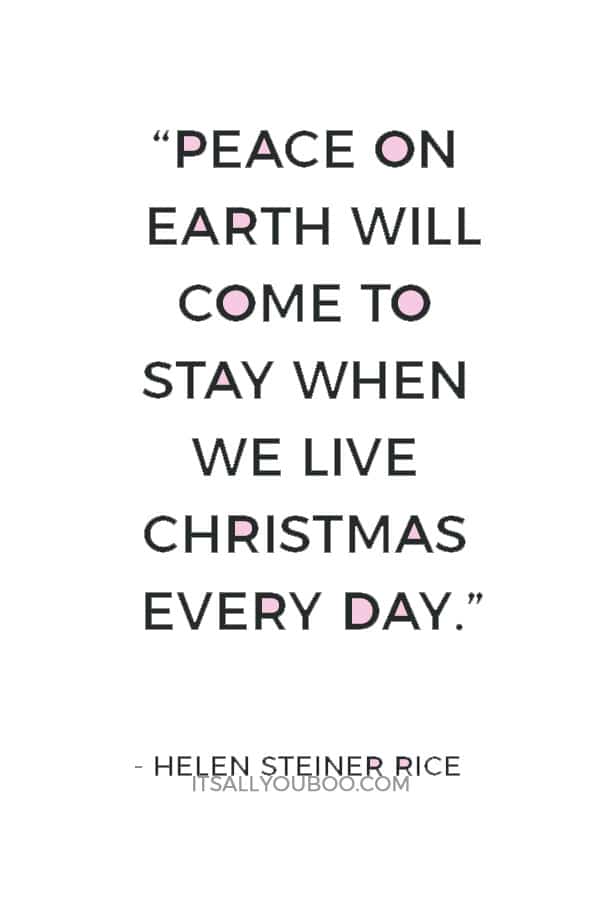 31. "Peace on earth will come to stay when we live Christmas every day." ― Helen Steiner Rice
32. "Unless we make Christmas an occasion to share our blessings, all the snow in Alaska won't make it white." ― Bing Crosby
"Christmas is doing a little something extra for someone." ― Charles M. Schulz
34. "Let us keep Christmas beautiful without a thought of greed." ― Ann Garnett Schultz
Christmas Throughout the Year Quotes
What if Christmas was for more than one day? What if we lived the spirit of Christmas daily? The following meaningful Christmas quotes inspire us to live a life of Christmas. To not just be our best, kindest selves only on December 25th, but every day of the year.
35. "As for me, I like to take my Christmas a little at a time, all through the year." ― David Grayson
👉🏽  RELATED POST: Hello November Quotes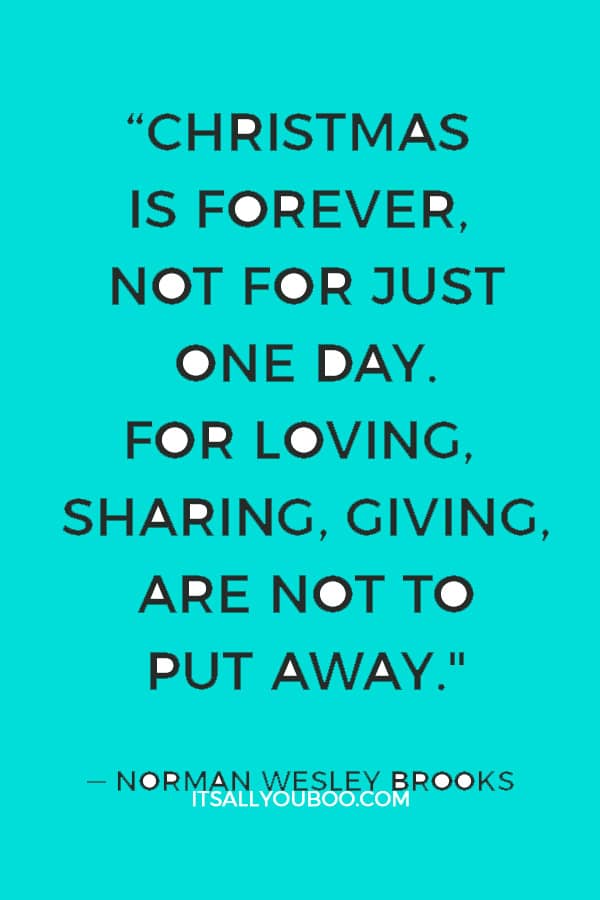 36. "Christmas is forever, not for just one day. For loving, sharing, giving, are not to put away." ― Norman Wesley Brooks
"A good conscience is a continual Christmas." ― Benjamin Franklin
38. "Peace on earth will come to stay, when we live Christmas every day." ― Helen Steiner Rice
"I will honor Christmas in my heart, and try to keep it all the year." ― Charles Dickens
40. "Christmas is like candy; it slowly melts in your mouth sweetening every taste bud, making you wish it could last forever." ― Richelle E. Goodrich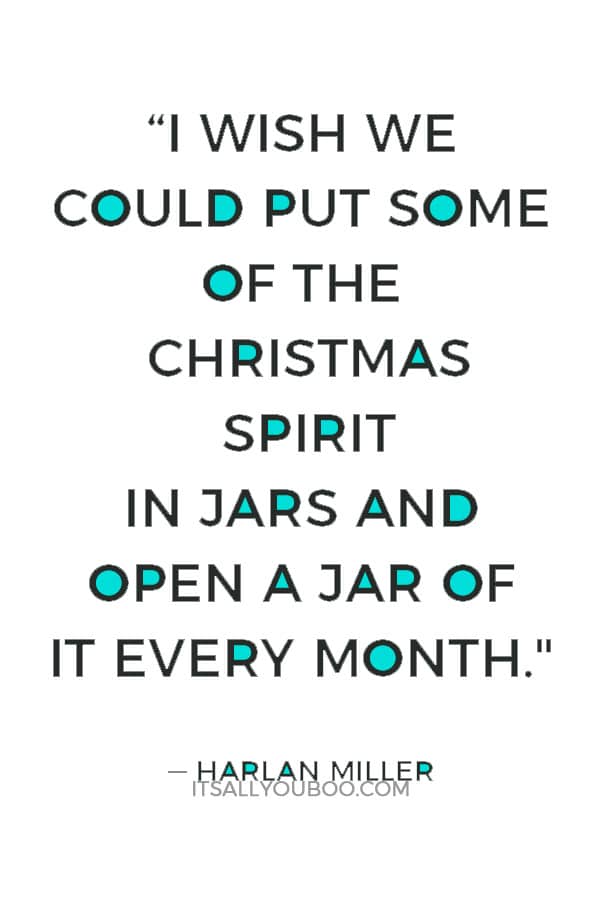 41. "I wish we could put some of the Christmas spirit in jars and open a jar of it every month." ― Harlan Miller
"The world has grown weary through the years, but at Christmas, it is young." ― Phillips Brooks
43. "A Christmas gambol oft could cheer the poor man's heart through half the year."― Walter Scott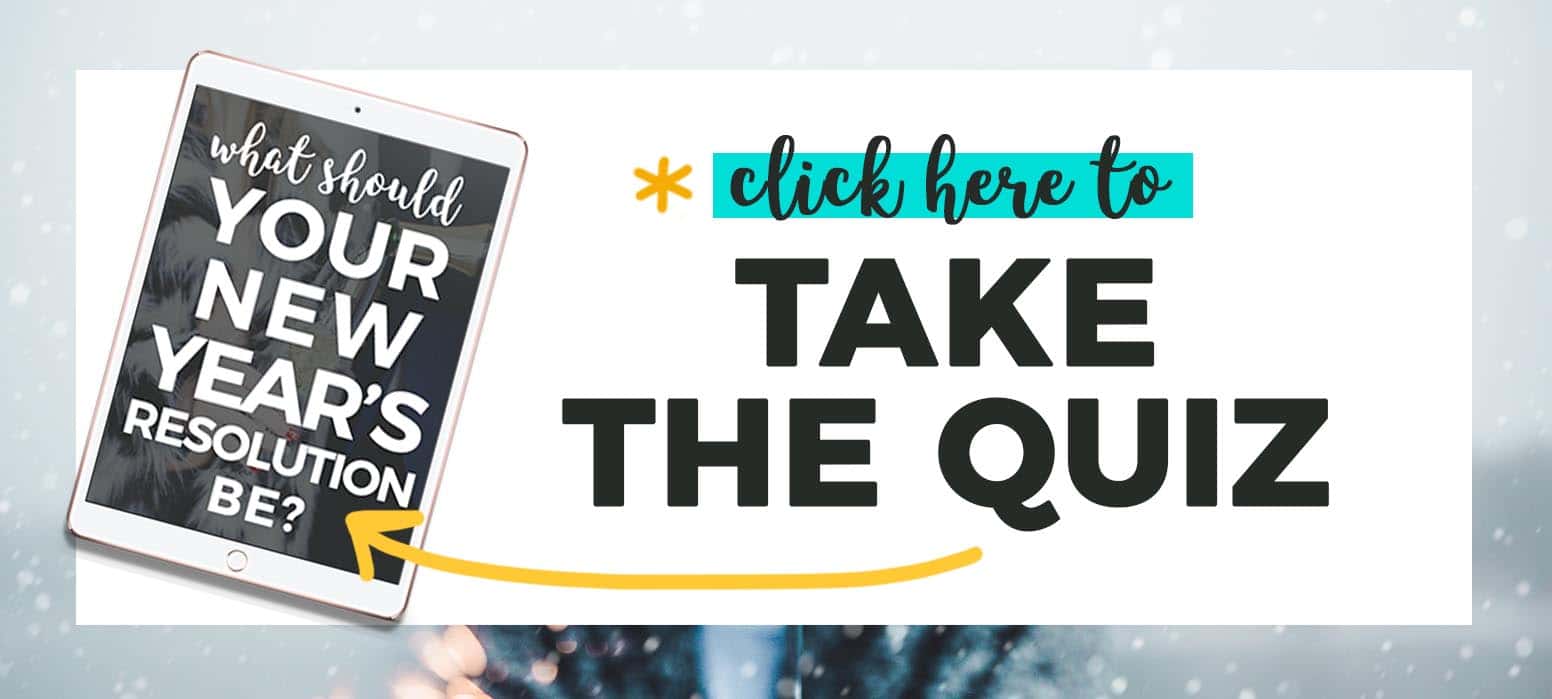 Spirit of Christmas in Our Hearts Sayings
How did you experience a meaningful Christmas? What does Christmas day feel like to you? This selection of inspirational Christmas quotes describes the feeling of the Christmas spirit in our hearts. It connects us all, from every corner of the globe together. Is it beginning to feel a lot like Christmas for you? It is for me.
44. "It is Christmas in the heart that puts Christmas in the air." ― W.T. Ellis
"Just remember, the true spirit of Christmas lies in your heart." ― The Polar Express
👉🏽  RELATED POST: Happy Easter Quotes and Spring Sayings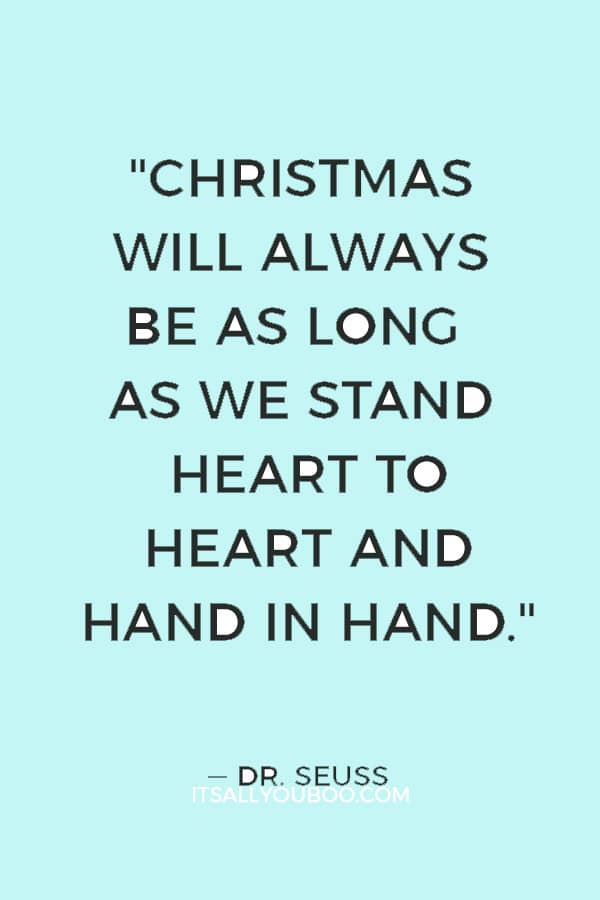 46. "Christmas will always be as long as we stand heart to heart and hand in hand." ― Dr. Seuss
47. "Mankind is a great, an immense family. This is proved by what we feel in our hearts at Christmas." ― Pope John XXIII
"Love the giver more than the gift." ― Brigham Young
49. "As long as we know in our hearts what Christmas ought to be, Christmas is." ― Eric Sevareid
Religious Christmas Quotes
What is the true meaning of Christmas? This selection of meaningful Christmas quotes is religious in nature, and reminds us of the celebration of Christ's birth. Will you find deeper meaning in the story of Jesus's birth and what it represents?
"God never gives someone a gift they are not capable of receiving. If He gives us the gift of Christmas, it is because we all have the ability to understand and receive it." ― Pope Francis
51. "And when we give each other Christmas gifts in His name, let us remember that He has given us the sun and the moon and the stars, and the earth with its forests and mountains and oceans–and all that lives and move upon them." ― Sigrid Undset

52. "How many observe Christ's birthday! How few, His precepts!" ― Benjamin Franklin
53. "Christmas can be celebrated in the school room with pine trees, tinsel and reindeers, but there must be no mention of the man whose birthday is being celebrated. One wonders how a teacher would answer if a student asked why it was called Christmas." ― Ronald Reagan
"God is here. This truth should fill our lives, and every Christmas should be for us a new and special meeting with God, when we allow his light and grace to enter deep into our soul." ― Josemaría Escrivá
55. "The reality of loving God is loving him like he's a Superhero who actually saved you from stuff rather than a Santa Claus who merely gave you some stuff."― Criss Jami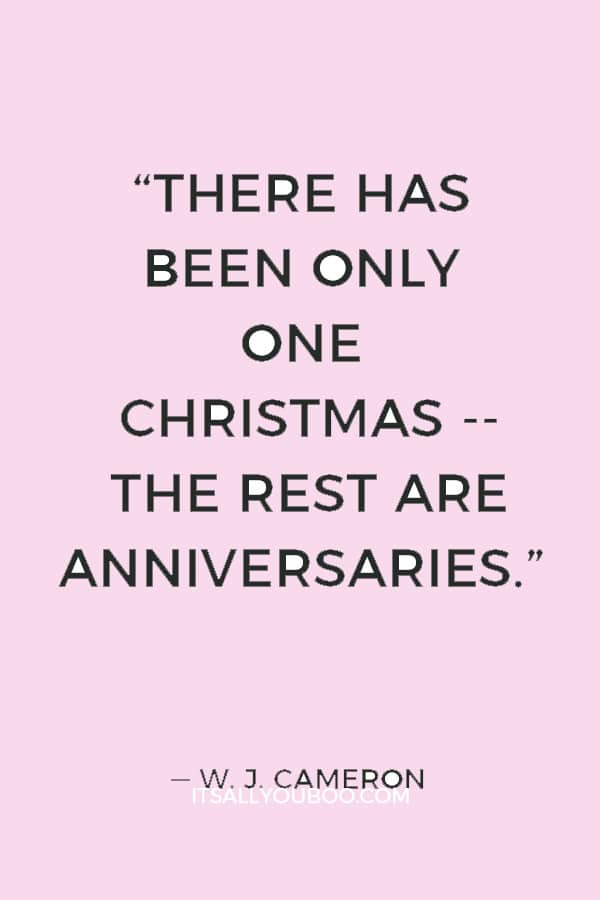 56. "There has been only one Christmas — the rest are anniversaries." ― W. J. Cameron
57. "If you desire to find the true spirit of Christmas and partake of the sweetness of it, let me make this suggestion to you. During the hurry of the festive occasion of this Christmas season, find time to turn your heart to God." ― Howard W. Hunter
58. "Yet, the beautiful trees which we make a central feature of our Christmas celebration can be used as lovely symbols of Jesus and his coming to our world at the first Christmas." ― Rev. Cecil Andrew Newell
Inspirational Christmas is Magical Quote
Why is Christmas the most magical time of year? This final collection of meaningful Christmas quotes seeks to capture that indescribable, wonderous quality of Christmas. It truly is a special time of year.
59. "The joy of brightening other lives becomes for us the magic of the holidays." ― W.C. Jones
"It's the most wonderful time of the year!" ― Edward Pola and George Wyle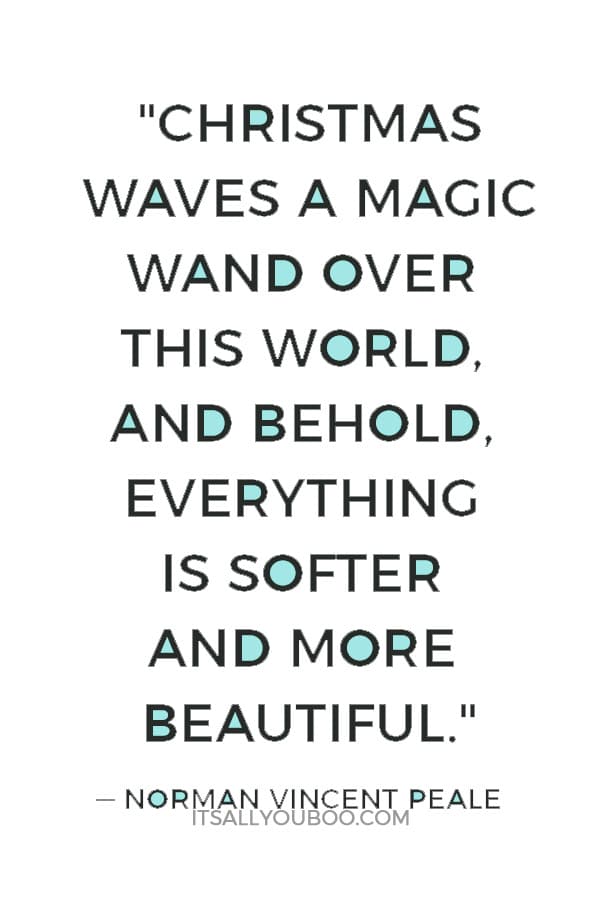 61. "Christmas waves a magic wand over this world, and behold, everything is softer and more beautiful." ― Norman Vincent Peale
62. "There are some wonderful aspects to Christmas. It's magical. And each year, from at least November, well, September, well, if I'm honest, May, I look forward to it hugely." ― Miranda Hart
"Christmas is the gentlest, loveliest festival of the revolving year – and yet, for all that, when it speaks, its voice has strong authority. " ― W.J. Cameron
53. "A Christmas candle is a lovely thing; It makes no noise at all, But softly gives itself away; While quite unselfish, it grows small." ― Eva K. Logue
65. "Don't you love Christmas? Anything goes wrong in the world, Christmas makes it go away. Decorations, carols, tree." ― David E. Kelley
Take the Quiz – What Should My New Year's Resolution Be?
With Christmas comes the end of the year and the start of another. Why not take time to also prepare for the New Year?
Take the FREE New Year's Resolution Quiz and discover what area of your life you should focus on and receive a special guide filled with unique resolution ideas.
I hope these quotes encourage you to remember and reflect on the meaning of Christmas to you! And find that spirit of Christmas in your memories and moments still to come.
May these meaningful Christmas quotes fill the pages of hand-written cards, and notes of love you share throughout the season.
Wishing you a very Merry and Meaningful Christmas!
What's the spirit of Christmas? What makes it meaningful? Click here for 65 meaningful Christmas quotes and season sayings, perfect for hand-written cards. #MerryChristmas #HappyHolidays #Christmas2022

What meaningful Christmas quotes do you love?
Last Updated on November 26, 2022