Looking for inspirational winter quotes that are meaningful? Want cute and short winter aesthetic quotes?
With the Winter Solstices' arrival on December 21st, one thing is for sure, colder temperatures and snowfalls are on the way!
This traditional night that's the shortest of the year has been celebrated as early as 10,000 BC. I wonder if they lit the fireplace, made hot cocoa, and spent the cold nights being all cozy and warm.
Surely, winter isn't "winter" without cold and cozy days. Days where you warm yourself with the perfect book, soups, and stews, and hours of television all while wrapped in blankets and wool socks.
For me, winter is a season of reflection and of rest. A time to stay instead and enjoy the darkness. To indulge in being a bit lazier than usual. Truth be told, it's a time for recovery and renewal.
For others, winter is a time to bundle up and go outside. For sledding, snowshoeing, ice skating, skiing, and snow-covered hills and mountains. A time to be out in nature and embrace the cold winds and drifting snowfalls.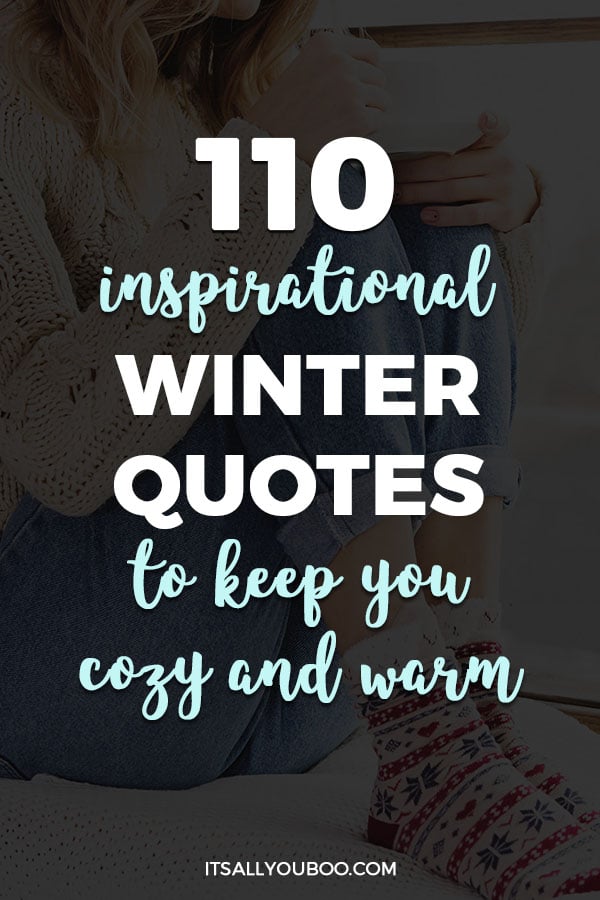 What about you? What do you say about winter? Are you an inside or outdoor winter person?
To help you stay warm and cozy this winter, here are 110 inspirational winter quotes that are short, cute, and even funny. Quotes that are perfect for scribbling in your journal or sharing on Instagram.
Winter is the Season Of… Quotes
What is winter? What is it a season of? This first collection of inspirational winter quotes introduces us to the meaning of the season. Winter is more than just cold and snow-filled.
"Winter is a season of recovery and preparation." ― Paul Theroux
2. "In winter, I plot and plan. In spring, I move." ― Henry Rollins
3. "In seed time learn, in harvest teach, in winter enjoy." ― William Blake
👉🏽 RELATED POST:  70 Welcome Winter Quotes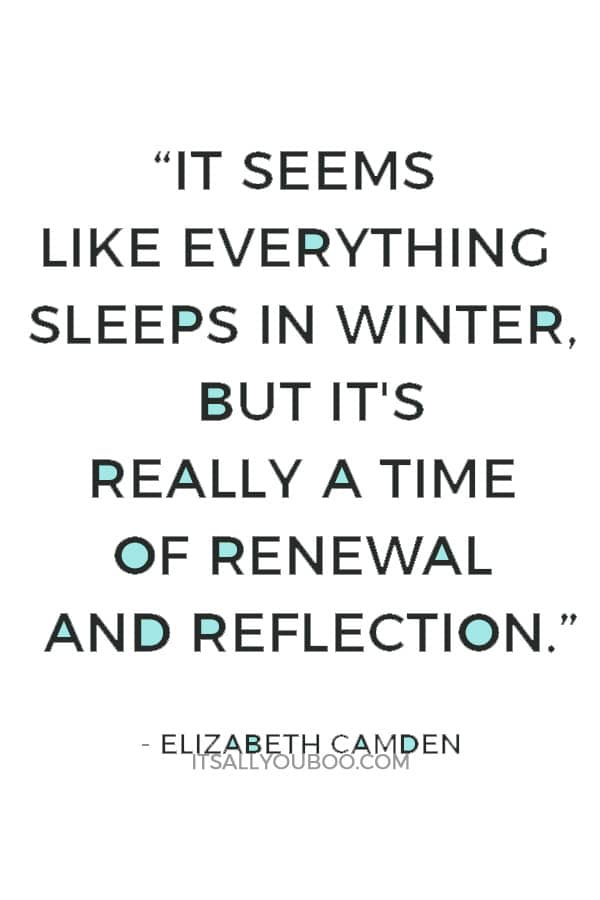 4. "It seems like everything sleeps in winter, but it's really a time of renewal and reflection." ― Elizabeth Camden
"I pray this winter be gentle and kind―a season of rest from the wheel of the mind." ― John Geddes
6. "I love winter. It's a beautiful time, but also a melancholic time, a reflective time, and I'd come to a point in my life where I felt I had to make certain decisions about my career." ― Katie Melua
7. "'Hear! hear!' screamed the jay from a neighboring tree, where I had heard a tittering for some time, 'winter has a concentrated and nutty kernel, if you know where to look for it'." ― Henry David Thoreau
8. "Winter, a lingering season, is a time to gather golden moments, embark upon a sentimental journey, and enjoy every idle hour." ― John Boswell
👉🏽 RELATED POST: 100 End of Year Reflection Questions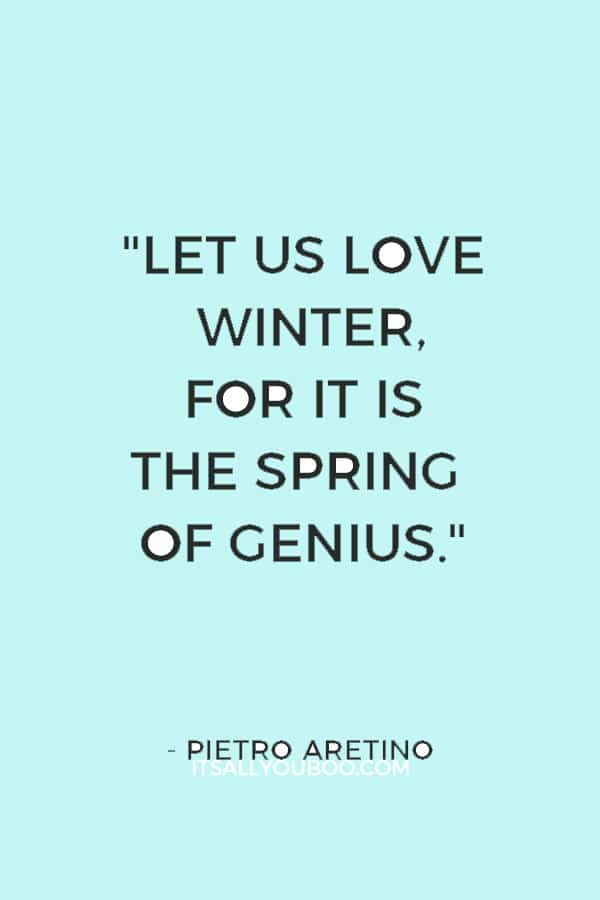 9. "Let us love winter, for it is the spring of genius." ― Pietro Aretino
10. "I write probably 80 percent of my stuff over the winter." ― Bob Seger
Things To Do In Winter Quotes
What's so special about winter? What can you do in this cold and cozy season? The following inspirational winter quotes explore activities for keeping warm and busy during the winter months. What will you do this winter? Start a new hobby, read books, do outdoor activities, or perhaps catch up on some sleep.
11. "Winter is the time for comfort, for good food and warmth, for the touch of a friendly hand and for a talk beside the fire: it is time for home." ― Edith Sitwell
12. "In the winter, I read next to a wood-burning stove." ― Ethan Canin
"I read, much of the night, and go south in the winter." ― T.S. Eliot
14. "Regardless of what you look like, regardless of where you come from, you can be involved in winter sports." ― Elana Meyers
👉🏽 RELATED POST: Outdoor Activities for Beginners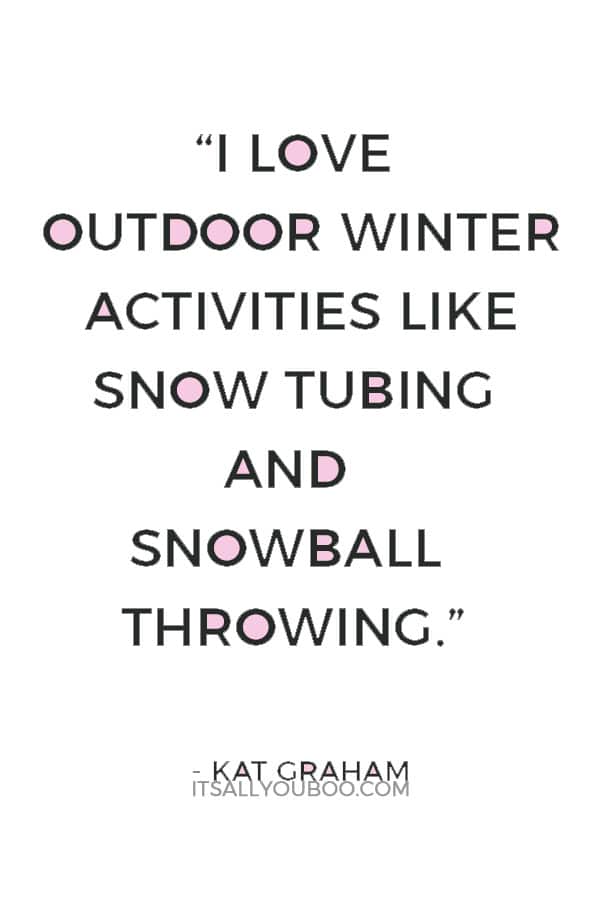 15. "I love outdoor winter activities like snow tubing and snowball throwing." ― Kat Graham
16. "In the winter, I enjoy cross-country skiing and raising orchids and amaryllises. If I could grow tropical flowers as perennials, I would, especially hibiscus and mandavilla." ― Diane Ackerman
17. "I always love the smell of a bat and a glove, or a hockey puck in the winter time." ― Tiny Tim
"I loved having bonfires in the winter with my friends in the backyard." ― Tommy Dorfman
19. "During the winter when the weather is too poor to work outside, I do use drawings and photographs, but I change my work so it is not just a time and place study." ― John Dyer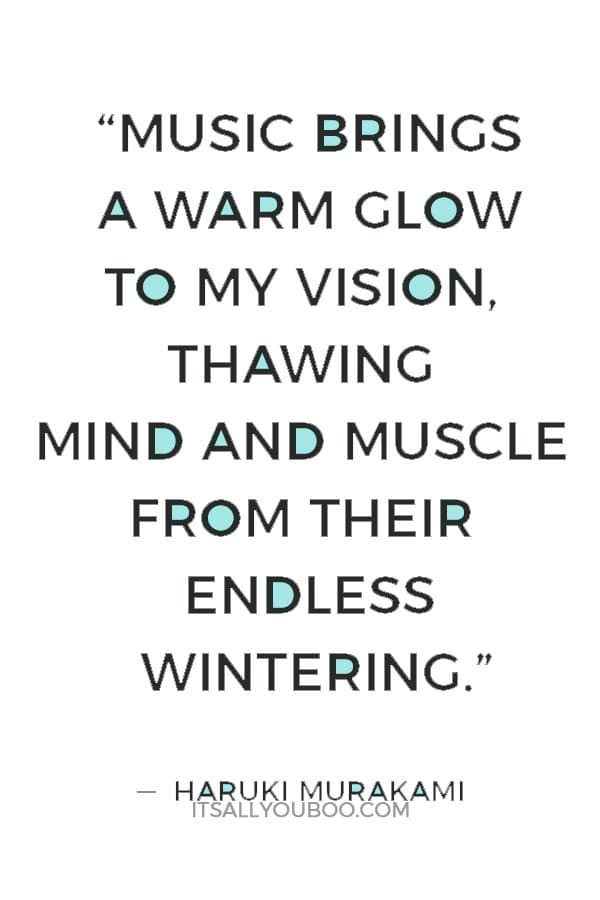 20. "Music brings a warm glow to my vision, thawing mind and muscle from their endless wintering." ― Haruki Murakami
"During the winter my attention was attracted to the changes in the stars and planets in the sky." ― Paul Nurse
22. "Self-care. I got that from my mom. Even if we had nothing, we were always moisturized. So much Vaseline. In the dead of winter, I was hot. I had a whole other layer on." ― Saint Jhn
23. "Surely everyone is aware of the divine pleasures which attend a wintry fireside; candles at four o'clock, warm hearthrugs, tea, a fair tea-maker, shutters closed, curtains flowing in ample draperies to the floor, whilst the wind and rain are raging audibly without." ― Thomas De Quincey
What to Wear in Winter Quotes
How do you stay cozy and warm in the winter months? What do you wear on a cold winter's day? This collection of inspirational winter quotes are short and cute, embracing all the best winter outfits. Bring on the puffy jackets, oversized scarfs, waterproof boots, and over-the-knee socks.
24. "You can never have enough winter jackets." ― Dizzee Rascal
"Every year I buy a big faux-fur coat for the winter." ― Joe Lycett
26. "I like cool jackets – a nice fall or winter coat. You can get a lot of use out of it, and you'll wear it frequently, so it can really set the tone of your uniform for the season." ― John Legend
👉🏽 RELATED POST: Hello November Quotes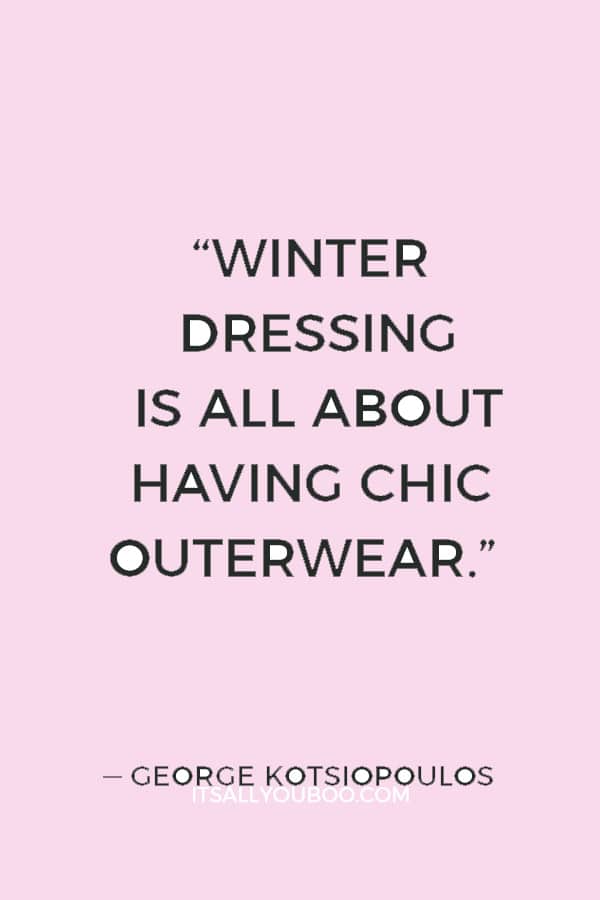 27. "Winter dressing is all about having chic outerwear." ― George Kotsiopoulos
28. "I love winter clothes. For me, it is all about choosing great materials and getting the right cut for your body – and then styling it right. For example, I love an oversized manly jacket, but I'll team it with some girly heels." ― Jeanne Damas
"My winter uniform is jeans, boots, and an oversize blazer for good measure. It's my formula for getting dressed in under 10 minutes." ― Jeanne Damas
30. "I love hats and winter is the perfect time for them. I love winter time fashion." ― Rebecca Ferguson
31. "I think winter wear is communal. You get some gloves and a scarf from a lost-and-found box, wash them, wear them for a while until you lose them. Then somebody else does the same thing." ― Adrian Grenier
32. "I have no idea how to dress for the winter. I tend to end up wearing tracksuits and a beanie most of the time." ― Sophie Hawley-Weld
33. "Winter is my favourite season for clothes because I'm happiest wearing knitted dresses, leggings, and Uggs." ― Rachel Riley
👉🏽 RELATED POST: 65 Meaningful Christmas Quotes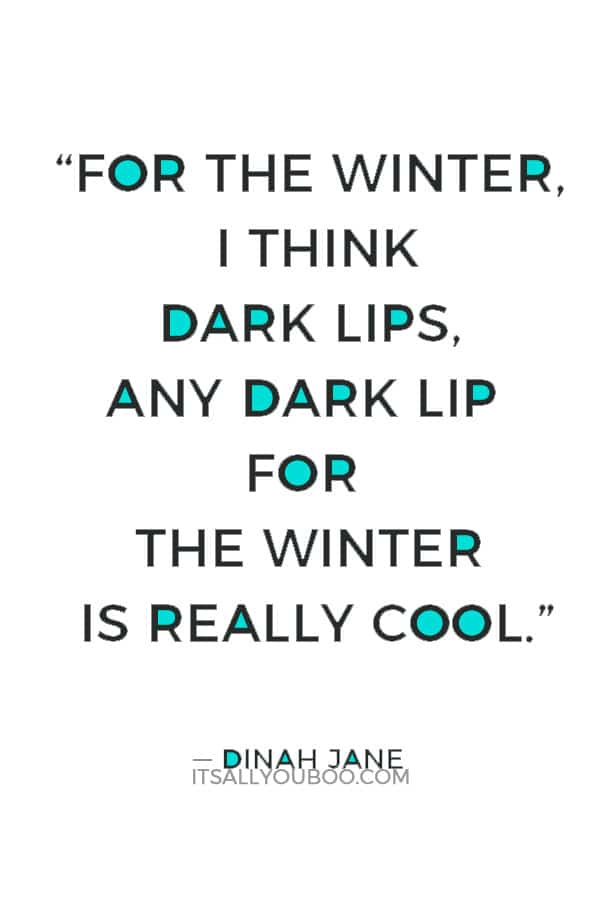 34. "For the winter, I think dark lips, any dark lip for the winter is really cool." ― Dinah Jane
35. "I think there's something charming about incorporating summer clothes into winter, like pairing a summery skirt with a massive sweater. I'm also really into layering during the winter!" ― Debby Ryan
36. "The nice thing about New York is that you're finally able to wear those winter clothes that have been sitting in your closet in mothballs." ― Kyle MacLachlan
"Storage is important. Whether it's cushions you only use outside in the summer, or blankets that only come out in the winter, you've always got to think of where to store them." ― Anthea Turner
38. "Every year when I put away my winter clothes and get out my summer clothes, they fit. And I haven't been on a diet since the Reagan administration." ― Victoria Moran

Cozy and Warm Foods to Eat in Winter
What do you cook and enjoy in the winter months? What are your favorite winter recipes and dishes? This collection of inspirational winter quotes and phrases indulges your stomach. They share hearty and healthy foods to keep you warm and cozy. Winter is the season of comfort food after all.
39. "I love cookies baking. During the winter, they have these candles that smell like cookies, and I always buy like a hundred of them." ― Jared Padalecki
40. "Seasonality in winter doesn't have to mean sleep-inducing, stew-like, starchy casseroles." ― Yotam Ottolenghi
"I love the scents of winter! For me, it's all about the feeling you get when you smell pumpkin spice, cinnamon, nutmeg, gingerbread and spruce." ―Taylor Swift
42. "You have to take it upon yourself and preserve and can foods that you'll want for the winter." ― Alice Waters
👉🏽 RELATED POST: 100 Inspirational Merry Christmas Quotes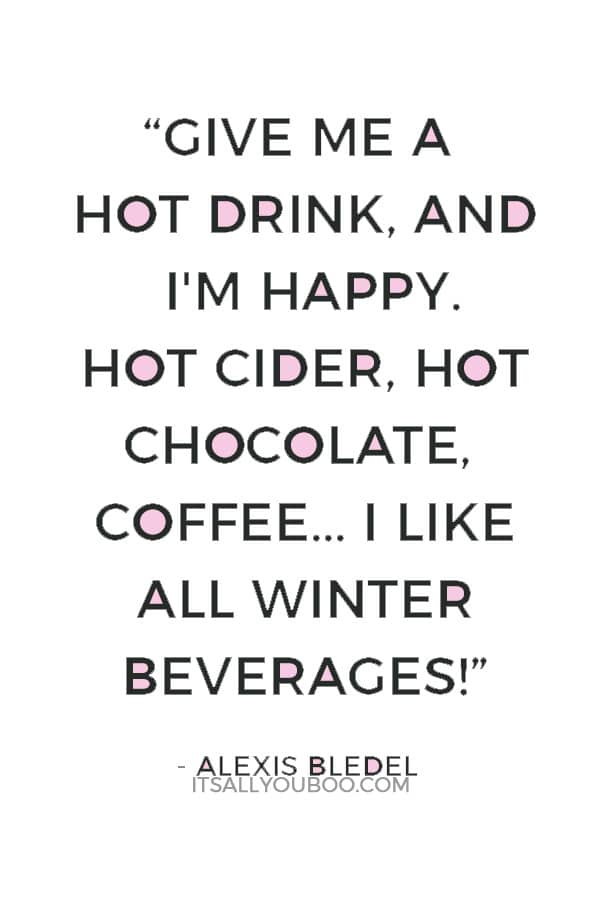 43. "Give me a hot drink, and I'm happy. Hot cider, hot chocolate, coffee… I like all winter beverages!" ― Alexis Bledel
"I love cheeseburgers and chocolate – milk, not dark, and hot chocolate with marshmallows in the winter!" ― Nina Dobrev
45. "In winter I love a pasty." ― John Torode
46. "The combination of olive oil, garlic and lemon juice lifts the spirits in winter." ― Yotam Ottolenghi
47. "In the winter, my failsafe dinner party menu has to be my roast chicken or a creamy fish pie with mashed potatoes on top, followed by something like a tarte tatin. My cooking style is quite homely." ― Jane Fallon
"My go-to winter recipe is beef and butternut squash stew, cooked in the slow oven all day." ― Jojo Moyes
👉🏽 RELATED POST: Thanksgiving Quotes for Friends and Family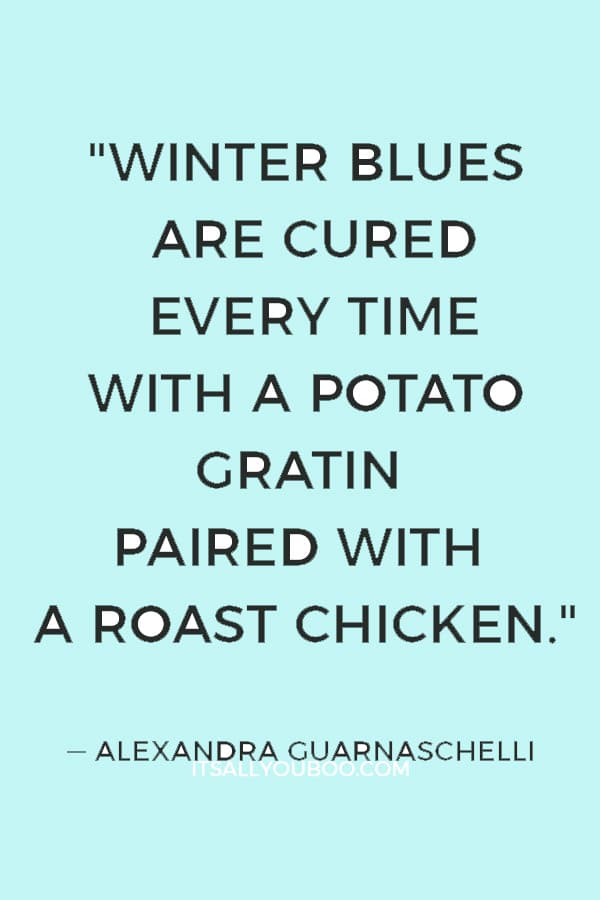 49. "Winter blues are cured every time with a potato gratin paired with a roast chicken." ― Alexandra Guarnaschelli
50. "Dandelion wine. The words were summer on the tongue. The wine was summer caught and stoppered… sealed away for opening on a January day with snow falling fast and the sun unseen for weeks…" ― Ray Bradbury
"I am not a big vitamin-taker. I have vitamin C during the winter, but eating lots of fruit and veg does the trick." ― Darcey Bussell
52. "By the end of the winter, I'm always battling too-tight pants. My solution: Eat lean protein, good grains, and veggies." ― Katie Lee
Hating the Cold Winter Quotes
Need help appreciating winter? Not a fan of the cold and longing for sunny spring and summer days? This collection of inspirational winter quotes to keep you cozy shares the frustrations of dealing with cold weather. Not everyone loves the winter, and it's okay if you don't either.
"Now is the winter of our discontent." ― William Shakespeare
54. "Melancholy were the sounds on a winter's night." ― Virginia Woolf
55. "The winter will be long and bleak. Nature has a dismal aspect." ― Charles Nodier
👉🏽  RELATED POST: New Year Quotes for Friends and Family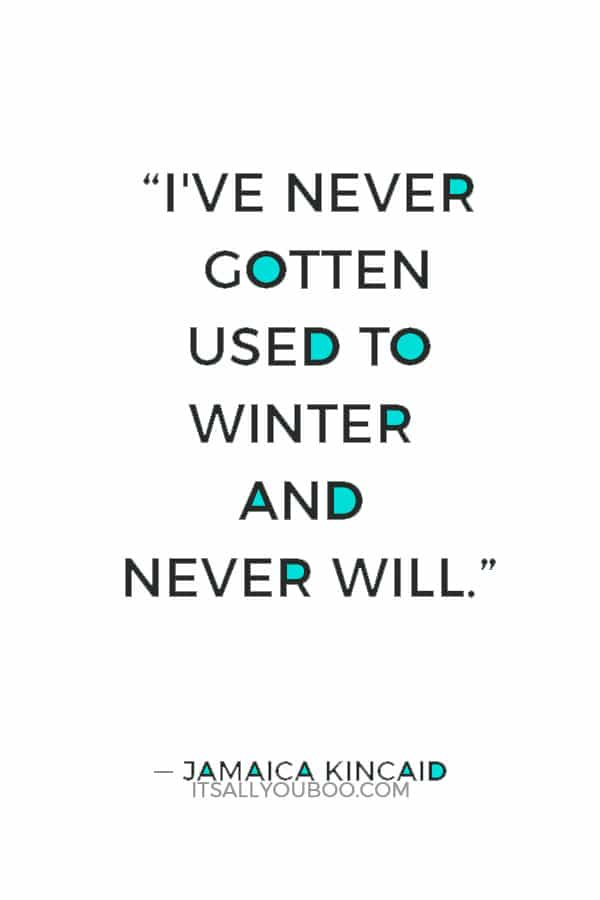 56. "I've never gotten used to winter and never will." ― Jamaica Kincaid
57. "I have never seen snow and do not know what winter means." ― Duke Kahanamoku
"A lot of people like snow. I find it to be an unnecessary freezing of water." ― Carl Reiner
59. "If there's a 'Cruel Summer' then there's got to be a 'Cruel Winter,' right? That's all I'm saying." ― Q-Tip
60. "I love summertime more than anything else in the world. That is the only thing that gets me through the winter, knowing that summer is going to be there." ― Jack McBrayer
"Personally, my general winter rule is that, if I'm not being paid to leave my apartment, then I'll be damned if I'm leaving." ― Kat Timpf
62. "It's so hard to think in winter. The world seems confined in the space of your heart; you can't see beyond yourself." ― Patricia A. McKillip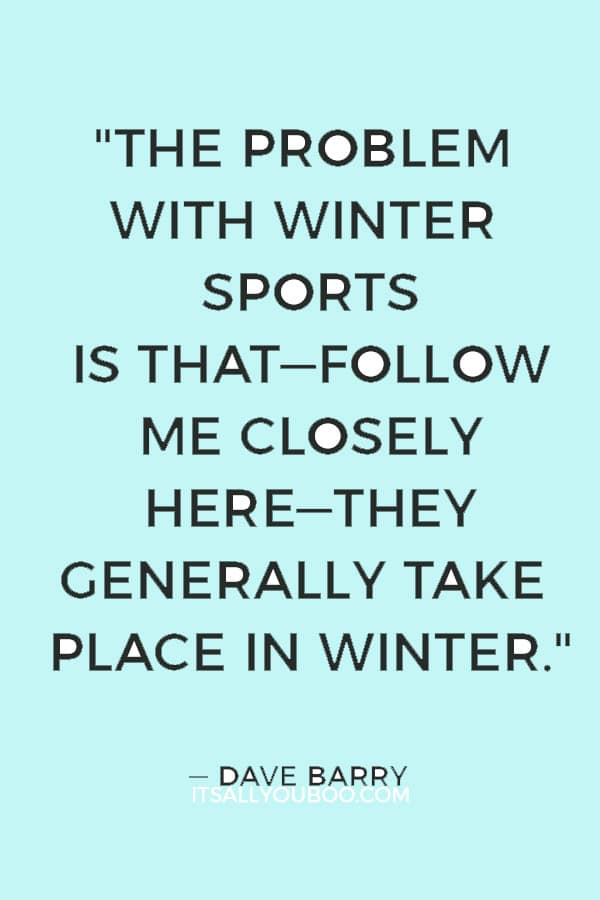 63. "The problem with winter sports is that―follow me closely here―they generally take place in winter." ― Dave Barry
"Winter makes me want to rage." ― Liza Lapira
65. "Winter is nature's way of saying, 'Up yours'." ― Robert Byrne
66. "Many human beings say that they enjoy the winter, but what they really enjoy is feeling proof against it." ― Richard Adams
Inspirational Winter and Summer Quotes
Are you a winter person or a summer person? Do you prefer the heat to the cold? The following inspirational winter quotes to keep you cozy compare the winter months to the summertime. Personally, I am a summer person through and through. I'd choose the sun's rays on my skin, over a cold breeze on my face any day.
67. "When I was young, I loved summer and hated winter. When I got older I loved winter and hated summer. Now that I'm even older, and wiser, I hate both summer and winter." ― Jarod Kintz
"What good is the warmth of summer, without the cold of winter to give it sweetness." ― John Steinbeck
👉🏽 RELATED POST: New Year's Resolution Quotes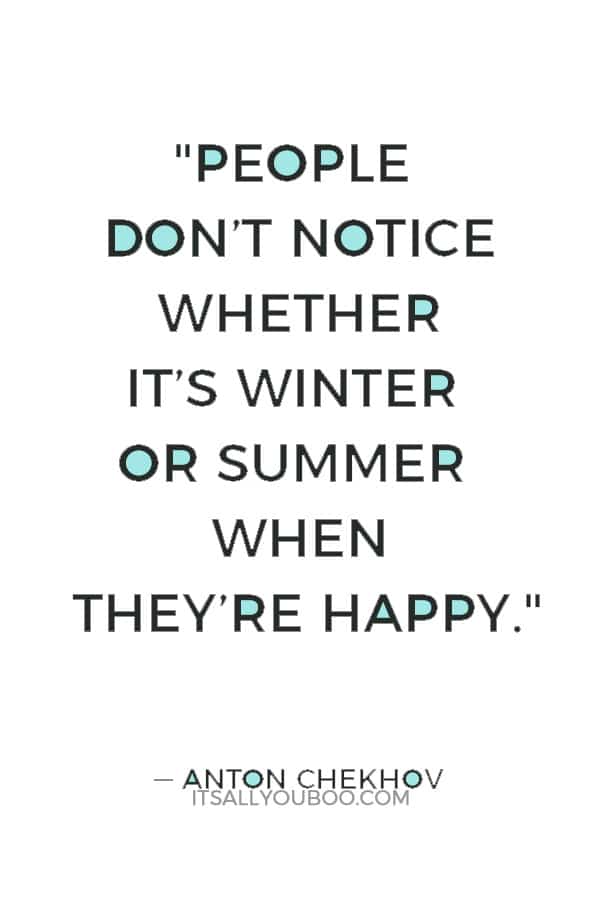 69. "People don't notice whether it's winter or summer when they're happy." ― Anton Chekhov
"They who sing through the summer must dance in the winter." ― Italian Proverb
71. "Nothing is as easy to make as a promise this winter to do something next summer; this is how commencement speakers are caught." ― Sydney J. Harris
72. "A man says a lot of things in summer he doesn't mean in winter." ― Patricia Briggs
73. "He who marvels at the beauty of the world in summer will find equal cause for wonder and admiration in winter." ― John Burroughs
👉🏽 RELATED POST: Hello Summer Quotes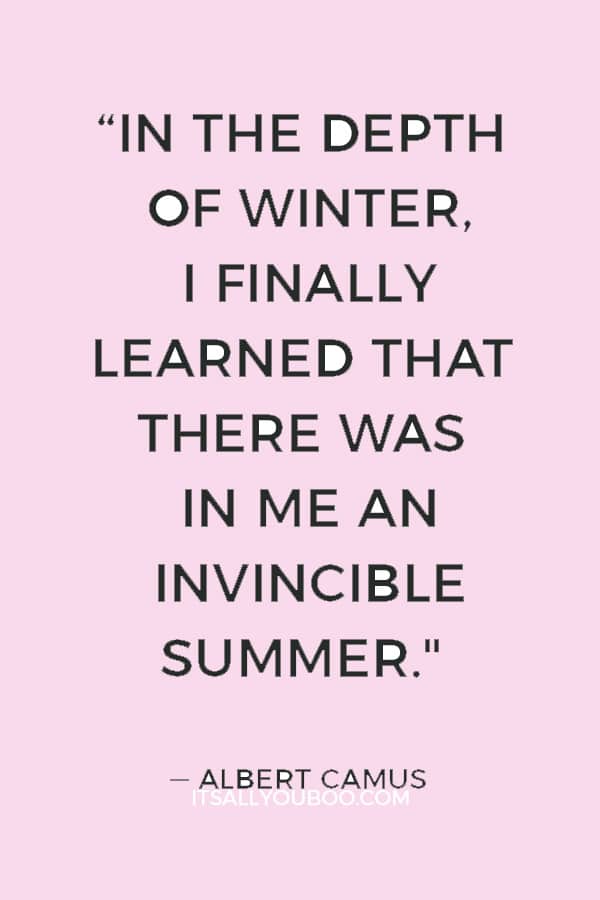 74. "In the depth of winter, I finally learned that there was in me an invincible summer." ― Albert Camus
75. "My old grandmother always used to say, Summer friends will melt away like summer snows, but winter friends are friends forever." ― George R.R. Martin
"God is day and night, winter and summer, war and peace, surfeit and hunger." ― Heraclitus
77. "Summer is for surrendering; winter is for wondering." ― Debasish Mridha
How to Feel Better in Winter Phrases
What do you do in winter to cheer yourself up? How do you overcome the winter blues? This selection of inspirational winter quotes to keep you cozy and warm shares ways to lift your spirits this winter. It may be cold out, but you can feel better, invest in your emotional and mental wellbeing.
"Fueling our bodies properly can lift our moods immensely on any winter day!" ― Natalya Neidhart
79. "Something that helps me build more optimism in the dead of winter is not staying up too late and waking up early." ― Natalya Neidhart
👉🏽 RELATED POST: 15 Daily Mental Health Activities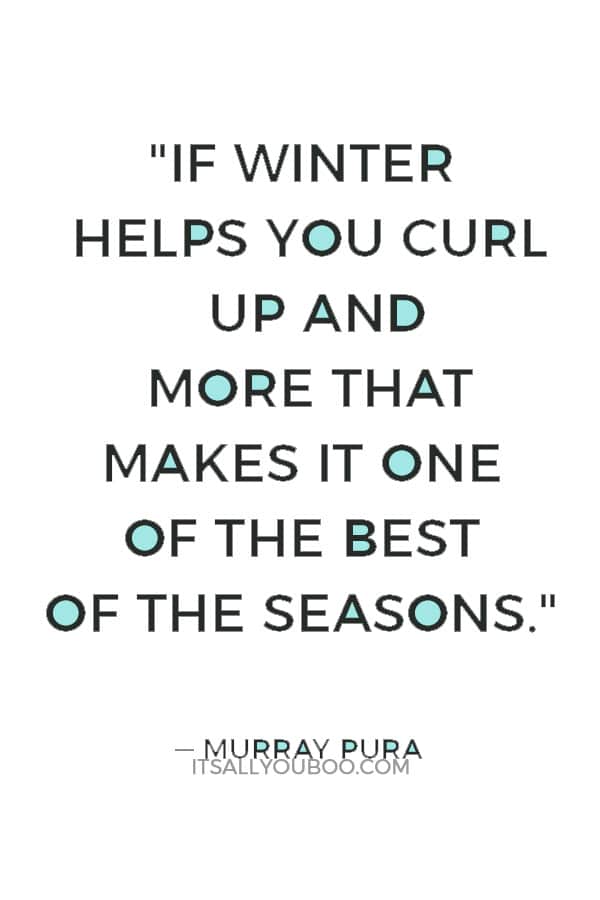 80. "If winter helps you curl up and more that makes it one of the best of the seasons." ― Murray Pura
81. "No matter how cold your proverbial winter, you can plant seeds of change in your life by changing your thoughts and actions." ― Andra Brynnoeglein
82. "The fire is winter's fruit." ― Arabian Proverb
"I like having a lot of sunlight because it helps me wake up. And I don't get depressed in winter." ― Dylan Lauren
84. "Crumpets for me are the quintessence of a British afternoon tea, the ideal winter warmer that would welcome me home from school." ― Rachel Khoo
👉🏽 RELATED POST: End of Summer Quotes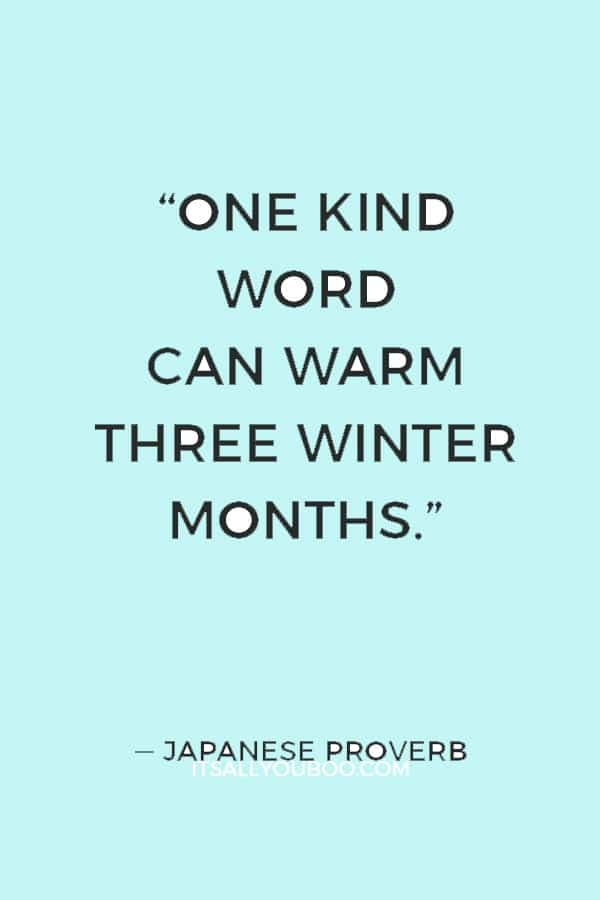 85. "One kind word can warm three winter months." ― Japanese Proverb
"To keep a warm heart in winter is the real victory." ― Marty Rubin
87. "In the winter she curls up around a good book and dreams away the cold." ― Ben Aaronovitch
88. "Laughter is the sun that drives winter from the human face." ― Victor Hugo
Inspirational Quotes About All the Seasons
What's your favorite season of the year? How does it compare to winter? This selection of inspirational winter quotes explore the cycle of the four seasons. Without winter, there is no spring. We need one to enjoy the other.
89. "I believe in process. I believe in four seasons. I believe that winter's tough, but spring's coming. I believe that there's a growing season. And I think that you realize that in life, you grow. You get better." ― Steve Southerland
👉🏽 RELATED POST: 55 Inspirational Autumn Quotes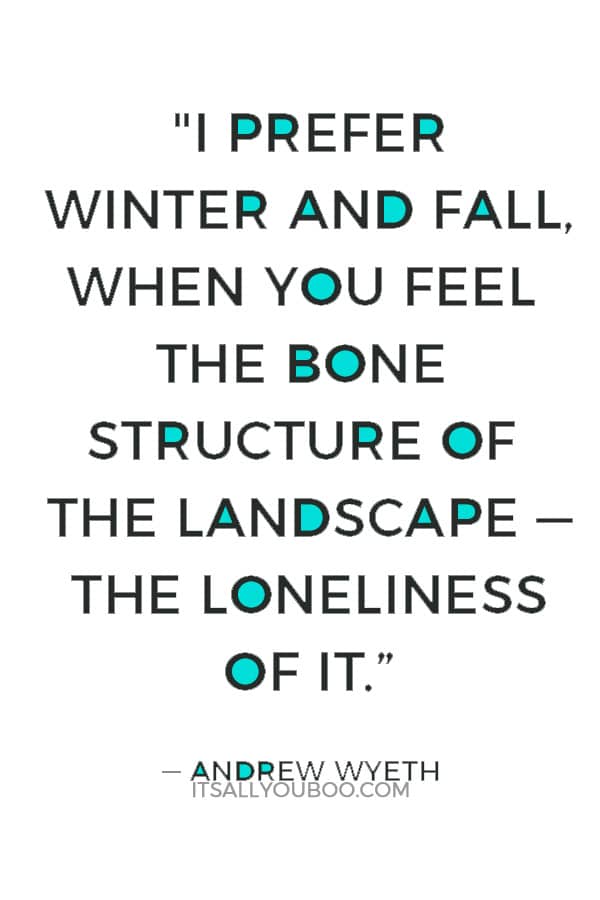 90. "I prefer winter and fall, when you feel the bone structure of the landscape — the loneliness of it; the dead feeling of winter. Something waits beneath it, the whole story doesn't show." ― Andrew Wyeth
91. "I shall see The springs, the summers, and the autumns slowly pass; And when old Winter puts his blank face to the glass, I shall close all my shutters, pull the curtains tight, And build me stately palaces by candlelight." ― Charles Baudelaire
"The spring, summer, is quite a hectic time for people in their lives, but then it comes to autumn, and to winter, and you can't but help think back to the year that was, and then hopefully looking forward to the year that is approaching." ― Enya
93. "I know I am but summer to your heart, and not the full four seasons of the year." ― Edna St. Vincent Millay
94. "Spring is the time of year when it is summer in the sun and winter in the shade." ― Charles Dickens
👉🏽 RELATED POST: Gratitude Quotes for Thanksgiving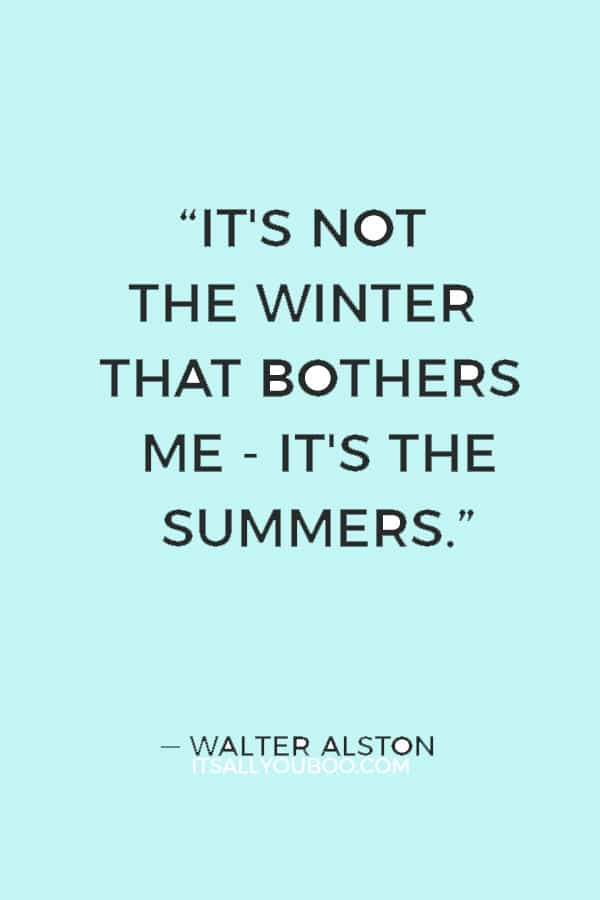 95. "It's not the winter that bothers me – it's the summers." ― Walter Alston
96. "From my point of view, this is the best time of the year. I don't love heat. I'm a winter guy." ― Alexander Lukashenko
Spring is Coming Soon Quotes
Are you patiently awaiting spring's arrival? Excited for the snow to melt and for the sun to return? This final collection of short winter quotes tell us that spring isn't far off. Yes, it might be cold out and the world might be frozen over, but soon spring will be back and the cycle continues.
97. She turned to the sunlight. And shook her yellow head. And whispered to her neighbor: "Winter is dead." ― A.A. Milne
"O, wind, if winter comes, can spring be far behind?" ― Percy Bysshe Shelley
👉🏽 RELATED POST:  65 Inspirational Hello Spring Quotes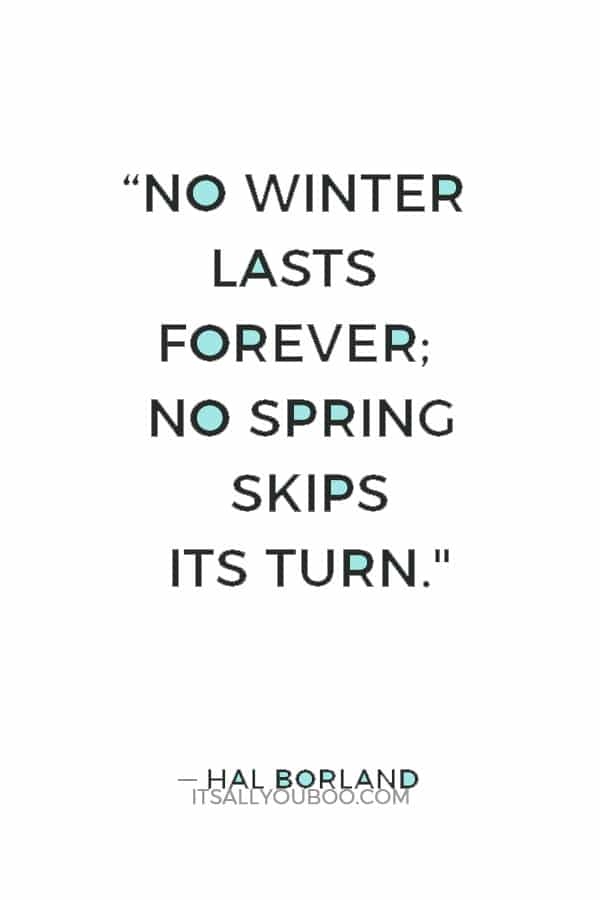 99. "No winter lasts forever; no spring skips its turn." ― Hal Borland
"To shorten winter, borrow some money due in spring." ― W.J. Vogel
101. "The color of springtime is flowers; the color of winter is in our imagination." ― Terri Guillemets
102. "If we had no winter, the spring would not be so pleasant: if we did not sometimes taste of adversity, prosperity would not be so welcome." ― Anne Bradstreet
103. "There is no winter without snow, no spring without sunshine, and no happiness without companions." ― Korean Proverb
👉🏽 RELATED POST: Happy Easter Quotes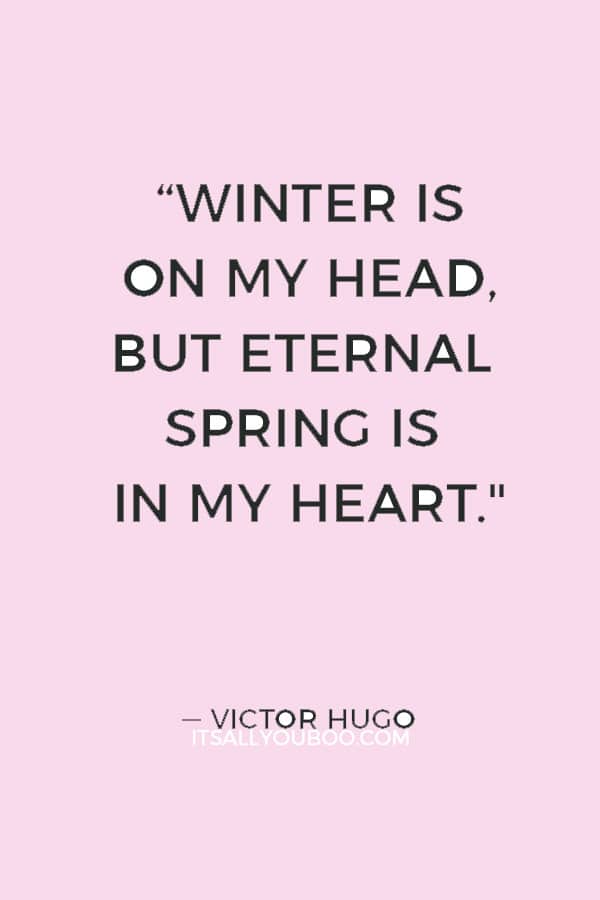 104. "Winter is on my head, but eternal spring is in my heart." ― Victor Hugo
105. "Because the birdsong might be pretty, But it's not for you they sing, And if you think my winter is too cold, You don't deserve my spring." ― Erin Hanson
106. "Every winter has its spring." ― H. Tuttle
"Winter lingered so long in the lap of Spring that it occasioned a great deal of talk." ― Bill Nye
108. "A sap run is the sweet goodbye of winter. It is the fruit of the equal marriage of the sun and frost." ― John Burroughs
109. "The madness of spring is so enticing. I love it when things are opening up and emerging from the ground. I also love the middle of summer when fruit is bursting forth, but I even love the garden in the winter when everything is resting." ― Ross Gay
110. "Autumn arrives in early morning, but spring at the close of a winter day." ― Elizabeth Bowen
Take the Quiz – What Should My New Year's Resolution Be?
Winter lets us know the new year is upon us. It's the perfect time for reflection and to plan the year ahead.
Take the FREE New Year's Resolution Quiz and discover what area of your life you should focus on and receive a special guide filled with unique resolution ideas.
Let us welcome winter, with open arms! Yes, it's cold, oh that I know, but there's something magical about the coziness it brings.
Perfect evenings by the winter, with snow falling as we stay warm inside.
For good books, long conversations, and warm drinks. Take this time to rest and renew your spirits.
No matter how cold it is outside today, this too will end faster than you realize.
Wishing you a wonderful winter. Stay cozy and stay warm!
Happy winter! Looking for short and quote winter aesthetic phases? Click here for 110 inspirational winter quotes to keep you cozy and warm all winter long. #WinterSolstice #WelcomeWinter #HelloWinter

What inspirational winter quotes do you love?
Last Updated on November 26, 2022
✕
Take the New Year's Quiz!
+ get weekly tips to help you slay your goals.