Need help getting your business organized?
Wish you could save time every day and have more time for you?
Are you an overworked yet unsuccessful business owner? Ready for a better way? Meet Katie Matusy of Entropy Organized, she helps entrepreneurs cut their workload in half. #BusinessOwner #GetOrganized #Interview #BossBabe
You want to be more productive in your online business! You want to make money, stay organized and actually have a life? But how do you balance it all?
What's the secret to success in business and your personal life? To running a full-time business, without running yourself into the ground?
News flash, the key is to create systems and routines that maximize your time, as well as your profits.
If you're ready to get more organized so you can achieve boss entrepreneur status and still have a life, this is the interview for you. Katie Matusky of Entropy Organized is an expert in helping busy business owners cut their workload in half while creating an amazing customer experience. Yes, it's possible!
Did I mention that she went from working 55+ hours a week in a corporate job, to running her own profitable online business in just a year and a half? She's an inspiring entrepreneur with so much to teach us. So if you're frustrated that you're doing all the things in your business, but getting nowhere, read on!
Let's get started.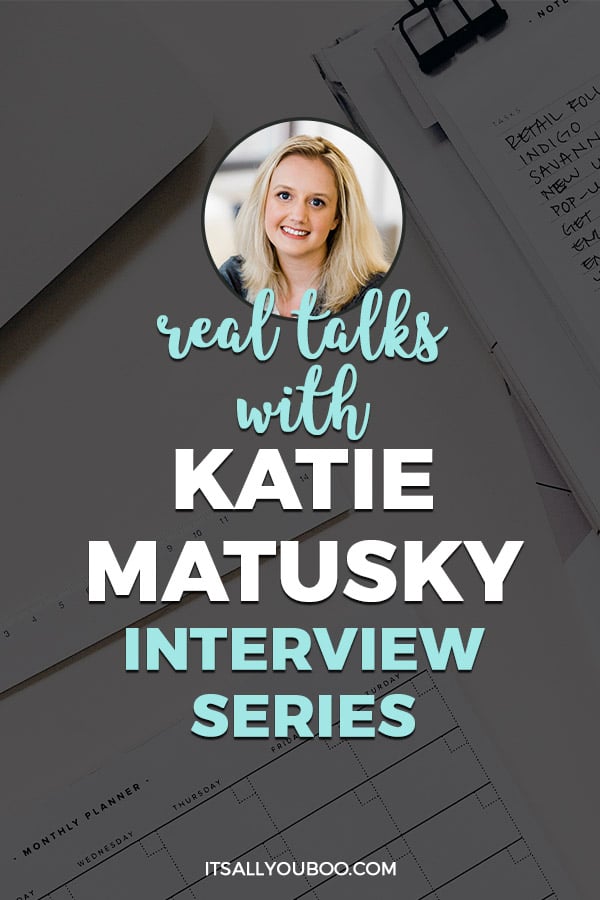 #1.
Who are you and what's your story?
I'm Katie Matusky – Productivity Expert and Founder of the Entropy Organized.
Five years into my corporate job, I realized I just wasn't happy and I didn't want to work in a cubicle for the rest of my life. So, I decided to pivot and do what I really love: helping business owners cut their workload in half while creating a referral-worthy client experience.
Entropy Organized has been serving clients for a year and a half now and it has been one of the most difficult and rewarding journeys of my entire life.
👉🏽 RELATED POST: Do you need to escape your toxic workplace?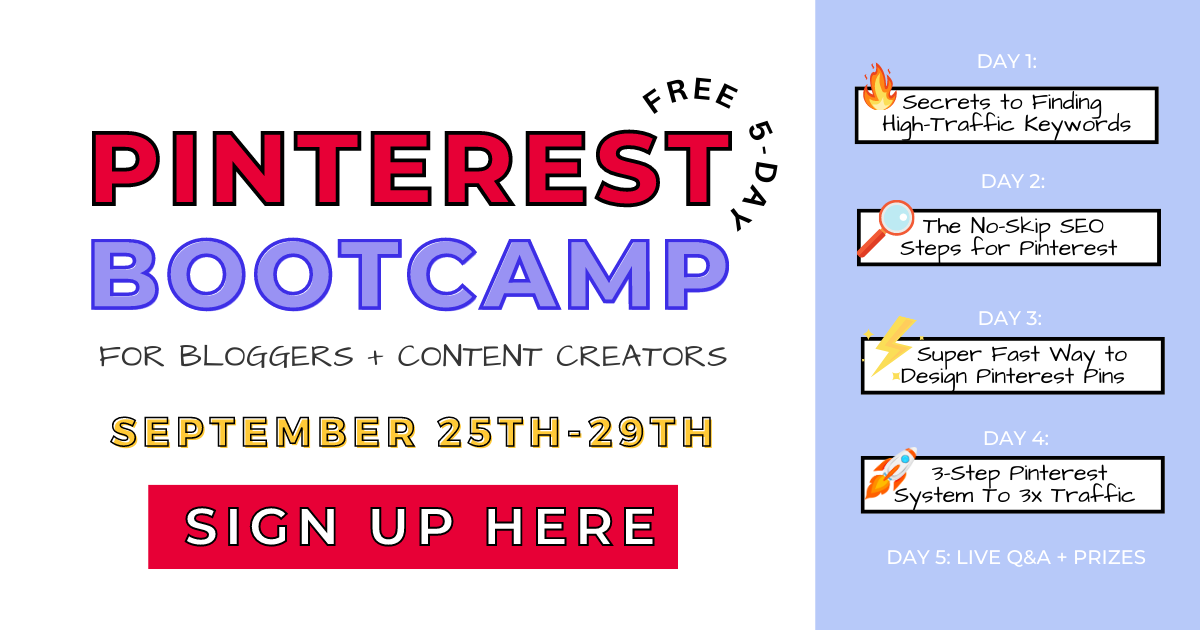 #2.
What's your average day like?
Routines are everything!
Here's what a typical day in my home office looks like:
4 am Wake up. Feed the dogs. Pour a cup of coffee and head to my home office.
5-8 am Product Improvement + Client Experience Tasks
8-9 am Work Out
9 am Shower, Eat Breakfast + Prep Lunch & Dinner
10:30 am Back to the Office. Work on PR/Visibility/Social Media Tasks.
12 pm Lunch
12:30-3:30 pm Project Time/Meetings/Admin Tasks
3:30 – 5 pm Afternoon Homekeeping
5 pm Cook Dinner and pour a glass of wine.
6 pm Dinner with my husband. Walk the dogs after dinner.
7-9 pm Leisure time
9 pm – 10 minutes pick up around the house, then off to bed.
👉🏽 RELATED POST: How to Manage Your Energy, Not Your Time
I'm a big believer in planning your day based on your energy levels. It's also really important to consider how you want your day to feel.
For me, I LOVE diving into my business as soon as I wake up, but others might enjoy a slow morning with a bit of self-care before they get to work. It all comes down to knowing yourself and coming up with a template for your day that aligns with your lifestyle goals.
#3.
How do you stay motivated? What or who inspires you?
Motivation is an interesting topic. In the productivity world, we know that you don't really need motivation to reach your goals. You need a clear path and you have to take consistent action, whether you feel like it or not.
That last bit is the key to success for sure. Because we're all human, right? We have lazy days, and tired days, and frustrated days… But the ones who keep working anyway are the ones who get ahead. That consistency builds momentum and they always reach their goals faster than people who get stuck in that cycle of binge and burn.
So instead of trying to stay motivated, I recommend staying in the game. And there are a few ways I make that happen.
First, I love setting weekly milestones for my goals (so I always feel like I'm moving the needle).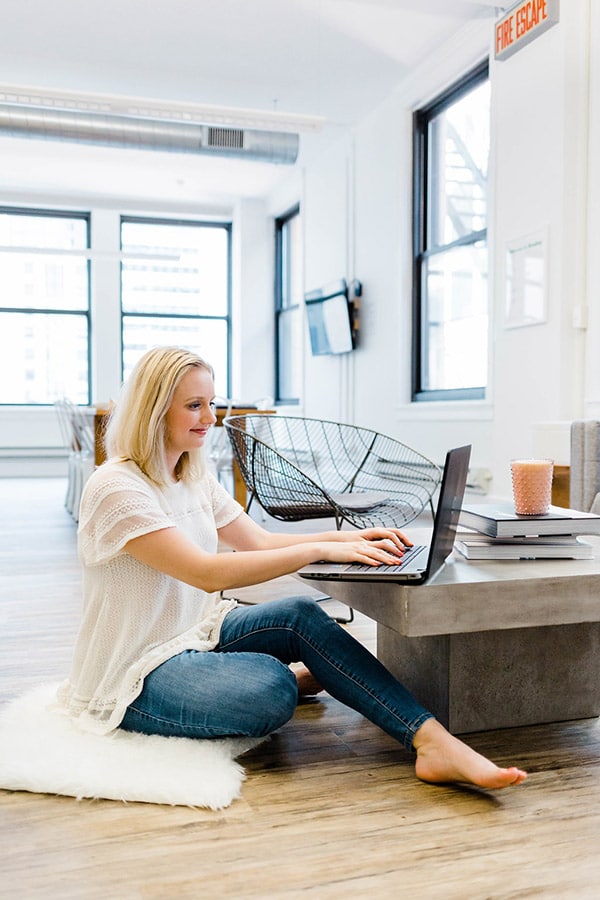 Next, I had to get really used to be uncomfortable and doing all of the hard things. I had to get used to stepping outside my zone of genius and learning every single day. I believe your business can only grow as much as you do, so admitting you don't know something and going through the trenches to learn it so your business can move forward is money.
You need a support system
I am also fortunate enough to have a handful of friends in business who are a massive source of support. Having other humans you can lean on (and troubleshoot with) really speeds up your progress and keeps the ball rolling. And, I think it keeps you in reality. When you struggle and push and laugh together, your sharing the entire experience. Being a business owner is one of the scariest, most rewarding things you can do. And you can't do it alone.
My husband is also a huge motivator for me. He always patiently listens and whenever I share feelings of frustration or when I feel like I'm failing, he inevitably tells me, "You can't fail if you don't quit." I try to always keep that front of mind.
Finally, it's important to remember that time does not stop. Every day you don't work towards your goals is another day you can't get back.
#4.
Let's talk about goals. How do you slay yours?
Yes. I set goals annually and then I have a quarterly planning process that I go through to figure out my actions steps. I set weekly milestones for myself and I make sure that everything I'm planning to achieve is set up ahead of time.
Here's what I mean. Say you want to write your first book by the end of the year. If I set a milestone that I'm going to hire my editor in March, I would add "Research Editors" tasks to my to-do list for January and I would add "Book Meetings with Editor Candidates" to my to-do list in February, so that by the time March comes around, I am completely ready to make a final decision and book my Editor.
This is something we really need to do more, in goal-setting. It's not enough to set a date next to a milestone. You have to actually work backwards from that date to make sure you've set yourself up to reach that goal on time when you're planning your quarterly sprints.
Your goals are not a wish, and if you want to reach them on time, you have to have a clear path for achievement. Once you've set up your sprint plan, and made sure that your plan actually aligns with your real life (and all the events on your calendar), that's when success becomes inevitable.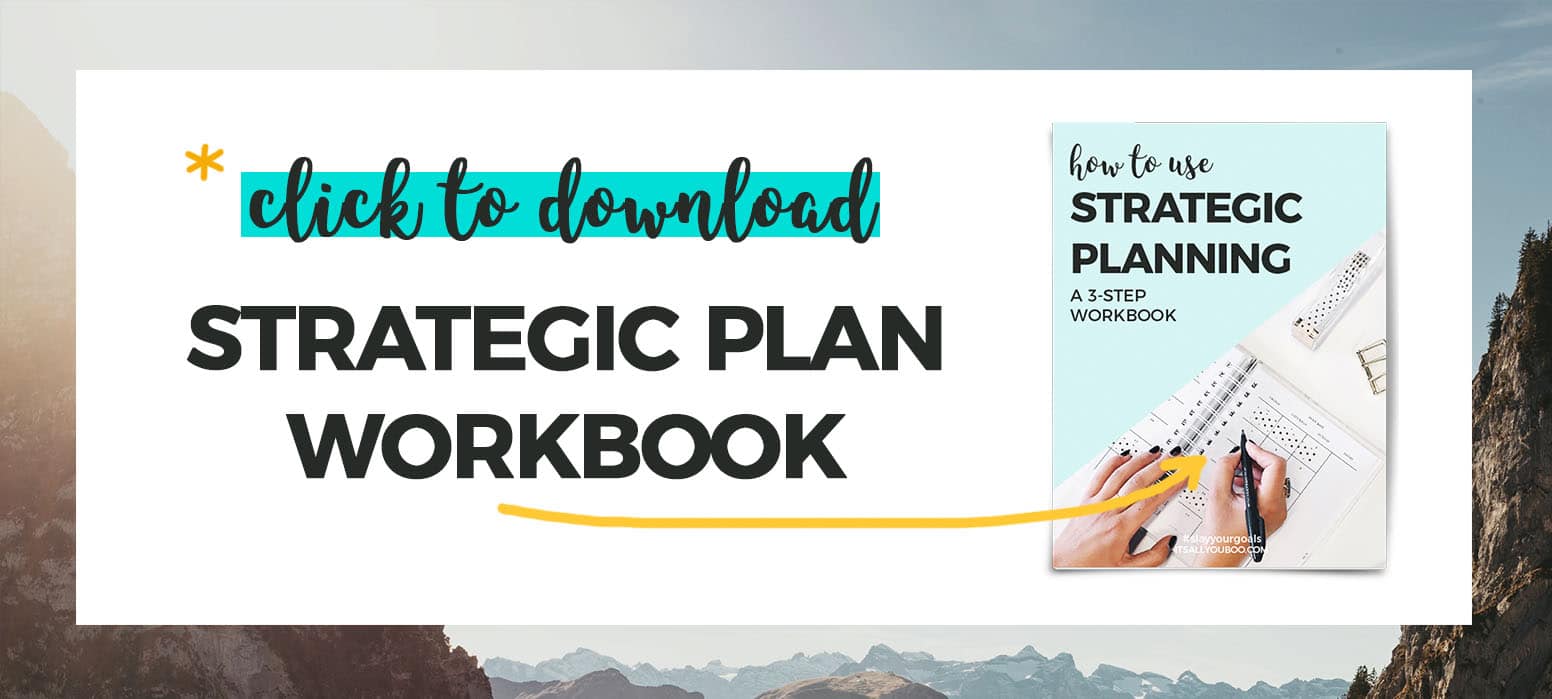 #5.
What's one app or tool that you can't do without?
One thing in my workspace that I can't live without is my digital workspace inside Milanote. It is hands down the best thing that's ever happened to my productivity because it works the way my brain works and it is so powerful. Milanote is my task manager, digital notebook, and capture tool all rolled into one. I absolutely love it.
Milanote has also allowed me to redesign how I execute my work in the first place. I have templates for how I complete all of my tasks, meetings, and routine projects that make everything super efficient, and that also improves the quality of my work. I am literally obsessed with Milanote.
Another tool that I use and love is my Timeular time-tracking device. My time is my most valuable asset, and Timeular gives me that bird's eye view so I can make sure my activities and how I'm spending my time each week really align with my business goals. I love how simple it is to use and I find the reporting to be accurate, flexible, and all-encompassing for tracking my business activities. Timeular is awesome.
👉🏽 RELATED POST: How to Time-Block Your Day
#6.
What's your favorite and least favorite part of being an entrepreneur?
I love the autonomy. Having the freedom to dive into projects that are in my wheelhouse and really light me up as well as the flexibility to travel and take time off when I need it. That freedom is everything.
My least favorite part is definitely marketing. I'm an introvert and having to be visible and market all the time can be really draining. I prefer to just hang out with my mastermind members behind the scenes, making project templates and supporting them during our live sessions. 🙂
#7.
What advice would you give to someone just starting out?
Build a beta version of your product/service and launch it ASAP.
Here's the thing. So many entrepreneurs waste months (years, even) trying to have the perfect content calendar or the gorgeous website and literally, none of that stuff matters. You have to get your product/service in front of real humans and get feedback as soon as possible. Because your customers are everything and their feedback will literally shape the future of your product/service and, really, your company.
You can't build a business in a vacuum and building a beta will inject cash into your business right away while simultaneously saving you months (maybe even years) of blindly struggling to make your business a reality.
👉🏽 RELATED POST: How to Find an Amazing Business Idea
We just added an entire training on this in the Mastermind because so many entrepreneurs are coming to the program and realizing the business they're building isn't even the business they really want. It doesn't align with their lifestyle goals. So we created training and a series of templates to help them get their beta off the ground in 6 weeks flat.
#8.
What's the best business advice you've ever received?
Poo~Pourri founder Suzy Batiz once said about her business,
"If you can figure out how to shift and move forward with it, you are co creating. The business is not creating you, you are not creating it. You are literally growing together. Your business is its own living organism, You are just a caretaker, You give birth to it. And it's up to you to figure out how to care for it best."
I really think she nailed it.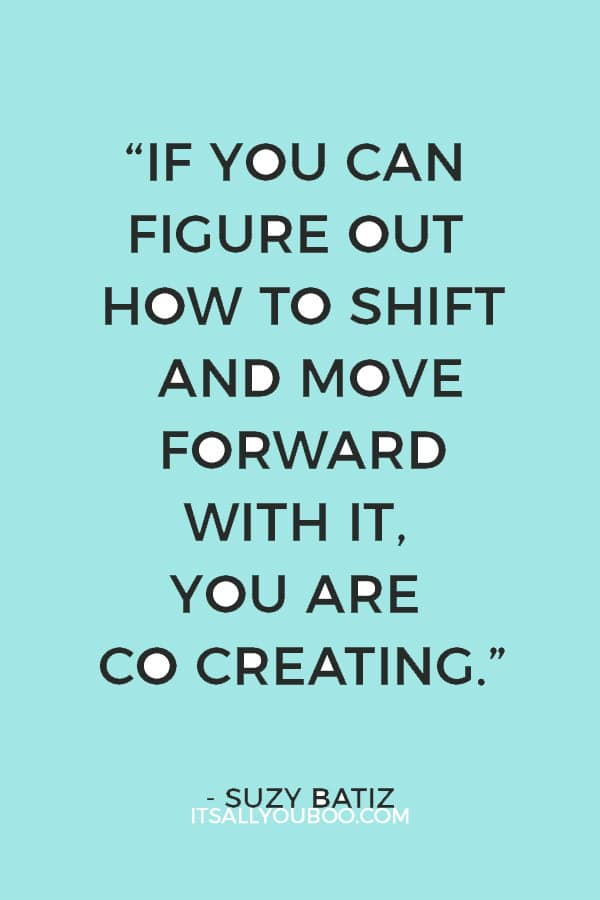 This goes back to what I was saying before about building a beta and getting that customer feedback as soon as possible. Because your business has to constantly be listening and shifting to become a co-creation with your customers to be successful over the long haul. The moment I started really listening to my clients and molding a program that was everything they ever wanted (instead of what I thought they needed), that's when my business quickly gained traction.
#9.
What books do you think every entrepreneur should read?
The three big books are The E-Myth, Profit First, and The Pumpkin Plan, which I know everyone reads. I think the most important learning really happens in the process of actually serving real humans, so I look at business books as a way to gain new perspectives.
The best course I ever took was: Abu Fofanah's Power Your Launch (Marketing + FB Ads) because he actually reviews your ads and gives you feedback. It's a very hands-on intensive.
#10.
Do you have a favorite quote or saying?
"You can't fail if you don't quit." Hands down, that's my mantra.
👉🏽 RELATED POST: How to Create a Brand Mantra
#11.
Can we talk about money?
I funded my business with income from my day-job when I was first starting out.
It took me 1.5 years to get out of the red in my business because I made a LOT of mistakes. I was listening to the wrong advice and trying to grow my audience organically by writing blog posts and being active on social media and trying to reach potential clients being "helpful in facebook groups" which has to be one of the slowest strategies possible to make money. I have learned so much!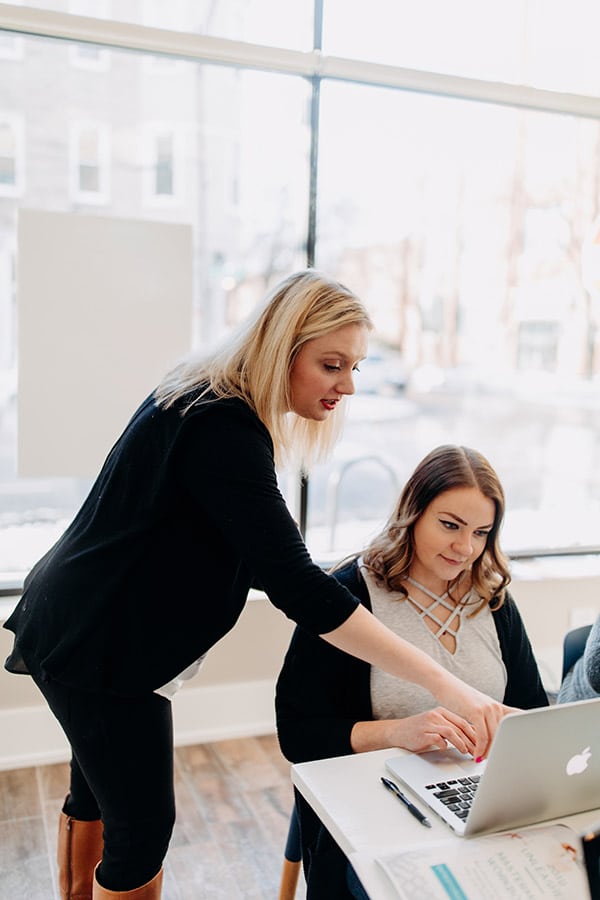 To sum it up neatly, it took me forever to make consistent money because I was wasting time on the wrong things and I tried building a couple of different business models that just didn't align with the lifestyle I was trying to create for myself. I had to learn how businesses actually work and gain clarity on how my time needed to be spent to align my activities with my goals so I could actually make money with a sustainable venture.
#12.
What's your strategy for finding clients or readers?
My traffic drivers are Instagram stories, FB Ads, visibility campaigns, and affiliate referrals. Once your product/service is out of beta, things get simpler because you can focus on building one marketing funnel/strategy at a time and compound your efforts as the months go on.
All traffic is sent to one lead generator: my webinar opt-in page. Once leads to watch the webinar, they have the opportunity to join the Mastermind. It's a pretty simple funnel, and I like it that way.
👉🏽 RELATED POST: How to Create an Online Quiz that Converts
#13.
What role does social media play for you?
Social media is a way for me to hang out with current and potential clients. I like to listen to what's on their mind and create new solutions to help them.
I also love connecting with people in a more casual way, such as weekly power hours or coffee chats. I spend most of my time online on Instagram (because I love how visual it is) and inside my Facebook group, where I share tutorials and host those Power Hours.
Bonus Questions!
Quickly tell us about yourself and what you're currently:
Reading? The New York Times
Watching? City on a Hill
Listening to? The Raconteurs
Eating? S'mores and Rioja
Obsessed with? SPENGA fitness classes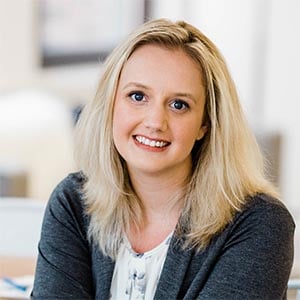 More About Guest Contributor
Katie Matusky is best known for helping online entrepreneurs cut their workload in half while creating a referral-worthy client experience. Through streamlining company processes and increasing productivity, Katie helps entrepreneurs chart a new path forward, towards a powerfully organized business you (and your dream clients) can't help but love.
Last Updated on July 12, 2021
✕
Start Strategic Planning!
+ get weekly tips to help you slay your goals.