Ready to start decluttering your home and your life?
Do you wonder, "What should I get rid of when decluttering?"
If you were to ask someone what their perfect home includes, they would most likely say they want to live in a home that looks neat and tidy, reflects their personality, and makes them feel warm and comfortable.
An inviting kitchen that feels bright and open. A clean and tidy bathroom that has a slight spa-like atmosphere. A peaceful bedroom that welcomes you back at the end of a long day. An organized closet makes picking your outfit for the day an effortless task.
But if your home currently doesn't feel this way, how do you get there? How do you start decluttering when you feel like a hoarder?
In this beginner's guide, you'll learn how to declutter your home quickly and effectively so you can truly enjoy the time you spend in your space. It outlines the best approach to decluttering your home, includes room-by-room quick tips to cleaning out, and provides answers to some of the top questions about decluttering your home!
Want to clear the clutter in your home and reclaim your space? You'll find everything you need right here! Let's start!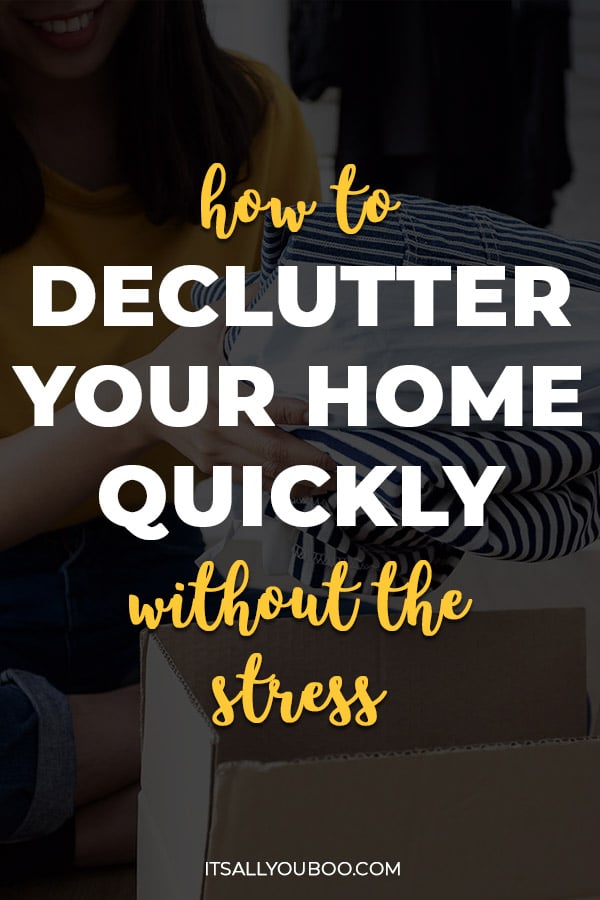 How do You Declutter Your Home
What does decluttering your home involve? How do you do it?
Decluttering is the process of removing unused and unwanted items from your space. It can be done monthly, semi-annually, or yearly and with regular purging habits you can really change the way your home feels.
Often clutter accumulates in the form of clothing we no longer wear, old, broken, or excess household items, sentimental items, and even garbage.
👉🏽  RELATED POST: Best Marie Kondo Quotes
Where to Start When Decluttering Your Home
There isn't really a right place to start when it comes to decluttering. However, it is often easiest to start by decluttering areas that contain the least number of sentimental items. Especially if you're feeling overwhelmed by clutter, you'll need to build up momentum and that can be hard if you start by trying to let go of old memorabilia.
The easiest place to start is in your kitchen, bathroom, or closets. You'll be less emotionally attached to the items in those spaces which will make it easier to let go. Once you've made it through some of these spaces, it will be easier to approach decluttering items with more sentimental value.
👉🏽  RELATED POST: How to Start Decluttering When Overwhelmed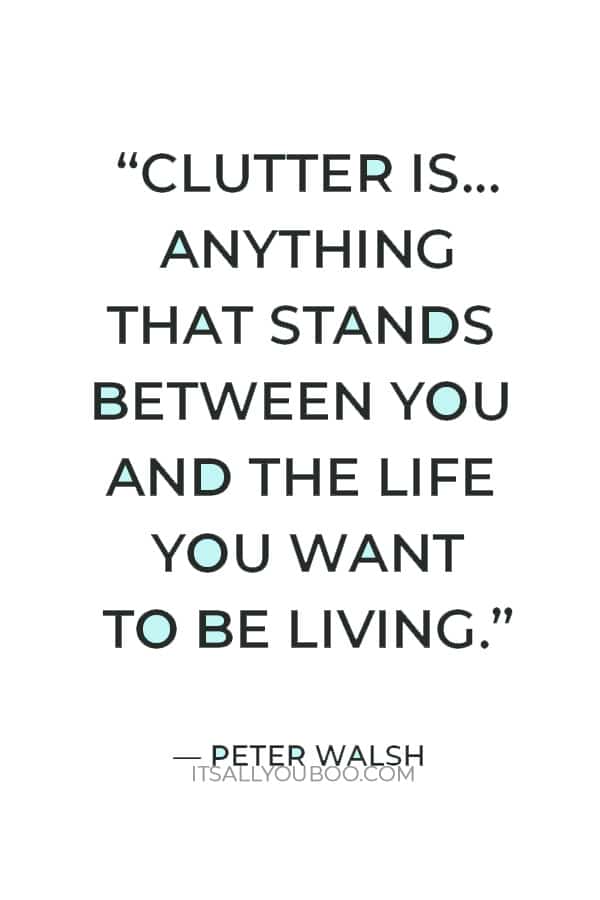 What is the Best Approach to Decluttering?
To start decluttering your home, you'll want to set up boxes that are labeled: sell, donate, trash. As you move through each area of your home, you'll decide which items you will sell (Facebook Marketplace is hot right now!), donate (to local thrift stores) or throw away.
Selling your clutter is a great way to get motivated and can be really rewarding – you can sell anything from home décor to clothing to toys! Donating is the easiest and fastest way to get rid of clutter because you can drop off an entire trunk full of stuff in one afternoon and be done with it!
It's also much better than tossing usable items in landfills. Try to throw out things that really can't be used like broken items and remember to recycle paper!
Can You Declutter Your Home in One Day?
Yes! It is possible to effectively declutter your home in one day if you have a plan in place.
Grab some friends, pump up the tunes and make it happen! By using the sell, donate, trash approach, you can easily move through each room of your home and reduce the clutter in your home.
Ready to start decluttering, let's go room by room with tips to help you declutter your home quickly.
👉🏽  RELATED POST: How to Get Organized with The Cloud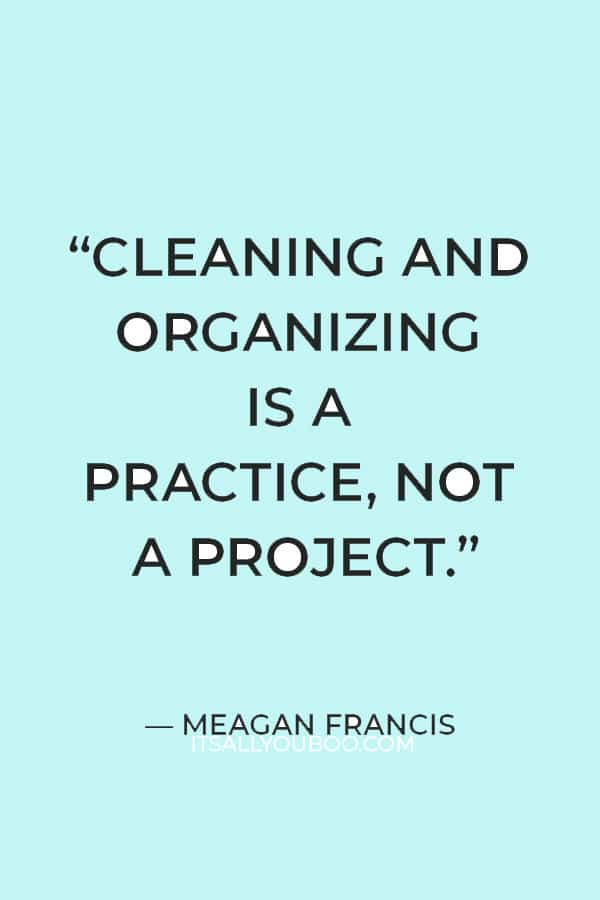 Beginner's Guide to Decluttering Your Home (Room by Room)
#1. Decluttering Your Kitchen and Pantry
The kitchen is the heart of the home, and we spend much of our time here. Having a kitchen clear of clutter can really change the atmosphere and can allow you to relax as you make your morning coffee, grab a mid-day snack and enjoy a family meal at the end of the day.
Here are some quick tips to help you declutter your kitchen:
Always start with a clean kitchen
Remove everything one cupboard at a time and put items where you can see them, like on the counter
Select anything that is broken and throw it away
Decide what you want to donate and add to a donate pile
Empty out your pantry and food storage, throw out expired food, donate what you don't eat
Sell any kitchen gadget and appliances you have not used in years
Decided what you want to sell, take pictures, and list right away
Put the remaining items back
Don't you just enjoy cooking more and spending time in your kitchen when it's tidy? A tidy kitchen might even save you from spending so much on takeout.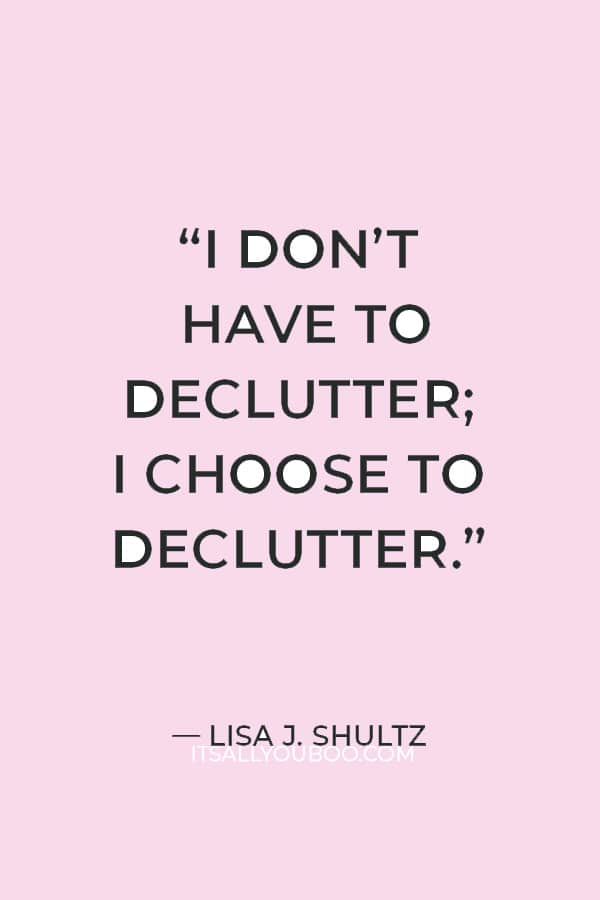 #2. Clearing Out Your Bathroom
Bathrooms are prone to accumulating clutter in the form of excess products – remember when your favorite body wash went on sale? Keeping only what you will use and purchasing only when you need things will help keep your bathroom from becoming cluttered.
Here are a few easy ways to reduce clutter in your bathroom:
Always start with a clean bathroom
Remove everything one cupboard at a time and put items where you can see them, like on the counter
Empty and rinse old product bottles and recycle if possible
Check for expiration dates on makeup (most makeup should be used within a designated time frame after opening)
Consider reusing towels that are ratty or have holes in them as rags
Donate excess hygiene or hair products (consider giving to your local women's shelter)
Use cute baskets to organize your vanity and reward yourself for all the hard work with a candle-lit bath!
👉🏽  RELATED POST: How to Be More Eco-Friendly
#3. Decluttering Your Bedroom
Got a junk drawer in your nightstand, or a pile of unopened shopping bags in your closet?
Bedrooms aren't the worst offender when it comes to clutter, but there are certainly some "hot spots" that clutter is known to gravitate toward.
Here are some simple ways to cut down on clutter in your bedroom:
Start by picking up your room – clothing on the ground etc.
Go through your night table drawers, only keep what you need close by at night
Use cute trays to organize small items on bedside tables and dressers
Hang up hooks for clothes that are too clean to wash but not clean enough to fold and put away
Don't let clutter get away from you – commit to a quick 10 minute declutter once per week
To key to keeping your bedroom free from clutter is putting everyday items back where they belong at the end of the day.
Get in the habit of putting clothes right into the basket, or on a chair. Making your bed in the morning can also set an atmosphere of tidy.
👉🏽  RELATED POST: 5 Ways to Improve Your Bedroom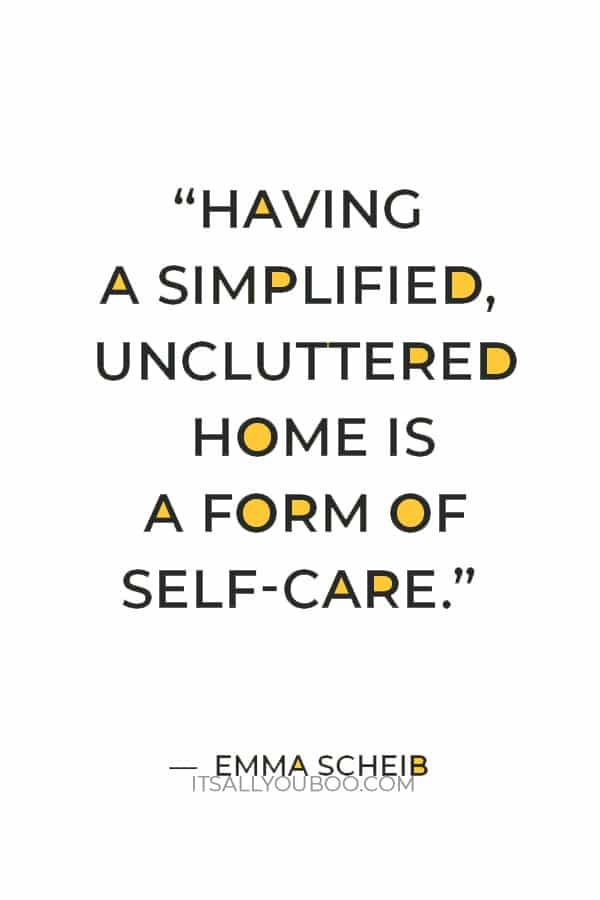 #4.
Clearing Out Your Closet
While the closet is one of the easiest places to avoid decluttering (because you close it and it goes away), this also means it can be the easiest place for cluttering to build up. There are so many great ways to declutter your closet by doing large purges but also by regularly assessing the items you have.
Take everything out of your closet and decide what gets to stay
Get rid of anything that no longer fits (if you lose or gain weight – go shopping)
Turn all hangers the opposite way, at the end of 6 months donate any items that are still hanging that way
Sell higher-end and good condition clothing you no longer wear
Only keep clothes you FEEL good in – stop yourself from wearing things that don't make you feel amazing
Organize the clothing you have left by color
With your closet organized, you're more likely to shop your closet in the future instead of spending. Plus, you might feel inspired to start a capsule wardrobe of the pieces you love.
👉🏽  RELATED POST: 5 Wardrobe Must-Haves for Women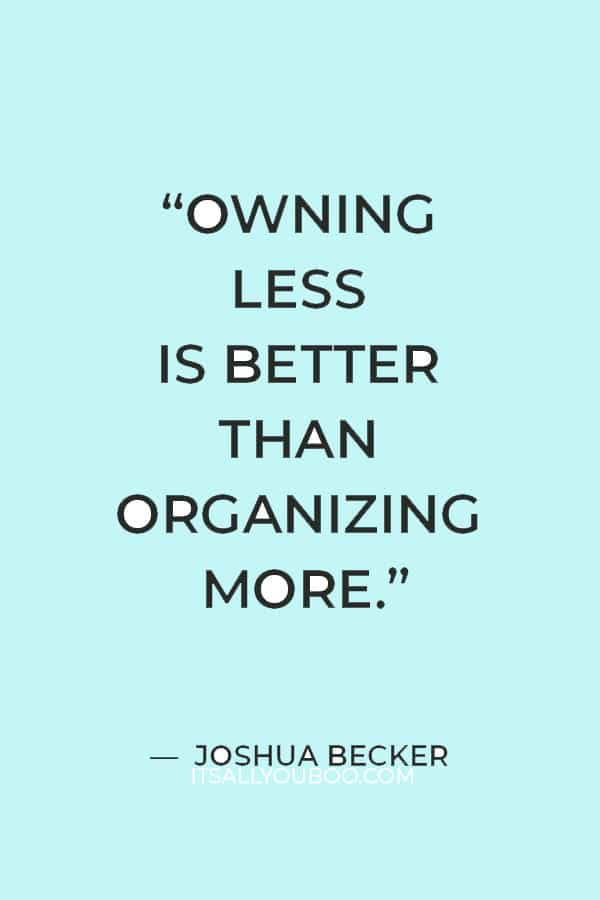 #5. Tidying Up The Kids Toys
There's no denying it, kids cause clutter. But that doesn't mean you need to let toy clutter take over your home. Like every area of your home, toys also require regular declutter to maintain a peaceful and happy home.
Here are some simple ways to reduce toy clutter:
Make sure your kids are on board with decluttering, especially if they are older
Consider using a toy rotation system to cut down on toy clutter
Limit the number of kid's books you own and make regular trips to the library
Work at decluttering toys one room at a time (main living area, kid's room, playroom)
Declutter old toys right after birthdays and Christmas while kids are still excited about their new toys
Plus, teaching your kids to keep only what they use and love is a great life lesson. It's also important to get the little ones involved in decluttering the home.
👉🏽  RELATED POST: How to Be an Organized Working Mom
#6. Decluttering Sentimental Items
The hardest category to declutter is sentimental items. Why? Because we have an emotional attachment to them, and it often requires a lot of mental energy to sort through things that mean something to us.
Here are a few ways you can cut down on sentimental clutter:
For babies and weddings, keep a small shadow box to hold your keepsakes
Take pictures of things you want to remember, but don't want to keep
Digitize photos, diplomas, certificates, and other sentimental papers
Limit yourself to one or two storage boxes for sentimental items
Remember that there's a memory attached to every item that you have, even though you get rid of the item, you still have the memory.
👉🏽  RELATED POST: 8 Ways to Spring Clean Your Life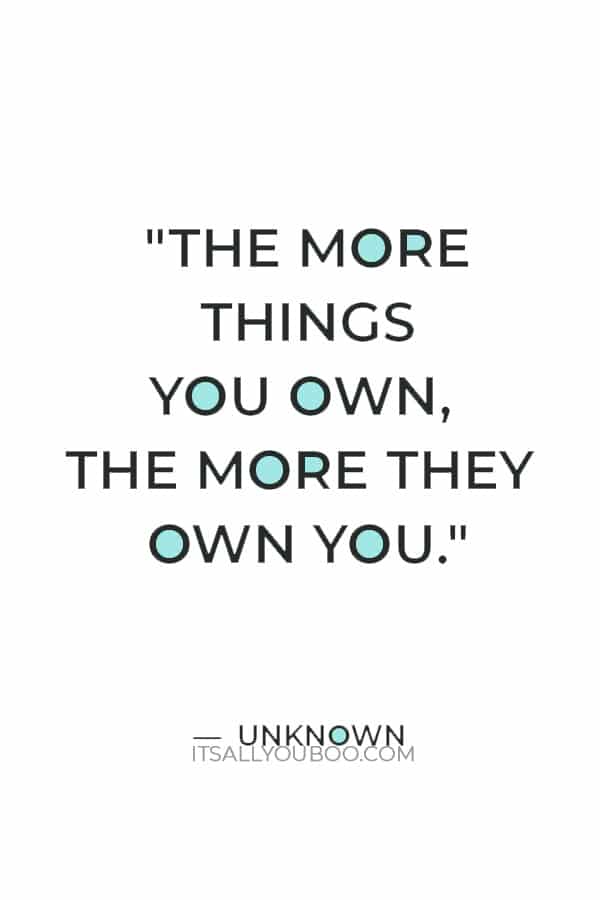 Top 5 Questions About Decluttering Your Home
#1. How can I declutter my house quickly?
Challenge yourself! Set a timer for each room you want to declutter and try to make as much progress as possible.
Once the timer goes off, move to the next room. You can start by giving yourself as little as 10 minutes. If you do this regularly, you'll manage to reduce a ton of clutter in your home!
#2. Can decluttering your home really make you happier?
Yes – and there is scientific evidence to back it up. Studies have shown that there is a link between high levels of the stress hormone cortisol in female homeowners and a high density of household items. You know that feeling you get when things are misplaced, disorganized and there's just so much stuff around you?
Cortisol is largely contributing to that feeling. So, by reducing the "density of household items" (aka decluttering your home) you'll notice you feel more at peace and less stressed in your space.
👉🏽  RELATED POST: How to Always Be Happy
#3. Where do I start decluttering when overwhelmed?
The best place to start decluttering if you're feeling overwhelmed by the task is your bathroom vanity/drawers or coat closet. These small, unemotional spaces allow you to ease into decluttering without having to make hard decisions like whether to let go of your yearbooks or high school sports medals.
Once you completely declutter a small space, you can move onto a bigger area like the shelves in your living room, your closet, or kitchen cupboards. Decluttering has a positive effect on how you feel, so by working at it little by little, your desire to continue decluttering will grow!
👉🏽  RELATED POST: How to Deal with Overwhelm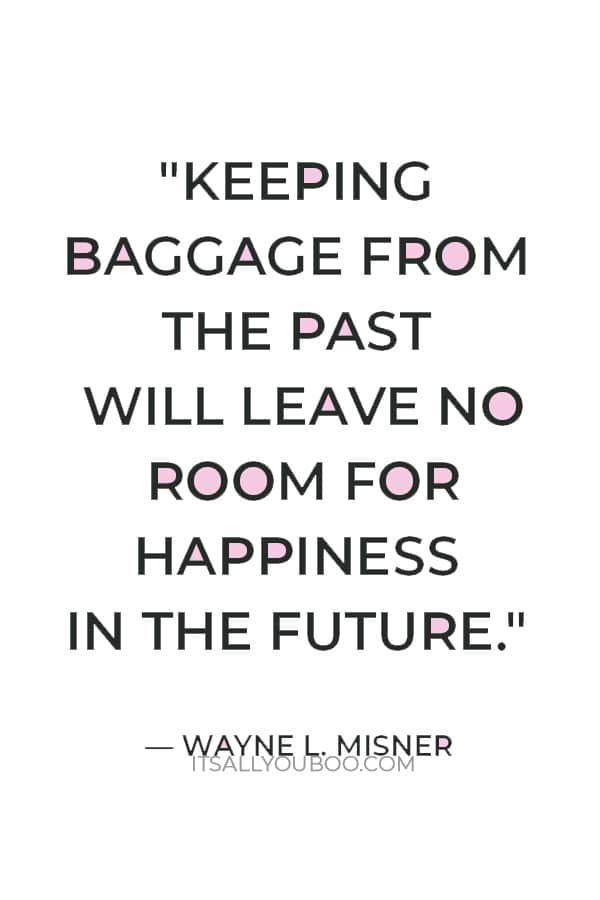 #4. What should I get rid of when decluttering?
The easy things to get rid of are items that are broken. Beyond that, think about what you really use. If you have two kitchen appliances and they work similarly, you can likely do without one of them.
Clothing that no longer fits or hasn't been worn in the last 12 months should be given away or sold. Effectively decluttering requires that you give thought to the things in your home. If you don't use it – it should not be in your home.
#5. What should you not do when decluttering?
When you are decluttering, it's important not to get rid of things that don't belong to you. If you live with a spouse or you have kids, make sure you get them on board before selling, donating, or throwing away anything that belongs to them.
Be sure to return items to their owner if they've been borrowed. When decluttering paper, make sure you safely and securely discard personal information using a paper shredder.
Start Decluttering Your Home Today
Decluttering your home is a process and it takes time and practice to learn how to do it effectively. But the best way to get there is by starting today! Make it a habit to regularly purge areas of your home by setting up a donation box in your closet.
This way you can add to it as you come across things you don't want or use anymore. Stay positive and keep moving forward! A life with less clutter is more peaceful and enjoyable.
Spring Clean Your Mind Checklist
Don't just declutter your home, declutter your mind too! Get your FREE Printable Spring Clean Your Mind Checklist with 12 ways to refresh your mental health this spring.
What is one area of your home that needs to be decluttered? Share a tip from this blog post that you think will help you tackle it in the comment section!
Ready to declutter your home quickly and your life? This is your guide to decluttering your home, room by room, including what to keep for happiness by @mylbblog #Decluttering #Declutter #SpringClean

Are you ready to start decluttering your home?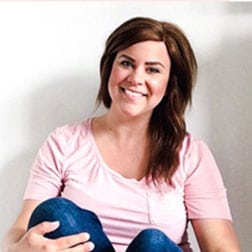 More About Guest Contributor
Lydia is passionate about helping others on their minimalism and personal growth journey and has created a blog to do just that. On her blog, Make Your Life Beautiful, you'll find inspiration to simplify your life and become the best version of you!
Last Updated on December 11, 2021
✕
Get the Checklist!
+ weekly tips to help you slay your goals.