What are the best inspirational new year's resolution quotes? Want to get excited and motivated to set a new year's resolution?
With the days counting down to the New Year, we're all ready and excited about the amazing things in store for us!
Oh, all the adventures we'll take and the new memories that we'll make. Now is the time to prepare for a successful new year.
Whether you're into making New Year's Resolutions or not, I know you have expectations for 2023.
It's impossible not to! Even the most cynical among us silently wish the New Year will be an improvement on the last.
Will 2023 be the year you'll finally quit your job and start that business?
Perhaps the year you'll fall in love or perhaps finally stop making excuses for being unhealthy?
The possibilities are endless for you, as there are countless unique New Year's Resolution ideas for you to choose from!
Whatever your hopes for yourself, a fantastic place to start your New Year is with a dose of Inspirational New Year's Resolution Quotes and Sayings.
Each of these famous New Year's Quotes will inspire you to get excited and motivated to make 2023 your year. They encourage you to look forward, let go of the past and put your best foot, heart, and soul forward into the new year.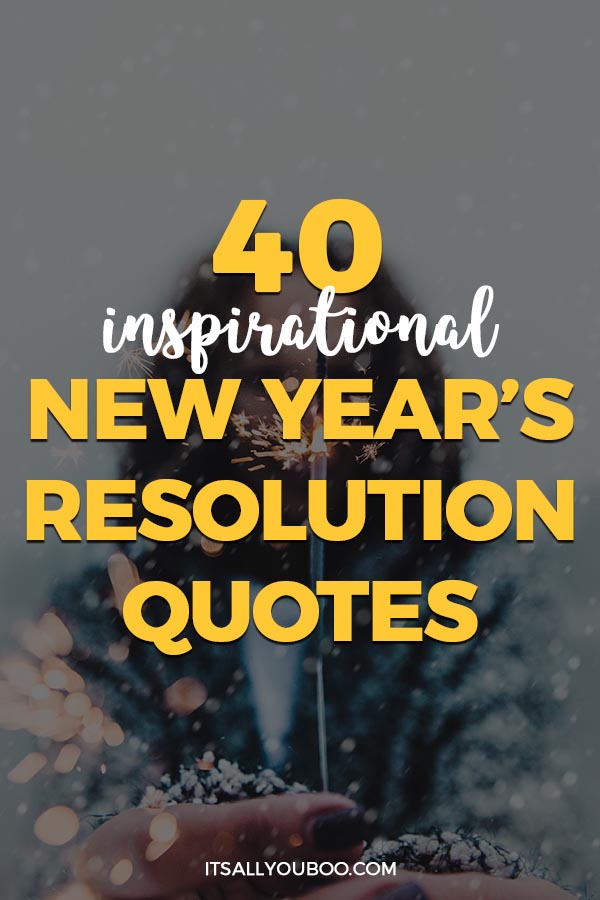 Motivational Quotes for Your New Year
The New Year is a new adventure, a new chapter in your life. 365 days of new possibilities and opportunities just waiting for you. This collection of new year quotes and sayings inspire you to see the new year as a fresh start and a new chapter in your life, just waiting for you to fill it with new experiences.
1. "Tomorrow, is the first blank page of a 365 page book. Write a good one." ― Brad Paisley
👉🏽 RELATED POST: New Year's Resolution's for College Students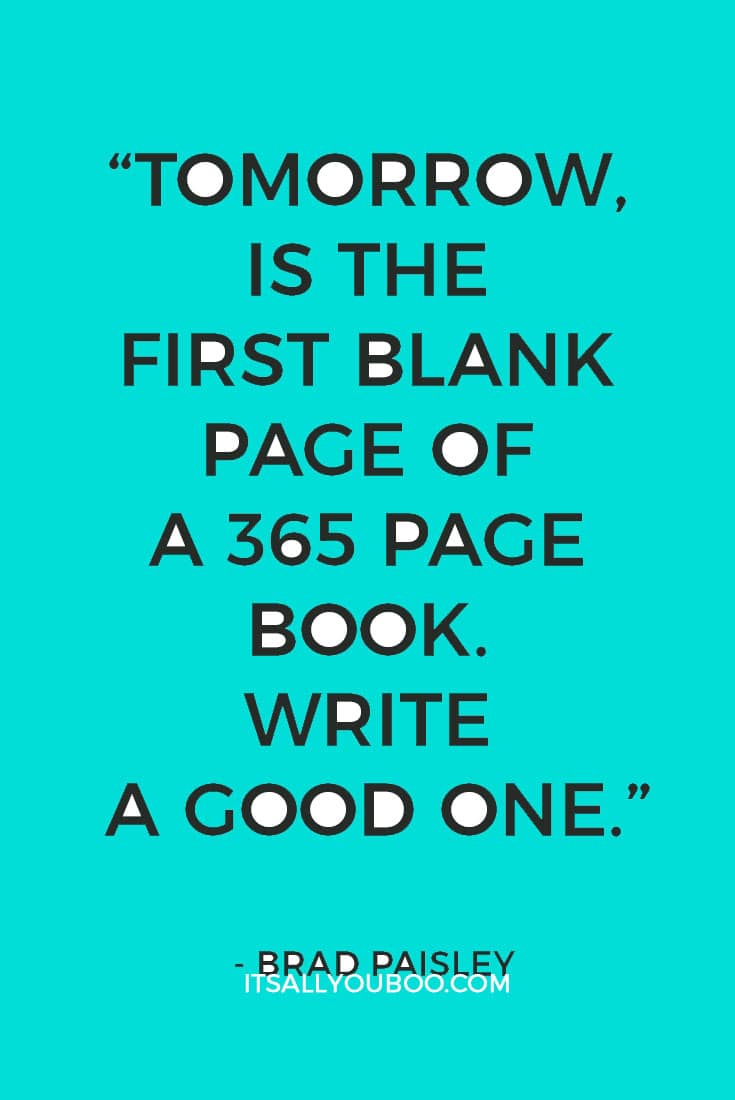 2. "We will open the book. Its pages are blank. We are going to put words on them ourselves. The book is called Opportunity and its first chapter is New Year's Day." ― Edith Lovejoy Pierce
"There is nothing magical about the flip of the calendar, but it represents a clean break, a new hope, and a blank canvas." ― Jason Soroski
4. "Every time you tear a leaf off a calendar, you present a new place for new ideas and progress." ― Charles Kettering
5. "And now we welcome the new year. Full of things that have never been." — Rainer Maria Rilke

Hope-filled Inspirational New Year Quotes
Each New Year brings new hope! Let go of the disappointments of what didn't happen, leave your regrets in last year, and step forward emotionally with a spirit of hope and thankfulness. This collection of inspirational New Year quotes and sayings presents the new year as your opportunity to hope again.
"Hope smiles from the threshold of the year to come, whispering 'it will be happier'…" ― Alfred Tennyson
7. "Each year's regrets are envelopes in which messages of hope are found for the New Year." ― John R. Dallas Jr.
8. "Drop the last year into the silent limbo of the past. Let it go, for it was imperfect, and thank God that it can go." — Brooks Atkinson
9. "There are far, far better things ahead than any we leave behind." ― C.S. Lewis
👉🏽 RELATED POST: 100 End of Year Review Questions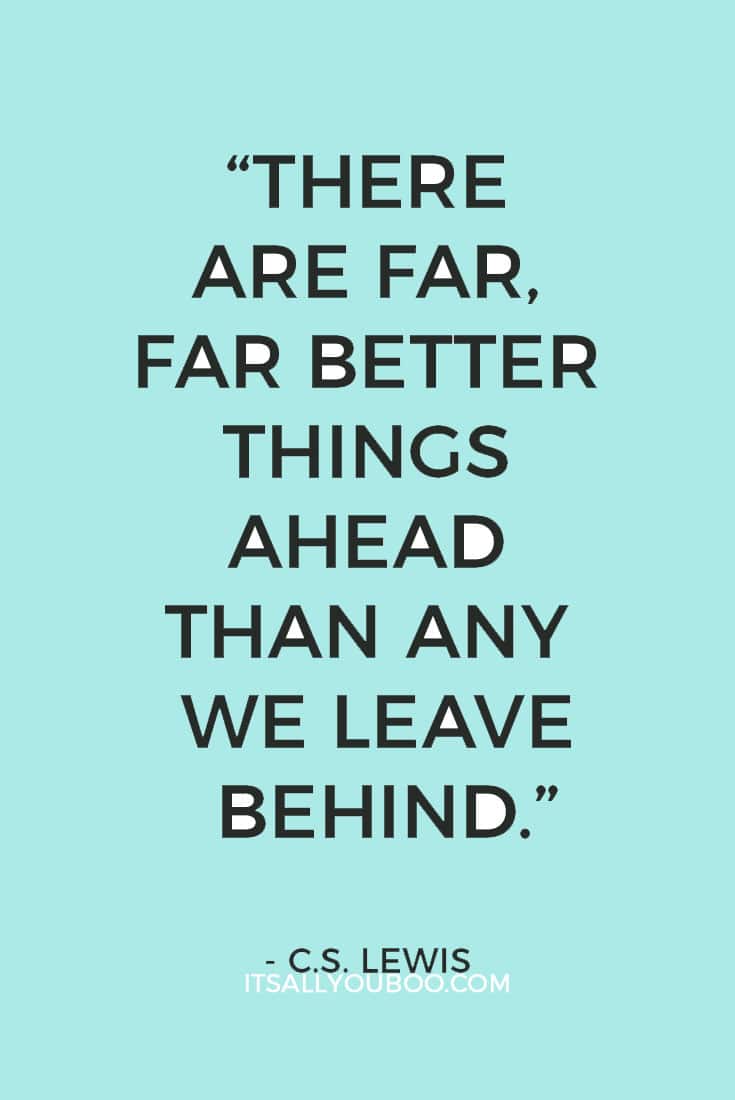 👉🏽 RELATED POST: Why You Need to Review Your Year
10. "We can find a new hope every new day and every New Year." ― Lailah Gifty Akita
11. "Dear world, I am excited to be alive in you, and I am thankful for another year." ― Charlotte Eriksson
"Write it on your heart that every day is the best day in the year." ― Ralph Waldo Emerson
13. "We spend January 1 walking through our lives, room by room, drawing up a list of work to be done, cracks to be patched. Maybe this year, to balance the list, we ought to walk through the rooms of our lives…not looking for flaws, but for potential." — Ellen Goodman
Inspiring New You, New Year Quotes and Sayings
The New Year is a time to renew yourself! It's time to reset your mind and your thoughts go forward with a new way of thinking. It's not about pretending everything is okay, but it's about putting aside your harmful and hurtful tendencies like negative self-talk, gossiping, and hated. This collection of inspirational New Year Quotes and Sayings reveal that the purpose of the new year is to renew your thoughts, behavior, and language.
14. "All of us every single year, we're a different person. I don't think we're the same person all our lives." ― Steven Spielberg
"Same mind with same old ideas enters the same old year; only the new mind with new ideas enters the New Year!" ― Mehmet Murat Ildan
16. "For last year's words belong to last year's language and next year's words await another voice." ― T.S. Eliot
👉🏽 RELATED POST: How to Choose the Right New Year's Resolution
17. "What do you need in the New Year? You need a dream; your dream needs an action; and your action needs right thinking! Without right thinking, you can have only unrealised dreams!" ― Mehmet Murat ildan
"The object of a new year is not that we should have a new year. It is that we should have a new soul." — G.K. Chesterton
19. "The object of a New Year is not that we should have a new year. It is that we should have a new soul and a new nose; new feet, a new backbone, new ears, and new eyes. Unless a particular woman made New Year resolutions, she would make no resolutions. Unless a woman starts afresh about things, she will certainly do nothing effective." ― G.K. Chesterton*
Ideas for Your New Years Resolution Quotes
Need a New Years Resolution idea? Or maybe not convinced New Year's Resolutions are even your thing. Here's an idea – keep it simple this year, focus on loving yourself and others more, to get to know yourself better, and to complain less. This selection of New Year Motivational Quotes is all about the resolutions you should be making this year. Choose to love, choose to complain less, choose to make daily resolutions.
20. "Remove 'shoulds' from your vocabulary this year. Start your journey of self-love now." ― Kelly Martin
21. "And I went into the New Year loving myself a little less, but a little more where it actually mattered." ― Dominic Riccitello
"Let our New Year's resolution be this: we will be there for one another as fellow members of humanity, in the finest sense of the word." ― Goran Persson
23. "If you asked me for my New Year Resolution, it would be to find out who I am." ― Cyril Cusack
👉🏽 RELATED POST: The Ultimate List of Unique New Year's Resolution Ideas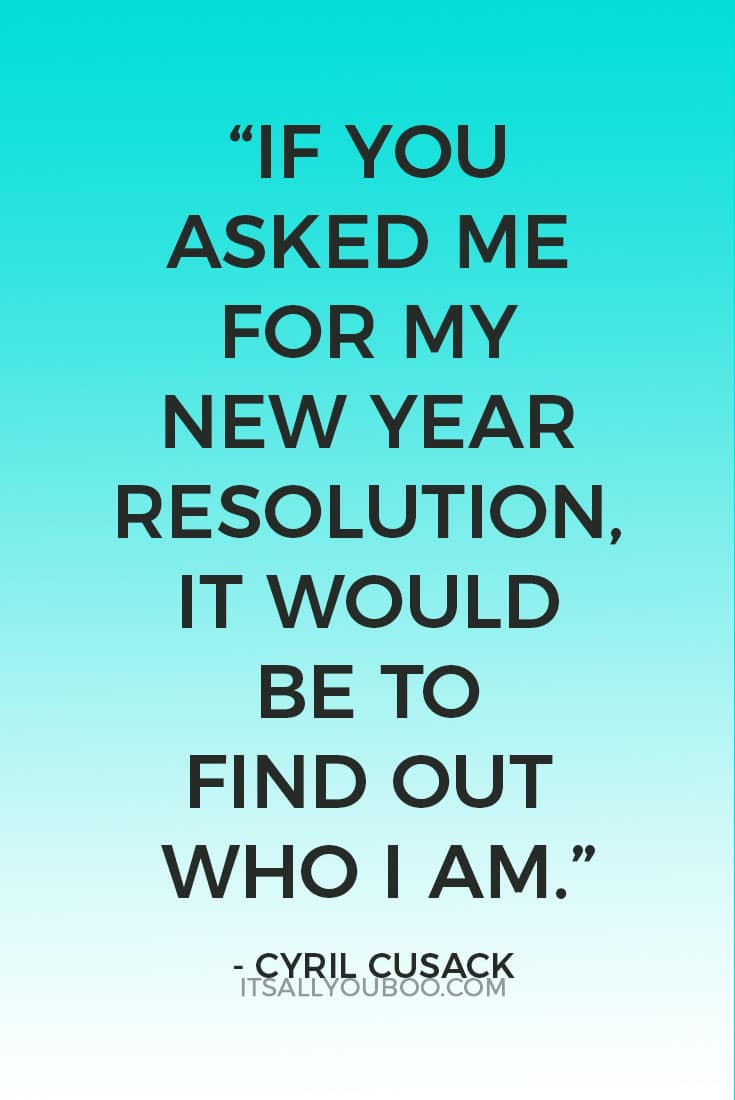 24. "From New Year's on the outlook brightens; good humor lost in a mood of failure returns. I resolve to stop complaining." — Leonard Bernstein
25. "One resolution I have made, and try always to keep, is this — To rise above the little things." — John Burroughs
"What the New Year brings to you will depend a great deal on what you bring to the New Year." ― Vern McLellan
27. "I think in terms of the day's resolutions, not the year's." — Henry Moore
Take Action with New Year Motivational Quotes
Want to make changes in your life in the new year? Then don't just make resolutions, set goals, and take action. The following Motivational New Year Quotes and Saying implore you to seek out new opportunities, to set goals, to take action, and most importantly stick with your resolution. Don't just set it and forget it, do what you must to make it happen.
28. "Make New Year's goals. Dig within, and discover what you would like to have happen in your life this year… The new year stands before us, like a chapter in a book, waiting to be written. We can help write that story by setting goals." ― Melody Beattie
"Character is the ability to carry out a good resolution long after the excitement of the moment has passed." ― Cavett Robert
30. "Making New Year resolutions is one thing. Remaining resolute and seeing them through is quite another." ― Alex Morritt
👉🏽 RELATED POST: 19 Powerful Quotes that Motivate You to Start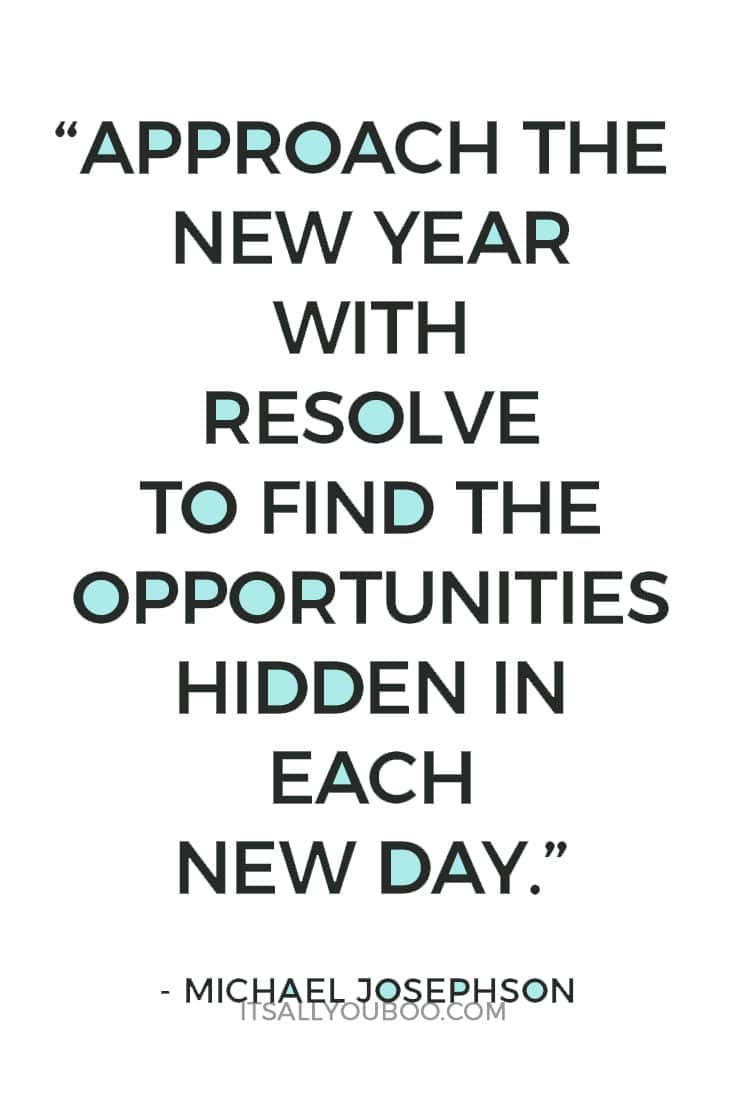 31. "Approach the New Year with resolve to find the opportunities hidden in each new day. " ― Michael Josephson
"Necessity of action takes away the fear of the act, and makes bold resolution the favorite of fortune." ― Francis Quarles
33. "For a new year to bring you something new, make a move, like a butterfly tearing its cocoon! Make a move!" ― Mehmet Murat Ildan
Stick to it or Break it New Years Resolution Quotes
The New Year is a time to make mistakes or to get it right. Keep your New Year's Resolution or break it! Sometimes in order to figure something out, you need to make mistakes and fail along the way. These famous new year resolution quotes and sayings encourage you to mess up and get it right! Be brave, either way, you're learning and gaining wisdom. Isn't that what matters in the end.
34. "I hope that in this year to come, you make mistakes… Whatever it is you're scared of doing, Do it. Make your mistakes, next year and forever." ― Neil Gaiman
35. "How few there are who have courage enough to own their faults, or resolution enough to mend them." — Benjamin Franklin
"May the New Year bring you courage to break your resolutions early! My own plan is to swear off every kind of virtue, so that I triumph even when I fall!" ― Aleister Crowley
37. "He who breaks a resolution is a weakling; He who makes one is a fool." — F.M. Knowles
38. "May all your troubles last as long as your New Year's resolutions!" — Joey Adams
👉🏽  RELATED POST: How to Write a New Year's Resolution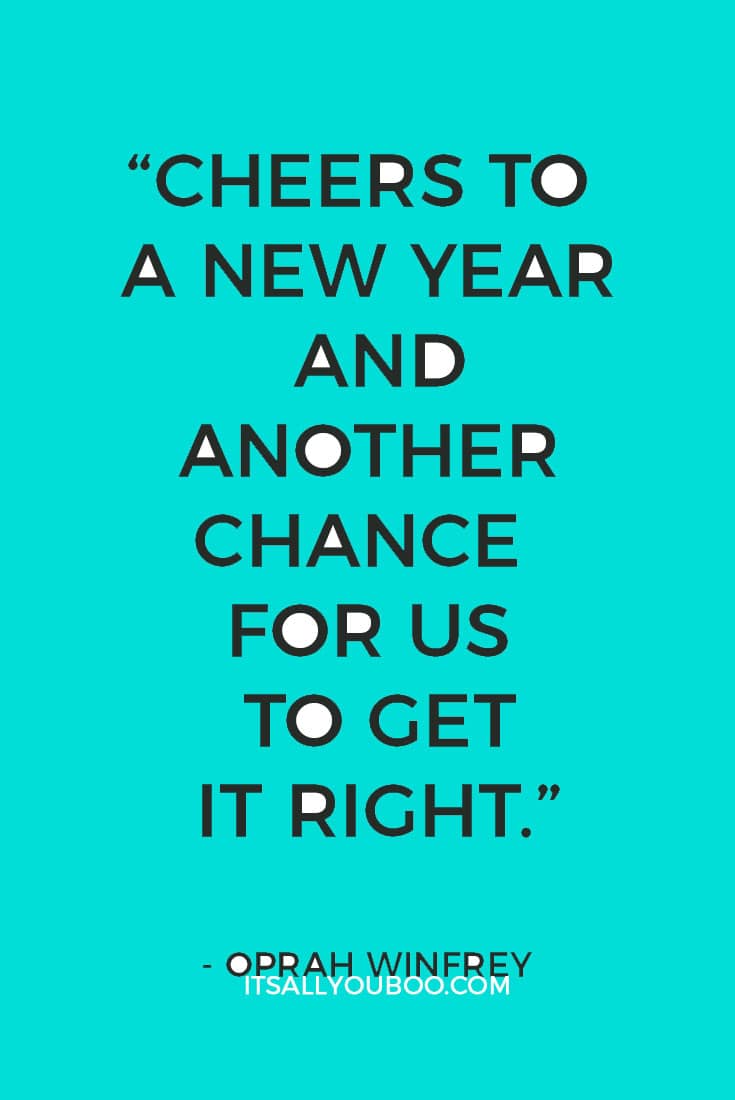 39. "Cheers to a new year and another chance for us to get it right." ― Oprah Winfrey
40. "Year's end is neither an end nor a beginning but a going on, with all the wisdom that experience can instill in us." ― Hal Borland
Take the Quiz – What Should My New Year's Resolution Be?👇🏽
Are you feeling inspired to make a 2023 New Year's Resolution?
Let next year be the year you make a New Year's Resolution that really matters to you! Take the New Year's Resolution Quiz and discover what area of your life you should focus on + get unique resolution ideas.
Ready to make 2023 your best year yet? Click here for 40 inspirational New Year's Resolution quotes and sayings. #NewYears #NewYears2023 #HappyNewYear #Quotes #NewYearsResolution

What's your favorite New Year's Resolution quote or saying/
Last Updated on November 27, 2022
✕
Take the New Year's Quiz!
+ get weekly tips to help you slay your goals.