How do you prepare for a successful new year? What should you do before New Year's Day?
The new year and 365 days of new beginnings are on the horizon. 2023 is in sight and it's going to be a big year!
As you get ready to deck the halls and ring in the holiday festiveness, there's so much end-of-year excitement in the air.
But are you ready to make the most of the new year? To make it happen in 2023?
"It" being achieving your dreams and goals, crushing your plans and to-dos, and so much more you hope your life has in store for you. There's so much talk of having "the best year yet" and "new year new you" in the air.
But, here's the thing the advertisements and magazine articles often miss out on. You have to prepare and plan to ensure 2023 is your best year yet.
None of these wonderful things will happen for you without a bit of preparation and planning on your part. You have to prepare for a successful and prosperous new year!
I want you to live your best life and have more joy, happiness, success, and achievement than ever before. That's my intention for 2023, and if it's yours too, let's get ready together.
To help you make 2023 the best year yet, here are 15 ways to prepare for a successful new year.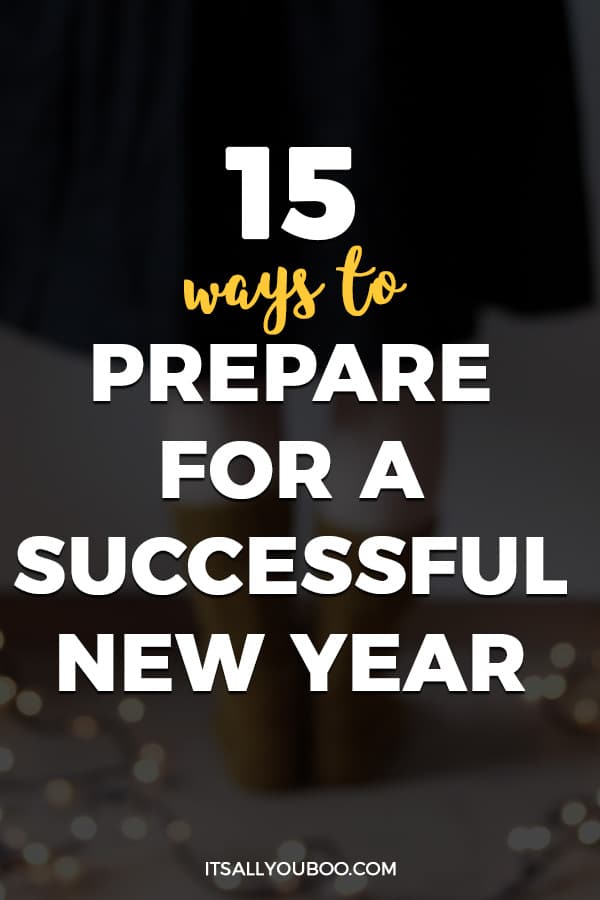 How to Prepare for the New Year
#1.
Review Your Year
This one is first for a reason. It's so important to take time to reflect upon the last year, before planning the next. How else will you know what worked and what didn't?
You need to do a year-end review of your life especially if there are any strong emotions of failure, disappointment, or frustration about 2022. It's okay, the new year is almost here and you can start fresh.
Imagine how much more you'll accomplish in the new year when you've remembered things like the best life lessons, goals you've set, and life-changing moments from 2022. That includes "failures" and any "fails," they are the best teachers.
Get your FREE Year-End Review Workbook with the top ten questions to review your year. Plus, I've also shared 100 end-of-year reflection questions you can ask too.
Don't let the only review you do be your Facebook year in review or your Instagram best 9 photos.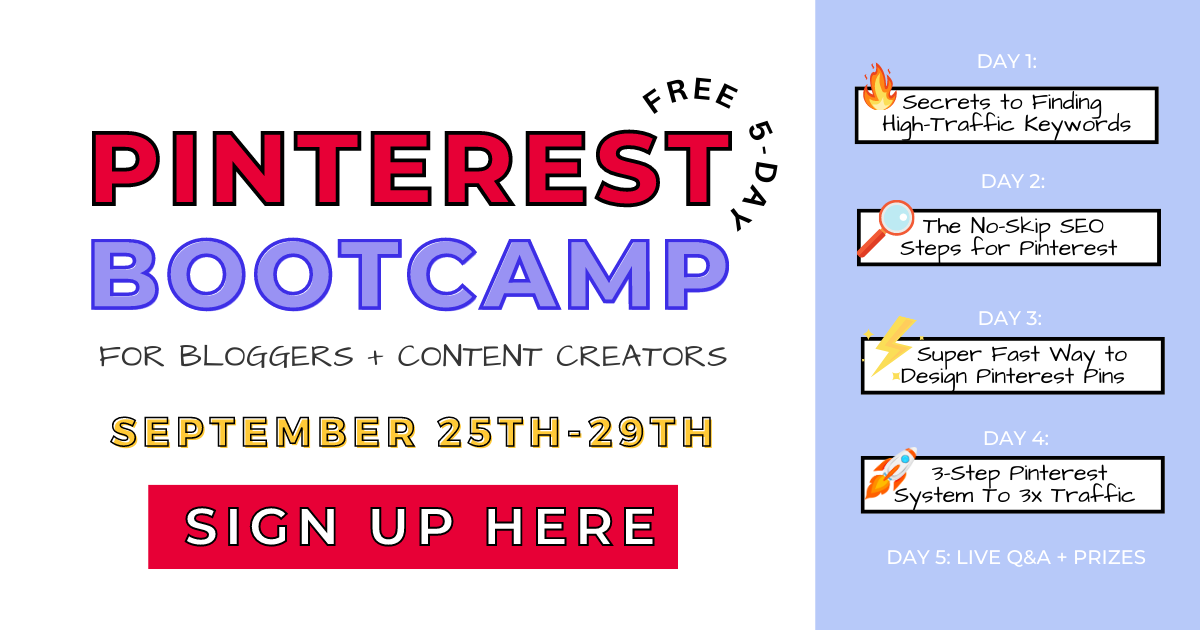 #2.
Audit Your Life
Let's talk about your life. How are things going? Do you feel happy and successful, or frustrated and unsatisfied? It's okay either way.
Somehow life just happens and you end up where you never intended, or perhaps your life isn't anything like you hoped it would be by now. That's okay too!
When you audit your life, you're not only reviewing things that happened but analyzing all areas of your life. We have only so much time and energy so oftentimes we've cared for just one or two areas of our lives, to neglect the others.
Everyone talks about work-life balance as if there are only two dimensions to our lives! You are more than just your "professional" and your "personal" life. That doesn't stop countless articles that have been written questions which is more important.
To do a simple life audit, consider the areas of your life, including your:
Think about how you feel about each of these areas and consider what would you change or spend more time doing if you could.
Now, what's most important? You can't accomplish everything in one year, but you can prioritize one or two new areas.


#3.
Make a New Year's Resolution
Do you believe in setting new year's resolutions? A hope, wish, or desire for 2023? Have they come to pass in the past years for you?
Here's a little-known secret to help you actually accomplish your new year's resolution. Don't wait until midnight on New Year's Eve to think of it.
Take care to choose the right new year's resolution for you! Don't feel silly about taking this seriously either, especially if setting one motivates and inspires you to take action.
👉🏽 RELATED POST: List of Unique New Year's Resolutions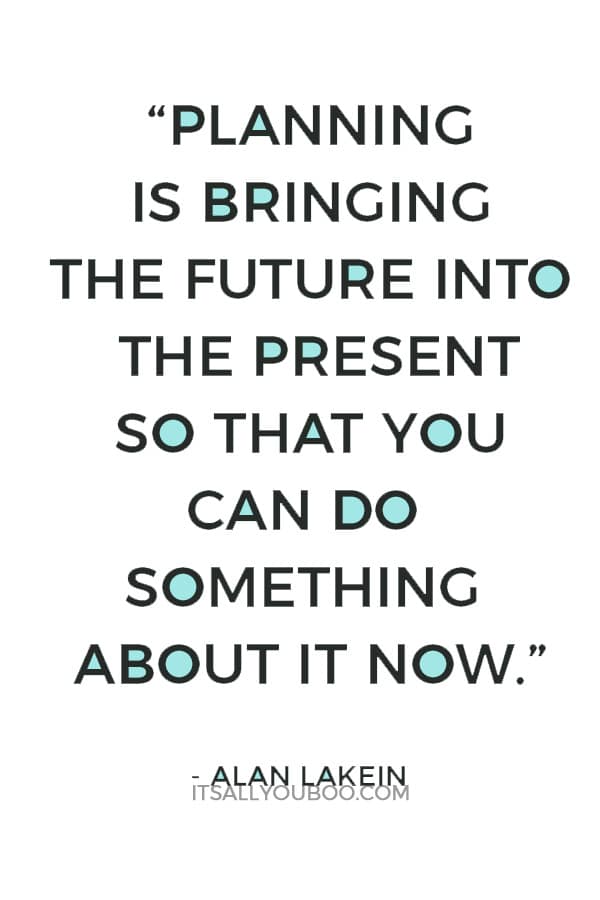 Now that you've reviewed your year and audited your life, you should have a good idea of what issues and areas of your life you want to improve. You can change your life for the better! And a new year's resolution is a great first step in that direction.
If you need help with this, take my FREE What Should Your New Year's Resolution Be Quiz which provides you with a unique list of new year's goals and ideas. Setting new year's resolutions to prepare for a successful new year has never been this easy.
#4.
Have a Goal Setting Retreat
Ready to set goals and actually achieve them in 2023? A goal-setting retreat is a planned and dedicated time for goal-setting.
The key is to make sure you're away from your usual day with no interruptions. Goal-setting retreats work best when you're alone.
Basically, you pick a free day or part of the day to spend goal setting and planning 2023. You can be as fancy or relaxed with your goal-setting retreat as you like.
To make it a day or weekend, plan to be home alone or book a hotel room, order room service, and just have a great time.
For a more low-key goal-setting retreat, find a few hours and go to a nice local coffee shop or quiet coworking space.
What should you do at your retreat? Here are some ideas:
Basically, you can do all these ways to prepare for a successful new year at your goal-setting retreat!
#5.
Plan Your Year
Don't you just love planning the new year? There's something about having 12 months of fresh possibility laid out before you.
You absolutely need to have a goals planner or a day planner to plan your year in advance. Personally, I use the Slay Your Goals Planner (I created it after all!). I print out the 12-month planner and quarterly goals worksheets and get to work.
No matter what planner you're using, the most important thing to do is to add your goals to your planner. As the famous saying goes, "a goal without a deadline is just a wish."
You can even transform your unique new year's resolution into a goal by thinking SMART: strategic, measurable, attainable, realistic, and time-bound. To actually plan your year, you need to emphasize the timeline and deadlines of your goals.
What if your goals don't have a deadline? Well, you need to set one, and strategically plan out your timeline.
When planning my year, I first set one big goal for 2023, then break it down into smaller quarterly goals. I encourage you to do the same.
Then add any important dates to your planner including, birthdays, trips (hopefully), parties (safely), appointments, and so on.
#6.
Create a Vision Board
Have you ever created a vision board before? It's an enjoyable and powerful way to prepare for the new year.
A vision board is a visual representation of your dreams and goals. They can be made in any shape or size, but are typically made from bristol board and inspirational images and words from magazines about depicting your goals.
Who doesn't love an art project that helps you achieve your goals this year? Vision boards actually work because they are visualization tools that help you picture yourself as happy, successful, and living your best life.
Got loads of magazines and craft supplies at home? Great, with your goal for 2023 in mind, collect images that you find inspiring. Organize them on a board of your choice, like a poster or corkboard. Then add positive quotes and affirmations for success.

You could also create a digital vision board online using a free graphic design tool or vision board app.
Learn exactly how to make a vision board that works here. Don't forget to display your vision board in your home or office to inspire you daily.
#7.
Write A Mission Statement
Do you know what your purpose in life is? Or do you have a mission for 2023? What's your "why'?
These are deep questions, but there's no better time to answer them than the new year. It might take you a while to discover your purpose completely, but creating a mission statement is a great way to start.
Without a mission statement (or purpose), you can feel lost, like you're just drifting through life without clear priorities or direction.
By writing a personal mission statement you are setting guidelines for your life. It determines what's important to you, and the kind of person you are and want to be, outlines a plan aligned with your values and helps you track your progress.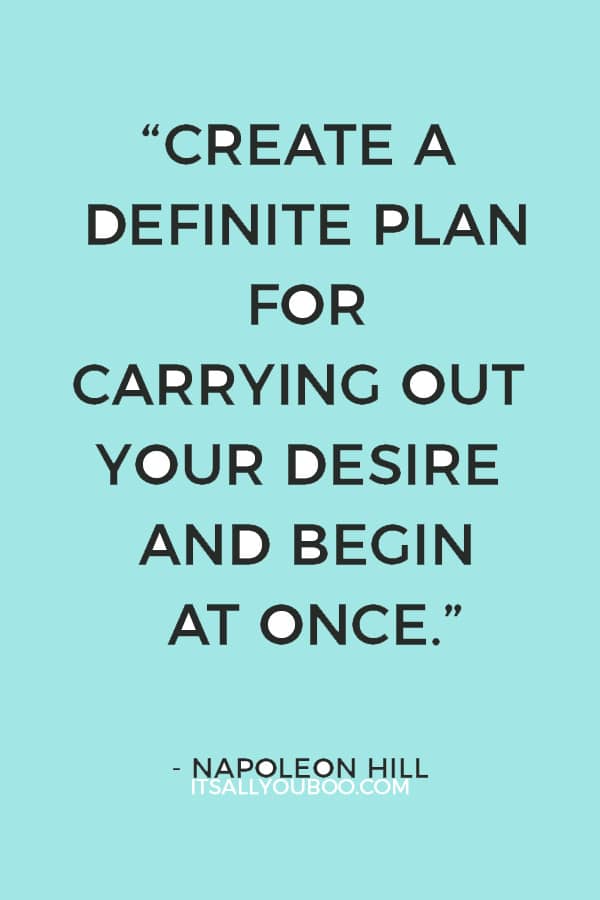 It's not a one-time exercise, but a living and breathing document to motivate and guide you through the entire year and beyond.

Plus, it doesn't have to belong either. Take time to craft a simple mission statement for your life. It will help you prioritize your time and energy and stay focused on your goals throughout 2023.
#8.
Make a Bucket List
Of course, you already know exactly what a bucket list is. But, have you ever taken the time to create one?
Here's a simple twist to help you plan the new year, make a list of everything you'd like to do in 2023.
Include all the things on your list, from epic adventures to everyday pleasures.
Here are a few questions to help you:
What have you always wanted to do?
Where do you want to visit?
What foods have you wanted to try?
Where in your hometown have you not been?
What do you want to do before 2023?
Is there anything you've been too scared to do?
There are endless bucket list ideas to choose from when you think about your life audit.
Write your bucket list in your bullet journal, on a page of your planner, or inside your daily journal too. That way you keep it with you all year long and you can check them off as you do them.
Here's an extra step, remember your vision board? Include some of your big bucket list items on your vision board too.


#9.
Create New Habits
Did you know that your daily habits will either make or break the new year for you? Almost everything we do is dictated by our habits, for good or for bad.
From the moment you wake up until you fall asleep you're running on routine and habit. That's why 2023 will not be successful without creating new habits and making them stick.
Think about the things you do in the morning, how you spend your days, as well as your nighttime routine. What habits are harmful, and which ones are helpful?
Some common bad habits include too much screen time before, procrastinating, impulse shopping or retail therapy, not exercising or eating junk, smoking, and drinking, watching too much TV, or even just being in a bad mood. All of these things are learned behaviors.
The key to changing your habits is actually to replace them with more healthy habits. The even better news is that you don't need to change everything you do, just one habit that you can improve.
Choose one new successful habit that you can start. The easiest point of the day to add a habit are right when you wake up, before/after you eat, or right before you brush your teeth for bed.

Not sure what habits to start? Here are some morning routine habits to start, plus get your FREE Printable Habit Tracker Template.
#10.
Add Accountability
Listen, I'd love to tell you that you'll stay motivated all year long. That you'll stay focused and follow through just like that. Without anyone or anything helping you.
But, if you're like every human ever, you need accountability! Someone who knows what you need to do and when, and actually follows up with you regularly to review your progress.
And sorry but keeping yourself accountable doesn't really work either. Help is good!
👉🏽 RELATED POST: Inspirational End of Year Quotes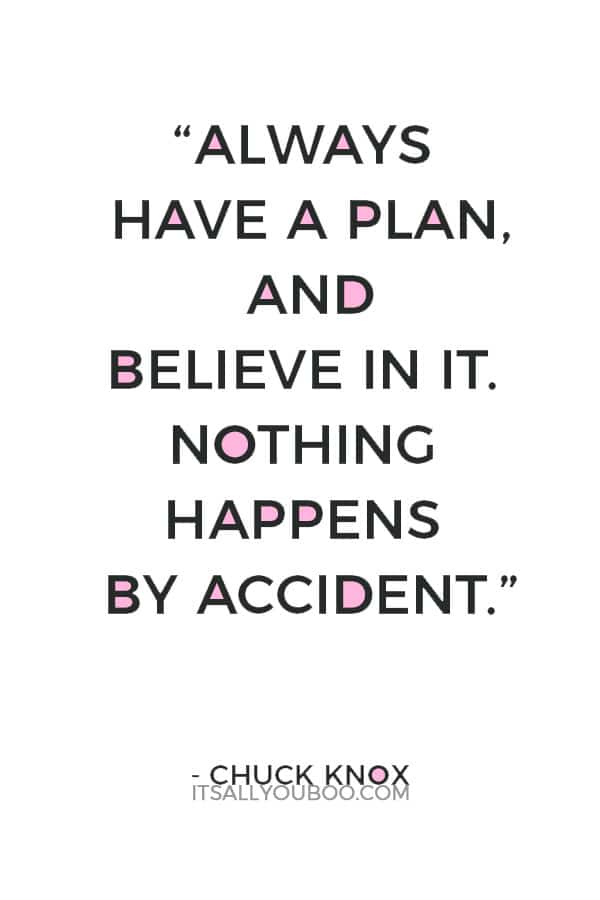 To prepare for a successful new year, you need to find an accountability partner. One person who you can share your goals and plans, as well as have weekly conversations (if not daily check-ins with).

It's not complicated or even as hard as making a new friend, odds are you're already connected to someone who's interested in being accountability buddies. Ask a sibling, friend, or coworker, or reach out in online communities.
#11.
Detox Your Life
When was the last time you cleaned your life and home from all the negativity? No sage smudging is required, but that can't hurt either as it's proven to cleanse your air.
Like junk, toxins can collect in our lives without us knowing. We're talking about both literal and metaphysical toxicity. Anything that's preventing you from living a healthy and happy life to the fullest.
So yeah, that thing you're thinking about right now needs to go. Even if it's a person, a practice, or a possession, let go of the negativity. Just like our bad habits, if it's not helping you, it's hurting you.
A few common toxins include that friend who brings you down, gossiping, or being overly critical or a photo of an ex that triggers negative or painful memories. Control + alt + delete all that from your life.

Go through and delete any and all things, even if it's hard. There's freedom in letting go and moving forward. You can't live in the past, your life is now at this moment.
#12.
Clean Out the Clutter
Let's continue tidying up our lives by getting rid of all the clutter. Somehow things just collect, don't they? I guarantee you that you have way more than you need or even use.
Having all this stuff doesn't make your life better. It actually can create overwhelming, stress and anxiety in the home. To get all metaphysical on you, the energy can't flow.
Plus, donating your excess possessions is a good deed, and can help those who actually need it. And a bonus, giving things away makes you feel better too!
Not sure where to clean out the clutter? Get started by:
emptying out your pantry
detailing your car and trunk
purging your basement
organize your bathroom cupboard
emptying out your fridge
cleaning out your email inbox

Doesn't it feel good to start the new year fresh, without a cluttered and chaotic home? Marie Kondo would be proud of you. For bonus points, simply your wardrobe by building a capsule wardrobe of 30 items only.
#13.
Get Organized
You can't plan a successful new year without first getting organized!
Like toxins and clutter, it's way too easy to become disorganized, especially when you live with other people.
Creating systems where things belong can not only save you time but stress as well. In the case of an emergency or a rush, you'll always know exactly where to look for what you need.
Take some time to organize your home, particularly your home office, kitchen, bathroom, closet, and bedrooms. Yes, that's basically the entire home, but start with the areas that are most out of order.
👉🏽 RELATED POST: New Year's Resolution Quotes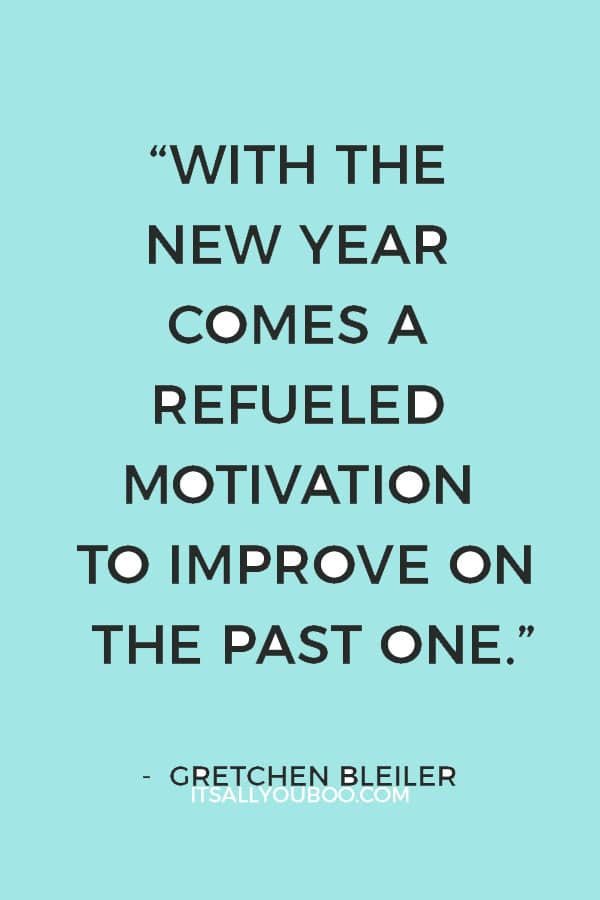 Be sure to set a designated, safe space for important documents and identification. You could also purchase a fire-proof file cabinet with a lock to store any legal papers, insurance papers, and financial documents.

One of the most disorganized places for people can actually be their devices and computers. Luckily you can easily get organized in the cloud and this creates a secure backup as well.
This is also the perfect time to update any old passwords.
#14.
Review Your Finances
How are your finances? What's your money situation? Be honest now. You simply cannot prepare for a successful new year without reviewing your finances.
Money is often THE THING that most people feel is standing in their way of success. And it's not surprising, with most Americans struggling financially. Situations like living paycheck to paycheck, and being $200 away from financial ruin are all too common.
This is why you need to review your finances and make a financial plan for the future that cuts spending, increases savings, and repays the debt.
Figure out things like:
Household income after taxes
Average household expenses
Rent or mortgage
Car payments and transportation
Food costs and miscellaneous
Outstanding debt
Credit card payments
Student loan repayment
Investments and assets
Retirement and savings
Plus, if you haven't as yet, please create a budget for your spending. You can click here to get a FREE Budget Spreadsheet.
This way you have no surprises in the new year and you can prepare for any big-ticket items, like vacations or home renovations by using sinking funds.


#15.
Make a Wellness Plan
Are you in good health or are you feeling it? Do you live a healthy lifestyle?
Health is so much more than physical fitness and nutrition, although that's obviously important. There's a reason so many of us are setting new year's fitness goals to "get fit" or "lose weight." When life gets busy, health just isn't a priority, until it's too late.
Being healthy and well extended to your emotional well-being, mental health, and spiritual health as well. To enjoy a prosperous new year, you have to be rich in all layers of health.
Commit to prioritizing your well-being now, so you can avoid physical pains, be more energized, and prevent burnout. Decide that your health is important so you can stop yourself from making healthy lifestyle excuses like it's too hard, you're too busy, or it's too expensive.
Being healthy and taking care of yourself is a necessity, it's the most important investment you can ever make. It doesn't have to be hard, it doesn't have to be "intense," just do something.
Create a simple wellness plan that schedules:
And so many more ways to add healthy habits and routines to your days and weeks.
Don't just do these things when you're falling apart, but practice them regularly so you stay healthy while chasing your dreams.
Take the Quiz – What Should My New Year's Resolution Be?
Looking for an easy way to prepare for the new year? Get started by making the right new year's resolution for you!
Take the New Year's Resolution Quiz and discover what area of your life you should focus on in 2023. Plus, get personalized resolution ideas just for you.
There you have it! That's 15 ways to prepare for a successful new year. Choose one and get started today!
Please, do not feel pressured to do each and every one of these steps, but prioritize the most important for you.
Focus on the areas of your life that need the most attention.
Plus, bonus points for doing this before the new year.
Happy New Year!
Want 2023 to be the best year yet? Ready for a new year, new you? You need to make a plan! Here are 15 ways to prepare for a successful new year. #NewYear #2023Goals #NewYearNewYou

How will you prepare for a successful new year?
Last Updated on November 26, 2022
✕
Take the New Year's Quiz!
+ get weekly tips to help you slay your goals.