What are the best single on Valentine's Day quotes?
Looking for positive quotes about being single on Valentine's?
Another year is here, and you promised yourself you wouldn't be single. But you are.
As if the cold winters weren't bad enough, Valentine's day is here and you're feeling cold as hell… on the inside.
Too many bad dates and maybe none at all, but either way, I think that we can all agree that being single on Valentine's kinda sucks.
You wonder, what is it about this day that causes your confidence in yourself to evaporate? Leading up to February 14th, you feel self-conscious, singled out (no pun intended) and on edge. You think, "does anyone notice that you're single (yet again)?"
Seriously, what is it about being single on Valentine's Day that makes us feel so insecure? It makes us feel unworthy, unloved and just left out.
Of course, we all want flowers, dinner dates, and boxes of chocolates. Who doesn't want the best valentine's day gifts? We may be feminists, but we're not monsters. Okay, that's enough feeling sorry for ourselves (yes, I'm single too, but who cares!)! It's time to snap out of it!
For one, you are amazing, spectacular, and simply stunning! Your relationship status has absolutely NOTHING to do with your worth or your value. Really and truly, it's no more special than your political status. Unlike you, who is all sorts of special.
You are a unicorn! Believe it, embrace it and hold your head high, even if you're single on Valentine's Day! It's by and large a commercial holiday, and has no real value. The history of Valentine's Day reveals its roots may lie in a pagan fertility festival.
For two, you don't need anyone else to tell you how special you are (yes it's nice), but buy yourself chocolate, pamper yourself or treat yourself to something nice. Better yet, get your friends together and celebrate Galentine's Day!
To help you embrace being single, here are 29 inspirational quotes about being single on Valentine's Day that you need to read.

Quotes About Being Single on Valentine's Day
Are you single on Valentine's Day? How does it feel to not be in a relationship? This first collection of Valentine's Day Quotes for singles share exactly how it feels to be alone, without a Valentine. It hurts, it's depressing and it can feel like you're being left out. How did a day named after St. Valentine, a hopeless romantic, become so exclusionary?
"The thing about Valentine's day is that people discover who are single and who to feel jealous of." ― Faye Morgan
👉🏽 RELATED POST: How to Stop Being Jealous of Others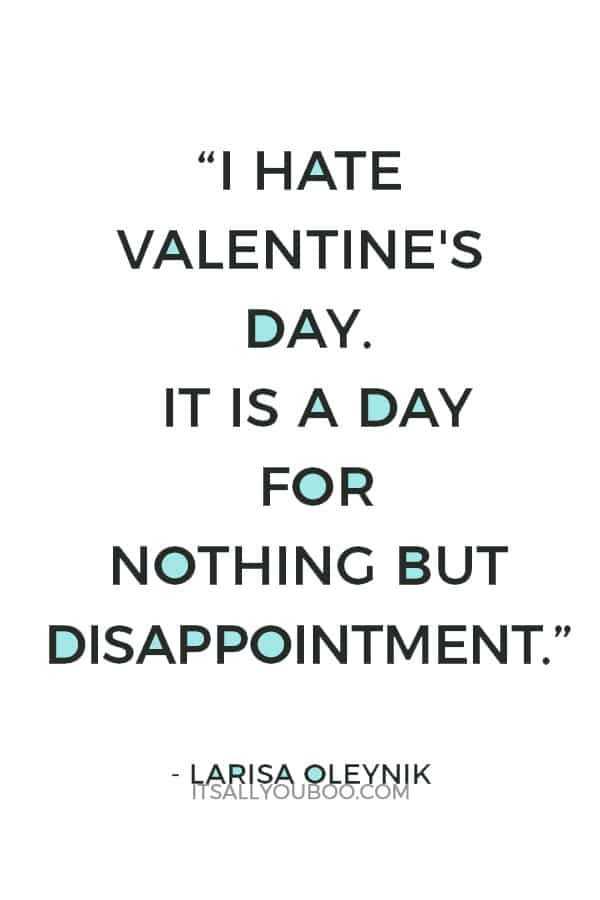 2. "I hate Valentine's day. It is a day for nothing but disappointment." ― Larisa Oleynik
3. "Valentine's Day is the hardest day of the year for a woman to get out, but everybody who is anybody and single is out that night." ― Patti Stanger
"Idealizing the reality of past romances won't do you any favors as you face Valentine's Day alone." ― Amy Morin
👉🏽 RELATED POST: Empowering Feminist Quotes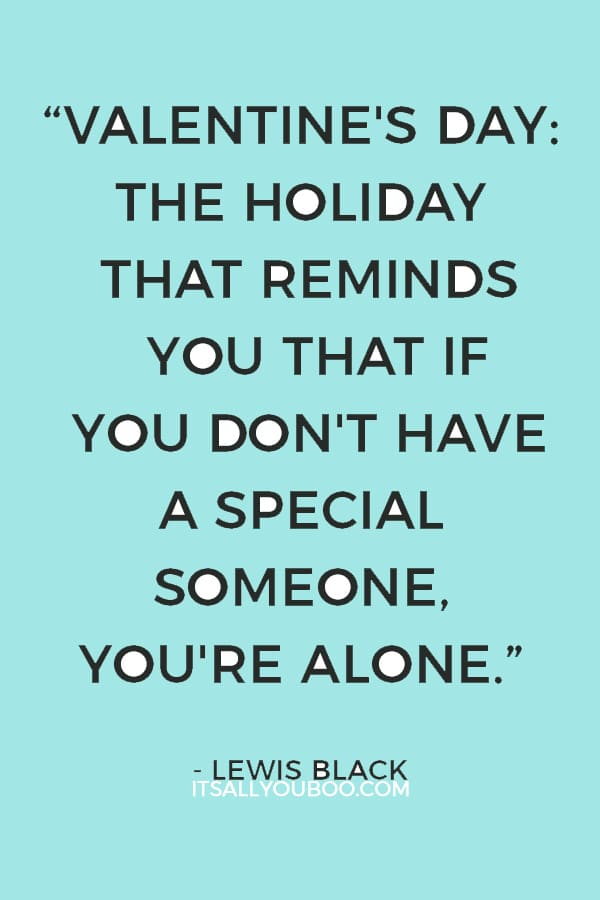 5. "Valentine's Day: the holiday that reminds you that if you don't have a special someone, you're alone." ― Lewis Black
"I think they should create a holiday for friends-with-benefits relationships. Because I feel like Valentine's Day is, maybe it's a day to stay home and cry." ― Elizabeth Meriwether
7. "Valentine's Day: Rubbing singles' noses in their lack of a mate and the noses of couples in their lack of time." ― Emma McLaughlin
What Is Valentine's Day for Singles Quotes
What does Valentine's Day even mean or represent? For singles or couples, what exactly is Valentine's Day? It's hard to find someone who doesn't have strong emotions about Valentine's Day: either they love it, they hate it or they don't care. The following Valentine's Day Quotes for Singles seek to reveal the truth about Valentine's Day.
8. "Valentine's Day is the poet's holiday." ― Ted Koosner
"Valentine's Day is definitely one of those days where it's either awesome or it's a downer." ― Judah Friedlander
👉🏽 RELATED POST:  48 Happy International Women's Day Quotes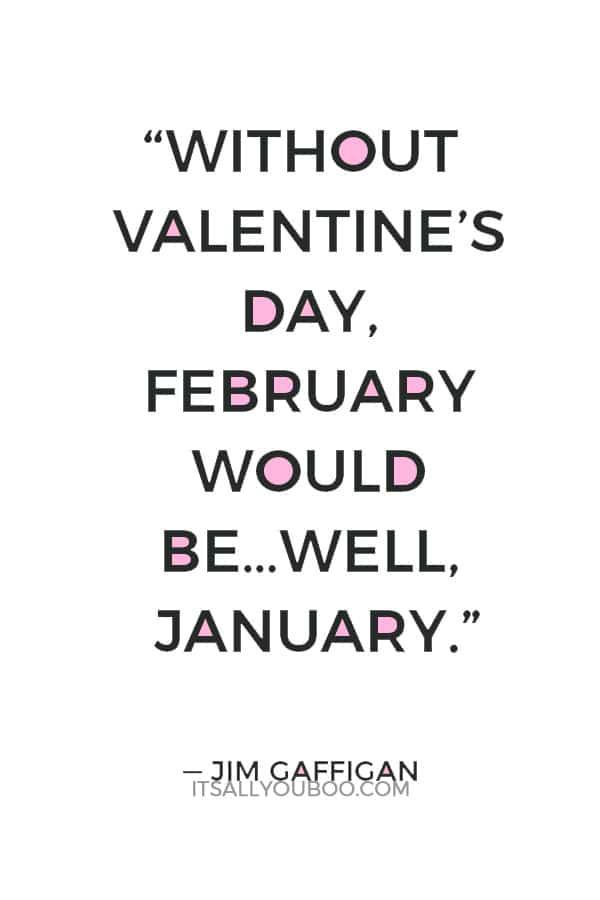 10. "Without Valentine's Day, February would be…well, January." ― Jim Gaffigan
11. "What I find most disturbing about Valentine's Day is, look, I get that you have to have a holiday of love, but in the height of flu season, it makes no sense." ― Lewis Black
"Valentine's Day is a perfect time to reject the idea that the ideal man is taller, richer, more knowledgeable, more renowned, or more powerful." ― Stephanie Coontz
👉🏽 RELATED POST:  How To Not Lose Yourself In A Relationship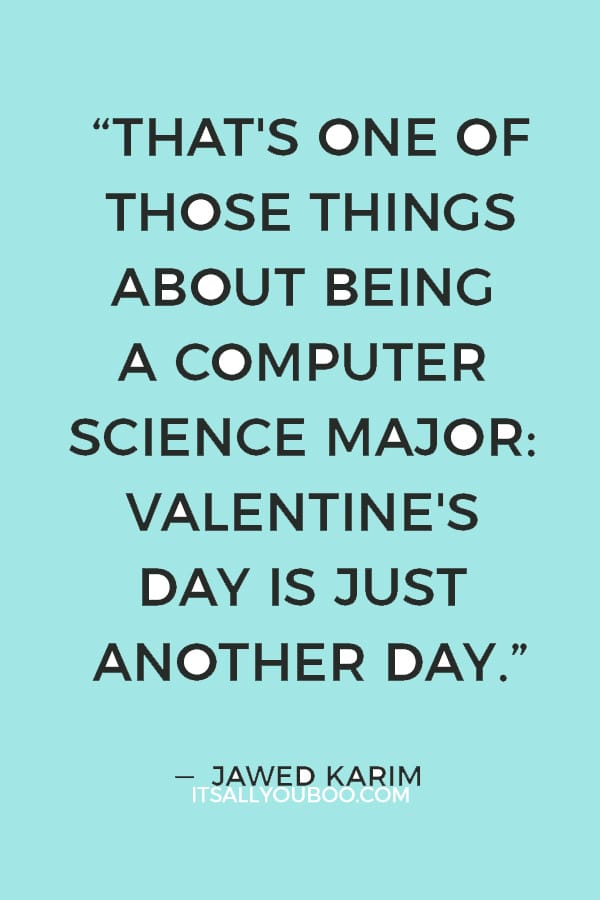 13. "That's one of those things about being a computer science major: Valentine's Day is just another day." ― Jawed Karim
"I think Valentine's Day is one of those holidays like New Year's where people develop such high expectations that even if it's a decent day, it doesn't live up, and it's disappointing." ― Brett Young
15 ."Be it Valentine's Day, Father's Day or Mother's Day, I feel all days are reminders of some feelings. February 14 doesn't hold any special relevance for me." ― Randeep Hooda
16. "All of us, consciously or unconsciously, set out to have the best possible love life. Valentine's Day simply shines a light on the degree to which that didn't – or hasn't yet – materialized." ― Tracy McMillan

Valentine's Day is Commerical Marketing Quotes
Are you still feeling bad about being single on Valentine's Day? Wonder why you feel the pressure to be in love and buy things on February 14th? It's not your fault that you hate being alone on Valentine's! This collection of inspirational Valentine's Day Quotes for Single reveals the source of your sadness. February 14th is a commercially, manufactured day, intent on making money – not a celebration of love as it's advertised.
"Valentine's Day is the biggest single day of the year, the biggest sale day of the year." ― Jacques Torres
👉🏽 RELATED POST: How to Manifest Love Using the Law of Attraction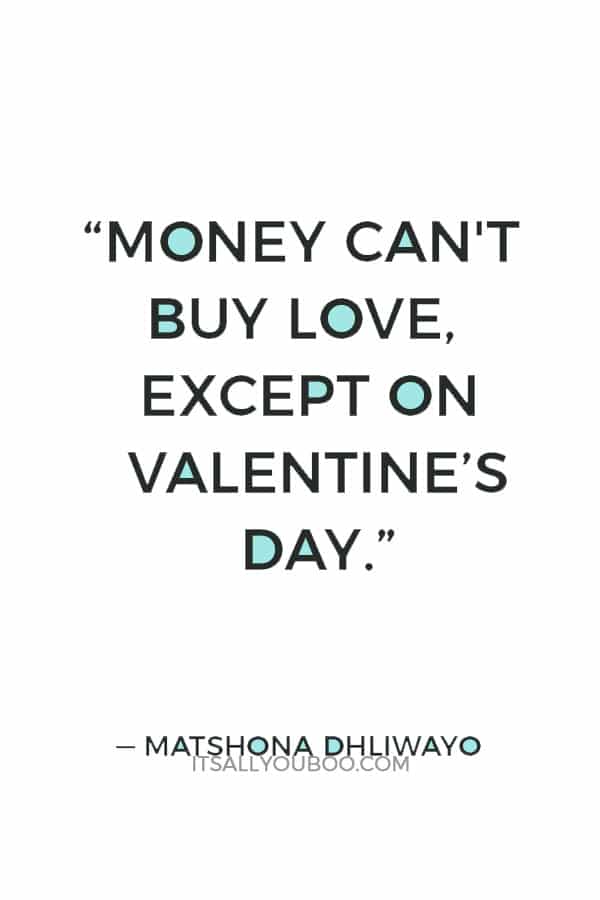 18. "Money can't buy love, except on Valentine's Day." ― Matshona Dhliwayo
19. "Valentine's Day money-saving tip: Break up on February 13th, get back together on the 15th." ― David Letterman
"Happy Valentine's Day! And if this is news to you, my guess is you're probably alone. Valentine's Day is often times a, well, it's a manufactured day that really doesn't mean anything." ― Jon Stewart
20. "When I got old enough to date, I realized that Valentine's Day is just a commercial marketing scam to make men feel bad. So I let my boyfriends off the hook." ― Evangeline Lilly
👉🏽 RELATED POST:  How to Not Let Your Goals Ruin Your Relationship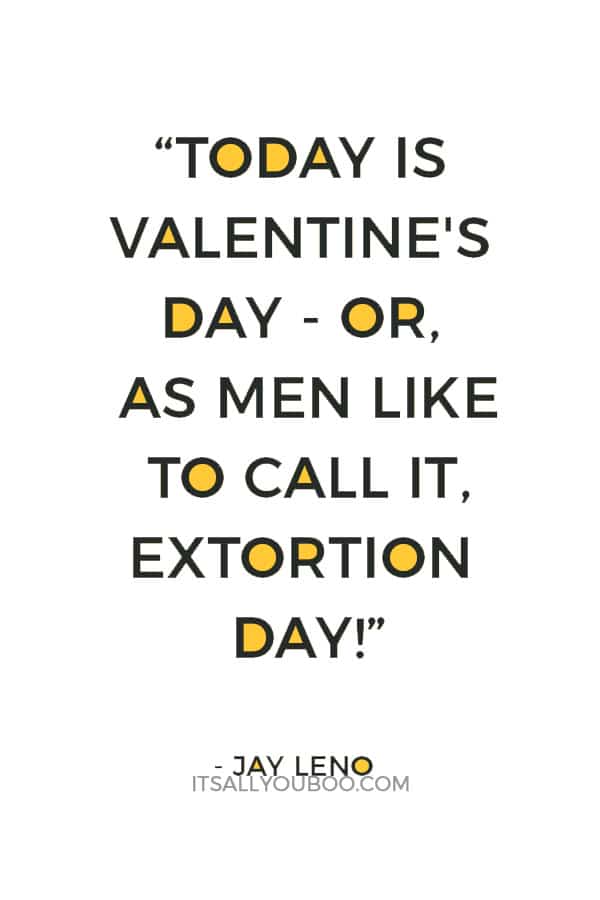 21. "Today is Valentine's Day – or, as men like to call it, Extortion Day!" ― Jay Leno
"I think men and women will both agree that one of the perks of being single on Valentine's Day is that you get to keep your money in your pocket." ― Sevyn Streeter
23. "Valentine's Day itself, like most holidays in the modern era, has been heavily influenced by commercialism that focuses on the appeal of romantic fantasies." ― Aberjhani
24. "It was bad enough not having a boyfriend for New Year's Eve. Now I had to cope with Valentine datelessness, feeling consummate social pressure from every retailer in America who stuck hearts and cupids on their windows by January second to rub it in." ― Joan Bauer
Celebrate All Love on Valentine's Day Quotes
Can you celebrate Valentine's Day if you're single? What do you do on Valentine's if you're alone? Fight back, don't let capitalism tell you what Valentine's Day means to you! Only you can decide that. This final selection of Valentine's Day quotes for Singles encourages us to embrace all forms of love on February 14th, not just romantic love. Tell your parents, your friends, your children, whomever that you love them.
👉🏽 RELATED POST: Happy Valentine's Day Quotes for Friends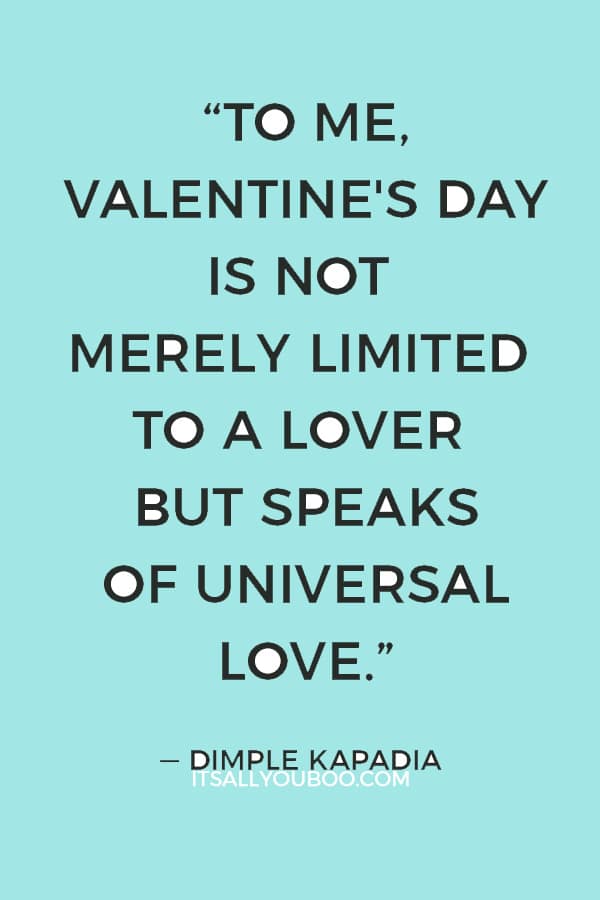 26. "To me, Valentine's Day is not merely limited to a lover but speaks of universal love." ― Dimple Kapadia
"I've realized that although Valentine's Day can be a cheesy money-making stint to most people, it's a day of expressing love across the world. It doesn't have to only be between lovers, but by telling a friend that you care, or even an old person that they are still appreciated." ― Reeva Steenkamp
27. "Galentine's Day is the day before Valentine's Day. People sometimes think, 'Oh, it's a replacement for Valentine's Day.' But it's not. You can celebrate Galentine's and Valentine's. And it comes from the sitcom 'Parks And Recreation'… Amy Poehler's character created this holiday because she wanted a day to celebrate her girlfriends." ― Kayleen Schaefer
"I enjoy celebrating Valentine's Day. It's a nice way to say you're thinking about your family, someone special, or dear friends." ― Camila Alves
Free Printable Self-Love Quotes
Valentine's Day is not just for couples, it's for singles too! You are worth all the love and attention in the world, so why not focus on self-love? Get your 10 free beautifully designed, printable self-love quotes.
This download comes with high-resolution, graphic quotes that are ready to print and post in your home or office.
Stop stressing about being single on Valentine's Day!
The best gift you can give yourself on Valentine's is your own love and admiration. Take time to focus on yourself! Invest in YOU, because you are worth it.
You don't need anyone else to tell you or show you your value with chocolates and roses. You're immeasurable!
👉🏽 RELATED POST: 26 Inspiring Self-Love Quotes
If it hurts and you feel lonely being single on Valentine's Day, take it easy! Make a point to switch off social media and just focus on yourself.
And hey, who doesn't love all those discounted chocolates the day after, at the very least there's that.
Wishing you a joyous Valentine's Day even if you're single.
Are you single on Valentine's Day? Sad that you're alone? It's okay! Click here for 29 amazing quotes for singles on Valentine's Day! #ValentinesDay #Valentines #SingleLife #Lonely #RelationshipsGoals

What's your favorite single on Valentine's Day quote?
Last Updated on July 11, 2021
✕
Get Your Self Love & Care Quotes
+ get weekly tips to help you slay your goals.