Looking for smart nursing goals examples? Want to set SMART goals for nurses and nursing students?
Whether you're just starting out in nursing school, about to graduate as a nurse practitioner, or working as a registered nurse, setting SMART goals is essential to success in the nursing field.
You've found a profession that offers great pay, job stability, and personal satisfaction. Nursing is a career that promises to fulfill your calling. You are well on your way to making your professional dreams a reality.
However, the career of a nurse is about more than earning a comfortable living doing what you love. It's more than taking care of others — you are ushering them through some of the most important and often the most difficult moments of their lives and, frankly, yours.
To ensure that your career as a nurse is a long and successful one, there are a number of things you need to prioritize now and for the future. For example, learning time management skills can help you to have a work-life balance and avoid burnout (a common problem among nurses globally).
The 20 SMART goals for nursing students described below will help you not only launch your career on the right path but also maintain that upward and onward trajectory for many years to come. By setting these short-term and long-term goals nursing can be your lifelong career.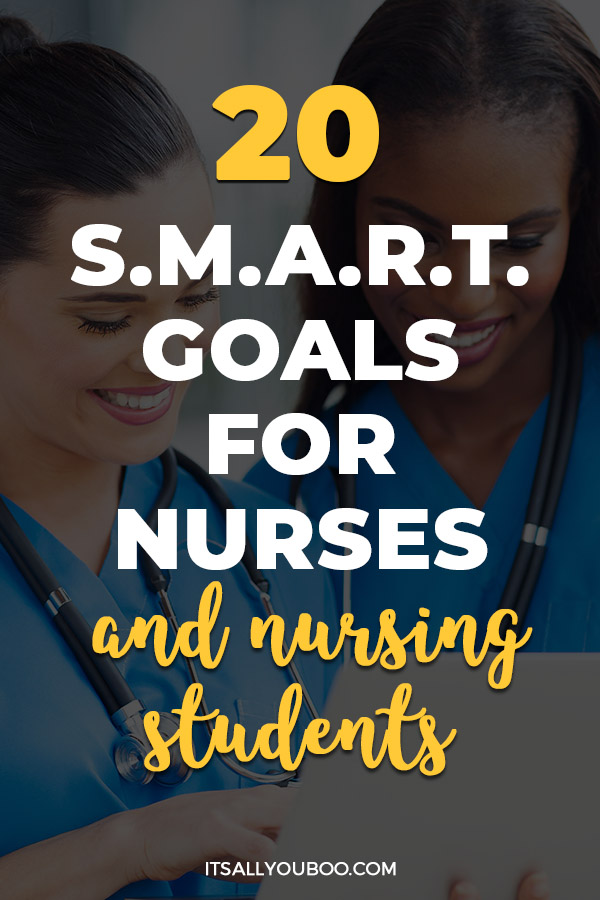 What Are SMART Goals?
If you're not familiar with the concept of the SMART goal, let me explain. SMART is an acronym that stands for Specific, Measurable, Achievable, Realistic, and Time-Bound, and it's a highly useful framework for transforming abstract dreams into doable goals.
SMART goals for nurses help you to ensure that you are moving forward in a strategic, systematic, and productive way. By defining goals that are specific, measurable, achievable, realistic, and time-bound, you are creating a plan for progressing in your career, a clear framework for measuring and confirming your progress, and a definitive timeline for reaching your established career benchmarks.
Simply put, using the SMART goal setting framework empowers you to actually achieve your goals, and avoid the common mistakes nurses can make when setting goals.
Plus, this article provides examples of the most beneficial SMART goals for nursing students.
Goals for Nursing Students
One of the first and most important strategies for integrating SMART goals into your life and career is to establish goals for your continuing education and ongoing professional development.
#1.
Work with a Mentor
Finding a mentor can be an ideal way both to advance your education and to forge the professional networks you will need to progress in your career. Your mentor can also help provide the professional social support you need to help prevent burnout and manage other challenges you are likely to face in your nursing career. Your mentor may be a professor, a colleague, a supervisor, or a personal contact in the industry.
👉🏽  RELATED POST: 60 Inspirational Thank You Quotes for Nurses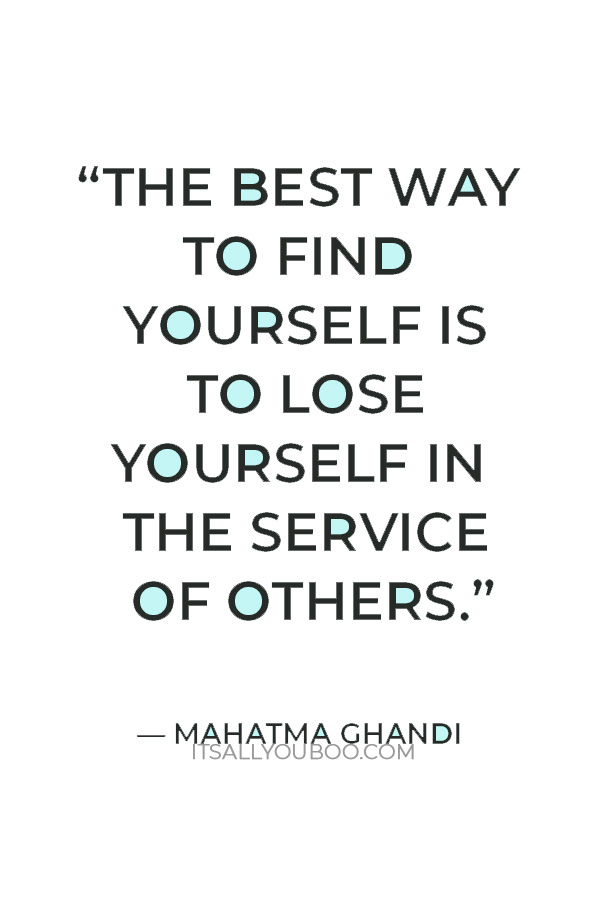 #2.
Practice Networking and Interviewing Skills
This is another arena where having a mentor can help connect you with opportunities to meet colleagues and pursue job opportunities. Be sure to attend conferences and other professional events to build your professional network. At the same time, partner with friends, colleagues, and mentors to practice interviewing for the various nursing roles that interest you.
SMART goals nursing students can set would be to spend 2-3 hours networking or interview prepping at least once per month to build connections and confidence. The best results for SMART goals come with a specific time frame attached.
#3.
Become a Member of a Professional Honor Society
As an aspiring professional, you should begin establishing your role in the industry early on. One of the best ways to do this is to join nursing honors associations, such as Sigma Theta Tau and Alpha Delta Nu.
Current nursing or nurse practitioner students can apply to local organizations and societies associated with their programs. There are so many student and professional organizations for nurses.
Set a SMART nursing goal to apply or be accepted to a certain number of organizations by a certain date or timeline (like one year after graduation), making this goal measurable. Remember, SMART goals also need to be attainable, so set a realistic number for yourself, like being accepted into one or two nursing organizations.
#4.
Get Your Student Loans Forgiven
After all your years of hard work as a nursing student, the last thing you want is to launch your career saddled by massive student loan debt. Why not start off right by having your loans forgiven? By signing up for the Nurse Corps Loan Repayment Program, you can free yourself of most, if not all, of your debt.
You need to work with patients in Health Professional Shortage Areas (HPSAs) to enroll in this program. This way, you accrue invaluable professional experience and spend time caring for some of the most vulnerable and underserved patient populations in the world — while saving money in the long run.
No matter where you live in the world, there are programs you can apply to for debt forgiveness. For example, in Canada Doctors, Nurses, and Nurse practitioners can apply for loan forgiveness.
👉🏽  RELATED POST: How to Succeed in College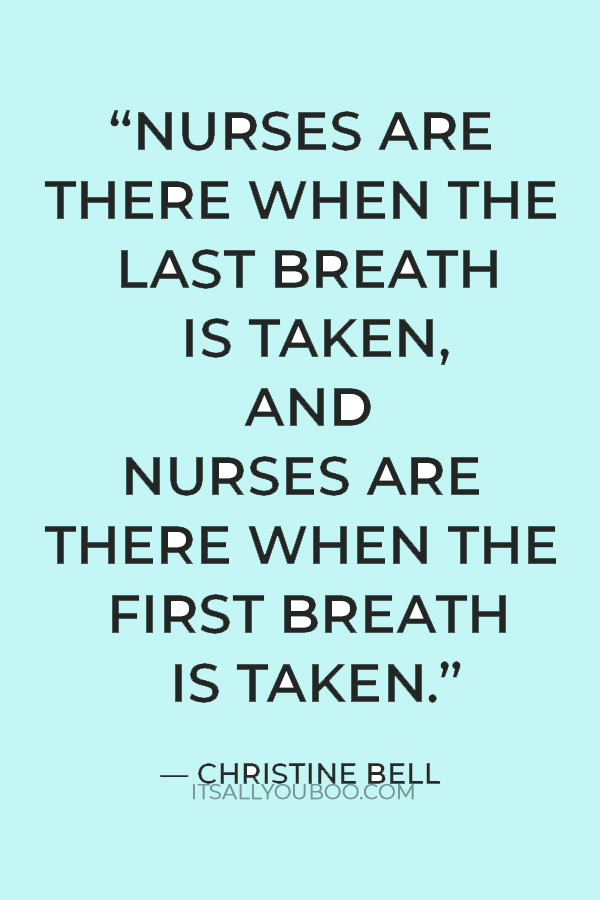 #5.
Join a Study Group and Pass NCLEX
As a nursing student, you probably already know by now how academically rigorous nursing programs are. The licensing and certification process is no less challenging. That's why one of the best SMART goals you can set for yourself at this stage in your career is to join a study group to help you prepare for and pass the NCLEX.
SMART goals examples for nursing students studying would specify and outline how and when you'll study. For example, "I will meet every Tuesday and Thursday from 6-9 pm with my study group to review notes, quiz each other, and prepare for the NCLEX. This will get me motivated to study."
Patient Care Goals for Nurses
SMART goals aren't just useful in your education and career development. You can also apply SMART goals to patient care. This way, you can ensure that the quality of care you provide your patients is truly second-to-none. Here are some SMART nursing goal examples for superior patient care.
#6.
Develop Your Nursing Specialty
As a nurse, you may want to be all things to all patients, but that's just not feasible, nor is it beneficial for your patients. Rather, it's critical to focus on developing your particular nursing specialty, such as geriatric, obstetric, pediatric, surgical, or urgent care. This means that rather than dabbling a bit in every domain, you can become a true expert in your chosen arena. Your patients (and their loved ones!) will thank you for it.
👉🏽  RELATED POST: Examples of Academic Goals for College Students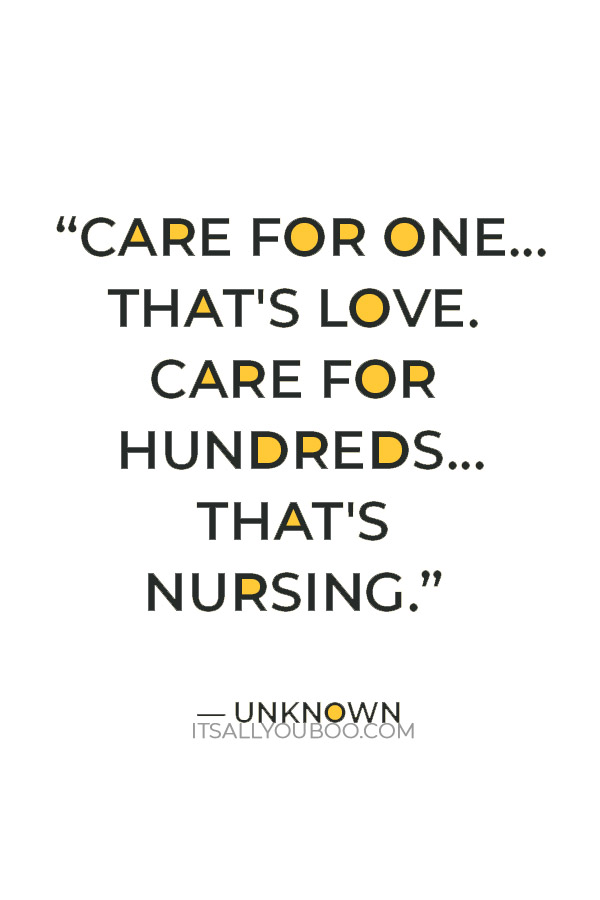 #7.
Take Advantage of In-Service Opportunities
As you progress through your nursing education and enter clinical practice, you will soon discover that, no matter how educated or experienced you may be, there is always so much more to learn. By taking advantage of every in-service opportunity you can, you will be expanding your skill set far beyond anything that an ordinary classroom setting could provide.
An example of a SMART goal for nurses would be "sign up for and attend one or more in-service opportunities every quarter to enhance clinical practice and continued education."
#8.
Vie for a Daisy Award
The Daisy Award is given to nurses who truly go above and beyond the call of duty in caring both for patients and their families. By setting a SMART goal for patient care that includes earning a Daisy Award, you are setting the expectation of and standard for excellence in caregiving.
You could set a SMART nursing goal that exemplifies all that the Daisy Award represents, like "to show compassion and excellent clinical skills on a daily basis, no matter how tired I am, I will go above and beyond the call of duty for at least one patient every day." If this is a SMART goal you set, be sure to define what "compassion" and "clinical skills" are.
#9.
Always Put Patient Privacy First
As a nurse, you are charged with a sacred trust not only to care for your patient but also to respect and protect them. This includes the obligation to honor and defend the patient's right to privacy. Thus, you should establish a SMART goal to prioritize patient privacy by developing specific skill sets and knowledge, including mastering cybersecurity protocols and HIPAA regulatory standards.
👉🏽  RELATED POST: 15 SMART Career Goals Examples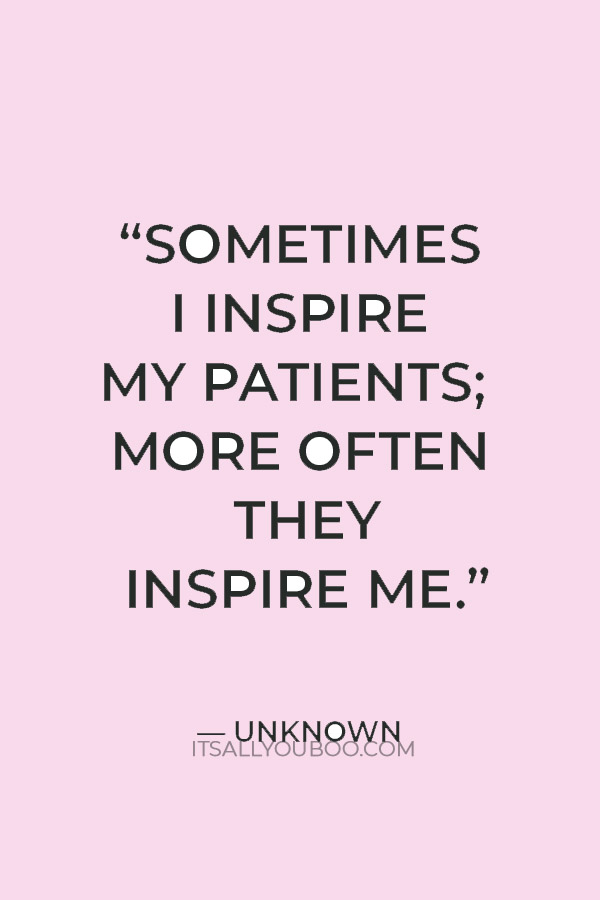 Educational Goals for Nurses
Even after you've completed your formal training and have entered clinical practice, that doesn't mean that the learning ends, nor should it. In fact, if you want your nursing career to flourish, pursuing continuous professional growth is a must. For this reason, your SMART goals should include advanced professional education.
#10.
Continue Your Education Through an Advanced Degree
When it comes to nursing education, you have a lot of options. You might choose to pursue licensures and certifications in a particular subspecialty or you may decide to enroll in a graduate program. Whether you decide to pursue a BSN, RN, or ADN degree, however, the key is to never stop growing, striving, and expanding. Your patients, after all, expect and need you to be the best nurse you can possibly be!
#11.
Improve Your Tech Literacy
Let's face it: technology and healthcare have always worked hand-in-glove with one another. Today, however, tech innovation is playing an increasingly crucial role in patient care. For this reason, if you want to excel as a nurse, you need to focus on getting, and staying, up-to-date with the latest in health tech. So ensure that continuously improving your tech literacy is among your nursing SMART goals.
#12.
Stay on Top of Your Required Certifications and Renewals
Continuous professional development isn't just ideal. For nurses, it's a necessity. That means that you need to keep on top of your required certifications and renewals. Consider creating a calendar that will help you track key dates and enable you to prepare well in advance for renewing your licensure and professional certifications. After all, an avoidable lapse in certification should never come between you and your career progression.
👉🏽  RELATED POST: How To Improve Your Skills At Work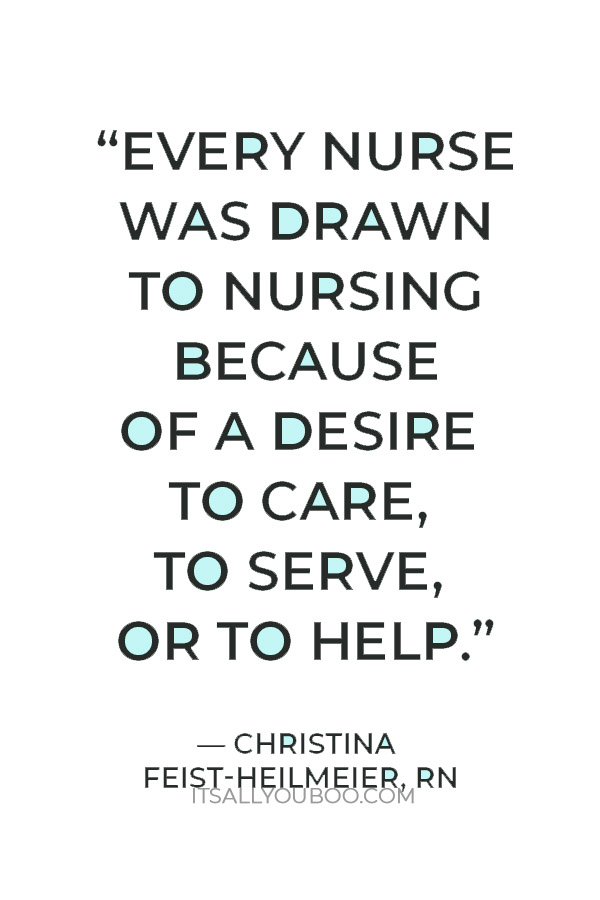 Short-Term Goals for New Nurses
SMART goals for nurses are critical at every stage of one's career. However, when you're just starting out, there are some unique SMART goals you will want to prioritize. Below are a few examples of important SMART goals for new nurses.
#13.
Develop Excellent Communication Skills
It doesn't matter how intelligent, compassionate, or well-trained you are as a nurse, it will all come to nothing if you can't communicate effectively with your patients, colleagues, and superiors. This is why one of the first short-term SMART goals you should pursue as a new nurse is to strengthen your communication skills. Consider taking courses in public speaking and professional writing. This will ensure that, whether you are communicating face-to-face or in written form, you will always be able to convey thoughts, ideas, and important information clearly, appropriately, and effectively.
#14.
Create a Wellness Routine That Works for You
When you're a nurse, you can become so focused on caring for others that you forget to take care of yourself. This can quickly lead to ill health and burnout. That's why, when you're just starting out, you need to go ahead and create a wellness routine that works for you.
Prioritize energy-boosting habits like good nutrition and hydration, quality sleep, healthy exercise, and ample opportunities for rest, relaxation, and recreation. This will enable you to stay strong in mind, body, and spirit for yourself, your patients, and your loved ones.
#15.
Connect With Other Members of Your Team
Nursing is an immensely rewarding profession, but it is also intensely demanding. Without the proper support, empathy, and encouragement, the work can take a profound toll. This is why new nurses need to embrace the SMART goal of connecting with other members of their team.
Meeting peers and colleagues outside of the work environment can be an ideal way to find inspiration and understanding, particularly at the end of a long, hard shift or a particularly challenging event, such as the trauma healthcare providers faced in the wake of the COVID-19 pandemic.

👉🏽  RELATED POST: 10 SMART Goals for Freelancers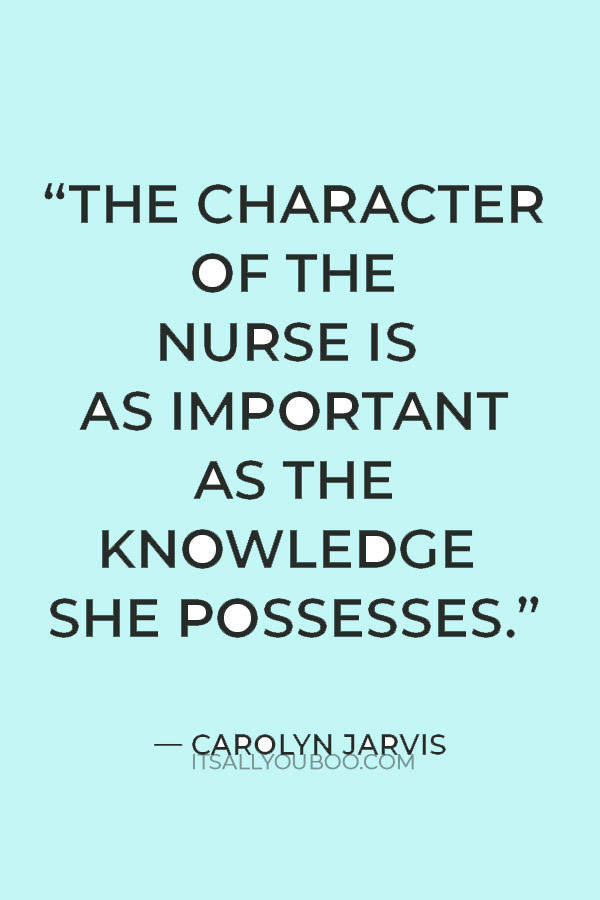 #16.
Know the Signs of — and Work to Avoid — Burnout
Burnout is a risk in every profession, but it's a particularly significant issue in emotionally, intellectually, and physically demanding careers such as nursing. For this reason, as a new nurse, it's imperative that you learn to recognize the signs of burnout and that you be proactive in addressing them. If you find yourself feeling anxious, depressed, discouraged, or disengaged, you may be facing burnout.
Similarly, if you find that you are experiencing physical symptoms, such as insomnia, loss of appetite, headache, gastrointestinal upset, or frequent infections, these, too, may indicate that you are spiritually and emotionally exhausted. This is the time to prioritize self-care and seek a healthier work/life balance before burnout threatens to rob you of the career you love.
Long-Term Goals for Nurses
The utility of SMART goals for nurses doesn't end once you've established your career and you've gotten a few years of experience under your belt. There are some SMART goals that should be embraced in the long term because they remain relevant and beneficial for nurses at every stage of their careers. Here are some examples of long-term SMART goals for nurses.
#17.
Work With a Financial Planner
The nursing profession, in general, promises a substantial salary and significant job security. That doesn't mean, however, that you're automatically going to be living in wealth and luxury on a nurse's salary. This is why one of your most important SMART goals may well be to work with a financial planner to help you make the most of your income both for today and for your future.
A financial planner can help you prepare for major life events, from buying a home to having a baby to managing an illness to retiring comfortably.
#18.
Volunteer Your Time
As a nurse, you likely spend so much time in the hospital or clinic that it can be easy to forget that there's a world beyond those doors. Volunteering your time in your community can be an ideal SMART goal for nurses, helping you to connect and engage with people and places you may not get to experience on the job.
Best of all, you can discover new ways to develop and share your expertise for the betterment of your entire community. As a nurse or nursing student, you have so many valuable ways to give back to the community.
👉🏽  RELATED POST: 16 SMART Goal Examples for Work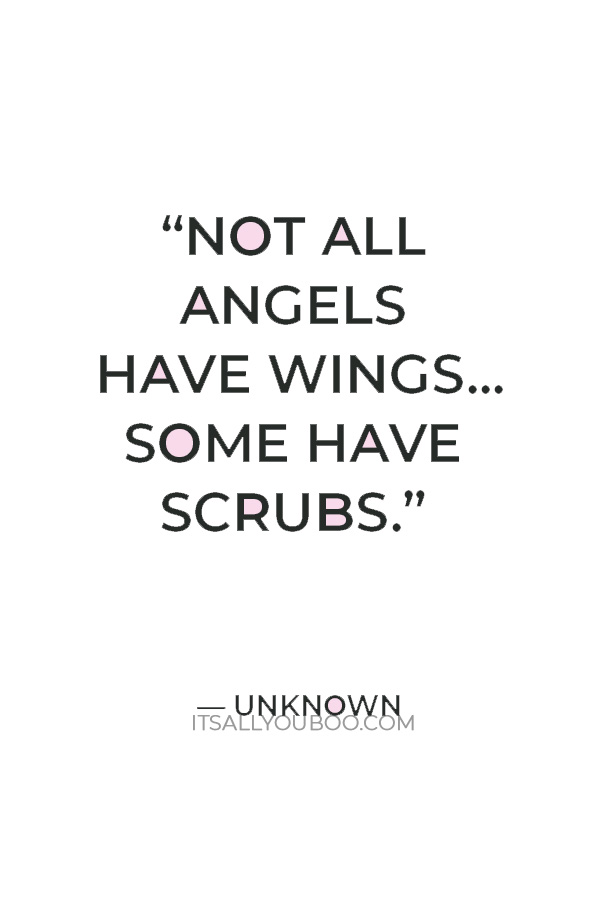 #19.
Contribute to a Nursing-Related Publication
Over the years, you will accumulate a lot of professional knowledge that shouldn't be used to benefit you and your patients alone. That knowledge can also be a profound benefit to others and, for this reason, you should make a SMART goal to contribute to a nursing-related publication.
Not only will you be doing good for other patients and practitioners, but you will also be building your own professional reputation. Every publication credit is another professional credential that can open doors to exciting new opportunities.
#20.
Mentor Another Nurse
Just as you develop a SMART goal as a nursing student to find a mentor of your own, you should also embrace the long-term goal of mentoring other nurses. After all, there are few experiences in life more rewarding than paying a good deed forward. Best of all, as you support another nurse's development, your own skills will inevitably crystallize and strengthen.
Set SMART Nursing Goals Today!
Whether you're just beginning your career as a nurse and are looking for short-term goals to help you get yourself established in your career, or you're already established and require long-term goals to keep yourself sharp, there's no denying said goals should be specific, measurable, achievable, realistic, and time-bound.
SMART Goals Worksheet
Ready to set your own SMART goal for nurses or nursing students? Sign up below to get your FREE SMART Goals Worksheet, form-fillable, and printable, and includes more examples to help you.
SMART goals are helpful not only for nurses but also for those in many other different professions, as well as for personal matters.
As powerful tools, they should not be underestimated — the right SMART goals can help you become and remain the best nurse possible.
Start setting these professional goals for work at all stages of your nursing career!
Are you in the nursing field? You need to set SMART goals for career success. Click here for 20 short-term and long-term SMART goals for nurses and nursing students by @adrianjohanse18. #Nurses #NHS #NursesDay #SupportNursesAndMidwives

What SMART goals for nurses will you set?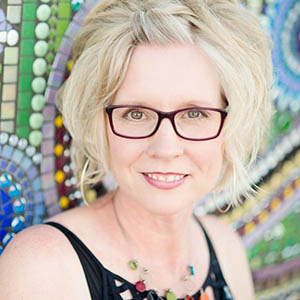 More About Guest Contributor
Adrian Johansen lives and thrives in the Pacific Northwest. Her writing focuses on topics related to public health, sustainability, and diversity issues. You can follow her at @adrianjohanse18 on Twitter.
Last Updated on July 22, 2023
✕
Get your SMART Goals Worksheet
+ weekly tips to help you slay your goals.