Looking for hello winter quotes to welcome December? Want cute and funny happy winter captions and quotes?
That familiar chill is in the air, and all the leaves from autumn have fallen and been swept away.
As the temperature drops day by day, you know it can only mean one thing: winter is on its way!
Love it or hate it, winter is here to stay for a few months at least and with it comes snowfall and snowstorms.
As the world gets trapped and covered in a thick blanket of snow, the season of all things cozy has begun.
Bundle up and enjoy all the beautiful winter season has to offer from staying inside by the fireside with warm cocoa to venturing out to partake in all the outdoor activities skating and skiing.
What's your favorite part of winter?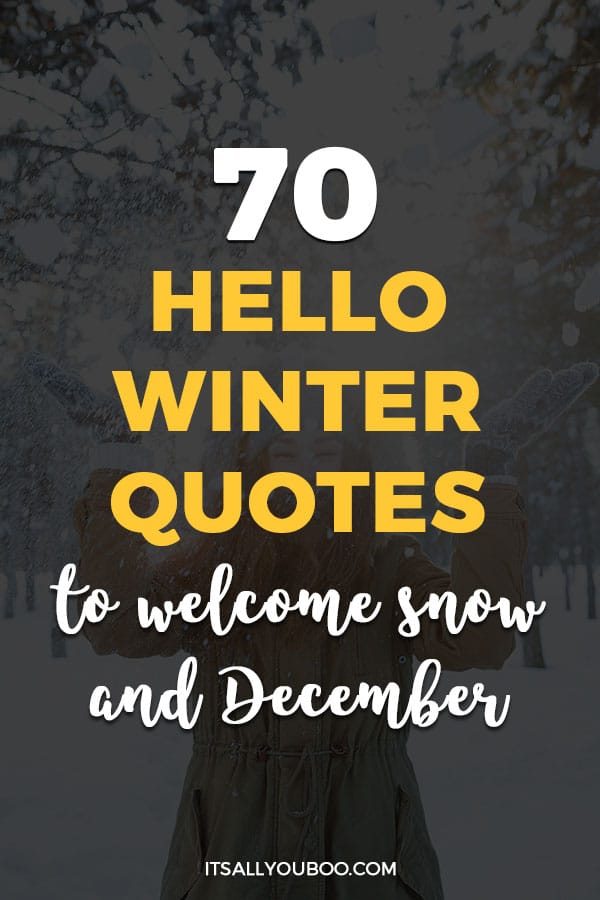 Undoubtedly, the winter season would not be so popular without endless celebrations. From Christmas and Hannukah to New Year's Eve, so many of our traditions and gatherings happen in the winter months.
To get you into the spirit of Winter, here are 70 Hello Winter Quotes to Welcome December. May they help you appreciate winter and get excited for the first snowfall and life during the winter months.
Beautiful Winter Is Quotes
What is winter? What does this season mean to you? This first collection of hello winter quotes to welcome December seeks to define what exactly winter is. It's more than cold, it's more than snow, there's something special about this time of year.
"Winter is coming." ― George R.R. Martin
2. "Winter forms our character and brings out our best." ― Tom Allen
👉🏽 RELATED POST: 100 Inspirational Winter Quotes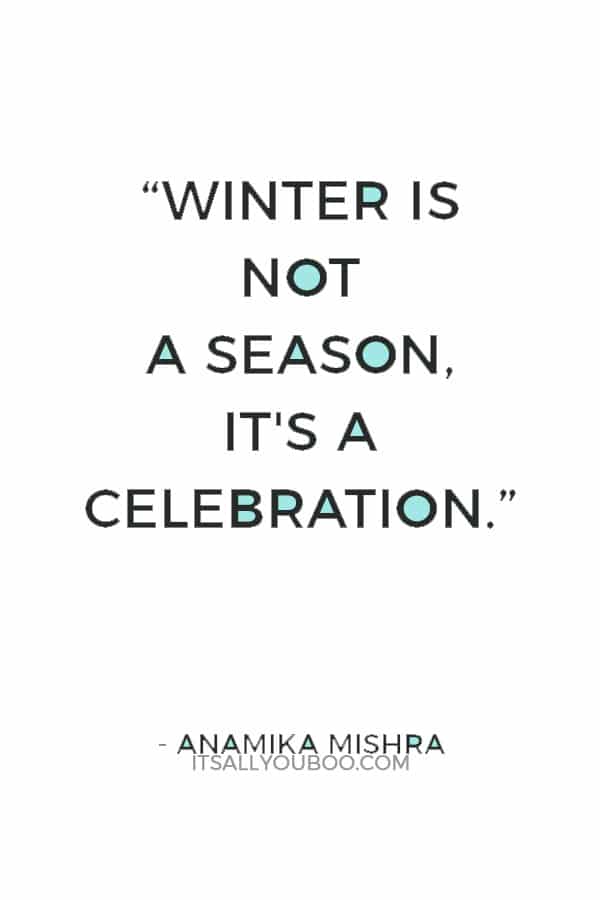 3. "Winter is not a season, it's a celebration." ― Anamika Mishra
4. "There is an instinctive withdrawal for the sake of preservation, a closure that assumes the order of completion. Winter is a season unto itself." ― Haruki Murakami
"Winter is not a season, it's an occupation." ― Sinclair Lewis
6. "That's what winter is: an exercise in remembering how to still yourself then how to come pliantly back to life again." ― Ali Smith
👉🏽 RELATED POST:  New Year's Resolution Quotes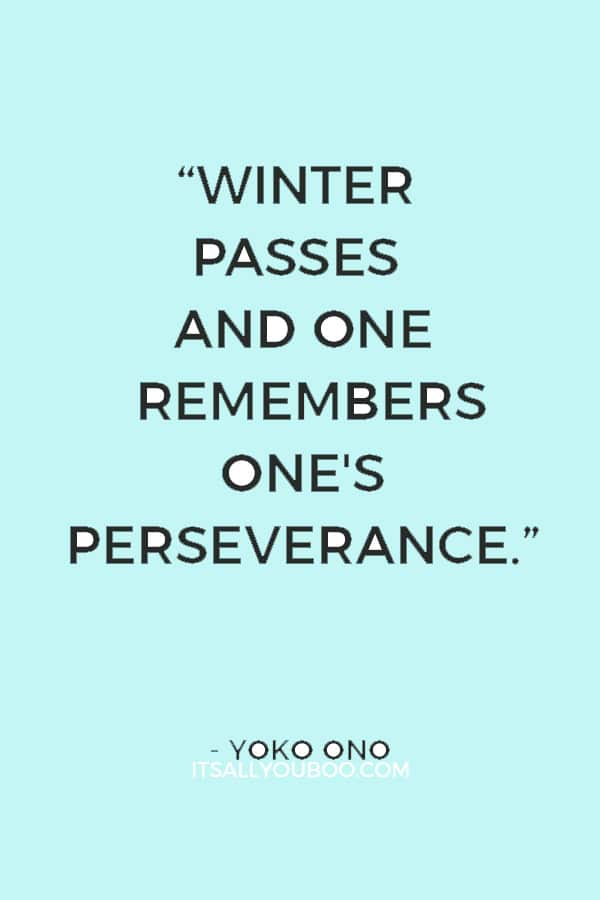 7. "Winter passes and one remembers one's perseverance." ― Yoko Ono
"Winter makes a bridge between one year and another and, in this case, one century and the next." ― Andy Goldsworthy
Welcome Snowflakes and Snowfall Quotes
Do you love snowflakes? What about snowstorms in winter? The following hello winter quotes welcome snowflakes and snowfalls of all shapes and sizes. From fluttering flurries to full-blown storms, winter is beautiful! Explore the splendor and uniqueness of snowflakes with these wintertime quotes. Have you had your first snowfall as yet?
"It is the life of the crystal, the architect of the flake, the fire of the frost, the soul of the sunbeam. This crisp winter air is full of it." ― John Burroughs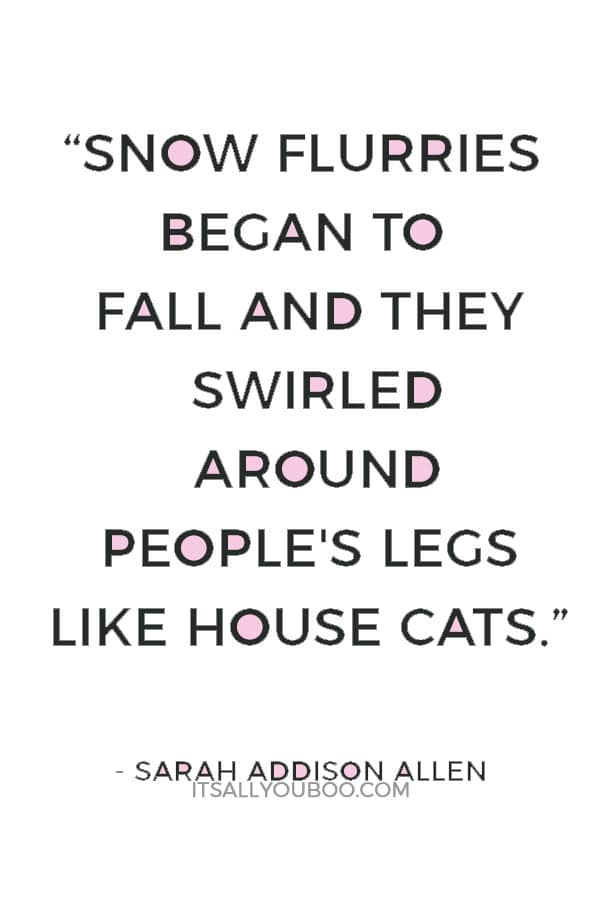 10. "Snow flurries began to fall and they swirled around people's legs like house cats. It was magical, this snow globe world." ― Sarah Addison Allen
"Advice is like the snow. The softer it falls, the longer it dwells upon and the deeper it sinks into the mind." ― Samuel Taylor Coleridge
12. "Is it snowing where you are? All the world that I see from my tower is draped in white and the flakes are coming down as big as pop-corns. It's late afternoon – the sun is just setting (a cold yellow colour) behind some colder violet hills, and I am up in my window seat using the last light to write to you." ― Jean Webster
"Begin doing what you want to do now. We are not living in eternity. We have only this moment, sparkling like a star in our hand – and melting like a snowflake. Let us use it before it is too late." ― Marie Beynon Lyons Ray
👉🏽  RELATED POST: 100 End of Year Reflection Questions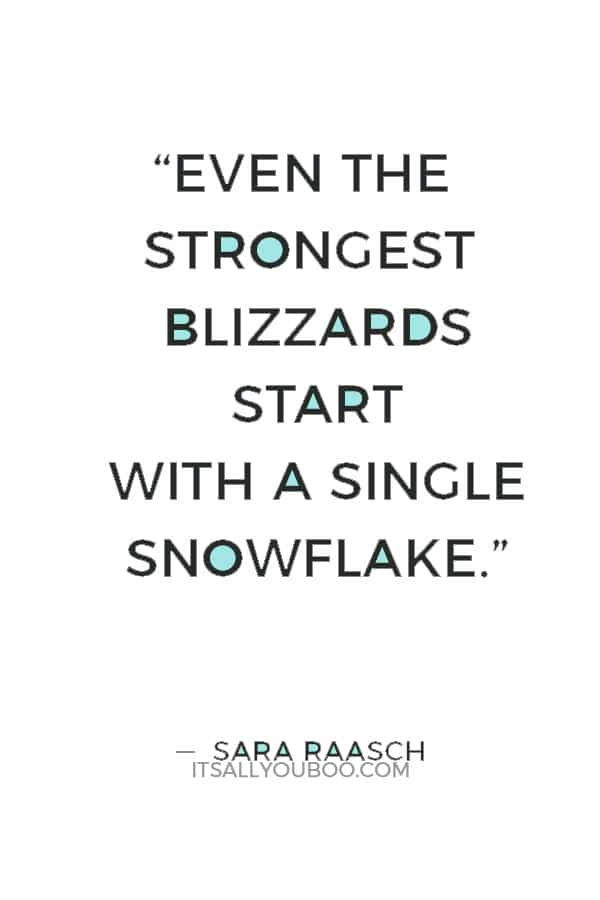 14. "Even the strongest blizzards start with a single snowflake." ― Sara Raasch
"Snow was falling, so much like stars filling the dark trees that one could easily imagine its reason for being was nothing more than prettiness." ― Mary Olive
16 "A few feathery flakes are scattered widely through the air, and hover downward with uncertain flight, now almost alighting on the earth, now whirled again aloft into remote regions of the atmosphere." ― Nathaniel Hawthorne
"To appreciate the beauty of a snowflake it is necessary to stand out in the cold." ― Aristotle

Winter Quotes for When It Snows
Do you enjoy playing in the snow? What's your favorite thing to do on a snow day? This collection of welcome winter quotes are short and cute, embracing the joy of snow. So many of my childhood memories are snow-covered, from snow days to snowball fights, there's something magical about snow.
"When it snows, you have two choices: shovel or make snow angels." ― Unknown
19. "There's just something beautiful about walking on snow that nobody else has walked on. It makes you believe you're special." ― Carol Rifka Brunt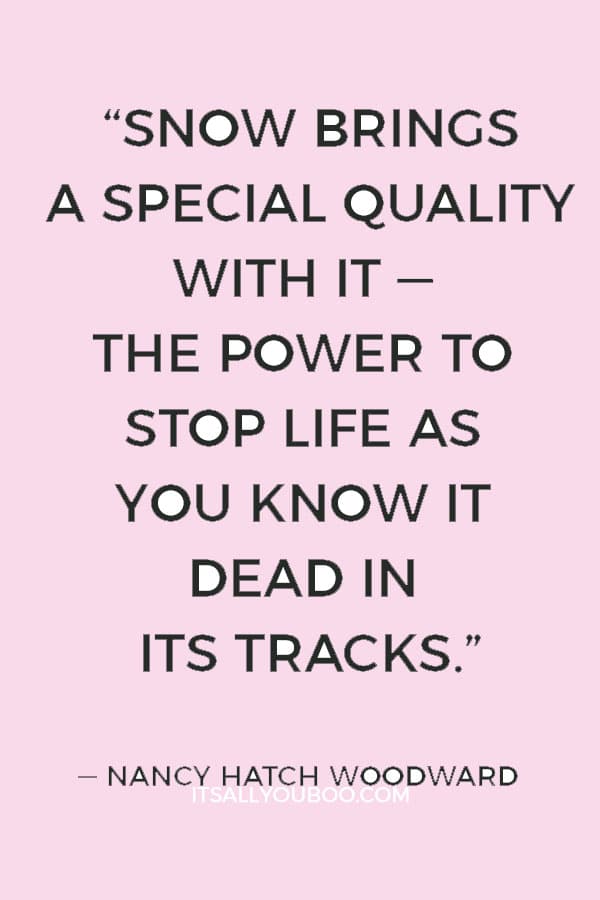 20. "Snow brings a special quality with it — the power to stop life as you know it dead in its tracks." ― Nancy Hatch Woodward
21. "Thank goodness for the first snow, it was a reminder — no matter how old you became and how much you'd seen, things could still be new if you were willing to believe they still mattered." ― Candace Bushnell
"I wonder if the snow loves the trees and fields that it kisses them so gently? And then it covers them up snug, you know, with a white quilt; and perhaps it says, 'Go to sleep, darlings, till the summer comes again.'" ― Lewis Carroll
23. "The hard soil and four months of snow make the inhabitants of the northern temperate zone wiser and abler than his fellow who enjoys the fixed smile of the tropics." ― Ralph Waldo Emerson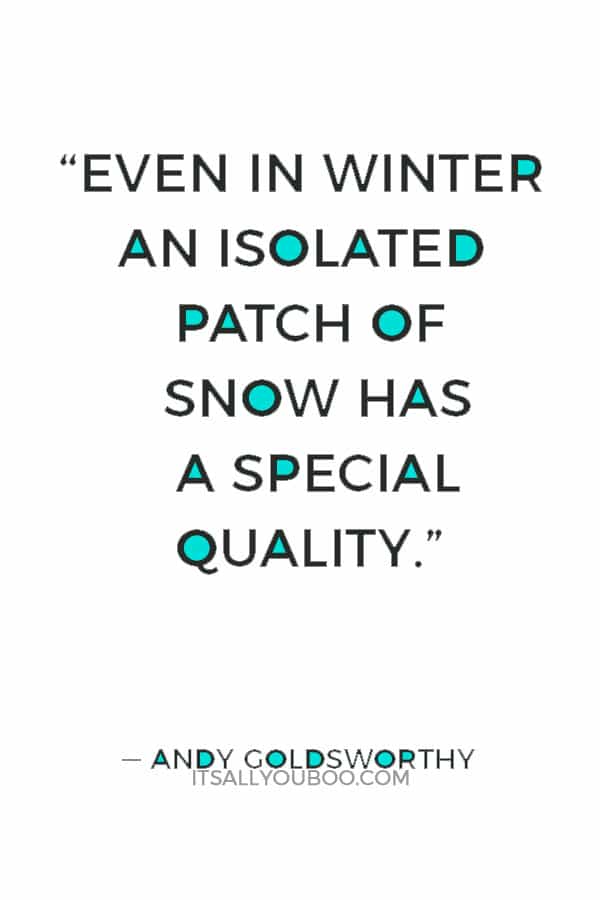 24. "Even in winter an isolated patch of snow has a special quality." ― Andy Goldsworthy
"And finally Winter, with its bitin', whinin' wind, and all the land will be mantled with snow." ― Roy Bean
26. "The wastes of snow on the hill were ghostly in the moonlight. The stars were piercingly bright." ― Maud Hart Lovelace
Inspirational Quotes About Winter
How would you describe winter? Do you appreciate winter? This collection of hello winter quotes to welcome December explores what winter is and describes it in vivid detail. There's more to the winter season than cold and snow, there's something magical about winter. There are surprising facts about winter weather too.
"You can't get too much winter in the winter." ― Robert Frost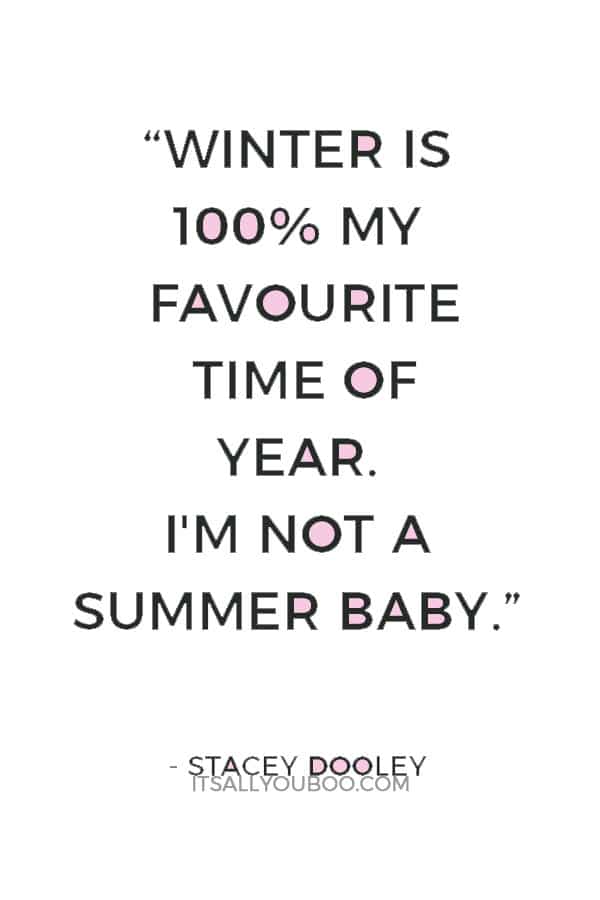 28. "Winter is 100% my favourite time of year. I'm not a summer baby." ― Stacey Dooley
"But I do feel a little teeny right now that I'm just about ready to start, and winter is entering. Half past autumn has arrived." ― Gordon Parks
30. "March came in that winter like the meekest and mildest of lambs, bringing days that were crisp and golden and tingling, each followed by a frosty pink twilight which gradually lost itself in an elfland of moonshine." ― L.M. Montgomery
31. "As winter strips the leaves from around us, so that we may see the distant regions they formerly concealed, so old age takes away our enjoyments only to enlarge the prospect of the coming eternity." ― Jean Paul
32. "You think of outside your room, of the streets of the town, the lonely little squares over by the station, of those winter Saturdays all alike." ― Marguerite Duras
👉🏽  RELATED POST: New Year Quotes for Friends and Family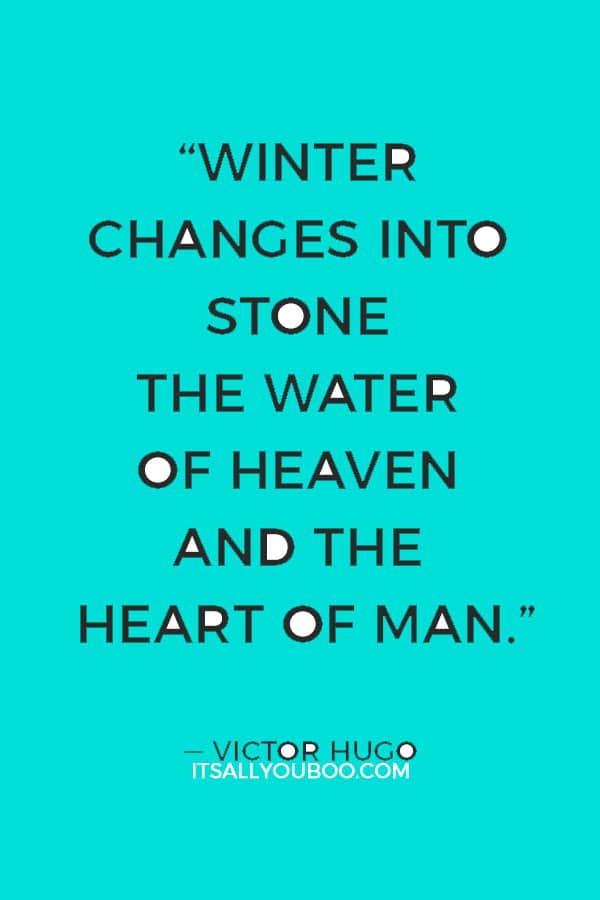 33. "Winter changes into stone the water of heaven and the heart of man." ― Victor Hugo
"The pine stays green in winter… wisdom in hardship." ― Norman Douglas
35. "Winter lies too long in country towns; hangs on until it is stale and shabby, old and sullen." ― Willa Cather
"Winter collapsed on us that year. It knelt, exhausted, and stayed." ― Emily Fridlund
37. "How many lessons of faith and beauty we should lose, if there were no winter in our year!" ― Thomas Wentworth Higginson
38. "As winter approaches – bringing cold weather and family drama – we crave page-turners, books made for long nights and tryptophan-induced sloth." ― Sarah MacLean
When the Cold Weather Comes Quotes
What is winter like in your hometown? From frigid temperatures to mild days, the winter experience varies from place to place. The following hello winter quotes for snow and December describe what winter is like across major cities in the United States. From Chicago and New York to Maine Minneapolis, this is winter! Let's welcome it!
39. "In Minneapolis, the overhead sky walks protect pedestrians from the winter cold and snow." ― Bill Dedman
"Maine is a joy in the summer. But the soul of Maine is more apparent in the winter." ― Paul Theroux
👉🏽 RELATED POST: Hello November Quotes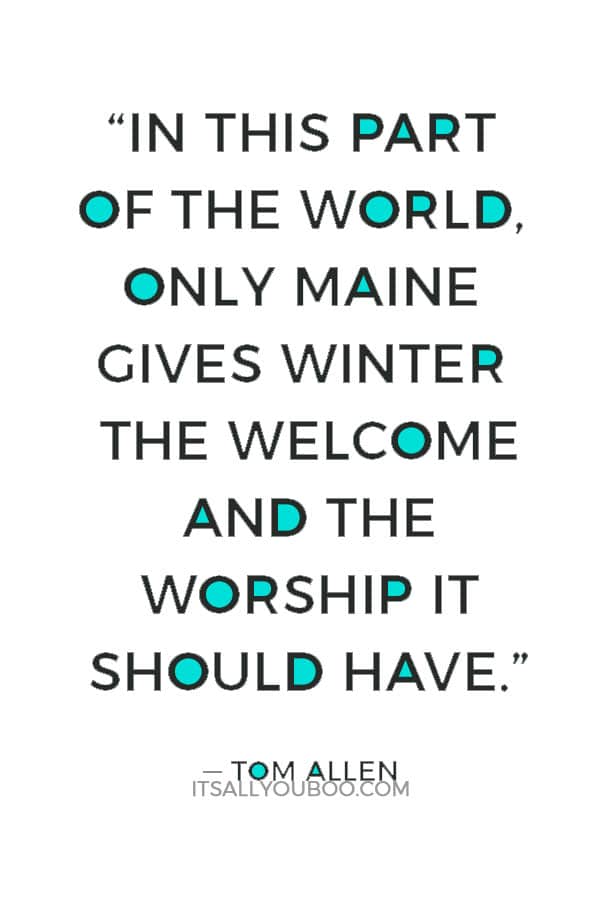 41. "In this part of the world, only Maine gives winter the welcome and the worship it should have." ― Tom Allen
42. "The winter's a little bit daunting in Montana." ― Phil Jackson
"Time seems to slow down after the winter holiday. New York loses all of its winter romance and is just cold." ― Lela Loren
44. "New York in spring and autumn is absolutely beautiful, but the winter is absolutely depressing." ― Joel Robuchon
45. "I just know that I could never spend a winter in Chicago or some place like that. I'm just not a cold weather person." ― Emily Robison
👉🏽 RELATED POST: 55 Inspirational Autumn Quotes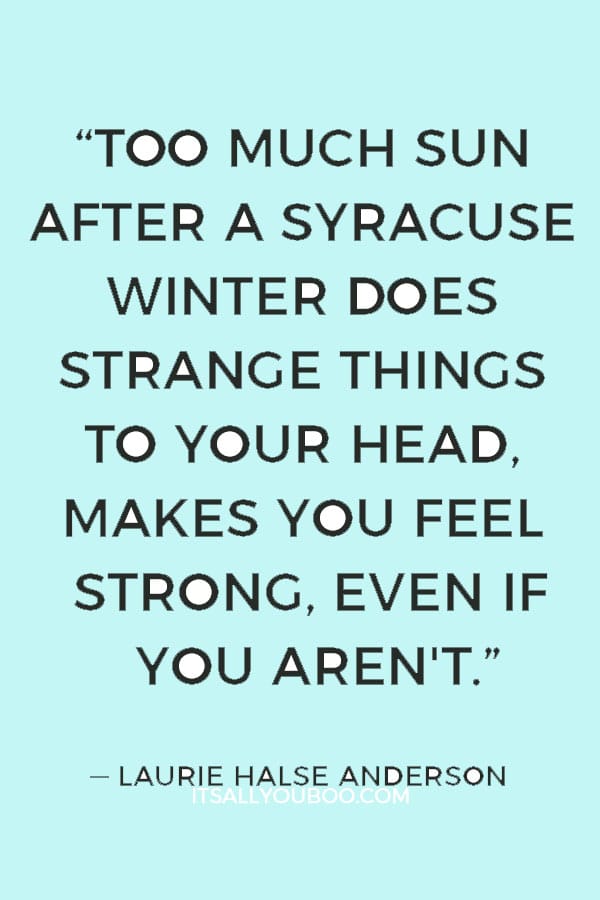 46. "Too much sun after a Syracuse winter does strange things to your head, makes you feel strong, even if you aren't." ― Laurie Halse Anderson
47. "If you've ever lived in Chicago, anyone who has, they know what a winter in Chicago is like. To be going through a tough time here in the winter would be just be all the more worse." ― Lee DeWyze
48. "It gets cold here in the Ozarks in the winter. There are often warm winter days, but there are also weeks when the temperature never climbs above freezing." ― Sue Hubbell
"Winter in Maine is a time of alternating rest and frenzied activity." ― Tom Allen
50. "There are only two seasons – winter and Baseball." ― Bill Veeck
Welcome Winter Around the World Quotes
What do you say about winter around the world? What's it like in other cities and countries? This selection of welcome winter quotes illustrates what winter weather is like in some of the coldest places on earth. What is winter like where you are from?
51. "I'm from Sweden, where it's winter, like, half the year. And it's dark – we barely have any daylight." ― Snoh Aalegra
"Everything in London is quite good, apart from the weather: it's cold and rainy there, and the winter is long." ― Sayed Kashua
👉🏽 RELATED POST:  65 Inspirational Hello Spring Quotes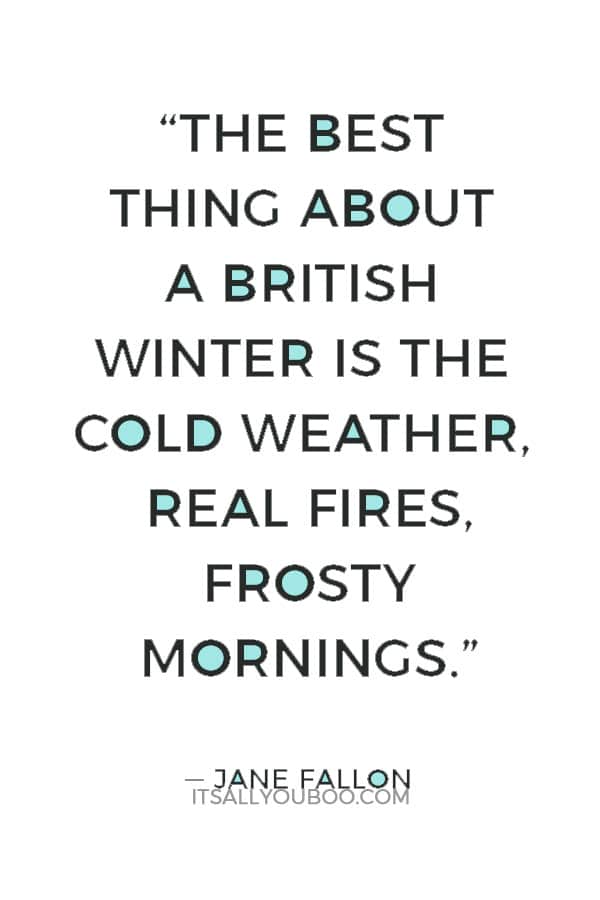 53. "The best thing about a British winter is the cold weather, real fires, frosty mornings. I love living somewhere that has proper seasons." ― Jane Fallon
54. "There are two seasons in Scotland: June and Winter." ― Billy Connolly
55. "I'm from Sweden, so I don't enjoy winter at all; there's nothing cute about it." ― Lykke Li
"The truth is, I'm someone coming from a spoiled society – the worst thing we deal with in Canada is winter." ― Denis Villeneuve
57. "I would say just the weather in Vancouver in the winter can be kind of unforgiving." ― Brandon Jay McLaren
👉🏽 RELATED POST: 100 Unique New Year's Resolution Ideas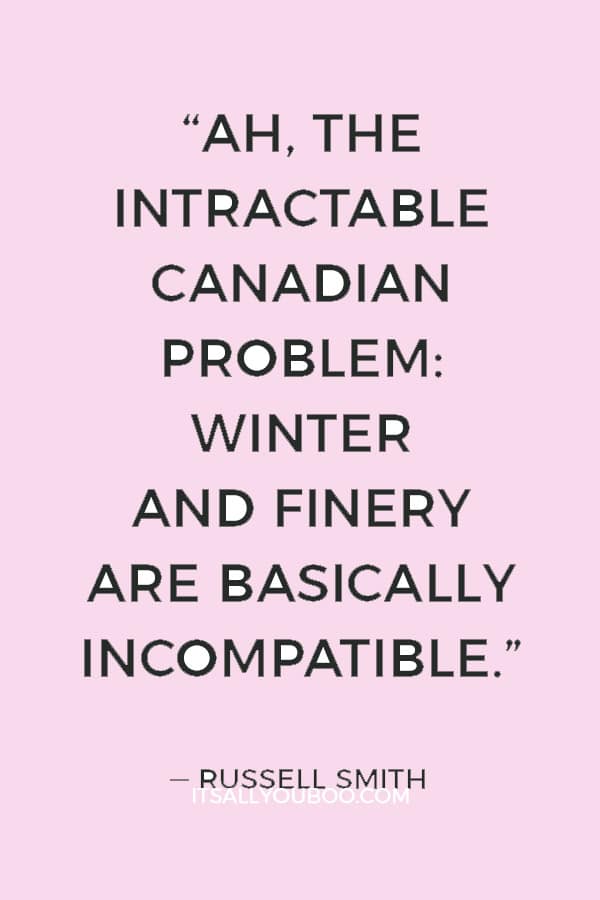 58. "Ah, the intractable Canadian problem: Winter and finery are basically incompatible." ― Russell Smith
"A large part of Canada heads for Florida, California, and Hawaii in the winter to get away from the snow." ― Margaret MacMillan
60. "I love the Mediterranean for the fact that winter is over in a minute, and the almond blossom arrives in January." ― Jade Jagger
Wintertime Quotes About Being Cold
Do you love or hate the cold? You're either a winter person or you're not. This final collection of welcome winter quotes for December explores the cold, harsh nature of winter. Love it or hate it, cold days are coming, and here to stay for a while still. Better bundle up and stay warm.
61. "I need a long, cold winter." ― John Rzeznik
"Blow, blow, thou winter wind, thou art not so unkind as man's ingratitude." ― William Shakespeare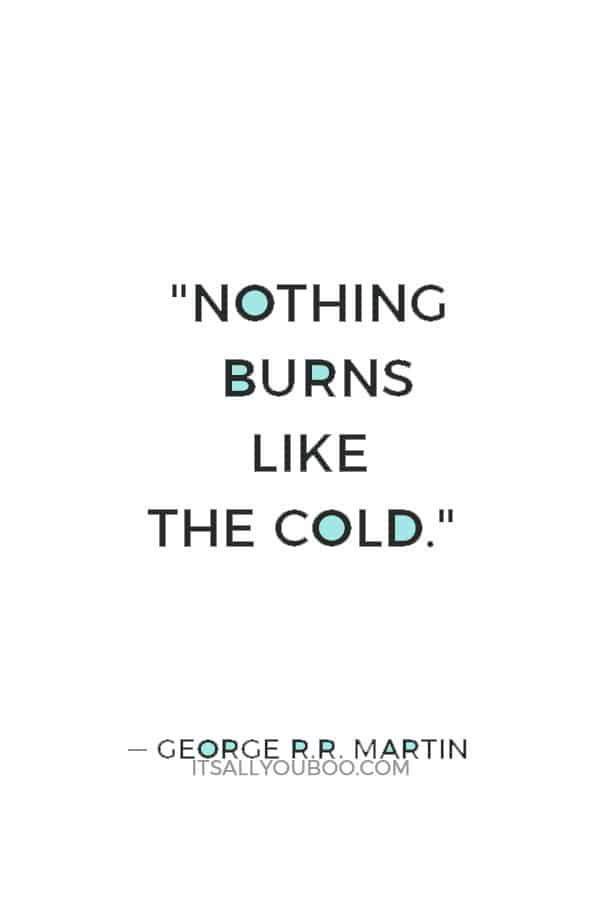 63. "Nothing burns like the cold." ― George R.R. Martin
64. "A bitter wind, heavy with icy particles, whipped at my face, its howling forming the high notes of a symphony whose bass was played by swollen waves crashing into the piers of the bridges below. The evening lacked none of winter's rough poetry." ― Théophile Gautier
65. "At this season of the year, darkness is a more insistent thing than cold. The days are short as any dream." ― E.B. White
66. "A cold wind was blowing from the north, and it made the trees rustle like living things." ― George R.R. Martin
67. "Winter is much like unrequited love; cold and merciless." ― Kellie Elmore
"The heart can get really cold if all you've known is winter." ― Benjamin Alire Saenz
69. "I am not warm. That is why my sister chose the name Winter for me." ― Paula Stokes
70. "Welcome, winter. Your late dawns and chilled breath make me lazy, but I love you nonetheless." ― Terri Guillemets
Take the Quiz – What Should My New Year's Resolution Be?
Winter signals that the end of the year is close at hand. Prepare for the new year with a New Year's Resolution!
Take the FREE New Year's Resolution Quiz and discover what area of your life you should focus on and receive a special guide filled with unique resolution ideas.
Goodbye to autumn, and hello to winter!
May these quotes inspire you to appreciate winter, fall in love with the magic of snowflakes, and enjoy all the season has to offer.
It might be cold and dark, but the sunshine will return and spring days are soon to come.
Make the most of the season of winter, use it for reflection and renewal.
Happy Winter! And a Happy December to you too!
Are you ready to welcome winter and beautiful snowy days? Click here for 70 hello winter quotes to welcome December that help you appreciate the winter months. #WinterSolstice #WelcomeWinter #HelloWinter

What hello Winter and welcome December quotes do you love?
Last Updated on November 26, 2022