Looking for inspirational Merry Christmas quotes for family and friends?
Not sure what to say instead of Merry Christmas in a card or holiday text?
The holiday season is upon us! A time to gather, eat holiday treats, deck the halls and so much more.
From shopping to stuffing stockings, there is so much holiday cheer at every corner. And we could use all the cheer we can get!
Although early Christians held Easter as their main holiday, the birth of Jesus has risen in popularity. The credit for choosing December 25th as Christ's birthday goes to Pope Julius I. This feast of the Nativity on this date is believed to have been chosen because of existing traditions like the Saturnalia festival and Winter Solstice.
Whatever the history of Christmas and its religious roots, here we are today, observing a major holiday and festival celebrated around the world by many people.
Whatever your own personal reasons for celebrating Christmas, remember that it's about more than presents under the tree and Santa Claus. Although that's nice too, of course.
Whether you've got the tree up and dancing to Christmas carols, or not feeling the holiday spirit just as yet, these Merry Christmas quotes are sure to get you in the mood.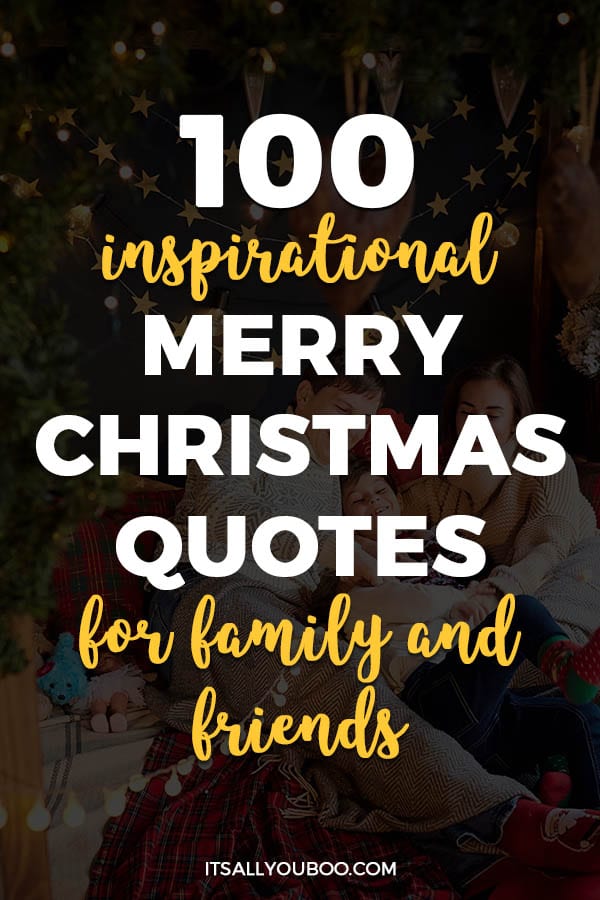 Sometimes saying "Merry Christmas" is not enough. And after a year like 2021, we could use some inspirational Christmas sayings to warm our hearts and bring holiday cheer to a dark year.
May these 100 Merry Christmas Quotes for Family and Friends help you make this Christmas special. Although we may not be able to gather as we have in Christmas past, we can still share the spirit of Christmas with one another. Happy Christmas!
Christmas Quotes About Family and Home
What does Christmas mean to you? How do you spend your Christmas Eve and day? This first collection of inspirational Merry Christmas quotes for family and friends explores the meaning of Christmas. For me, Christmas is a time for family. A time for returning home, to old memories and familiar friends.
1. "At Christmas, all roads lead home." ― Marjorie Holmes
"Christmas works like glue, it keeps us all sticking together." ― Rosie Thomas
3. "Christmas is the season of joy, of gift-giving, and of families united." ― Norman Vincent Peale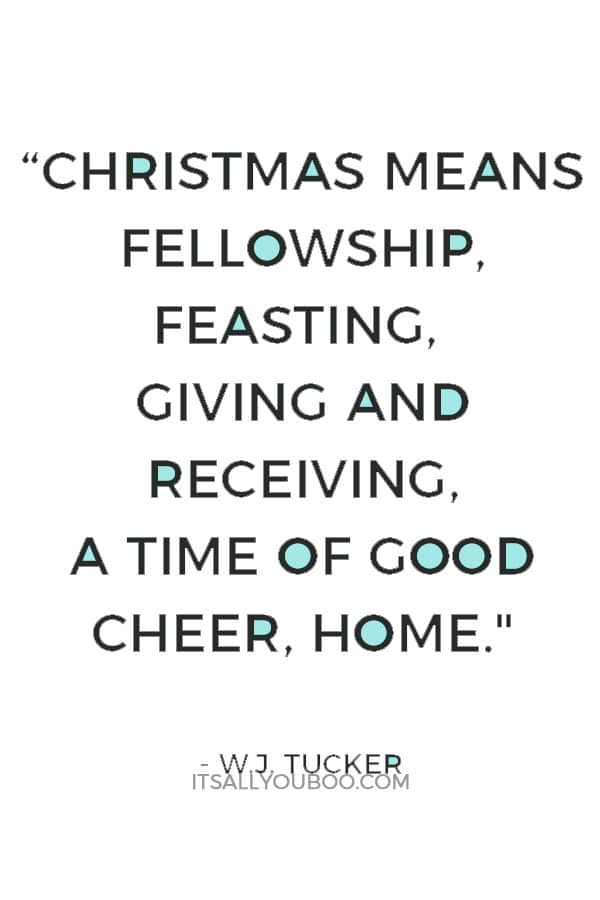 4. "Christmas means fellowship, feasting, giving and receiving, a time of good cheer, home." ― W.J. Tucker
"A lovely thing about Christmas is that it's compulsory, like a thunderstorm, and we all go through it together." ― Garrison Keillor
6. "Christmas it seems to me is a necessary festival; we require a season when we can regret all the flaws in our human relationships: it is the feast of failure, sad but consoling." ― Graham Greene
7. "Christmas is the season for kindling the fire of hospitality." — Washington Irving
8. "Christmas is a time for families." ― Dorothy Koomson
9. "It struck him that how you spent Christmas was a message to the world about where you were in life, some indication of how deep a hole you had managed to burrow for yourself." ― Nick Hornby
👉🏽  RELATED POST: New Year Quotes for Friends and Family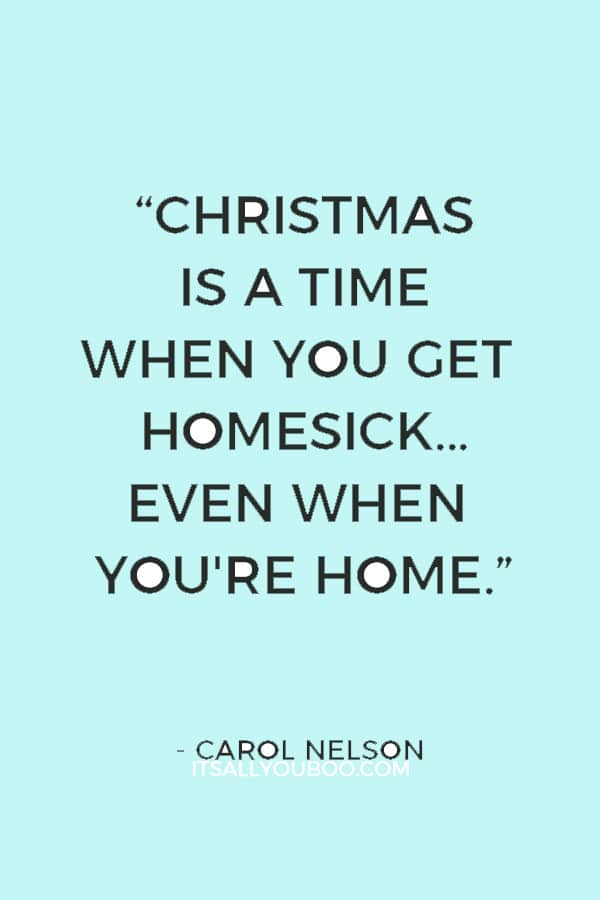 10. "Christmas is a time when you get homesick…even when you're home." ― Carol Nelson
"Christmas is a piece of one's home that one carries in one's heart." ― Freya Stark
Inspirational Christmas Quotes About Memories
What are your childhood memories of Christmas? The following inspirational Merry Christmas quotes are dedicated to the child in all of us, who longs for Christmas of our past. From staying up late waiting for Santa Claus to all our favorite Christmas dishes, Christmas is truly a celebration of our memories.
12. "Like snowflakes, my Christmas memories gather and dance—each beautiful, unique, and gone too soon." ― Deborah Whipp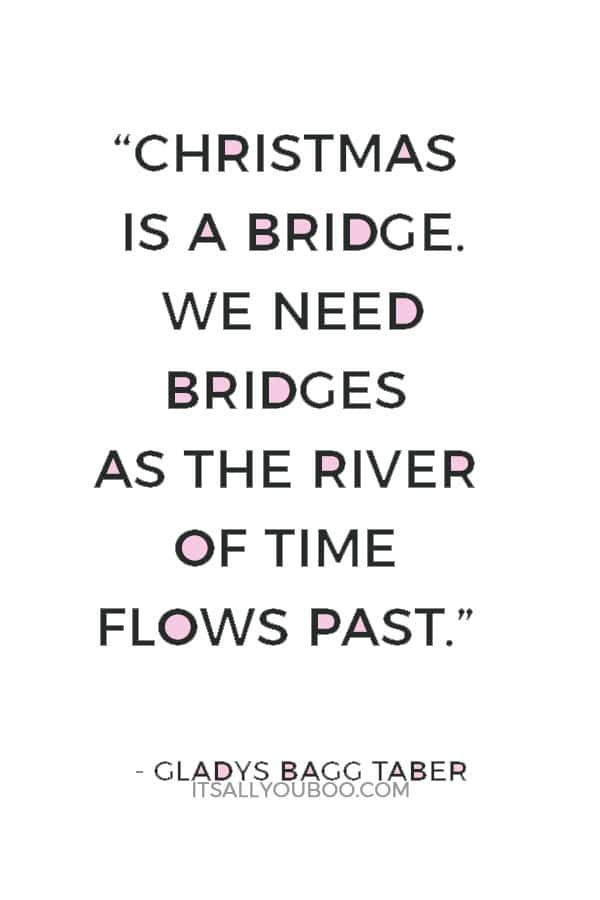 13. "Christmas is a bridge. We need bridges as the river of time flows past. Today's Christmas should mean creating happy hours for tomorrow and reliving those of yesterday." ― Gladys Bagg Taber
"When we recall Christmas past, we usually find that the simplest things—not the great occasions—give off the greatest glow of happiness." ― Bob Hope
15. "Christmas may be a day of feasting, or of prayer, but always it will be a day of remembrance—a day in which we think of everything we have ever loved." ― Augusta E. Randel
16. "Happy, happy Christmas, that can win us back to the delusions of our childish days; that can recall to the old man the pleasures of his youth; that can transport the sailor and the traveller, thousands of miles away, back to his own fire-side and his quiet home!" ― Charles Dickens
👉🏽  RELATED POST: 100 End of Year Reflection Questions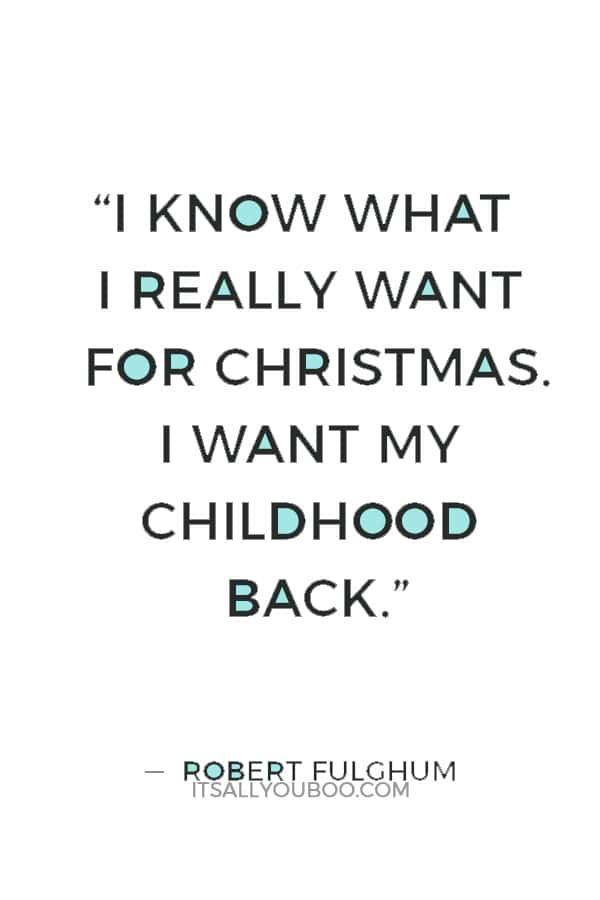 17. "I know what I really want for Christmas. I want my childhood back." ― Robert Fulghum
"Christmas is the keeping-place for memories of our innocence." ― Joan Mills
19. "Our hearts grow tender with childhood memories and love of kindred, and we are better throughout the year for having in spirit, become a child again at Christmas time." ― Laura Ingalls Wilder

Traditions for a Merry Christmas Quote
What are your Christmas traditions? How do you and your family celebrate Christmas? This collection of inspirational Merry Christmas quotes for family and friends explores the many traditions and customs we have. From family dinners and gift opening on Christmas Eve, we all have our unique traditions.
20. "Christmas is a day of meaning and traditions, a special day spent in the warm circle of family and friends." ― Margaret Thatcher
"For Christmas is tradition time—Traditions that recall. The precious memories down the years, The sameness of them all." ― Helen Lowrie Marshal
22. "It comes every year and will go on forever. And along with Christmas belong the keepsakes and the customs. Those humble, everyday things a mother clings to, and ponders, like Mary in the secret spaces of her heart." ― Marjorie Holmes
👉🏽  RELATED POST: Thanksgiving Quotes for Friends and Family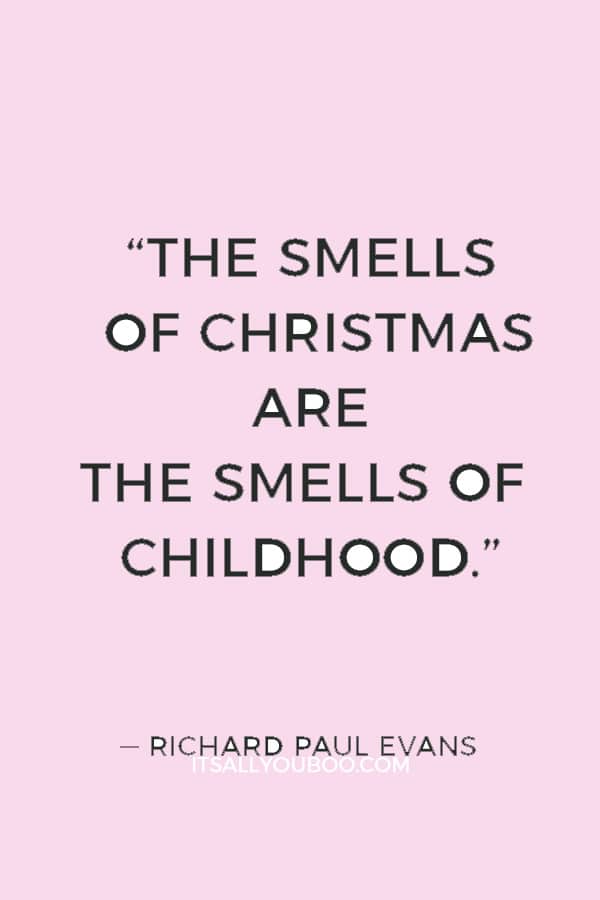 23. "The smells of Christmas are the smells of childhood." ― Richard Paul Evans
24. "I grew up with a Christmas tree, I'm going to stay with a Christmas tree." ― Thomas Menino
"Bringing the past and the present together with a tradition that was timeless to those who had grown up with Christmas tree." ― Fred Neuschel
26. "I'm dreaming of a white Christmas, just like the ones I used to know." ― Irving Berlin
Meaningful Christmas Tree Quotes
What does a Christmas tree represent? What's the true meaning of Christmas? This collection of inspirational Merry Christmas quotes for family illustrates the true meaning of Christmas trees. It's about more than presents and pretty lights, it's about who surrounds it: your family and friends.
27. "The best of all gifts around any Christmas tree: the presence of a happy family all wrapped up in each other." ― Burton Hills
"He who has not Christmas in his heart will never find it under a tree." ― Roy L. Smith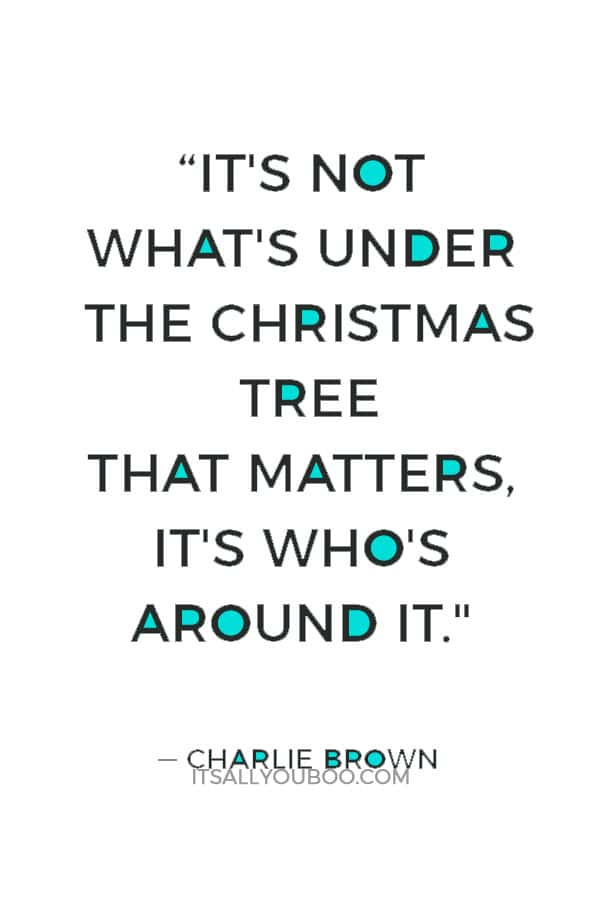 29. "It's not what's under the Christmas tree that matters, it's who's around it." ― Charlie Brown
30. "The Christmas tree is a symbol of love, not money. There's a kind of glory to them when they're all lit up that exceeds anything all the money in the world could buy." ― Andy Rooney
"The best gifts in life will never be found under a Christmas tree, those gifts are friends, family, children and the one you love." ― Unknown
32. "Those are for the Christmas tree. Everyone is wishing you a merry Christmas. Decorating, celebrating, Merry Christmas. Happy Christmas." ― Eun-sook Kim
33. "November, I'll give thanks that you belong to me. December, you're the present beneath my Christmas tree." ― Neil Sedaka
The Perfect Christmas Tree Quotes
What's your idea of a perfect Christmas tree? Is it real or fake? Decorate sparsely or overloaded with ornaments? The following inspirational Merry Christmas quotes for family and friends seek to define the perfect Christmas Tree. Here's a hint: every Christmas tree is perfect. It's not the size or style of the tree that matters!
34. "One little Christmas tree can light up a home." ― Jeff Hanna
👉🏽  RELATED POST: 100 Inspirational Winter Quotes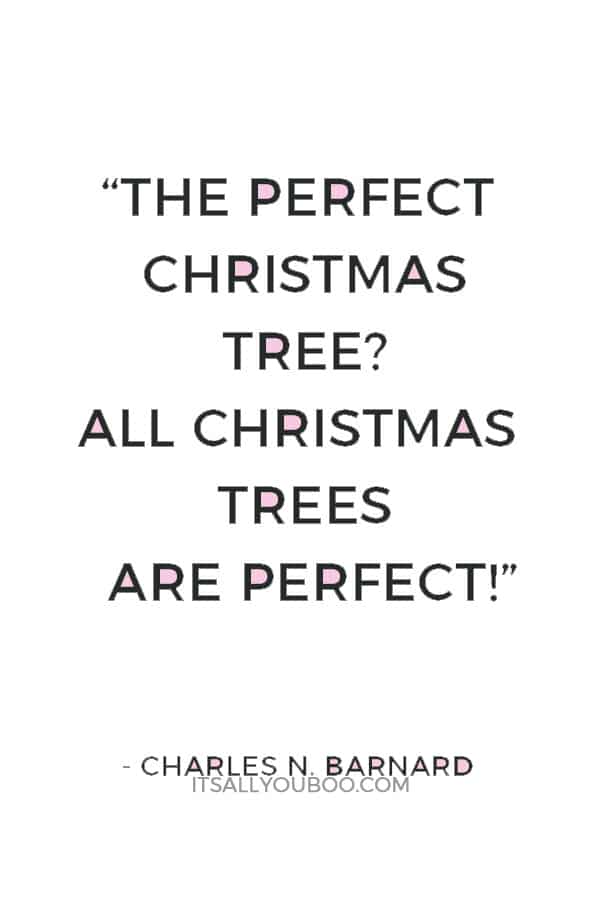 35. "The perfect Christmas tree? All Christmas trees are perfect!" ― Charles N. Barnard
"Never worry about the size of your Christmas tree. In the eyes of children, they are all 30 feet tall." ― Larry Wilde
37. "The best Christmas trees come very close to exceeding nature. If some of our great decorated trees had been grown in a remote forest area with lights that came on every evening as it grew dark, the whole world would come to look at them and marvel at the mystery of their great beauty." ― Andy Rooney
38. "It's hard to describe exactly what makes the perfect Christmas tree. The physical requirements are straightforward enough. The tree must stand tall and straight." ― Julie Salamon
39. "There's nothing cozier than a Christmas tree all lit up." ― Jenny Han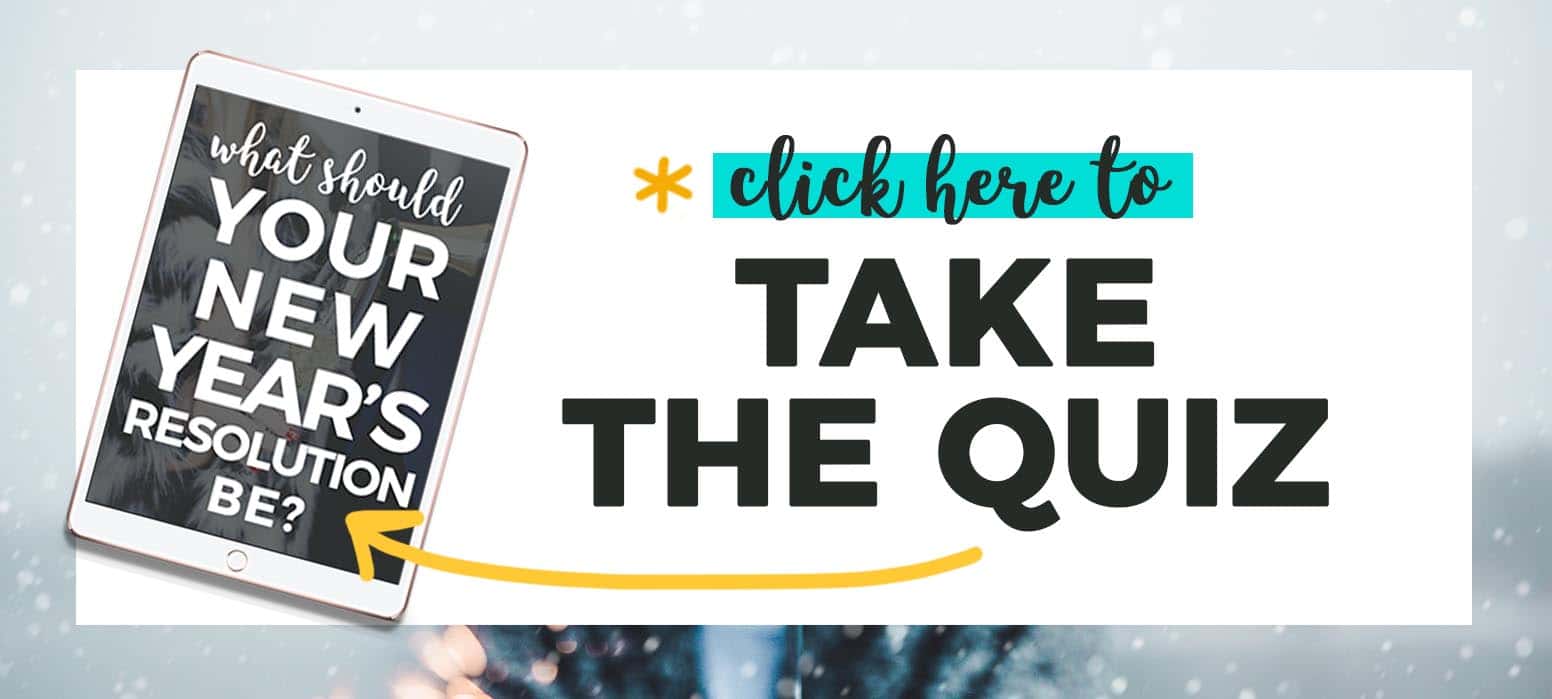 Inspirational Christmas Tree Quotes
What makes Christmas trees so special and magical? What's your favorite part? This selection of inspirational Merry Christmas quotes for family is all about the beauty of Christmas trees. From freshly cut to beautifully decorated, Christmas trees are a focal point of the season.
40. "Freshly cut Christmas trees smelling of stars and snow and pine resin—inhale deeply and fill your soul with wintry night." ― John J. Geddes
"The smell of pine needles, spruce and the smell of a Christmas tree, those to me, are the scents of the holidays." ― Blake Lively
42. "A colorfully decorated, fragrant tree, lit with strings of twinkling lights–the most important and enduring symbol of Christmas." ― Bernud Brunner
👉🏽  RELATED POST: Happy Easter Quotes and Spring Sayings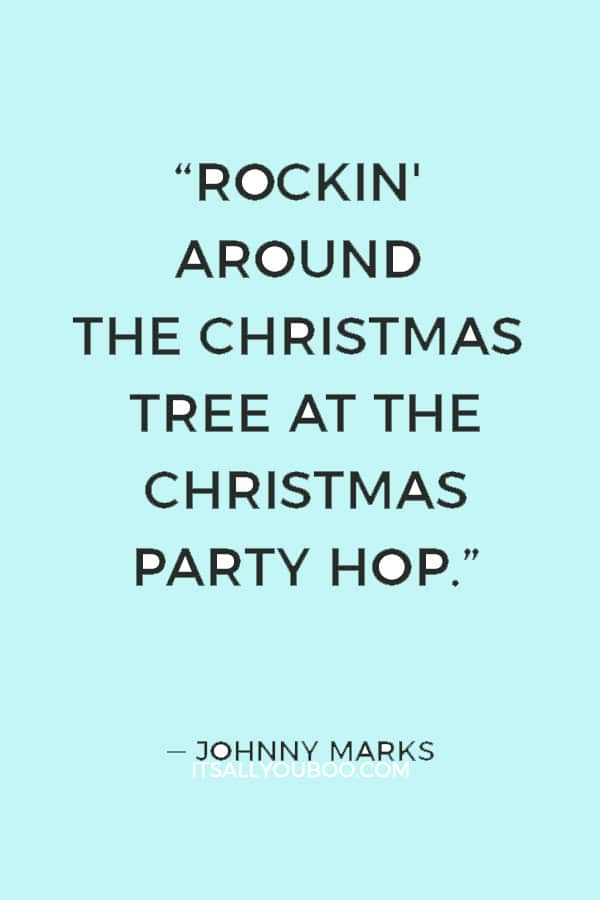 43. "Rockin' around the Christmas tree at the Christmas party hop." ― Johnny Marks
44. "I don't really like artificial Christmas trees. I like real ones. They smell amazing; that's kind of the whole point." ― Ryan Murphy
"Your boughs are green in summer's glow. And do not fade in winter's snow. O Christmas Tree, O Christmas Tree. You stand in verdant beauty." ― Ernst Anschuetz
46. "Moving between the legs of tables and of chairs, rising or falling, grasping at kisses and toys, advancing boldly, sudden to take alarm, retreating to the corner of arm and knee, eager to be reassured, taking pleasure in the fragrant brilliance of the Christmas tree." ― T. S. Eliot
47. "But Christmas trees are so bright and fun and pretty." ― Paul Dini
Merry Christmas Quotes About Decorations
Do you decorate your home for the holidays? Do you go all out or just a Christmas tree? This selection of inspirational merry Christmas quotes for family and friends are all about the bright and shiny decorations. There are so many iconic Christmas decorations to enjoy: garland, poinsettias, tinsel, twinkly lights, nut crackers and so much more!
48. "Some Christmas tree ornaments do more than glitter and glow, they represent a gift of love given a long time ago." ― Tom Baker
"Glittering tinsel, lights, glass balls, and candy canes dangle from pine trees." ― Richelle E. Goodrich
50. "I may be biased, but even without all of these fancy decorations, Christmas trees are special. Cause they remind us this is the season, that we should all love one another." ― John Loy
51. "The Christmas tree, twinkling with lights, had a mountain of gifts piled up beneath it, like offerings to the great god of excess." ― Tess Gerritsen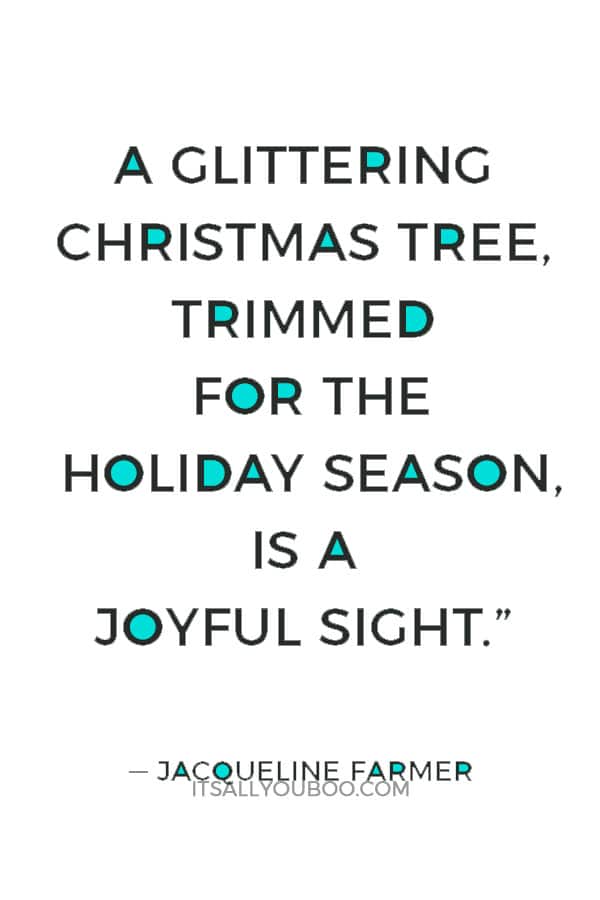 52. "A glittering Christmas tree, trimmed for the holiday season, is a joyful sight." ― Jacqueline Farmer
53. "God crowns us. Most people crown their Christmas trees with either an angel or a star. God uses both." ― Max Lucado
54. "Christmas always rustled. It rustled every time, mysteriously, with silver and gold paper, tissue paper and a rich abundance of shiny paper, decorating and hiding everything and giving a feeling reckless extravagance." ― Tove Jansson
"A smile can always be seen on even the most selfish and bitter person when viewing a well designed Christmas tree." ― James Hewitt
56. "One of the most glorious messes in the world is the mess created in the living room on Christmas day. Don't clean it up too quickly." ― Andy Rooney
Funny Christmas Quotes for Friends
What's your funniest Christmas memory? The following selection of inspirational Christmas quotes is sure to make you smile and laugh. With the family all gathered for Christmas, it's the perfect assembly for mishaps and comical incidents. They're also perfect for writing in a Christmas card or sending in a funny text to a friend.
57. "A Christmas tree, the perfect gift for a guy. The plant is already dead." ― Jay Leno
"Taking down the Christmas tree makes it feel official: time to get back to joyless and cynical." ― Greg Fitzsimmons
59. "The first thing at Christmas that's such a pain to me. Is finding a Christmas tree." ― Bob Rivers
👉🏽  RELATED POST: Hello November Quotes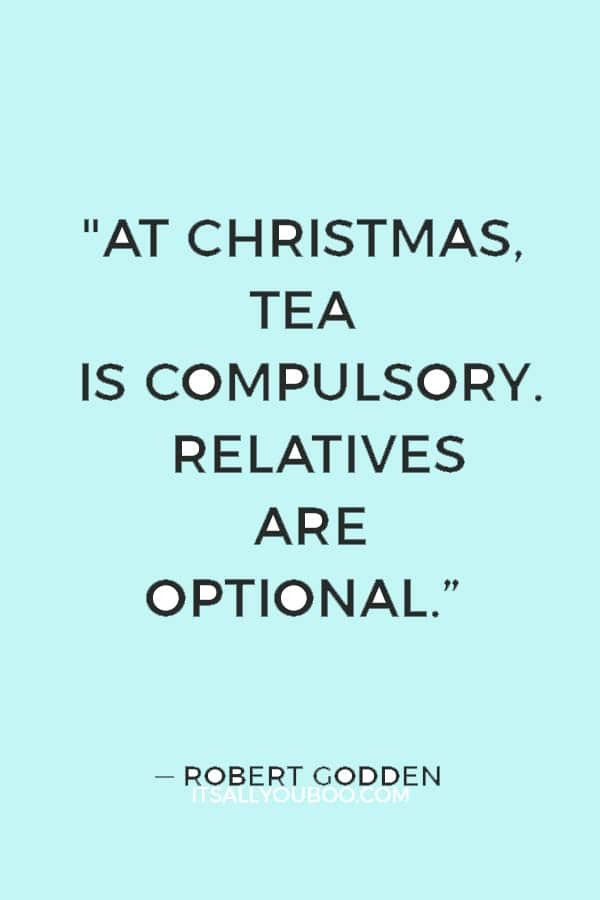 60. "At Christmas, tea is compulsory. Relatives are optional." ― Robert Godden
"I once bought my kids a set of batteries for Christmas with a note on it saying, toys not included." ― Bernard Manning
62. "Anyone who believes that men are the equal of women has never seen a man trying to wrap a Christmas present." ― Publilius Syrus
63. "Oh look, yet another Christmas TV special! How touching to have the meaning of Christmas brought to us by cola, fast food, and beer… Who'd have ever guessed that product consumption, popular entertainment, and spirituality would mix so harmoniously? " ― Bill Watterson
👉🏽  RELATED POST: Thanksgiving Quotes for Friends and Family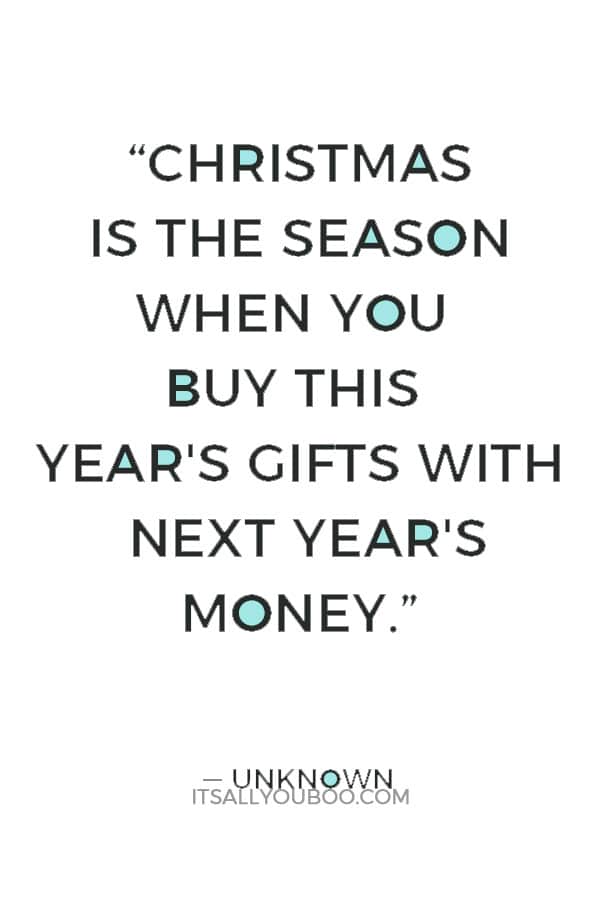 64. "Christmas is the season when you buy this year's gifts with next year's money." ― Unknown
65. "When did wishing someone a Merry Christmas become politically incorrect?" ― Suzanne Woods Fisher
Inspirational Anticipation of Christmas Quotes
Are you counting down to Christmas? Do you use an advent calendar? The following inspirational Merry Christmas quotes capture the magic of waiting for December 25th. That calm and quiet on Christmas eve, before presents and festive gatherings.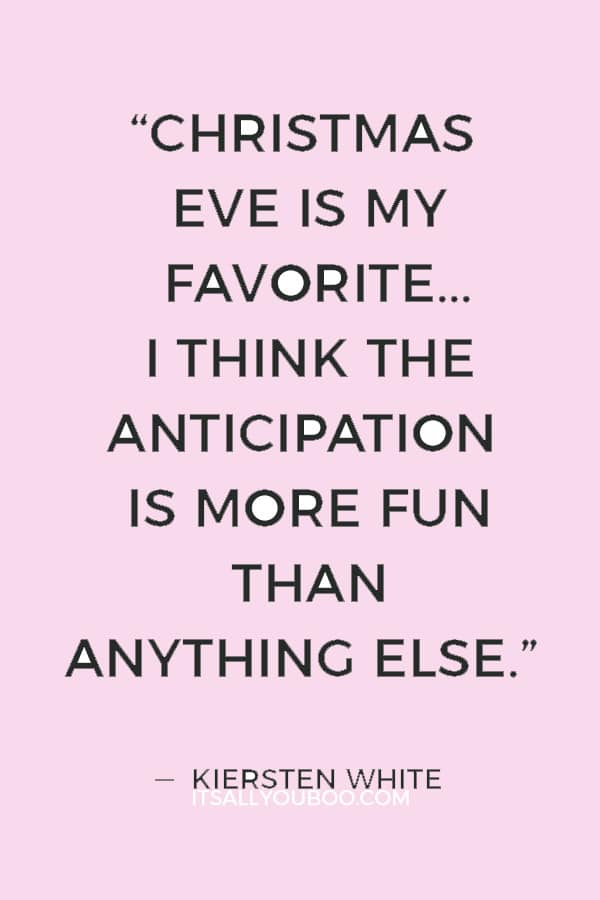 66. "Christmas Eve is my favorite… I think the anticipation is more fun than anything else." ― Kiersten White
67. "Nothing ever seems too bad, too hard or too sad when you've got a Christmas tree in the living room. All those presents under it, all that anticipation. Just a way of saying there's always light and hope in the world." ― Nora Roberts
68. "The Christmas presents once opened are Not So Much Fun as they were while we were in the process of examining, lifting, shaking, thinking about, and opening them." ― Benjamin Hoff
"T'was the night before Christmas, when all through the house, not a creature was stirring, not even a mouse." ― Clement Clarke Moore

Christmas Quotes About Gifs and Presents
Do you prefer to give or receive presents? What's the best Christmas gift you've ever received? This collection of inspirational Merry Christmas quotes for family and friends enlightens us about presents. It's easy to get caught up in getting the best, most expensive gift, but it's love that matters most. Don't forget the reason for the season!
70. "Gifts of time and love are surely the basic ingredients of a truly merry Christmas." ― Peg Bracken
"Every gift which is given, even though it be small, is in reality great, if it is given with affection." ― Pindar
72. "Probably the reason we all go so haywire at Christmas time with the endless unrestrained and often silly buying of gifts is that we don't quite know how to put our love into words." ― Harlan Miller
73. "I love the Christmas-tide, and yet, I notice this, each year I live; I always like the gifts I get, But how I love the gifts I give!" ― Carolyn Wells
👉🏽  RELATED POST: Boss Babe Gift Guide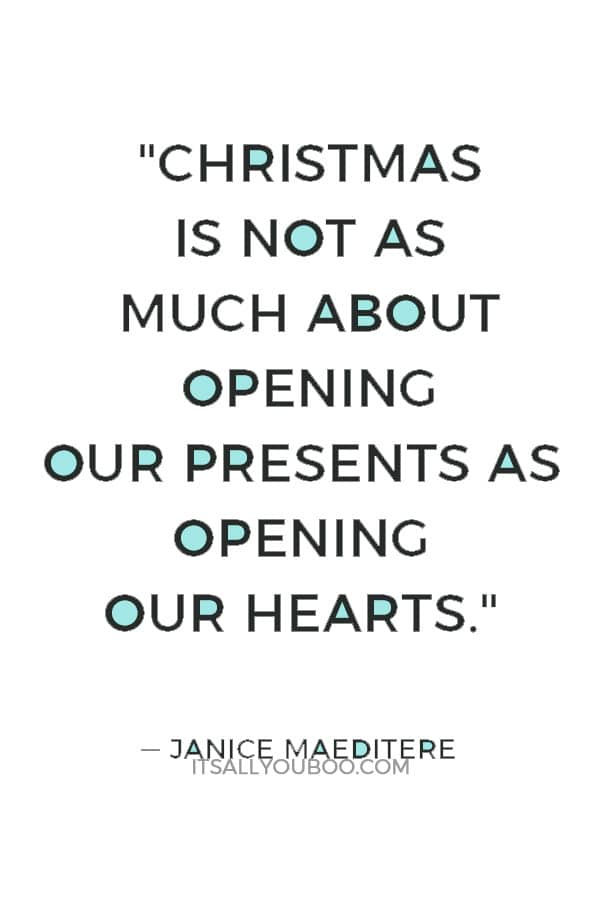 74. "Christmas is not as much about opening our presents as opening our hearts." ― Janice Maeditere
"When purchasing gifts becomes the focal point of the season, we lose focus on what's truly important." ― Joshua Fields Millburn
76. "Love the giver more than the gift." ― Brigham Young
77. "Christmas gift suggestions: To your enemy, forgiveness. To an opponent, tolerance. To a friend, heart. To a customer, service. To all, charity. To every child, a good example. To you, respect." ― Oren Arnold
78. "It was the beginning of the greatest Christmas ever. Little food. No presents. But there was a snowman in their basement." ― Markus Zusak
"What kind of Christmas present would Jesus ask Santa for?" ― Salman Rushdie
Believe In Santa Christmas Quotes
Do you believe in Santa Claus? If not, when did you stop? This inspirational collection of Merry Christmas quotes are all about believing in Saint Nicholas. With so many movies over the ages that depict him, we all have a pretty good idea of who Santa Claus is and what his story is. It is a belief in something bigger than us, that makes Christmas so special.
80. "They err who think Santa Claus enters through the chimney. He enters through the heart." ― Charles W. Howard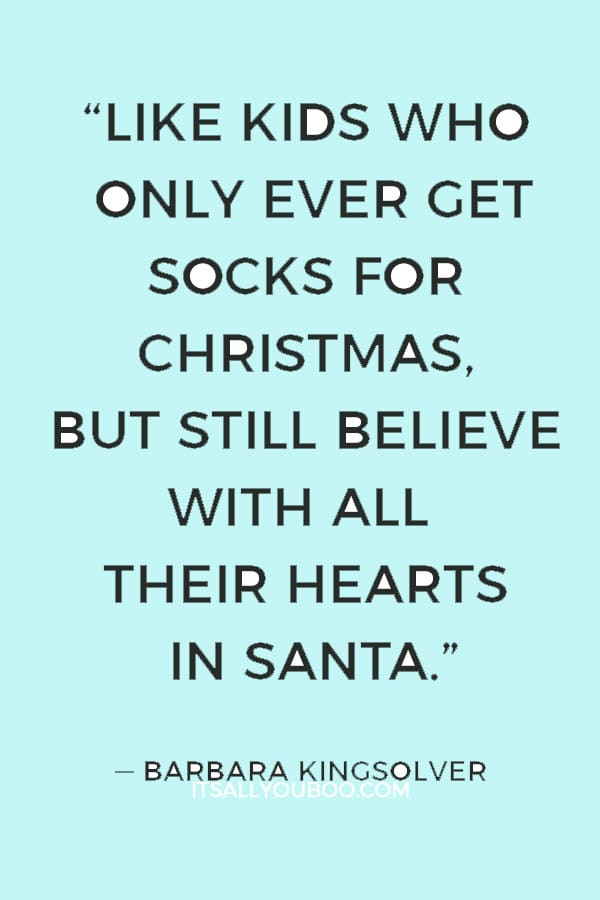 81. "Like kids who only ever get socks for Christmas, but still believe with all their hearts in Santa." ― Barbara Kingsolver
82. "Not believe in Santa Claus! You might as well not believe in fairies!" ― Francis P. Church
83. "You believe in love, just as a child believes in Santa Claus or a fairy tale." ― Abhaidev
"I think we have to believe in things we don't see. That's really important for all of us, whether it's your religion or Santa Claus, or whatever. That's pretty much what it's about." ― James Caan
85. "When you stop believing in Santa Claus is when you start getting clothes for Christmas!" ― Hussein Nishah
86. "Believe in love. Believe in magic. Hell, believe in Santa Clause. Believe in others. Believe in yourself. Believe in your dreams. If you don't, who will?" ― Jon Bon Jovi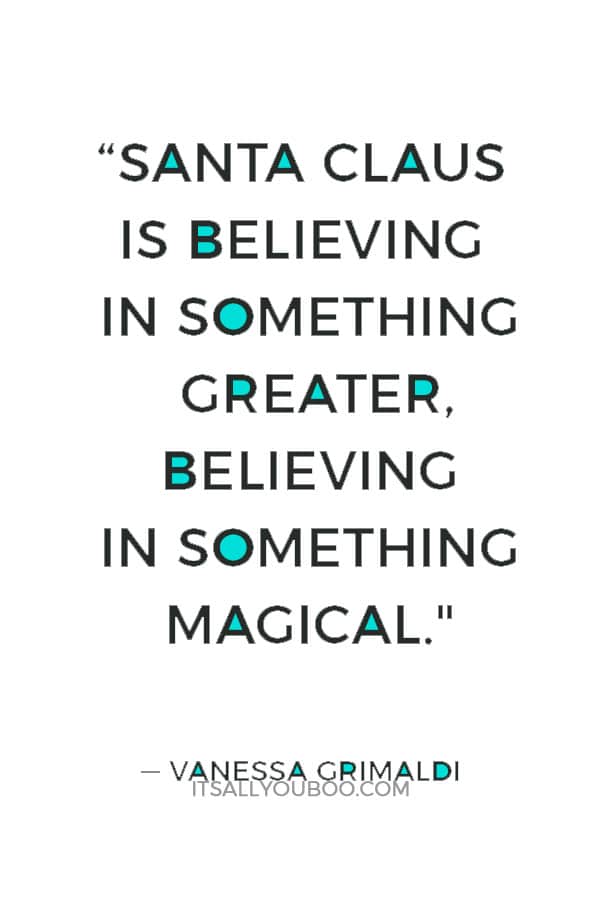 87. "Santa Claus is believing in something greater, believing in something magical." ― Vanessa Grimaldi
"May you never be too grown up to search the skies on Christmas Eve." ― Anonymous
89. "I never believed in Santa Claus because I knew no white dude would come into my neighborhood after dark." ― Dick Gregory
Funny Santa Clause Quotes and Sayings
What are some hilarious quotes about Santa Clause? The following inspirational Merry Christmas quotes are perfect for sending to friends or writing in cards to family members. They are sure to make you laugh a jolly Santa-style laugh.
"You know you're getting old when Santa starts looking younger." ― Robert Paul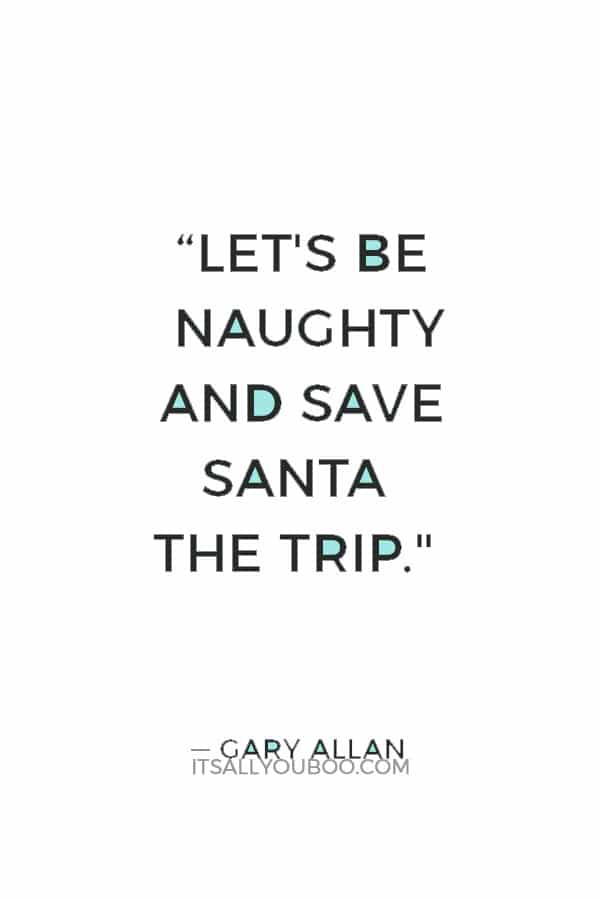 91. "Let's be naughty and save Santa the trip." ― Gary Allan
"The main reason Santa is so jolly is because he knows where all the bad girls live." ― George Carlin
93. "Santa knows Physics: Of all colors, Red Light penetrates fog best. That's why Benny the Blue-nosed reindeer never got the gig." ― Neil deGrasse Tyson
94. "The three stages of man: he believes in Santa Claus; he does not believe in Santa Claus; he is Santa Claus." ― Jim Guthrie
95. "Our family was too strange and weird for even Santa Claus to come visit… Santa, who was jolly – but, let's face it, he was also very judgmental." ― Julia Sweeney
"Santa Claus has the right idea – visit people only once a year." ― Victor Borge
Merry Christmas Quotes for Family and Friends
What's our mission on Christmas? How should we behave to those around us? This final selection of inspirational Merry Christmas quotes for family and friends charges us with our holiday duties: to be like Santa Claus. Treat those around you with love and care, don't just seek to receive, but also give of yourself.
"The greatest thing is not to believe in Santa Claus; it is to be Santa Claus." ― Pat Boone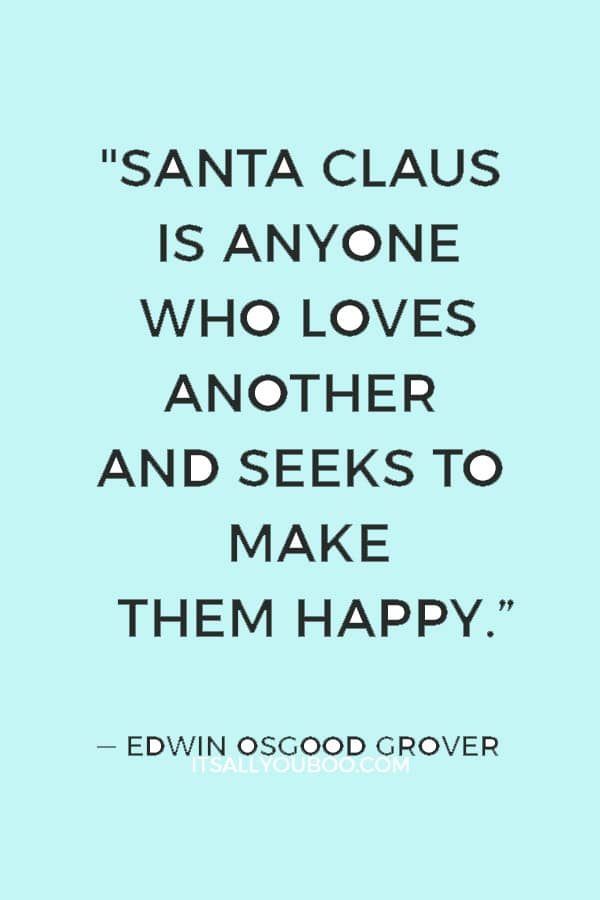 98. "Santa Claus is anyone who loves another and seeks to make them happy; who gives himself by thought or word or deed in every gift that he bestows." ― Edwin Osgood Grover
"Of course there is a Santa Claus. It's just that no single somebody could do all he has to do. So the Lord has spread the task among us all. That's why everybody is Santa Claus. I am. You are." ― Truman Capote
100. "Whenever you give someone a present or sing a holiday song, you're helping Santa Claus. To me, that's what Christmas is all about. Helping Santa Claus!" ― Louis Sachar
Take the Quiz – What Should My New Year's Resolution Be?
Christmas lets us know that the end of the year is at hand. Why not take time to also prepare for the New Year?
Take the FREE New Year's Resolution Quiz and discover what area of your life you should focus on and receive a special guide filled with unique resolution ideas.
Let us open our hearts to the Christmas spirit! To be kind, caring, and give more than we receive.
May your memories of Christmas past fill your heart, as you create new ones this year.
Gather safety, and celebrate with care.
Happy Christmas!
Merry Christmas! Share holiday cheer! Click here for 100 inspirational Merry Christmas quotes for family and friends, perfect for cards, messages, and texts. #MerryChristmas #HappyHolidays #Christmas2022

What's your favorite Merry Christmas quote for family and friends?
Last Updated on November 26, 2022