Looking for inspirational autumn quotes and sayings?
What are some cute fall is here quotes and messages?
You can already feel it in the air, summer is winding down and the cold crispness of fall starts rolling in.
The leaves start the change, the mood, and even the atmosphere shifts to cozy and warm.
There's a distinct fireplace and melting leaves aroma in the air. It's clear, that fall is here and it's time to embrace the beauty of autumn.
What does fall's arrival mean to you?
For many, it's the unofficial start of the new year, with school's back in session and football's back in play. There's so much to celebrate and love about the seasonal change.
Is it the cozy sweaters, warm blankets, boots, and pumpkin spice? Or do you love the explosion of red, gold, and yellow leaves?
There's nothing more magical than walking down the street as you're showered in falling leaves as the October winds blow.
To celebrate Autumn's ceremonious arrival, here are 55 inspirational autumn quotes and cute fall is here sayings.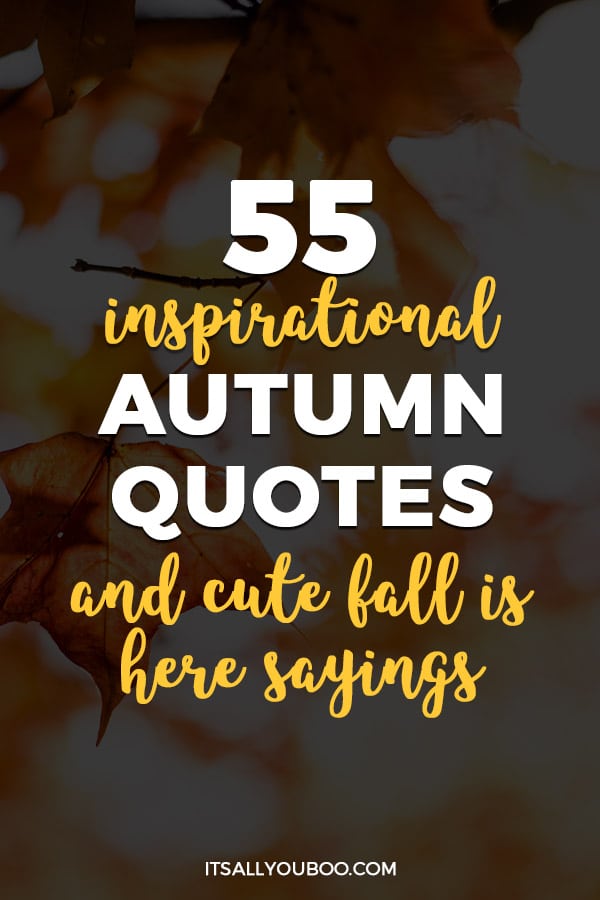 Inspirational Autumn Is Quotes
What is Autumn? What does this seasonal change represent? Fall is a magical season of change and beauty. This first collection of inspirational Authum quotes and sayings tries to describe the unexplainable quality of the season. There is just something so special about it.
"Autumn is a second spring when every leaf is a flower." ― Albert Camus
2. "Notice that autumn is more the season of the soul than of nature." ― Friedrich Nietzsche
3. "Autumn is the hardest season. The leaves are all falling, and they're falling like they're falling in love with the ground." ― Andrea Gibson
👉🏽 RELATED POST: Gratitude Quotes for a Happy Thanksgiving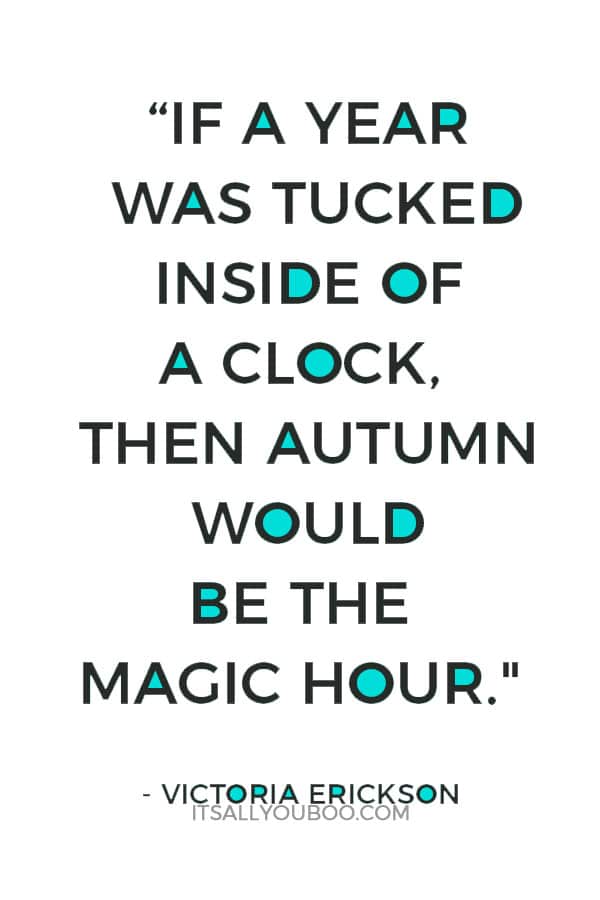 4. "If a year was tucked inside of a clock, then autumn would be the magic hour." ― Victoria Erickson
"Winter is an etching, spring a watercolor, summer an oil painting, and autumn a mosaic of them all." ― Stanley Horowitz
6. "Fall has always been my favorite season. The time when everything bursts with its last beauty, as if nature had been saving up all year for the grand finale." ― Lauren DeStefano
7. "Autumn is my favorite season." ― Johnny Kelly
Cute Fall is Here Quotes and Sayings
Are you excited about Fall's arrival? For the changing of the leaves and all that Autumn brings? The following inspirational autumn quotes announce that Fall is here, with all its glorious splendor. Summer might be over, but there's one more season to celebrate and enjoy before winter.
8. "And the sun took a step back, the leaves lulled themselves to sleep, and autumn was awakened." ― Raquel Franco
"And all at once, summer collapsed into fall." ― Oscar Wilde
10. "Autumn seemed to arrive suddenly that year. The morning of the first September was crisp and golden as an apple." ― J.K. Rowling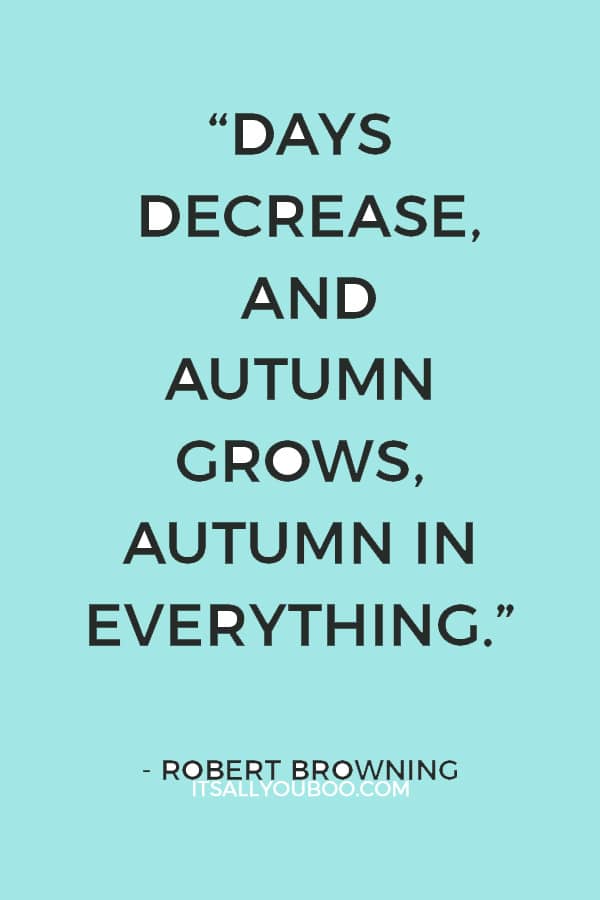 11. "Days decrease, And autumn grows, autumn in everything." ― Robert Browning
12. "Why is summer mist romantic and autumn mist just sad?" ― Dodie Smith
13. "August rain: the best of the summer gone, and the new fall not yet born. The odd uneven time." ― Sylvia Plath
"Autumn arrives in the early morning, but spring at the close of a winter day." ― Elizabeth Bowe
15. "By all these lovely tokens September days are here, with summer's best of weather and autumn's best of cheer." ― Helen Hunt Jackson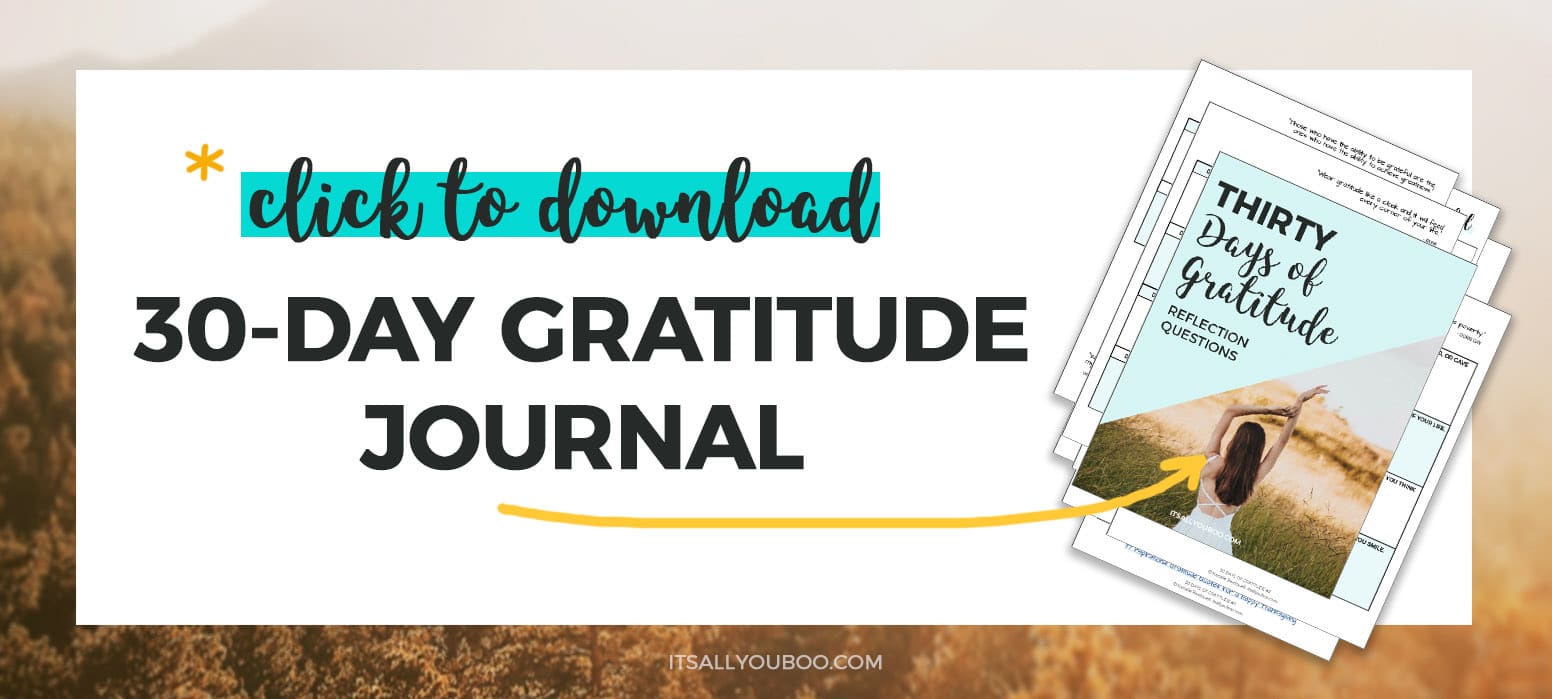 The Beauty of Autumn Messages
What makes Autumn so lovely? How would you describe the season? There's nothing quite like the beauty of the Fall season and all it brings, from falling leaves to golden skies. The following inspirational autumn quotes describe the simple beauty of autumn.
16. "No spring nor summer beauty hath such grace as I have seen in one autumnal face." ― John Donne
"Autumn…the year's last, loveliest smile." [Indian Summer]" ― John Howard Bryant
18. "The tints of autumn…a mighty flower garden blossoming under the spell of the enchanter, frost." ― John Greenleaf Whittier
👉🏽 RELATED POST: 500 Things to Be Thankful For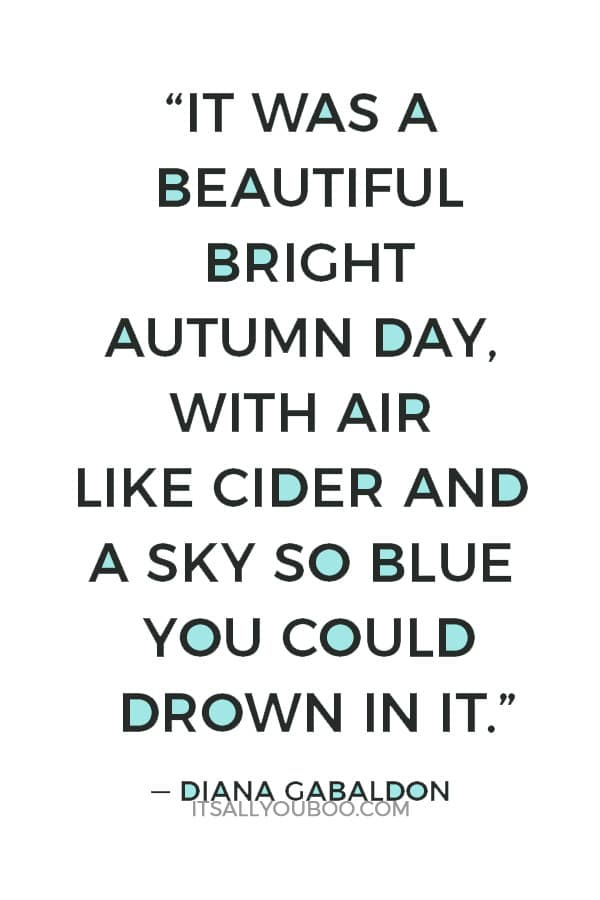 19. "It was a beautiful bright autumn day, with air like cider and a sky so blue you could drown in it." ― Diana Gabaldon
"I loved autumn, the one season of the year that God seemed to have put there just for the beauty of it." ― Lee Maynard
21. "Delicious autumn! My very soul is wedded to it, and if I were a bird I would fly about the Earth seeking the successive autumns." ― George Eliot
Magical Falling Leaves Quotes
Is there anything more beautiful than falling leaves? Have you ever seen the splendor of a forest in seasonal change? This collection of inspirational autumn quotes and sayings depict the magic of falling leaves on a crisp fall day.
22. "How beautiful the leaves grow old. How full of light and color are their last days." ― John Burroughs
"Every leaf speaks bliss to me, fluttering from the autumn tree." ― Emily Brontë
👉🏽 RELATED POST: 100 Happy Back to School Quotes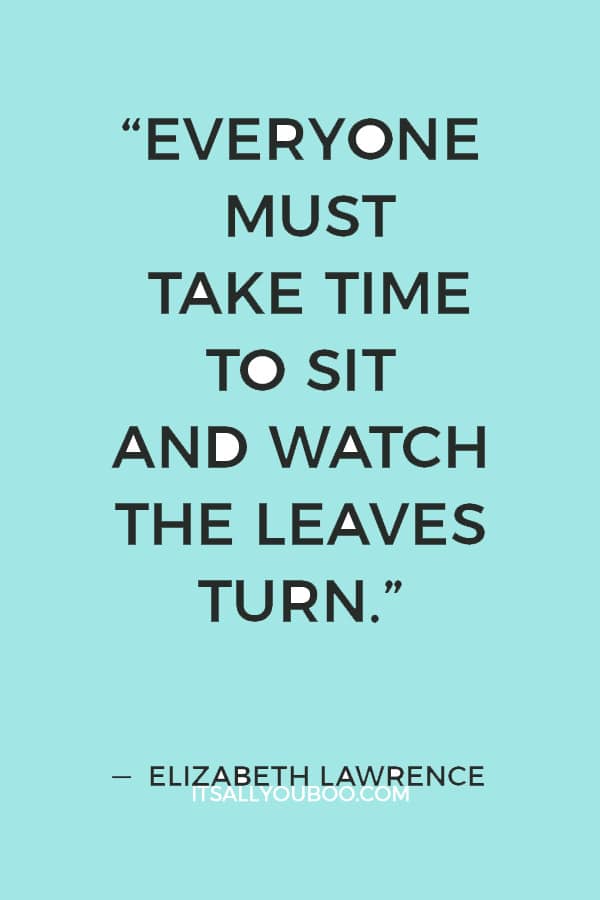 24. "Everyone must take time to sit and watch the leaves turn." ― Elizabeth Lawrence
"There is something incredibly nostalgic and significant about the annual cascade of autumn leaves." ― Joe L. Wheeler
26. "Dancing of the autumn leaves on a surface of a lake is a dream we see when we are awake." ― Mehmet Murat Ildan
27. "Anyone who thinks fallen leaves are dead has never watched them dancing on a windy day." ― Shira Tamir
"Now Autumn's fire burns slowly along the woods and day by day the dead leaves fall and melt." ― William Allingham
Cute Fall is a Season of Gold Quotes
What colors represent Autumn? Don't you just love the golden hues of the season? These inspirational autumn sayings describe the treasure found in the golden browns and deep coppers of the season. From cinnamon and brown sugar to golden leaves, there's a richness to the season unlike any other.
"The heart of autumn must have broken here, and poured its treasure upon the leaves." ― Charlotte Bates
👉🏽 RELATED POST: 110 Inspirational Winter Quotes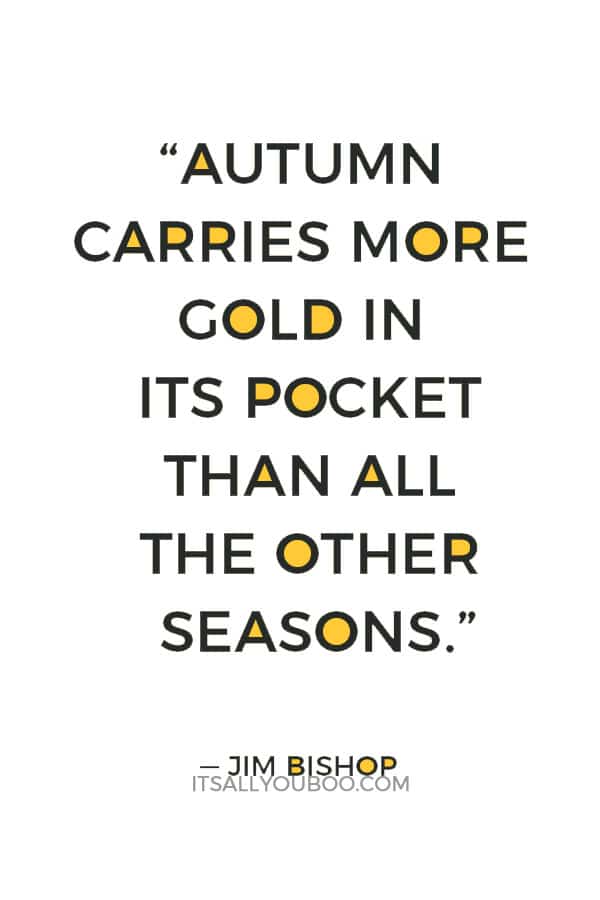 30. "Autumn carries more gold in its pocket than all the other seasons." ― Jim Bishop
"Autumn leaves are falling, filling up the streets; golden colors on the lawn, nature's trick or treat!" ― Rusty Fischer
32. "It looked like the world was covered in a cobbler crust of brown sugar and cinnamon." ― Sarah Addison Allen
Autumn Awakens the Senses Sayings
Don't you just love the sounds and smells of Autumn? Isn't there a tangible sensation when the season changes? From the amora of the leaves on the changing sounds, these inspirational fall time quotes illustrate the impact of Autumn's arrival on our senses.
33. "I see the turning of a leaf dancing in an autumn sun, and brilliant shades of crimson glowing when the day is done." ― Hazelmarie Mattie Elliott
"I was drinking in the surroundings: air so crisp you could snap it with your fingers and greens in every lush shade imaginable offset by autumnal flashes of red and yellow." ― Wendy Delsol
35. "Two sounds of autumn are unmistakable…the hurrying rustle of crisp leaves blown along the street…by a gusty wind, and the gabble of a flock of migrating geese." ― Hal Borland
36. "Wild is the music of the autumnal winds amongst the faded woods." ― William Wordsworth
Fall is a Time for Cozy Sweaters Sayings
What's in your fall capsule wardrobe? Don't you just love how Fall is a season for cozy blankets and comfy sweaters? This cute fall is here quotes do their best to describe just how the seasonal change brings a tangible mood change. It's so much more than just being out with the summer dresses and sandals and in with the big sweaters and wool socks.
37. "The leaves fall, the wind blows, and the farm country slowly changes from the summer cottons into its winter wools." ― Henry Beston
"Autumn's the mellow time." ― William Allingham
👉🏽 RELATED POST: How to Hygge Your Home Office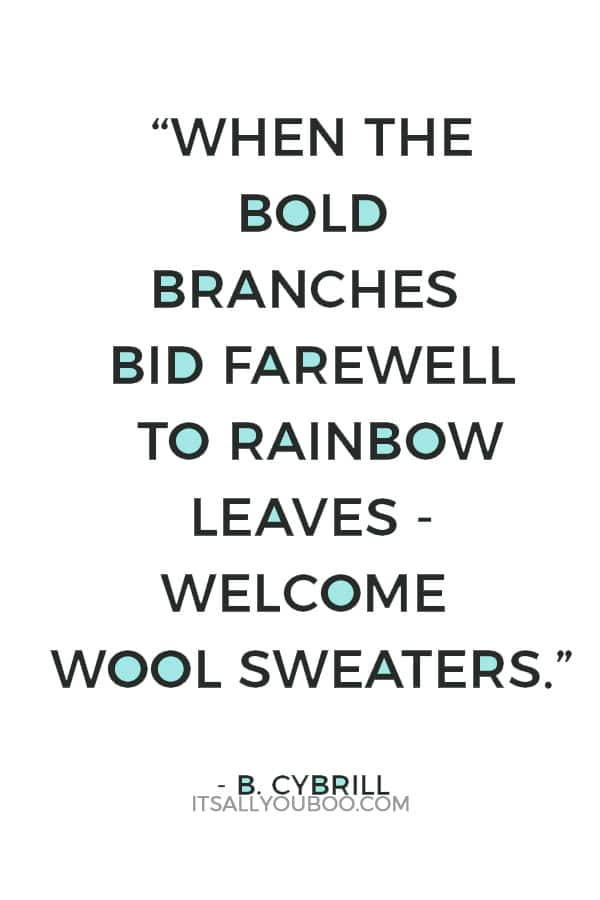 39. "When the bold branches Bid farewell to rainbow leaves – Welcome wool sweaters." ― B. Cybrill
40. "Such days of autumnal decline hold a strange mystery which adds to the gravity of all our moods." ― Charles Nodier
41. "Shuddering under the autumn stars, each year, the head sinks lower and lower." ― Georg Trakl
"Autumn in New York, why does it seem so inviting?" ― Vernon Duke
43. "Designers want me to dress like Spring, in billowing things. I don't feel like Spring. I feel like a warm red Autumn." ― Marilyn Monroe
Autumn is a Season of New Beginnings Quotes
When does the new year start for you? Doesn't Fall's arrival feel like the end of the year, and the beginning? This short selection of inspirational autumn quotes encourages us to find new beginnings and to move on. Fall is all about change in life and moving on. Just let go like the leaves do!
"Autumn mornings: sunshine and crisp air, birds and calmness, year's end and day's beginnings." ― Terri Guillemets
45. "Life starts all over again when it gets crisp in the fall." ― F. Scott Fitzgerald
👉🏽 RELATED POST: New Year's Resolution Quotes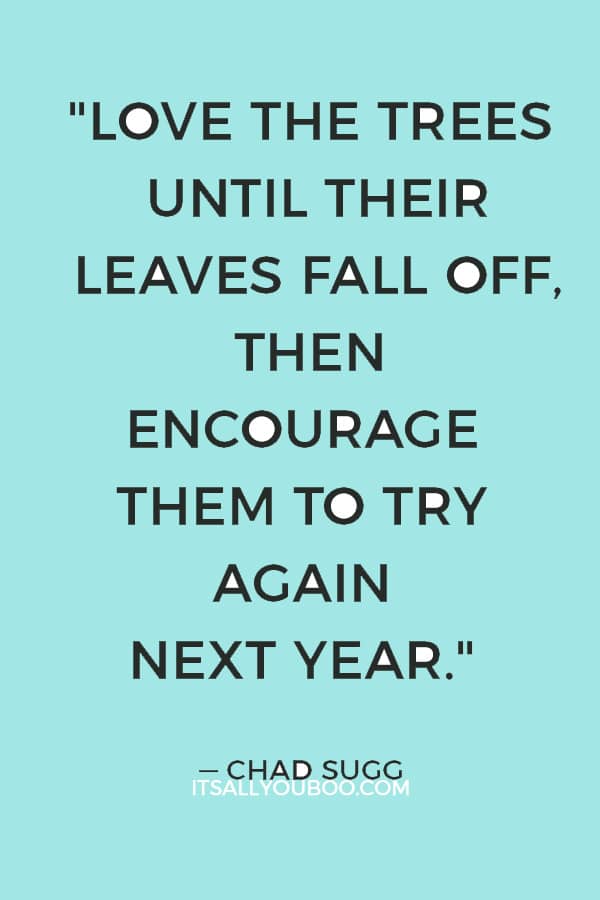 46. "Love the trees until their leaves fall off, then encourage them to try again next year." ― Chad Sugg
47. "[T]hat old September feeling, left over from school days, of summer passing, vacation nearly done, obligations gathering, books and football in the air … Another fall, another turned page: there was something of jubilee in that annual autumnal beginning, as if last year's mistakes had been wiped clean by summer." ― Wallace Stegner
"Autumn shows us how beautiful it is to let things go." ― Unknown
49. "You expected to be sad in the fall. Part of you died each year when the leaves fell from the trees and their branches were bare against the wind and the cold, wintery light. But you knew there would always be the spring, as you knew the river would flow again after it was frozen. When the cold rains kept on and killed the spring, it was as though a young person died for no reason." ― Ernest Hemingway
50. "Autumn is as joyful and sweet as an untimely end." ― Rémy de Gourmon
Seasonal Quotes about Autumn or Spring
What's your favorite season? Do you love spring's arrival or fall's more? This final collection of inspirational autumn quotes debates what the best season is, spring or fall. There's something special about both of these seasons.
"Aprils have never meant much to me, autumns seem that season of beginning, spring." ― Truman Capote
👉🏽 RELATED POST: Happy Easter Quotes and Spring Sayings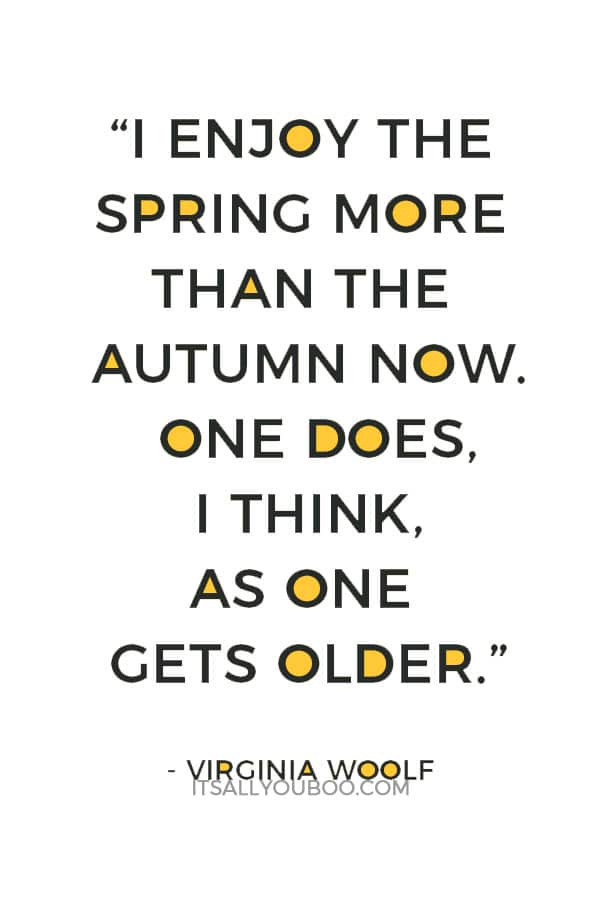 52. "I enjoy the spring more than the autumn now. One does, I think, as one gets older." ― Virginia Woolf
"Just as a painter needs light in order to put the finishing touches to his picture, so I need an inner light, which I feel I never have enough of in the autumn." ― Leo Tolstoy
54. "New York in spring and autumn is absolutely beautiful, but the winter is absolutely depressing." ― Joel Robuchon
55. "Autumn is a season followed immediately by looking forward to spring." ―Doug Larson
Free 30-Day Gratitude Journal
Want to get even more into the Fall season mood? It's time to be more thankful. Get your FREE Printable Gratitude Journal, with 30 days of self-reflection prompts.
Don't let the beauty of autumn pass you by without enjoying it!
Get out and explore the outside, take time to watch falling leaves fall.
Enjoy the seasonal pleasures of the fall season in all their golden splendor.
Wishing you happy autumn!
Happy October! Fall is here, let's celebrate the falling leaves, pumpkin spice, and cozy sweaters. Click here for 55 Inspirational Autumn Quotes and Sayings. #FallIsComing #HappyOctober #FallQuotes

What Autumn quotes and sayings do you love?
Last Updated on September 9, 2021
✕
Get your FREE Gratitude Journal
+ get weekly tips to help you slay your goals.