What's it like to quit your job and become an online marketing expert?
Curious about leaving your day job to build an online empire?
Want to know what it's like to quit your job and become an online marketing expert? Meet Alessandro Di Ruscio, he's done it and helps others build their own online empire. @alediruscio #QuitYourJob #Interview
We've all thought about it at one time or another, quitting your job to travel the world.
Maybe your current career isn't as impactful and meaningful as you thought it would be.
You've even been wondering if you should follow your dreams or be realistic? Could you be your own boss?
If you're interested in leaving your current job to start a meaningful career as your own boss, perhaps even helping others do the same, then this is an interview for you. Especially if you're interested in online marketing and social media strategy. Alessandro Di Ruscio is an online marketing expert who has built a successful business helping his clients transition to the online world.
Not to mention that Alessandro has an amazing YouTube channel filled with inspiring entrepreneur interviews and step by step guides to mastering online marketing.
Let's get started.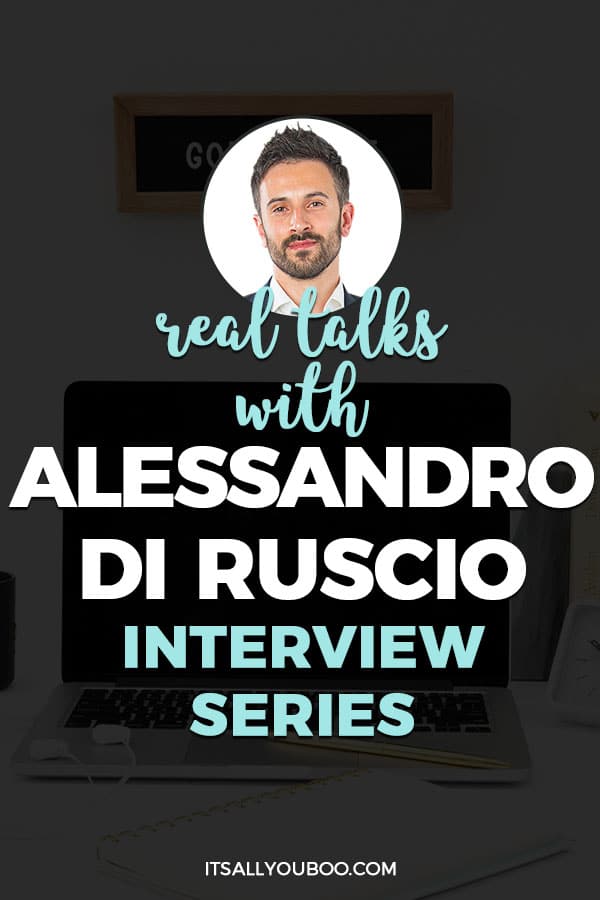 #1.
Who are you and what's your story?
I'm Alessandro Di Ruscio, and I'm an online business expert. I teach how to quit the job you hate replacing income with private clients and then creating an online business to maximize profit.
This is exactly what I did with my career. I've worked for years as a graphic designer until I started an online business on the side and fell in love with online marketing.
My 9-to-5 job wasn't terrible. I can't say I was in a terrible situation. But I was bored with my life, I was tired of commuting in London, and I was sick not to have free time for anything.
👉🏽 RELATED POST: Motivational Quit Your Job Quotes
So I decided that that was enough and that I would have regained my freedom. It took me a couple of months to replace my income with remote clients, and it gave me the possibility to work where I wanted when I wanted.
Plus, I had a lot more spare time to work on my online business and grow it.
If you're in the same situation I was, and want to create an escape plan with me, you can book a free 30-minute call here.
#2.
What's your average day like?
I spend half of my day coaching students who either want to find clients or grow their online business, and I invest the rest of the day on my business.
My Youtube Channel is the thing that takes more time since I publish 2 videos per week.
For the rest, I work on my courses, my membership website, and my newsletter.
👉🏽 RELATED POST: How to Prioritize Your Time
#3.
How do you stay motivated? What or who inspires you?
After many years of working on something I wasn't passionate about, I can finally say that I love what I do.
If you wake up every single day, eager to work on your project, you don't need motivation.
And anyway, motivation is outdated. No one can be continuously motivated.
Many of the tasks I daily work on are boring, but I know they're essential to growing my business.
The other thing that keeps me running is seeing progress in my journey. Even if your progress is slow, it's helpful to compare your situation with where you were a few months ago.
👉🏽 RELATED POST: How to Get Motivated
#4.
Let's talk about goals. How do you slay yours?
I'm a disorganized person, and for this reason, I use plenty of tools to schedule my time, keep my goals clear, and set deadlines.
I'm a big fan of keeping goals small and reward me every time I reach one. The reward doesn't have to be huge, but it's a little treat for being committed.
#5.
What's one app or tool that you can't do without?
I have a wide group of tools that I love and made a massive impact on my business. If I have to choose one among the others, I would say Elementor.
It's a great web builder that makes incredibly simple to create web pages.
My website, blog, landing pages, and course pages are all created with Elementor. And it's incredible I've created all of that not being a developer.
I have a video on my channel where I explain 10 reasons why Elementor is the best web builder on the market.
#6.
What's your favorite and least favorite part of being an entrepreneur?
The favorite part is without any doubt having the freedom to work when you want and where you want.
Back at my 9-to-5 life, I had 25 free days per year. Since my family is in a different country, I used to spend all the days traveling to Italy and coming back to the UK. I didn't have any spare time to visit other countries (traveling is one of my passions).
Also, my daily life was really busy. I spent 2 hours every day commuting to my office, and the 8 hours in front of a computer.
Right now my life is completely different. I can travel and work while I'm doing it.
My least favorite is the uncertainty behind being an entrepreneur. Having a corporate job is like living in a bubble, where the worst-case scenario is to be fired.
In the entrepreneurial world instead, getting bankrupt is always an eventuality, and you need to have a plan-b for it.
#7.
What advice would you give to someone just starting out?
I always suggest my students not to quit their job if they haven't replaced their income.
This is a mistake I've made in the past, and I learned from it.
The first step is to be sure you can leave your job, and you have a way to cover your expenses.
You need to conquer your freedom little by little. Being in a hurry exposes you to risks.
👉🏽 RELATED POST: Can I Afford to Quit my Job?
#8.
What's the best business advice you've ever received?
Probably it's the one about being persistent and show up every single day. Creating an online business is a marathon, and you need to be committed for the long run.
It means that you need to do something every single day, that gets you closer to your goal.
Many people give up cause they don't see any result after a few months. Unfortunately, success doesn't happen overnight, and to achieve it, you need to go through the pain period that could last years.
#9.
What books do you think every entrepreneur should read?
I suggest "Atomic Habits" by James Clear. As I said above, it's all about being consistent with your work and create routines that make you take action even when you're not motivated.
Creating habits and sticking with them is a great skill for any entrepreneur.
#10.
Do you have a favorite quote or saying?
I love the mantra "Carpe Diem". Nowadays is probably the best time ever to create a business. You have access to all the information you want, and you can get help all around the world to succeed.
Being stuck in a job you don't like and that limits your freedom is a thing from the past. We can achieve a lot more than that.
Seize the moment and use the opportunities we have at the moment.
👉🏽 RELATED POST: Quotes that Motivate You to Start
#11.
Can we talk about money?
I did exactly what I teach to my students: I've left my 9-to-5 job, just after I replaced my income through private clients. I was making the exact amount of money working half the time, with the possibility to work anywhere and whenever I wanted.
That gave me the possibility to create all the assets for my online business like website, blog, YouTube Channel, Online Courses and Membership website.
Part of my income is from teaching students. The other part is through my courses, my membership website, and the affiliate product I promote on my YouTube Channel.
#12.
What's your strategy for finding clients or readers?
Most of my clients find me on YouTube. It's the second biggest search engine, and I don't have to do much to promote my videos.
My channel is still small, but I get dozens of subscribers every day.
The people who download one of my giveaways, get in my email funnels where I promote my other services.
#13.
What role does social media play for you?
I mostly use Facebook to hang out in groups related to my niche. This is another great way to get clients, and I explained the technique that I use in this video.
For the rest, I'm working on my Instagram profile. It's one of my targets for 2020.
👉🏽 RELATED POST: How to Create a Social Media Strategy
#14.
Do you have a special offer you'd like us to know about?
I have a few courses, but I open the enrollment once in a while cause I like to follow the students in there.
I have a Membership website that is always available, you can join the Growth Accelerator here, where I post monthly videos and audios on a specific topic.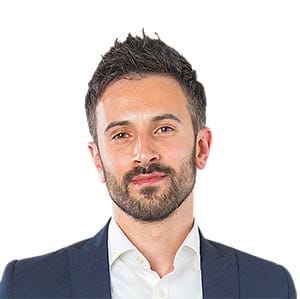 More About Guest Contributor
I'm Alessandro Di Ruscio, and I'm an online business expert. I teach how to quit your job replacing your income with private clients, and then maximize your profit creating your online business.
Last Updated on July 12, 2021