How do you stay sane while social distancing?
What's the best way to stay positive in self-isolation?
As the world shuts down and we all find ourselves increasingly isolated and stuck inside.
Separated from our usual daily routines, and in many cases 6 feet away from each other. Some of us are spending more time together with our kids and partners 24-7, while others are home all alone.
Yet still, others are working harder than ever in essential services to keep us all safe. Either way, it's a drastic change to what we're all used to. That shift, that change takes its toll.
I realized one simple thing about this crisis: it's not just about staying safe anymore, it's about staying sane.
In order to survive this pandemic, you have to survive the panic.
Keeping you and your family safe is about so much more than just hand washing, staying inside and social distancing, it's about your emotional wellness and mental health.
After a few weeks on lockdown, I realized I was taking half-breaths. Being inside, working from home wasn't new to me at all, but the overwhelming feeling of grief was.
With the collective grief growing day by day, the fear and the anxiety is so real you can feel it. You can't ignore it, you have to take steps to protect your sanity. It's no surprise that mental health issues are feared to rise, sparking an "echo pandemic" of mental illness across the world.
Please take the time you need to stay sane, these are trying times, even if you're stuck inside social distancing. It impacts us all, even if you think things are business as usual, you're not immune to it.
If you are struggling with your mental or emotional health, please seek out professional help. Help is just a phone call away, with therapists and counselors offering sessions online. Just search online for a "therapist near me" and get help immediately.
To help us in this time of crisis, I reach out to 36 mental health and emotional wellness experts, including therapists, counselors, doctors and life coaches, asking, "How do you stay sane while social distancing or self-isolating?"
Plus, be sure to click here to get your FREE Staying Sane While Social Distancing eBook with all 36 strategies.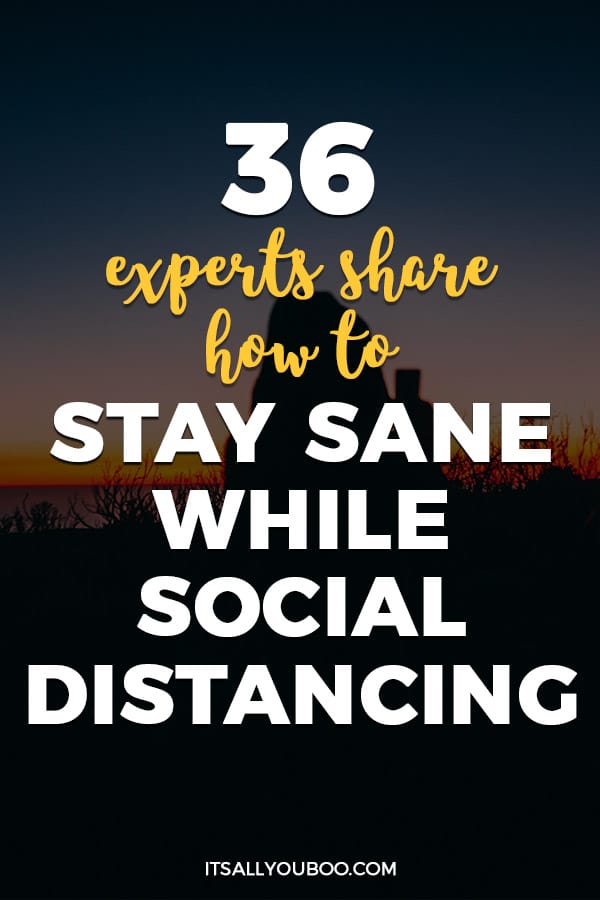 Stay In Contact, Get Connected
How do you stay in contact while social distancing? How do you feel connected while self-isolating? Just because you're staying home and distancing 6 feet away doesn't mean you can't communicate or feel connected. There are so many ways to reach out with technology and maintain strong and healthy relationships. You can deal with the feeling of loneliness by reaching out, here's how:
#1.

Connect With Loved Ones
#2.
Keep In Touch with Friends
#3.
Reach Out In a Physical Way
#4.
Stay in Touch As Much As Possible
#5.
Plan a Digital Happy Hour with Friends
#6.

Use Technology to Be There
#7. Schedule Recurring Zoom Invites
#8. Use Walkie Talkies
#9. Volunteer Virtually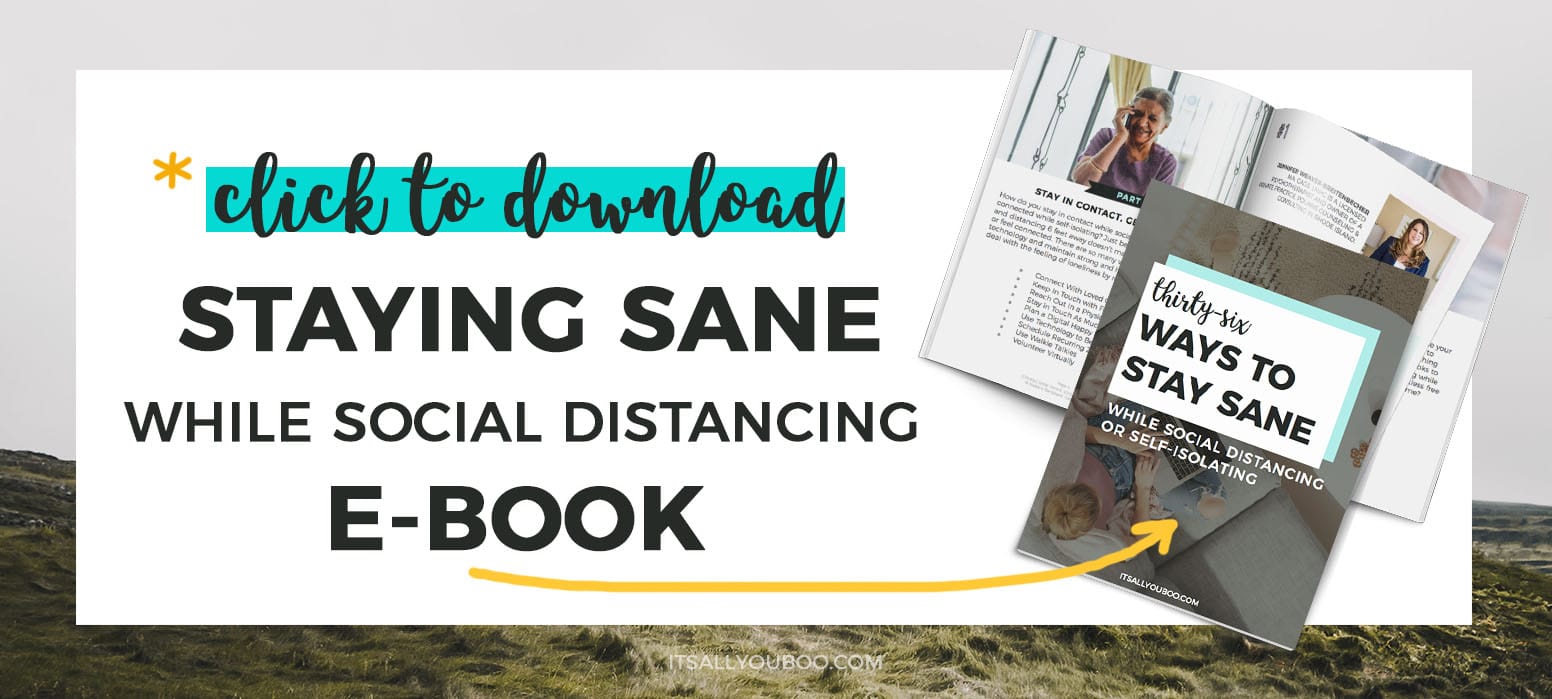 Schedule Your Days, Stick to a Routine
How do you find a new normal while stuck inside? How do you not spend all your time on social media? While social distancing at home it's easy to just drift from day to day without any real purpose. Even if you're working from home now, you can feel lost, unmotivated or even lazy. Things can become chaotic for you or your kids. That's why it's so important to create a schedule for your days, with activities to help you stay productive.
#10.
Maintain Your Routine
#11.
Break Up Each Day
#12.
Stick to A Daily Schedule
#13.
Continue Scheduling Your Days
#14.
Keep Yourself Busy Everyday
#15.
Simulate a Similar Schedule
Do Something Good, Stay Positive
How do you stay positive while self-isolating? How can you use your time inside for good? It's tempting to use this time at home to binge-watch everything on Netflix, but why not make something of it? There are so many activities, personal development books to read, passion projects, hobby ideas, and skills worth learning while self-isolating. You don't even have to spend, there are countless free printables and courses to help you. How will you use this time?
#16.
Do What You've Always Wanted
#17.
Use This Time for Good
#18.
Pursue Self-Improvement
#19.
Dance is the Best Medicine
#20.
Get a Good Dose of Laughter
#21.
Find Reasons to Laugh
#22.
Just Be A Kid Again
Be Compassionate, Take Care Of Yourself
Are you feeling stressed and anxious while you're stuck inside? Is the self-isolating hard on your emotional and mental wellness? It's okay, you're not the only one. You need to take care of yourself and be compassionate to your circumstances. Here are daily techniques and self-care strategies to help you stay sane.
#23.
Practice Feeling Grounded
#24.
Self-Sooth With Self-Havening
#25.
Make Time For Self-Relationship
#26.
Keep a Reflection Journal
#27.
Engage in Self-Care
#28.
Use Daily Self-Affirmations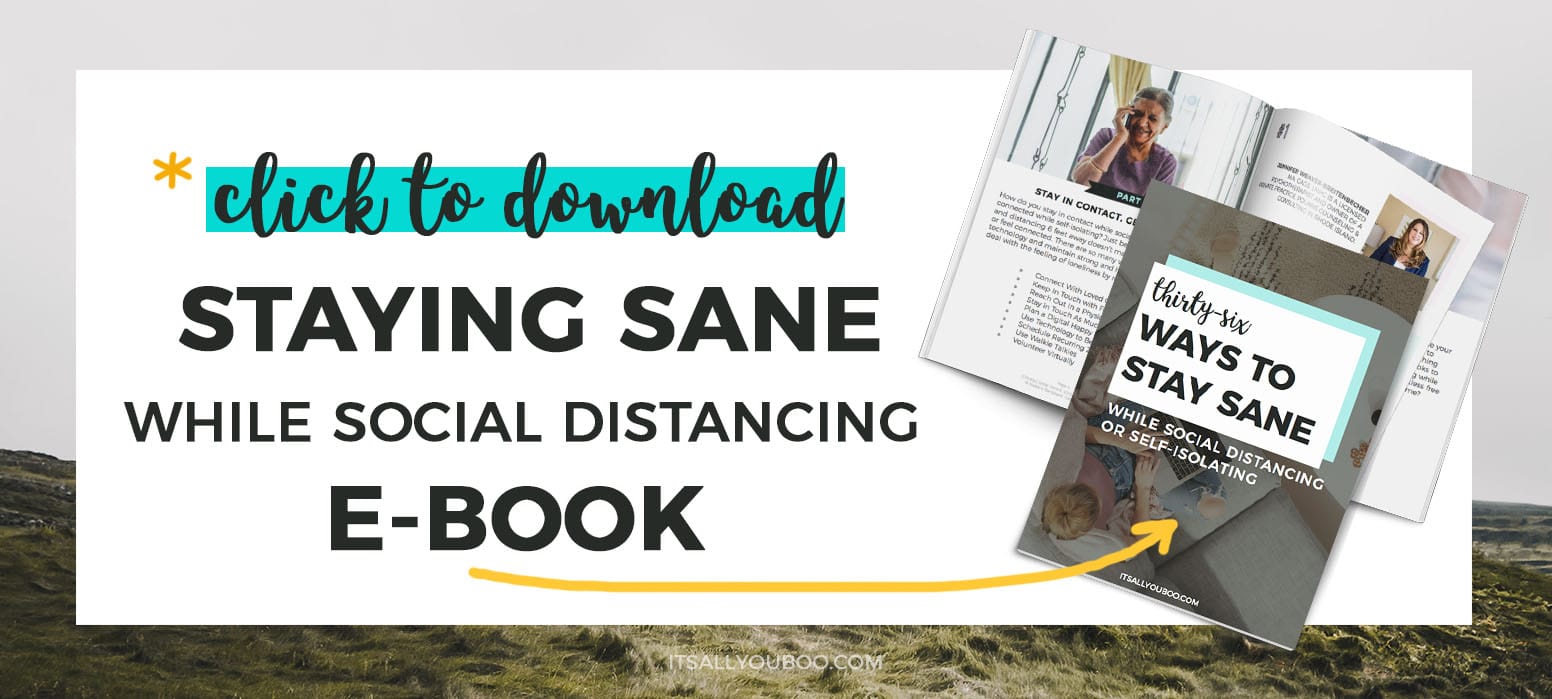 Shift Your Focus, Change Your Mindset
Having trouble with negative thoughts? Stuck in a worried and troubling mindset? To stay sane while self-isolating inside you need to shift your focus to the positive. Find something to give you gratitude, joy and even happiness at this time. Shift your mindset from the present chaos with the following strategies.
#29.
Perceive Isolation as Solitude
#30.
Go Inside, Do Soul Work
#31.
Reframe Your Mindset
#32.
Know Who You Want to Be
#33.
Be Respectful and Understanding
#34.
Stop Counting Numbers
#35.
Look at the Bigger Picture
#36.
Remember, We're All In This Together
Staying Sane While Social-Distancing and Self-Isolating
How are you feeling now? Just because you're inside doesn't mean you have to be stuck. Take this time to focus on yourself, on giving yourself exactly what you need.
Instead of seeing everything you're missing out on, focus on everything you're now able to do.
Use this time to slow down, to refocus in and connect with yourself.
Save a Copy, Get your FREE eBook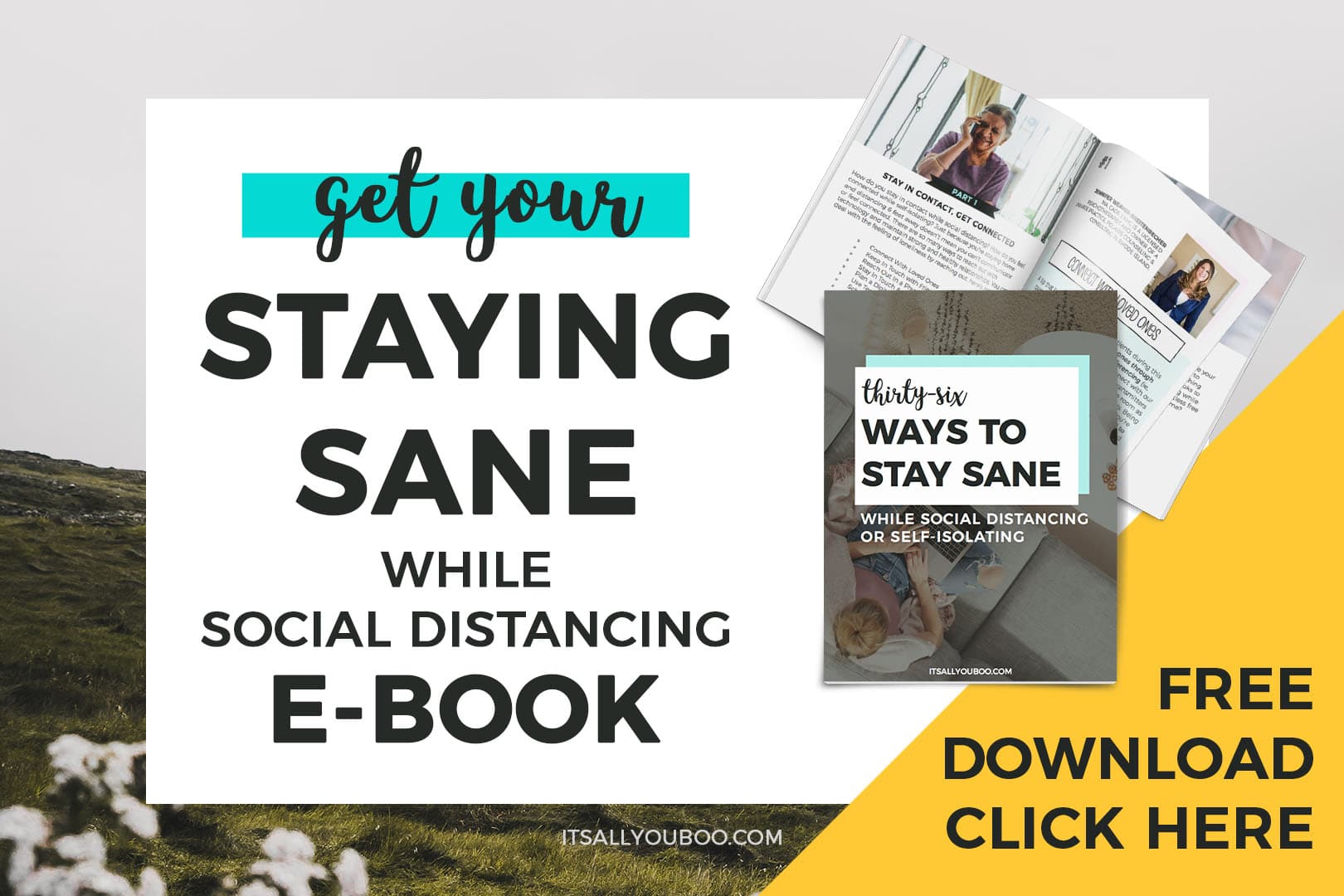 Please remember to be sure to seek professional help if you need it.
During these trying times, your sanity is just as important as your safety.
Please be patient and understanding with others. We all need to be extra kind and focused on all aspects of our health.
Do you feel lonely, stressed or anxious in self-isolation? Click here for 36 ways to stay sane while social distancing. Staying safe is about mental health too! #StayAtHome #StuckInside #MentalHealth

How do you stay sane while social distancing?
Last Updated on July 12, 2021