How do you create a six-figure blog and online business from scratch?
What's it like being a full-time lawyer and a blogger?
Wonder how to start a six-figure online business while working full time? Want to start a blog? Meet @aselfguru, a practicing lawyer, and a six-figure blogger. #BossBabe #Blogging #Bloggers #Blog
You're working full time and you have a successful career, but you're searching for more.
Perhaps you're even curious about starting a profitable business or finding ways to make money at home. But, you're apprehensive to start something new because you already have a full-time career.
Do you wonder if you can start a blog or business while working full time? You can!
If you're thinking about starting a blog in addition to your full-time career, and want to know how it's possible, then this interview is for you. Amira of A Self Guru is a practicing lawyer and a six-figure blogger. In another life, she was a model and teacher, so she knows something about being bold and just starting the new chapters in your life.
Amira shares her journey, from how she started a blog in just 7 days to becoming profitable in her very first month. She also shares her secrets to success and invites you to start your online business or blog the right way with her legal templates. Did I mention that she's also a blog and business coach?
Let's get started.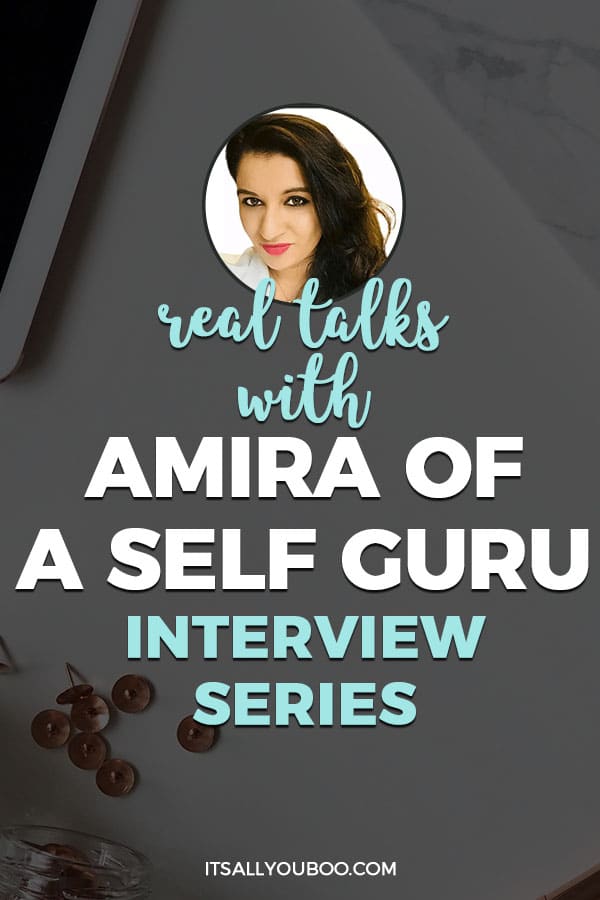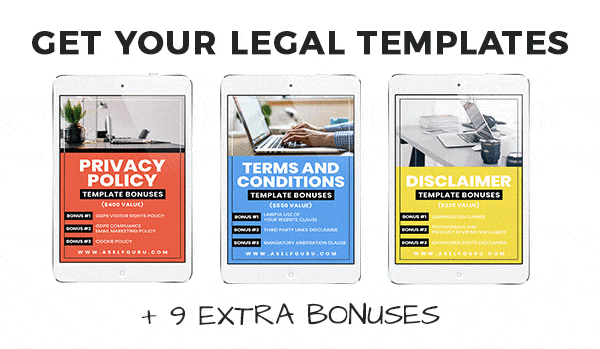 #1.
Who are you and what's your story?
I'm a lawyer, blogger and business coach. I started blogging on a whim when I stumbled upon a YouTube video of six-figure bloggers and learned that blogging could be a viable option to make money from home.
That inspired me to start my blog. Before blogging, I was and still am working as a lawyer with business owners and entrepreneurs for more than 8 years now helping them with a wide variety of legal disputes.
So it was only natural for me to incorporate my business and legal skills into my blogging business and make a greater impact on the lives of entrepreneurs.
👉🏽 RELATED POST: How to Create a Blog Business Plan
Before I became a lawyer, I was a teacher, so I love teaching bloggers and entrepreneurs on how to protect their online business legally while also coaching them on how to expand their business.
I've worked with tons of bloggers and entrepreneurs 1:1 in their business to help them with their business goals and legal issues and that has been such a rewarding experience so far. I'm so glad I'm able to blog with my full-time job!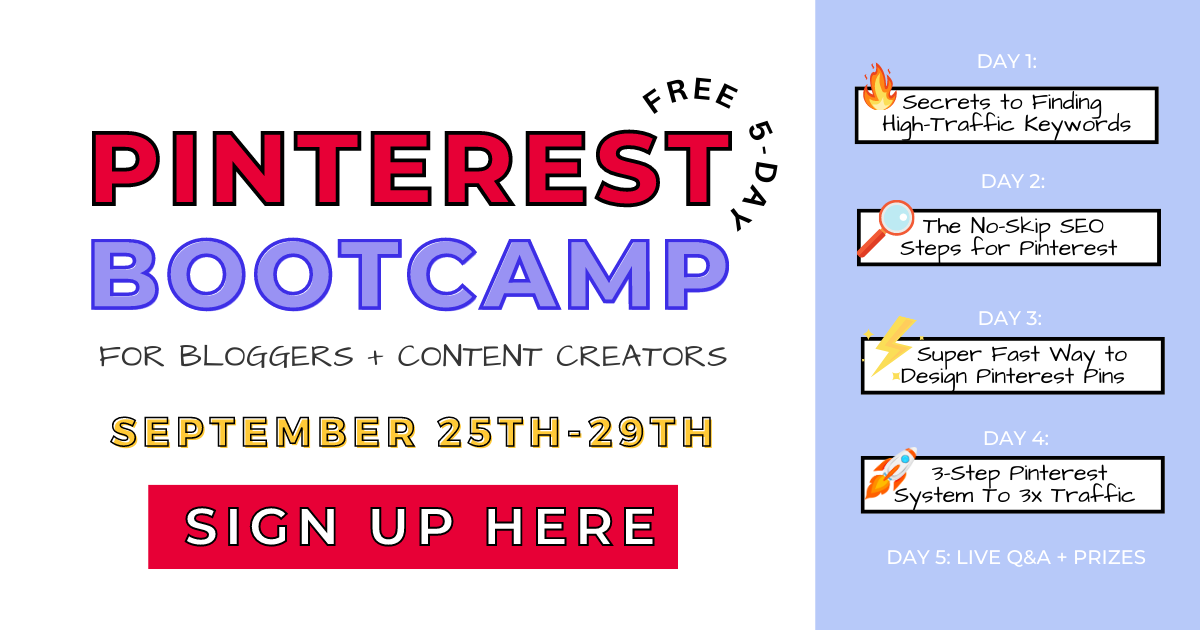 #2.
What's your average day like?
Take us hour by hour
I've got a pretty busy routine! But I'm very organized and disciplined. I've to be if I want to maximize my time and produce results.
Here's how my typical day looks like if everything goes as planned:
4-4: 30 AM: Wake up and have my coffee
5-5: 30 AM: Meditate and map out my day on paper. I like to write my "to do" list every day. It keeps me focused on what I need to accomplish in a day
5:30-6: 30 AM: I try to exercise during this time but some days, I can't if I have a lot of work to do
6:30-7: 00 AM: Check my work and business emails and respond to questions from customers. Interact on social media
👉🏽 RELATED POST: How to Hyggee Your Home Office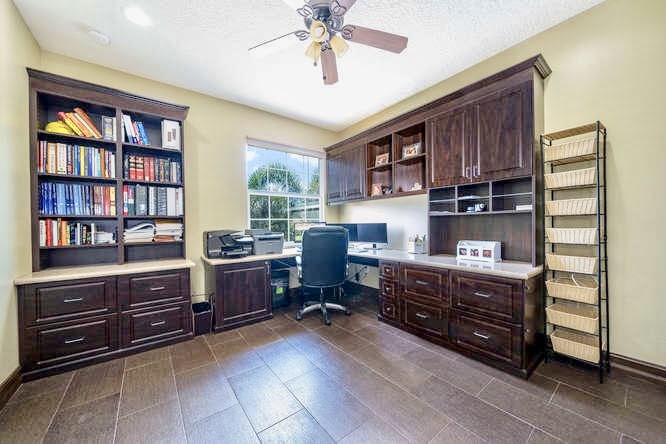 7:00 AM: Get in the shower to get ready for my day job
12:00-1: 00 PM: Take a break and respond to emails, social media comments, etc
7:00 PM: Get home from my job and start working on my blog for 2-3 hours
10:00-11: 00 PM: By this time, I'm brain dead so it's time to sleep!
Once a week, I take a break and don't do any blogging work because that's my day to decompress and recharge my batteries.
#3.
How do you stay motivated? What or who inspires you?
When I set a goal, I'm determined to see it come true and that fuels my passion to keep going. I'm all about setting an intention and working towards it with full force and dedication.
For example, in my lawyer job, my clients motivate me. Solving their legal problems and helping them achieve their desired outcome is what inspires me to continue working as a lawyer.
I enjoy it because I'm making a strong positive contribution to the lives of others.
👉🏽 RELATED POST: How to Get Motivated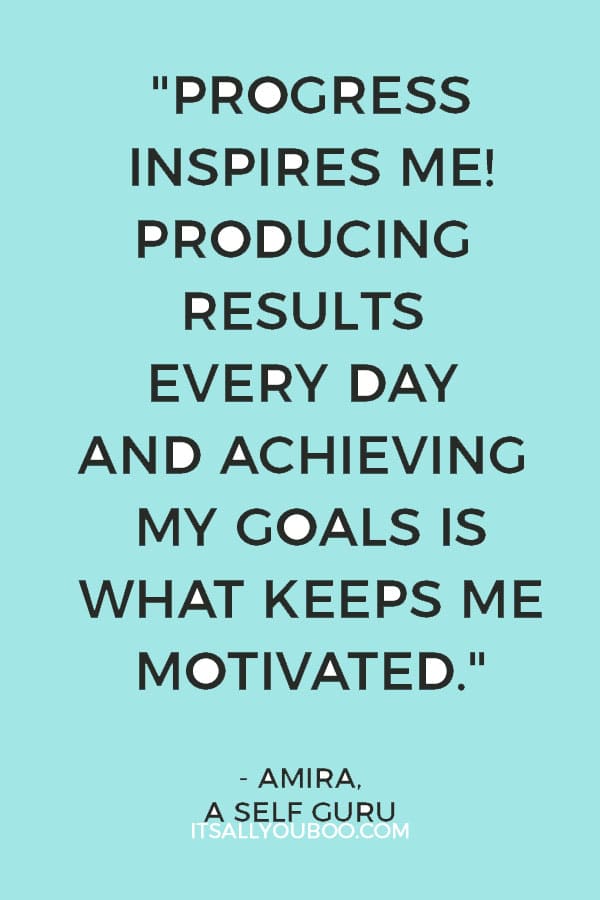 Another example, in the blogging world, I'm also helping bloggers and entrepreneurs with the legal side of their business by teaching them how to blog legally.
When I first started blogging, I was thrilled to be able to help even one blogger with my Legal Bundle but now has helped thousands of bloggers, I can't describe in words how much that means to me.

So that alone is quite motivating for me!
Then when I receive positive feedback on my Legal Bundle or my other legal templates, that shows me that I'm on the right track with my business and also serves as a huge motivation to keep hustling.
I truly believe motivation lies within us and when we pursue something we love, whether that's a job or a business of our own, we will be inspired by our results.
#4.
Let's talk about goals. How do you slay yours?
Love this question! Looks like I already answered it a little above. I'm a big proponent of goal setting and achieving your goals. Goal setting is easy for anyone but it's the achieving part that requires work!
I set short-term and long-term goals all the time.
For my short-term goals, I work on them daily. My biggest tip would be to write down your goals and look at them daily.
I use Asana as my electronic calendar but I also still write down my daily "to-do" list, which are my goals for the day.
Then I work towards those goals every day. Definitely set a deadline for your goal if you want to slay them.
👉🏽 RELATED POST: Motivational Goal Setting Quotes
Once I complete a goal and achieve the desired result, that automatically fuels my passion and energy to continue working on my other goals.

Another tip I'd give is to meditate to gain clarity and focus daily. I meditate first thing in the morning because that's when my mind is fresh and not polluted with any other thoughts.
So I'm able to think clearly about my goals and make action plans with deadlines for achieving them in a timely fashion.
#5.
What's one app or tool that you can't do without?
I already mentioned Asana. I love it as my electronic calendar for staying organized. The other thing I absolutely need is my physical planner, which I use to write my "to do" list every morning.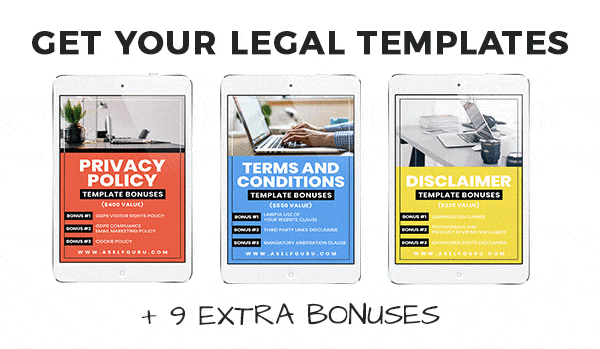 #6.
What's your favorite and least favorite part of being an entrepreneur?
My favorite part about being an entrepreneur is twofold.
I love the autonomy of being able to work from the comfort of my home and make money in my sleep while also making a valuable contribution in the lives of others through my blog, coaching services, and legal templates.
I really enjoy working with bloggers and entrepreneurs and making new friends. It's been amazing collaborating with other entrepreneurs like yourself and gaining the support of our blogging community.
What I don't enjoy is being a "one-woman show", meaning doing everything on my own!
As an entrepreneur, you are running a business all by yourself and there are tons to do all the time such as email marketing, creating products, managing a Facebook community, writing blog posts, posting on social media, responding to customers, etc.
👉🏽 RELATED POST: Real Talks with Arfa of She Means Blogging
The work never stops, and I feel like I'm working around the clock. Even when I'm on vacation, I'm still responsible for responding to my customers in a timely manner and handling other important tasks.
I know you can always outsource or hire help but even with that, there's still lots to learn and do, especially for me when I work full-time as a lawyer during the day.
My job takes up most of my day, so I don't have the luxury of time on my hands and really have to make most of it during weeknights and weekends to succeed as a blogger.
#7.
What advice would you give to someone just starting out?
I'd say just start! If you are intrigued by blogging and want to pursue it as an online business then take action and go for it!
In 7 days, I started my blog while working full-time as a lawyer because I didn't overthink it. I put aside my perfectionist nature and just went for it.
I took some courses to begin my blogging journey and those were instrumental in my growth.
So I'd recommend you invest in great blogging resources from the beginning to help you start your blog instead of trying to figure out everything on your own and giving up due to frustration, confusion, and anxiety.
👉🏽 RELATED POST: How to Find an Amazing Business Idea
#8.
What's the best business advice you've ever received?
My best business advice comes from my father. He's a successful business owner in the traditional sense; not an online entrepreneur like me but I learned a great deal about business from him growing up.
He always said that a customer should be your best friend and treat your customers how you'd like to be treated!
That has stayed with me, and I pride myself for providing exceptional customer service as you can see from the testimonials I've received on my products. This is very important to me.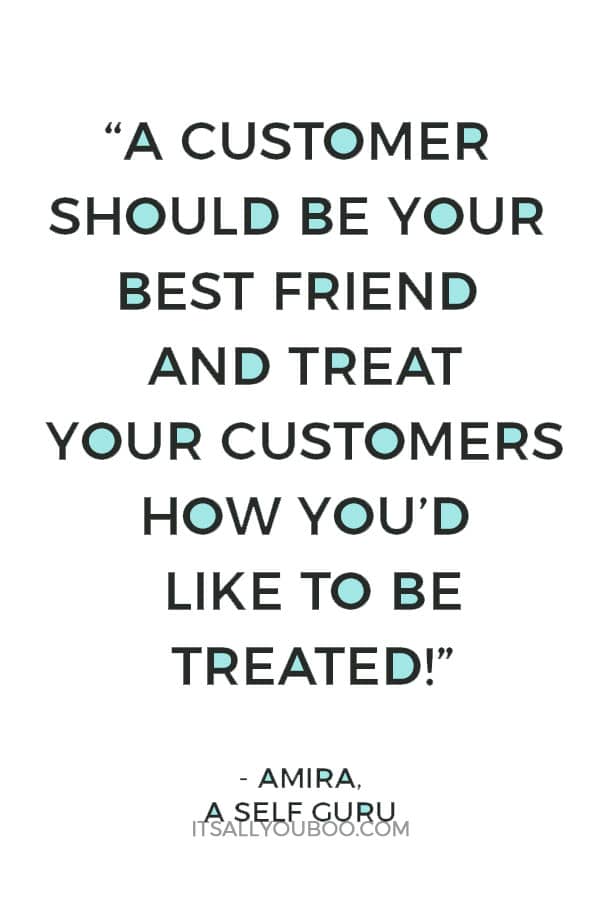 The second thing I learned from my father is "giving more than you receive" and once you do that, you will receive tenfold. This is how you add value to the lives of others!
This is the reason I've kept my products and services so affordable than other lawyers because I believe if I give more to you, you will appreciate that as a customer, subscriber or reader, and this core value has worked wonders for me in my business and personal life!<
#9.
What books do you think every entrepreneur should read?
A lot of great books come to mind right now. One that particularly helped me on a personal and professional level is called Million Dollar Habits by Brian Tracy.
This book taught me how to be an extraordinary individual by changing my habits! Your habits define you as a person and we all have positive and negative habits.
It taught me the best-proven habits of millionaires, so I could learn how to achieve bigger results in my personal and business life.
Give it a read to transform your bad habits into good habits to double and triple your income and become more successful in all areas of your life!
As for biz changing courses or resources, here's the complete list of biz changing courses and resources I use daily to make $20,000 per month blogging.
These are awesome tools and resources that will work for you whether you are a beginner or advanced blogger!
👉🏽 RELATED POST: Best Affordable Tools for New Bloggers
#10.
Do you have a favorite quote or saying?
There are so many. Here are a couple of my favorite quotes –
Life is short and you only live once, so make it count!
Every successful entrepreneur was once an amateur.
#11.
Can we talk about money?
In my blogging business, I make money through different ways like affiliate marketing, selling my own products and coaching services and creating sponsored content.
No, I didn't save any money before I started blogging. In fact, I invested almost $700 in a blogging course to begin my journey, and I'm so glad I did that! You can read all about how I started my blog in 7 days here.
At the time, it seemed like a huge gamble to me because I had no idea whether I was going to ever recover this money or even make any money blogging.
I had read everywhere that blogging is not a quick-rich scheme, so my goal at the time was to make my first $1000 in 6 months.
👉🏽 RELATED POST: Real Ways to Make Money at Home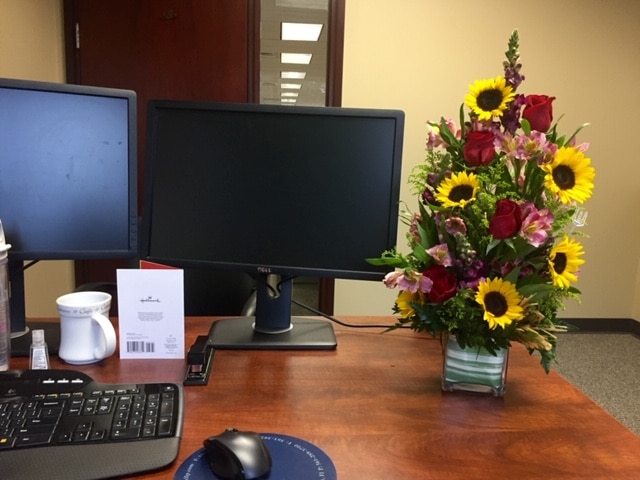 But I surprised myself when I made $1000 in my first-month blogging and then doubled that income in my second month!
Since then, I've built a six-figure blogging business in less than a year while working my full-time job as a lawyer.
Now I teach others how to do that through my business coaching services while also showing them how to protect their business legally.
👉🏽 RELATED: Join the It's All You Boo Affiliate Program
#12.
What's your strategy for finding clients or readers?
So far, it's my email list and social media. I've not paid for any advertising yet.
I get a lot of repeat customers because let's say, you purchase my Legal Bundle and need another legal template for your business in the future such as a freelance contract or sponsored posts contract template, you are more likely to purchase from me again.
That's why it's so important to produce a high-quality product in the first place that others will love! Remember my business motto – giving more than I receive.
In my case, I've 10+ legal templates that I sell, so it definitely helps when someone appreciates the first product they buy from me because the second time, they are ready to buy anything else from me! By this time, they already trust me and know the second legal template would be equally great! I don't have to sell them. My product speaks for itself!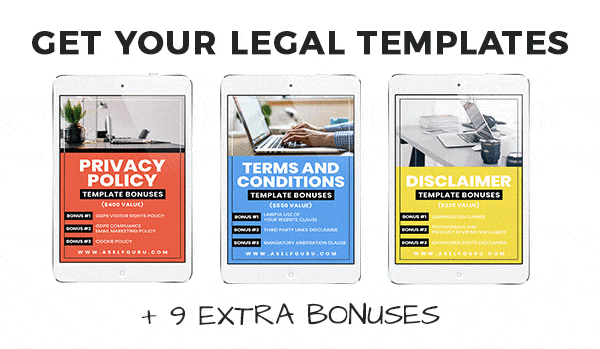 I'll give you one recent example – I had a blogger who purchased my Legal Bundle and loved it. She was working with a brand on writing a sponsored blog post for them.
So she reached out to me because she needed a Sponsored Posts contract for her work. I had not launched this template yet in my legal store, so there was no sales page created for it even. Still, this blogger bought the template from me instantly without a sales page.
In other words, I sold this legal template before I could officially launch it!
That's the power of providing great customer service and high-value products that bring customers back to you!
I also have tons of affiliates promoting my legal templates and making thousands each month because I offer a generous 40% commission.
My affiliate program is free to join and if you'd like to sign up as an affiliate to promote my legal templates and make money then sign up for free here.
#13.
What role does social media play for you?
Social media is important to bring traffic to your site, potential customers/clients and to network with others.
My favorite is my Facebook group because it's an awesome community of supportive bloggers and entrepreneurs who are always ready to help each other.
👉🏽 RELATED POST: How to Create a Social Media Strategy
#14.
Do you have a special offer you'd like us to know about?
Sure, here are 3 awesome offers for you –
#1. Are you blogging legally? If you are an online entrepreneur then make your website legally compliant within minutes with my best selling Legal Bundle.
The Legal Bundle is a discounted bundle of 3 templates (Privacy Policy, Disclaimer and Terms and Conditions) that has helped thousands of bloggers and entrepreneurs comply with the law and protect themselves legally.
Plus it comes with 9 additional bonuses worth $1175! You get the bonuses for free with the Legal Bundle. Learn more about the Legal Bundle here.
If you need any other legal templates for your business, then check out my legal store for all the templates available to you!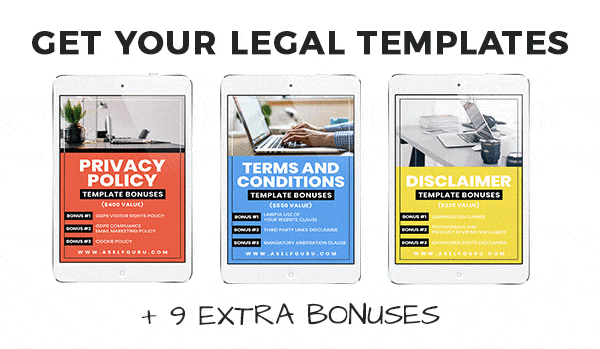 #2. Want to work with me personally to expand your business or go over your legal questions? Then sign up for a 30 minutes business coaching call here and let's work together to grow and monetize your business quickly!
I offer very affordable monthly coaching program plans as well to support you as a mentor throughout your blogging and business journey.
#3. Want some free legal and business tips or a cease and desist letter for copyright infringement? Check out these 4 awesome freebies for you here.
Bonus Questions!
Quickly tell us about yourself and what you're currently: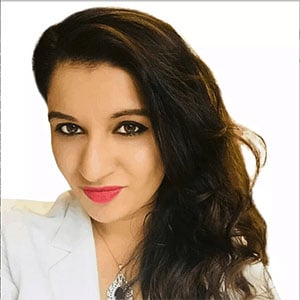 More About Guest Contributor
Amira Irfan is a lawyer, blogger and business coach. She blogs at ASelfGuru.com where she teaches you how to protect your online business legally along with the business skills you need to become your own boss! Check out her newsletter to get free business and legal tips.
Last Updated on July 11, 2021