What should my resolution be?
What are some new year's resolution ideas?
How do you know it's the "right" resolution?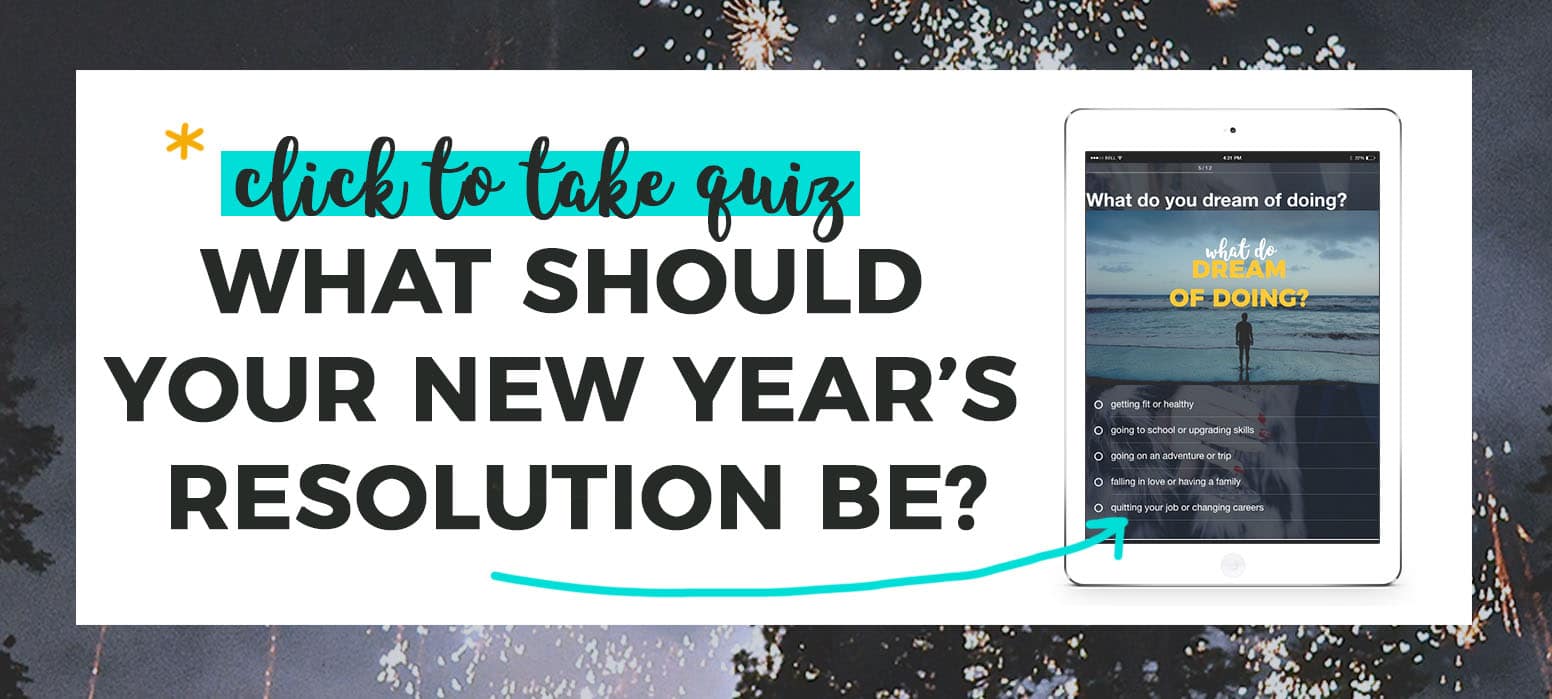 Should you "get fit" like everyone tries to?
Or maybe you should be more adventurous, put yourself out there more?
Is this the year you finally make a career change?
Deal with that thing that's been irking you for ages?
Read this BEFORE you make a New Year's Resolution this year! #NewYear2018
Click To Tweet
This is your year right! The year the changes it all for you. Maybe or maybe not.
It can all start off great for you in 2018, if you make the right resolution. 
 


What's a Resolution Anyways?
When I think about resolutions, I see in my mind the resolution of a great battle. I think about the resolutions that were signed on the battlefields of history. The signing of an agreement that ushered in a reign of peace and ended a great conflict.
Okay so, what does this have to do with you?
You fight battles in your life every single day. From the battles with your body, your mind, your spirit, your emotions, your finances and the many other aspects of your life.
There's usually one great battle at a time. One defining pain or problem that consumes you.
What's the great battle you face right now? What are you torn up about?
Is there a dream that you have that you just haven't realized?
A resolution resolves, usually a great conflict.
Your New Year's resolution should resolve your greatest conflict.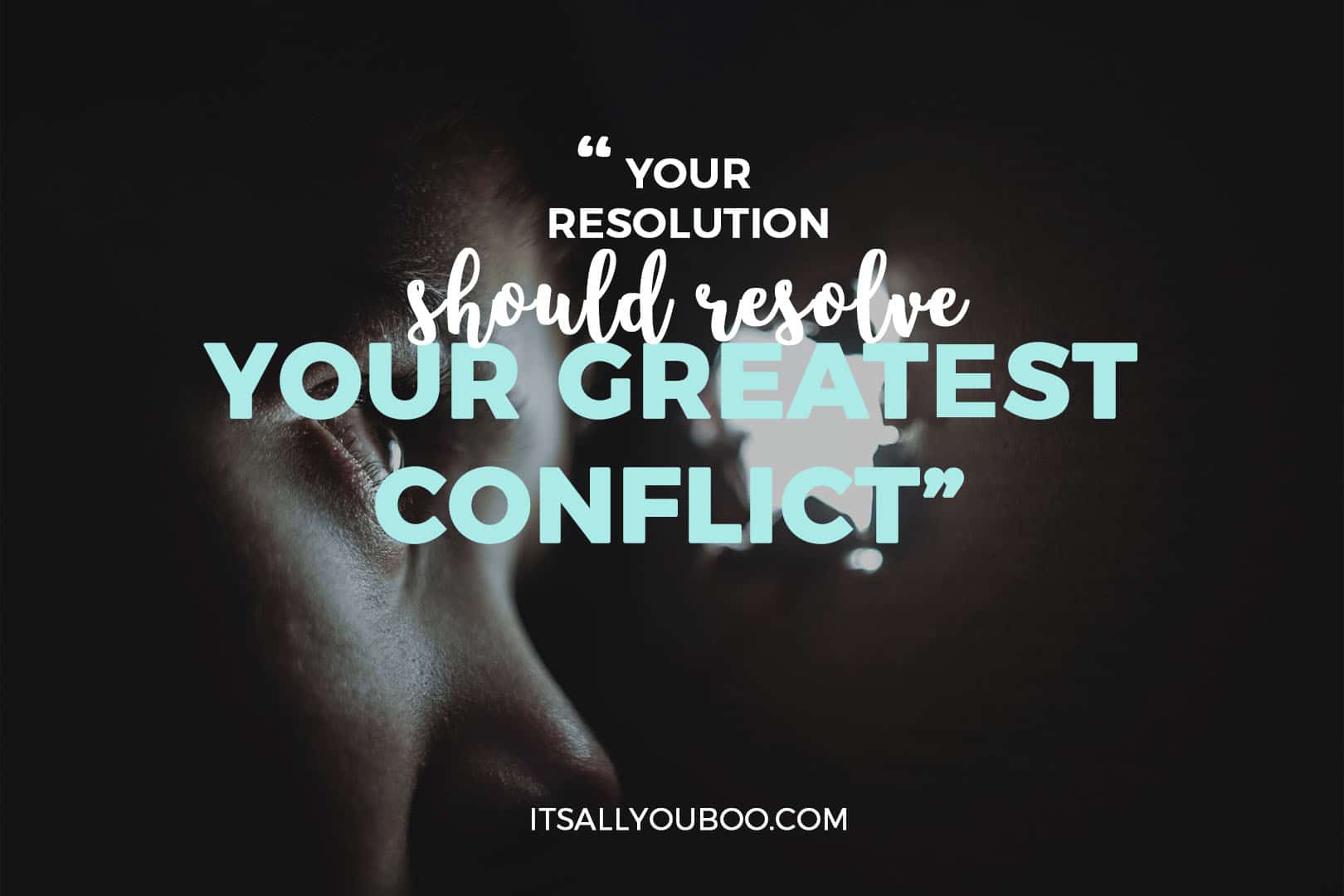 Find Your Pain 
What's your greatest conflict?
Where's your greatest pain or problem?
Not just what hurts, but what's the thing that you carry with you, that you avoid or you go around instead of facing?
You know, that thing you know but pretend you don't. That thing you ignore. That thing your gut scream or maybe just whisper to you about.
We all have something like this in our lives.
👉🏽 RELATED POST: The Ultimate List of Unique New Year's Resolution Ideas
Still not sure what it is?
Ask yourself:
What keeps you up at night?
What do you complain the most about?
What's your biggest challenge?
What do you google constantly about?
What do you ask for advice about?
What would you change about your life?
What's making your deeply unhappy?

Follow Your Dreams
I know from my own experience that my greatest pain was not following my dream. This was a source of great personal conflict in my 9-5 life.
What's your dream?
Are you in conflict with yourself for not pursuing it?
Denying myself of a creative lifestyle that allowed me to be me was my number one issue I needed to resolve.
👉🏽 RELATED POST: 40 Inspirational New Year's Resolution Quotes
Ask yourself:
What do you dream of doing?
If money wasn't an issue, what would you be doing?
Where do you dream of doing?
Who do you dream of being?
What can you do this year to get closer to that dream life?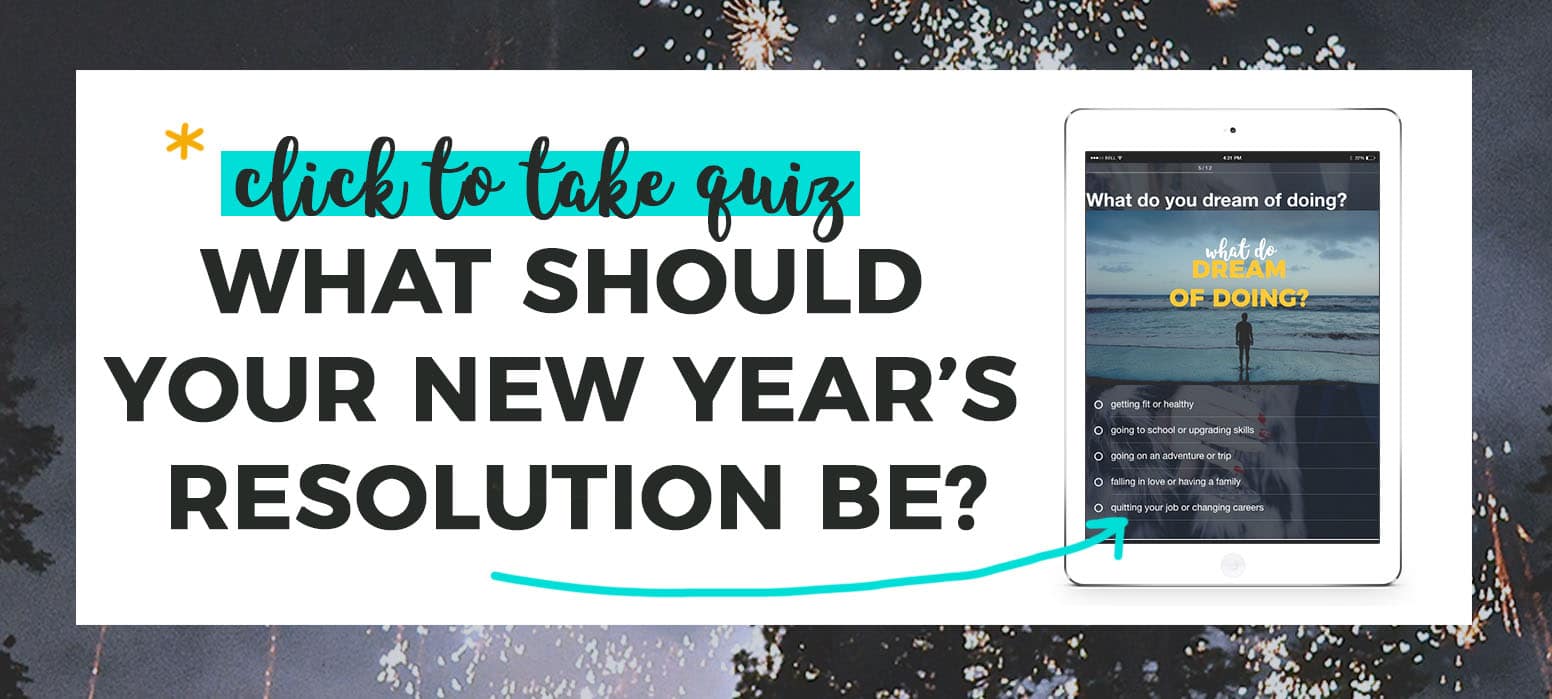 Bye Bye Generic Genie
Forget what society or anyone tells you what your resolution should be.
It should be personal to you, not some generic choice on the prescribed life's checklist.
You are most likely to resolve your great conflict than to do something superficial that doesn't actually have meaning to you.
"Getting fit" is the easiest example of this and one I can relate to. Everyone floods the gym first quarter and get washed out by spring. Why is that?
Were they trying to be who they were told they should be (or look like they think they should because that's what they need), rather than finding their own resolution?
I'm totally guilty of this, I kept my gym membership for years when I knew all along I wasn't the gym type. I worked out, I did personal training seasons because I thought that's what I should be doing. And when I wasn't feeling healthy at all I tried even harder.
I suffered from low energy, stomach pain and joint pain for like 3 or 4 years. I just never felt awake and I was gaining weight.
Find the Right Re-solution
But, "getting fit" wasn't my solution. I was focusing on the wrong resolution.
My problem wasn't that I wasn't getting enough exercise, my problem was that I had a gluten allergy that was messing with my body. Instead of trying and failing to work it away, I started to pay attention to my body and diagnosed my allergy. (Something multiple doctors failed to do).
I've never felt better and no gym membership required. I may not be "fit," but I'm healthy.
It was never about the weight, but all about feeling alive again.
I know this is a unique story, but swap gym for whatever you've tried to resolve your greatest conflict with and it's the same story.
I wanted to feel fulfilled and have a career I was really proud of, so I quit my job for another job and guess what that wasn't it either. It was the 9-5, any 9-5, but it took years to accept that.
👉🏽 RELATED POST: How to Take Action When You Can't Get Started
Sometimes part of the resolution is committing to just finding a solution that works for you. Sometimes part of the resolution is accepting the solution you know you need. 
Don't be afraid to try anything and everything and to stop when it isn't working. Just remember to pick up something else when you drop the wrong one.
Don't get frustrated or fatigued when you fall short or fail, just try another way to bring resolution.

Not About 3 Wishes
"Oh sweet New Year, bring me fortune, bring me this, bring me that."
Yeah okay. Sounds a bit ridiculous, but how often do you approach your resolutions with this diluted babble?
I'm totally guilty of this too. As if the calendar flipping over will somehow bring some mystical resolution of my life's pains or the great conflict in my life? Or perhaps just wipe the slate clean for me.
"If only it was the next year already, surely then I'll make it."
👉🏽

 RELATED POST: Why You Need to Review Your Year
A resolution is not a sentimental wish you make at midnight.
Be serious, not sentimental.
This is not a wish. 
You're going to have to make it happen, so make it doable. Make it meaningful. You'll need that meaning to motivate you.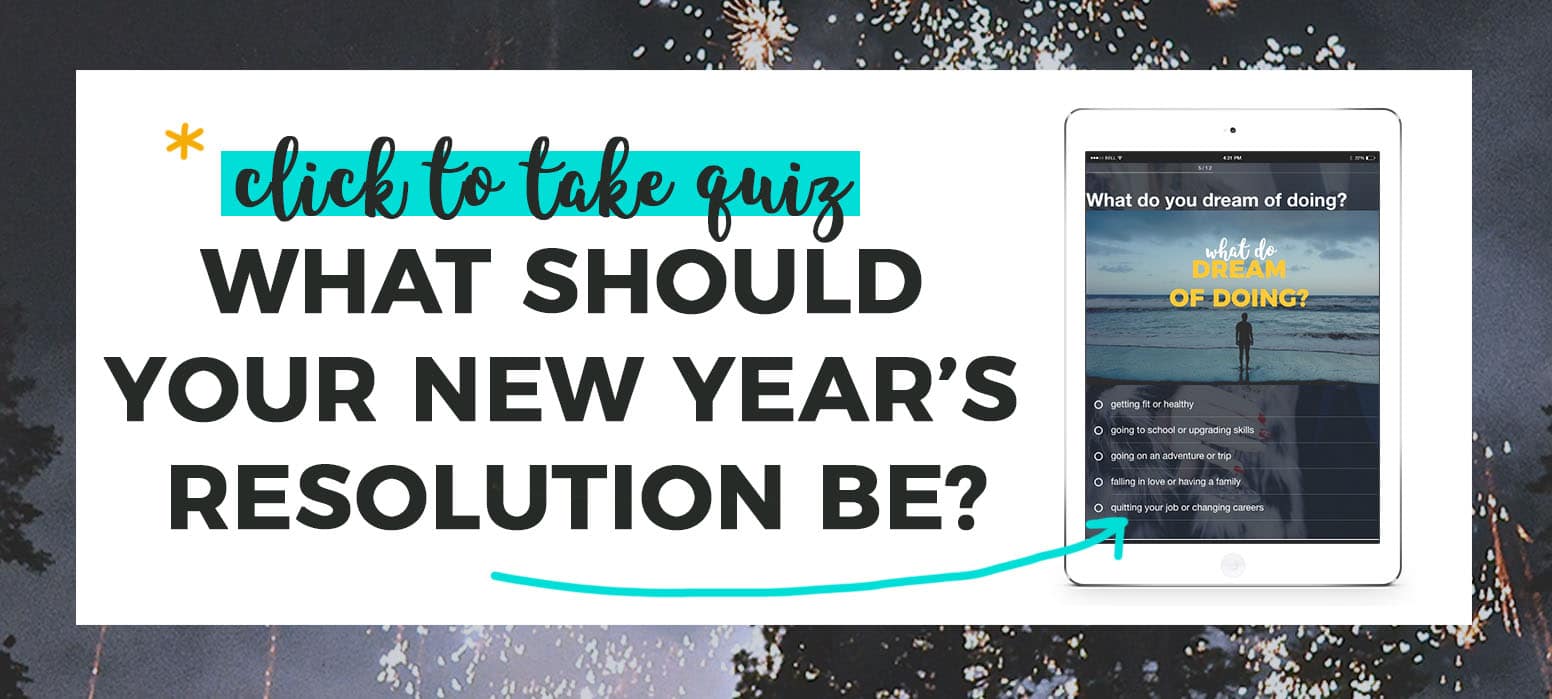 5 Tips for Choosing the RIGHT Resolution:
Got a New Year's Resolution idea in mind? Great, put it to the test, here are 5 ways to make sure it's the right New Year's Resolution for you.
RESOLVE

: Does your New Year's Resolution address your greatest challenge?

What's your biggest "pain," struggle or challenge right now? Does your resolution resolve it? If not, then why is this your resolution? This is where you get sentimental, find the source of your motivation and your why! Capture this feeling. It should be something you simply can't ignore.

INTUITIVE

: Is your New Year's Resolution a "good fit" for you and your abilities? 

List three intuitive or instinctive ways you can achieve your resolution. What comes "naturally" to you? You shouldn't have to reinvent yourself or acquire an entire new complicated set of skills, credentials or whatever else in order to achieve your resolution. It's just too much to ask of yourself.

👉🏽

 RELATED POST: What's Your Superpower?

GENUINE

: Is this New Year's Resolution you? Are you being authentic?

Is your resolution actually you? Or is it a resolution you've been told you should have, or you feel pressure to achieve? Is it you or your family, friends, spouse, society or culture? Is it what you really want or desire? Are you being authentic and honest with yourself?

HOPEFUL

: Is the emotional sentiment of your New Year's Resolution hopeful and positive? 

What emotional place was this resolution set from? Hope and healing, or fear and doubt? Do you feel worthy?  When you think about your goal, either having to work towards it and then finally achieving it, what do you feel? Your resolution should be hopeful.

👉🏽 RELATED POST: 6 Steps to Staying Positive No Matter What Happens

TRANSFORMATIVE

: Is the process of achieving your New Year's Resolution transformative to you? How?

Think about it, does your resolution feel transformative or transactional? Achieving your resolution is just as much, if not more, about the process (the actual doing), than the outcome. Does it promote your personal growth and metamorphosis as a person? Think of three ways your New Year's Resolution transform you.

What Should My New Year's Resolution Be?
Take the quiz and discover what area of your life you should focus on in 2018. 👇🏽

What's your 2018 New Year's Resolution?