Looking for cute and short happy Halloween quotes?
What are the best trick or treat quotes and Halloween greetings?
There's a chill in the air as all the leaves turn red, orange, and yellow everywhere.
It's that time of year, we all love to fear. On this cold fall night, we're sure to catch a fright.
From the iconic movies of our childhood, like Hocus Pocus, Gremlins, A Nightmare Before Christmas, and Halloweentown, to Friday the 13th, Child's Play, and the other 80s Horror Movies.
And of course, dressing up in your favorite hero or terror for one night only, then indulging in candy for days and weeks to come. Sticky fingers and sleepless nights, there's something special about Halloween night.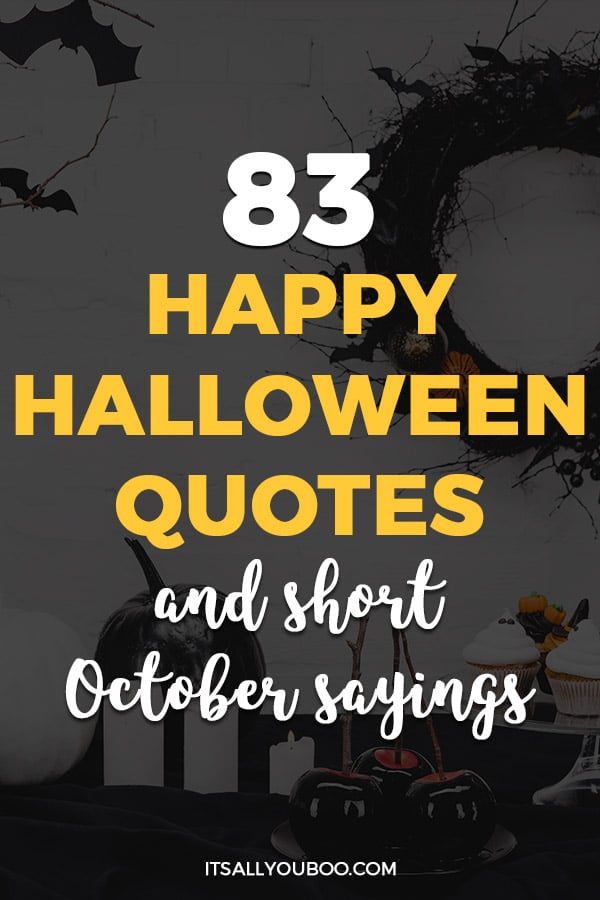 Whether or not you're staying in, having friends over, or heading out to cause terror and mischief, be sure to stay safe.
To get you in the mood for October 31st, here are 83 of the best Happy Halloween quotes of all time, they're cute, funny, scary, short, and hilarious too. And a few more sayings to welcome October and Autumn quotes too.
Short October Quotes and Sayings
What do you love about October? Is it leaves and beautiful colors? This first collection of inspirational Halloween quotes is all about the coming of October, and the celebration of the perfect fall landscapes.
"Listen! The wind is rising, and the air is wild with leaves, We have had our summer evenings, now for October eves!" ― Humbert Wolfe
👉🏽  RELATED POST: 100 Happy Back to School Quotes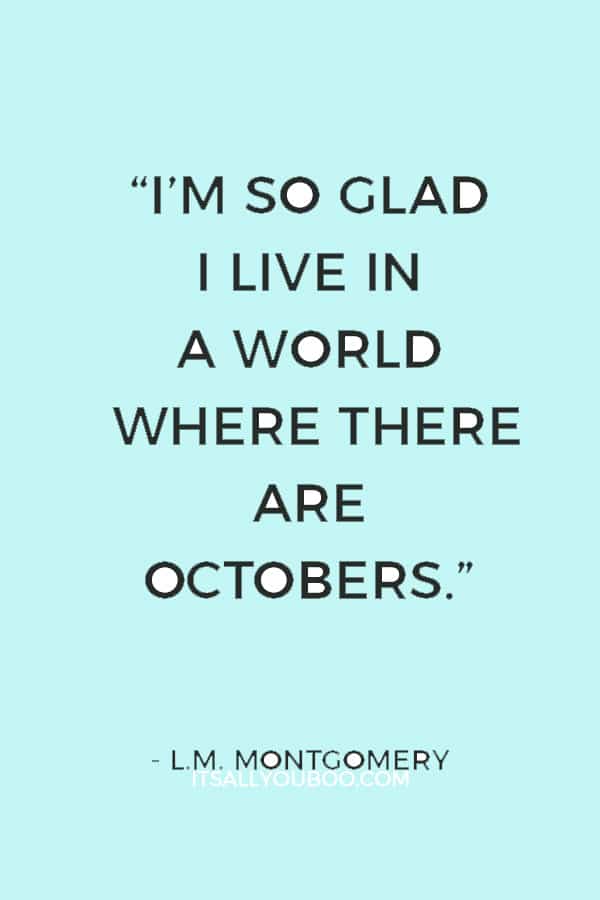 2. "I'm so glad I live in a world where there are Octobers." ― L.M. Montgomery
3. "October, baptize me with leaves! Swaddle me in corduroy and nurse me with split pea soup. October, tuck tiny candy bars in my pockets and carve my smile into a thousand pumpkins. O autumn! O teakettle! O grace!" ― Rainbow Rowell
"October sunshine bathed the park with such a melting light that it had the dimmed impressive look of a landscape by an old master." ― Elizabeth Enright
5. "Although I was born in April, I'm quite certain I was not fully awake until October" ― Peggy Toney Horton
👉🏽  RELATED POST: Gratitude Quotes for a Happy Thanksgiving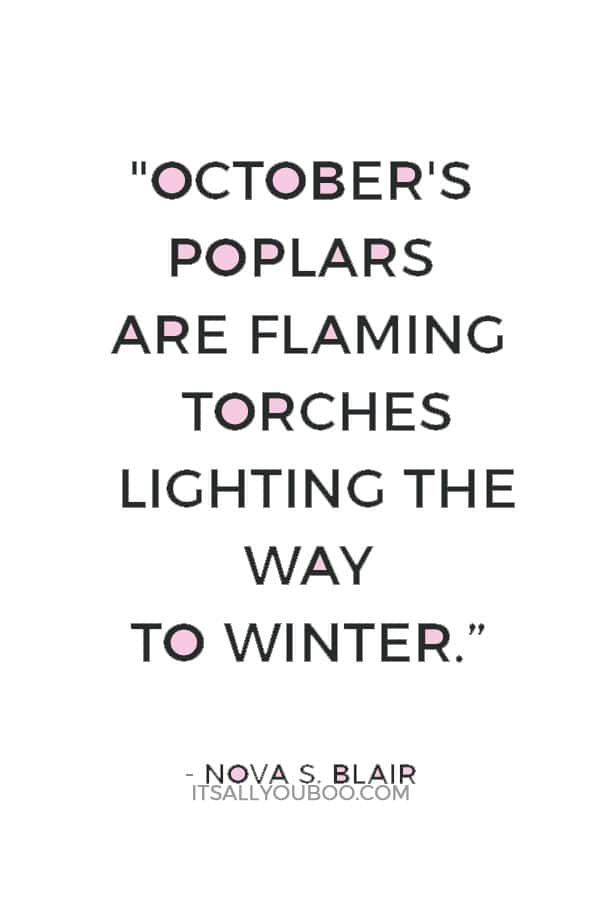 6. "October's poplars are flaming torches lighting the way to winter." ― Nova S. Blair
7. "October is a symphony of permanence and change." ― Bonaro W. Overstreet
Cute October Sayings about Leaves Quotes
What's the most magical part of October for you? The following short October sayings celebrate Halloween's arrival and the beauty that is the perfect October Day.
"This tree must be falling for me, as soon as I sat under it, it dropped its leaves. Oh sweet October!" ― Charmaine J Forde
9. "I remember it as October days are always remembered, cloudless, maple-flavored, the air gold and so clean it quivers." ― Leif Enger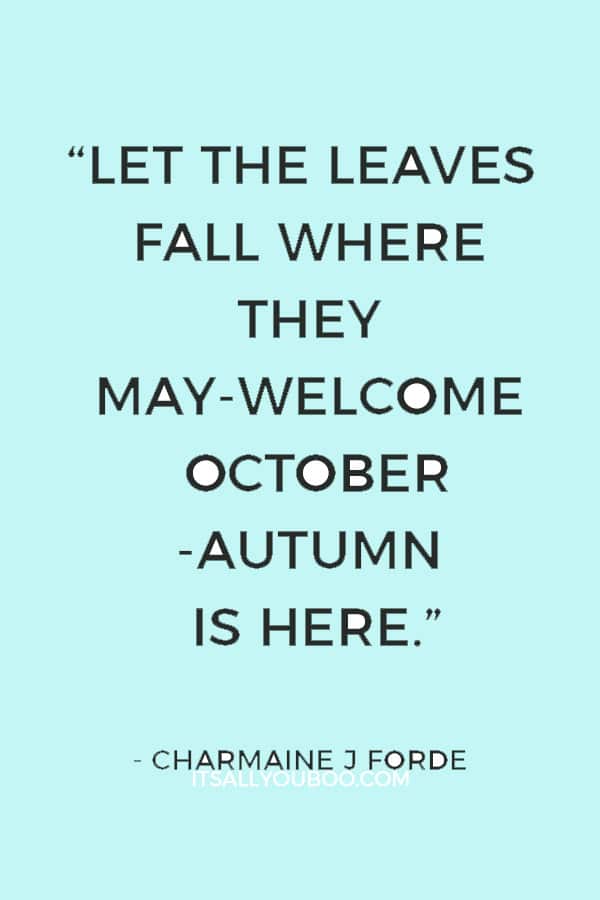 10. "Let the leaves fall where they may-Welcome October-Autumn is here." ― Charmaine J Forde
11. "For anyone who lives in the oak-and-maple area of New England, there is a perennial temptation to plunge into a purple sea of adjectives about October." ― Hal Borland
"He loved October. Had always loved it. There was something sad and beautiful about it – the ending and beginning of things." ― Jacqueline Woodson
👉🏽  RELATED POST: 500 Things to Be Thankful For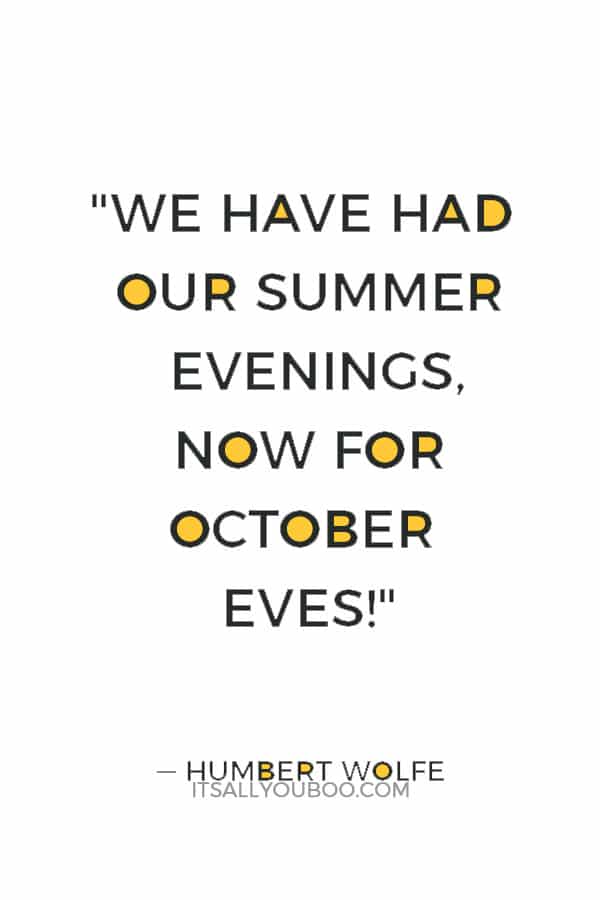 13. "We have had our summer evenings, now for October eves!" ― Humbert Wolfe
"There is October in every November and there is November in every December! All seasons melted in each other's life!" ― Mehmet Murat ildan
Halloween is Here Quotes
What do you love about Halloween night? What makes this spooky holiday special for you? The following Happy Halloween quotes celebrate that special quality of October 31st, from the full moon and chill in the air to the dark night and cloudy sky. This is Halloween!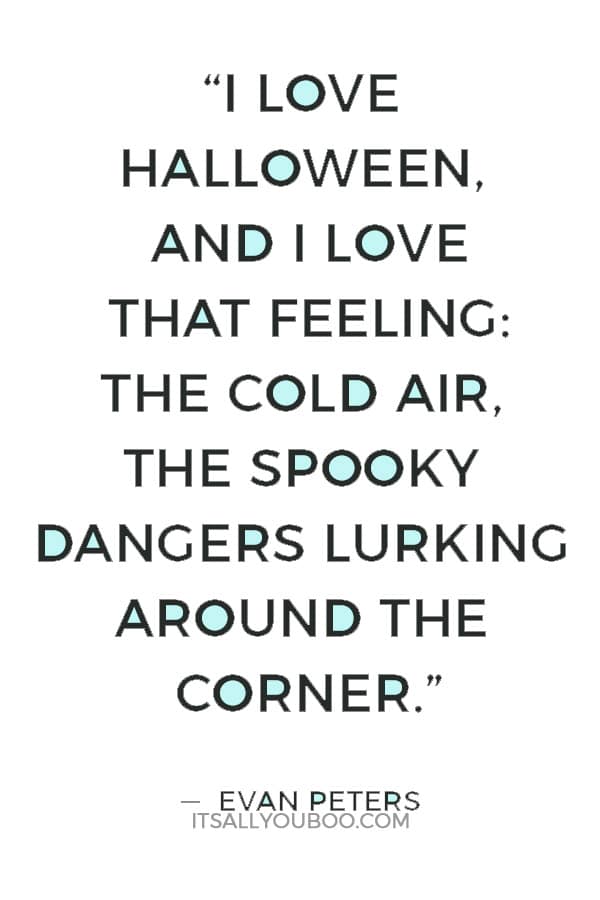 15. "I love Halloween, and I love that feeling: the cold air, the spooky dangers lurking around the corner." ― Evan Peters
"October proved a riot to the senses and climaxed those giddy last weeks before Halloween." ― Keith Donohue
17. "The world turned upside down — in a good way — for one black velvet night." ― Karen Fortunati
18. "Halloween shadows played upon the walls of the houses. In the sky the Halloween moon raced in and out of the clouds. The Halloween wind was blowing, not a blasting of wind but a right-sized swelling, falling, and gushing of wind. It was a lovely and exciting night, exactly the kind of night Halloween should be." ― Eleanor Estes
19. "The murmurings and mutterings grew even more freakish and grotesque as Halloween slithered ever closer." ― Kevin Purdy
👉🏽  RELATED POST: Thanksgiving Quotes for Friends and Family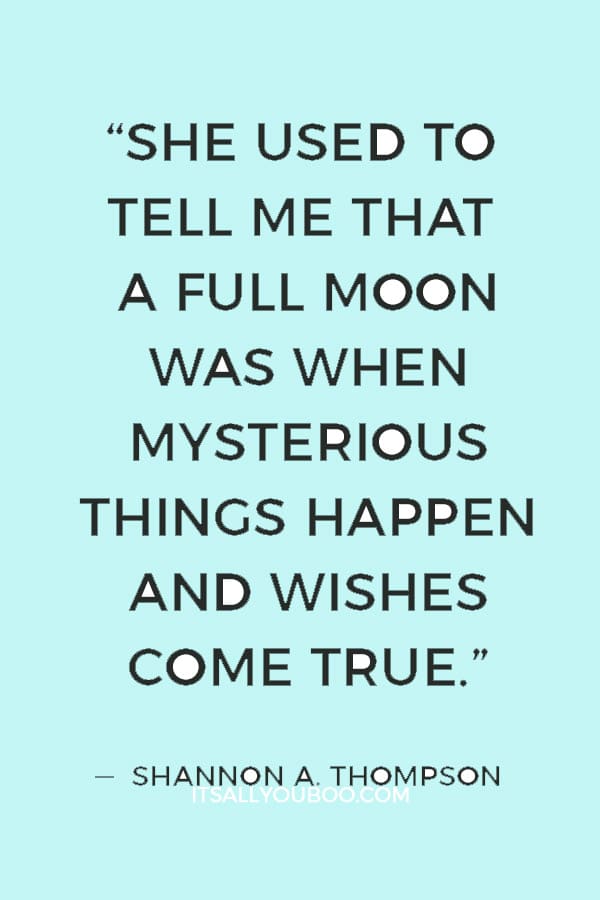 20. "She used to tell me that a full moon was when mysterious things happen and wishes come true." ― Shannon A. Thompson
"There is something haunting in the light of the moon." ― Joseph Conrad
22. "The sky grew orange and pink, a pale ghost of the full moon appeared above Salem, waiting to glow brilliant in the velvet black hiding just beyond the twilight." ― Amber Newberry
23. "Anyone could see that the wind was a special wind this night, and the darkness took on a special feel because it was All Hallows' Eve." ― Ray Bradbury
"Shadows of a thousands years rise again unseen, voices whisper in the trees, 'Tonight is Halloween!'" ― Dexter Kozen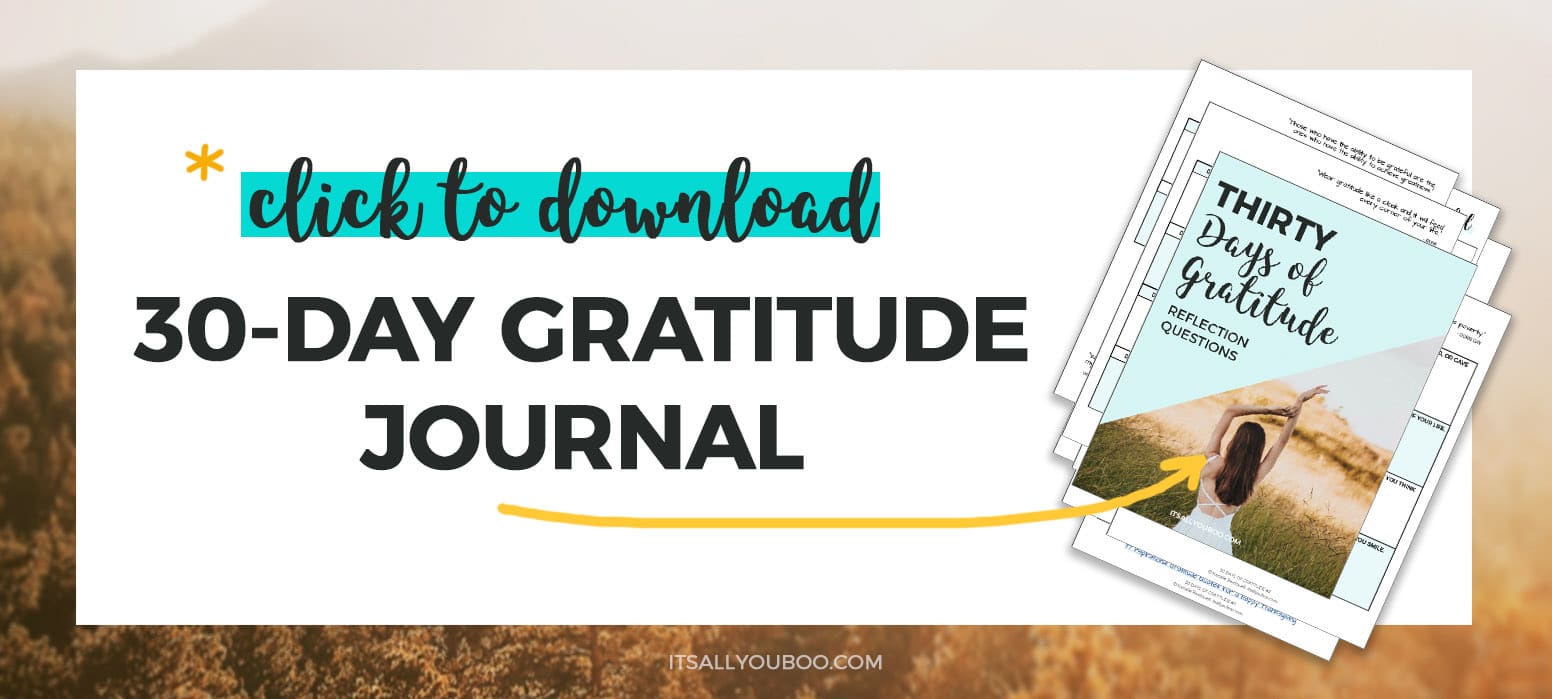 Scary Halloween Quotes and Sayings
What's your scariest Halloween memory? Was it from watching a scary movie? What's a Halloween night without at least one scare. This collection of Happy Halloween quotes invite you to be scared, to get a fright, and enjoy the spooky side.
25. "We make up horrors to help us cope with the real ones." ― Stephen King
👉🏽  RELATED POST: 70 Hello Winter Quotes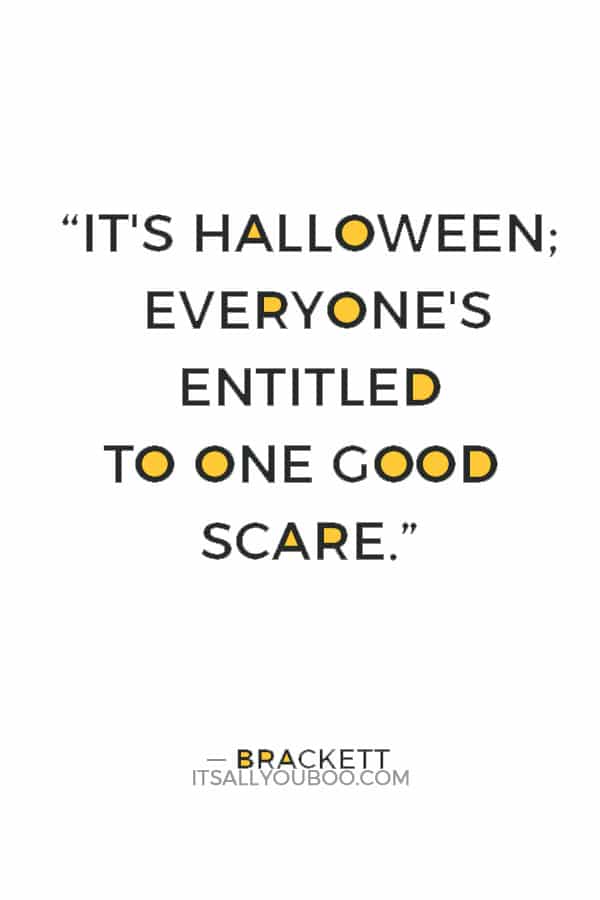 26. "It's Halloween; everyone's entitled to one good scare." ― Brackett
"Believe nothing you hear, and only one half that you see." ― Edgar Allan Poe
28. "Just because I cannot see it, doesn't mean I can't believe it!" ― Jack Skellington
29. "It's as much fun to scare as to be scared." ― Vincent Price
30. "Where there is no imagination, there is no horror." ― Arthur Conan Doyle
"Hell is empty and all the devils are here." ― William Shakespeare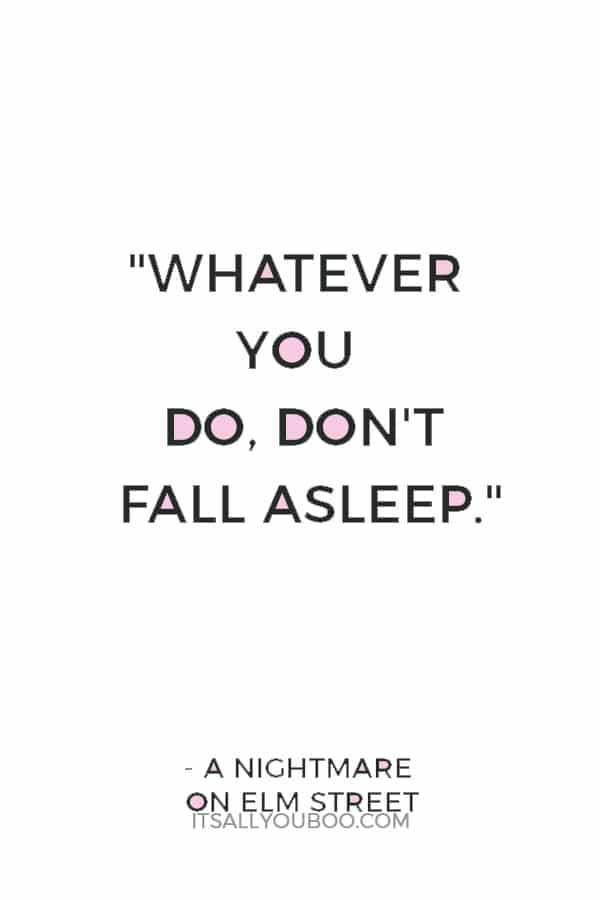 32. "Whatever you do, don't fall asleep." ― A Nightmare on Elm Street
"Don't be alone this Halloween. Invite some friends over to play." ― Anthony T. Hincks
34. "The farther we've gotten from the magic and mystery of our past, the more we've come to need Halloween." ― Paula Guran
35. "Most people will tell you growing up means you stop believing in Halloween things – I'm telling you the reverse. You start to grow up when you understand that the stuff that scares you is part of the air you breathe." ― Peter Straub
36. "We use Halloween to scare the kids and bankers to scare the adults." ― Anthony T Hincks
What is Halloween Quotes
What exactly is Halloween? What is All Hallows Eve a celebration of? These Happy Halloween Quotes explore the true meaning of Halloween and why we celebrate it. What is it to you?
37. "Halloween is a celebration of the inversion of reality and a necessary Gothic hat-tip to the darker aspects of life, death and ourselves." ― Stewart Stafford
👉🏽  RELATED POST: Inspirational Winter is Here Quotes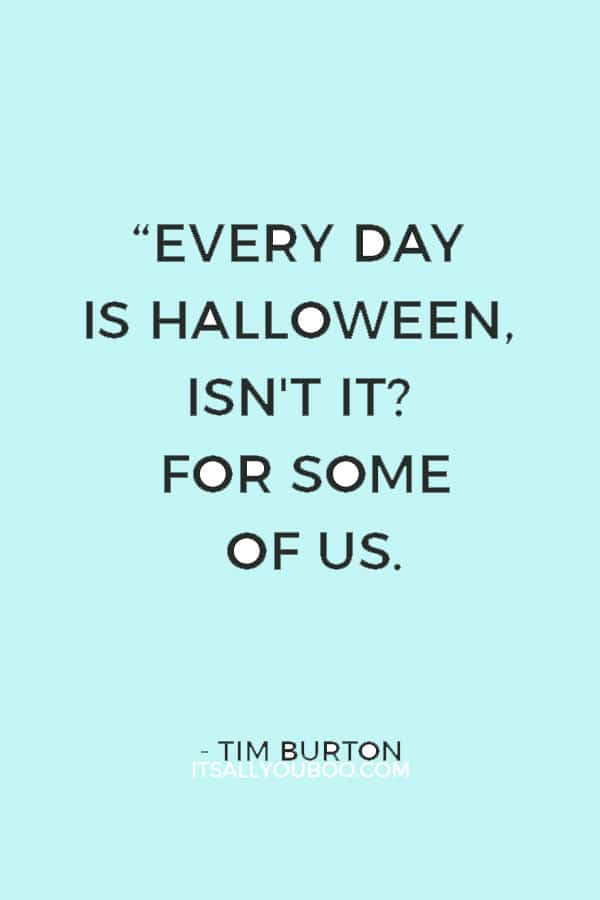 38. "Every day is Halloween, isn't it? For some of us." ― Tim Burton
"Halloween is a day in which some people choose to wear a mask… while others finally feel safe to take theirs off." ― Steve Maraboli
40. "I don't see why we should celebrate a day that means death. Life is scary already, why would we want to make it scarier by using horrible masks? Besides, I prefer to know when my fears are real." ― Patricia Morais
41. "Halloween is opportunity to be really creative." ― Judy Gold
Scary Halloween Quotes about Creatures
What's your favorite Halloween creature? Do you like witches and werewolves, or ghosts and goblins? This collection of Happy Halloween quotes celebrate all the freaky and frightful creatures that own the night.
"On Halloween, witches come true; wild ghosts escape from dreams. Each monster dances in the park." ― Nicholas Gordon
43. "For a witch, you certainly don't know much about how hauntings work." ― Collen Houck
44. "Magic is really very simple, all you've got to do is want something and then let yourself have it." ― Aggie Cromwell
👉🏽  RELATED POST: End of Summer Quotes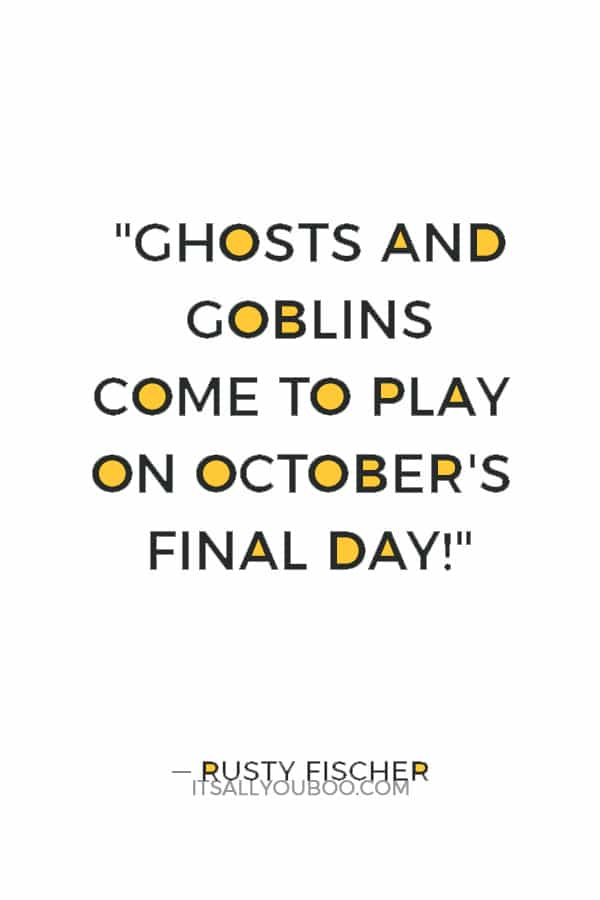 45. "Ghosts and goblins come to play on October's final day!" ― Rusty Fischer
"Werewolves howl. Phantoms prowl. Halloween's upon us now." ― Richelle E. Goodrich
47. "As a kid, she'd always loved Halloween. A magic night. A night when anything could happen. Monsters could be real. Magic could whisper in the air." ― Cynthia Eden
48. "Never trust anything that can think for itself if you can't see where it keeps its brain." ― J.K. Rowling
👉🏽  RELATED POST: Merry Christmas Quotes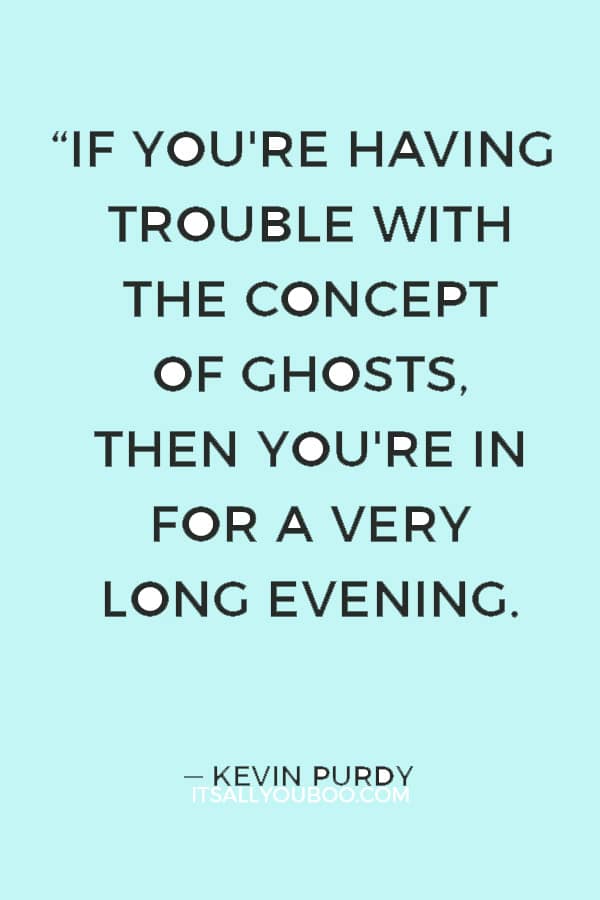 49. "If you're having trouble with the concept of ghosts, then you're in for a very long evening." ― Kevin Purdy
"On ol' Halloween Night, These monsters join the living, If they had it their way, They'd stay until Thanksgiving." ― Casey Browning
51. "Some people are born for Halloween, and some are just counting the days until Christmas." – Stephen Graham Jones
Quotes About Costumes and Masks
What are you dressing up as this year? Do you wear a costume or just a mask? The following Happy Halloween quotes explore dressing up for Halloween night. With so many Halloween costumes to choose from, there are so many freakish or clever costumes to choose from.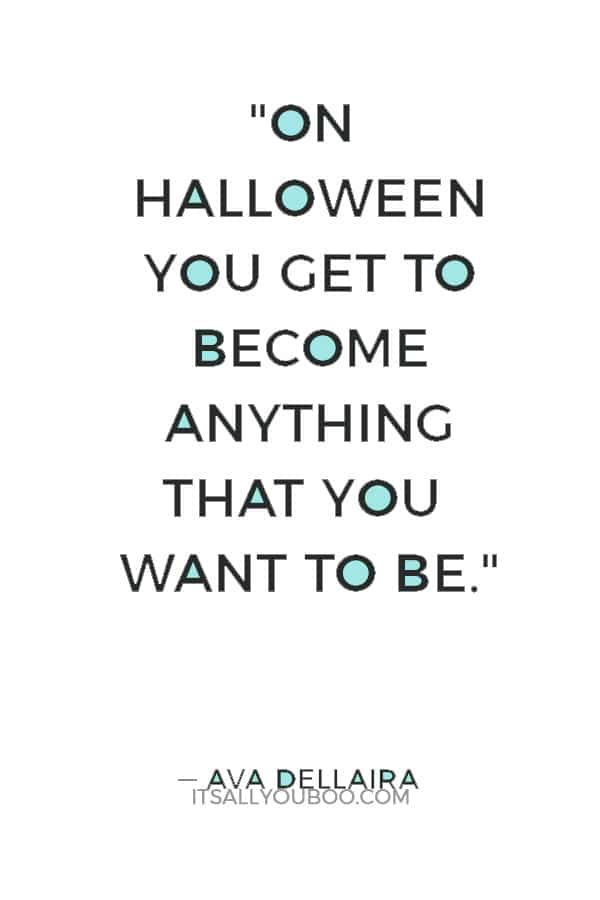 52. "On Halloween you get to become anything that you want to be." ― Ava Dellaira
"A person should always choose a costume which is in direct contrast to her own personality." ― It's the Great Pumpkin, Charlie Brown
54. "If human beings had genuine courage, they'd wear their costumes every day of the year, not just on Halloween." ― Douglas Coupland
55. "This is my costume. I'm a homicidal maniac. They look just like everyone else." ― Wednesday Addams
"It's the monsters that don't wear costumes that scare me the most at Halloween." ― Anthony T. Hincks
57. "Acting is like a Halloween mask that you put on." ― River Phoenix
58. "Halloween is not only about putting on a costume, but it's about finding the imagination and costume within ourselves." ― Elvis Duran
59. "A mask tells us more than a face." ― Oscar Wilde
👉🏽  RELATED POST: Hello Summer Quotes and Sayings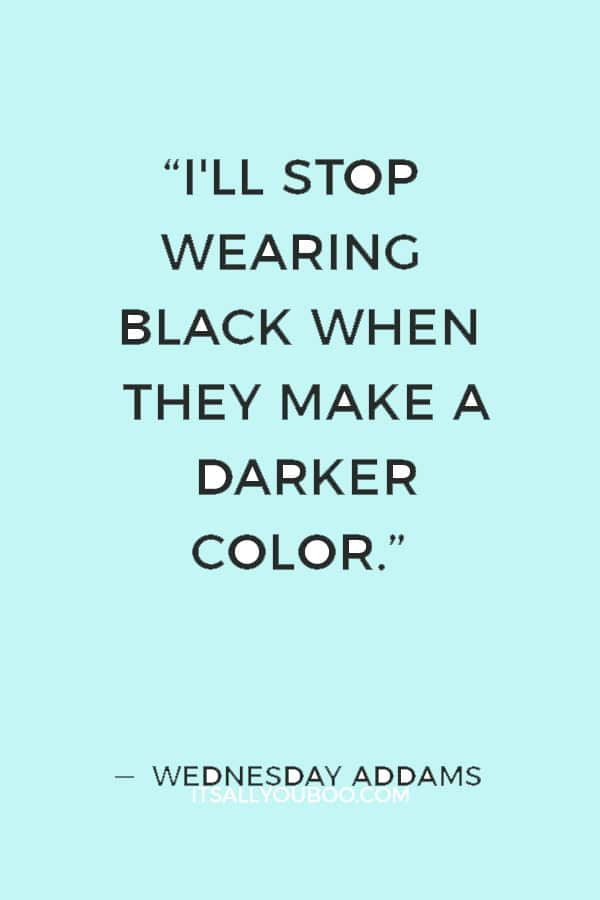 60. "I'll stop wearing black when they make a darker color." ― Wednesday Addams
"There is nothing that gives more assurance than a mask." ― Sidonie-Gabrielle Colette
62. "Halloween is the only time people can become what they want to be without getting fired." ― Sylvester Stallone
63. "Clothes make a statement. Costumes tell a story." ― Mason Cooley
Pumpkin Quotes and Short Sayings
Do you carve a pumping every Halloween? Nothing says Happy Halloween like a pumpkin grinning on a dark night, here are more Halloween quotes that celebrate pumpkins.
64. "There is magic in the night when the pumpkins glow by moonlight." ― Unknown
"Have you come to sing pumpkin carols?" ― It's the Great Pumpkin, Charlie Brown
66. "I would rather sit on a pumpkin, and have it all to myself, than be crowded on a velvet cushion." ― Henry David Thoreau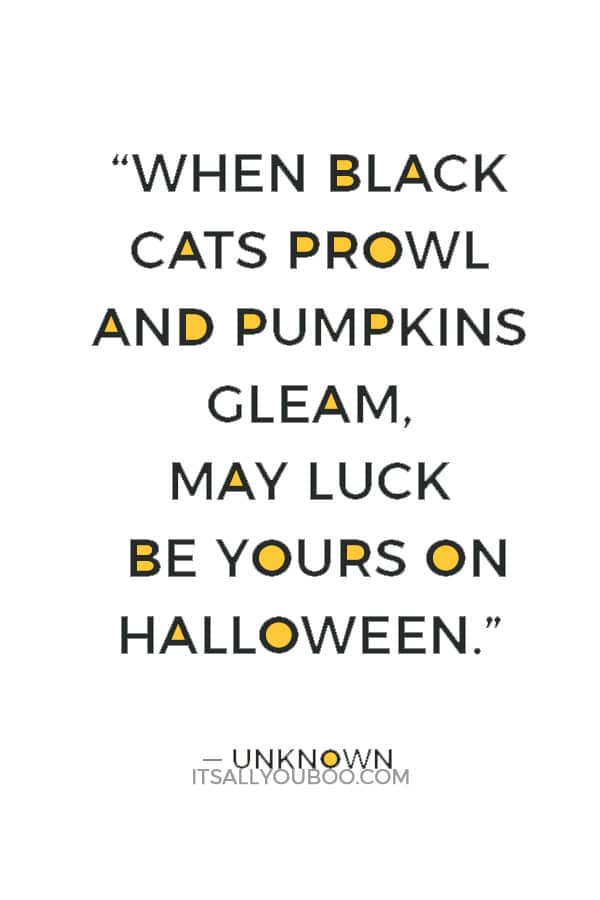 67. "When black cats prowl and pumpkins gleam, may luck be yours on Halloween." ― Unknown
"I can smell autumn dancing in the breeze. The sweet chill of pumpkin, and crisp sunburnt leaves." ― Ann Drake
69. "Halloween colors, less or more, are pumpkin, witch, and bloody gore. You must mean orange, black, and red." ― Richelle E. Goodrich
The Best Trick or Treat Quotes
What's your favorite memory from trick or treating? Here are some Happy Halloween quotes that celebrate giving and receiving treats on All Hallow's Eve. What's your favorite candy?
70. "Halloween wraps fear in innocence, as though it were a slightly sour sweet. Let terror, then, be turned into a treat." ― Nicholas Gordon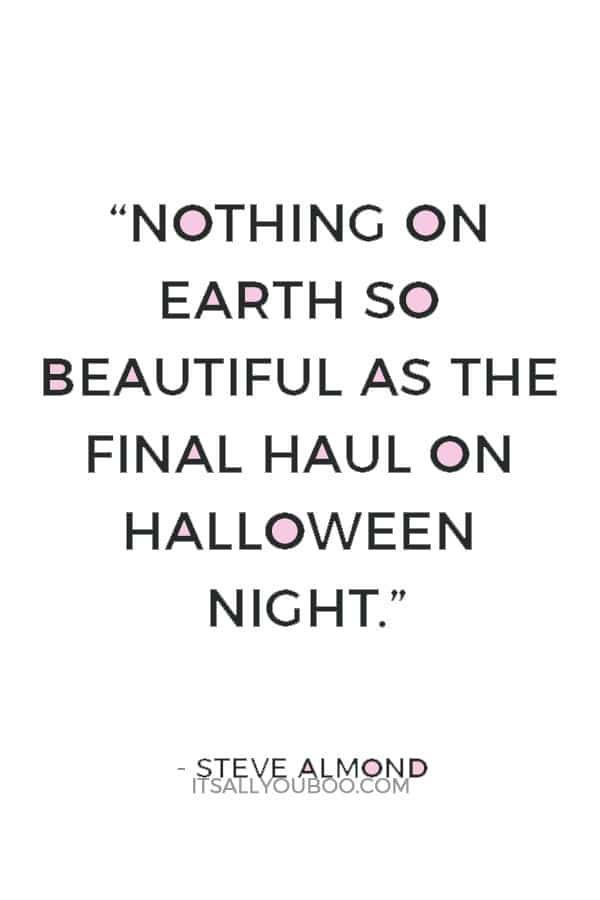 71. "Nothing on Earth so beautiful as the final haul on Halloween night." ― Steve Almond
"Halloween was confusing. All my life my parents said, 'Never take candy from strangers.' And then they dressed me up and said, 'Go beg for it.' ― Rita Rudner
73. "There is a child in every one of us who is still a trick-or-treater looking for a brightly-lit front porch." ― Robert Brault
74. "Halloween was the best holiday, in my opinion, because it was all about friends, monsters, and candy, rather than family and responsibility." ― Margee Kerr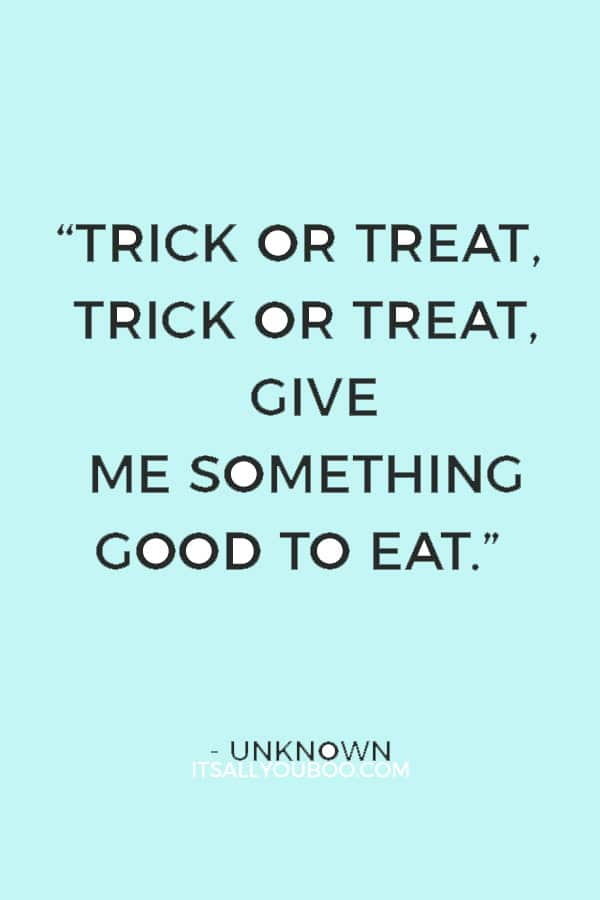 75. "Trick or treat, trick or treat, give me something good to eat." ― Unknown
Famous Happy Halloween Greetings
What's your favorite Halloween quote of all time? Do you have a favorite line from a movie? Nothing says Happy Halloween quite like these famous quotes from movies. Use them as your greeting this October 31st.
76. "I put a spell on you because you're mine." ― Jay Hawkins
77. "It's just a bunch of hocus pocus!" ― Max, Hocus Pocus
👉🏽  RELATED POST: How to Face Your Fears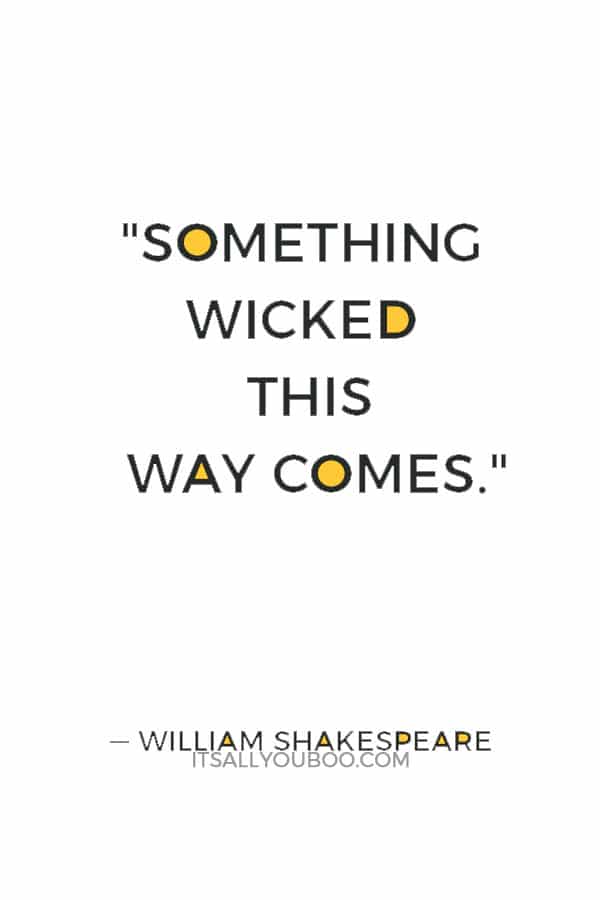 78. "Something wicked this way comes." ― William Shakespeare
79. "Double double toil and trouble, fire burn and cauldron bubble." ― William Shakespeare
"Be afraid, be very afraid." ― The Fly
81. "Keep calm and carry a wand." ― Unknown
"Sticky fingers, tired feet; one last house, trick or treat!" ― Rusty Fischer
83. "Darkness falls across the land, The Midnight Hour is close at hand." ― Rodney Lynn Temperton
Free 30-Day Gratitude Journal
Ready to get in the spirit of Fall? It's the perfect time to start being more grateful and thankful, especially this year. Get your FREE Printable Gratitude Journal, with 30 days of self-reflection prompts.
Halloween offers you a chance to escape from reality, to dress up and play!
To be that kid you were without any worries or stresses of the day. Put on a mask, pick a costume, and enjoy all Hallows Eve.
Wishing you a happy and safe Halloween!
Happy Halloween! Get in the mood for all things scary and spooky, with these 83 Happy Halloween quotes, Trick or Treat greetings, and October sayings. #Halloween #HappyHalloween #FallIsComing #HappyOctober #FallQuotes

What Autumn quotes and sayings do you love?
Last Updated on July 31, 2021
✕
Get your FREE Gratitude Journal
+ get weekly tips to help you slay your goals.