Thinking about starting a blog or business?
Do you wonder what it takes to be successful online?
If you've ever dreamed about following your dreams or questioned whether you should even try, this is for you.
There are so many of us who say we will, but even fewer who dare to try. Even lesser still are those who are okay with failure, okay with learning from their mistakes.
If you're ready to give it a try, to go for it and build something worthwhile, this is the interview for you. Especially, if you're thinking about starting a side-hustle, passion project or blog without quitting your job. Maxim Dsouza is committed to building something exceptional while working full-time. Taking the pressure off his dream, he's navigating the waters of entrepreneurship and blogging.
This is his story, and it's an insightful one filled with valuable lessons in business as well as work-life-passion balance. Maxim also provides a refreshing perspective on social media marketing that might surprise you.
Let's get started.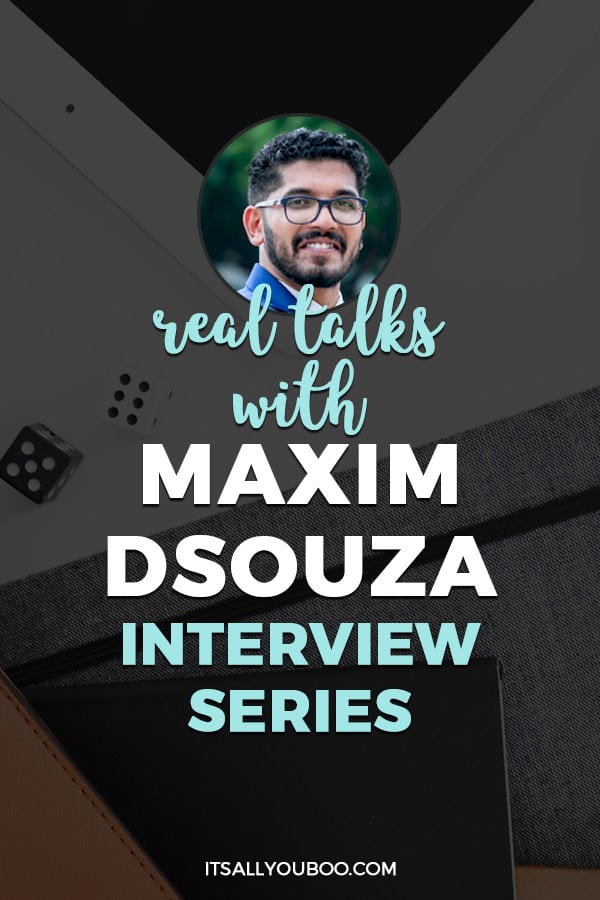 #1.
Who are you and what's your story?
My name is Maxim Dsouza. Back in my teens, I started my journey with programming. Since then I have tried chasing a wide range of goals from building tech startups, pursuing leadership, opening a retail business and other options.
Through this journey, I have co-founded and been a part of many startups. My ideas have failed miserably often and succeeded sometimes.
I am yet to find what works, but my experience has taught me what doesn't. Therefore, I know more about not to-dos than to-dos.
Today, I am a self-improvement blogger. I write on my blog Productive Club while working at a full-time job. I share tips on how to improve productivity, fight procrastination, boost focus and overcome fear based on the lessons I have learned. My approach is never to run a sprint but take small baby steps like a marathon while enjoying the journey.
👉🏽 RELATED POST: How to Start a Profitable Business You Love
#2.
What's your average day like?
My day starts when the alarm rings at 5:45 AM. I try not to hit the snooze button, but I do have my off days when I give in to the temptation of extra sleep.
Barring those days, I write content for my blog from 6 – 7 AM.
I head to work by 7:15 while listening to an audiobook or podcast on the way.
Once I reach work, I spend 10 minutes making a plan for the day.
I write down the 5 most important things I must complete on that day on a notepad.
I make sure at least 3 of them take me one step closer to my long term goal.
This serves as my guiding compass throughout the day. If an ad-hoc task comes up, I look at my notepad and ask myself, "Which one is more important?" I try my best to work on the most important (not urgent) task at a given time.
👉🏽 RELATED POST: 10 Daily Habits for Success
Every day:
I spend 1 hour from 8 AM – 9 AM on learning. I take up courses, read books and browse for actionable articles to improve my skills. At the moment, I spend one half of that hour on enhancing my writing skills and the other half on improving my blogging knowledge.
I spend 30 minutes a day thinking. I consider this as a sacred time, where I do nothing but things of ideas and improvements in my life. It could be regarding my career, finances, health, relationships and so on. There are days when I had nothing to think of and I have spent the time random ideas like planning a bank robbery. Though I won't execute many of the ideas I come up with during my thinking time, I ensure my brain cells get their mandatory exercise every day.
My work takes the rest of my day until 3:30 PM. I head back home listening to something useful, head for a workout for an hour in the evening. After my exercise, I continue working on my blog. I make a hard stop when the clock hits 8 PM and head on to my personal life.
I follow the same routine on weekdays. On weekends, I spend as much time with my wife as possible. If time permits, I spend another 3-4 hours on my blog. 🙂
👉🏽 RELATED POST: How to Prioritize Your Time at Work and Home
#3.
How do you stay motivated? What or who inspires you?
I have managed to remain motivated because I have always had a goal to chase. Oh yes, the goal has changed quite a few times now.
But irrespective of what target it is, I wake up each morning to chase it with all my heart and soul. I use rewards and visual cues to keep myself motivated. I stick chart paper on my walls to track every project I am working on and mark progress pretty much daily. The joy of noting progress gives me the dopamine rush to keep going.
The Oscar-winning speech by Mathew McConaughey rings in my ears all the time. Decades ago before he became a superstar, someone asked him, "Who's your hero?" He mentioned, "My hero is myself in 10 years." Then, when the same person asked him a decade later, "So are you a hero now?", he answered, "Not even close, because my hero is myself in another 10 years."
McConaughey knows that he will never be his hero, "I'm not gonna attain that. I know I'm not, and that's just fine with me because that keeps me with somebody to keep on chasing."
#4.
Let's talk about goals. How do you slay yours?
I have a limit on the number of goals I chase at a given point in time. This helps me stay focused and prioritize the tasks I have to work on.
The #1 tip to achieve goals is using time blocking. Life today is so busy that one task or another calls for attention. I make sure I set aside time blocks to work on all the important goals I am chasing. This helps me take baby steps every day towards my goals. Without time blocking, many of my goals would have taken a backseat and over time I would have dropped them due to lack of progress.
My goal-setting process is simple enough. I set my target as SMART Goals, set a deadline, and ensure I make daily progress. There are some goals for which I set aside only 10 min a day.
I am pretty lenient on my deadlines. If I cannot accomplish my target, I push it further as far as I know that I did not laze around. But I am very stringent on myself to make sure there is weekly progress in some shape or form. I am a big believer in the marginal gains technique.
#5.
What's one app or tool that you can't do without?
It's not one, but two – pen and paper. Call me old school, but for me, nothing feels as satisfying as writing a task down and marking it as completed on real paper with a pen. I do use a to-do list app, but my daily tasks go on a notepad and remain right in front of my eyes throughout the day.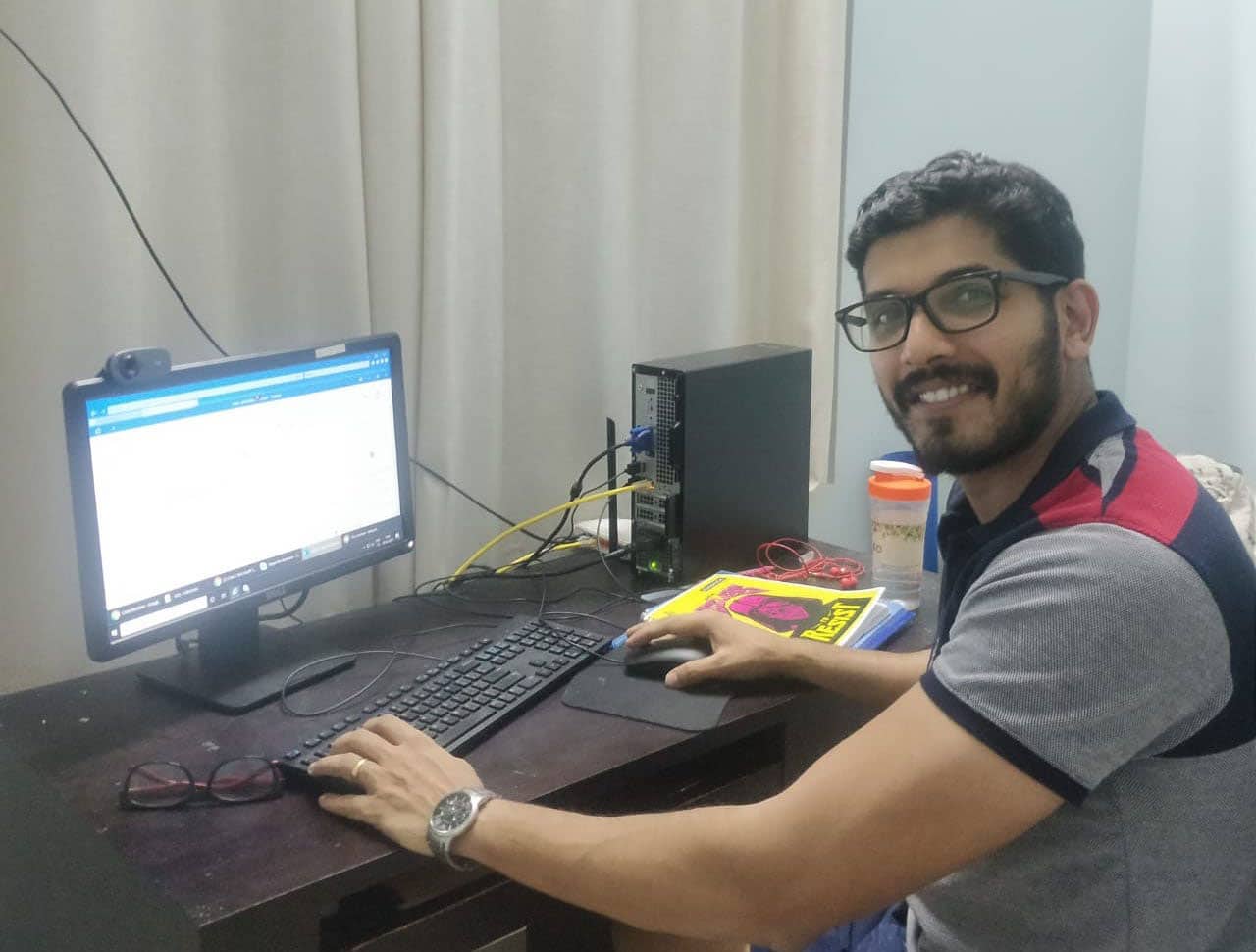 #6.
What's your favorite and least favorite part of being an entrepreneur?
As entrepreneurs, we pursue an area that we like doing. With the autonomy that comes with entrepreneurship, the part that I love is the small wins that happen due to my decisions. The joy of watching the idea grow from an initial stage is unparalleled. Also, I relish the thrill of trying out new things and waiting to see if they succeed or fail.
I hate doing some regular tasks which are necessary as a blogger. For example, I hate creating Pinterest pins and scheduling them. But entrepreneurship isn't a journey where we can only stick to what we like doing.
👉🏽 RELATED POST: How to Be Your Own Boss
#7.
What advice would you give to someone just starting out?
Today, blogging is turning into a thing that everyone wants to try out to make money. My advice is, do not start a blog as a side hustle only to make a quick buck. Making money isn't the wrong goal, but if you blog only for that one reason, you will have a hard time keeping yourself motivated.
You need to have a strong "why" to keep your blog running. Without a "why", you will hit a roadblock with writing content beyond 6 months. Most people start a blog full of vigor, write 10-20 blog posts, wait for traffic and end up disappointed when they do not see it coming.
Moreover, blogging takes a lot of effort, no different than a full-time business. The only difference is, you can do all of it from the computer in your room. If you assume you can build a blog that earns 6 figures by working an hour or two a day, you're gonna be disappointed.
Get into blogging if you are willing to put in long hours of consistent effort over the years.
#8.
What's the best business advice you've ever received?
It is a quote that says, "Most people overestimate what they can do in one year and underestimate what they can do in ten years."
Many people like Bill Gates and Tony Robbins have conveyed the same message with different words. I am not sure who said it first.
The normal cycle people follow is, put in the effort, wait for results, when they can't see it, they hop on to a different goal or try a different method. Most goals require persistence, continuous improvement, and discipline in the long run. One of the essential parts of success is to trust the goal and enjoy the journey even when the results take time to show up.
👉🏽 RELATED POST: Real Talks with Louisa Liska of The Actually
#9.
What books do you think every entrepreneur should read?
One of the books that I recommend every new entrepreneur to read is, The E-Myth Revisited by Michael Gerber.
The author explains how an entrepreneur cannot build a successful business on technical skills alone. Unfortunately, most entrepreneurs have that same misconception. I had it too when I started my first business thinking programming skills alone would suffice to build a successful software company. But, I realized my mistake after my business failed.
A chef cannot run a successful restaurant with cooking skills alone. A fitness freak cannot run a gym solely based on the knowledge of different workouts. Every entrepreneur needs a creative, managerial, and technical side. If you lack one of them, you must either scale them up or find a partner who can cover the gap.
Assuming you can achieve success without those 3 aspects is an arrogant mistake a ton of entrepreneurs like myself have made.
👉🏽 RELATED POST: 100 Best Personal Development Books
#10.
Do you have a favorite quote or saying?
One of my favorite quotes is "Vision without action is a daydream and action without vision is a nightmare." It takes a minute to understand how deep and true that metaphor is.
It is easy to get caught in the idea and planning phase. There are a bazillion people who say, "I have an idea for a business and I will start soon." But only a handful make that dream a reality.
Once they do, entrepreneurs tend to forget where they are headed. Other priorities derail our direction and we end up doing actions that do not align with the vision.
Keeping the vision steady and the action aligned is crucial to success in life. This applies to any improvement in life and not just entrepreneurship.
#11.
Can we talk about money?
I did not have to save any money to start my blog. It took me about 10$ to get started. I paid 5$ for the domain and 4$ for the first-month hosting. Since I was running a business of web applications before, I had the know-how to set everything up by myself.
As for money, I am not looking to monetize my website right now. All I am focusing on at the moment is, improving the quality of my articles, adding value, and reaching more readers. Also, since I have a full-time job, I can handle my expenses.
I do not want to flood my website with ads. Even if I implement ads in the future, I plan to keep them at a minimum. If I manage to do a good job at adding value, finding a way to monetize should not be too hard. I have some unconventional ideas to monetize the blog in the future, but I will have to wait and watch how things pan out.
#12.
What's your strategy for finding clients or readers?
My focus is on organic traffic right now. I am spending time increasing my reach and trustworthiness. I use Pinterest too and it gives me some traffic, but I am not very confident about it.
My perspective on Pinterest might hurt its avid fans. I believe that Pinterest traffic isn't very targeted. The high bounce rates are a testament to this. The call to action on Pinterest is a good looking image that may or may not have anything to do with content. Unless Pinterest starts measuring how the user interacts with the landing page, the results it shows are not always reliable. I have clicked on enough pins to land on a page that vaguely matches the picture.
In comparison, Google measures how satisfied the user was after landing on your website. So I am focusing most of my traffic building strategy on the increasing EAT (Expertise, Authoritativeness, and Trustworthiness) that Google expects now.
👉🏽 RELATED POST: How to Create a Social Media Strategy
#13.
What role does social media play for you?
I do a little bit of Pinterest as mentioned. Other than that I haven't explored any social media channel deep enough. Facebook pages are no longer useful. I tried creating a Facebook group, but quickly realized it takes way more effort than I could put in. I tried Instagram too, but I did not see the engagement converting into traffic. So I have dropped them all for now. I am not undermining the power of social media, but at this point, I believe my energy is better spent on generating quality content. I will come back to social media later this year.
#14.
Do you have a special offer you'd like us to know about?
All my material is free right now, so there is no need for a discount 🙂
I recommend people to try out the Little Better Everyday Challenge.
It suggests one simple improvement each day which will make you a better person overall. The challenges are straightforward. Here are the challenges for the last 7 days. The little changes in ourself compound and produce massive results over time.
No blaming
Set goals for the month
No gossip or talking behind somebody's back
Be more mindful and observant
Do not stick to your opinion, keep an open mind
Write down 3 or more mistakes you did today
Practice listening with full attention
Bonus Questions!
Quickly tell us about yourself and what you're currently:
Reading? I am currently reading The Art of Making Memories: How to Create and Remember Happy Moments by Meik Wiking.
Watching? I am watching a series on Netflix called Mindhunters. It is about understanding the psychology of convicted criminals to figure out how they think. The knowledge is then used to investigate and prevent current crimes. It provides an amazing understanding of the human psyche.
Listening to? I am not a huge fan of music as such, but I prefer soft rock if I had to pick one. However, I listen to audiobooks and podcasts often. I am currently listening to Essentialism by Greg McKeown
Eating? The global pandemic has forced us to remain indoors. I am trying to survive with the supplies that we have stocked up.
Obsessed with? I am obsessed with optimizing time and I stretch it to a point where I try to make every minute count. I need to calm it down because it is creating more damage than good. As I feel that I am always living in the future without enjoying anything in the present.
Looking for great advice for want-to-be-entrepreneurs? Thinking about blogging? Meet Maxim Dsouza of The Productive Club, he's building a content goldmine while working full time. #Interview #Entrepreneur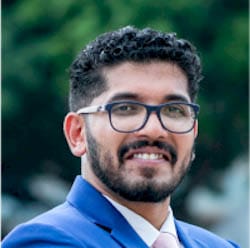 More About Guest Contributor
I am Maxim Dsouza. I turned down a corporate job in a quest to build something successful of my own. In this journey, I have been a part of multiple failed startups and a few successful ones. I am yet to find what works, but my experience has taught me what doesn't.
Today, I write on my blog Productive Club. I share tips on how to improve productivity, overcome procrastination, improve focus and overcome fear based on my lessons learned. My approach is never to run a sprint but take small baby steps like a marathon while enjoying the journey.
Last Updated on July 11, 2021